Heading to Amsterdam in May and looking for all the best events and things to do during your stay/? Keep reading! As an Amsterdam resident, I have experienced every month in the city a few times over, and I can say May is something special. I want to share with you everything to do, see, and experience in Amsterdam in May from a local who knows best.
Although every month in Amsterdam is beautiful and magical, May holds a special place as a spring/summer month full of wonder. It doesn't matter if you are in Amsterdam for one day or 2 weeks, you are sure to have an amazing time exploring the stunning streets and enjoying the beautiful weather. During May the flowers are in full bloom, the trees lining the canals are green and full and you can feel summer in the air.
(Disclaimer: Some links in this post may be affiliate links, meaning if you click on the link and make a purchase, I receive a small commission. This is at no extra cost to you and you may even receive a small discount. See disclosure for more information.)
Amsterdam in May Travel Guide
Amsterdam Weather in May
May is a relatively good month in Amsterdam weather-wise. You can expect an average of 18°C and lows at night of 8°C. However, there are often days that go above 20°C and even 25°C. In May, you can also expect around 8 days of rain. It is not a very rainy month which is great for exploring without being soaking wet.
It is like the lottery when visiting Amsterdam, you never know what kind of weather you will get. So it is important to check often before your travels and be prepared for anything.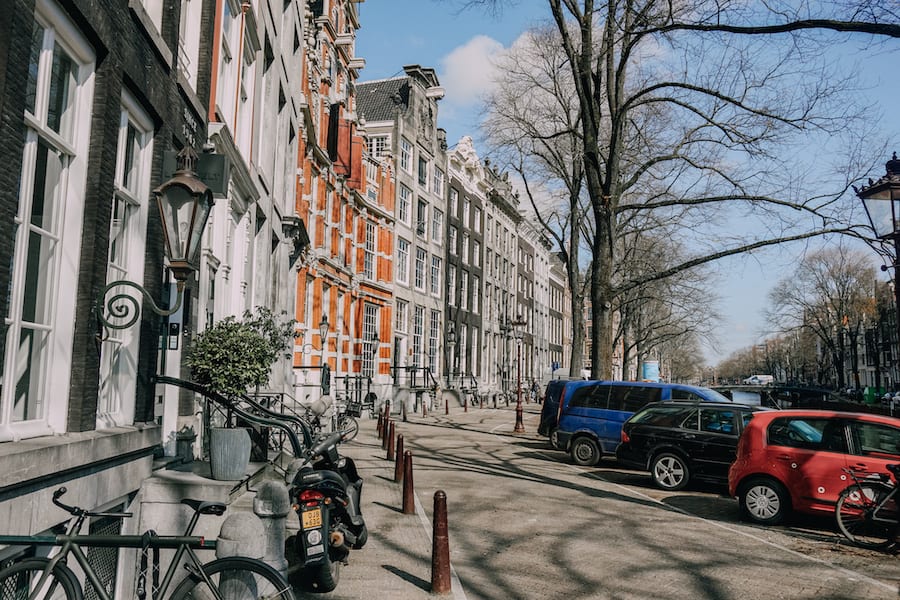 ---
Amsterdam in May Must Have
If you are visiting Amsterdam in May, or any time of the year it is always a great idea to get an IAmsterdam City Card. With this card, you get access to a ton of museums around the city, free public transportation, and more! It is the perfect option if you are spending a few days in the city because it will save you lots of money on attractions and getting around.
Events in Amsterdam in May
Keukenhof
If you visit May at the beginning of the month you will have the opportunity to see the very famous Keukenhof gardens! Keukenhof is one of the Netherlands' most popular events that is open annually from late March to Early May. Here you will find 32 hectares of gardens which are home to more than 7 million flowers!
Every year millions of people from around the world come to the Netherlands to see these gardens in real life. If you are visiting Amsterdam in May and you have the chance to visit Keukenhof, do it!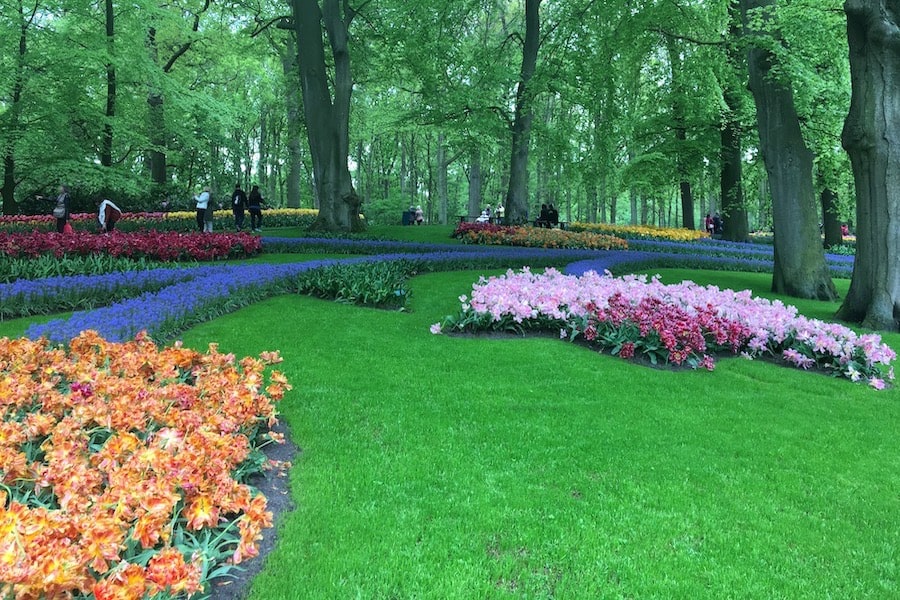 ---
Sports Matches
May is the perfect month to head to a rowdy and exciting sports matches. There are various football (soccer) matches throughout the month and as a result, there are often tickets available for your viewing pleasure. Amsterdam has a huge arena to hot the games in and since Amsterdam is the base for one of the best teams in the league – Ajax – the games are always a riot. Check if there are any matches during your visiting days here.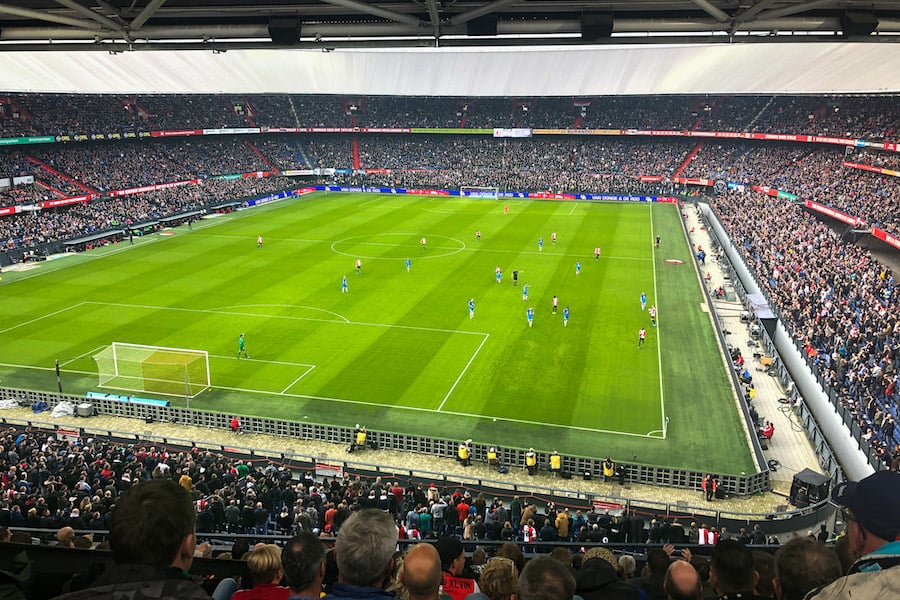 ---
Things to do in Amsterdam in May
Explore the City
May is one of the best months for exploring Amsterdam. It is on the cusp of the summer months so there are slightly fewer people on the streets with you, plus the weather isn't quite as hot as in the summer. Spending some time to explore the quaint streets of Amsterdam and soak in its unimaginable beauty is a must.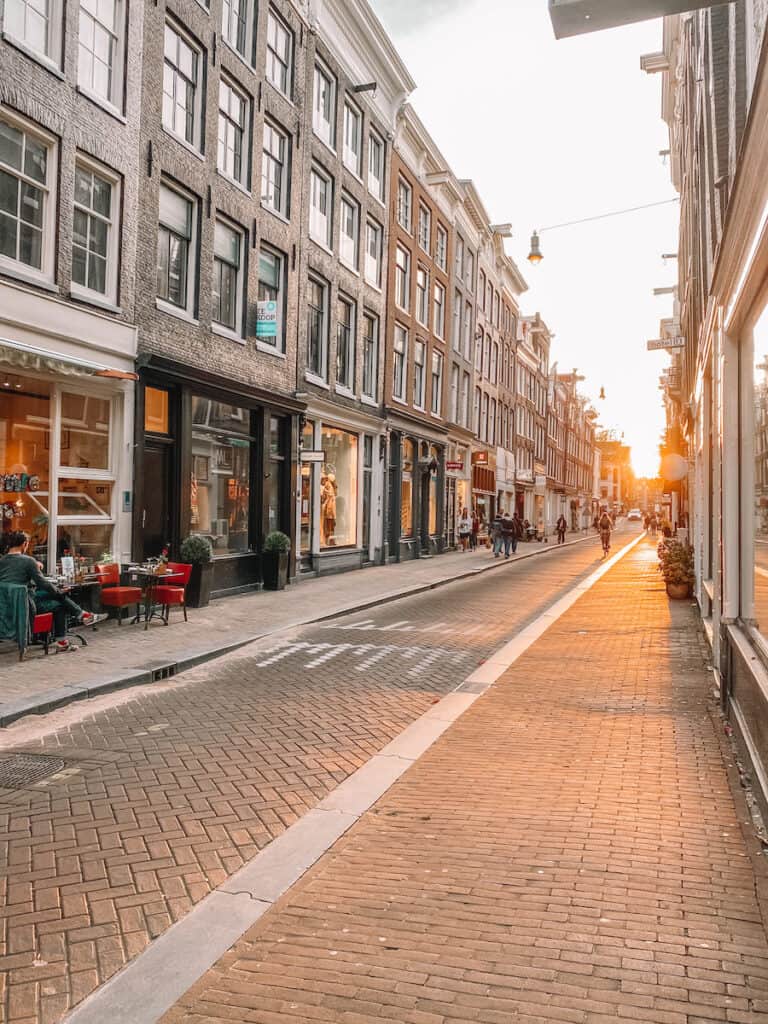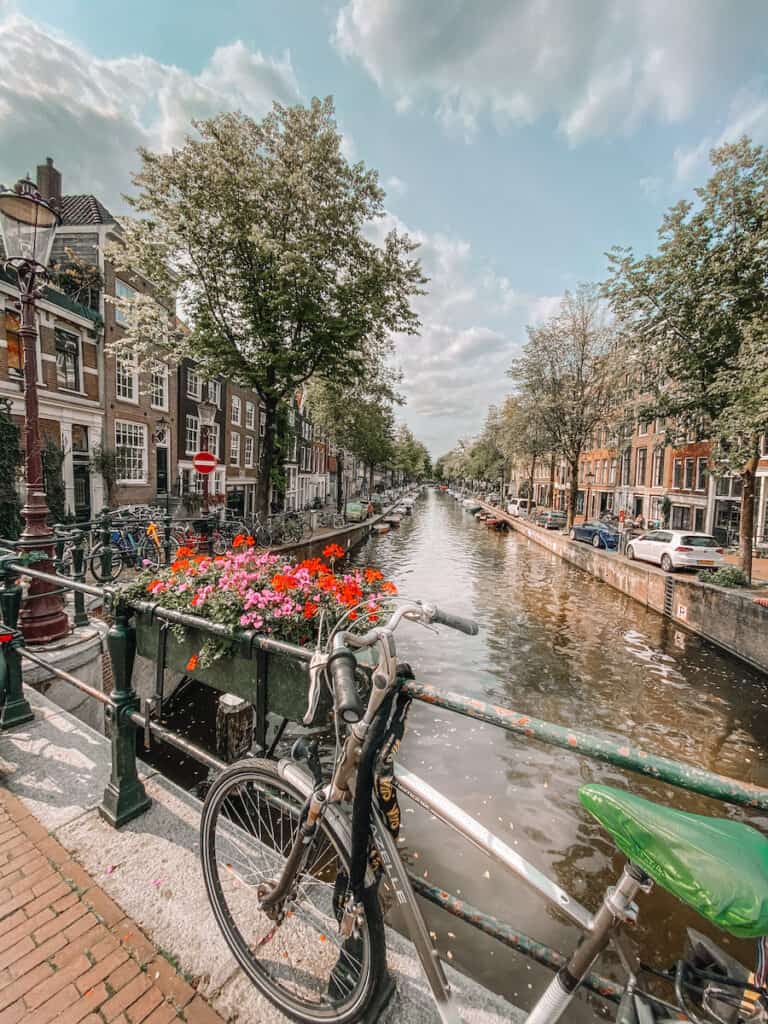 The best area in Amsterdam to explore is the Jordaan. This is a high-end neighbourhood located just a short walk from the center of the city. This area is full of picturesque canals, cute cafes, and amazing shops. It is also where you can find the infamous 9 streets for some local and unique shopping.
---
Go to a Museum
Amsterdam is a museum lover's paradise! There are museums all around the city with tons of different themes and offerings. You will find art museums, history museums, science museums, and more. Check out this post for a complete guide to all the best museums in Amsterdam.
Going to a museum is especially a great idea if you get a cold or rainy day while visiting. Spending some time indoors admiring the unique art of Amsterdam is beyond enjoyable. If you plan on visiting a bunch of museums be sure to get an IAmstedam City Card to offset the costs.
*IMPORTANT: The Anne Frank House has now limited its amount of guests to 1 million a year. As a result, tickets ONLY go on sale ONLINE on the first Tuesday of the Month*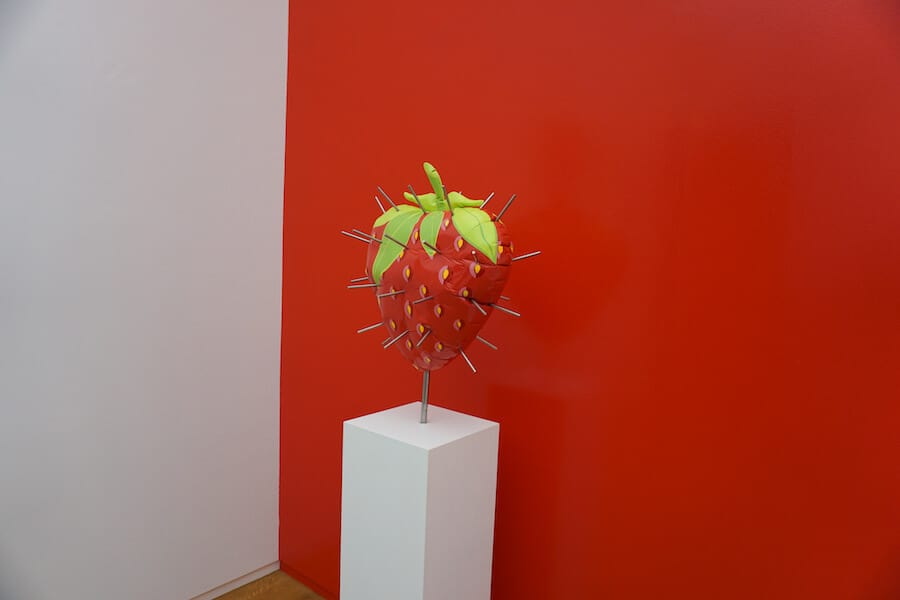 ---
Visit a Park
Parks are some of the best outdoor spaces to spend time in while visiting Amsterdam. Luckily, the city is full of parks in all different areas and neighborhoods. On a warm spring day, you will find these parks packed with locals and tourists eating, drinking, and socializing. The top parks in Amsterdam to visit are Vondelpark, Westerpark, and Oosterpark.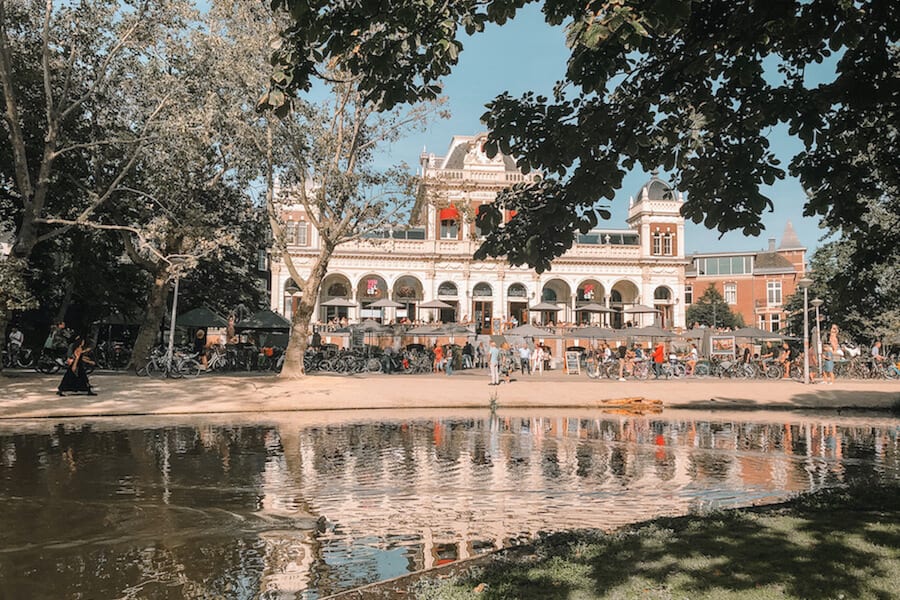 ---
Go to a Street Market
What is better than a local street market with fresh fruit and veggies, locally made jewelry, vibrant flowers, and special foods made fresh before your eyes? Nothing! May is the perfect month to explore and enjoy the beautiful and buzzing street markets that are all around Amsterdam.
Street markets are frequented by both locals and tourists all visiting for different needs. The largest and most popular street market is Albert Cupy Market. Here you can find various shops selling clothes, food stands, bike shops, and more. If you want to visit a less touristy option try going to Lindengracht Street Market on Saturday between 9 AM – 5 PM.
Some additional street markets are:
Nieuwmarkt
Ten Katemarkt
Waterlooplein Market
Westerstraat Markt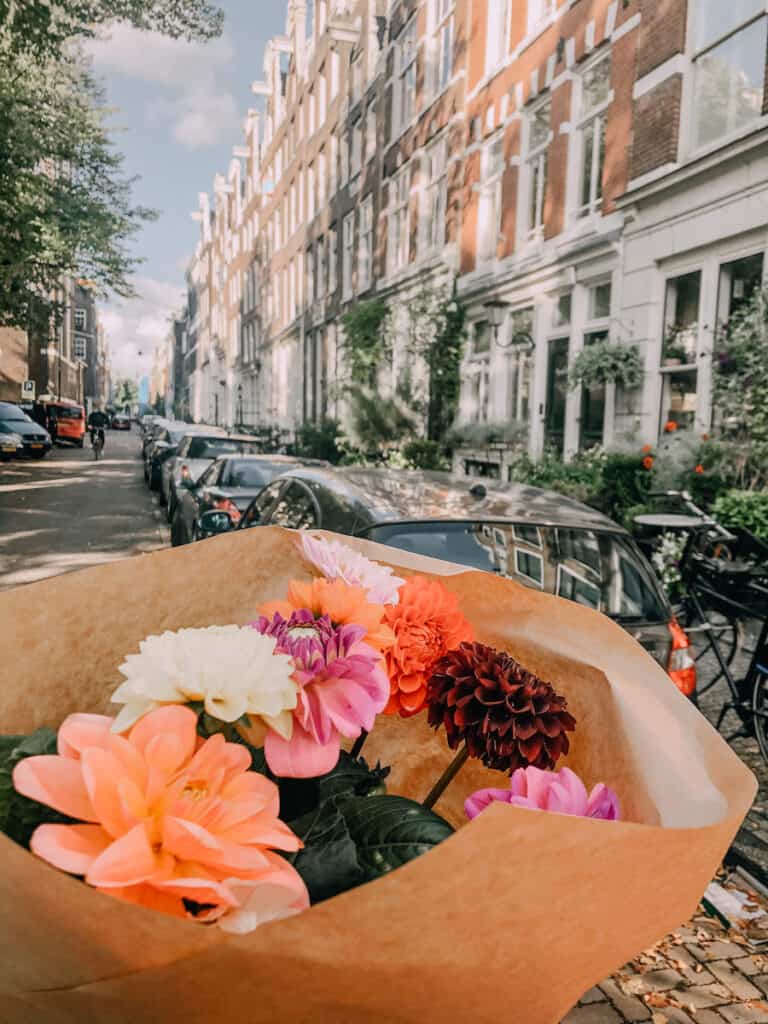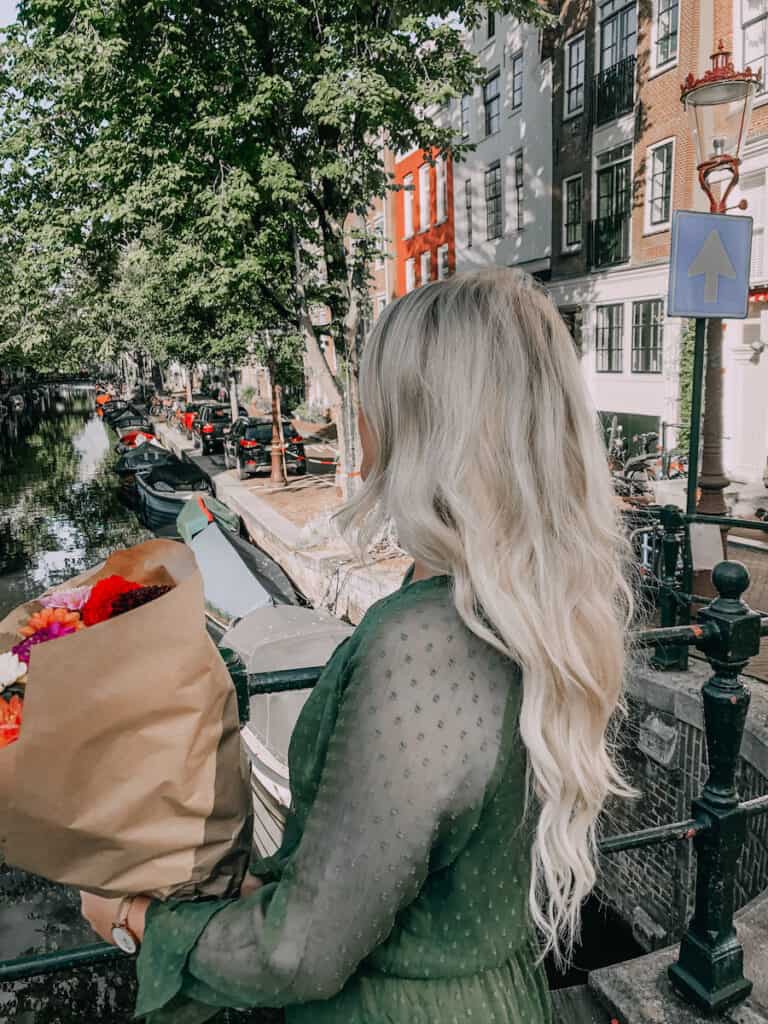 ---
With the warm spring weather, renting a bike and exploring the city this way is a must. Bike rentals are very popular in Amsterdam since so many tourists want to get around and explore like the locals. If you plan on renting a bike in Amsterdam be sure to read my "Biking in Amsterdam" guide to ensure you know all the rules and can enjoy a safe journey.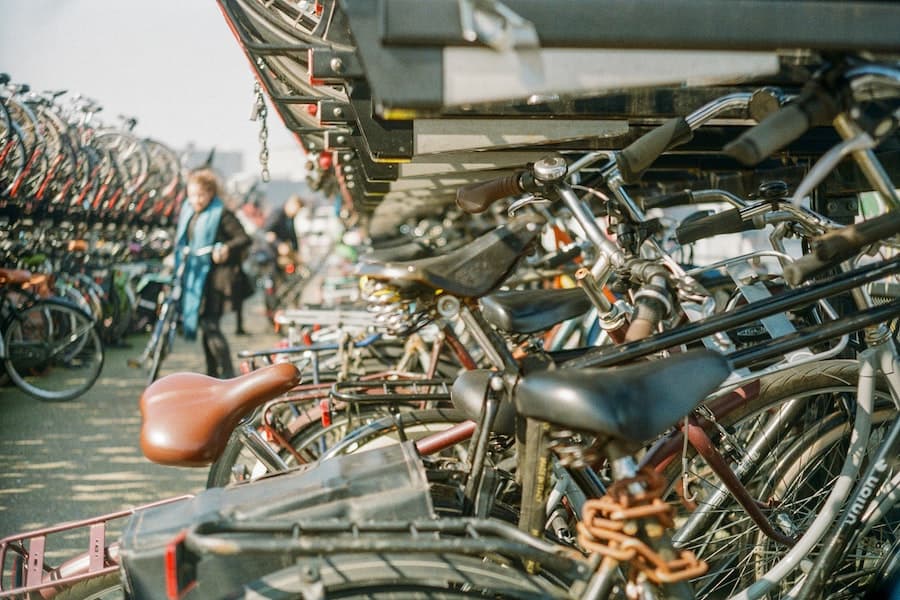 ---
Take a Canal Cruise
No visit to Amsterdam is complete without embarking on a canal cruise around the city. Sailing the stunning canals is one of the best ways to see Amsterdam and relax along the way. There are a ton of canal cruise companies ranging from huge boats with various others, smaller more private boats, party cruises, or renting a boat yourself.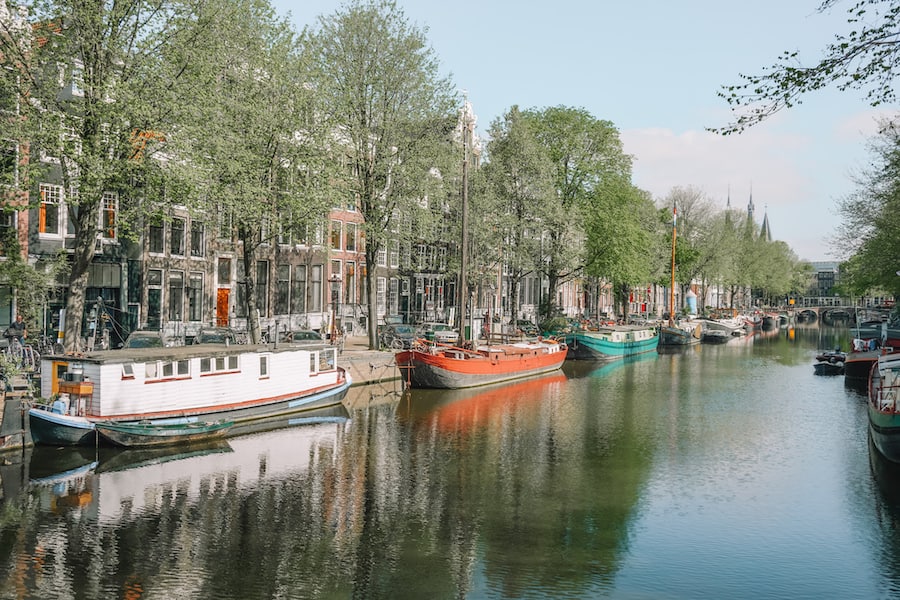 ---
Go on a Day Trip
Day trips from Amsterdam are a great way to see more of the Netherlands beyond the capital city. There are so many beautiful places in the Netherlands and May is the perfect time to venture out and explore!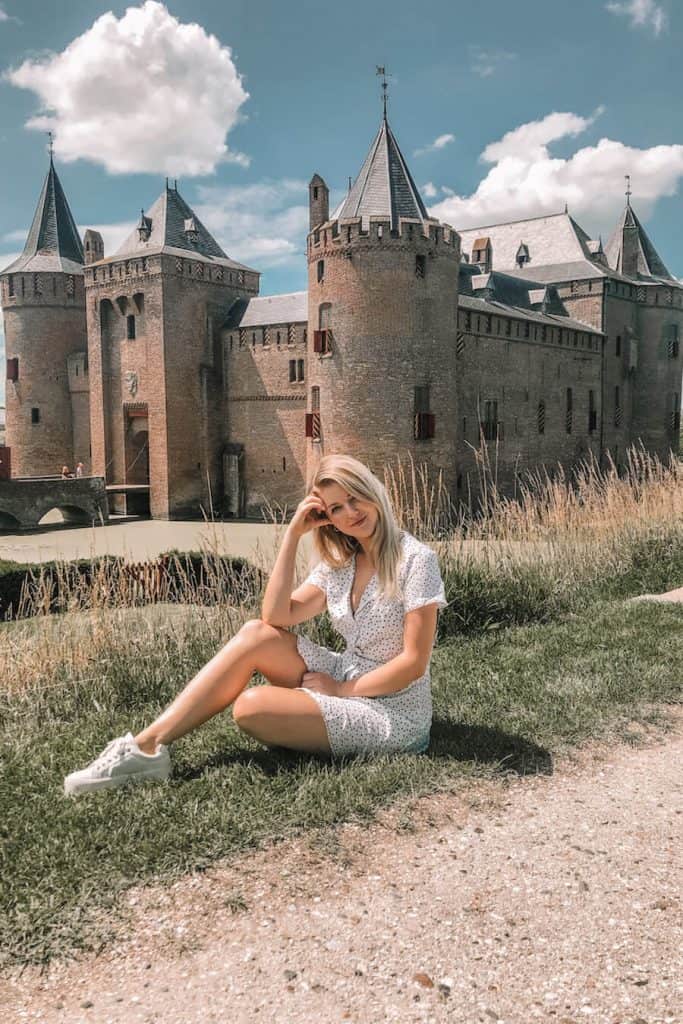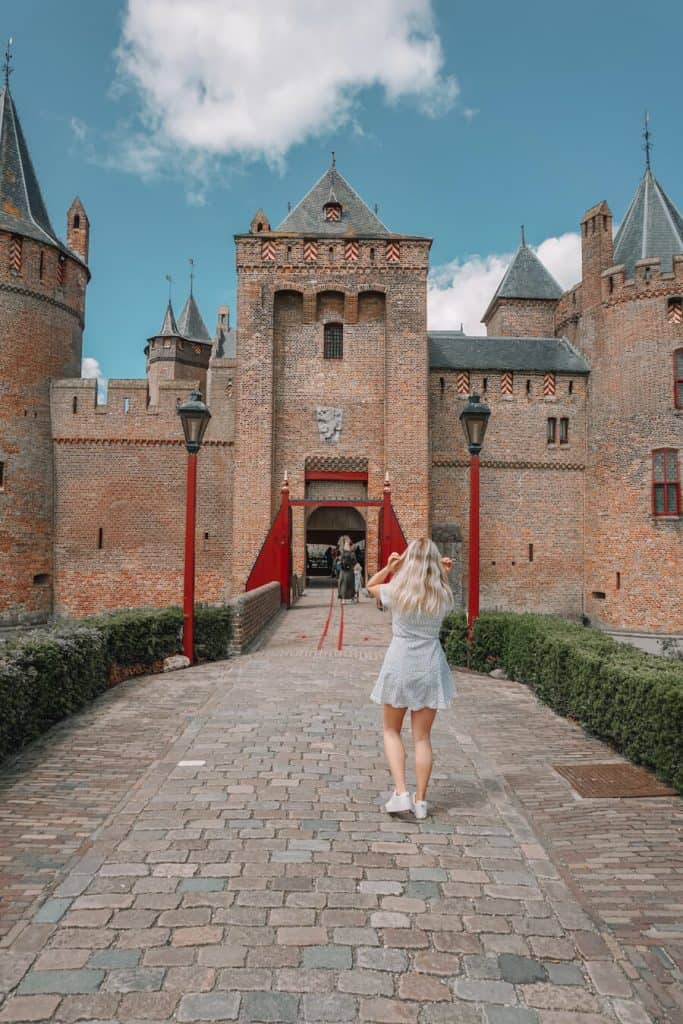 The day trips from Amsterdam range from journeys that take 20 minutes to some that take a few hours – regardless, the Netherlands is a small country, and getting around to completely new and diverse places is quick and easy.
Some of the best day trips from Amsterdam are:
Muiderslot Castle – Muiderslot Castle (pictured above) is a stunning medieval castle located just one hour from Amsterdam. It is the perfect place to escape to for viewing and exploring a stunning historic place. Check out this guide for all information.
Utrecht – Utrecht can be reached in just 20 minutes from Amsterdam by train. This city is quaint and stunning and has a wonderful sunken canal where you can sit and enjoy a special meal.
Haarlem – The mini Amsterdam welcomes fewer tourists than Amsterdam and all the same beauty and excitement.
Zandvoort Beach – Just one hour from Amsterdam by train is the beautiful beach called Zandvoort. It is such an unexpected gem of the Netherlands and perfect for relaxing in some soft white sand on a hot day. Read my Zandvoort Beach guide here.
Zaanse Schans – This is where you can find rows of authentic Dutch windmills to explore and enjoy.
---
Tour the Red Light District
The Red Light District is one of Amsterdam's more interesting tourist attractions. Every year millions of people visit Amsterdam and walk the old streets of the Red Light District in amazement of something so taboo existing. It is quite a polarizing topic, but a visit here is more like visiting a famous tourist attraction than anything else and is quite interesting at that.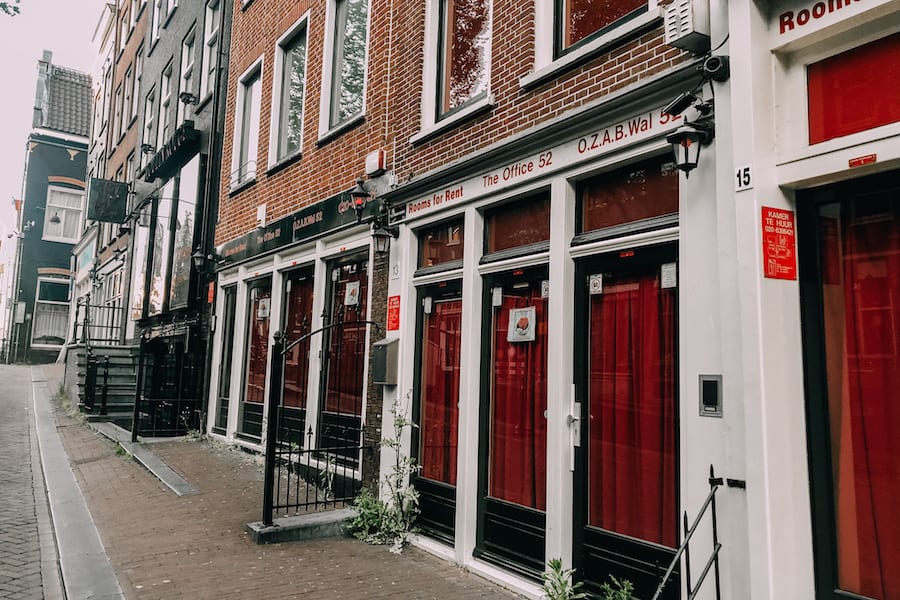 ---
Where to stay in Amsterdam
Looking for the best place to stay in Amsterdam? Check out this guide for a complete Amsterdam neighborhood breakdown and where to stay depending on your travel needs. You can also take a look at this map to get an idea of where to stay in Amsterdam.
---
Travel Insurance
It is important to have travel insurance before traveling. It's the number one thing you should always pack before traveling that can save you a lot of money, time, and stress. World Nomads is a popular Travel Insurance choice. Enter your details below to get a free quote!
---
Amsterdam in May is amazing. With this post, you can. plana complete visit full of exciting things to do, events to attend, and things to do. You will surely fall in love with the blooming flowers all around the city, the green leaves on the trees, and the feeling of everything being so lively.
More Amsterdam:
Like this post? Amsterdam in May for later!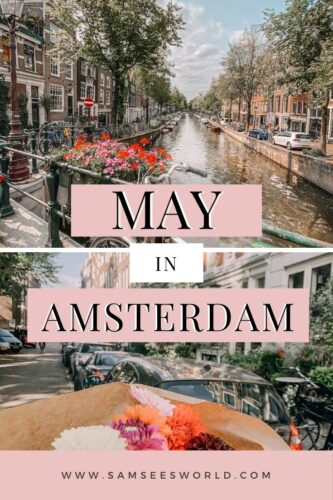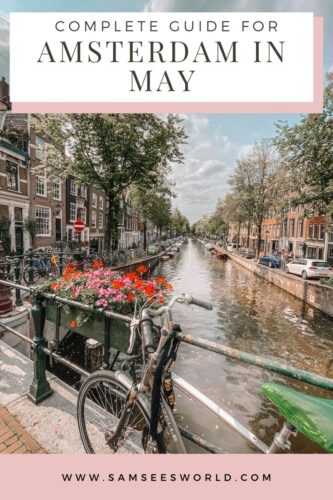 Love,
SSW