If you are planning a visit to Amsterdam in autumn be sure to use this guide for your stay! The fall season in Amsterdam is absolutely magical. The trees lining the canals start changing colours, leaves are blowing around, and the air has a crispness to it that makes you want to walk for hours. It is the perfect time of year to visit Amsterdam for travellers of all kinds.
The summer months in Amsterdam often welcome a ton of tourists and by the fall season, these numbers tend to dwindle. This is great because you can enjoy attractions with fewer people and find lower prices on accommodation and flights. Not only this but there are also some really cool annual events that happen in Amsterdam in autumn that you do not want to miss.
A visit to Amsterdam in the fall is worth it for a bunch of different reasons. Keep reading to find out everything about Amsterdam in autumn from the weather to events to things to do!
(Disclaimer: Some links in this post may be affiliate links, meaning if you click on the link and make a purchase, I receive a small commission. This is at no extra cost to you and you may even receive a small discount. See disclosure for more information. As an Amazon Associate, I earn a small commission from qualifying purchases.)
Amsterdam in Autumn: Complete Seasonal Guide
Weather in Amsterdam in Autumn
The weather in Amsterdam's fall season is oftentimes unpredictable. As a resident of Amsterdam, I can confidently say you never know what to expect and you can often get a few surprises. However, for the most part, the fall months of September, October and November follow a similar trend year by year.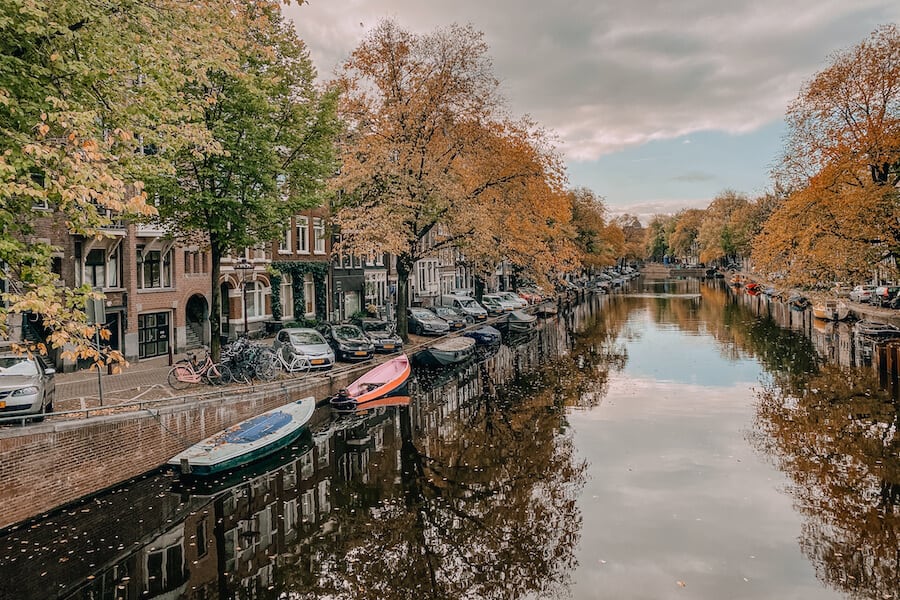 September is often still quite warm and sunny in Amsterdam. The September temperature averages are around 19°C with lows of 11°C. But there are those random days that can have abnormally high temperatures over 25°C and those colder days of 11°C. Don't expect too much rain in September.
October is one of the most unpredictable times in Amsterdam, not only for the temperatures but also for the rain. You can expect an average of 15°C in October with lows under 10°C. But I have had some days of 25°C in October so don't be surprised. This is also one of the rainest months of the year. You will most likely have a little bit of rain if you visit Amsterdam in October but it's nothing to worry about.
November is when the winter temperatures really start to set in and random hot days are a thing of the past. This month usually has highs of 10°C and lows of around 3°C. Plus, this is often the rainest month of the year so be sure to pack your rain gear! Check out this post for the best things to do in Amsterdam in the rain.
---
What to pack for Autumn
Packing for Amsterdam in Autumn requires a few essential items. Below are three things you need to pack for fall in Amsterdam.
---
Why Visit Amsterdam in Autumn
Going to Amsterdam in the autumn season is a great idea. This is one of the most beautiful and magical seasons of the year and welcomes a ton of fun things to do and see. From the leaves changing colours to the streets becoming less crowded Amsterdam in autumn is perfect! Not only this but you will find lower prices on flights and accommodation which make visiting more enjoyable.
---
Events in Amsterdam in Autumn
Amsterdam Dance Event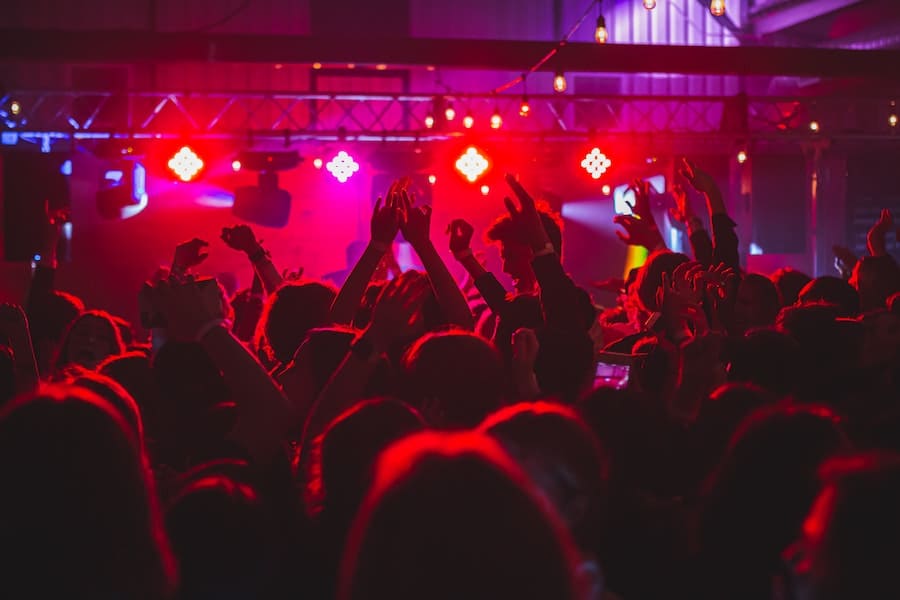 Amsterdam Dance Event, also known as ADE, is an annual electronic music event that takes place in the middle of October. The event takes place over 5 days and every day welcomes a wide range of events to attend. From DJ panels to intimate DJ showcases to huge stadium events, there is a ton to do and see.
People from all around the world come to Amsterdam for this event to enjoy one of the hundreds of events that take place. It is one of the biggest music events in the world and offers a ton to do and see. If you are a fan of electronic music or want to see Amsterdam alive with a huge and exciting event, this is one you cannot miss.
---
Museum Night, called Museumnacht in Dutch, is a one-night event that allows you to see some of the city's most famous museums after hours! This event usually takes place at the beginning of November and lasts for one night. During this night you can enjoy one of the best cultural experiences in Amsterdam where you can go to the city's most famous museums to enjoy evening events. You can drink cocktails at Rijksmuseum and then bike to another museum for a live DJ performance. This is a unique and unmistakably Amsterdam experience that is only offered once a year.
---
Amsterdam Light Festival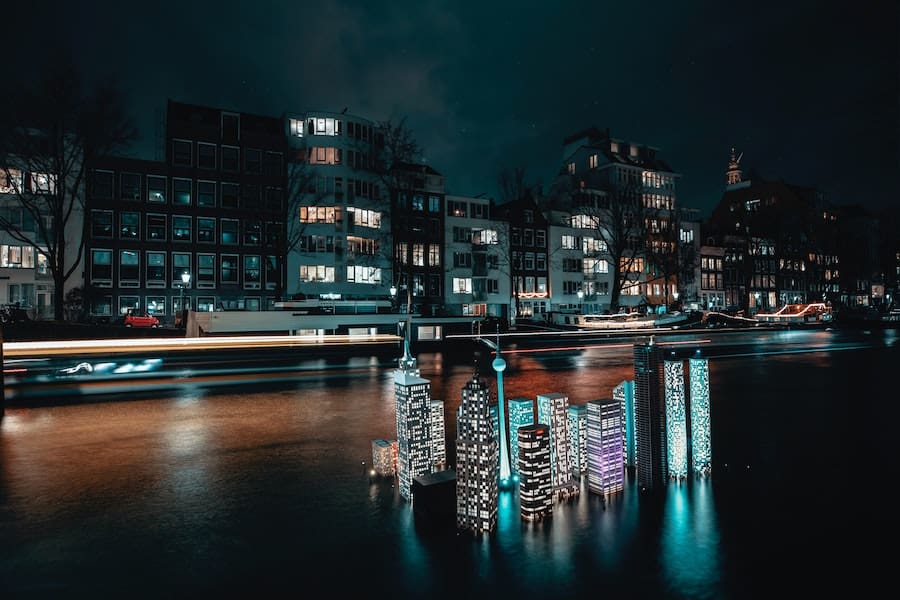 Beginning in November is one of Amsterdam's most famous art installments, the Amsterdam Light Festival. This event takes place all winter in Amsterdam and luckily you can catch it at the end of autumn. The exhibit is placed all around the city where artists from around the world will create light installations in relation to the year's theme. These installations are all super unique and have an interesting story behind them. To see the Amsterdam Light Festival you can do a self-guided walking or biking tour or you can join a canal cruise!
---
Things to do in Amsterdam in Autumn
Wander the Golden Hued Streets
Amsterdam is a stunning city every month of the year, but Amsterdam in fall is something else. The autumn season in Amsterdam transforms the tree-lined canals making them look even more magical and stunning. Once the trees start changing colours the golden hues are all you can stare at. It looks like something from a romantic novel.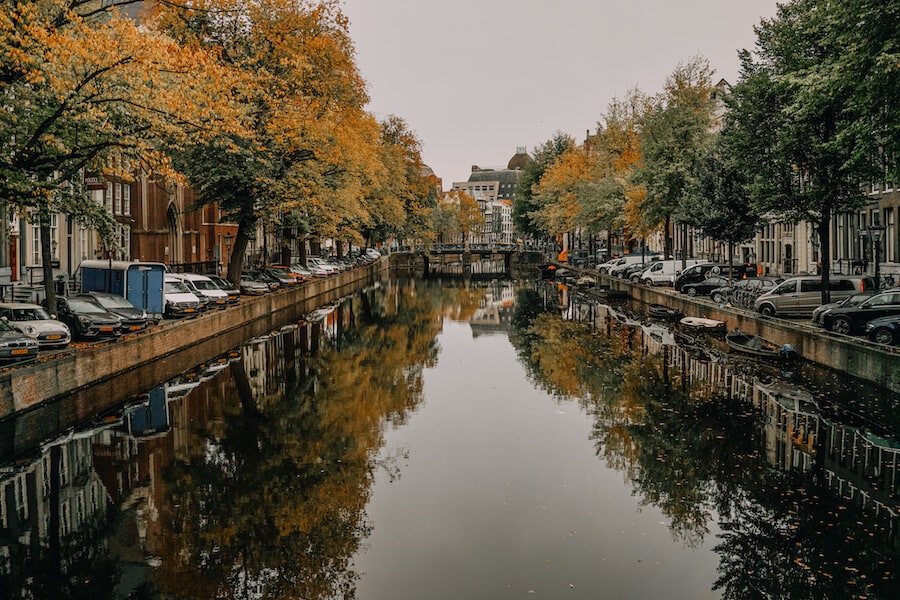 The best area to explore in Amsterdam for wandering the streets and admiring their beauty is the Jordaan. This neighbourhood is the most beautiful in the city and is made up of a ton of canals and tiny side streets. In this area, you will find the best golden-coloured trees and more than enough streets to walk around. Plus, this is where you will find the famous 9 streets.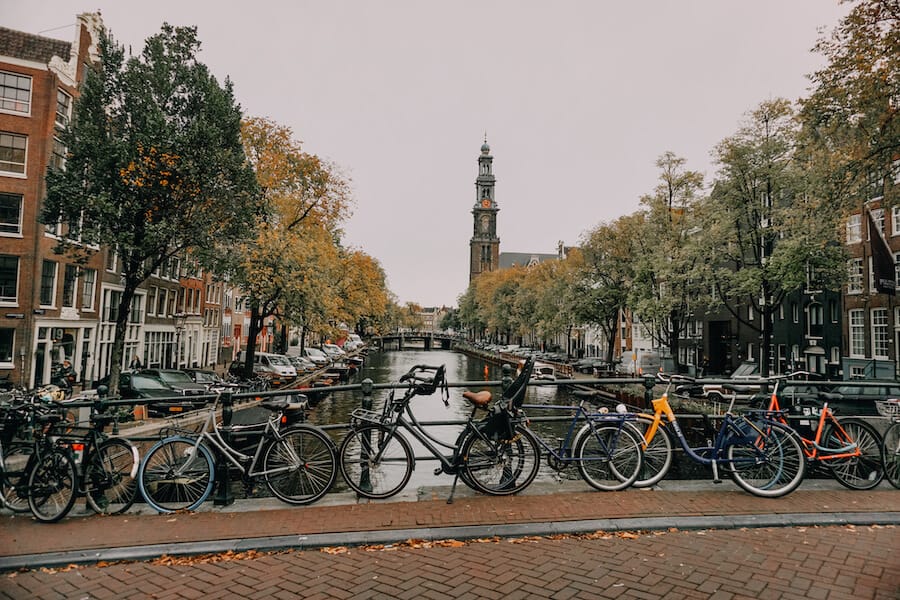 ---
Eat an Oliebollen
Oliebollen is a traditional Dutch dessert that is only available at the end of fall and towards the Christmas season. This is a treat Dutch people go crazy over during this time of the year and trying one for yourself is a must. All this dessert consists of is deep-fried dough shaped like a sphere. They often contain raisins and are topped with white powdered sugar. You can find them in bakeries all around the city and there are often special oliebollen food trucks set up as it gets nearer to the New Year.
---
Go to a Museum
Going to a museum in Amsterdam in Autumn is never a bad idea. Since the weather is very unpredictable and a rainy day is likely, having a day planned to enjoy one of the city's many amazing museums is one of the top things to do. There are museums of all kinds in Amsterdam from art to history and beyond. Finding one that interests you is more than likely.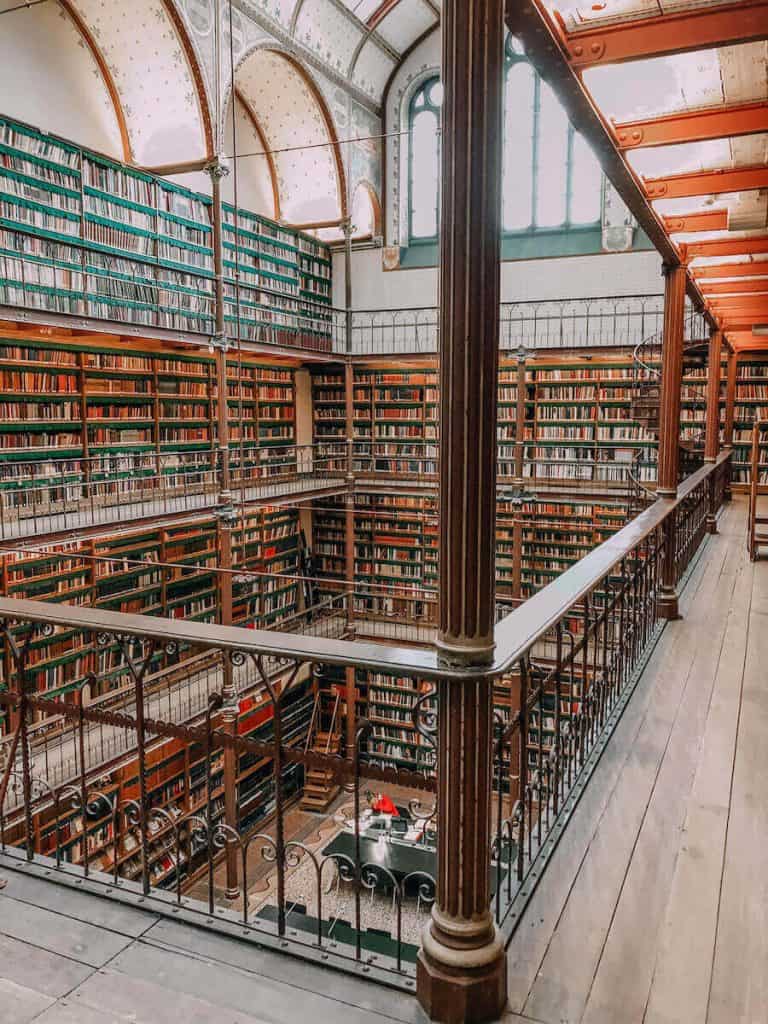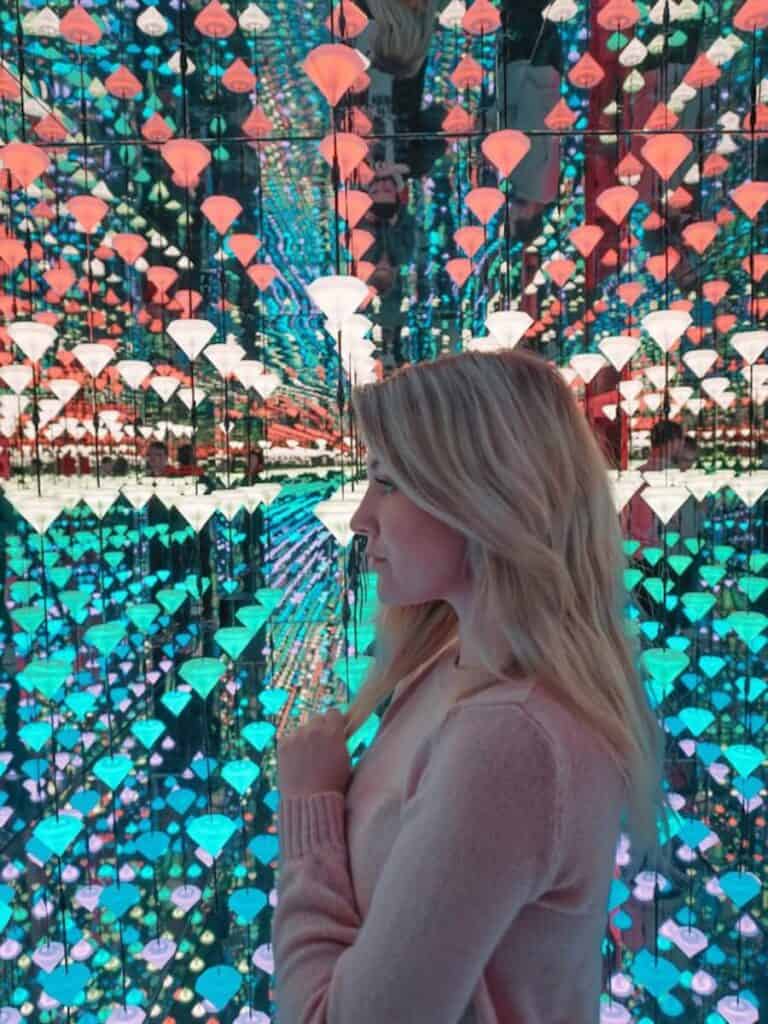 Use this Amsterdam Museum Guide to find your perfect museum. Here you will find options ranging from the city's most famous museums like the Van Gogh Museum and Rijksmuseum to more modern museums like Moco and Stedelijk! Plus some extra ones that and super unique and unheard of: think Tulip Museum and more.
*IMPORTANT: The Anne Frank House has now limited its amount of guests to 1 million a year. As a result, tickets ONLY go on sale ONLINE on the first Tuesday of the Month*
---
Rent a Bike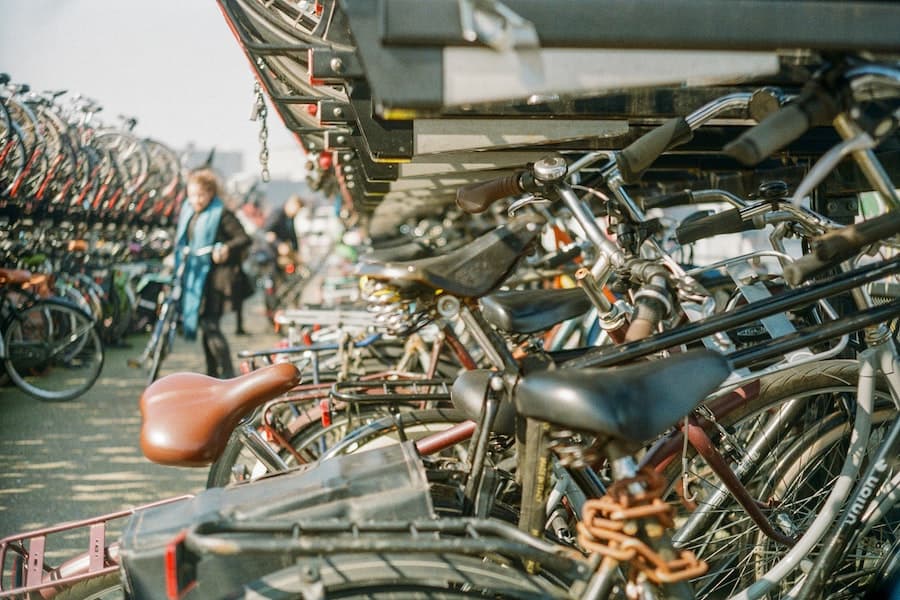 Biking is the main form of transportation in Amsterdam. There are actually more bikes than people in the city! The quickest, easiest, and cheapest way to get around Amsterdam as a local and as a tourist is by bike. If you are visiting Amsterdam in autumn and are expecting favourable weather, renting a bike is a must. This way you can become a part of the Dutch culture and see as much of the city as possible. Be sure to read my guide on biking in Amsterdam to prepare yourself!
---
Rent a Boat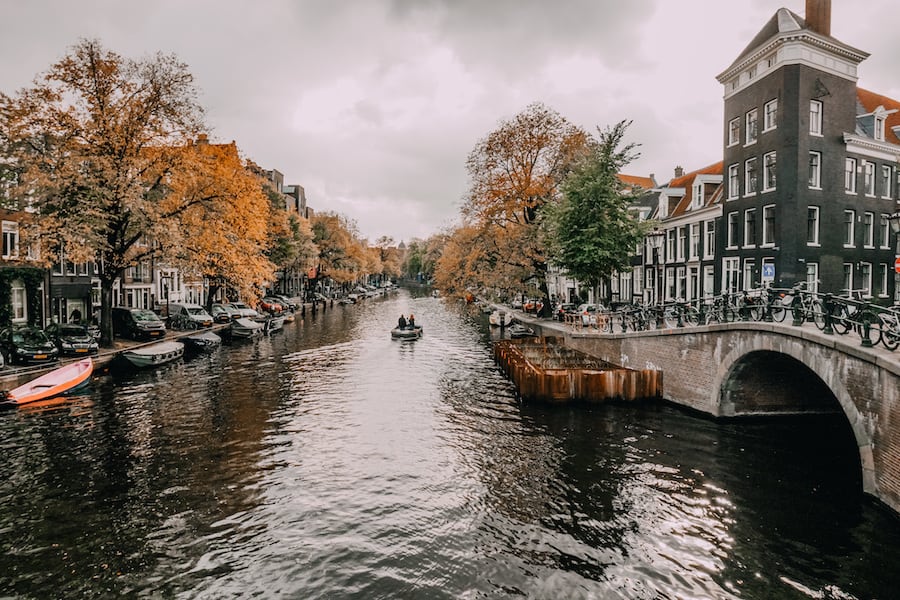 Renting a boat and cruising around Amsterdam's canals remains one of the best ways to get around the city. In Amsterdam, in autumn the rides through the canals are even more exciting with the golden trees and leave blowing through the air. As a tourist, you have a few options when renting a boat. You can get a ticket for a huge canal cruise boat with many others, get a ticket for a specialized canal cruise with drinks and food, or rent your own boat from a company like Mokum Boat.
---
Shopping on the 9 Streets
While exploring the beautiful streets of Amsterdam you will likely notice all the amazing local shops and boutiques. Amsterdam is the perfect place for shopping for unique clothes, jewelry, and beauty products. The best area in Amsterdam for shopping is the 9 streets, which is a collection of 9 streets in the Jordaan neighbourhood. These 9 streets are packed with shops of all kinds and are one of the best places for shopping in the city.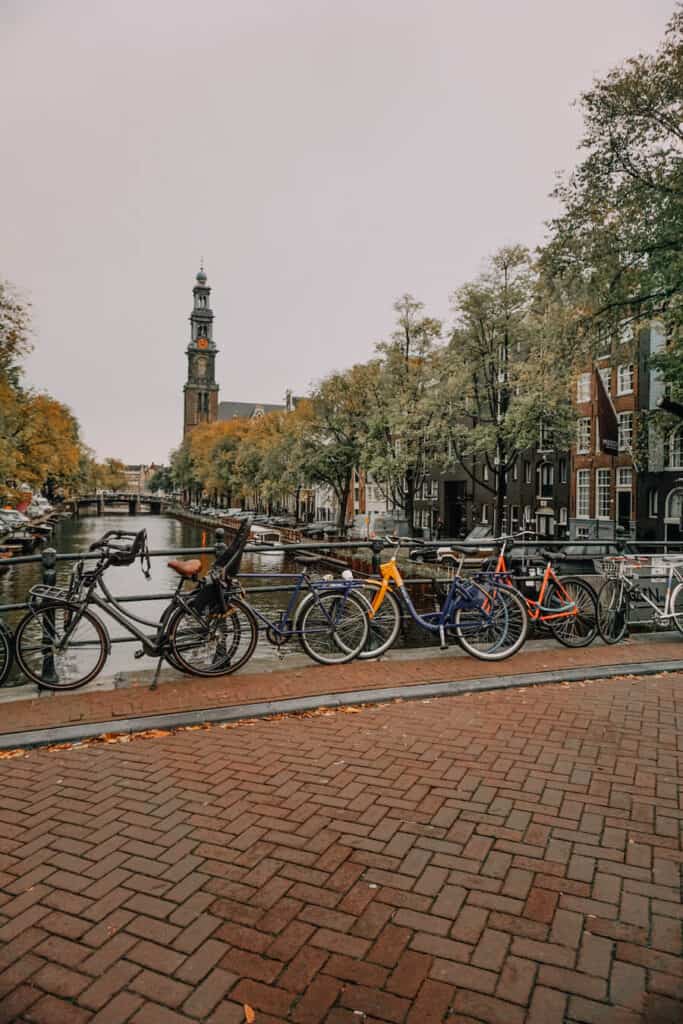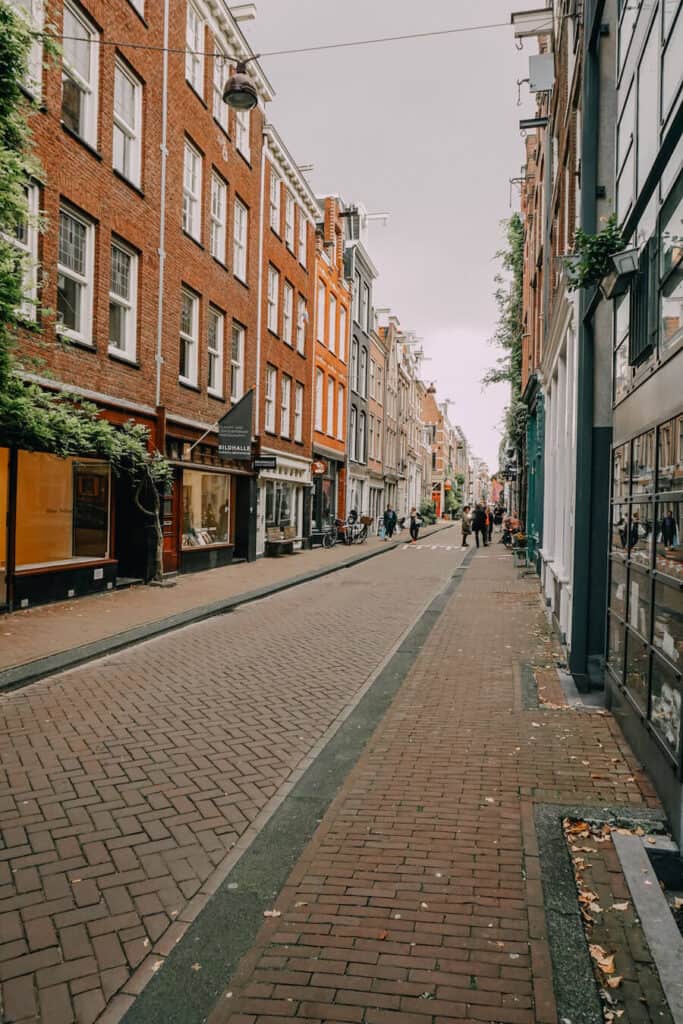 ---
Drink Hot Chocolate by the Canals
Warm hot chocolate on a chilly fall day in Amsterdam is a must. There are cafes all around the city that can serve you a warm cup of hot chocolate, or any other warm beverage of your choice, to enjoy and warm up with. You can either find a cafe with outdoor seating along the canals or get a drink to go and enjoy it while you walk.
Here is a list of the 20 best cafes in Amsterdam.
---
Have a Fall Photoshoot
Amsterdam in autumn is absolutely stunning! The streets, canals and the entire city is beautiful in every way, which makes it the perfect time for a fall photoshoot. Capturing some photos of yourself and the city to remember forever on camera is a top thing to do in Amsterdam in autumn. Feel inspired by the neutral colours of the city and find your inner model!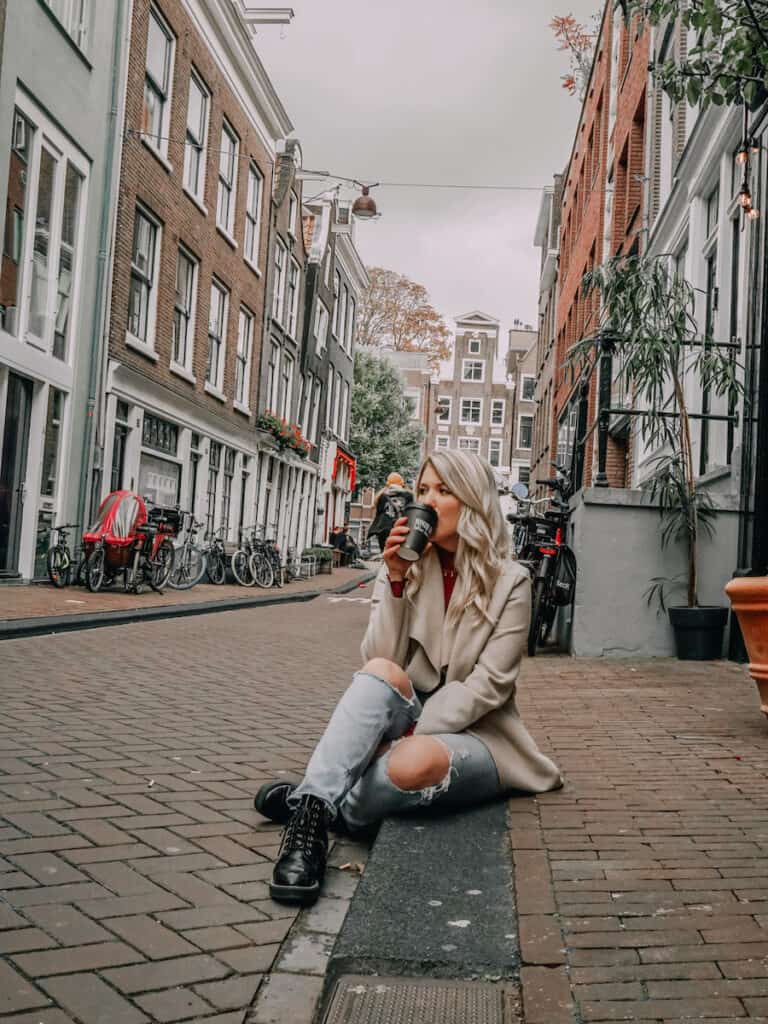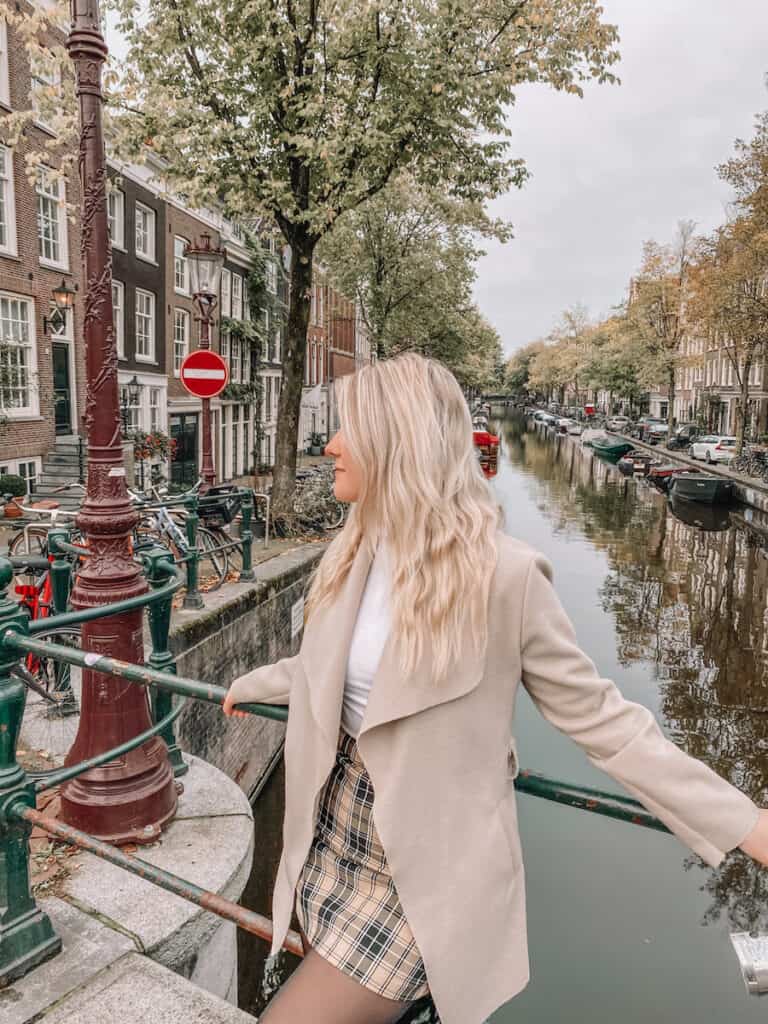 Where to stay in Amsterdam
The best place to stay in Amsterdam is in the city ring. This way you are able to catch public transportation if need be, and are close to all the major attractions and things to do. You may find accommodation to be more price around events like ADE but other than that you can find some decent deals. Use this guide to learn about all the areas in Amsterdam and the best place to stay in Amsterdam.
---
Travel Insurance
Getting travel insurance before you travel is a MUST. It's the number one thing you should always pack before travelling that can save you a lot of money, time, and stress. With how crazy travel has gotten recently you need that peace of mind that no matter what happens there is something protecting you from losing out. I always travel with travel insurance and think everyone should.
I always travel with travel insurance and think everyone should. Below is my favorite travel insurer Safety Wings, enter your details to get a free quote!
---
A visit to Amsterdam in autumn is something everyone needs to do at least once in their life. It is such a special time and the city of Amsterdam really comes alive during this season. If you are looking to enjoy the beauty, as well as, a ton of amazing events a visit to Amsterdam in autumn is in your future!
More Amsterdam:
Like this post? Pin "Amsterdam in Autumn" for later!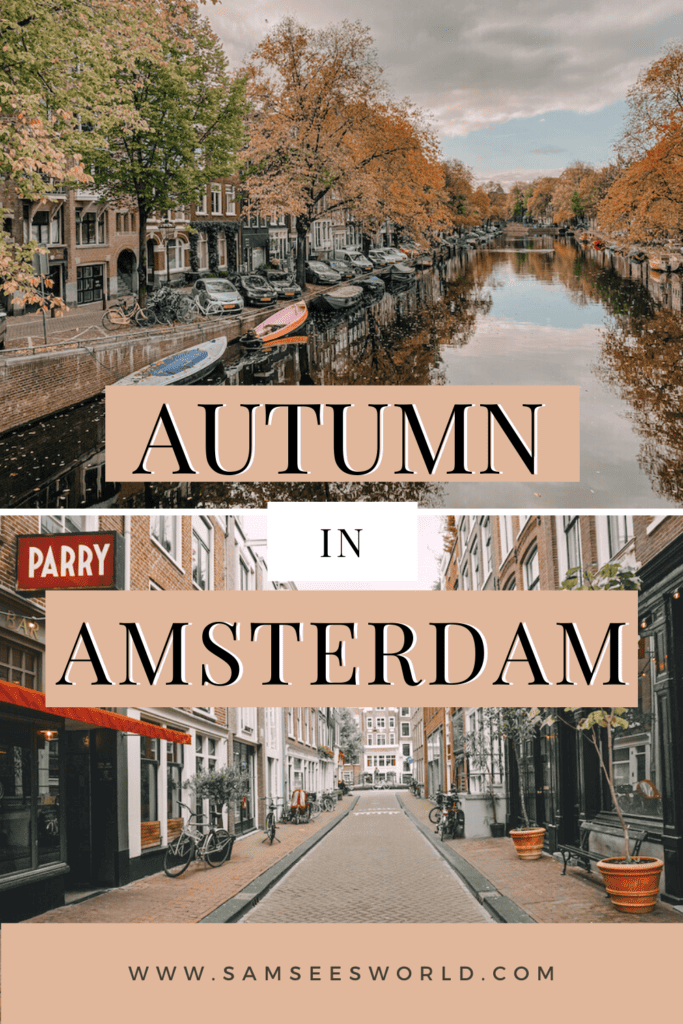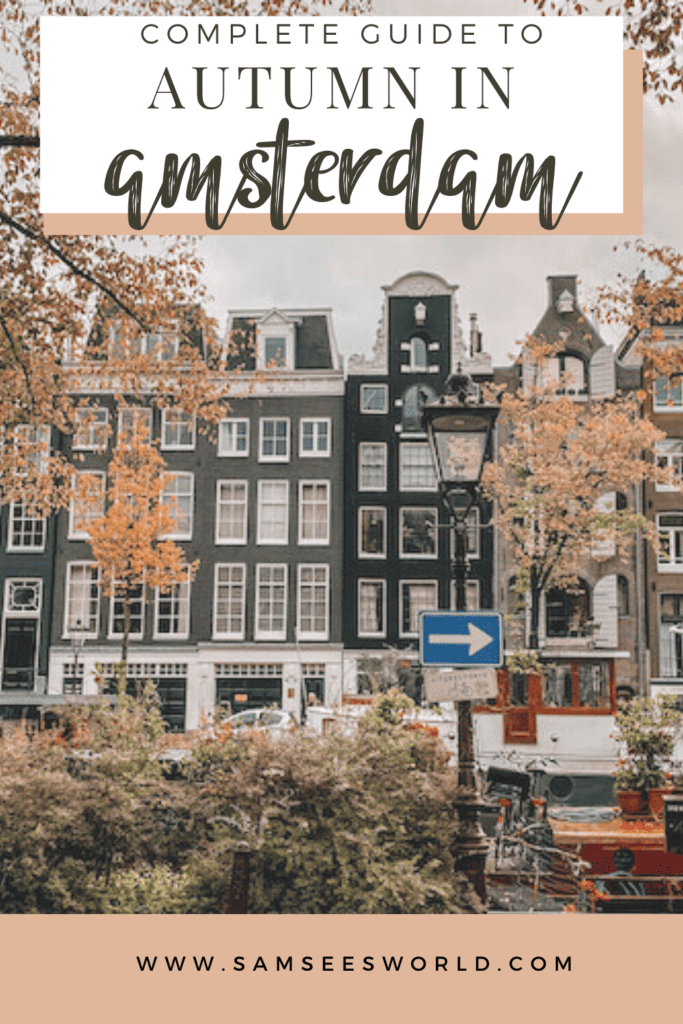 Love,
SSW
Disclaimer: samseesworld.com is a participant in the Amazon Services LLC Associates Program, as an Amazon Associate I earn from qualifying purchases. Please see our Privacy Page for more information.