Looking to enjoy some of the best pancakes in Amsterdam? Then check out this post for a list of 14 of the best pancake restaurants in Amsterdam. Amsterdam is a city full of thousands of restaurants serving a wide variety of different cuisines. One of the more popular breakfast items in Amsterdam is pancakes!
You can find a variety of pancake restaurants in Amsterdam serving this delicious dish in a unique way. Amsterdam is a very trendy city and unique and aesthetic restaurants are a norm, meaning you can enjoy pancakes with a twist making the entire dining experience very exciting! Heading to one of these restaurants for a delicious pancake breakfast is the best way to start your day.
Keep reading for the 12 best pancakes in Amsterdam and where to find them.
Best Pancakes in Amsterdam
Happy Pig Pancake Shop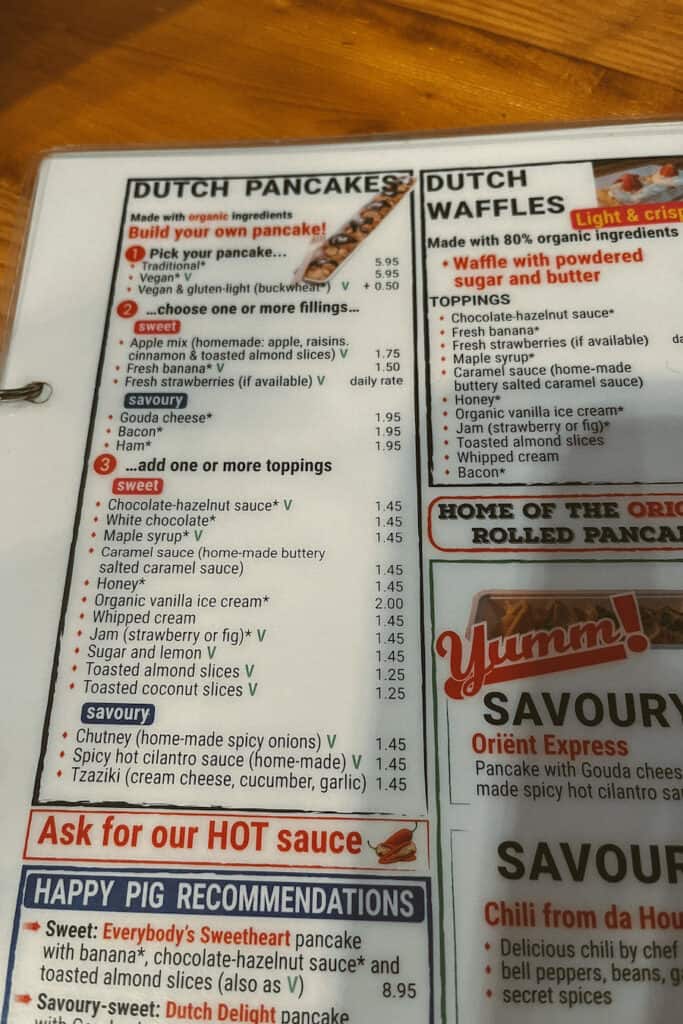 Happy Pig Pancake Shop is one of the most unique places to get pancakes in Amsterdam. The unique way of serving them cut into bite-sized chunks makes them taste better somehow, and the wide range of fillings is superb. You can get regular, vegan and gluten-free pancakes too!
Choose from sweet or savoury pancakes, or opt for dutch waffles. The atmosphere is really relaxed and laid back plus prices here are reasonable so you can. There's limited seating inside as it is a pretty small shop.
---
Moak Pancakes
Moak Pancakes is one of Amsterdam's most famous pancake restaurants. Here you can find a wide variety of pancake stacks at very reasonable prices. One of the best things about MOAK is that the interior is super aesthetically pleasing! This restaurant has American pancakes, vegan pancakes, and even a Versace pancake stack with real gold!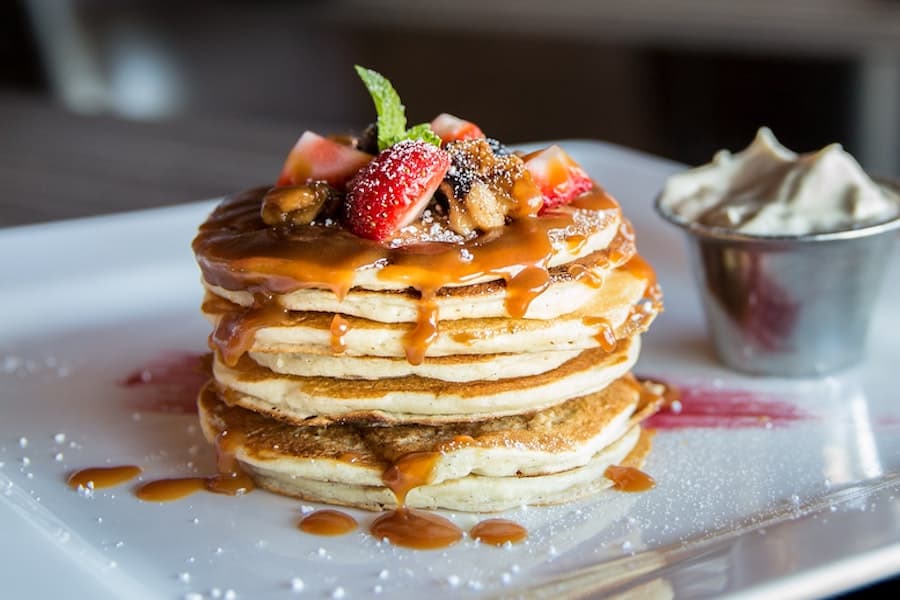 ---
Pluk
Pluk is one of Amsterdam's most beautiful cafes/restaurants located on the famous 9 streets. It is known for its healthy drinks, delicious food, and amazing atmosphere. The restaurant isn't dedicated to pancakes like many on this list, but they do offer a tasty pancake option to try! This is great if you are looking for a meal and one person doesn't want pancakes.
---
Pancakes Amsterdam
Pancakes Amsterdam is the most famous and visited pancake restaurant in Amsterdam. It has a few locations around the city, but one of them is directly across from Centraal Station and is always full of people with a line at the door.
This is the perfect place to choose from a huge list of pancake options and some very unique options like; apple pie pancakes, vegetables, bacon and fruit, and many more! Here you with enjoy some of the best pancakes in Amsterdam.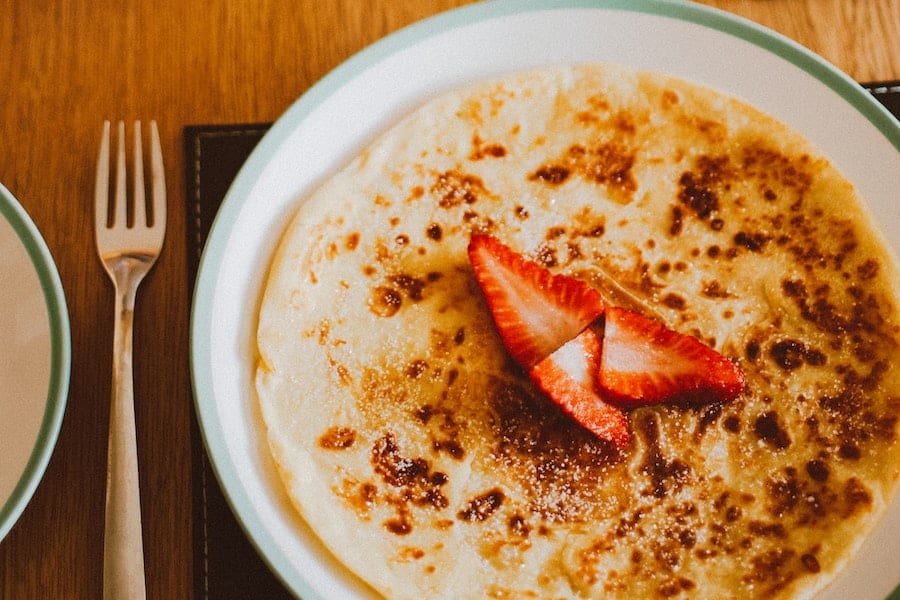 ---
Benji's
Benji's is a lush jungle-like restaurant with many locations around Amsterdam. It is the perfect place to escape to for a healthy and delicious brunch. This restaurant serves only one pancake dish and many other breakfast/ lunch options to try.
---
The Pancake Bakery
The Pancake Bakery is a hidden gem in Amsterdam that isn't super overwhelmed with tourists. This is the perfect place for delicious pancakes and for trying authentic dutch pancakes call Poffertjes! The Pancake Bakery can be found in the Jordaan neighbourhood of Amsterdam and is the ideal place to go for pancakes if you want to eat some of the best in the city.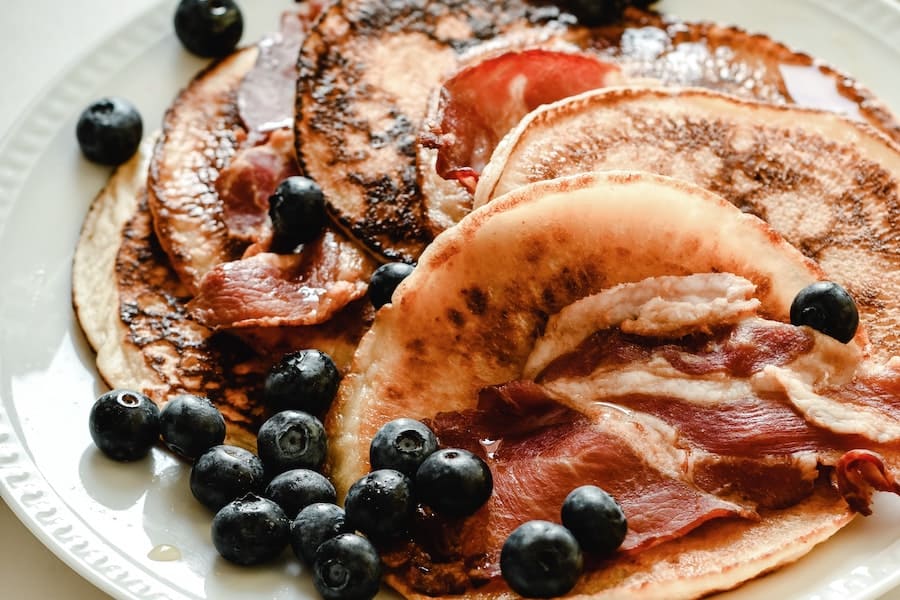 ---
The Pancake Boat
The Pancake Boat is a unique pancake experience where you embark on a 75-minute boat ride in Amsterdam enjoying all you can eat pancakes. There is a fixed price and with this, you can enjoy as many pancakes as you want. This is a super unique pancake experience that you can only experience in Amsterdam! Plus you will enjoy some of the best Dutch pancakes in Amsterdam.
---
Mr. Stacks
Mr. Stacks is a 100% vegan restaurant that offers some of the best food in Amsterdam. The pancakes from Mr. Stacks are some of the best and most unique in the world and everyone who visits Amsterdam should visit this restaurant to try them. Both vegans and nonvegans alike agree that these are some of the best pancakes in Amsterdam without a doubt. Get flavors like cinnamon swirl, chocolate banana, and more!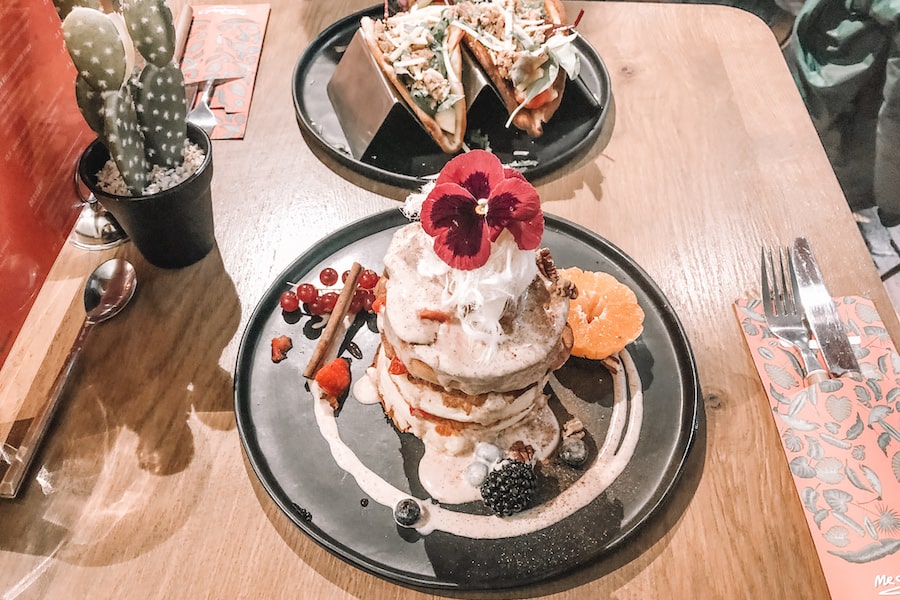 ---
Coffee and Coconuts
Coffee and Coconuts is a famous cafe in Amsterdam with a flourishing brunch scene. Almost every day you will find a line to get into this restaurant and enjoy the food. They serve more than just pancakes but if you are searching for a tasty pancake fix this is the place for you!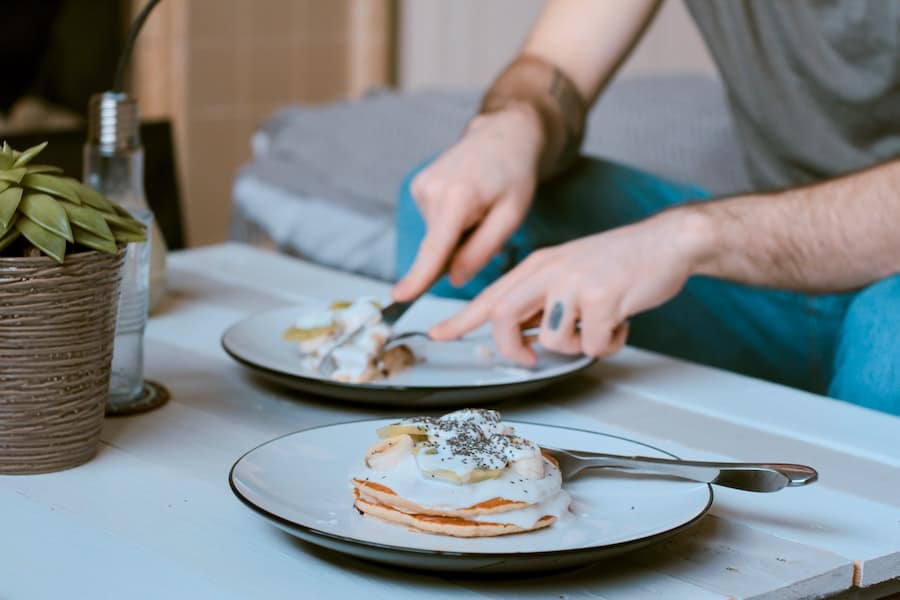 ---
De Carrousel
De Carrousel is a popular pancake spot in the center of Amsterdam. It is made to look like a carousel and even has a little one inside. This restaurant exclusively serves pancakes and it is the perfect place to get some famous dutch poffertjes. Head here to enjoy some of the best pancakes in Amsterdam.
---
Pannenkoekenhuis Upstairs
Pannenkeokenhuis Upstairs is a quirky Amsterdam restaurant most visited by locals. The restaurant is inside a 16th-century house and serves delicious traditional pancakes. This is the perfect place to enjoy tasty pancakes in a beyond-unique atmosphere!
---
Corner Bakery
Corner Bakery is one of the most Instgrammable restaurants in Amsterdam. They are known for their cute plating, huge milkshakes, and a plethora of colour. It really is a feast for the eyes! Along with pancakes they serve many other dishes to enjoy.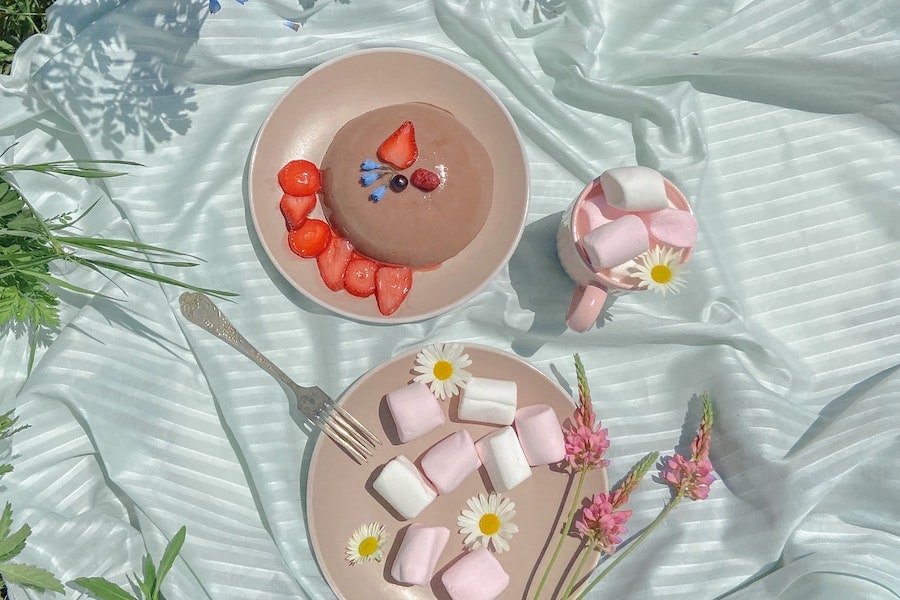 ---
The Breakfast Club
The Breakfast Club has locations all around Amsterdam and is one of the most popular brunch places in the city. A visit here offers a wide range of food options, one of which is pancakes. Enjoying some fresh pancakes in their outdoor seating is a wonderful dining experience.
---
Travel Insurance
Getting travel insurance before you travel is a MUST. It's the number one thing you should always pack before travelling that can save you a lot of money, time, and stress. With how crazy travel has gotten recently you need that peace of mind that no matter what happens there is something protecting you from losing out. I always travel with travel insurance and think everyone should.
I always travel with travel insurance and think everyone should. Below is my favorite travel insurer Safety Wings, enter your details to get a free quote!
---
The search for your favorite pancakes in Amsterdam is on! With so many different restaurants serving their own recipe, you are sure to find your favorites! I hope this list of the best pancakes in Amsterdam has helped your search.
More Amsterdam:
Like this post? Pin "Best pancakes in Amsterdam" for later!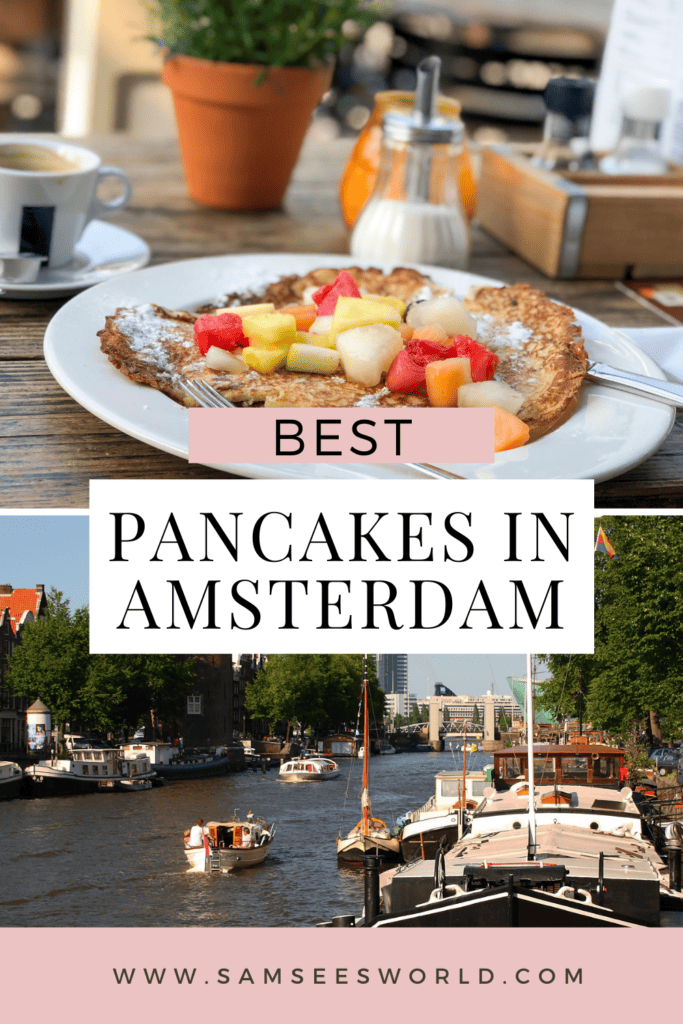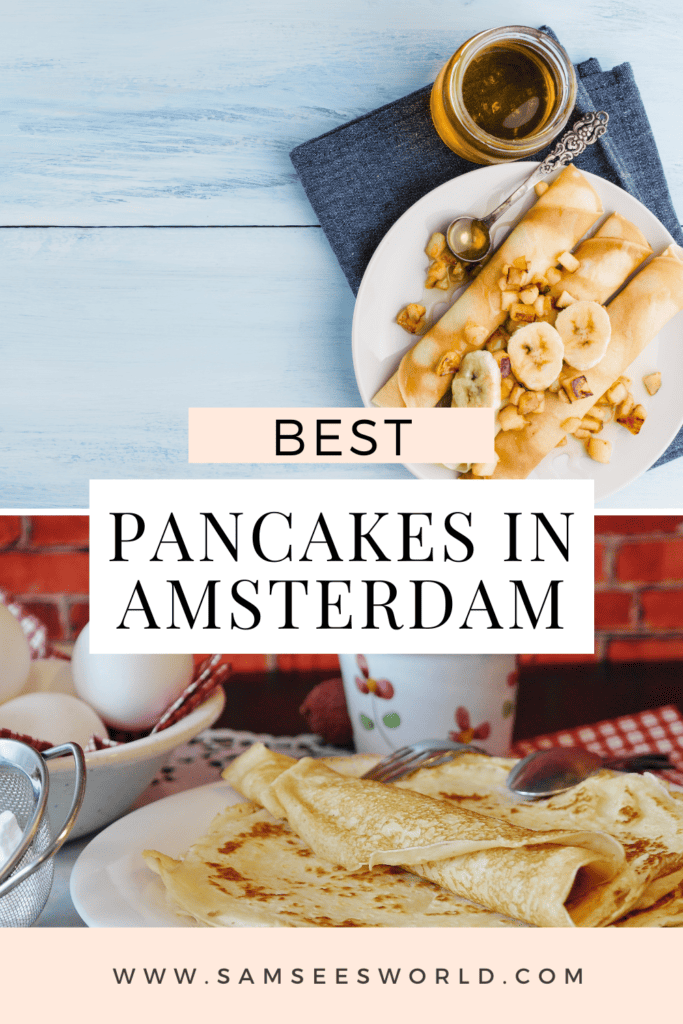 Love,
SSW