The vibe of Amsterdam during the day and Amsterdam at night may seem very different but in reality, when the sun goes down the excitement of the daytime is only amplified and the fun in the city begins. As a resident of Amsterdam for over 3 years, I have found all the best things to do in the city after dark to fit every type of traveler's needs.
Despite Amsterdam's previous image as a party city, this image is changing due to the growing amount of other cool things to do in Amsterdam at night in addition to partying! For a city that comes alive when the moon is out, deciding on what to do in Amsterdam at night can be a difficult decision.
As a result, I have been on a mission to find all the best things to do in Amsterdam at night, with an option for everyone!
(Disclaimer: Some links in this post may be affiliate links, meaning if you click on the link and make a purchase, I receive a small commission. This is at no extra cost to you and you may even receive a small discount. See disclosure for more information.)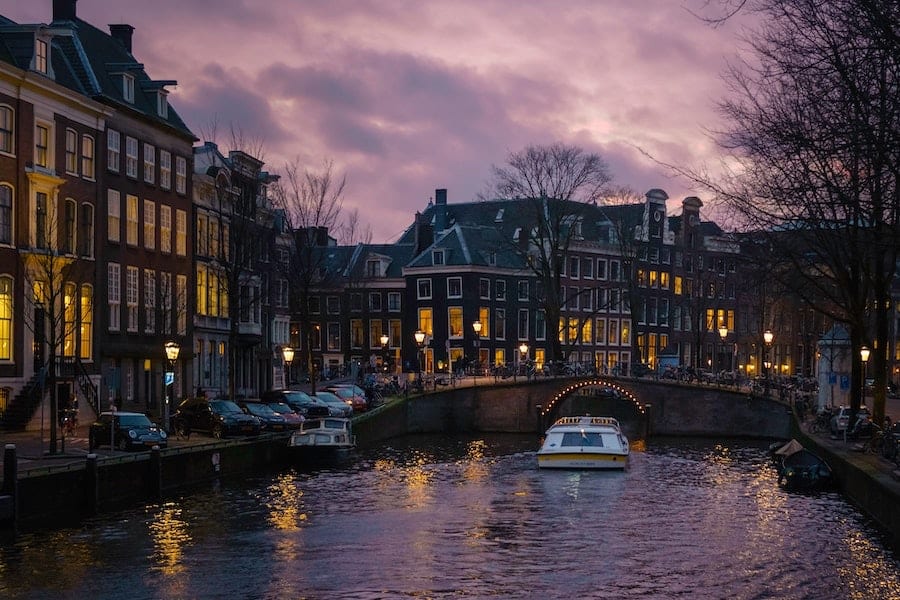 This city doesn't sleep so when you visit you shouldn't either. Due to Amsterdam's young population, nighttime activities are in abundance. These activities range from culture nights to live music to intriguing clubs and even secret adventures. Amsterdam is a very open and welcoming city, so if you are a solo traveler think of this list as things to do in Amsterdam at night alone as none of these activities require another person.
Tip! If you are planning on going out in Amsterdam you should consider getting The Amsterdam Nightlife Ticket. This ticket provides you with access to over 30 clubs, a nightlife experience, free drinks, and more. Plus for 2 days it only costs €10. Get yours here and use the 10% discount code "Samseesworld".
---
15 Things to Do in Amsterdam at Night
Embark on a Night Canal Cruise
Price: €19.50
Hours: 18:30 PM – 22:00 PM
Location: Stadhouderskade 30
The best way to see the city of Amsterdam is by boat, and a boat cruise at night is the best way to see the city all lit up. Once the sun sets in Amsterdam the city takes on an almost magical feel. The thousands of lights that line the streets turn on and illuminate the canals, reflecting a glow. A night canal cruise offers a wonderful way to see the streets of Amsterdam at night while enjoying the comfort of a boat to relax.
Blue Boat Canal Cruises offers nighttime canal tours for 90 minutes, and this tour also includes an onboard bar service. With this tour, you can listen to the history of the city or just soak in the nighttime vibe.
The canal cruises only last an hour or two so if you want to do other things in Amsterdam at night you have plenty of time.
---
See the Famous Red Light District
Price: FREE
Hours: All hours
Location: Near Nieuwmarkt Metro Stop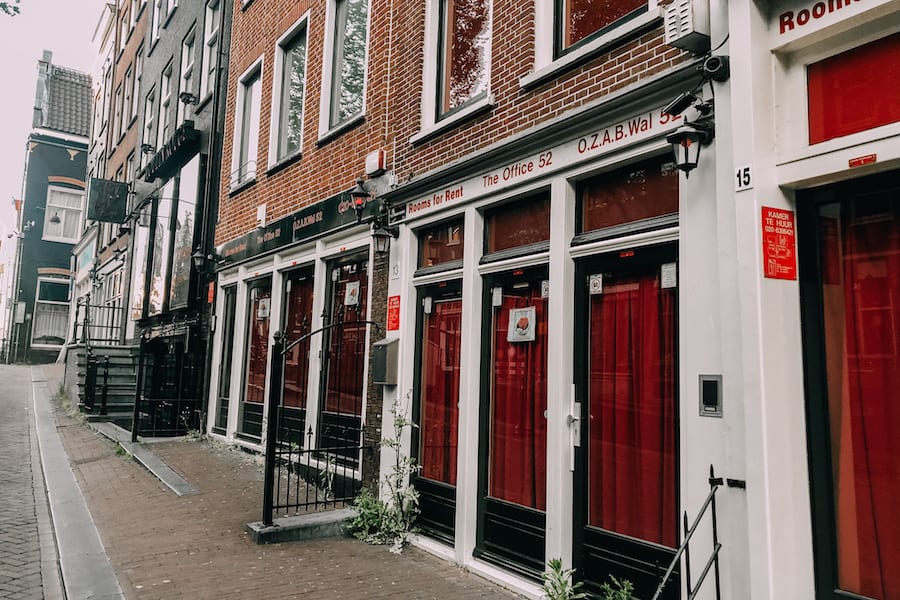 The Red Light District definitely isn't for everyone, but if you are curious about what it is all about then I suggest you check it out. After all, it's definitely one of the most popular things to do in Amsterdam at night. Once it is dark out the red lights from the windows and the neon signs from the adult shops illuminate the streets and give it a festival-like feel. While here you can spend some time walking the canals, viewing the windows, or checking out one of the eccentric shops or museums.
The Red Light District has a noticeable shift in energy from day to night. This shift is playful and fun until about 1 AM when it gets a little bit seedy. I suggest refraining from heading there after 1 AM as the vibe changes around this hour.
However, seeing the Red Light District in person is something I urge you all to do. It is unlike anything else you'll ever see and it is quite a tourist attraction. Just be sure to be vigilant and watch your belongings, there tend to be some pickpocketers in this area, especially in Amsterdam at night.
---
Go To A Museum
Price: €19.95
Hours: 9:00 AM – 19:00 PM (weekdays) – 9 AM – 21 PM (Fridays)
Location: Museumplein 6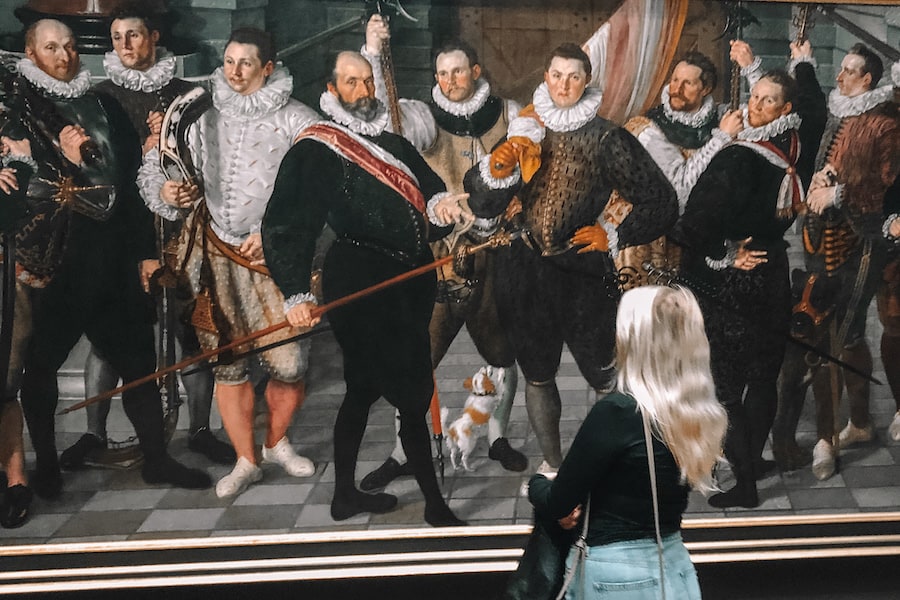 If you love culture when traveling then good news, the Van Gogh Museum, and  The Stedelijk Museum have their doors open until 9 PM on Fridays & the Eye Film Museum is open until 11 PM Fridays and Saturday. These extended hours are only available in the summer months. More so, there's an even better thing to do in Amsterdam at night if you are visiting in November, it's called Museum Night.
Read More: Amsterdam Museum Guide
---
Join Amsterdam Museum Night
Price: €19.95
Hours: 19:00 PM – 2:00 AM
Location: Diverse Locations
If you are visiting Amsterdam in November Museum Night is a MUST! On the first Saturday of November, 50 museums in Amsterdam are open during the night for special events, special tours, drinks, and food! This is a super unique event and sells out very quickly. If you already know you will be visiting during this time don't wait to buy tickets! This is one of the most unique and interesting things to do in Amsterdam at night that you won't want to miss.
---
Experience Amsterdam Nightlife
Price: Entrance Cost: Between €10 – €20
Hours: 23:00 PM – 5:00 AM
Location: Diverse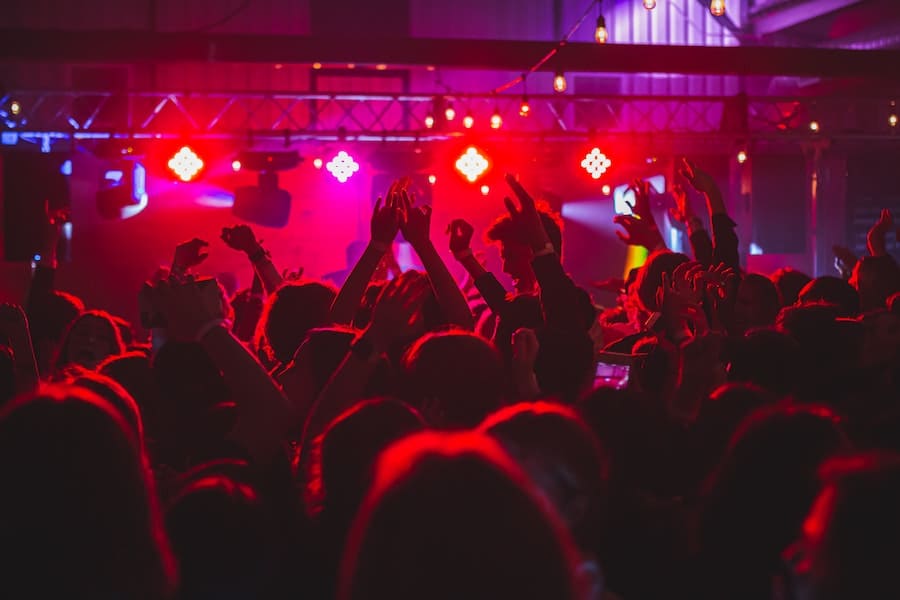 Amsterdam's nightlife is amazing. There are so many clubs and bars in Amsterdam that you can really find one for whatever vibe you are feeling that night. The nightlife vibe in Amsterdam is pretty different than most places mainly due to the crowd it attracts.
On one side it can get pretty rowdy as Amsterdam does attract quite a few travelers who come here for bachelor parties or to party hard. On the other side, the Dutch locals are very relaxed and keep to themselves while partying. It's a pretty unique mix of people but it leads to an interesting dynamic and a fun time in Amsterdam at night.
If you go to the touristy areas – Leidseplein or Rembrandtplein – you will surely find some clubs that are full of tourists and quite rowdy. Plus, in these areas entrance fees and drinks and higher. Check out my Nightlife Guide in Amsterdam to find a list of a wide assortment of places to do out to in Amsterdam at night.
Just for reference, on a night out a beer costs between €3.50 – €5.00, and a cocktail or mixed drink costs between €8.00 – €15.00. Choose wisely!
An Amsterdam nightlife ticket is a great option for those of you who plan on spending a few nights out in the city. With this, you get access to 30+ of the best clubs in the city for only €10 euros for 2 days! Click here to get a ticket using the code "Samseesworld" for 10% off.
---
Amsterdam Light Festival
Price: Varies
Hours: 4 PM – 10 PM
Location: All around Amsterdam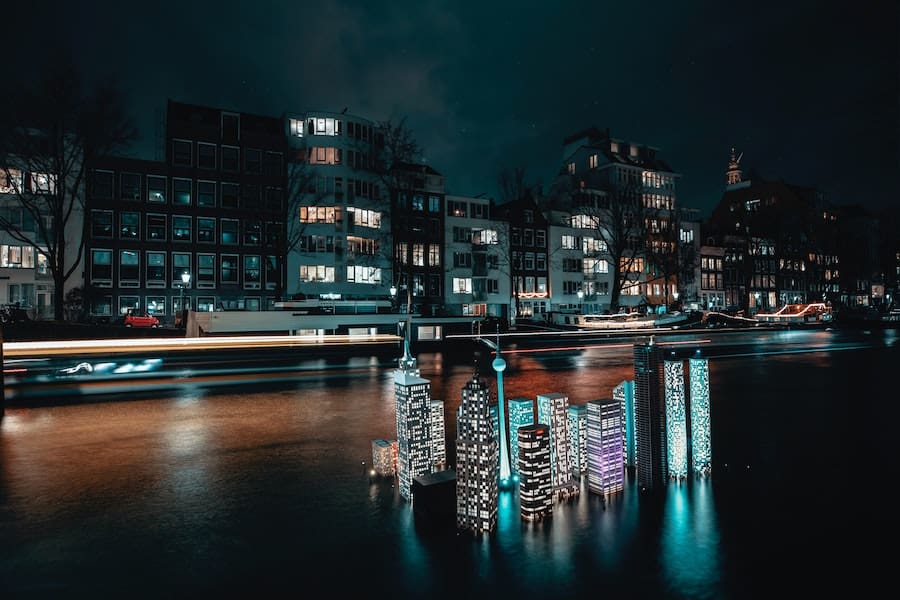 If you happen to visit Amsterdam in the winter there is one thing you cannot miss: the Amsterdam Light Festival. This is where the artistic and creative side of Amsterdam really shines. Canals around the whole city are lit up with amazing light structures made by artists.
Visitors that come in the months of November to February must view the Amsterdam light festival. During the four months of Amsterdam's winter, the canals come alive with different art exhibitions from artists from around the world. Each year has a different theme and all art exhibits are made with lights and meant to be enjoyed in Amsterdam at night.
You can view the Amsterdam Light Festival for free by biking or walking around the city to find all the different installations. Or you can join a canal cruise which will take you around the canals of Amsterdam and show you all the different art exhibits. Viewing the Amsterdam light festival is the number one thing to do during Amsterdam's brisk winter nights.
---
Watch a Movie at FilmHallen
Price: Tickets €11
Hours: 10:00 AM – 12:00 PM
Location: Hannie Dankbaarpassage 12
If you are looking for more a relaxed nighttime activity then FilmHallen is an ideal choice. It is a Dutch cinema that plays both Hollywood movies and award-winning European films, all with Dutch subtitles. It's nothing like American cinemas and offers a unique way to feel a part of the Dutch culture while enjoying a relaxing evening.
If you decide to spend your evening at FilmHallen, I suggest you begin at FoodHallen right next door. FoodHallen is a giant food hall lined with food trucks of all types of food. This is something for both tourists and locals! Grabbing a bite to eat at the FoodHallen and then watching a film is fun, casual, and uniquely Amsterdam.
READ MORE: 10 Unique Things to Do in Amsterdam
---
Go to a Film at Theater Tuschinski
Price: Tickets €11
Hours: 10:00 AM – 12:00 PM
Location: Reguliersbreestraat 26-34, 1017 CN Amsterdam, Netherlands
Another great movie theatre option in Amsterdam that is larger than film Hallen is Theater Tuschinski. This is a great place to head to if you have a rainy night in Amsterdam or want to experience a relaxing evening while still enjoying Amsterdam.
This theatre was built in 1920 and still holds the same stunning authentic 20s look to it. The interior of the theatres looks like they will be hosting a ballet, not a movie! This is the perfect Amsterdam at night activity for a cultural experience.
Discover the best things to do in Amsterdam on a rainy day!
---
Bike Amsterdam at Night
Price: FREE
Hours: All Hours
Location: Everywhere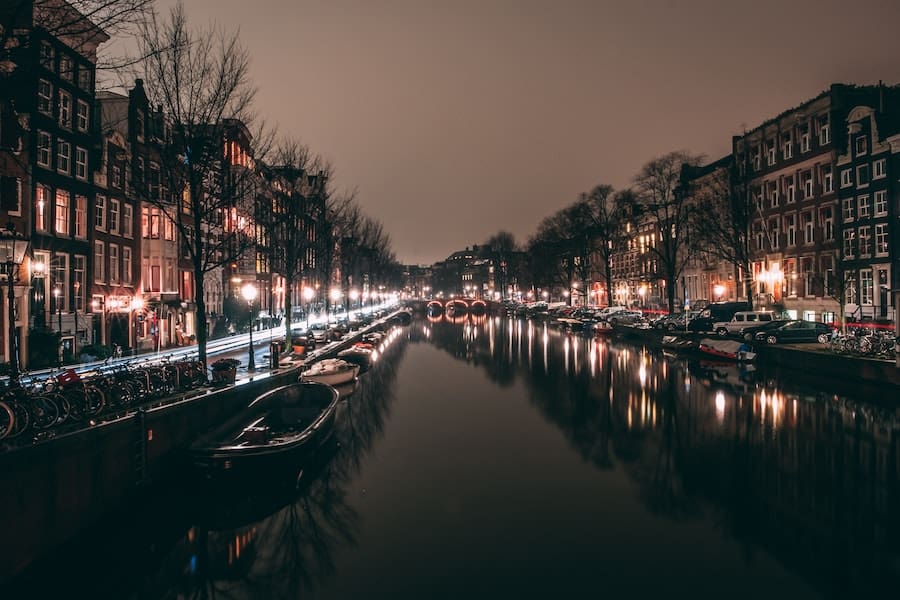 Biking in Amsterdam is something every tourist has to do in order to be initiated into Dutch culture, it's in the law! Ok I'm joking, but every visitor should rent bikes when visiting, not only to experience the culture, but it is also the most fun and efficient way to get around.
Biking during the day is way more difficult than biking through Amsterdam at night. When the sun is gone there are fewer people to get in your way and fewer bikers on the paths, it's a win-win! This makes biking around the city at night the perfect thing to do. This way you can see the city all lit up, you can get around quickly, and you can see whatever you'd like. It's almost like your own private tour.
---
Go to a Coffee Shop
Price: Depends on what you fancy
Hours: 10:00 AM – 3:00 PM
Location: Leidseplein 15
Amsterdam is widely known as one of the first countries to legalize weed, so when visiting a lot of people like to indulge. Here you can buy and smoke in "coffee shops" – not the same as a cafe – and one of the most famous ones in Amsterdam is Bull Dog Palace. If you like to smoke this is an interesting way to spend the night as you can sit, relax and order food all in one legal place.
There are coffee shops all around the city and finding one on Google or just by walking around is very easy.
---
Listen to Live music
Melkweg
Price: Depends on the performance around €10 – €40
Hours: 23:00 PM – 5:00 AM
Location: Lijnbaansgracht 234A
Paradiso
Price: Depends on the performance around €10 – €40
Hours: 23:00 PM – 5:00 AM
Location: Weteringschans 6-8
Visiting one of the countless club venues in Amsterdam at night is a must! the city is well known for its electronic-techno music scene and because of this, there are some great live music venues that host shows regularly.
Paradiso is actually a former church which is evident as there are still stained glass windows in the venue! There are also two balconies where you can climb up and overlook the crowd while enjoying the sounds of music.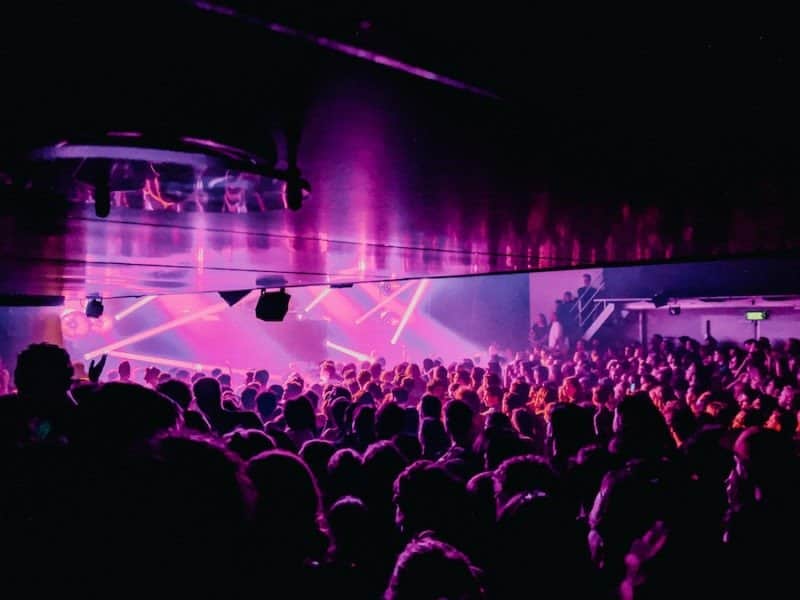 Melkweg holds two large concert halls and hosts a wide assortment of live artists. There is always a new artist coming to Amsterdam, so be sure to check the websites to get tickets to an amazing live show to make your visit even more memorable. A live show is an amazing way to enjoy the atmosphere of Amsterdam at night.
---
Seek out a SpeakEasy
Price: 19€
Hours: 22:00 PM – 4:00 AM
Location: Reguliersdwarsstraat 74
Welcome to the city that is full of secrets. Right when you think you've got Amsterdam figured out, there's a whole new surprise just around the corner. One of the coolest secrets in Amsterdam at night is this speakeasy: Door 74. Without knowing about this unique cocktail bar you would never be able to find it. Even when you do know, the entrance is well hidden in the Amsterdam buildings.
---
Go to the Top of The A'dam Tower
Price: FREE
Hours: 24/7
Location: Overhoeksplein 1
I've talked about the A'dam Tower before, but never as a thing to do at night. At night the tower is, arguably, better than during the day! From 20 stories above ground, at the top of the tower, you will get a panoramic view of Amsterdam after dark all while enjoying a nice cocktail.
All the tiny canals and historic houses look like little sparkles and the city looks magical. If you are anything like me and are amazed by rooftop views, you will be obsessed with this view of Amsterdam by night. What's even better is that after 9 PM it is free to go to the top of the A'DAM Tower. This is a little secret that many don't know and get sucked into paying the entrance fee during the day.
READ MORE: The Ultimate Sweets Guide in Amsterdam
---
Explore Canals After Hours
Price: FREE
Hours: 24/7
Location: Everywhere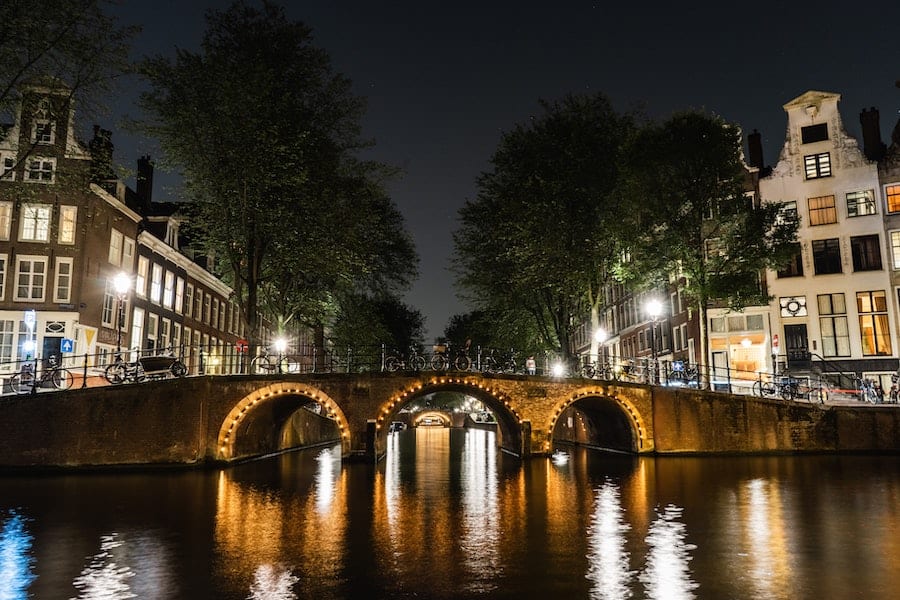 Nothing is better than a nice walk after dark, especially if you are walking in Amsterdam. The streets in Amsterdam are so peaceful once the sunsets. The tourism swarm has subsided and you are free to roam and enjoy at your own pace.
If you are wondering about things to do in Amsterdam at night for couples this is perfect. The city is very romantic after hours and there are a ton of couple-friendly activities to be had, and walking to romantic canals is a great option. If you are heading to Amsterdam with your partner and are looking to spend a romantic weekend together in the city check out this post.
---
Enjoy a Night at an Outdoor Bar
Price: Varies
Hours: Most are open until 2 AM
Location: All around Amsterdam
One of the best things to do in Amsterdam at night during the summer is to spend a relaxing night drinking at an outdoor bar. You'll quickly see that almost all the bars and cafés in the city center are very packed. This is due to the fact that nightlife is an integral part of Amsterdam's culture.
While you might think this is solely because of the large tourist groups, the opposite is actually the case. Amsterdam locals love their bars and will tell you themselves it's one of the best things to do in Amsterdam at night.
There are quite a few places around the city with outdoor seating along the canals and water that are perfect for an evening drink. Warm summer nights bring everyone in Amsterdam outside and ready for a cool drink in the city. A few great outdoor bar options are Hannekes Boom and Waterkant. These bars fill up very quickly on warm summer nights so be sure to arrive early to ensure you have a seat outside.
---
FAQ Questions:
Where to stay in Amsterdam?
For a complete neighborhood guide in Amsterdam check out this post.
---
Is Amsterdam safe at night?
Amsterdam is generally considered a safe city, including during the evening and nighttime hours. However, like any other major city, it's important to remain vigilant and take certain precautions to ensure your safety. Here are some tips to help you stay safe in Amsterdam at night:
Stick to Well-Lit and Populated Areas: Stick to well-lit streets and areas that are populated with people, especially in the city center and tourist areas. Avoid walking alone in quiet or poorly lit areas, particularly late at night.
Use Licensed Taxis or Reliable Transportation Services: If you need to travel late at night, opt for licensed taxis or reliable transportation services like Uber or Lyft. Avoid unmarked taxis or accepting rides from strangers.
Keep Valuables Secure: Be mindful of your belongings and keep them secure at all times. Avoid displaying expensive items openly, and be cautious of pickpockets, especially in crowded places. Consider using a money belt or keeping valuables in a secure bag.
Drink Responsibly: If you're enjoying Amsterdam's nightlife and consuming alcohol, do so responsibly. Drink in moderation, keep an eye on your drink, and never accept drinks from strangers. It's also important to be aware of your surroundings and avoid excessive alcohol consumption, which can impair your judgment and make you more vulnerable.
Stay Aware of Your Surroundings: Pay attention to your surroundings, especially in busy areas and when walking alone. Trust your instincts and if you feel uncomfortable or sense something suspicious, move to a more crowded or well-lit area.
Plan Your Route in Advance: Before heading out, plan your route and familiarize yourself with the city map. This will help you navigate confidently and avoid getting lost in unfamiliar areas.
Use Well-Known and Recommended Establishments: When choosing bars, clubs, or restaurants, opt for well-known and recommended establishments. Do some research in advance or ask locals for recommendations to ensure you're visiting reputable and safe venues.
Take Precautions with Bicycles: Amsterdam is known for its biking culture. If you decide to rent a bicycle, familiarize yourself with the traffic rules and always lock your bike securely when leaving it unattended.
Use ATMs Safely: When using ATMs, choose those located in well-lit and populated areas. Be discreet while withdrawing cash and shield your PIN from others.
Trust Your Instincts: Above all, trust your instincts. If something doesn't feel right, remove yourself from the situation or seek assistance from authorities or trusted individuals.
By following these safety tips and using common sense, you can enjoy Amsterdam's vibrant nightlife while prioritizing your personal safety.
---
How to get around Amsterdam at night
In Amsterdam the Metros stop running at 12:30 AM, after this time you will need to get around one of these ways:
Walking: If you are within walking distance of where you need to go this is a good option. As I mentioned, Amsterdam at night is beautiful and walking is a nice way to see some of the city.
Biking: This is the most popular way to get around Amsterdam at night. But if you are drinking be very careful or park your bike and get it the next morning.
Uber: Probably the best and fastest way to get door-to-door in Amsterdam, although it can be more pricey during nighttime hours.
Bus: There are a few buses that run throughout the night called "night buses". These are low-cost but can take some time to get where you need to go.
---
What to wear in Amsterdam at night
The dress code in Amsterdam is a lot more casual than in other places.
For girls: Dresses and heels are not as common, which may be due to the fact that most girls here bike and the streets are not made for heels. On a night out I usually wear my black skinny jeans, a cute top, a leather jacket, and my black booties.
For boys: Boys here all dress pretty similarly. Black jeans, casual button-ups, and white runners seem to be a running trend.
---
Travel Insurance
Getting travel insurance before you travel is a MUST. It's the number one thing you should always pack before travelling that can save you a lot of money, time, and stress. With how crazy travel has gotten recently you need that peace of mind that no matter what happens there is something protecting you from losing out. I always travel with travel insurance and think everyone should.
I always travel with travel insurance and think everyone should. Below is my favorite travel insurer Safety Wings, enter your details to get a free quote!
---
Overall, it is clear that Amsterdam is a city that is perfect for both morning people and night owls! This is probably why it attracts so many tourists because there truly is something for everyone.
Use this post for some inspiration for what you should do in this magical city once the sunsets. I promise that no matter what you end up doing, you are surely in for an adventure.
If you are planning on heading to Amsterdam, Pin "Amsterdam at night" for later!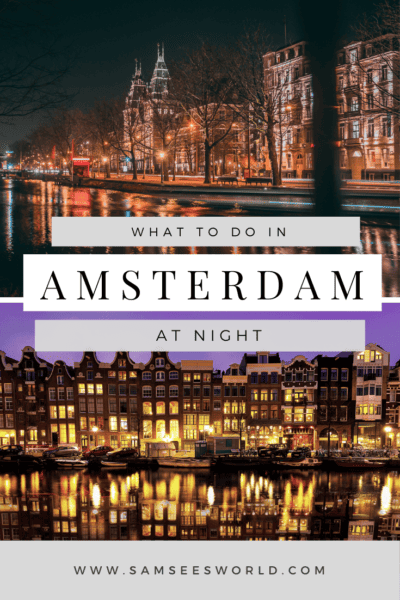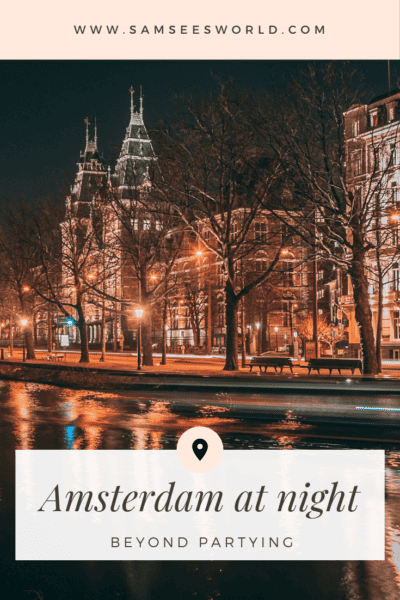 Let me know what you think of this list, which one would you like to do in Amsterdam at night?
Love,
SSW