Planning on spending 4 days in Switzerland and looking for the ultimate itinerary to guide the way? Keep Reading!
Switzerland is the perfect place to visit for travellers of all types. With its stunning old towns, lush nature, and deep history, there is something for everyone. Although there are many places you can visit and routes you can take while visiting Switzerland, this itinerary takes you through some of the best and most beautiful places in Switzerland in just 4 short days.
Switzerland is a magical country known for its pristine nature, huge mountains, and old cities. It is the perfect place to visit if you want to experience one of Europe's most beautiful countries. In just 4 days you can see some of the highlights of Switzerland, but more time is always better! This 4 day itinerary brings you through cities, nature and more so you can get the full Swiss experience.
Prepare to fall in love with this beautiful country and enjoy your 4 days in Switzerland.
(Disclaimer: Some links in this post may be affiliate links, meaning if you click on the link and make a purchase, I receive a small commission. This is at no extra cost to you and you may even receive a small discount. See disclosure for more information.)
4 Days in Switzerland
Day 1: Land in Zurich
Day 2: Drive 45 minutes from Zurich to Lucerne
Day 3: Drive 1 hour from Lucerne to Interlaken
Day 4: Drive 2.5 hours from Interlaken to Geneva
This is a very packed 4 days in Switzerland but will show you the highlights of the country. If you want to avoid moving around every day I suggest driving straight from Zurich to Interlaken and enjoying two days in Interlaken. Interlaken is one of the most naturally beautiful places on Earth and the surrounding villages will have you awe-struck.
---
Day 1: Zurich
Zurich is the best place to start your 4 days in Switzerland. It is the biggest city in Switzerland that is full of culture, history, and beauty. The city is located on Lake Zurich and is surrounded by stunning mountains.
There are plenty of things to do and see here and with only one day in Zurich, you can see quite a bit, but unfortunately not everything. The rest of this 4-day itinerary covers some more nature-focused days, so spending your time in Zurich exploring the old town and the historical and cultural city is best.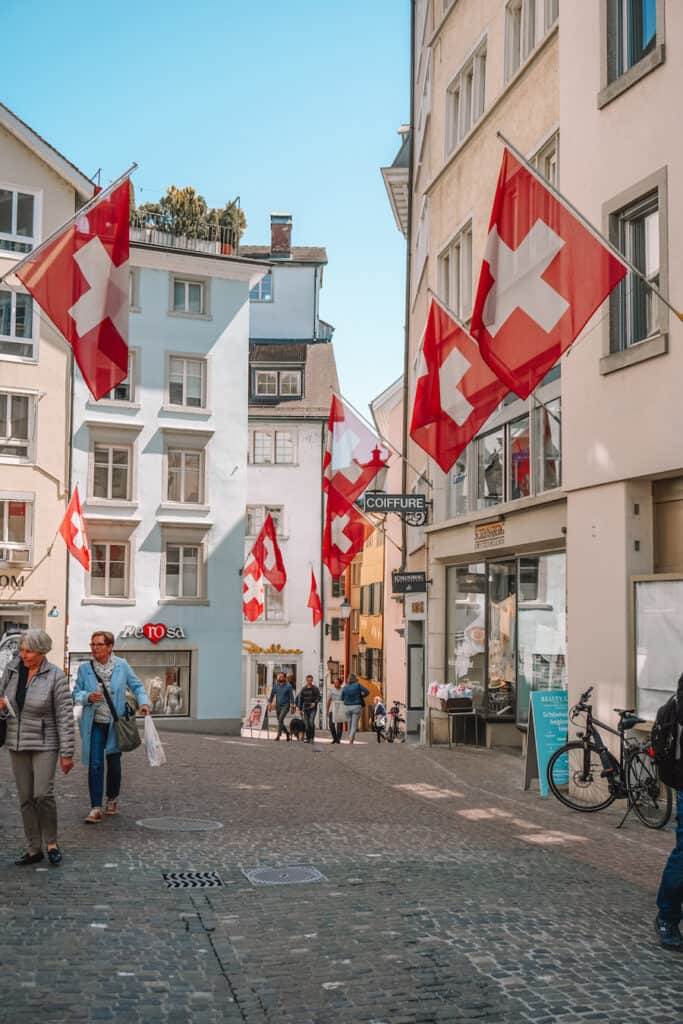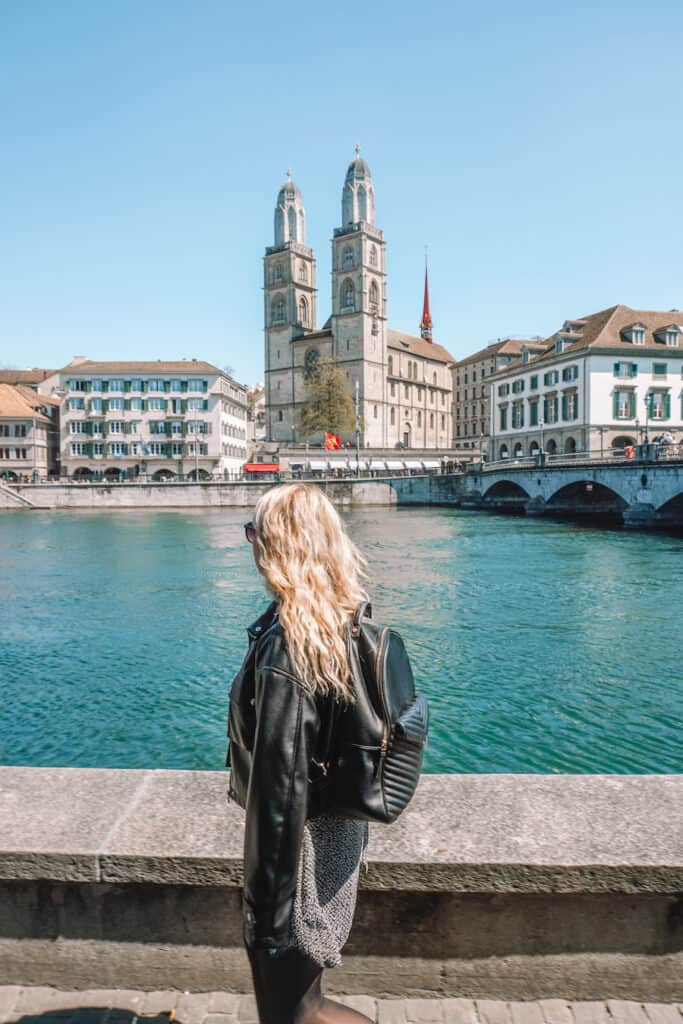 Things to do in Zurich
Walk the Promenade
One of the top things to do is walk on the promenade around Lake Zurich. Here you can admire the glass-like lake and soak in the stunning natural beauty of Switzerland. A walk here is a beautiful way to experience the relaxing and calming air of Switzerland.
Explore the Old Town
Another thing you must do is fully explore Zurich's old town. Zurich's old town is beyond picturesque with its pastel-coloured buildings, huge churches, and cobblestone streets. It is also one of the cleanest old towns in the world, the perfect addition to your 4 day Switzerland itinerary.
While exploring the old town, walk down the Bahnhofstrasse, a luxurious street with high-end shops. Also, keep an eye out for local chocolate shops scattered around the old town and grab a few local chocolates for the walk! There is nothing better than authentic Swiss chocolate.
---
Day 2: Lucerne
Lucerne is located just 45 minute drive from Zurich making it the perfect place to spend your second day during your 4 days in Switzerland. Lucerne is known for its medieval architecture, picturesque views, and beautiful lakeshore.
It is one of the most magical cities in Switzerland and a wonderful place to explore! Both city and nature lovers will enjoy Lucerne due to its close proximity to mountains, water, and city, meaning whatever your preferences you can enjoy them fully.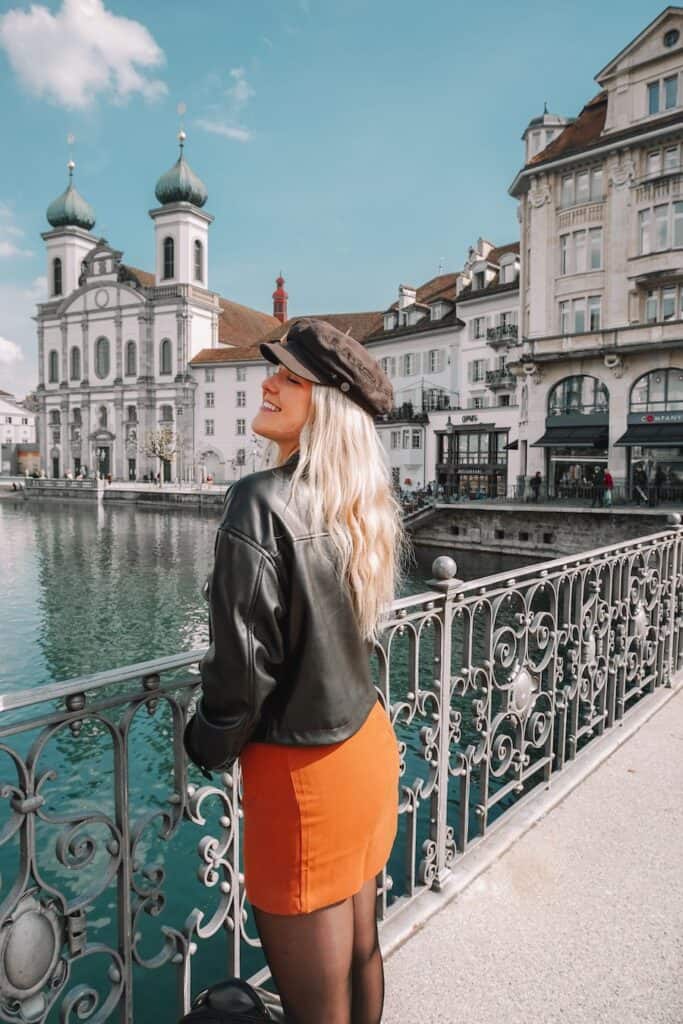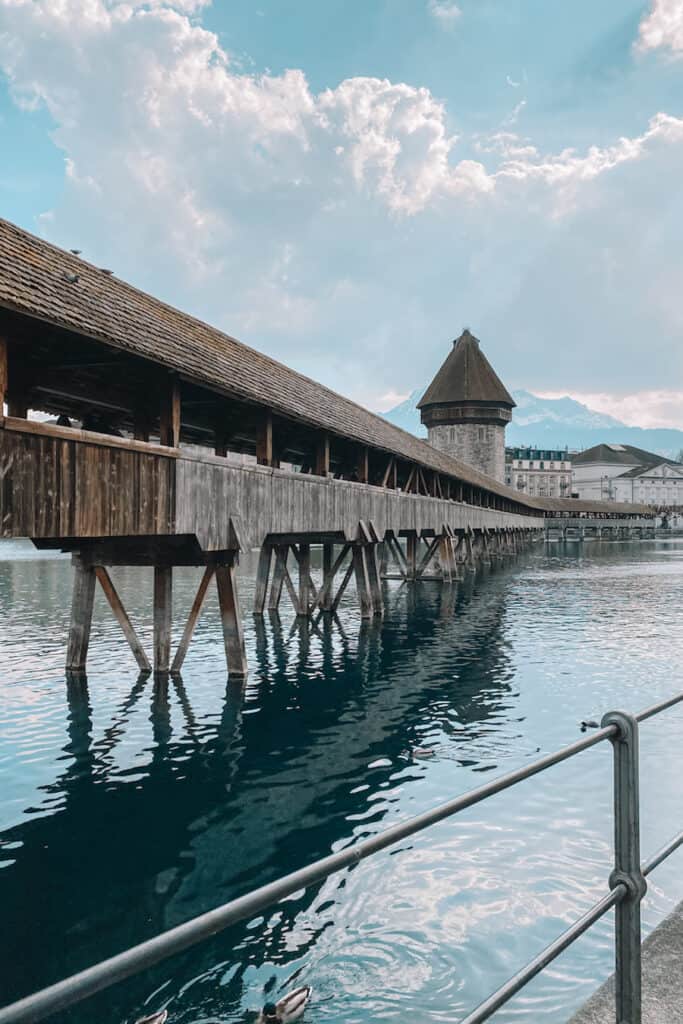 Walk Chapel Bridge
There are a ton of things you can do in Lucerne that will make your 4 days in Switzerland even more magical. The first thing you must do is view the iconic Chapel Bridge. Chapel Bridge is one of Lucerne's most famous attractions and seeing it and walking it is a must. It is also one of the most photographed sights in Switzerland.
Old Town Explorations
If you are a city lover spending the day exploring the old town, wandering all the charming streets, and going into local shops is beyond enjoyable. Here you can get a taste of the luxurious Swiss life and get to explore the beautiful streets and more! This is also the perfect time to find a fondue restaurant and eat Swiss Fondue a must for your 4 day Switzerland itinerary.
Go on an Adventure
If you prefer nature over city explorations you can enjoy a day on Lake Lucerne or make the journey to Mount Pilatus for a day of hiking! The Lake is aqua blue and open for paddle boarding, boating, and more. While a hike up the mountain offers stunning views that are something out of a movie. The perfect thing to do with 4 days in Switzerland.
---
Day 3: Interlaken
A very scenic one-hour drive from Lucerne is Interlaken! This is a traditional Swiss resort town located inside the picturesque mountains typical of Switzerland. This is one of the most beautiful and breathtaking places in Switzerland that you see in magazines.
Interlaken is built on a small area of land between huge mountains and between Lake Thun and Lake Brienz. It is one of the best villages in Switzerland too!
This is the perfect place to visit for nature and adventure travel lovers looking to enjoy the lush nature of Swizterland. It is also a top place for any travellers as even without hiking or skiing you can enjoy this stunning destination.
I find Interlaken an interesting place to visit, but even more so the villages and sights beyond Interlaken are true draws like Grindelwald and Lauterbrunnen!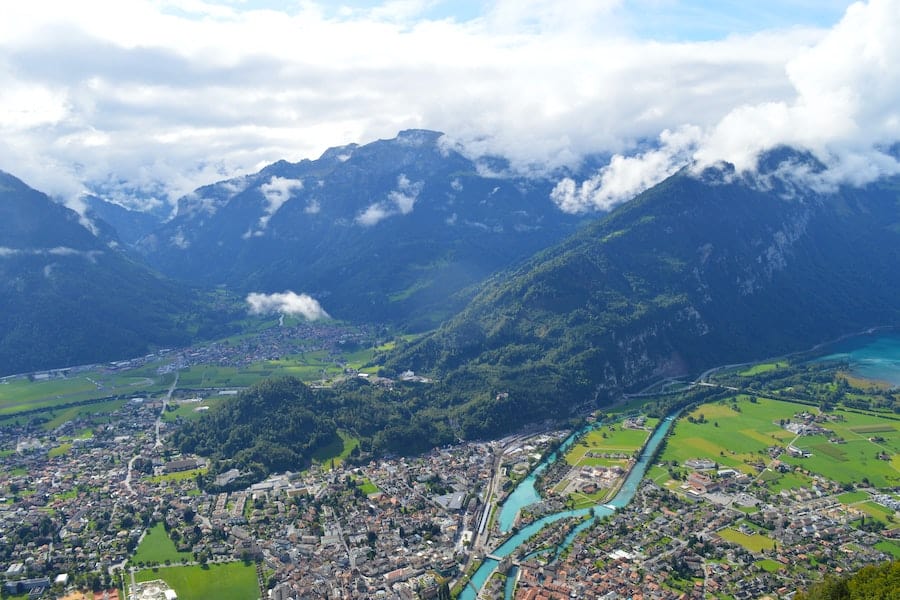 Things to do in Interlaken
Top of Harder Kulm
Seeing Interlaken from above is easily one of the top things to do while here. Heading to the top of Harder Kulm can be done via hiking or by funicular. At the top, the elevation is 1322 meters and the views are beyond stunning.
Lake Brienz
Lake Brienz is a stunning aqua blue lake sitting in Interlaken that is surrounded by snow-capped mountains. A visit here will show you the true natural beauty of Switzerland's lakes and mountain views and a must-visit in this 4 day Switzerland itinerary.
Schynige Platte Railway
The Schynige Platte railway is one of the highest railways in Switzerland and is quite old at 115 years old. A ride in one of these rail cars offers stunning views of the mountains and valley below!
Visit Lauterbrunnen
The best place you can venture to with 4 days in Switzerland is Lauterbrunnen. Which is easily one of the most beautiful places in Switzerland nestled in a U-Shape valley within the Swiss alps.
It is an amazing place to visit during every season with its huge mountain peaks, authentic old village, and captivating waterfalls it is a village like no other. The natural beauty of Lauterbrunnen is something you cannot miss!
Jounrey to Grindelwald
Grindelwald is a nature lovers' paradise and a must-visit with only 4 days in Switzerland. It is a bucket list place to visit with the huge mountains, a plethora of things to do, and stunning scenery.
---
Day 4: Geneva
Geneva can be reached by car from Interlaken in just 2 hours and the ride is beyond scenic. Upon arrival, you will be welcomed by a vibrant and lively city surrounded by the Swiss Alps. Geneva is a global hub for diplomacy and banking and a beautiful city to explore.
It is home to all things Swiss, like Fondue, chocolate, and many banks, but it is also a very cultural and interesting place to visit and explore. This is the perfect place to end your 4 days in Switzerland in a modern yet culture hotspot.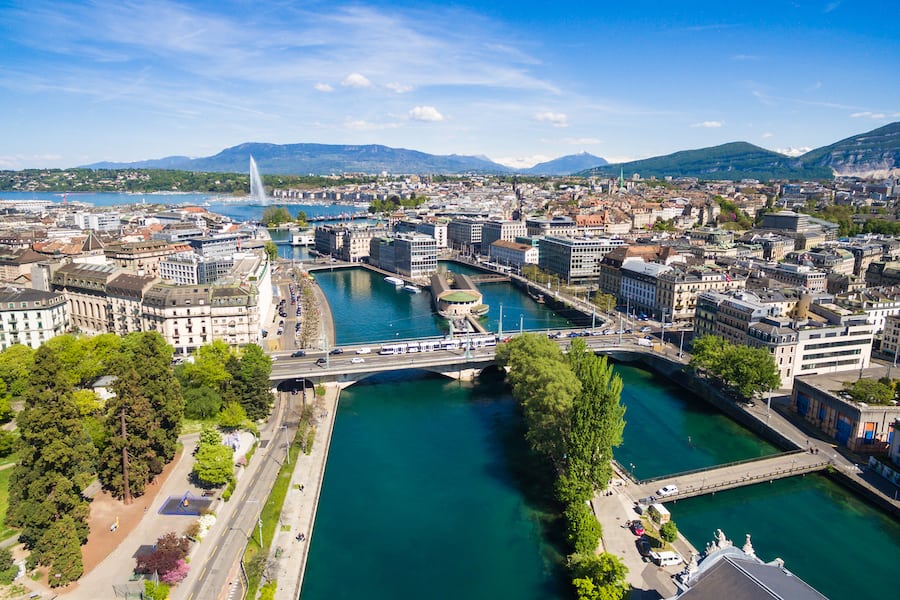 Things to do in Geneva
Lake Geneva Boat Tour
Going on a boat tour in Lake Geneva is a must. Here you can admire the aqua blue waters and the stunning Swiss alps as the backdrop. Plus, as one of the largest lakes in Central Europe, you can do plenty of other water experiences!
Jet d'Eau
Jet d'Eau is one of the most famous things to see in Geneva where 500 litres of water per second is shot into the air at a height of 140 meters.
Vielle Ville
Vielle Ville is Switzerland's largest historic center and the perfect place to explore in Geneva. Here you can wander the old cobblestone streets, admire the buildings, and stop at local shops for food and drinks!
---
Where to stay in Switzerland
Use this booking.com map to guide where to stay in each city in Switzerland, starting with Zurich!
---
Best Time to Visit Switzerland
Like most travel destinations, the best time to visit Switzerland is completely subjective!
But, September is typically one of the best months to visit Switzerland for many reasons. Such that September still welcomes warm days with plenty of sun like the summer months, but with much fewer summer tourist crowds. You will also find all hikes still open and in great condition for exploring.
See more:
---
Travel Insurance
Getting travel insurance before you travel is a MUST. It's the number one thing you should always pack before travelling that can save you a lot of money, time, and stress. With how crazy travel has gotten recently you need that peace of mind that no matter what happens there is something protecting you from losing out. I always travel with travel insurance and think everyone should.
I always travel with travel insurance and think everyone should. Below is my favorite travel insurer Safety Wings, enter your details to get a free quote!
---
Spending 4 days in Switzerland promises a whirlwind of an adventure. There is no better place to get to enjoy and experience old cities and stunning nature all within a few days. Use this 4-day guide to mold your Switzerland travels, and by the end of your stay, you will already be planning your visit back.
Like this post? Pin "4 Days in Switzerland" for later!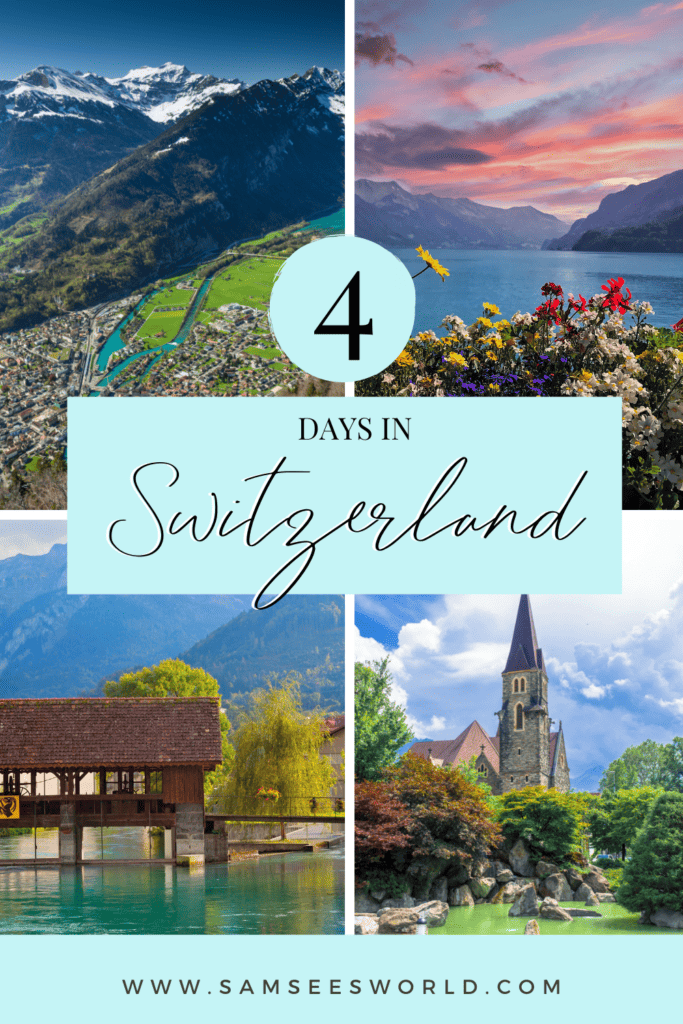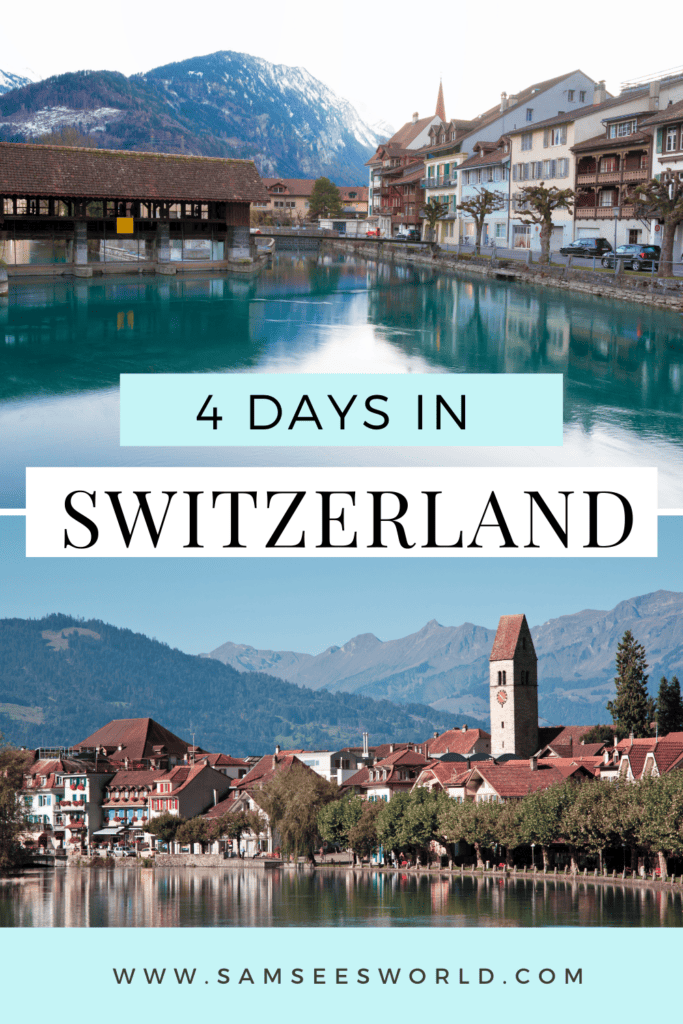 Love,
SSW