Are you looking for the best European food to indulge in while travelling in Europe? This post covers the 16 best dishes that you must try if you are hungry for a food adventure!
Food is a big part of travelling. Eating is one of the best ways to experience and immerse yourself in different countries and cultures. Trying new local dishes while travelling through Europe is something everyone must do to fully experience the diversity of this continent. This post covers all the best food experiences to be had in Europe and where to have them.
Use this post to guide your foodie adventures through Europe and discover the unique tastes and flavours along the way.
(Disclaimer: Some links in this post may be affiliate links, meaning if you click on the link and make a purchase, I receive a small commission. This is at no extra cost to you and you may even receive a small discount. See disclosure for more information)
European Food Guide: 15 Best Dishes to Eat in Europe
Pierogies in Poland
Pierogies are an Eastern European favourite! They originate from Poland and are a must-eat while touring Europe. This special dish is simply dumplings filled with a savoury or sweet filling that are boiled then pan-fried. They are traditionally stuffed with potatoes, cheese, and/or sauerkraut and served with sour cream for dipping. However, you can find them made with a wide range of fillings which makes finding your perfect kind very easy! The best thing? Poland is one of the cheapest countries and Europe so you can enjoy this dish at very low prices.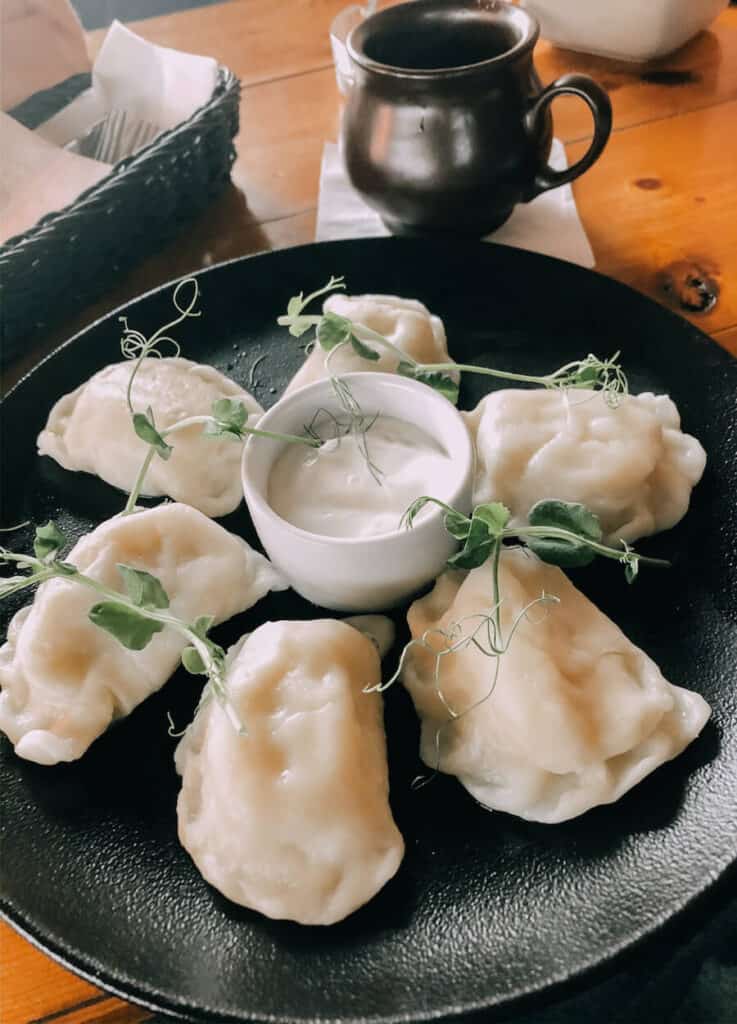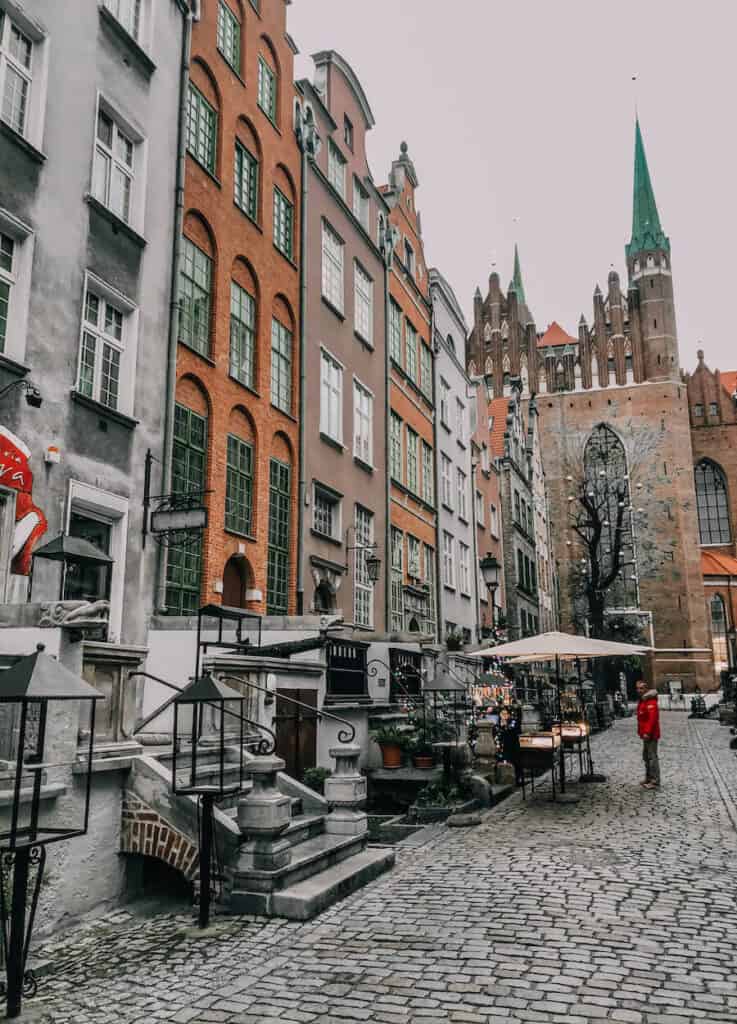 If you find yourself in Poland ordering a plate of Perogies is a must! No European food tour is complete without this simple yet delicious dish. The best places to travel in Poland are Warsaw, Gdansk and many more.
---
Bitterballen in The Netherlands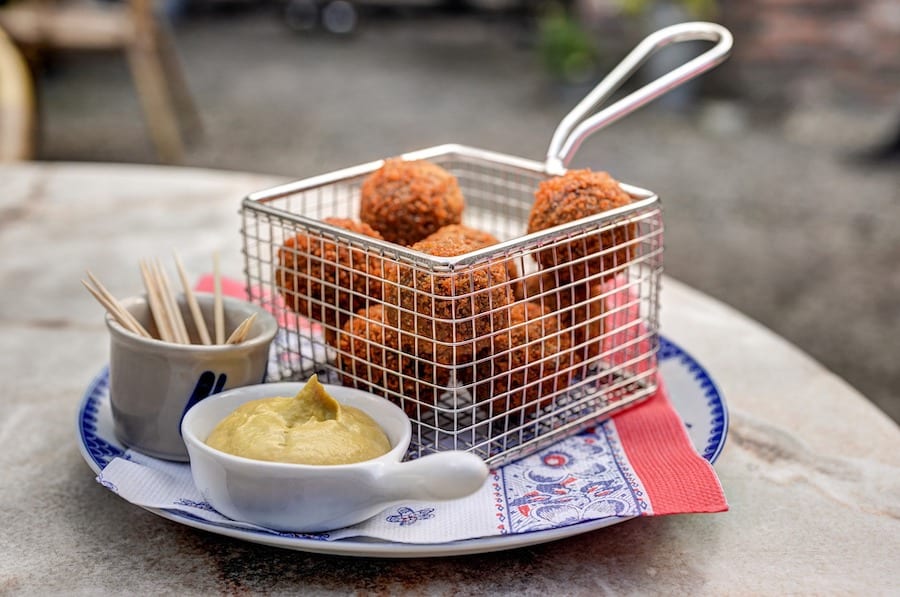 The Dutch are known for quite a few different foods but one of the most famous is Bitterballen. This Dutch snack is traditionally made with meat but more and more restaurants in the Netherlands have started to offer vegetarian versions. The dish is made by combining a thick stew and meat or other filings and then rolling it into a ball, breading them, and deep-frying them. It is one of the most popular Dutch foods everyone needs to try.
If you find yourself spending a weekend in Amsterdam you will find almost all restaurants in Amsterdam have this special dish.
---
Cheese Fondue in Switzerland
Switzerland is one of the most beautiful countries in Europe and is home to various famous and iconic dishes. One of the most famous dishes from here is cheese fondue which consists of melted cheese in a communal pot that is constantly heated to ensure warm and melted cheese for the entire meal. Along with the cheese you get bread to dip in the cheese using long forks! It is a simple yet delicious meal that is often regarded as one of the best European food options.
The best way to eat this meal is on on-top of a huge mountain overlooking the stunning country. There are a ton of beautiful places in Switzerland which offer stunning views and mountain restaurants for a magical dining experience.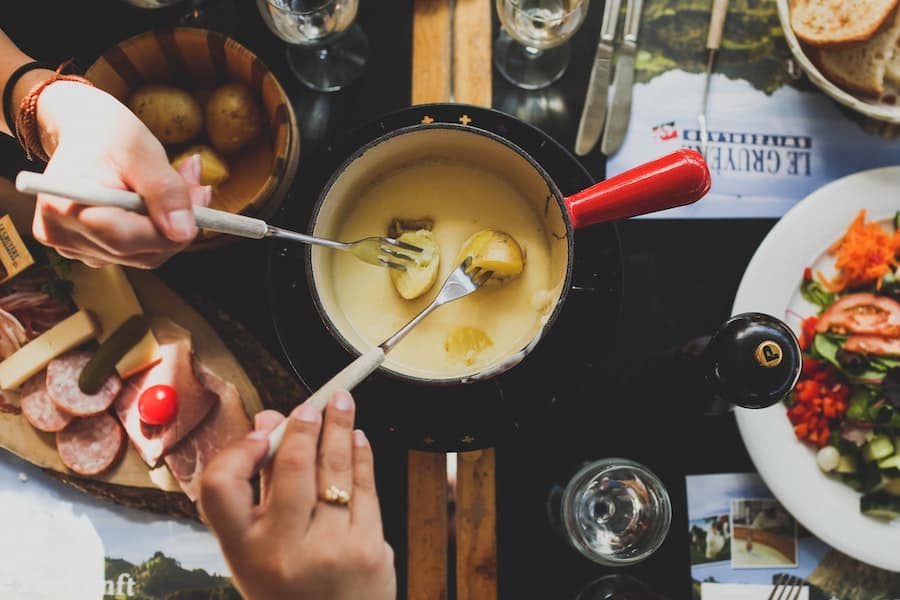 ---
Pizza in Italy
There is no better place to eat the world's most famous and loved dish than in its birthplace. Pizza is the most famous European food that has gained popularity all over the world. However, nowhere on earth can compare to the delicious and fresh tastes of Pizza from Italy. There is no better experience than eating fresh homemade pizza in one of the many stunning cities in Italy.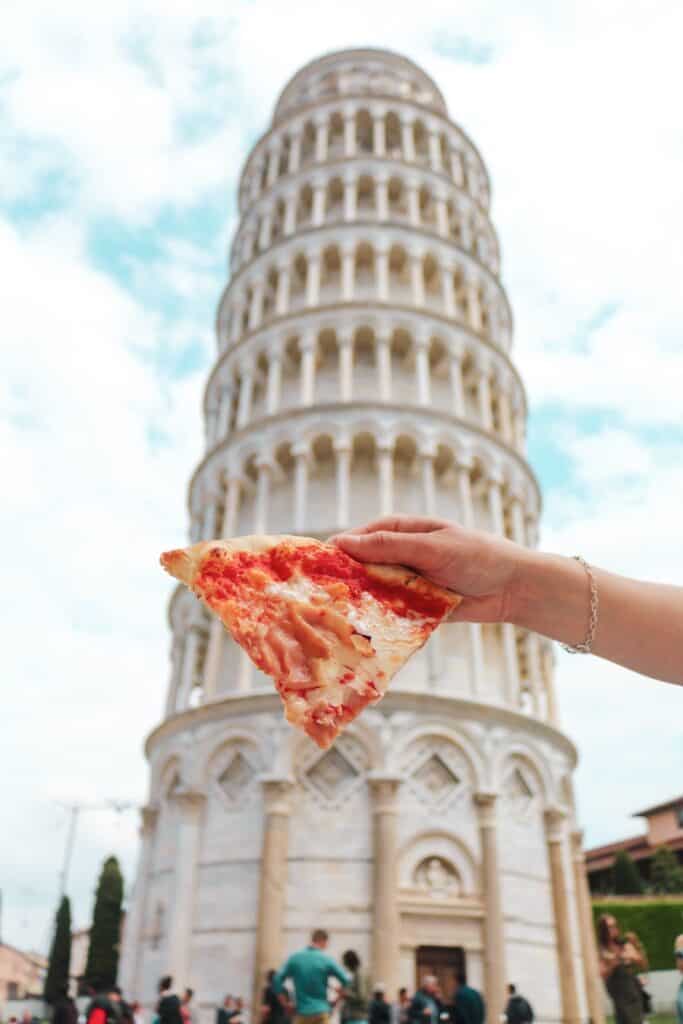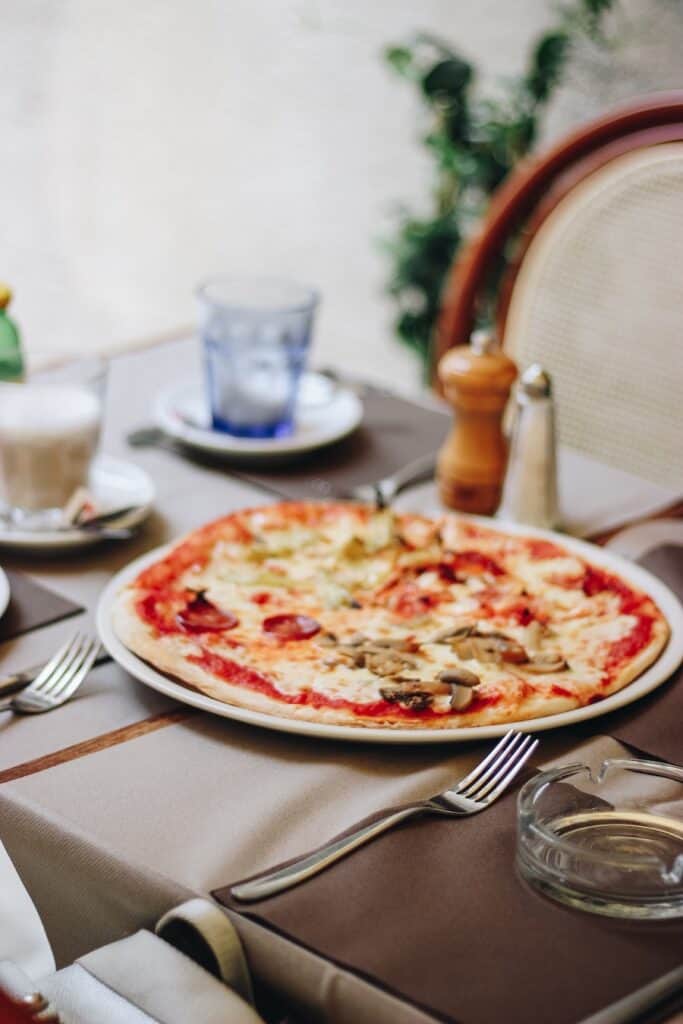 ---
Paella in Spain
Paella is one of Spain's most famous dishes that is growing more and more popular all around the world. You will never eat a more delicious plate of paella than from the original source in Spain. Paella traditionally includes chicken, white beans, and rabbit but is served more modernly as a meat version, a seafood version, or a vegetarian version. If you want to try this national dish from its authentic region then you must go to Valencia.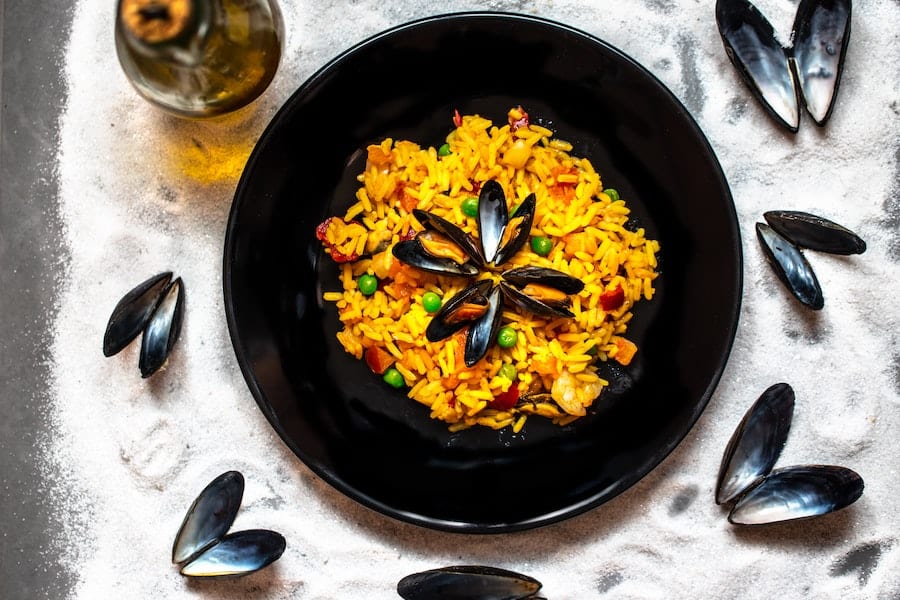 ---
Gyros in Greece
Gyros is a Greek dish traditionally made with meat cooked on a large vertical rotisserie. It is typically served with pork or chicken in Greece and comes in a wrap / roll-up style. Sometimes Gyros is also rolled together with french fries. This special greek dish can be found all around the world but is most authentic from the source. The best part is that you can get it very casually and eat it on the go for a quick meal while sightseeing in Greece.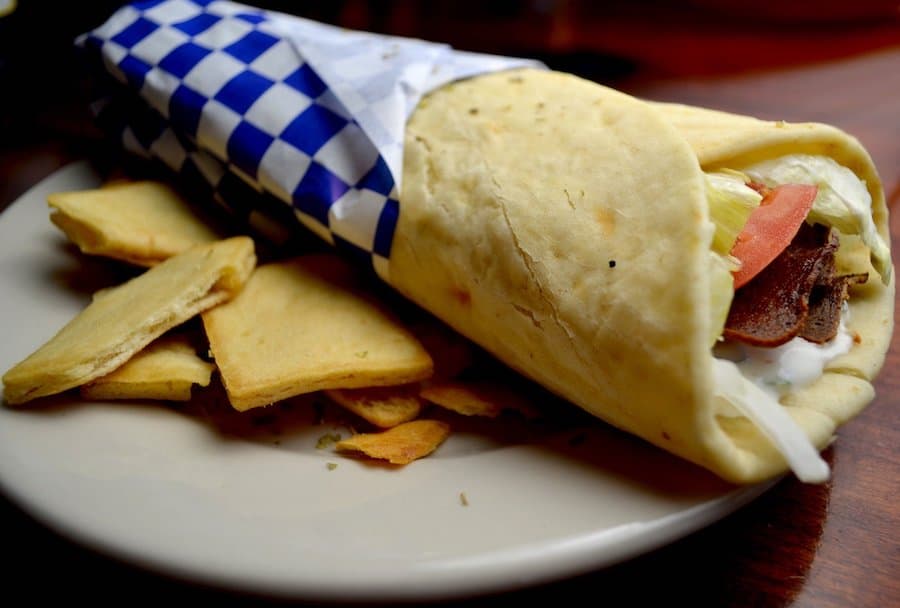 ---
Goulash in Hungary
Goulash is one of Hungary's national dishes and a prominent symbol of the country. While in Hungry touring stunning cities like the capital Budapest you will likely find this at most restaurants. Goulash is is a stew made with meats and vegetables seasoned with paprika and various other spices. Although this dish originates in Hungary it is also served in other cities in Eastern Europe and it is the perfect comfort dish to indulge in.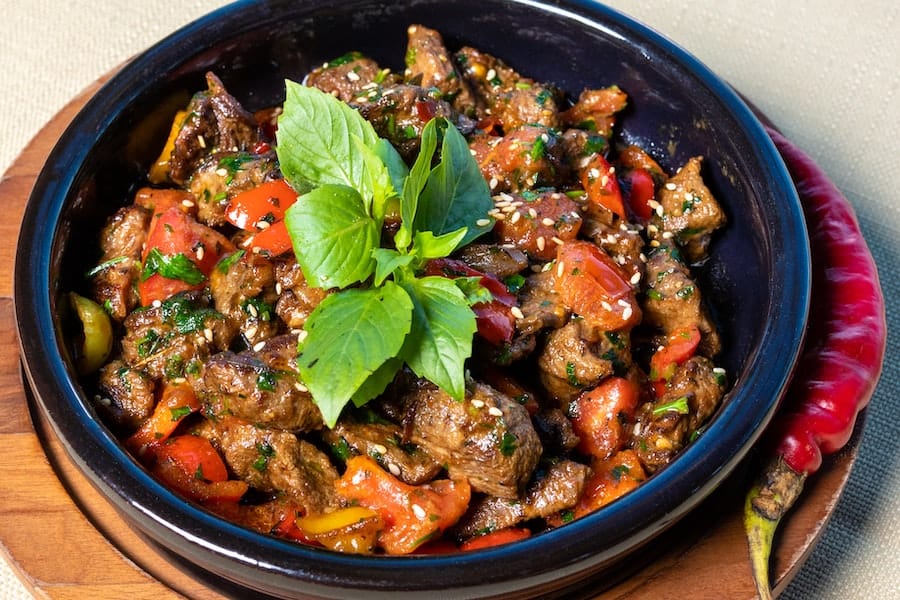 ---
Belgium Waffle in Belgium
There is no better sweet treat to indulge in while in Belgium than a classic Belgium Waffle. You will find these all around the country in stands offering them in a wide range of colours and assortments. The displays are oh so alluring and you will likely find yourself getting more than one during your stay in Belgium. If you don't want to get one from a street stand you can also find restaurants dedicated to Belgium waffles for an indoor dining experience.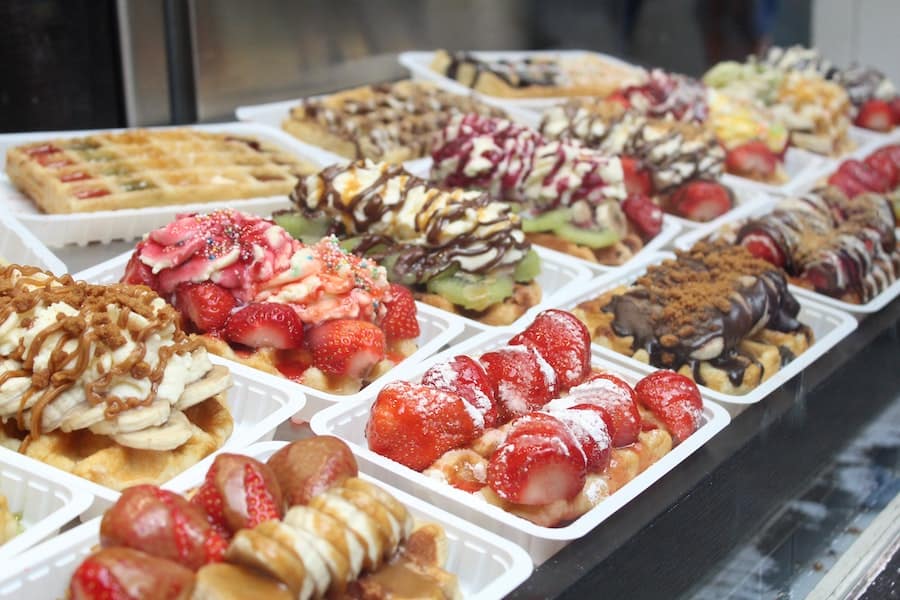 ---
Chimney Cake in Czech Republic
Chimney Cakes or Trdelník are a dessert that is very popular and famous in The Czech Republic. This dessert originates from many Eastern European countries, most notably, Hungary and Slovakia, but is most popular in the Czech Republic. It is made from rolled dough wrapped to make a hollow center, which is then grilled and topped with plenty of sugar. This amazing dessert comes in a wide range of different flavours and variations. You can add chocolate inside, M&M's, ice cream and much more!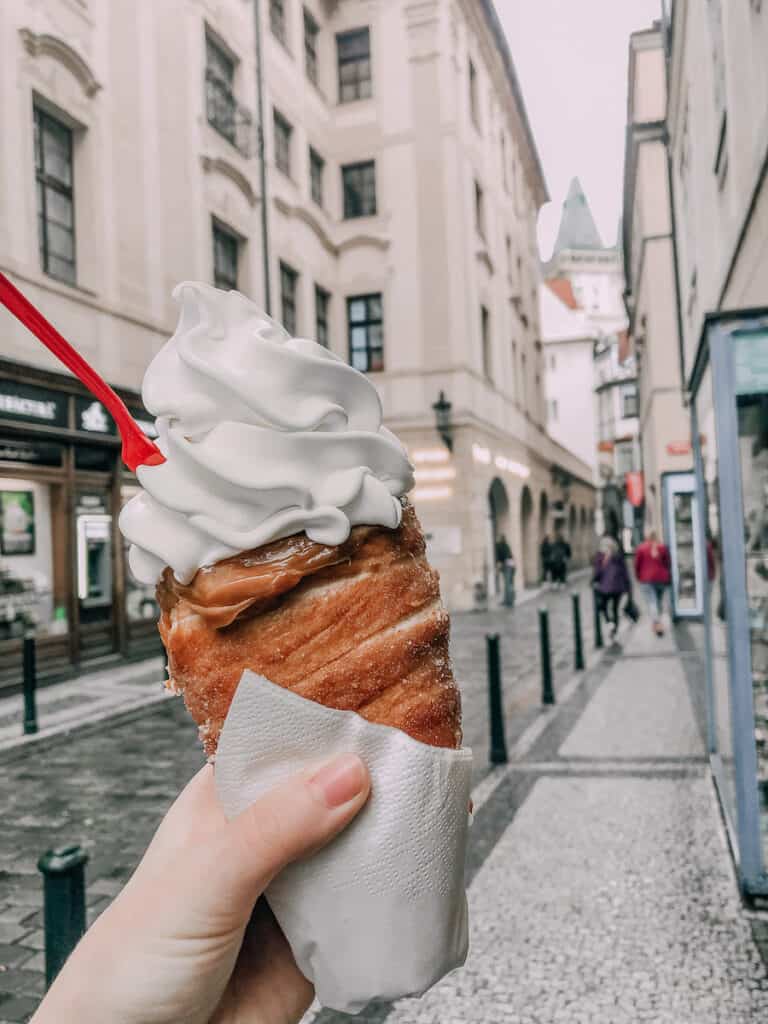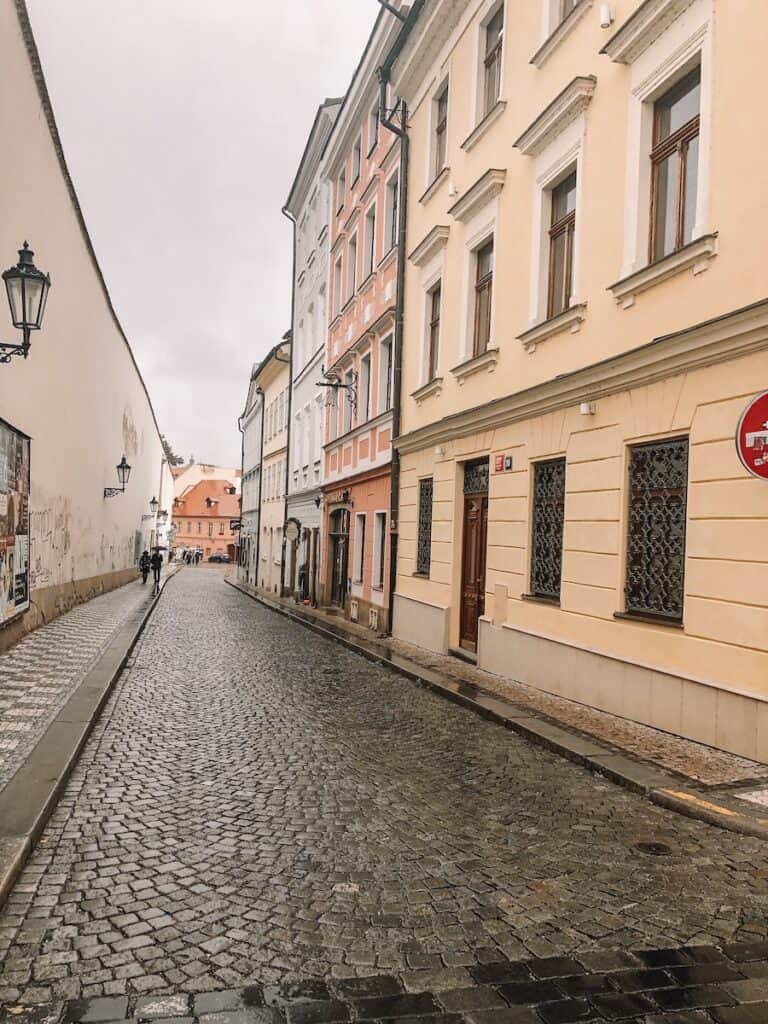 ---
Ćevapi in Bosnia and Herzegovina
Ćevapi is also known as ćevapčići is a famous dish from Bosnia that is also very popular in other Balkan countries. It is noted as the national dish of Bosnia and Herzegovina but you will find it very prominent in Serbia, Croatia, Montenegro and others. Ćevapi is a dish of grilled minced meat that is often served with fries, onion, and pita bread. It is popular lunch and dinner dish that you will find at most restaurants in the Balkans.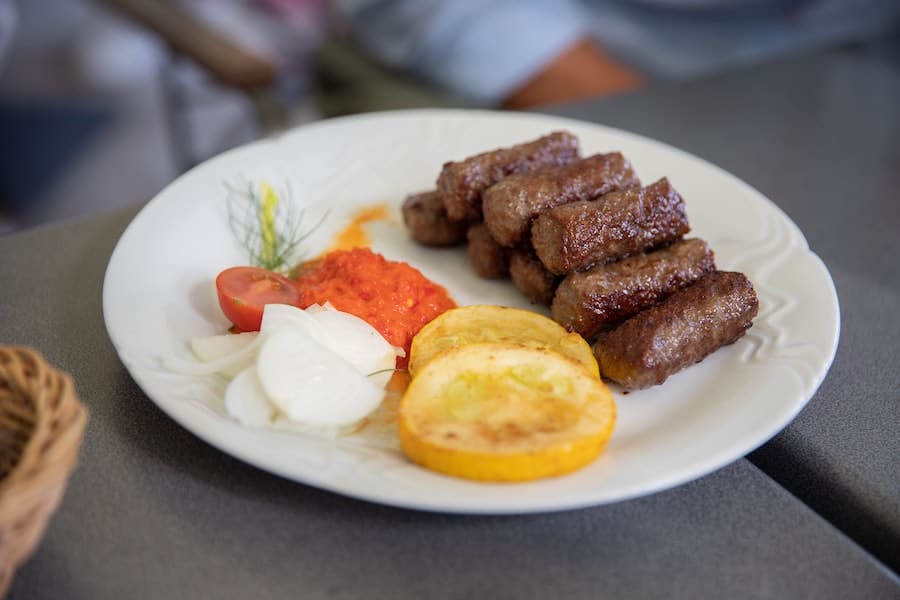 ---
Sachertorte in Austria
One of the most popular and delicious dishes in Austria is a decadent chocolate cake called Sachertorte! This iconic chocolate cake dates back to 1832 and is one of the most famous Viennese dishes. You can find this special cake in many restaurants and cafes in Austria making it the perfect midday break snack to enjoy with coffee.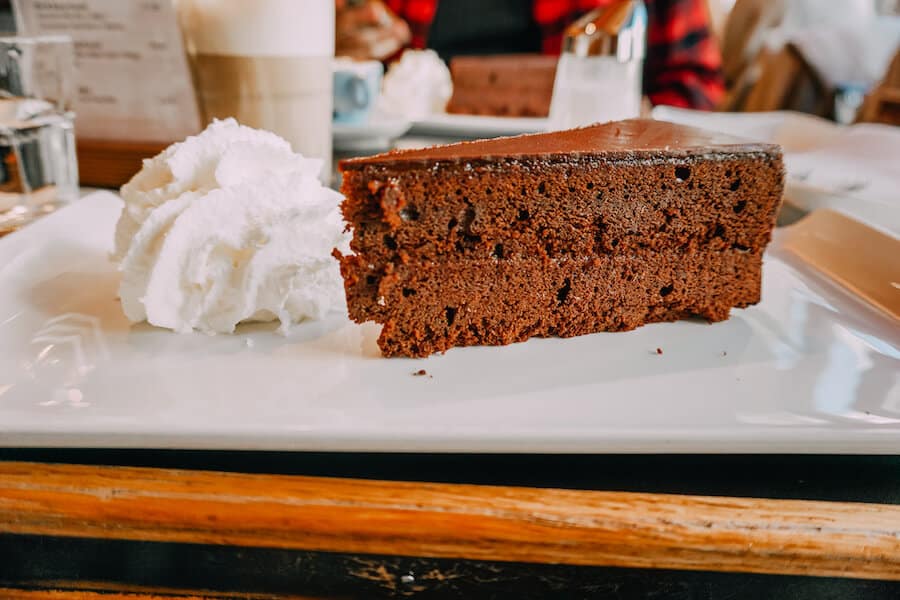 ---
Croissants in France
There are many famous dishes that come from France but few are as popular as croissants. This morning pastry has become one of the world's most popular treats that everyone loves. However, no matter where you are, your croissant will not be as good as a fresh one from France. Finding a cafe in France and ordering one to try for yourself is a must. This is a European food that is easy to find and easy to get addicted to.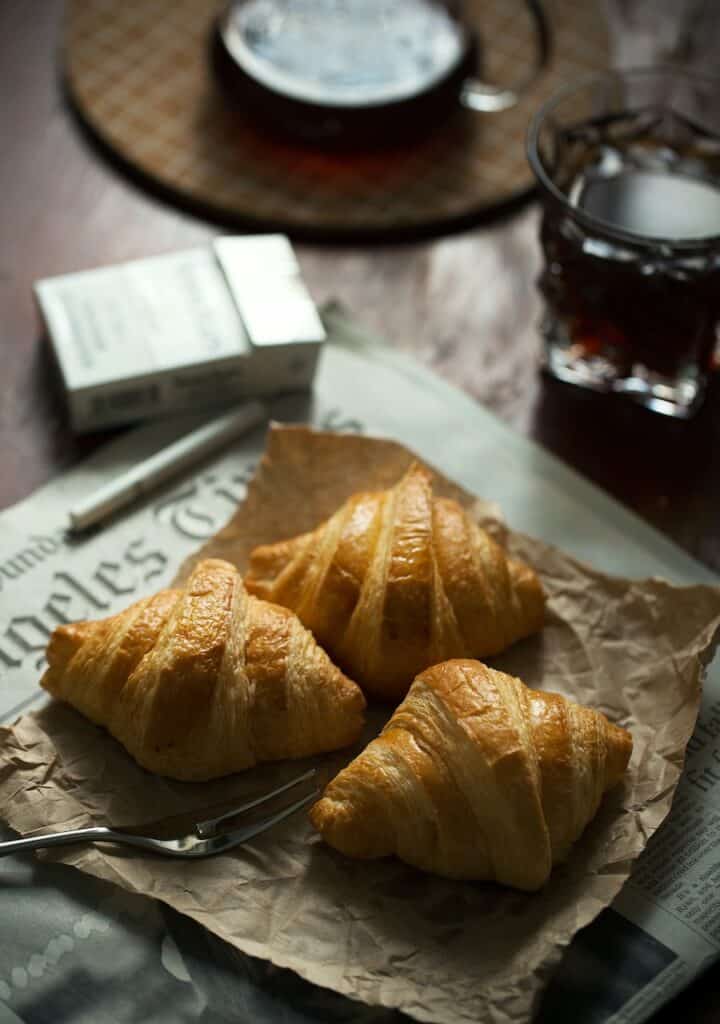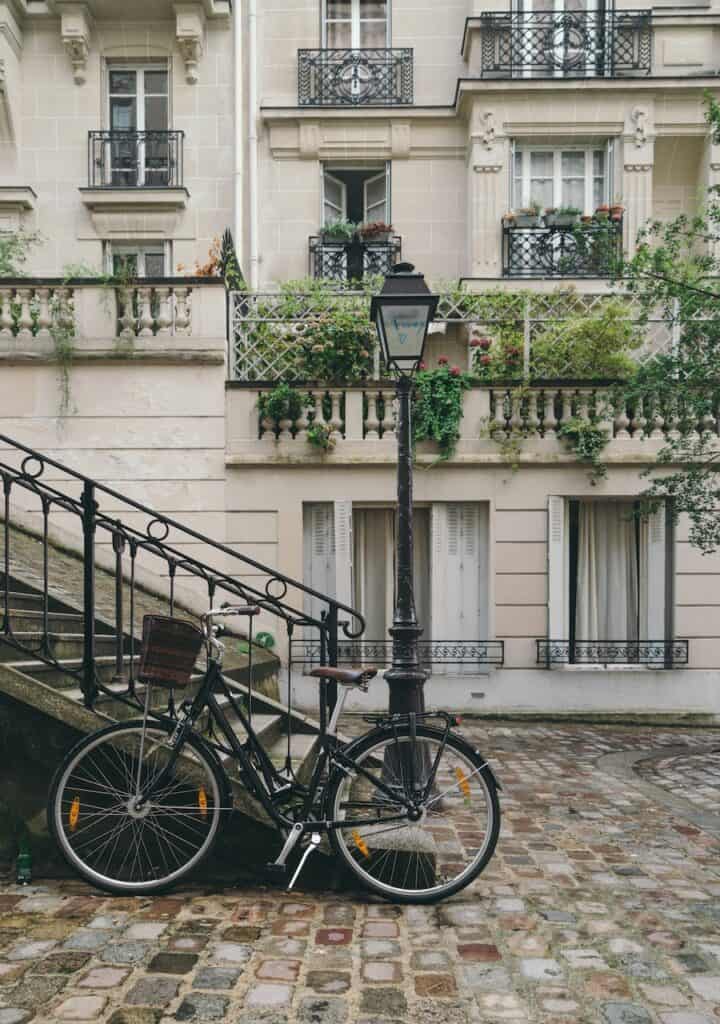 ---
Baklava in Turkey
Baklava is another tasty dessert that is essential to try in Turkey. This layered pastry is made with chopped nuts and a flaky shell and is sweetened to perfect with syrup or honey. Baklava is one of the most popular pastries to come of the Ottoman Empire that is still thriving today.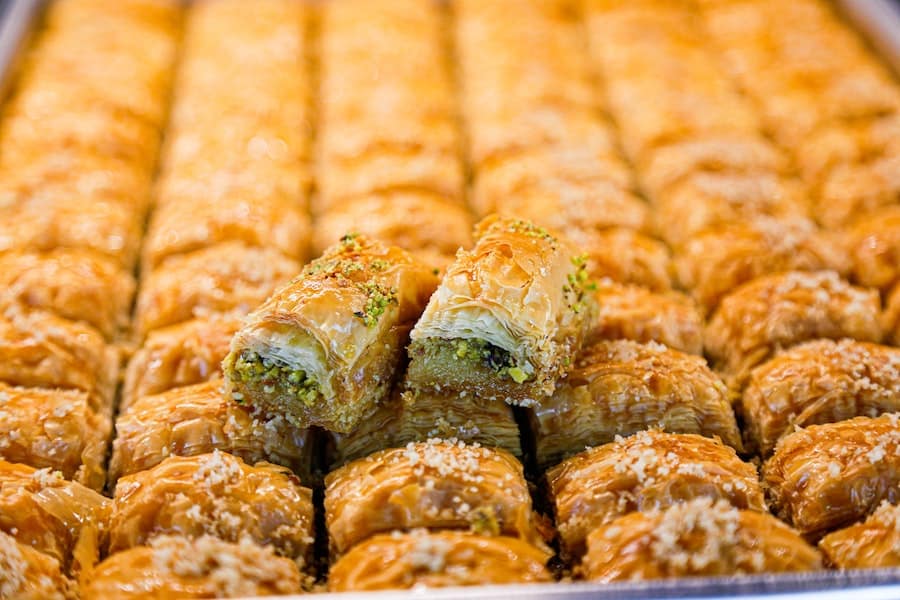 ---
Gelato in Italy
You can find gelato all around the world in shops everywhere. But it will not compare to the sweet and authentic flavours from a fresh Italian Gelato. Finding gelato is easy in Italy. On almost every street there is a stand with overflowing containers with unique flavours. Trying something very Italian like Tiramisu flavoured Gelato is the way to go.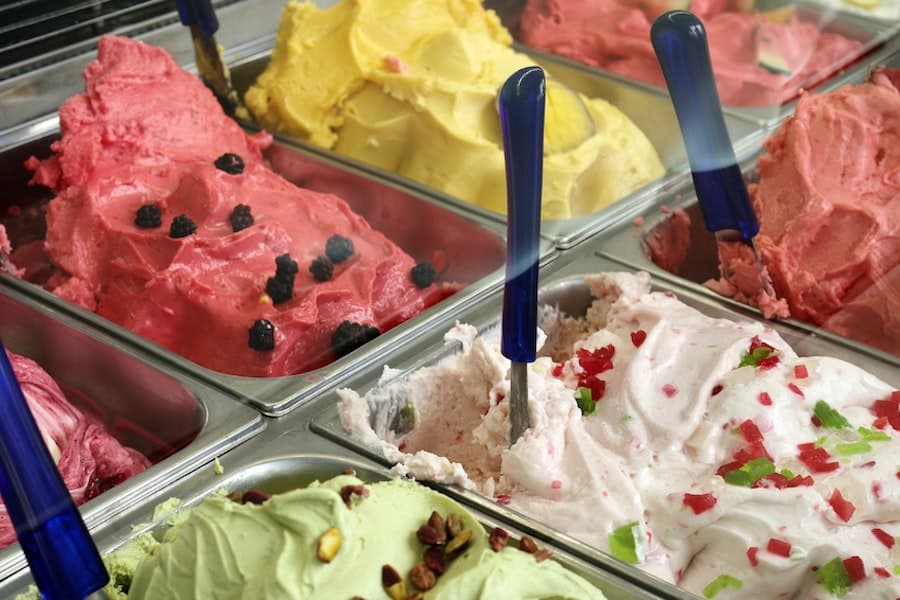 ---
Cardamom Bun Sweden
Cardamon Buns are a Scandinavian favourite that tastes their best up in this region. The best way to eat this simple yet tasty pastry flavoured with cardamom is in Sweden during Fika. Fika is a state of mind essential in Swedish culture where it means a time to take a coffee and cake break with friends. Enjoying Fika with a cardamom bun will have you feeling Swedish!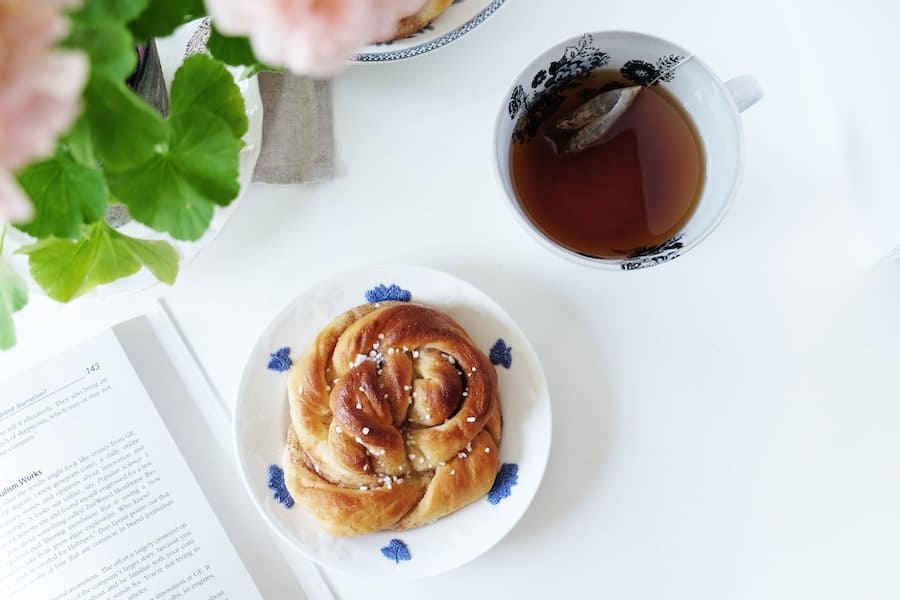 ---
This European food guide has some of the best dishes Europe has to offer. However, there are many more dishes to add to this list that are yours to discover. Be sure to ask locals and restaurant servers what they would recommend to delve even further into the culture!
Like this post? Pin "European Food Guide" for later!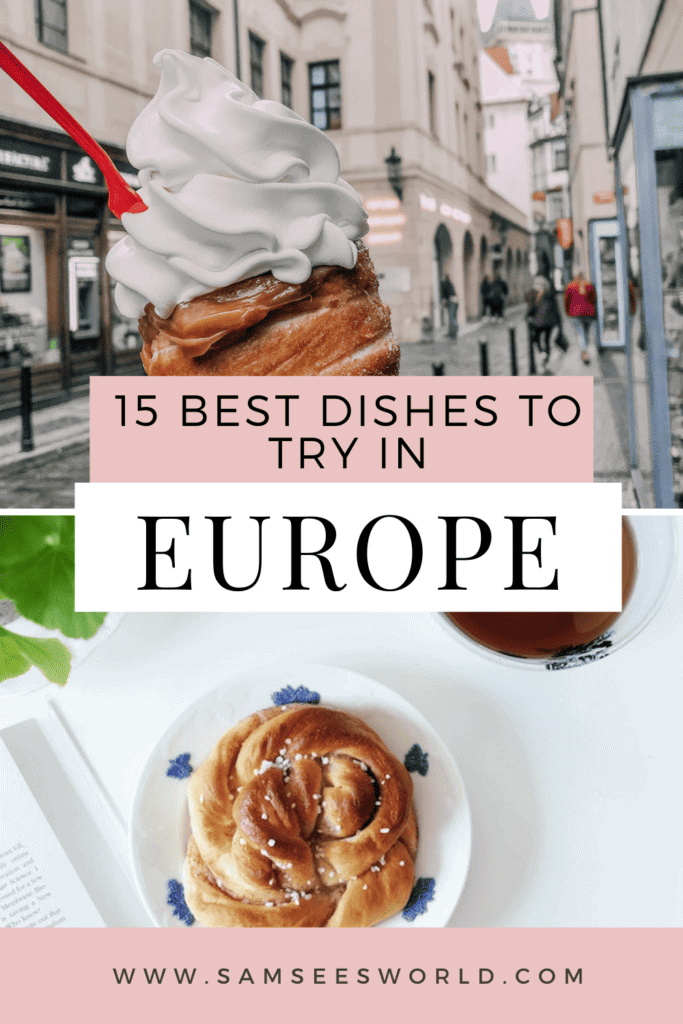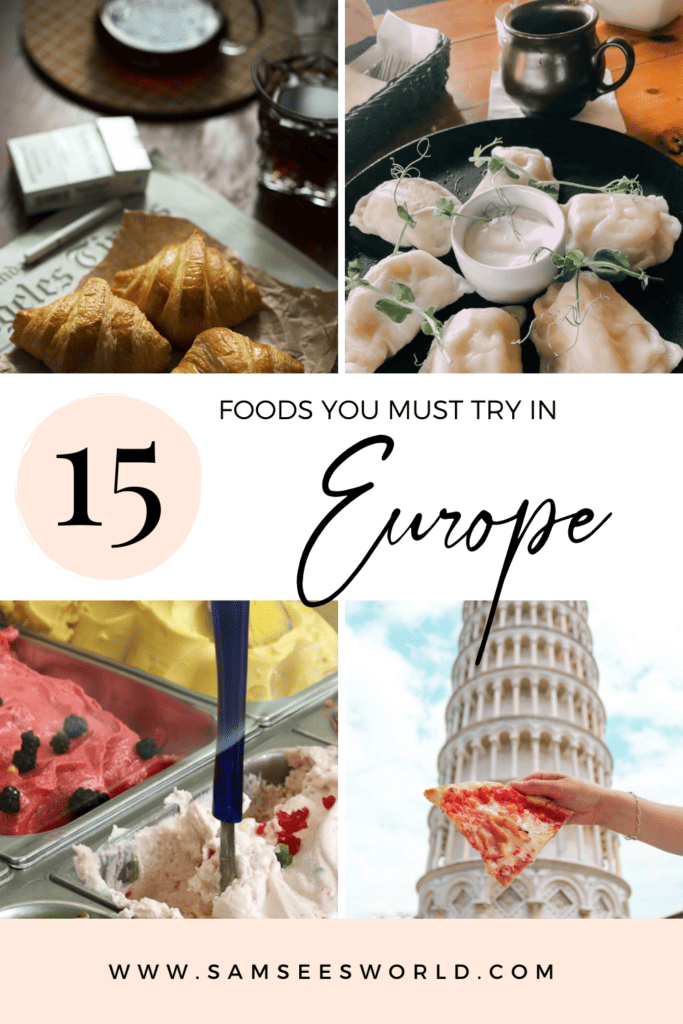 Love,
SSW