If you are heading to Spain and wondering what to do in Valencia, then you are in the right place. Below is a complete list of all the top things to do, see, eat and experience while in this stunning Spanish paradise of a city.
Valencia is Spain's third-largest city and is full of culture, history, and adventure. The combination of sun, beach, and historical sites is very unique and gives this city a charm like no other. Valencia is a Mediterranean hidden gem that offers the perfect taste of an authentic Spanish experience.
What's also great about Valencia is that it attracts far fewer visitors compared to the nearby cities of Barcelona and Madrid. Which is great for exploring without huge crowds and seeing a city in its most authentic form.
Valencia just so happens to be one of the most surprising and enchanting cities I have ever visited in Europe! I highly, highly recommend it, and if you follow all these things to do in Valencia during your visit you will surely have a grand time.
(Disclaimer: Some links in this post may be affiliate links, meaning if you click on the link and make a purchase, I receive a small commission. This is at no extra cost to you and you may even receive a small discount. See disclosure for more information.)
Valencia | What to do, see, eat
What to do in Valencia
Explore the Old Town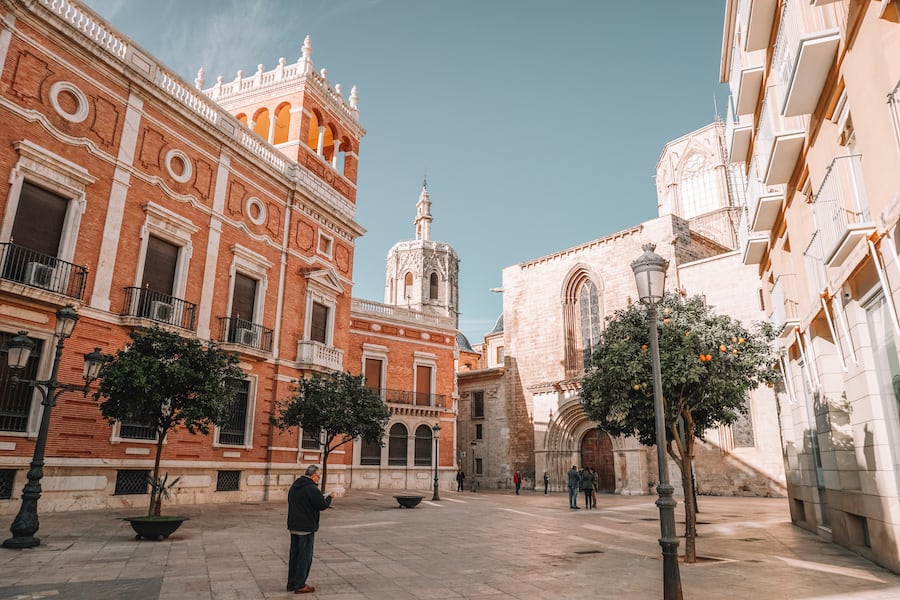 The Old Town in Valencia is absolutely stunning! It is a maze of old buildings, palm tree-lined streets, stunning squares, or full orange trees. There is something new and beautiful to see around every corner and down every side street.
You can easily spend a day just roaming the streets and discovering all the hidden secrets there are to be found. Plus the Old Town is home to many main attractions and sites of the city.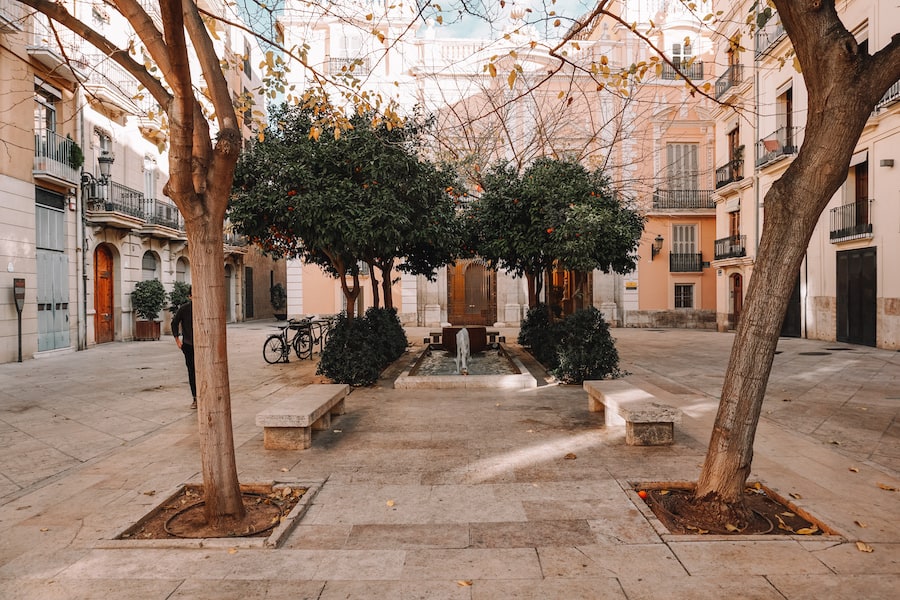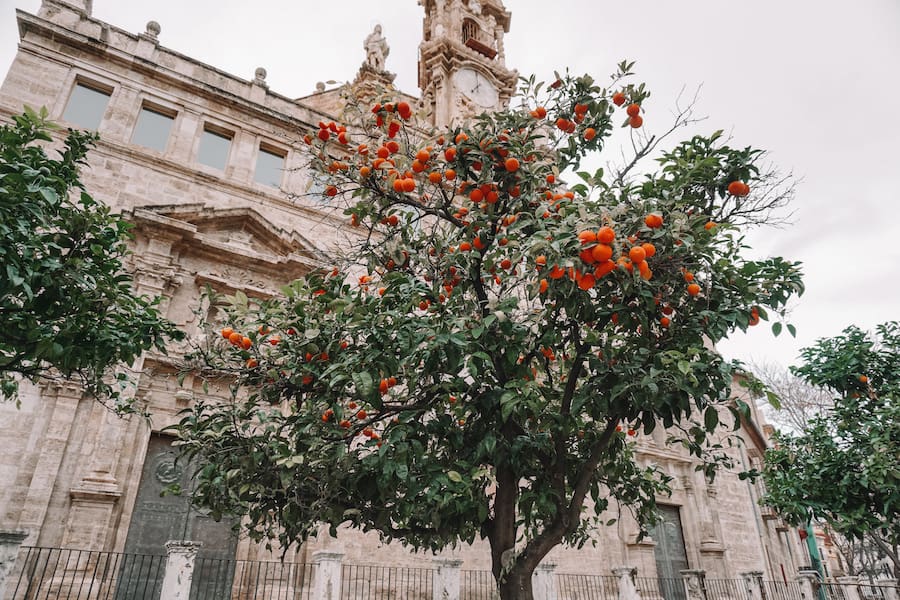 Valencias Old Town is one of the most photographic Old Towns there is. Plus its huge size and limited tourists make for some stunning images with few people in them! Walking the city streets in the morning while they are quiet and just waking up is magical.
---
Get Fresh Food at the Central Market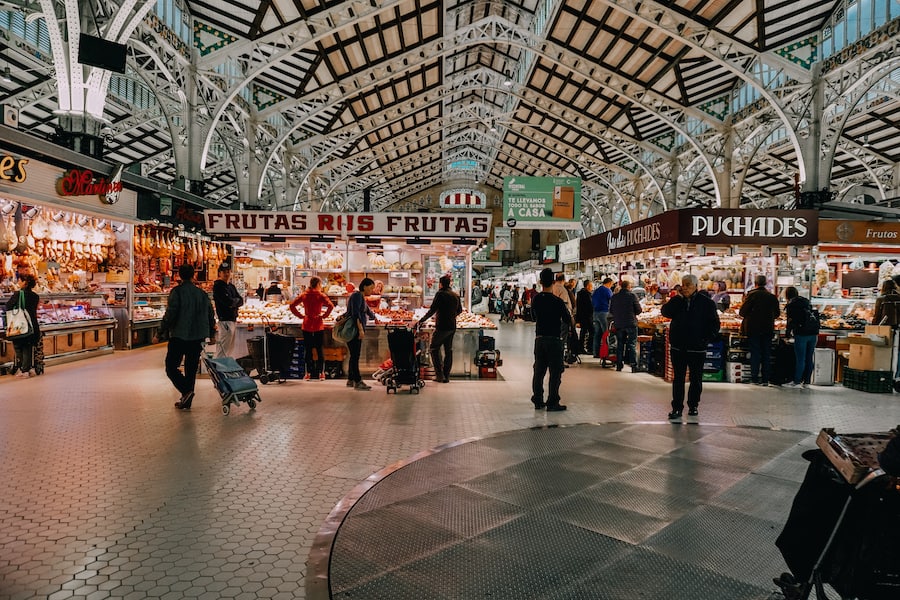 Valencia Central Market is a must-see while visiting the city. It is located in a modernist building in the Old Town and is an interesting way for visitors to gain some insight into the daily life of the locals.
The market is divided into sections with a section consisting of meats, fish, cheese, fruits, vegetables, and more! You can find some very interesting food options here and even if you aren't buying it is super interesting to walk around.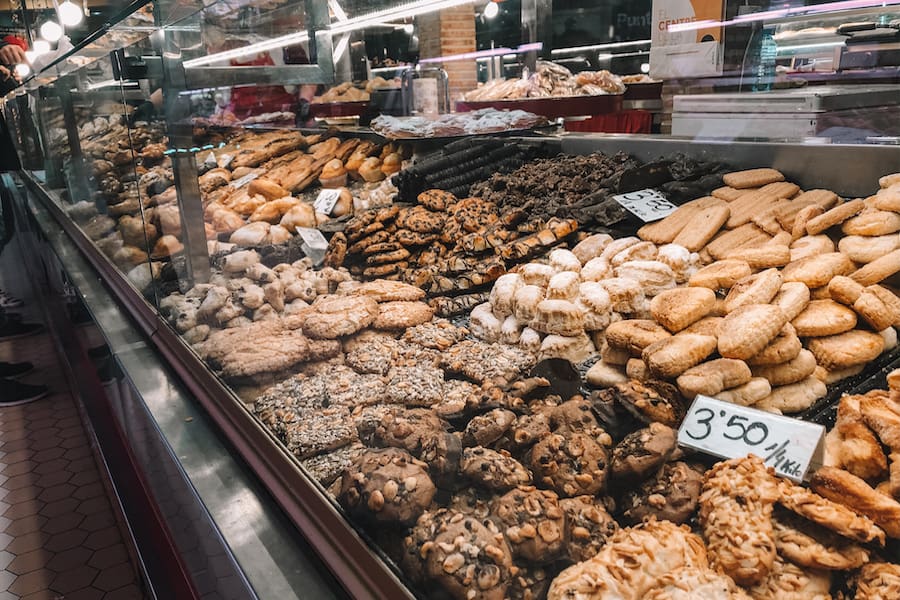 The central market is also a great place to grab a quick and cheap breakfast. they have fresh fruit in containers, fresh fruit juices and baked goods stands. It is super nice to grab a fresh orange juice and a flaky croissant to eat while you do your morning explorations of the city.
---
Visit the Valencia Cathedral & The Holy Grail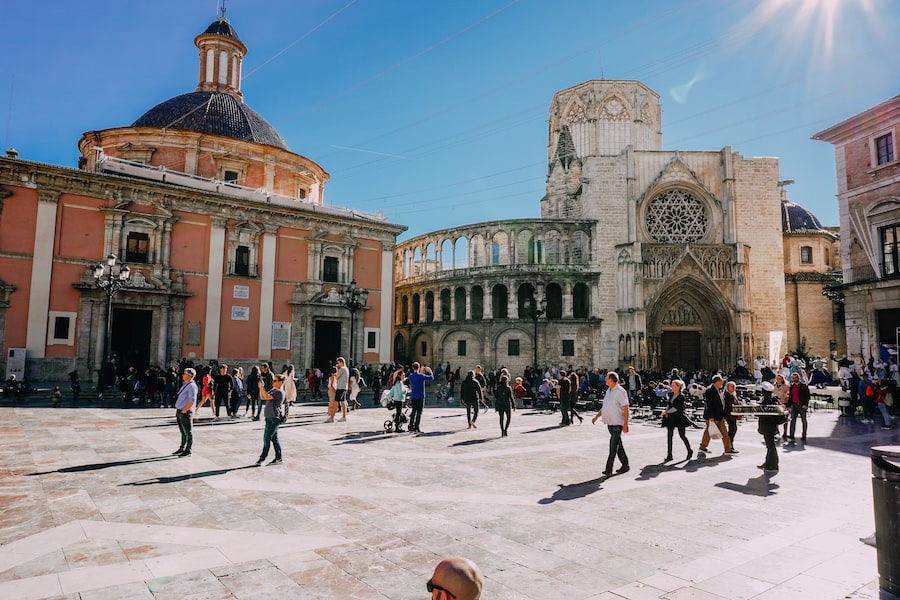 The Valencia Cathedral is one of the more prominent attractions within the city mainly because it is home to the Holy Grail. The Holy Grail is the cup that Jesus was said to drink out of during the last supper, however, a few other places in the world hold this same claim. It is unknown which place holds the true Holy Grail or even if one exists but visiting it and viewing it behind its glass case is an experience in its own, especially if you are of religious following.
What's more, is that the exterior and interior of the Cathedral are stunning! The white stone and ornate detailing are something to be admired and if you don't enter you should take some time to appreciate its beauty from the outside.
You can also climb to the top of the bell tower to see some stunning views of the city.
---
View The Bullring of Valencia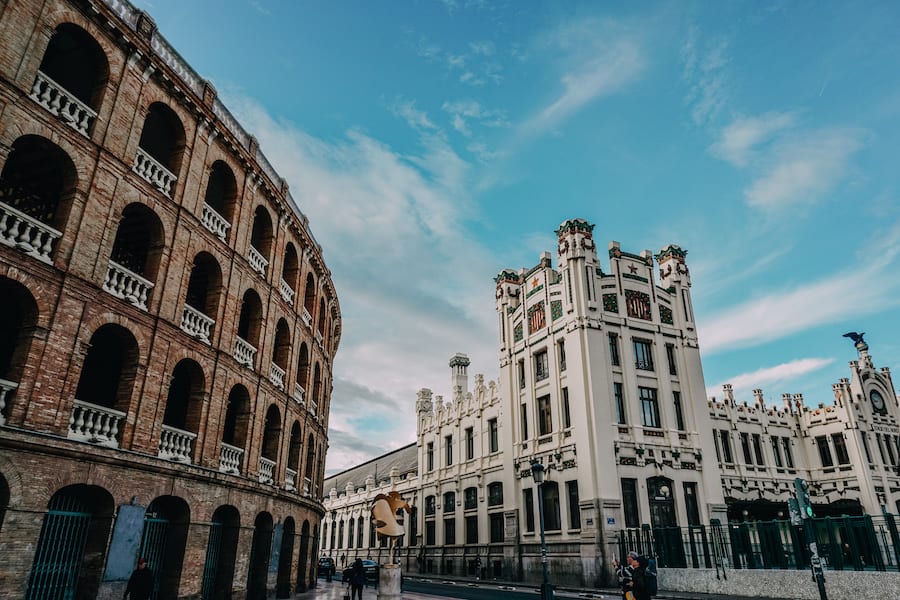 The Bullring is a ring built in the 1800s dedicated to bullfighting. The exterior design was inspired by Roman architecture and built in the neoclassical style. I do not support bullfighting and wouldn't suggest paying to watch one, however, there is a museum inside that is great for gaining some historical knowledge on the sport.
---
Drink Fresh Sangria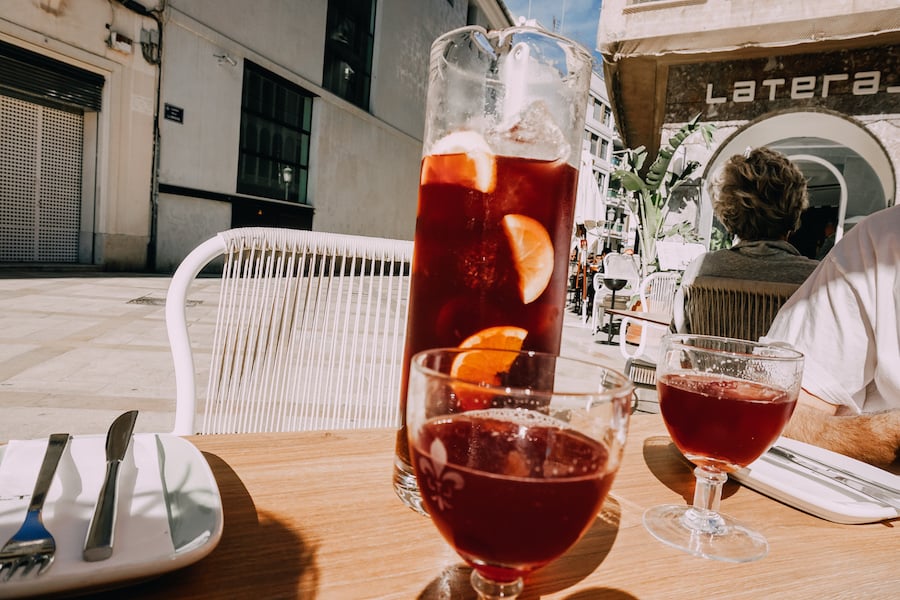 While exploring Valencia you will notice a ton of nice restaurants with patios outside. These are the perfect places to stop to enjoy a nice drink and admire your surroundings. When you are in Valencia, drinking Sangria is a must!
The Sangria here comes in huge 1L portions and is incredibly cheap! The drink consists of red wine, sugar, fruits, and ice. It is the perfect drink to cool you down and get you a little tipsy!
---
Enjoy Tapas for Lunch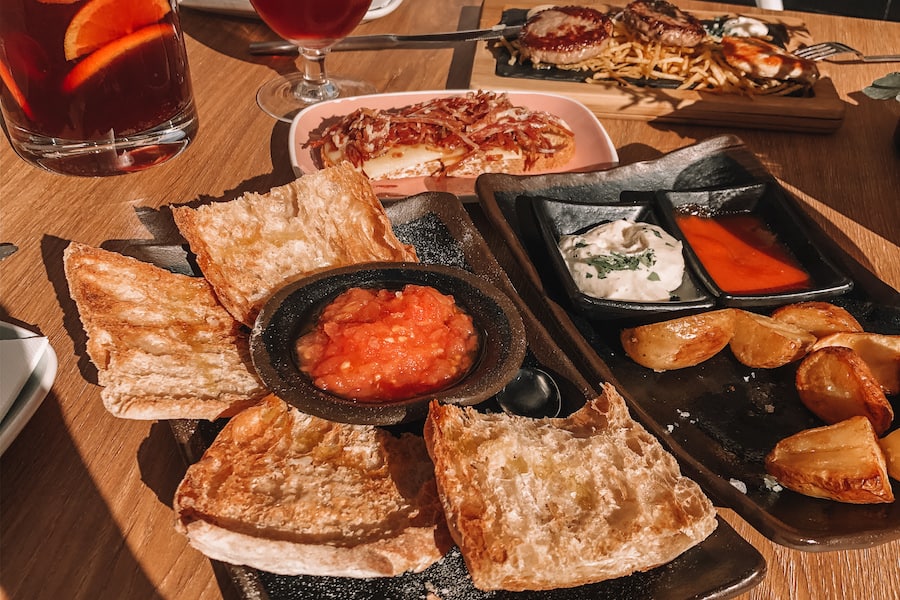 Spain and tapas go hand in hand, and when in Valencia you must do as a Spanish do. Tapas are a dish in Spain that takes the form of small savory snacks or appetizers of Spanish cuisine. These small serving plates are great for trying new foods and sharing different plates with others.
They usually come in the form of meats, fishes, and carbs so they are not incredibly vegetarian-friendly. But, most menus have potatoes, slices of bread, and olives so you can always find something.
---
Go to the top of Torres De Serranos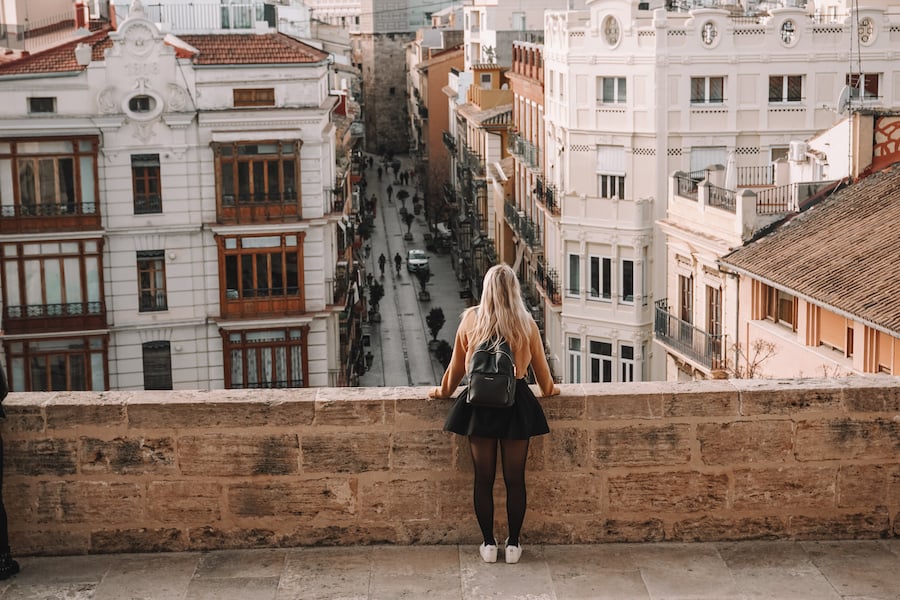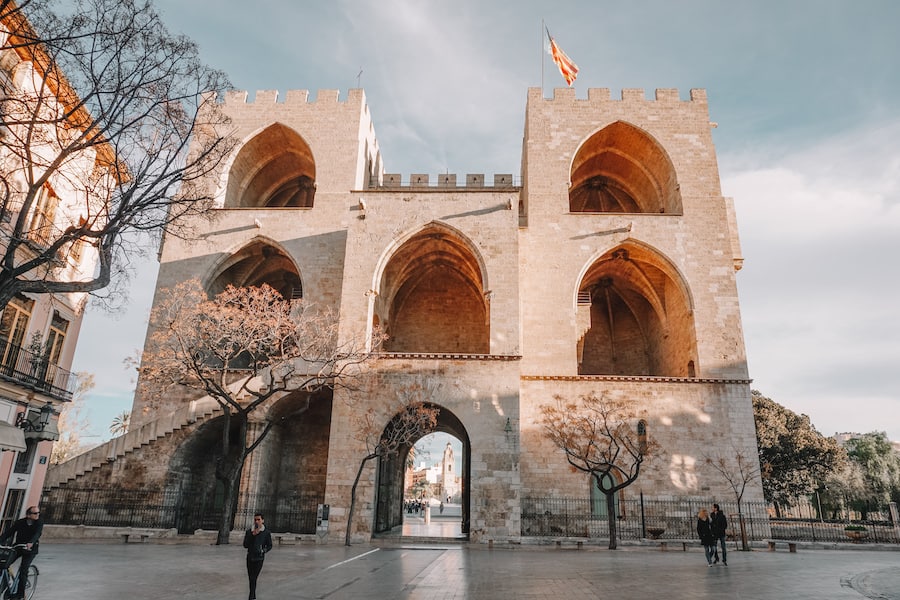 There is no better and more magical way to see Valencia than from above. At a higher angle, you get to see the intricate tops of buildings, colorful streets, and panoramic views that will charm you to no end.
The best way to get these views is by walking to the top of Torres de Serrans which is one of the 12 gates that made up the ancient city wall. It was built in a gothic style and is lovely to view from a distance but the real power is from the views on top.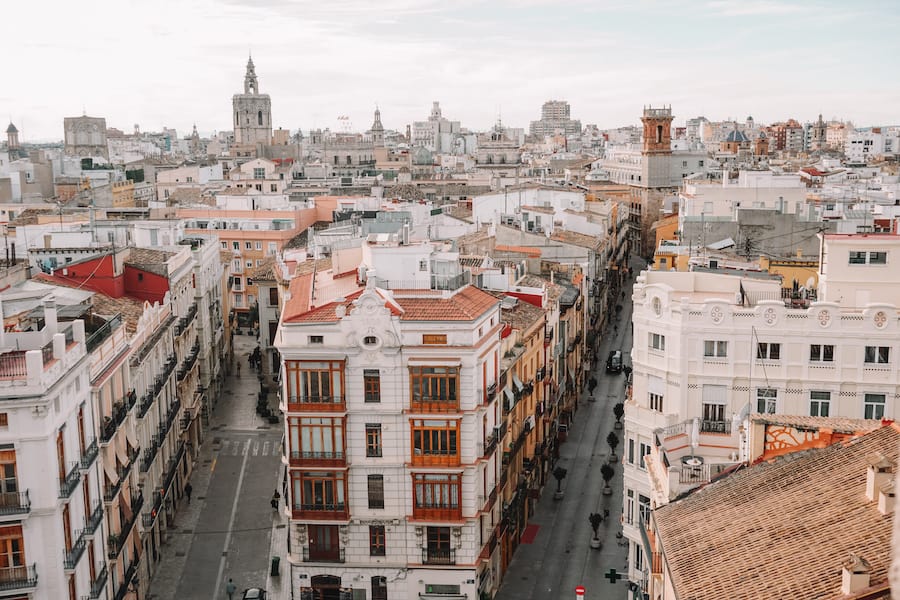 This is the best way to see the city from above in Valencia, and although you can also climb the bell tower at the Cathedral to admire the city views, these views trump them all.
The entrance cost is €2 but on Sunday it is free!
---
Enjoy a breakfast with a view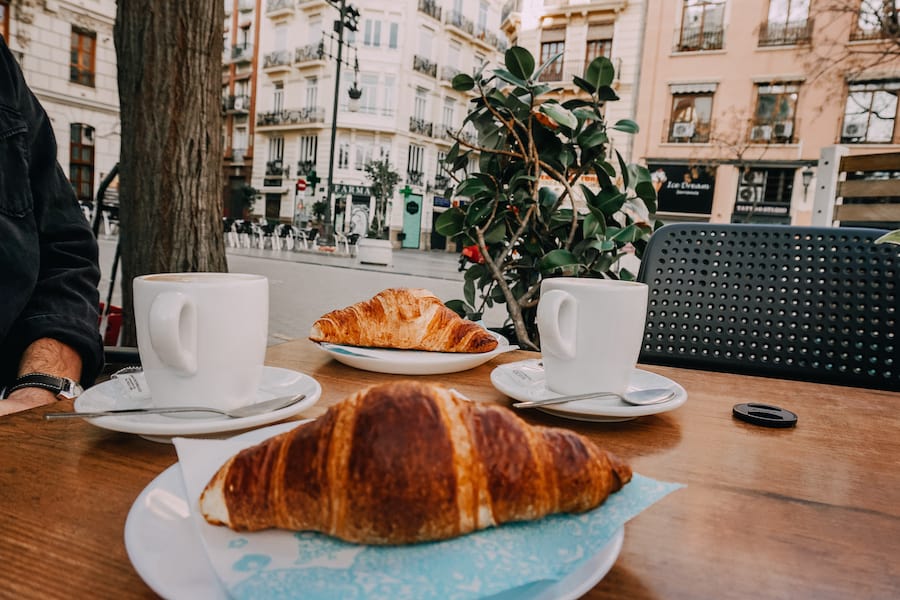 For a Spanish city, Valencia is not that sleepy at all. At around 8 AM some bakery shops and cafes start opening and offering fresh coffee and snacks. It is so peaceful enjoying a warm cappuccino and croissant while sitting on the patio of a cafe.
During the morning hours, the city is quiet and the streets have a certain magic to them. It is the perfect time of day to soak up the morning sunrise and prepare for the adventures ahead.
---
Visit the City of Arts and Sciences
Oceanographic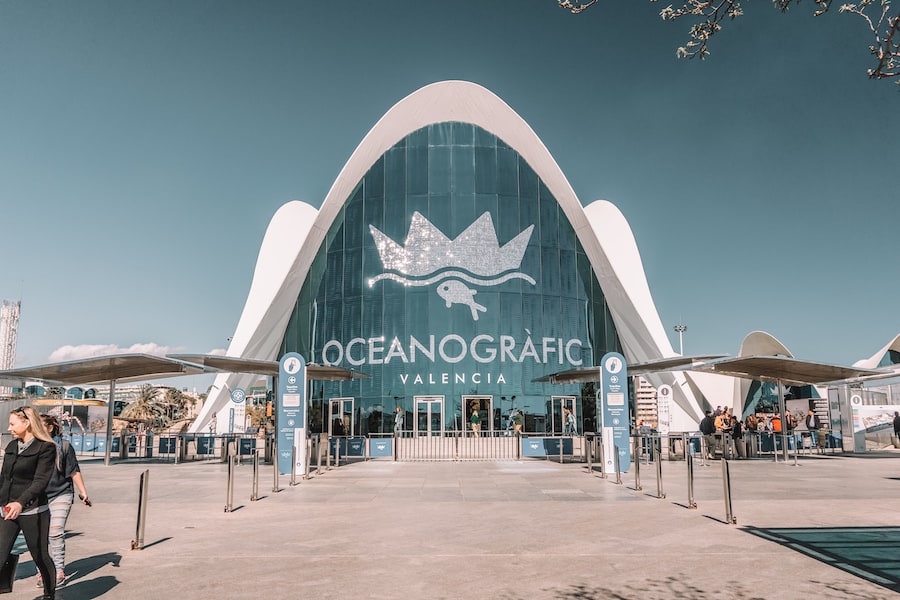 Oceanographic is one of the main attractions in Valencia as the biggest aquarium in Europe. Here you will find 45,000 specimens of 500 different species of marine animals from sharks, fish, dolphins, whales, penguins and more. This is a great place to go as a family, with something to enjoy for everyone.
The Hemisfèric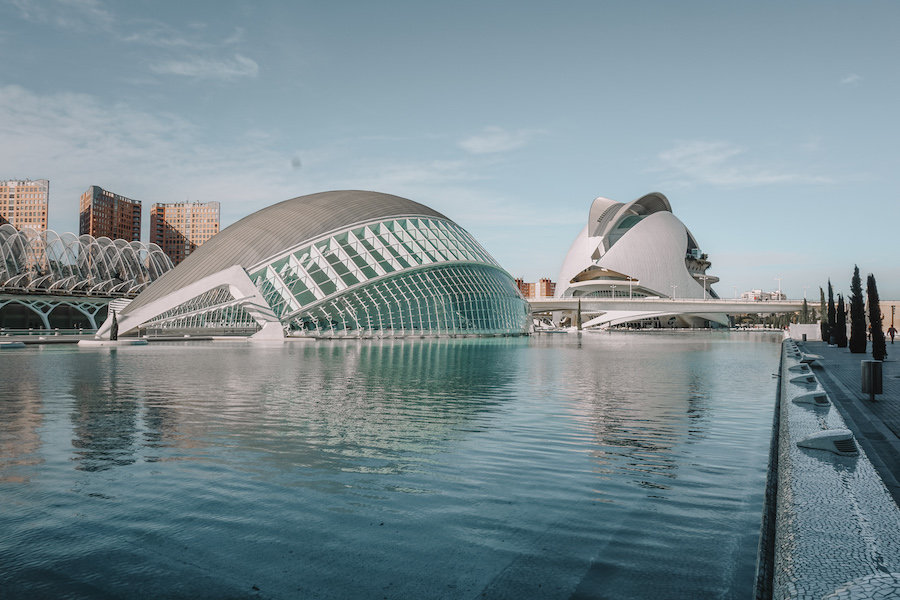 The Hemisferic is a 3D digital cinema that plays education documentaries around 45 minutes in length. Within the cinema, there is a 900-meter concave screen that allows for the most encompassing watching experience. Visitors get innovative 3D glasses that allow you to change the language of the documentary! This is a great place to bring children as kid-friendly documentaries play throughout the day.
Príncipe Felipe Science Museum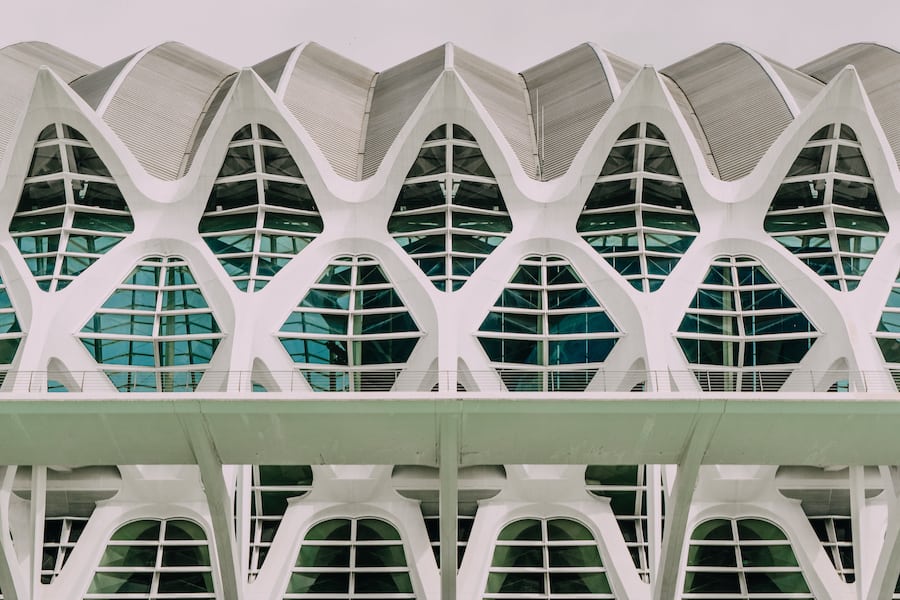 This is a museum dedicated to science and technology. There are various exhibits to walk through and learn from, plus for an extra fee, you can do a scientific workshop offering by the museum.
Opera house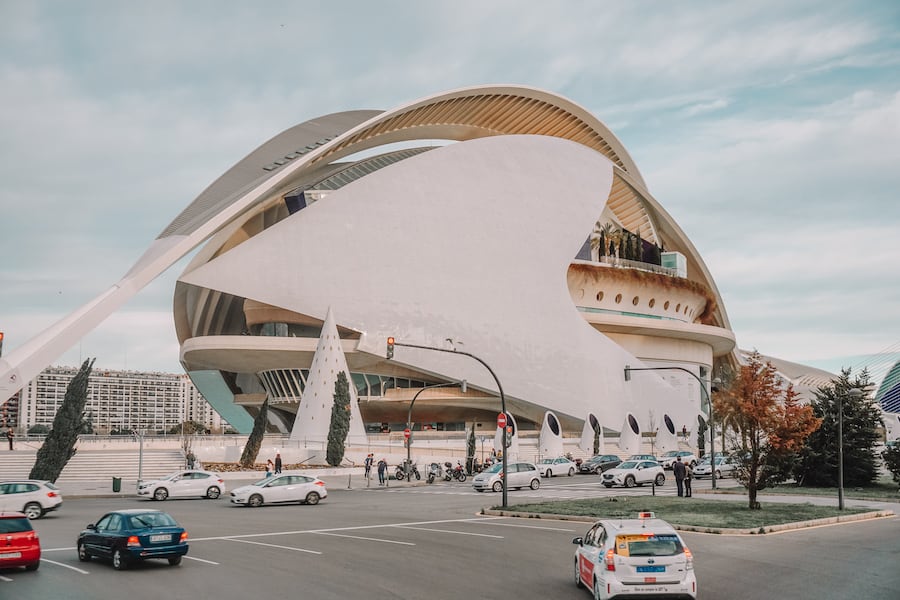 The Opera house is the best place in the city to listen to live music. However, live operas, concerts, zarzuela, and ballets are only available for viewing here during the months of October to November. If you want to visit this building in other months you must book it on their website.
The Umbracle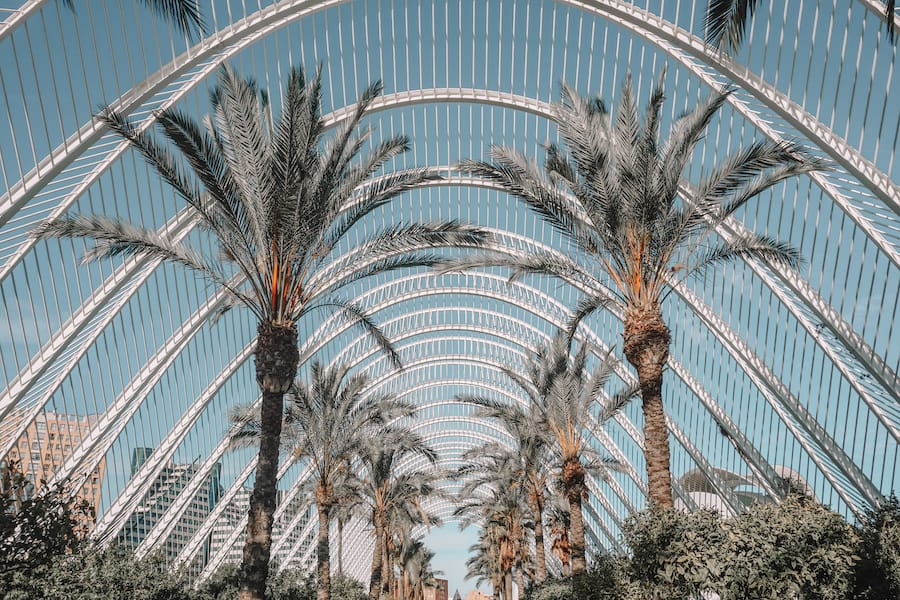 The Umbracle was my absolute favorite part of visiting the city of art and science. It is a huge open-access garden that is home to various Mediterranean plants and trees. It is free to enter and you are able to explore freely. Be sure to snap some photos because this spot is beyond amazing on camera.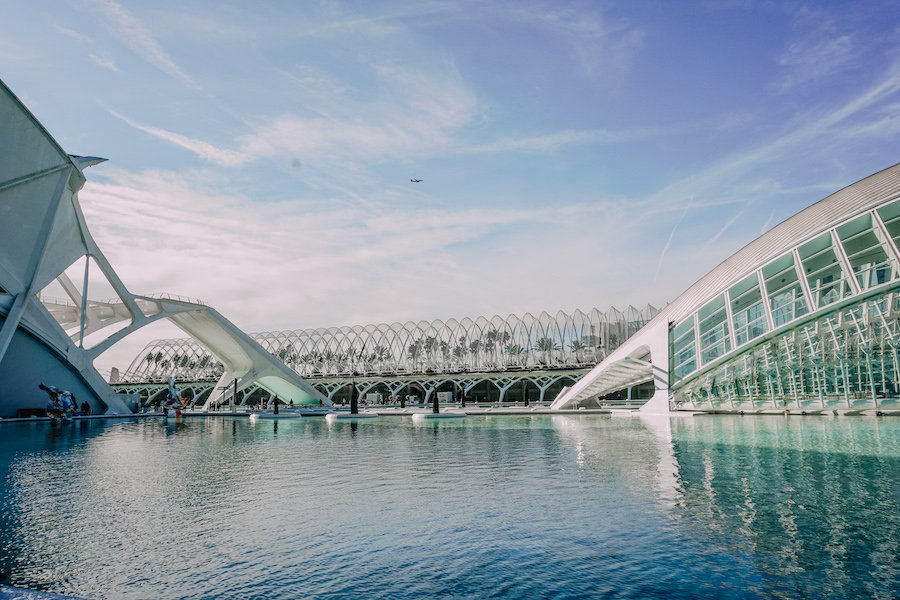 In the summer months, this also turns into a club where you can enjoy a drink under the moonlight.
The Ágora & The Assut D'or Bridge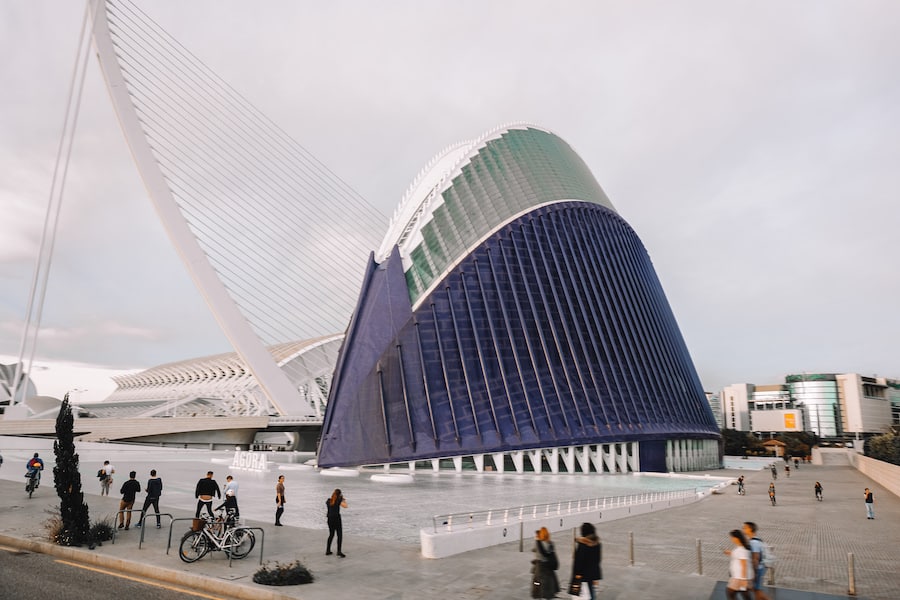 The Agora is a building that holds various events throughout the year. While The Assut D'or Bridge connects the two sides of the city across the former riverbed of the River Turia.
---
Walk around Russafa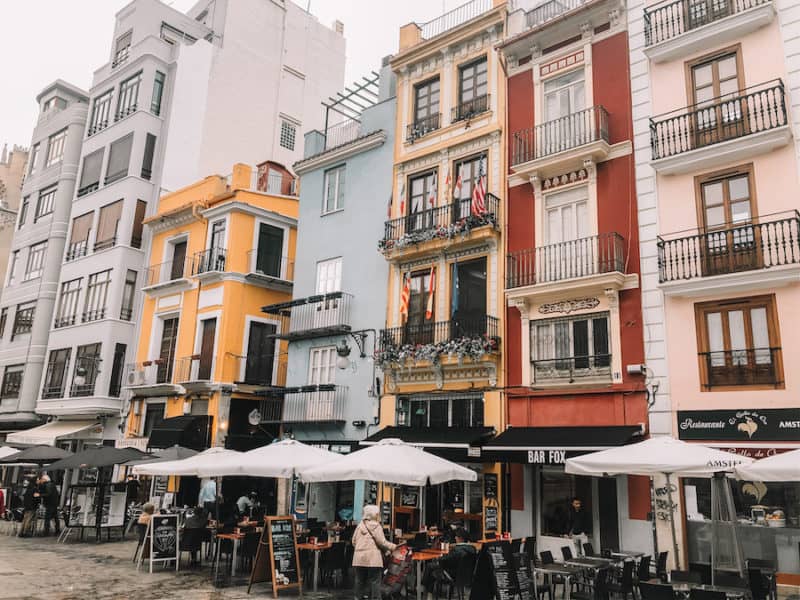 Russafa is one of the coolest neighborhoods in Valencia. It offers the perfect mix of old streets, colorful buildings, and trendy restaurants. This is the perfect area to get lost in and wander aimlessly around.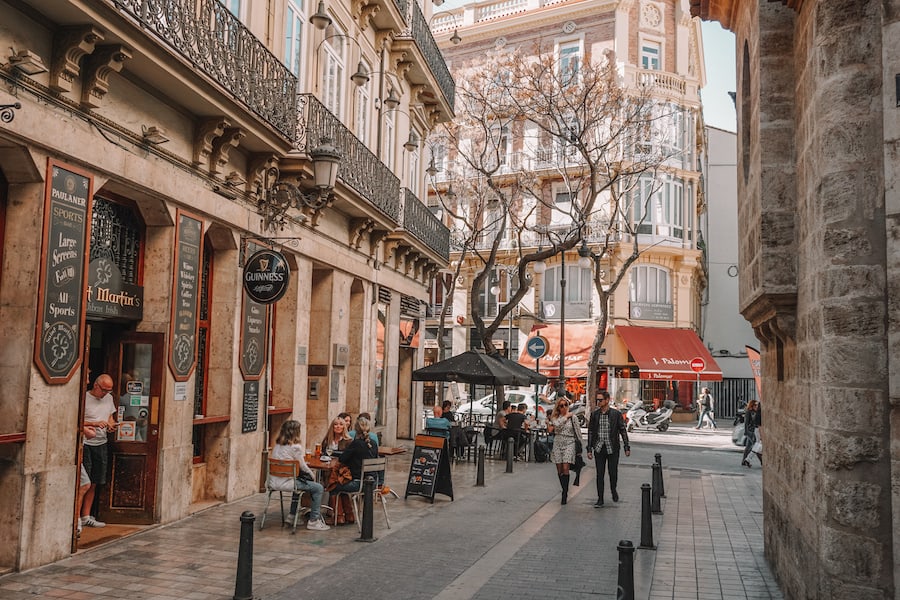 ---
Admire Plaza de la Reina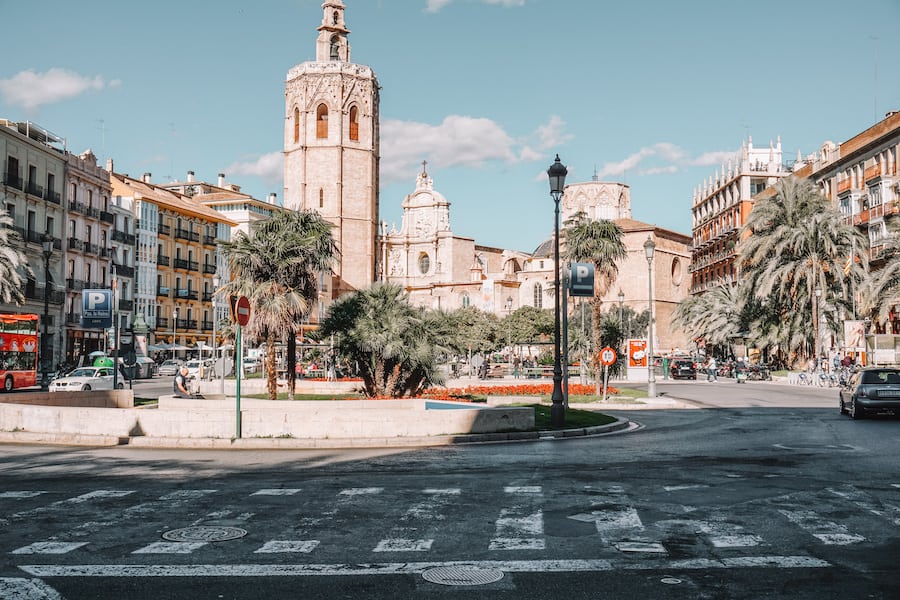 Valencia's Old Town is full of large squares that are beautiful beyond belief. One of the many squares you must visit is Plaza de la Reina. It is one of the main squares in the city and is also where you can find the bell tower of the valencia Cathedral.
This is a nice place to walk around, get a bite to eat or take some photos. It is also the main place to get a ticket and start on a tour bus around the city. From here, two main hop-on hop-off routes are offered. The first one is the historical tour and explores the old town of Valencia as well as some important historical sites that are situated outside of the main area of the city. The second, the maritime route, brings you on the other side of the city, past the city of Arts & Sciences and all the way to the Valencia marina and the beach. This serves as a great alternative if you would like to combine sightseeing with transportation to the beach, as you are able to hop off at any preferred stop. The price of a 24h ticket is 18€.
---
Rent Bikes
The best thing you can do in Valencia is to rent bikes! The city itself is quite large and getting around only on foot can be difficult. Renting a bike and biking through the riverbed of the River Turia is magical and something you don't want to miss.
The former riverbed is now a park full of spacious bike paths, sports fields, and lined with palm trees! A bike ride through here can bring you all the way to the City of Art and Sciences. And beyond that, with bikes, you can easily get to the beach in no time at all.
If you are worried about safety just know that the whole city is made for bikes. The whole way from the Old Town to the beach follows clearly marked bike paths that are easy to follow and not along with the cars.
I rented a bike for €8 for 5 hours.
---
Go to the Beach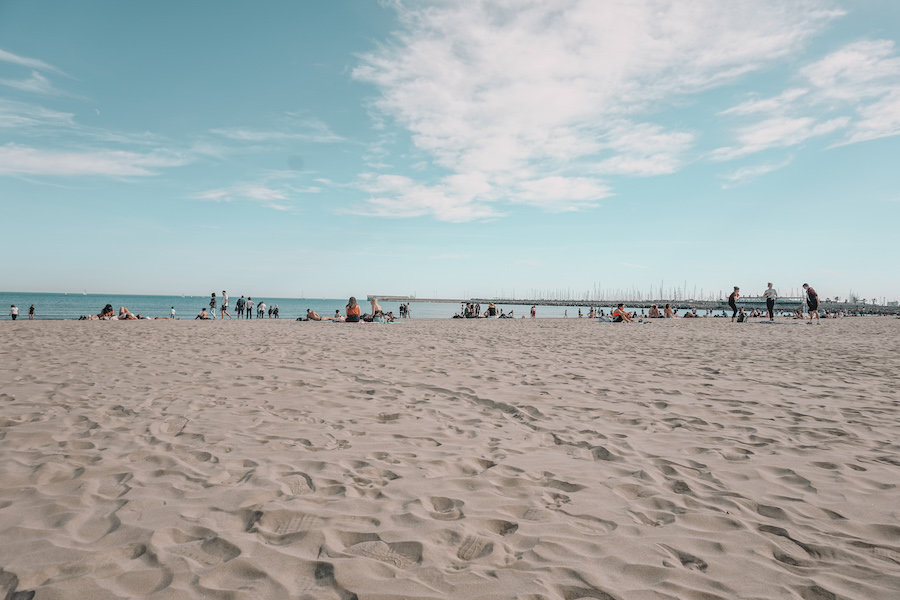 The main draw to the city of Valencia is the spacious beach it is home to. The beach sits along the Medeterrain Sea and is absolutely huge! The sandy part of the beach stretches for what seems like miles, which means there is a ton of space for everyone to sit on and enjoy the sun without feeling crowded.
What people love most about this beach is that the sand is white and soft. Sitting on it for hours is enjoyable and makes spending some time breathing in the salty water and soaking up the sun is a dream.
If you are not the type of person who wants to sit on the beach you can also go to one of the shorefront restaurants. The whole top of the beach is lined with authentic Spanish restaurants offering local seafood, tapas, paella, and other Spanish specialties. From here you can admire the beach while sitting in the comfort of a restaurant.
Luckily, there are more than one beautiful beaches in Valencia to enjoy!
---
Visit a Beach Club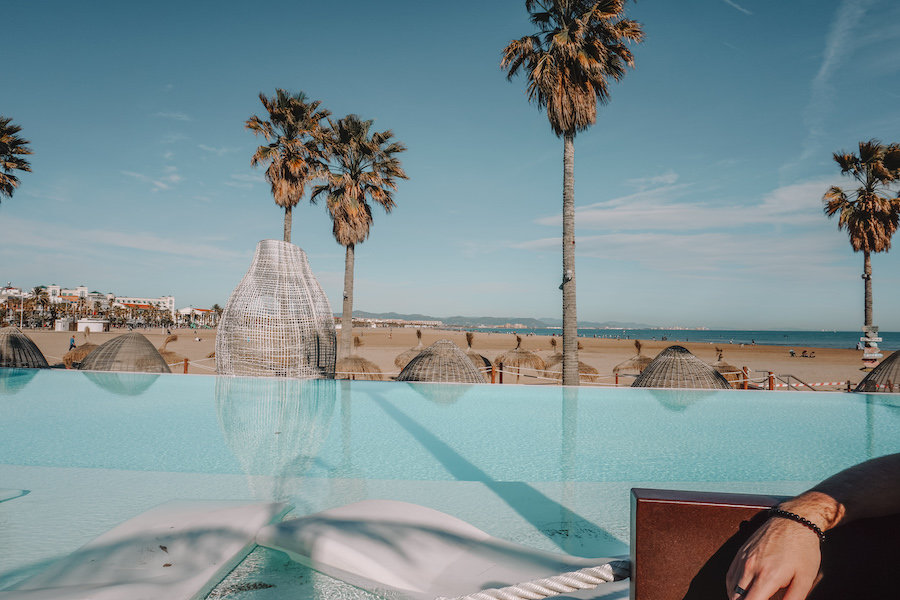 While you are visiting the beach in Valencia you must make a stop at Marina Beach Club. This is a luxurious beach club that has its own pool, great music, and top-notch drinks. The whole atmosphere here feels like you are in Ibiza and creates a very cool beach day experience.
The prices here are reflective of their luxurious position. Drinks are significantly more expensive than at other restaurants along the beach, and food too. I would suggest just getting a drink here to enjoy the environment without splurging too much.
---
Eat fresh Churros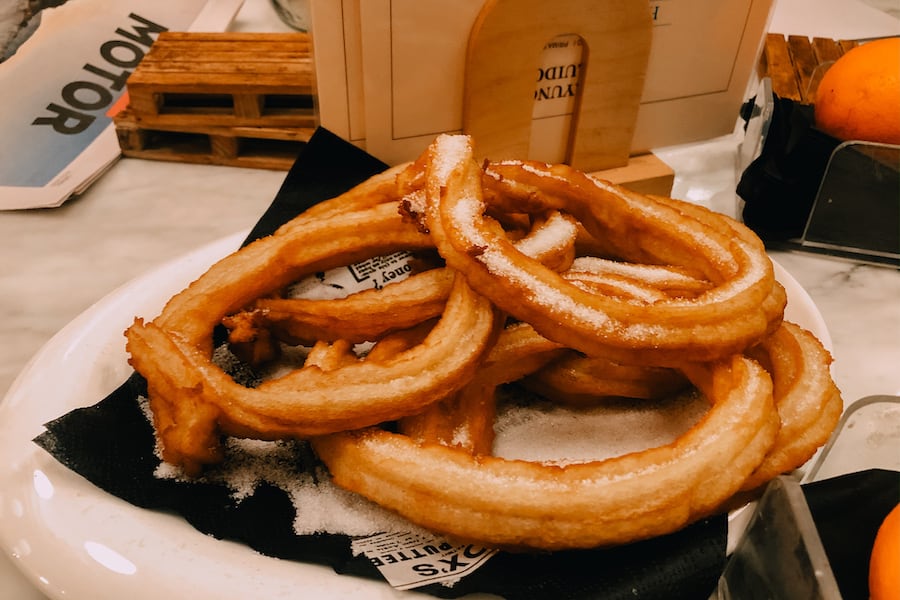 Churros are a Spanish specialty and while visiting Valencia getting a fresh serving is a must. This sweet treat is simply fried dough with sugar that tastes amazing! You can also get additional sides with it like chocolate sauce.
---
Walk around Plaza Ayuntamiento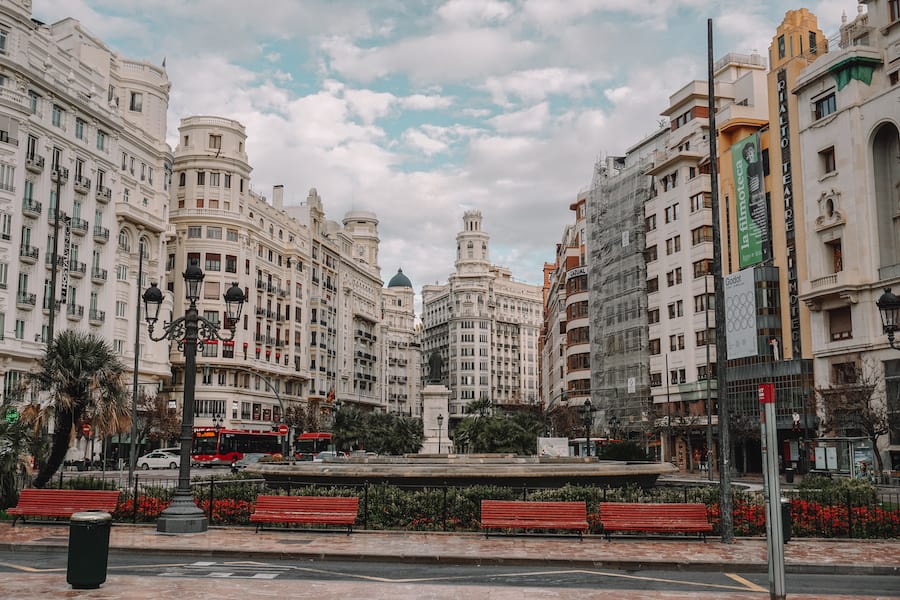 As previously mentioned, Valencia is home to various squares and plazas that are beautiful to visit. The most beautiful – in my opinion – is Plaza Ayuntamiento which is one of the cities main squares and home to the current day city hall.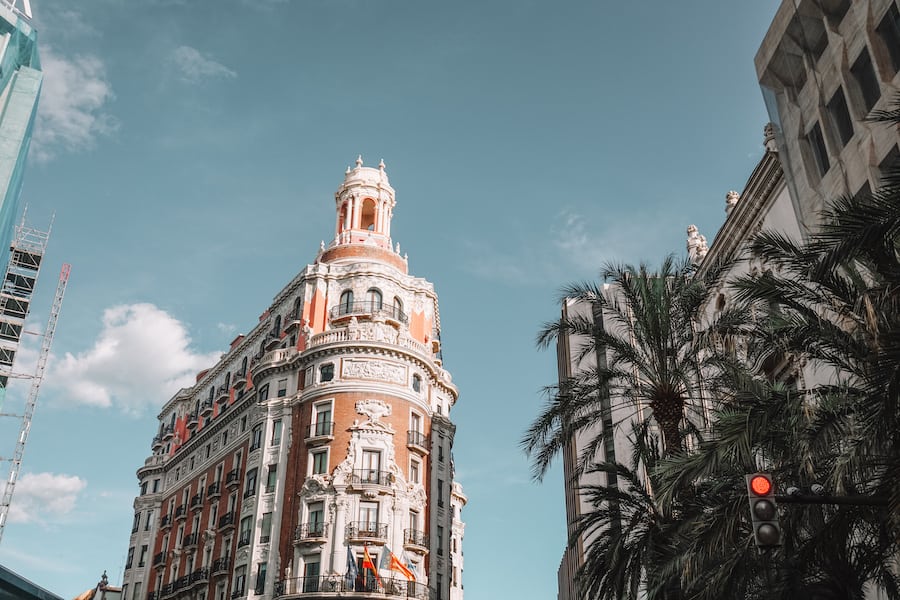 All the buildings in this square are ornate and stunning to look at. You will surely experience 360 degrees of beauty in this square. The architecture here is something you will want to admire for a little while.
---
Eat Fresh Paella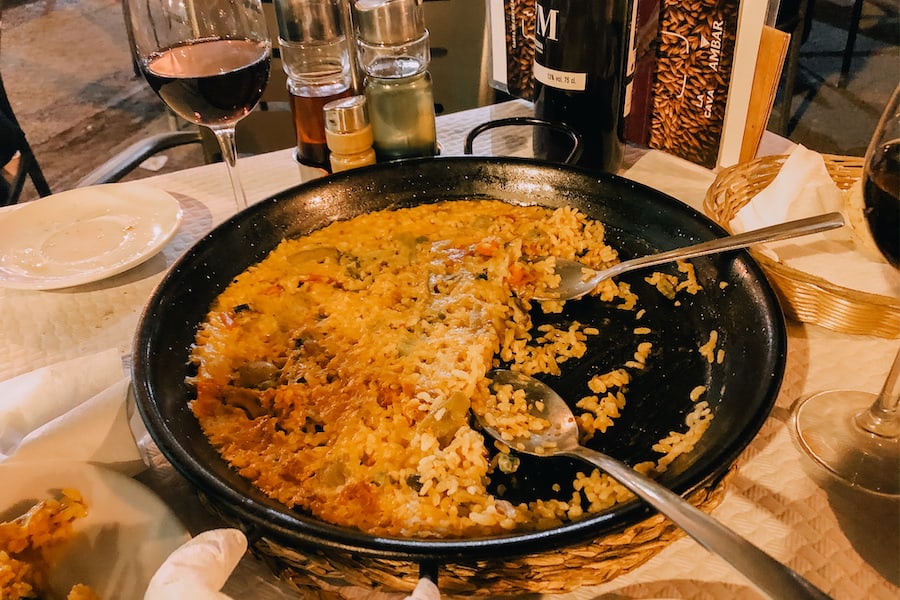 Paella is a rice dish that originates from Valencia! There is no way you can go to Valencia and not eat this famous local dish. It is one of the best known Spanish dishes that can be found at almost every restaurant in the city.
However, I found it a little bit difficult to find a vegetarian paella in the city. Some restaurants said they made their paella rice by soaking it in the chicken broth so I have to ensure this wasn't the case. Nonetheless, I found one that was vegetarian-friendly and was super tasty.
---
View The Palace of the Marquis of Dos Aguas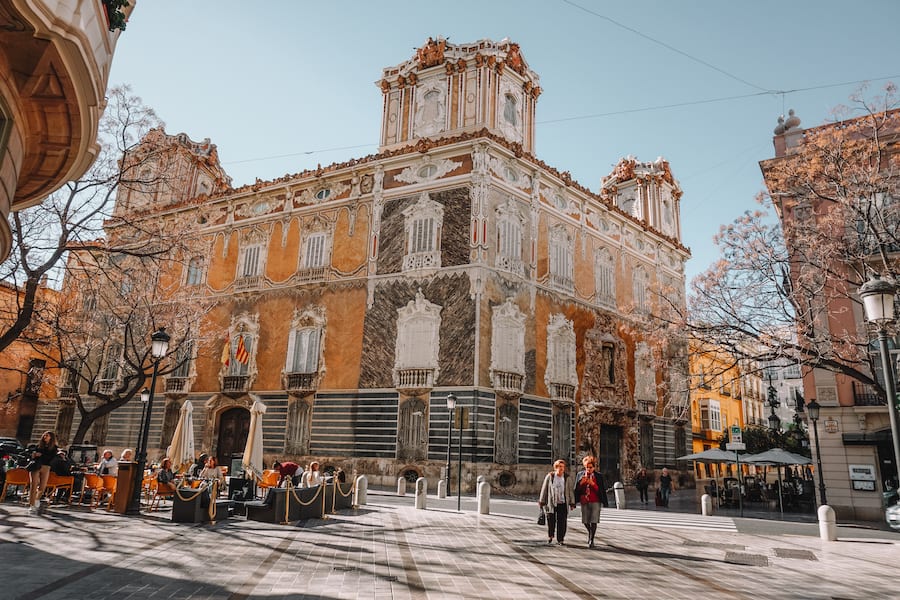 The Palace of the Marquis of Dos Aguas is a super interesting and beautiful baroque palace located in the center of Valencias Old Town. Not only is it a palace but it is also the national ceramics museum.
The exterior of this building is very unique and marvelous to look at. Be sure to go hunting for this beautiful building during your visit as you will not be disappointed.
---
Watch some Flamenco Dances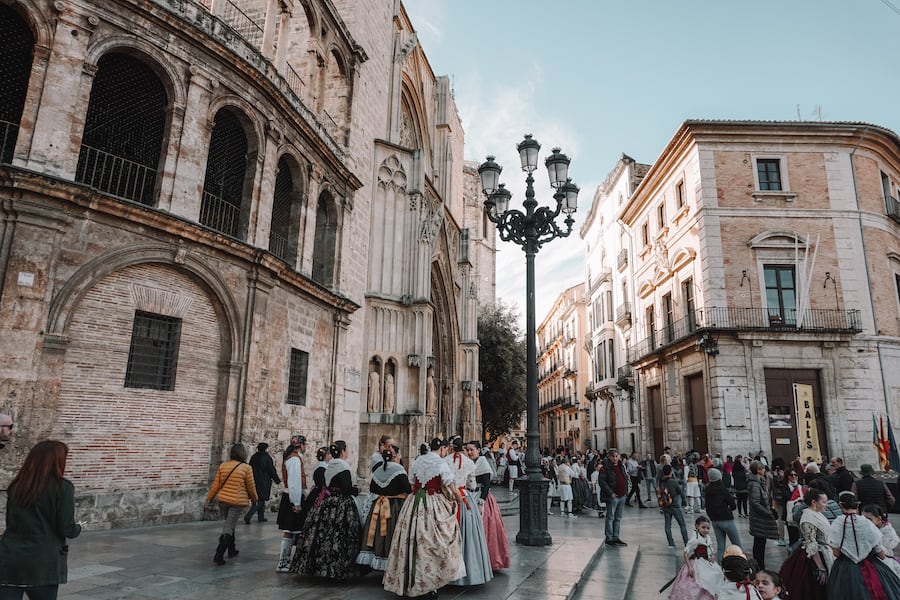 Brlea and Fandango dancing is very popular in Valencia and if you are lucky you may catch a performance by chance. During my travels, I stumbled upon a big group of locals who were doing a free Brlea performance in the traditional dressing styles! This was super cool to see and something I hope you all stumble upon.
---
Where to stay in Valencia
The best place to stay in Valencia is the Old Town. This way you are in the main area of the city and don't have to travel far to get around. Plus this is where all the excitement happens and traveling to all the other attractions can be done with ease.
Once you arrive at the airport, taking a taxi is the most effective way to get to the city center. The ride takes only around 20 minutes and the fare costs approximately 17€. Alternatively, you can also hop on a public bus or the subway, which will take a bit longer but will eventually save you a couple of euros. Here are some great accommodation options:
Luxury
Budget
---
Weather in Valencia
Valencia is a warmer climate destination in Europe. The coldest month of the year is January, where you can expect averages of 9°C and the warmest month is August where you can expect an average of 25°C. More so, the rainiest month is October. However, even then you can only expect around 7 days of rain for the month.
Note, these are only averages. I visited Valencia on February 1st and it was 25°C! So make sure to pack warmer clothes because you never know if you need them.
---
When to visit Valencia
Valencia is a great travel destination year-round. However, it is best visited during the shoulder season or the offseason. During these months there are significantly fewer visitors and the weather is still quite nice. Escaping to Valencia during winter is great for a tropical feeling destination that is within Europe.
More so, during the summer months, it gets extremely hot in Valencia and there are significantly more tourists. But, the city is beautiful at any time of the year and should not be skipped.
---
As you can see there are a ton of things to do in Valencia. From culture to science, to adventure there is no shortage of activities to do and things to see.
I hope this list has helped you find out what to do in Valencia and has feed you wanderlust for this gem of a city.
Like this post? PIN it!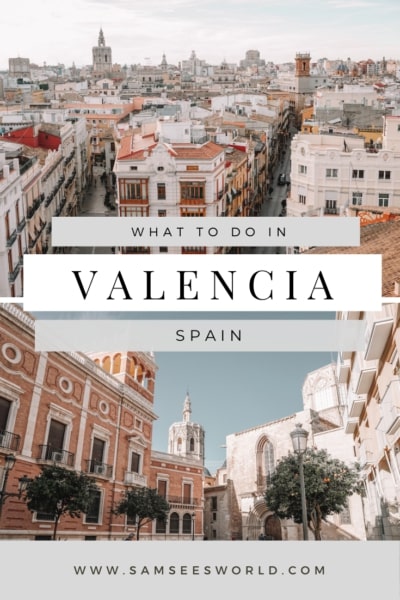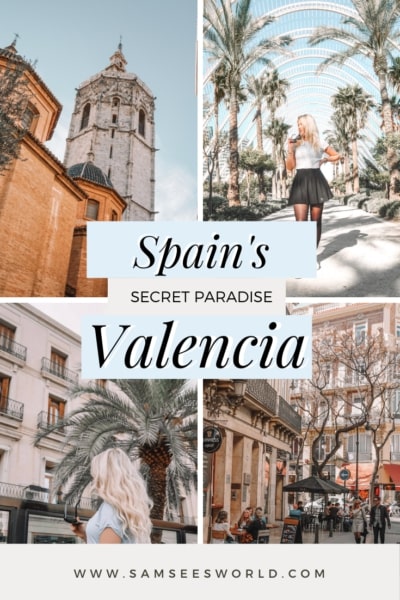 Love,
SSW