Amsterdam Tulips Guide | Where to Find Them All Year
If you are heading to the Netherlands and want to see the famous and iconic Amsterdam tulips, then this is the guide for you. A visit to Amsterdam must include all the quintessential Dutch experiences which include eating cheese, seeing a windmill, biking, and admiring tulips! All of these Dutch activities, sights, and experiences are world-famous and amazing. But, the tulips in Amsterdam are definitely the most beautiful.
Whether you arrive in Amsterdam in the spring, summer, winter or fall there is always an opportunity to see some amazing tulips! However, the springtime in Amsterdam (March-May) is when the tulips are in full bloom all around the Netherlands and therefore, this is the very best time to see the Amsterdam tulips. But, there are other ways to see tulips in the offseason so there is hope for visitors in all seasons!
Below are eight ways to find and experience the tulips in Amsterdam. Some are seasonal and some year-round so make sure to take their open dates into consideration. Be prepared to be wowed and amazed by all the stunning tulips Amsterdam holds.
Where to Find Amsterdam Tulips
Keukenhof gardens
Seasonality: Only open in spring: March 21st – May 10th
Price: €17,50
Location: Stationsweg 166A, 2161 AM Lisse
About Keukenhof Gardens
Keukenhof Gardens are the largest tulip gardens in the world with over 7 million bulbs in bloom during the season. This is the most beautiful flower garden in the world and if it is not on your bucket list, it should be now. The gardens span an incredible 32 hectares and are full of unique garden displays, beautiful flower shows, and surprising flower gardens.
The tulip displays get better and better the more you explore and there is something new around every corner. You will be mesmerized by this heaven of flowers and fully understand why the Netherlands is the tulip capital of the world.
Heading to Keukenhof is a full day activity. Exploring the whole park can take hours and there is more to do inside than just look at the flowers. There are parks for children, cafes, ice cream shops, and restaurants. Be prepared to spend a full day here as the park is quite large and there is a ton to see and do.
Read More: Best Beaches in Amsterdam
How to get to Keukenhof Gardens
You can get to Keukenhof in a few ways, but the best ways are by public transport or by tour bus. The tour bus options range from tour buses that will bring you from Amsterdam to the gardens and allow you ~4 hours to explore, or there are fully guided tour options! Some great ideas and options for tours are below.
---
Tulip Fields of Amsterdam
Seasonality: Only open in spring: Late March to Early May
Price: Free
Location: Lisse
About the Tulip Fields
The tulip fields in the Netherlands are one of the most iconic things about this country and for good reason. Every spring billions of tulips bloom in every color imaginable and are presented in long rows that reach far into the horizon. The rows of tulips are absolutely breathtaking and nowhere else on earth will you find this sheer amount of tulips all in one area.
There are fields all over the Netherlands, however, some – like the Lisse tulip fields – are more famous than others. Nonetheless, the fields are stunning no matter where you go and will result in some jaw-dropping photos and memories.
My favorite fields are the ones in Lisse, Netherlands, mainly because there were so many different fields. As a result, the fields weren't packed with people and you could enjoy the beautiful Tulips with some intimacy and capture some photos without a ton of people in them. More so, the colors of the tulips were out of this world and navigating the Lisse fields was relatively easy.
How to get to the Tulip Fields
As mentioned, the best tulip fields that are located the closest to Amsterdam are the Lisse tulip fields. These are the most famous tulip fields due to the miles upon miles of fields to see in a multitude of colors. The best way to get to these fields is by public transport or tour bus.
For public transport, you can either take a train to Lisse and explore from there. Or take a bus to Keukenhof and move along from there.
Read More: 2 Day Amsterdam Itinerary
It is advised to rent a bike or bring your own for these fields. They do span over a large area and the best way to see them is via bike. Click here for a route that you can follow!
Moreover, there are also some tours that will bring you to and around the fields which are ideal if you want a guided tour that will help you see everything. Below are some options.
---
Floating Flower Market
Seasonality: Open year-round
Price: Free
Location: Singel, 1012 DH Amsterdam, The Netherlands
About the Floating Flower Market
The floating flower market, also know as Bloemenmarkt, is a market that floats on the canals of Amsterdam that is completely dedicated to flowers. The main flower it focuses on is tulips! Here you can find various tulip and dutch centered souvenirs as well as a plethora of tulip bulbs.
There are tulip bulbs that are available in all colors – even black – that you can buy either in a can or individually. These are really cool and unique souvenirs to bring home that encompasses the Amsterdam tulips frenzy.
How to get to the floating flower market
The floating flower market is located in the heart of Amsterdam and is easily reachable by foot. If you are in the city you may even stumble across it. The address is: Singel, 1012 DH Amsterdam, Netherlands, and the floating flower market opens at 11 AM daily!
Read More: 20 Best Cafes in Amsterdam for Coffee Lovers
---
---
National Tulip Day
Seasonality: Only on January 18th
Price: Free
Location: Dam Square, 1012 JS AMSTERDAM
About National Tulip Day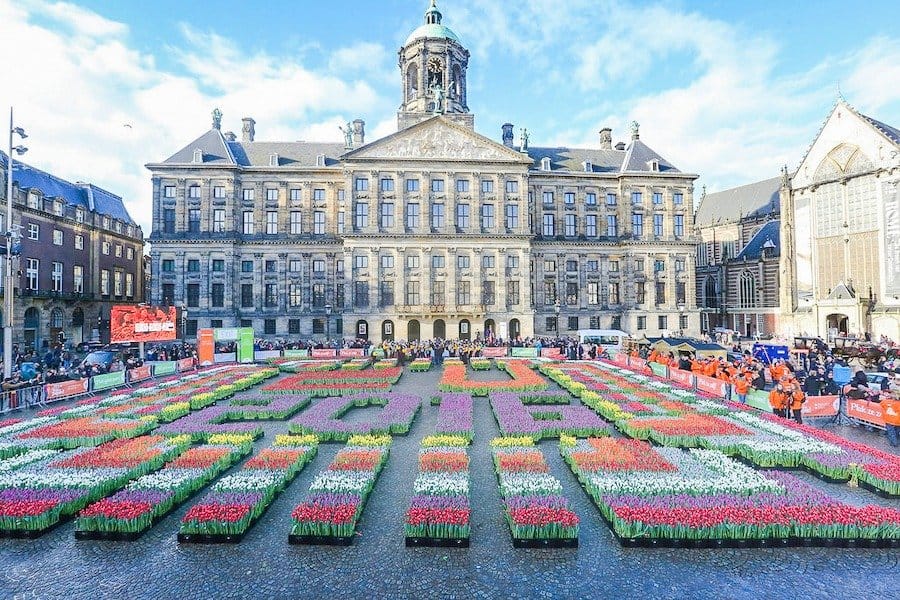 Although the tulip season in Amsterdam is in full swing in the spring, the Dutch like to kick it off well before then in the middle of winter. In January each year, on national tulip day, all of Dam Square is filled with over 200,000 fresh tulips from Dutch growers.
The best part is that these gardens are not just for viewing. People line up for hours for the opportunity to pick some of the gorgeous tulips to bring home, free of charge!
How to get to National Tulip Day
The national tulip day gardens are presented in Dam Square. Luckily this is right in the center of the city and very easily accessible by foot or public transport.
Read More: Things to do in Amsterdam at Night
Like it? PIN IT!
---
Amsterdam Tulip Festival
Seasonality: Month of April
Price: Free
Location: All around Amsterdam
About Amsterdam Tulip Festival
The Amsterdam Tulip Festival takes place for the whole month of April and it involves lighting up the whole city with colorful tulips! The goal of the festival is to have one tulip for every person who lives in Amsterdam, which equals to around 800,000 tulips scattered around the city.
Throughout April the whole city is vibrant and colorful with all the tulips. If you want to find these flowers around the city, head to some of the more popular city attractions such as the EYE Filmmuseum, Vondelpark, Rijksmuseum, Rembrandtplein, and other major city attractions. However, even without going to these sites you will spot the tulips all over the city.
How to get to Amsterdam Tulip Festival
The best way to see the flowers during this festival is on foot or by bike. Simply walking around the city will result in you finding some of the tulips. But if you want to get around the city in a more efficient manner, consider renting a bike to see all of the tulips the Dutch way.
Read More: Best Day Trips from Amsterdam
---
---
Museum de Zwarte Tulp
Seasonality: Year-round
Price: €7.50
Location: Heereweg 219, 2161 BG LISSE
About Museum De Zwarte Tulp
De Zwarte Tulp is a tulip museum in Lisse that is dedicated to the extensive history of tulips in the Netherlands. Since the 16th-century tulips have been a huge part of Dutch culture and artists have sought to capture their beauty in art. As a result of all the art, a museum was created to showcase it. At this museum, you can find botanical and tulip illustrations, tulip bulb glasses and learn about the history of tulips in the Netherlands.
How to get to De Zwarte Tulp
This museum is located in Lisse and is accessible via public transport.
---
Dutch Flower Parade
Seasonality: April
Price: Free
Location: Check out this link for the full route
About Flower Powered Parade
The Dutch Flower Parade, also called The Bloemencorso Bollenstreek, is an annual flower parade that goes for over 40 km through various cities in the Netherlands. Each spring this parade goes from Noordwijk all the way to Haarlem showcasing stunning floats made out of hundreds of tulips.
This huge celebration attracts hundreds of people each year. The amazing floats are also accompanied by live music making this a very fun and exciting event.
How to get to THE Dutch Flower Parade
This parade runs over a very large distance. However, it does pass by Keukenhof Gardens, so if you are wanting to have a tulip overload day, you can watch from there and then enter the gardens afterward.
Read More: Best Brunch Restaurants in Amsterdam
---
---
Worlds Largest Flower Auction
Seasonality: Open year-round
Price: Free
Location: Legmeerdijk 313, 1431 GB AALSMEER
About the Worlds Largest Flower Auction
Just a short distance from Amsterdam, in Aalsmeer, is the worlds largest flower auction called FloraHolland. This auction is an amazing sight to witness and to soak up the tulip mania. The auctions begin at 7:00 AM every morning and last between 2 to 3 hours. The auctions are so short because the flowers sell at lightning speed.
There is a special viewing gallery for guests in this auction site that is perfect for watching the magic unfold. This is also a great place to see millions of stunning and vibrant flowers!
Read More: Best Beaches in Amsterdam
How to get to the World Largest Flower Auction
To get to FloraHolland hop a short 15-minute train ride from Schipol Airport.
---
---
Additional Information
When is Amsterdam Tulips Season
Amsterdam Tulip season is officially from April – May. This is the best time to see all the Amsterdam tulips in their best state.
---
Heading to Amsterdam to see the marvelous tulips is a must for any traveler. Whether you love flowers or not, you will surely be amazed and wowed by the stunning tulip displays Amsterdam presents.
Like this post? PIN IT!
Love,
SSW