Discover the top 10 things to do in Bellagio, Italy and fall in love with Lake Como's most lusted-after village.
Bellagio is a village on Lake Como known for its beautiful villas, charming streets, amazing restaurants, and historical Italian architecture. It is one of the most famous and beautiful villages in Italy that is known all around the world. Visiting Bellagio is one of the best things to do in Lake Como for the ultimate Como experience.
If you find yourself heading to Bellagio there are a few things you want to make sure you do! Here are the top 10 things to do in Bellagio during your stay.
(Disclaimer: Some links in this post may be affiliate links, meaning if you click on the link and make a purchase, I receive a small commission. This is at no extra cost to you and you may even receive a small discount. See disclosure for more information.)
Is Bellagio Italy worth visiting?
Bellagio is absolutely worth visiting! It has everything: amazing food, beautiful views, upscale hotels, a walkable old town and more. Plus, you can easily reach other top villages like Varenna, Menaggio and Tremezzo by a quick and low-cost ferry ride.
Is Bellagio Italy expensive?
Bellagio is a pricey place and likely the most expensive village on Lake Como. You can expect to pay higher prices here for almost all things: food, drinks, hotels, etc. However, the prices aren't outrageous.
How much time do you need in Bellagio?
1 to 2 days is enough to see all of Bellagio. It is a pretty small village and exploring the city and surrounding villas can be done within one day, but two days is best if you want to take your time and really immerse yourself in the village.
10 Best Things to do in Bellagio, Italy
Explore the Streets of Bellagio
Simply exploring and admiring the streets is one of the top things to do in Bellagio. The cobblestone alleyways, pastel-coloured buildings, and hidden gems are why this is one of the most beautiful towns on Lake Como. The village of Bellagio is quite small and you can explore it fully in about 1 hour, which is great because there is no need to rush in hopes to see everything quickly.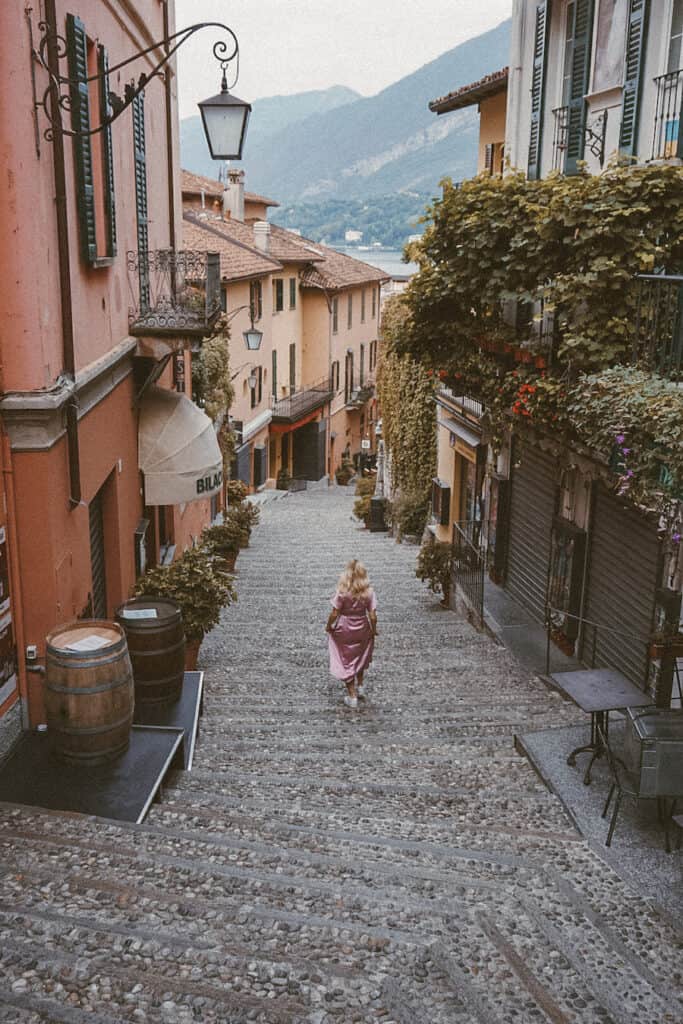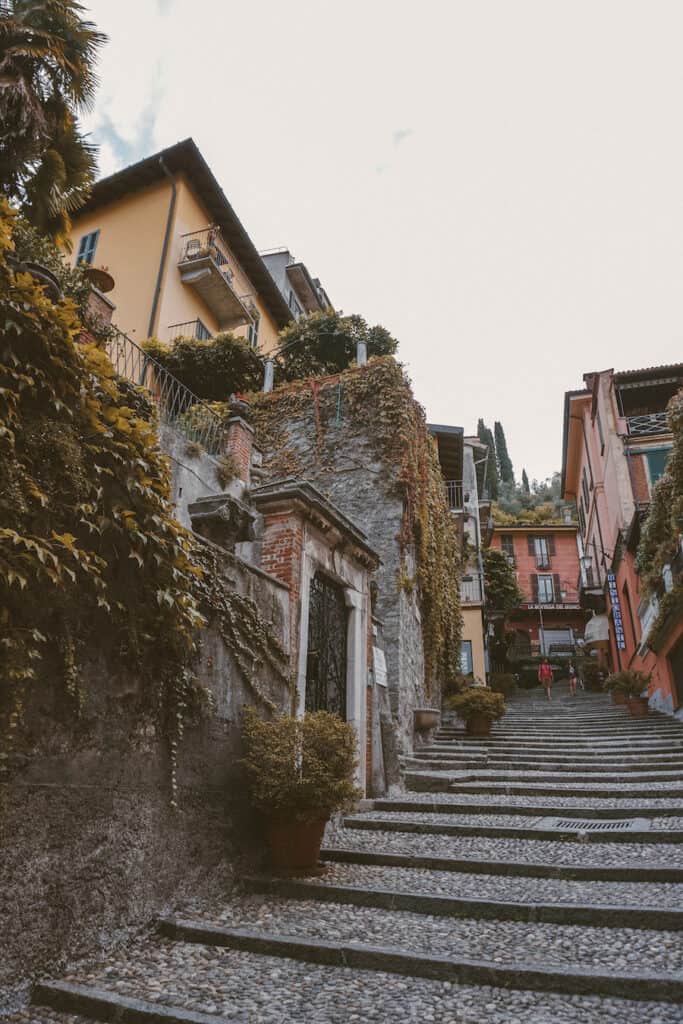 Heading to Bellagio is one of the best things to do in Lake Como to experience the most "Lake Como" town in the region. If you want to walk the most famous street in Bellagio (that you have surely seen all over Instagram) head to Salita Serbelloni. Be sure to bring your camera as Bellagio is one of the most picturesque places you will see.
---
Do a Wine Tasting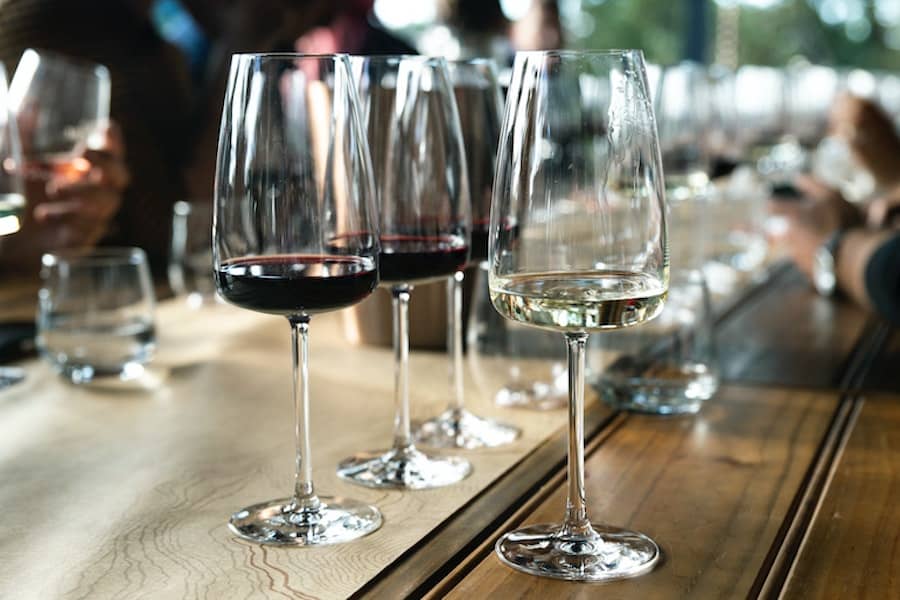 Going for a wine tasting is one of the best things to do in Bellagio and you don't even have to join an elaborate tour! Located on the most famous and picturesque street in Bellagio is Aperitivo Et Al, a wine cellar where you can sample from a wide selection of Italian and local wines. Alternatively, you can head to Enoteca Cava Turacciolo, another great wine bar in Bellagio. This is the perfect way to immerse yourself in the thriving wine culture of Italy.
---
Venture to Villa Melzi Gardens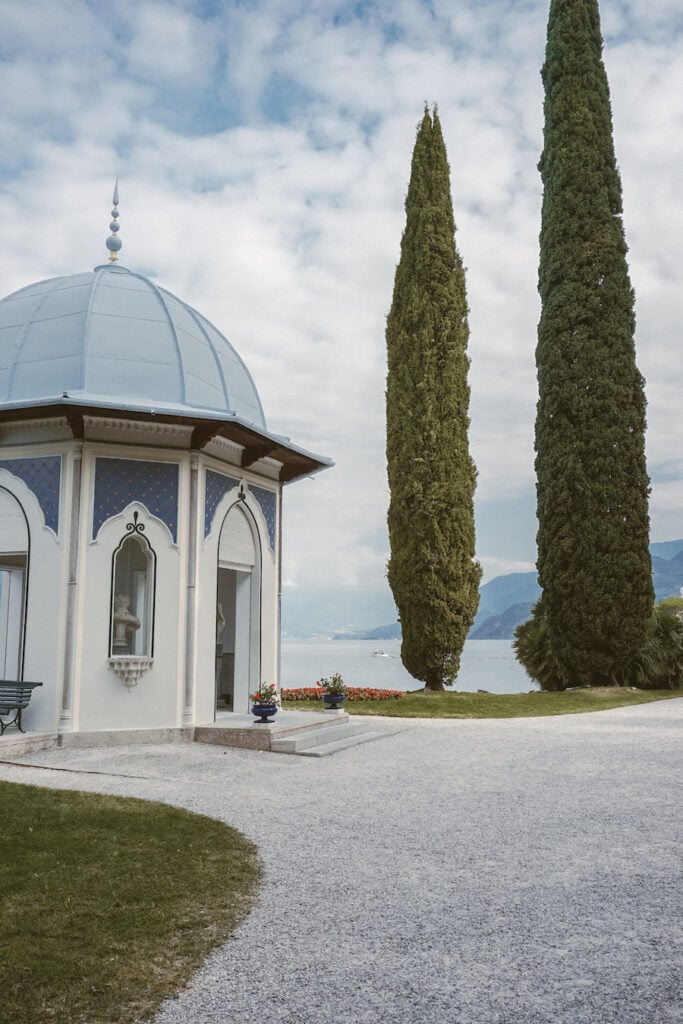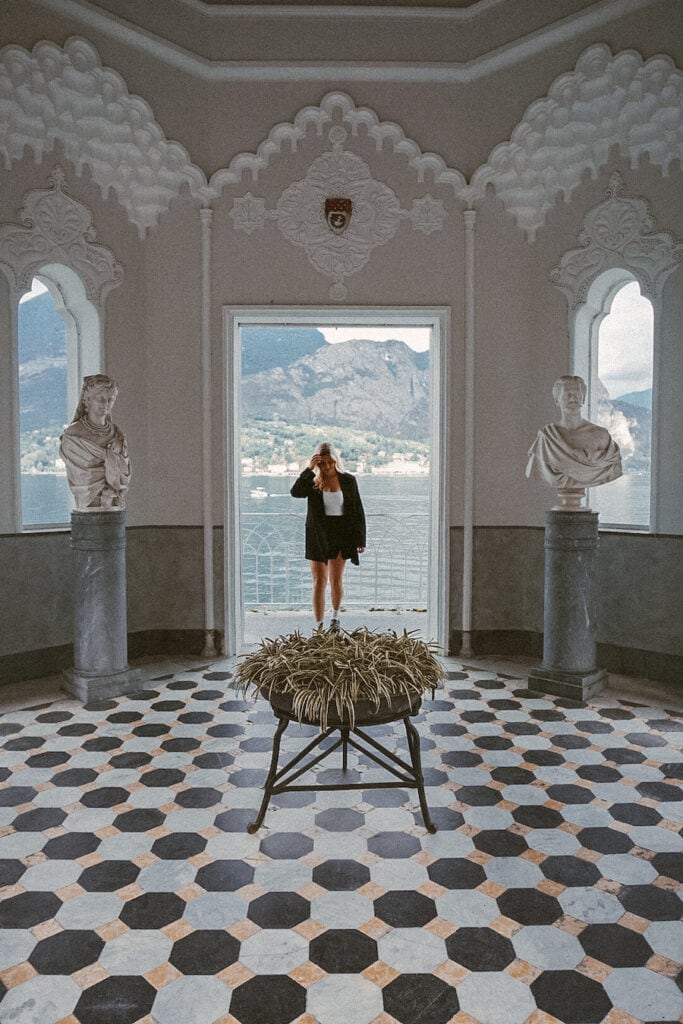 Villa Melzi is a charming botanical garden located just a short 5-10 minute walk from Bellagio's village center. Visiting here is one of the best things to do in Bellagio to enjoy a few hours of tranquillity in beautiful surroundings. Here you will find the Villa, statues, a chapel, various plants, trees and gardens and more. The Neoclassical style of villa Melzi only adds to its charm.
Entrance costs €8 for adults for a full day admission, and opening hours are from 10 AM – 7 PM. You can also enter and exit the gardens as you please so leaving and returning on the same day is possible.
---
Walk to Pescallo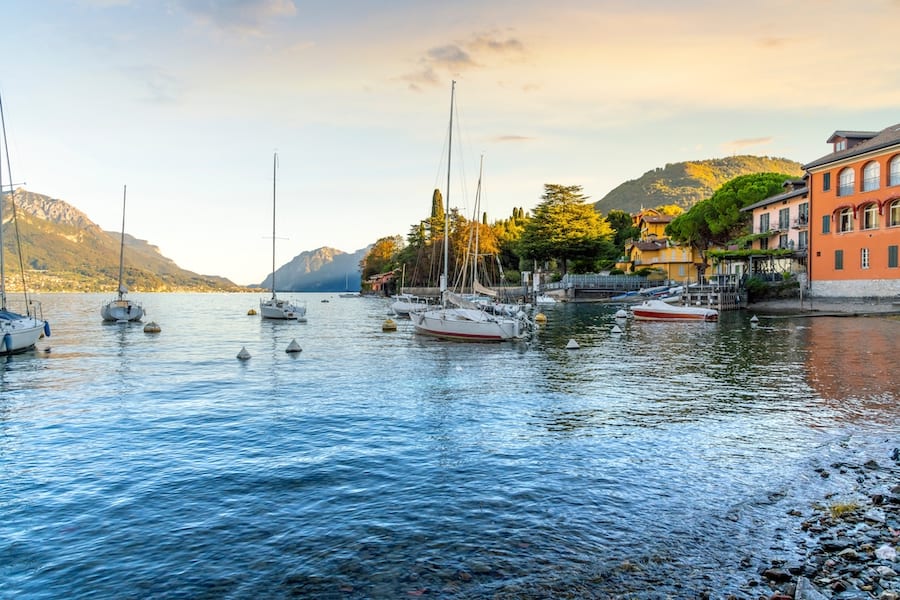 Pescallo is a quaint village in the Bellagio region that is reachable within 8 minutes by car and 15 minutes walking from Bellagio centre town. Heading to Pescallo is one of the top things to do in Bellagio to escape the ever-growing crowds that flock to Bellagio town in the afternoon. This village is mainly villas and hotels with no shops and only one restaurant. But it offers stunning views and a little peace amongst the craziness.
---
Walk to Punta Spartivento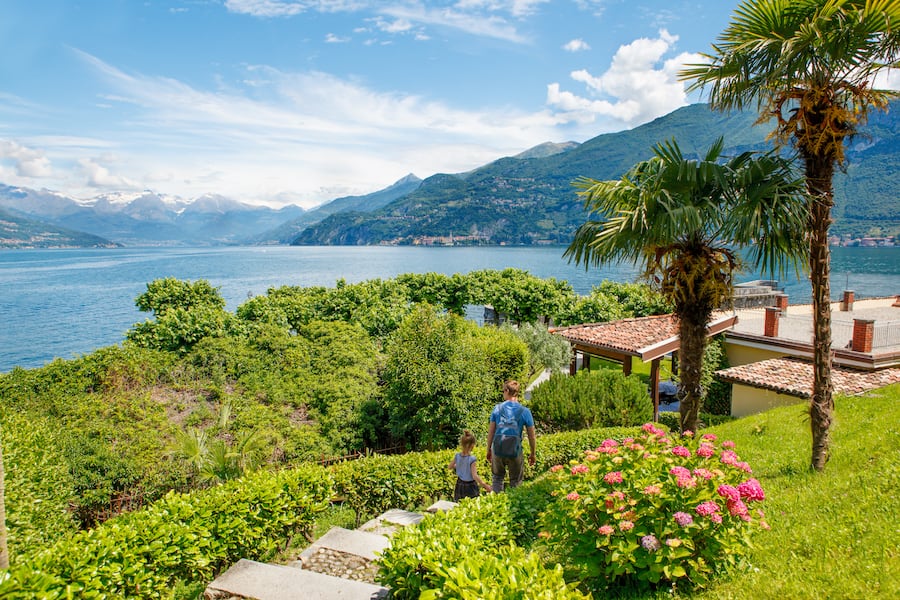 Punta Spartivento is a beautiful park located on the tip of the Bellagio peninsula. This park sits atop a hill and offers breathtaking views of the surrounding Lake Como and the distant Swiss Alps. It can be reached in just 10 minutes walking from the ferry terminal. Heading to Punta Spartivento is one of the best things to do in Bellagio to see and experience the stunning flora and nature of this area.
---
Roam the Waterfront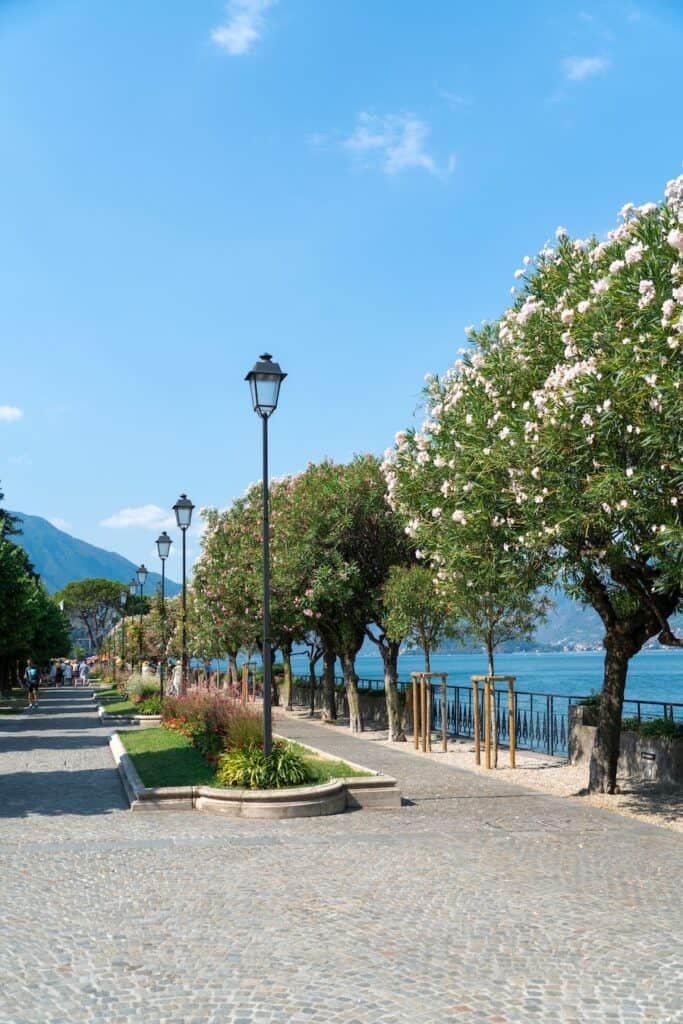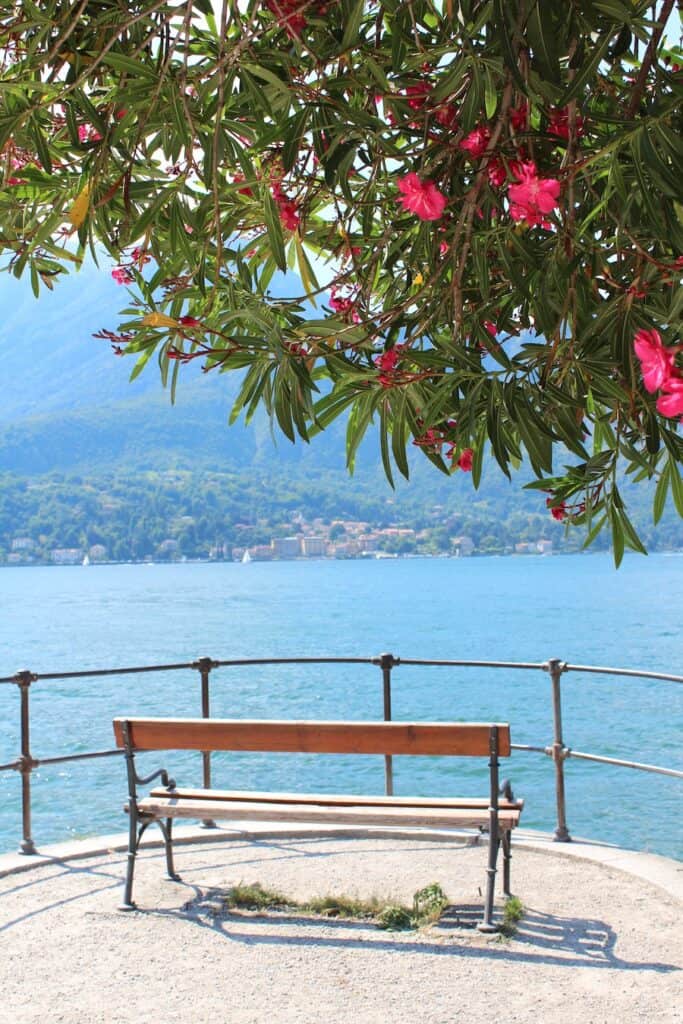 Bellagio's waterfront promenade is one of the most romantic and beautiful parts of the village. Complete with benches, beautiful trees, flowers and views like no other. Walking on this promenade and admiring the views of Lake Como and the lush mountains is something out of a fairytale. Walking here is one of the best things to do in Bellagio post-meal to help digest the heavy Italian food in the best way possible.
---
Hop on the Ferry to Another Village
Luckily, Bellagio is well connected to the various other villages on Lake Como. There are two ferry ports (one for cars and people and one for just people) right at the base of the village. This makes jumping to Varenna, Menaggio and Tremezzo super easy and quick. One of the best things to do in Bellagio is taking advantage of its location to see more of the beautiful Lake Como region.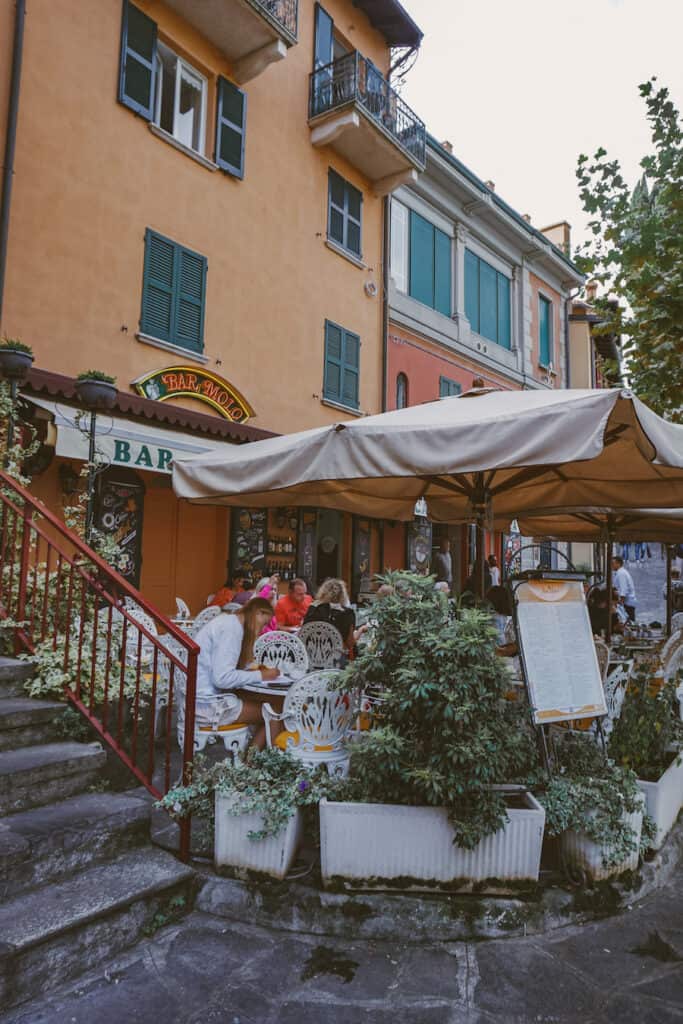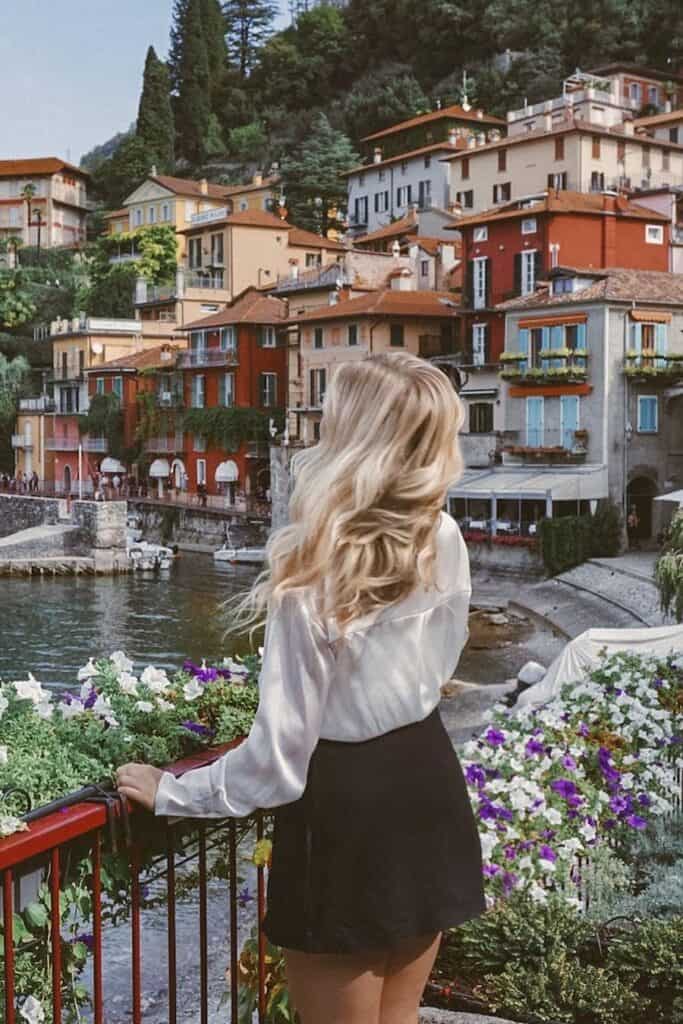 If you only have time to visit one other village I would suggest Varenna (pictured about). This was one of the most beautiful and charming villages in Italy I have ever seen! A ferry ticket from Bellagio to Varenna is €4.
---
Take a Tourist Train
Riding the Bellagio Express Train is one of the cutest and best things to do in Bellagio. This train offers rides to different parts of Bellagio in a fun and unique way. You can ride it one way to make a stop and get off to explore or take the entire 25-minute ride to admire the Bellagio area from a new and relaxing perspective. Ticket prices range depending on where you are doing but are up to €5 for the entire round trip.
---
Rent a Boat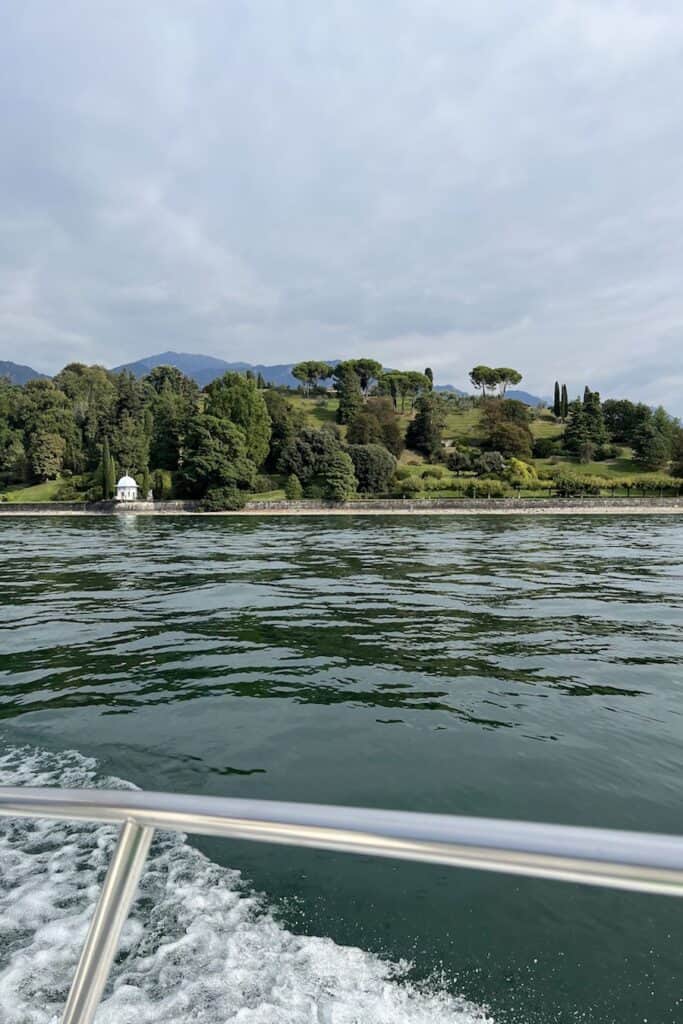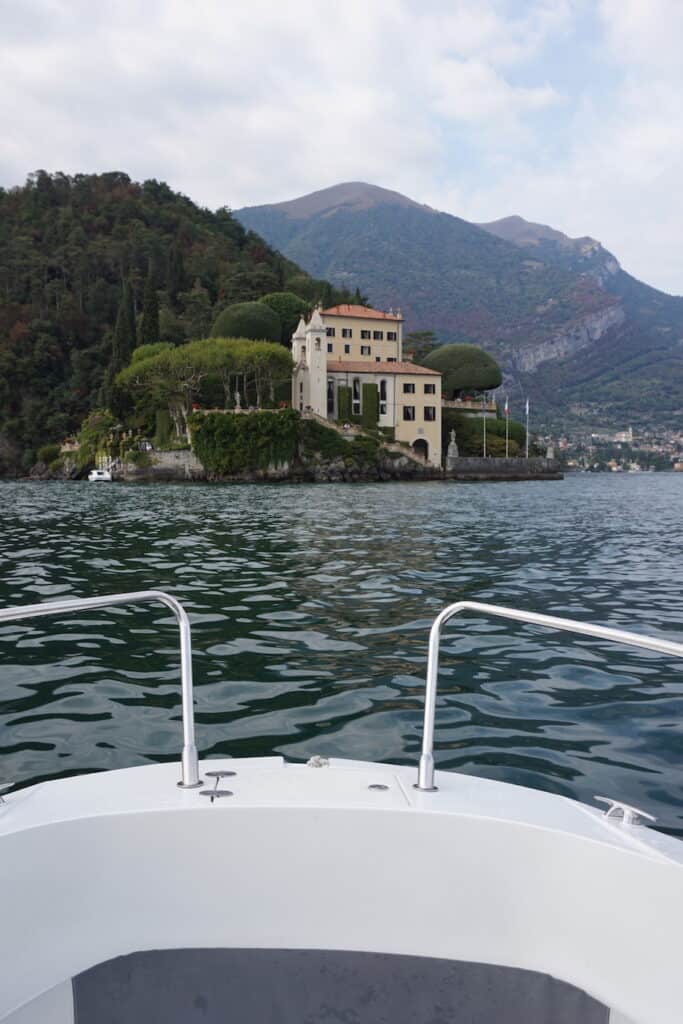 There is no better way to see and admire Bellagio, and Lake Como, than by boat. Escaping the busy streets and heading off on your own adventure at sea is one of the best things to do in Bellagio. You can opt to join a boat tour, have a private tour, or even rent your own boat and drive yourself.
We opted for the "renting your own boat and driving yourself" option as you don't need a boating licence in this region. As a result, we were able to cruise around the Lake and admire all the villas and small villages along the shore. This was by far one of the best things to do in the region and something you shouldn't miss.
The price for 2 hours was €150.
---
Venture to Villa del Balbianello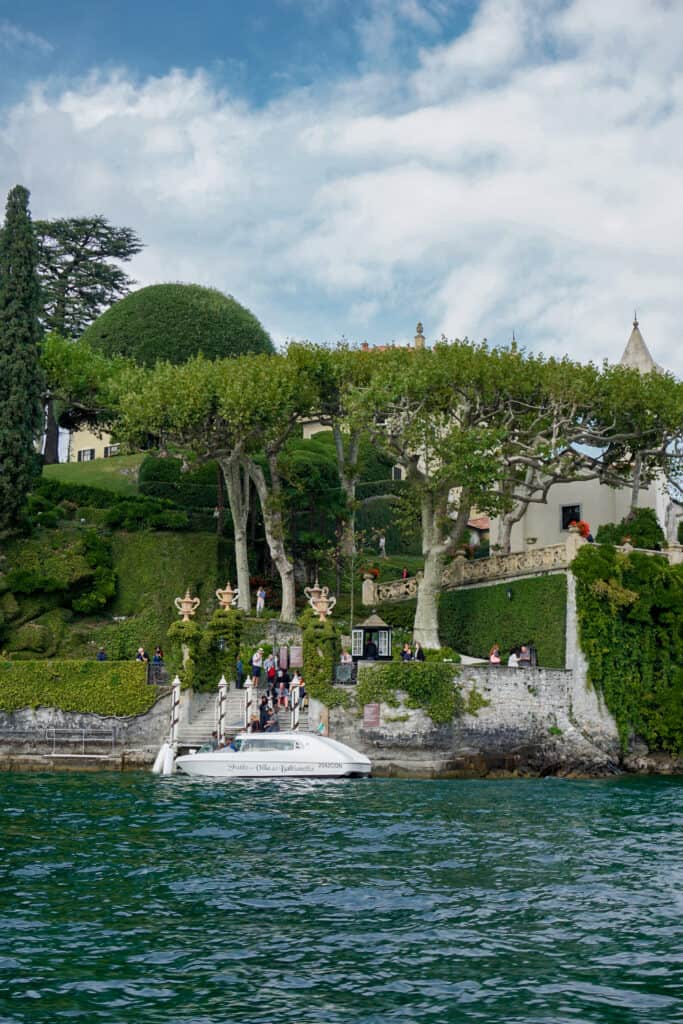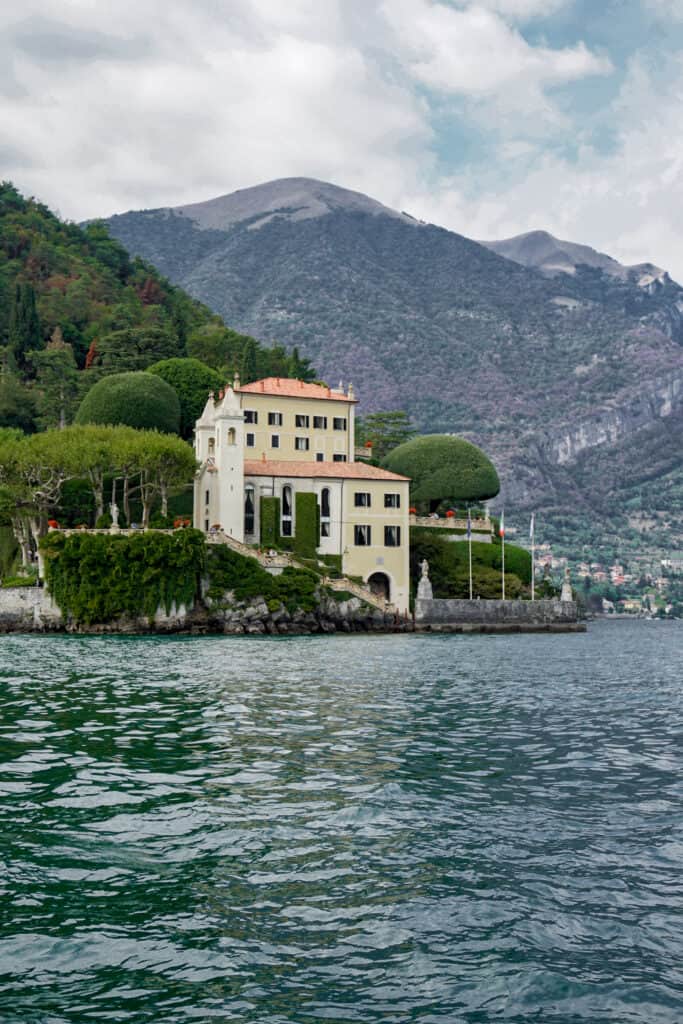 Head to Villa Balbianello to see one of Lake Como's most breathtaking villas. Villa Balbianello is not in Bellagio but located about 20 minutes away by boat. There is no better thing to do in Lake Como than visit and view all the amazing villas scattered around and Villa del Balbianello should be at the top of this list.
This villa is known for its meticulous gardens, unique greenery, ornate architecture and stunning sea views. Tickets to the gardens are €11 and for the gardens and the interior of the villa tickets cost €22. However, just tickets to the gardens are more than enough.
---
Go for a Swim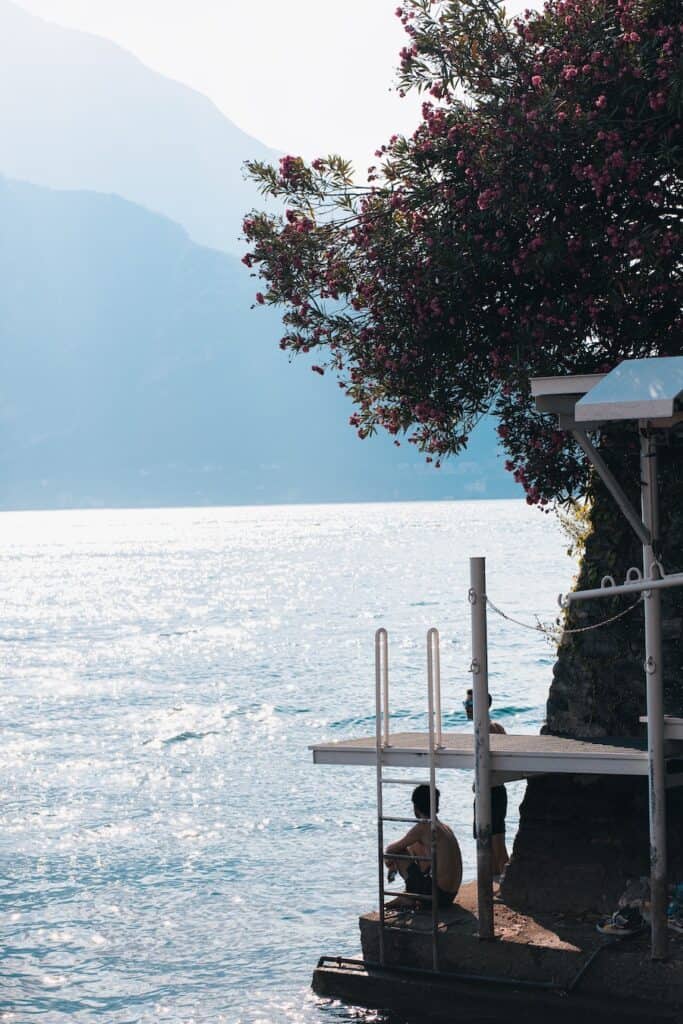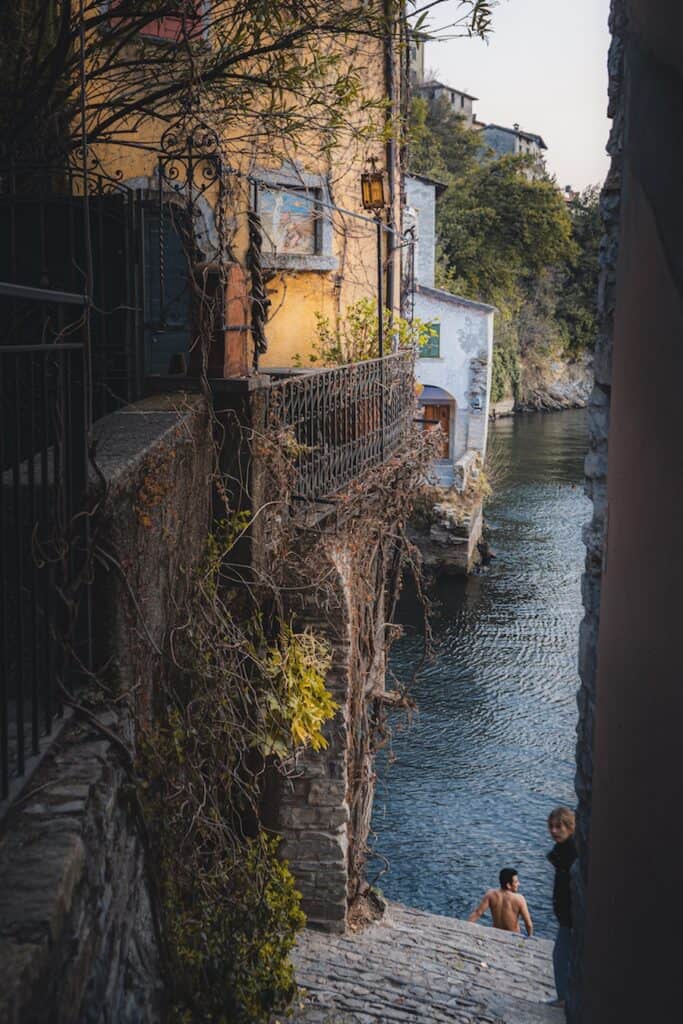 The water of Lake Como is incredibly beautiful and clean, just calls for a swim! If you are visiting Bellagio in the summer months there is no better way to cool off than by jumping in the ultra-refreshing lake. Either find a beach, book a hotel with a lakefront, or head out on a boat tour that offers swimming and enjoy the water!
---
Enjoy one of the Amazing Restaurants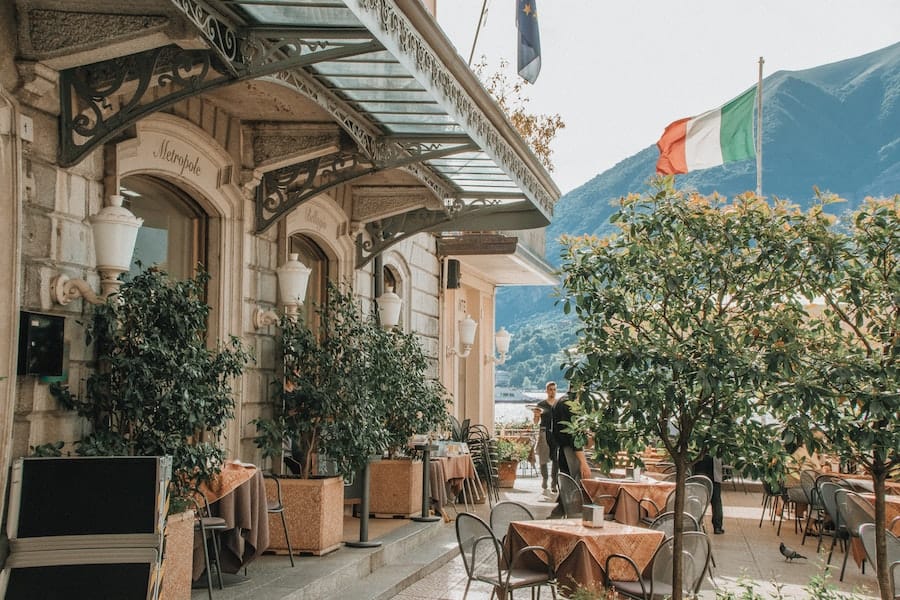 Bellagio is home to some of the best restaurants in Lake Como and the perfect place to indulge for foodies. Expect to see a lot of pasta, pizza, and fish. Also, note that most restaurants only open at 7 PM for dinner so plan for this! Below are some of the top restaurants in Bellagio:
---
Have a Drink at Villa Serbelloni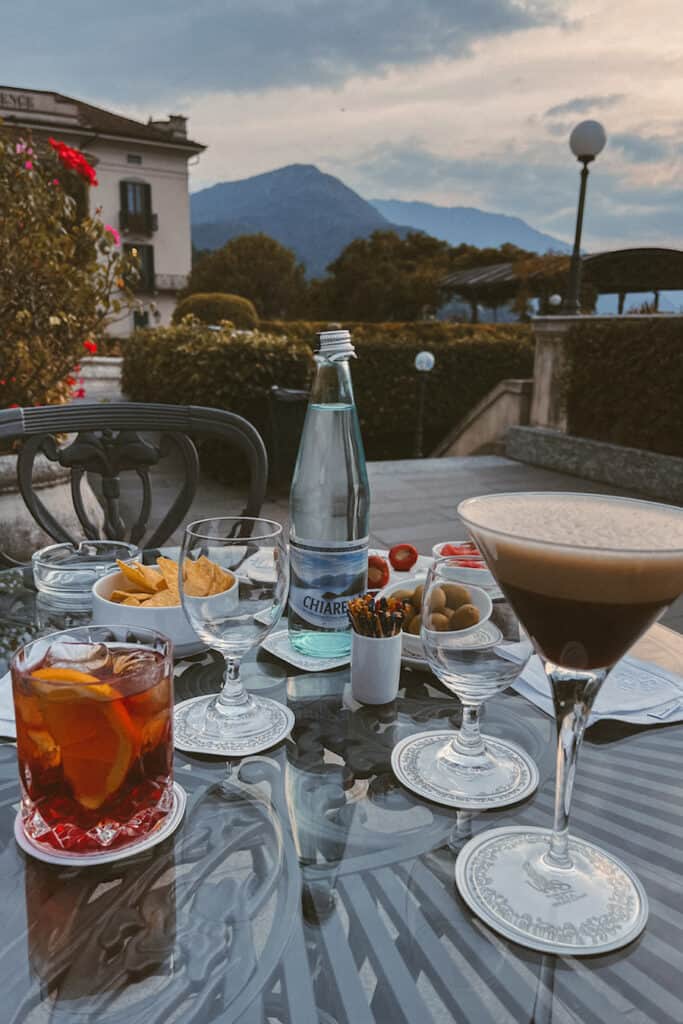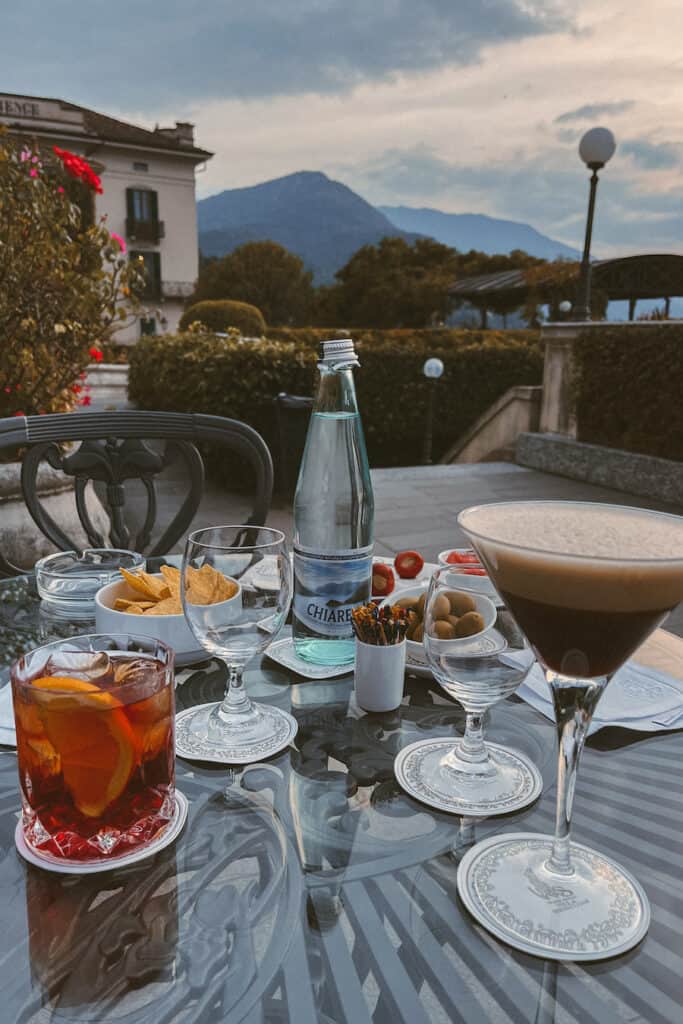 Villa Serbelloni is Bellagio's most exclusive villa. It is the perfect place to go for a tasty and well-made drink with a view of the mountains and sea. The entire villa is super luxurious and feels very high-end. Enjoying a drink at Villa Serbelloni is easily one of the top things to do in Bellagio for a special celebration drink.
---
Where To Stay in Bellagio
How to Get to Bellagio
There are 4 ways to get to Bellagio:
By Own Car: renting a car or taking a car to Bellagio is the best way to get here. It is the quickest, most convenient and will allow you to see and explore more villages than just Bellagio.
By Private Car: landing in Milan you can also hire a driver to bring you straight to Bellagio. However, this is the most expensive option.
By Public Transportation: Land in Milan and take public transportation to Bellagio. This is the slowest option that can take anywhere from 2 – 5 hours.
Go by tour: There are various tours from Milan to Bellagio that will bring you for a quick day visit. If you just want to see Bellagio and a few other places very quickly this is a top option.
Travel Insurance
Getting travel insurance before you travel is a MUST. It's the number one thing you should always pack before travelling that can save you a lot of money, time, and stress. With how crazy travel has gotten recently you need that peace of mind that no matter what happens there is something protecting you from losing out. I always travel with travel insurance and think everyone should.
I always travel with travel insurance and think everyone should. Below is my favorite travel insurer Safety Wings.
---
I hope this list of the best things to do in Bellagio helps guide your visit.
Like this post? Pin "10 Best Things to do in Bellagio" for later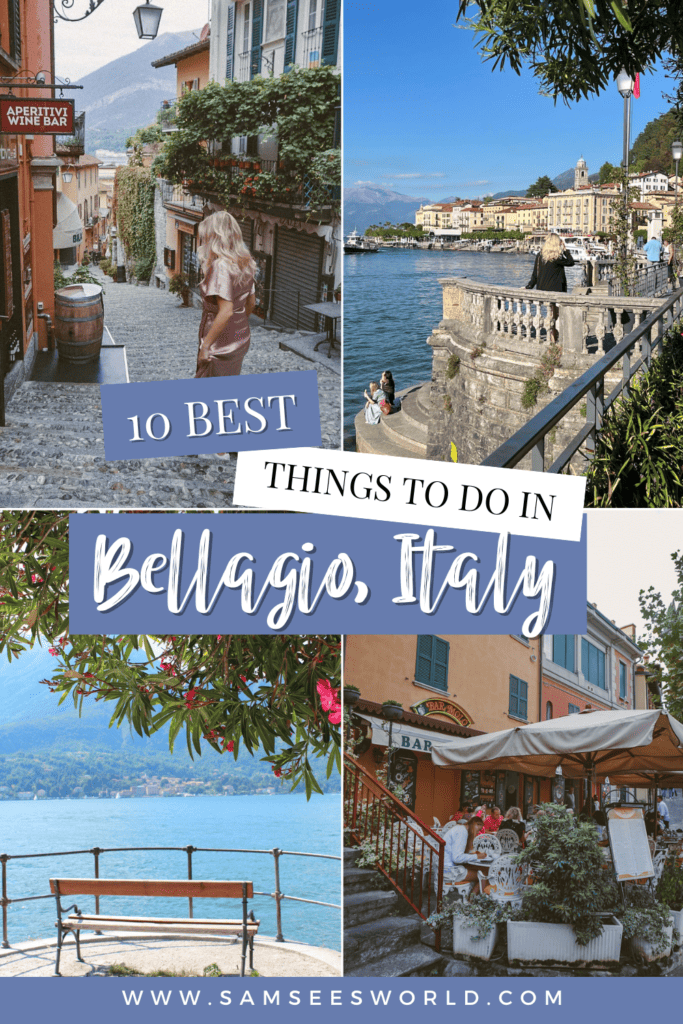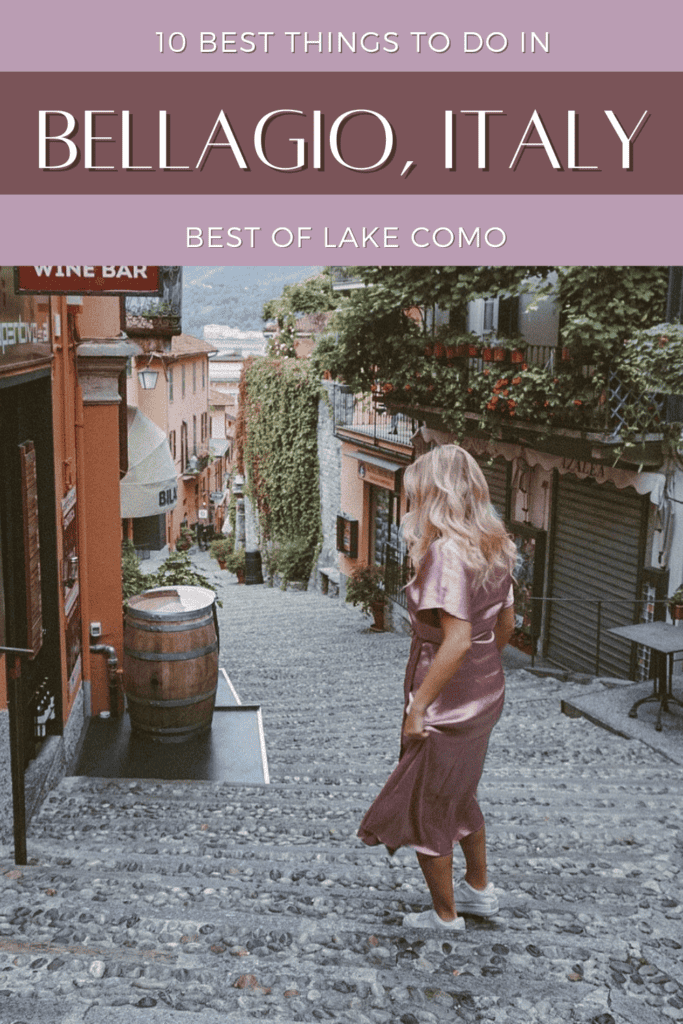 Love,
SSW