Discover the best day trips from Lake Como for the perfect escape to see more of this exciting area of Europe.
Lake Como is a stunning and magical place full of towns, villages, and attractions to see and explore. However, sometimes we want to see something different and venture beyond to discover more! This is when taking a day trip to one of the many stunning towns and cities nearby is super exciting. Due to its location, some of the places are in Italy and some are in its neighboring country Switzerland.
Fall in love with the beauty beyond Lake Como with these amazing day trips!
(Disclaimer: Some links in this post may be affiliate links, meaning if you click on the link and make a purchase, I receive a small commission. This is at no extra cost to you and you may even receive a small discount. See disclosure for more information.)
10 Best Day Trips from Lake Como
Val Masino, Italy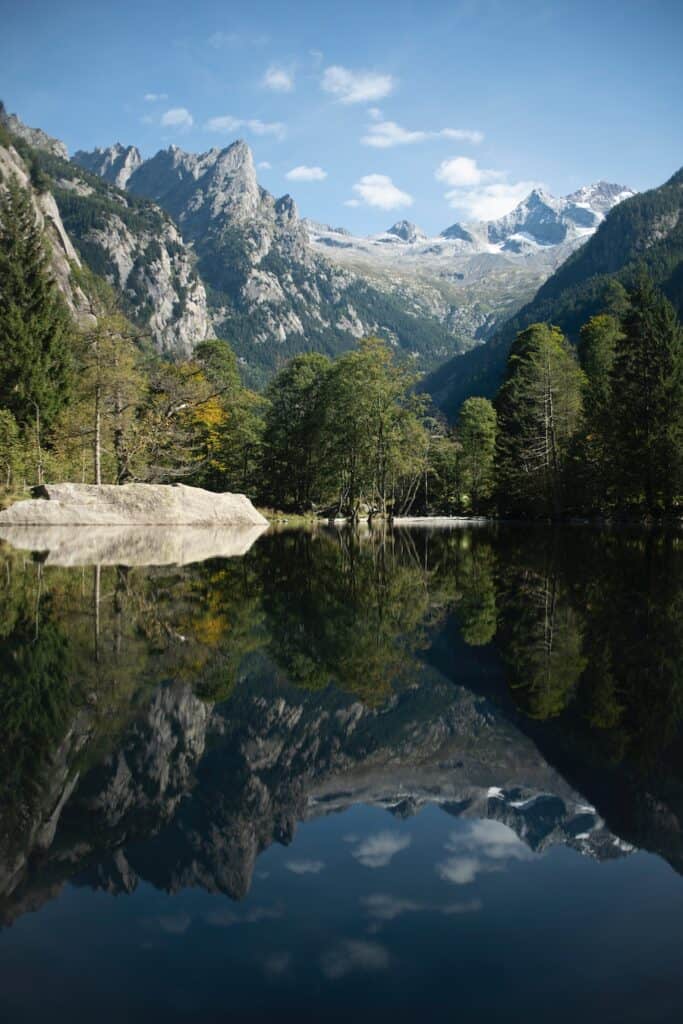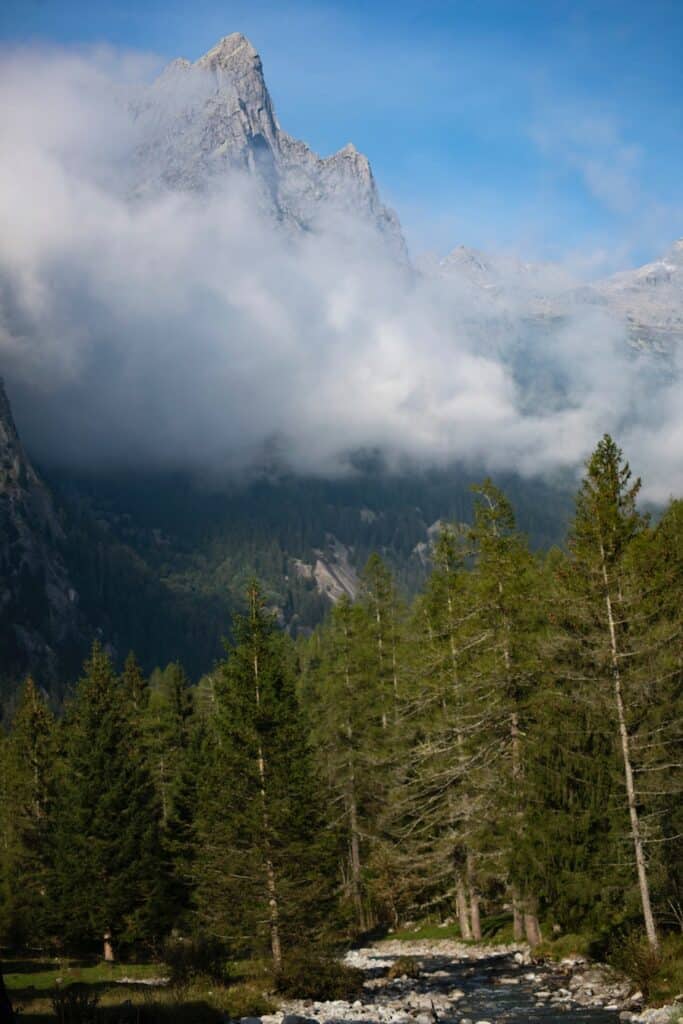 Val Masino is a stunning and mountainous commune in the Province of Sondrio, Italy and is one of the best day trips from Lake Como. It is the perfect place to visit to see and admire sharp and dramatic landscapes and to escape city life to immerse yourself in Italy's unique nature. Here you can enjoy hiking the mountain and forest trails and enjoying outdoor activities like bouldering and more!
You can reach Val Masino in just 1.5 – 2 hours by car depending on where you start in Lake Como. There is no public transportation option so you can only reach it by car. Upon arrival, you will be welcomed by the perfect mixture of Swiss mountains and Italian charm.
---
Lake Orta, Italy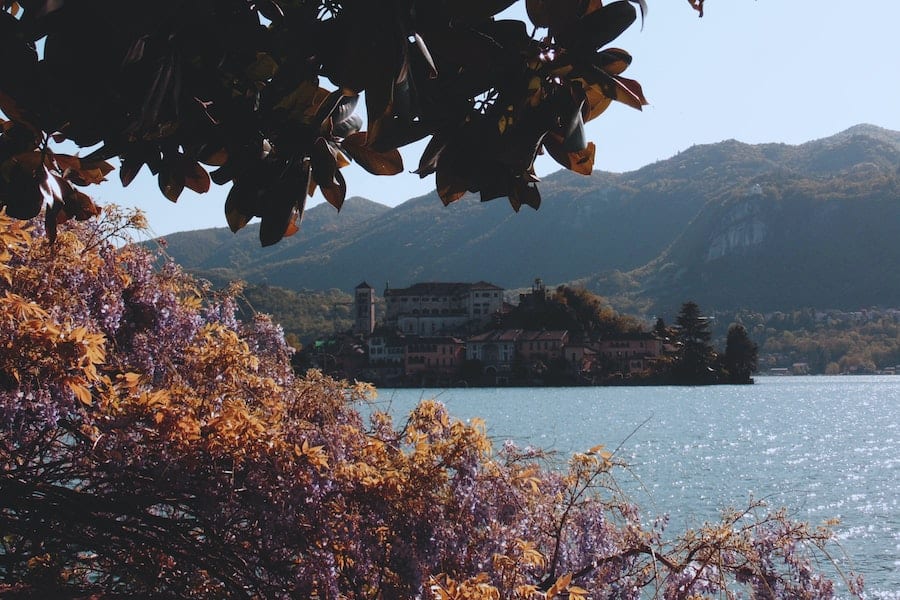 Lake Orta is a different beautiful lake region similar to Lake Como. It is often regarded as one of Italy's most beautiful hidden gems that is well worth a visit. If you are craving an escape from the busy village and towns of Lake Como an escape to Lake Orta is ideal.
You can reach Lake Orta in just 2 – 2.5 hours from Lake Como by car and 4.5 hours by public transportation. If you are seeking a one-day getaway it is best to take your own car. But if you want to spend a night or two then public transportation can also work. Head here to enjoy one of the best and most magical day trips from Lake Como.
---
Turin, Italy
Explored by Bradley from Dream Big Travel Far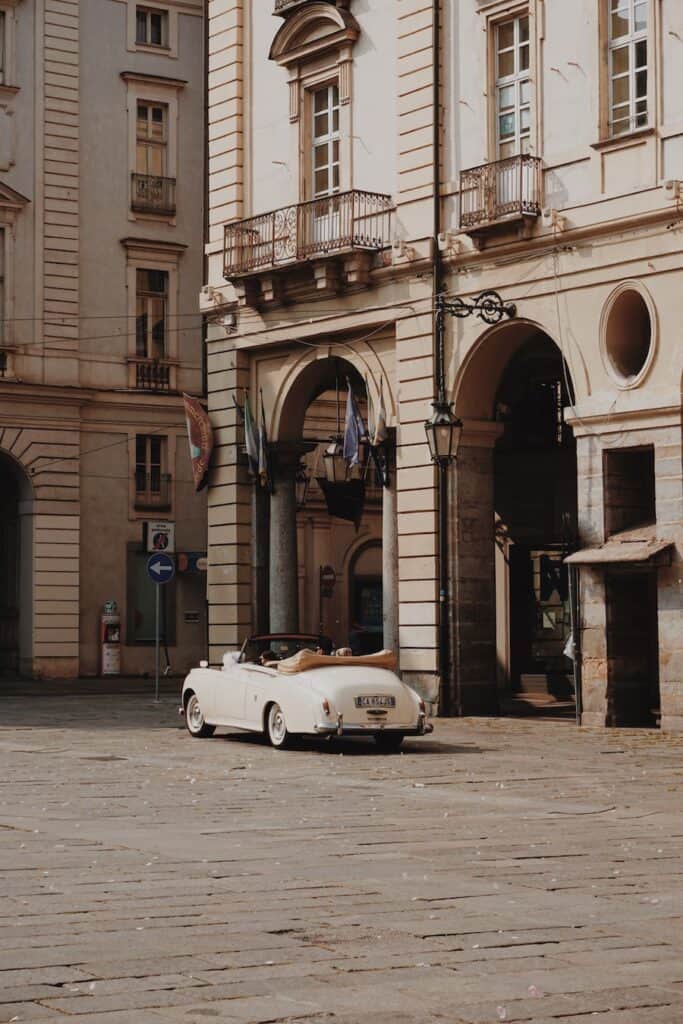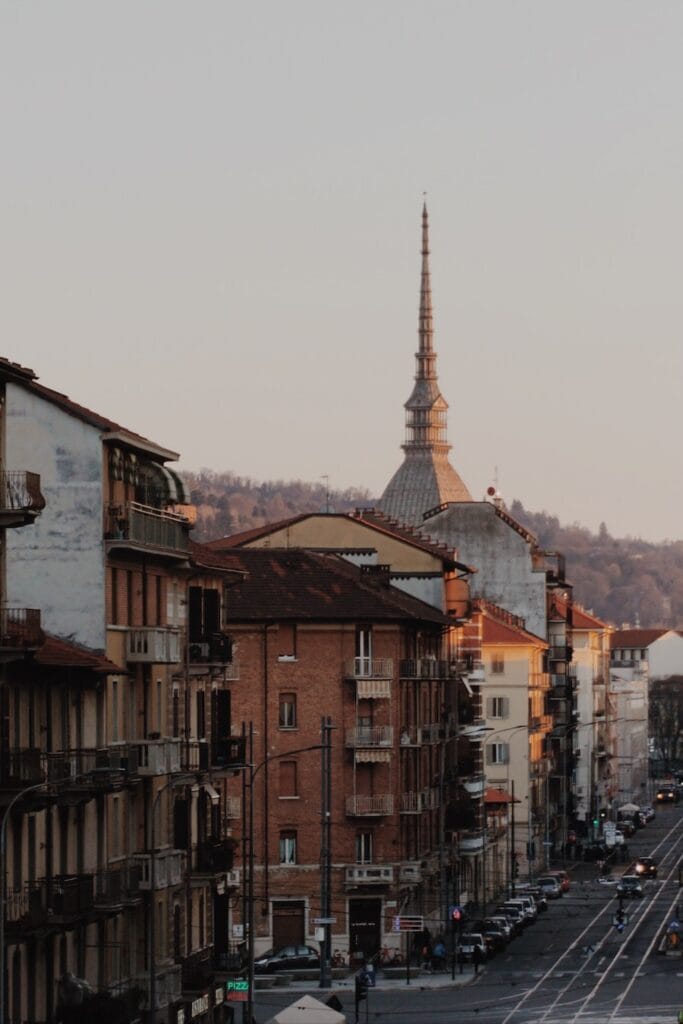 Nestled in Northern Italy, Turin boasts rich culture and history, with plenty of art galleries, beautiful churches, opera houses, parks, and libraries to explore. It's got a reputation for beautiful Baroque and Art Nouveau architecture, and incredible views of the Swiss Alps. As a result, it is known as one of the best day trips from Lake Como.
The fastest way to get to Turin from Lake Como is to drive, which will take about 1 hour and 40 minutes. However, it may be more convenient to catch the train as the trip will take just under 2 hours. It's also a nice opportunity to sit back and enjoy the view along the way, so maybe pack a book with you too!
Turin also happens to be a great destination for backpacking as it's one of the cheapest cities in Italy, offering fantastic value in terms of tourist attractions, food, and even accommodation. For a day trip, simply spend it walking around the city's Centro neighbourhood.
In the historical Piazza San Carlo, you will see streets of tall, impressive buildings that can transport you back in time. It's a photogenic shopping arcade with two famous churches flanking the side of the square.
Then, make sure to visit the Royal Palace of Turin, an ex-residence for the House of Savoy. Explore the palace complex, Royal Library, and Armory. Finally, the Egyptian Museum houses a surprisingly grand collection of Egyptian relics, and yes, mummies, across four stories. It's actually the second most important Egyptian museum after the one in Cairo!
---
Saint Moritz, Switzerland
Explored by Mary from Dive In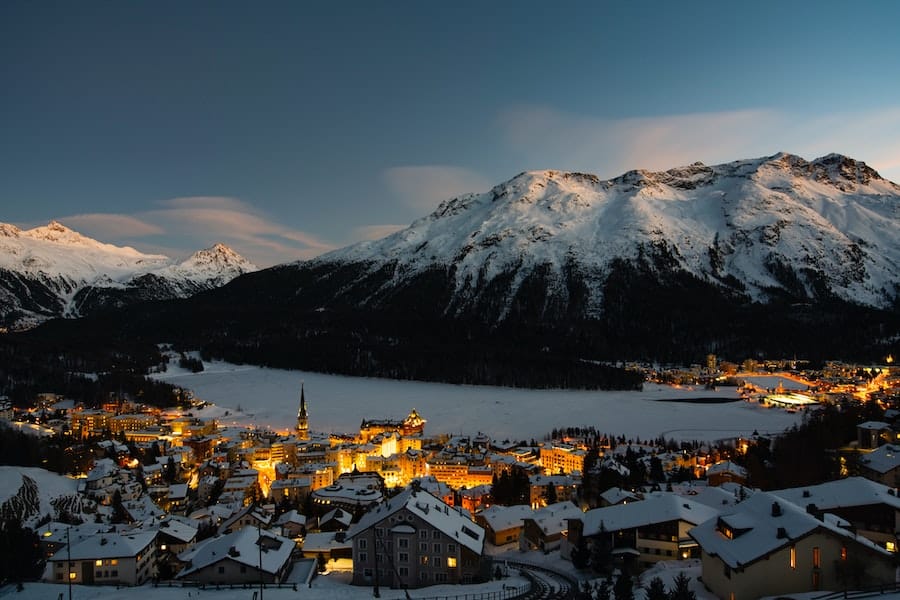 If you're looking for one of the best day trips from Lake Como, then look no further than Saint Moritz. This is the perfect destination for an afternoon or overnight trip from Lake Como. Don't bother with lots of luggage, just pack a light bag and book your transport.
Lake Como is known as the jewel of the Italian Lakes, while Saint Moritz is a luxury ski resort town.
Depending on which way you're travelling, it takes between 2 hours and 4 hours to get from Lake Como to Saint Moritz depending on if you go by car, bus, or train.
Saint Moritz is a small town with lots of history, great views and beautiful scenery. It's located in the Engadine Valley at the foot of the Weissfluhjoch mountain (3'061 m). At the top of this mountain, there is the longest ski run in Europe!
If you're only staying for one day, take an afternoon walk along Lake St. Moritz which is surrounded by mountains on all sides making it look like an emerald gem set in an icy setting.
If you have time, take a ride on the cable car up to Corviglia, one of the highest peaks in Switzerland that offers spectacular views of both sides of this beautiful town. Also worth visiting is the Engadin Museum which has a collection of over 3,000 items that include paintings, sculptures and photographs which were collected from private collectors and museums around the world.
---
Lugano, Switzerland
Explored by Joanna from The World in my Pocket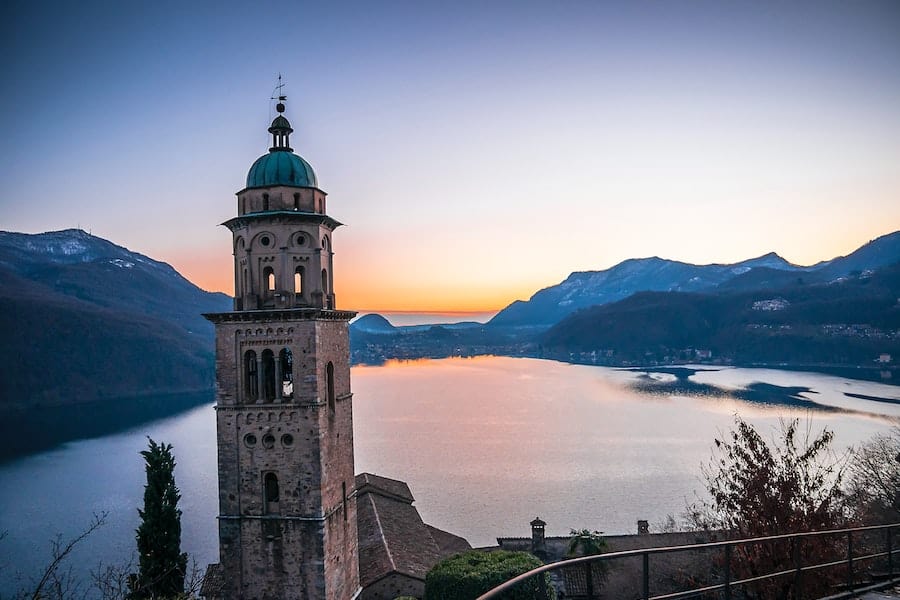 Lugano makes for one of the best day trips from Lake Como if you want to get a taste of what Switzerland has to offer. The city is located about an hour away from Lake Como, and it is easily reachable by direct train. The trains leave from Como St. Giovanni station, and they are very frequent.
Lugano is a city with a very Mediterranean vibe, on the shores of the lake of the same name. There are plenty of things to do on a day trip to Lugano, starting with admiring the gorgeous view over the city, from the train station. The old town of Lugano is dotted with beautiful buildings which have gorgeous painted facades. Don't forget to look up when you walk around. It will take around one hour to explore the historical part of the city.
Lugano is surrounded by mountains and what better way to take the view of the city than going up one of them. The two most accessible are Monte Bre and Monte San Salvatore. To get up on either of them, you will have to take a scenic funicular. The views from the top of the mountains are so beautiful! You can choose to dine at one of the Alpine restaurants serving traditional food such as cheese fondue or rosti, or hike along one of the trails nearby.
Before coming back to Como, don't forget to buy some Swiss chocolate. Even the cheaper, supermarket one, is delicious.
---
South Tyrol, Italy
Explored by Paul D'Souza from Paulmarina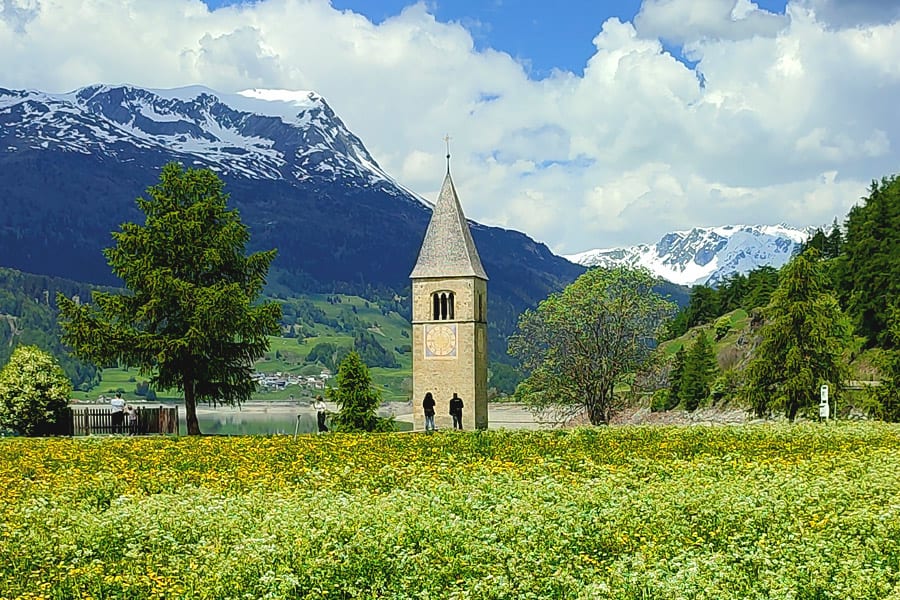 South Tyrol is the northernmost Italian province, known for its unique traditions and alpine views and as one of the best day trips from Lake Como. To get to the Western District of Val Venosta in South Tyrol from lake Como takes about 2 1/2 to 3 hours. This scenic road trip takes you to lesser-known corners and stunning views. Cross the Stelvio pass and natural park, which is a popular road for all those who love alpine road trips.
Uncover hidden valleys and true travel gems on the other side. Travel along via Claudia Augusta, the former Roman trading route, and discover the medieval town of Glurns with its unique small city entry gates and well-preserved homes and medieval walls. Visit the Resia lake with the bell tower in the lake. The story of this lake is sad but also a must-see when you are in the region.
A tour to the abbey of Monte Maria next to Burgusio, a 900-year-old Benedictine monastery known for its Romanesque art, is also recommended. The area is also known for its castles. The Castel Coira is well-preserved, and its armoury is the highlight of the private tour.
The Castello Di Montechiaro ruins are situated nearby and can be visited for free. From there you get a vast view of the valley. Add more places and things to do in South Tyrol to your bucket list.
---
Ascona, Switzerland
Explored by Zoe from Together In Switzerland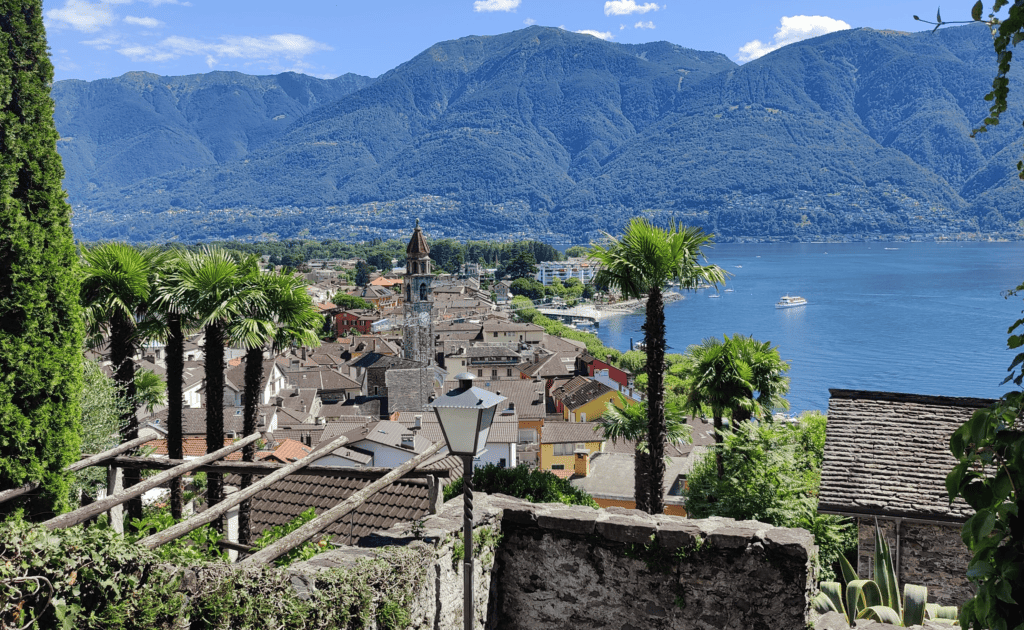 For a picturesque and smaller day trip location from Como, consider a trip to Ascona, Switzerland. There are many beautiful reasons to visit Ascona, to name a few as to visit a sandy Swiss beach, the Italian/Swiss vibe, the nearly-always sunny weather and the delicious restaurants and shops at the lakeside.
To get to Ascona from Lake Como, it's a short 1-hour 15-minute journey by car or 1 hour 35 minutes by public transport (1 direct train and then a short bus ride). By train it's most amazing, passing the beautiful region's scenery along the way that you can see, such as via Lake Lugano! This is one of the best day trips from Lake Como to take by train.
For things to do in just 1 day in Ascona, you can consider a local hike to the Balladrum viewpoint or take a boat to the stunning botanical garden island (Isole di Brissago). Remember that you can book the tickets in advance as it can get busy on weekends!
Ascona also has a beautiful beach area for swimming in Lake Maggiore, which is perfect to relax at before heading out to dinner at one of the local restaurants on the promenade. For pudding, save yourself space and visit the L' Angolo dei Golosi ice cream shop! For those visiting with children, you can also enjoy the lake while they play at the Parco giochi Angioli playground.
---
Milan, Italy
Explored by Paula from Paula Pins the Planet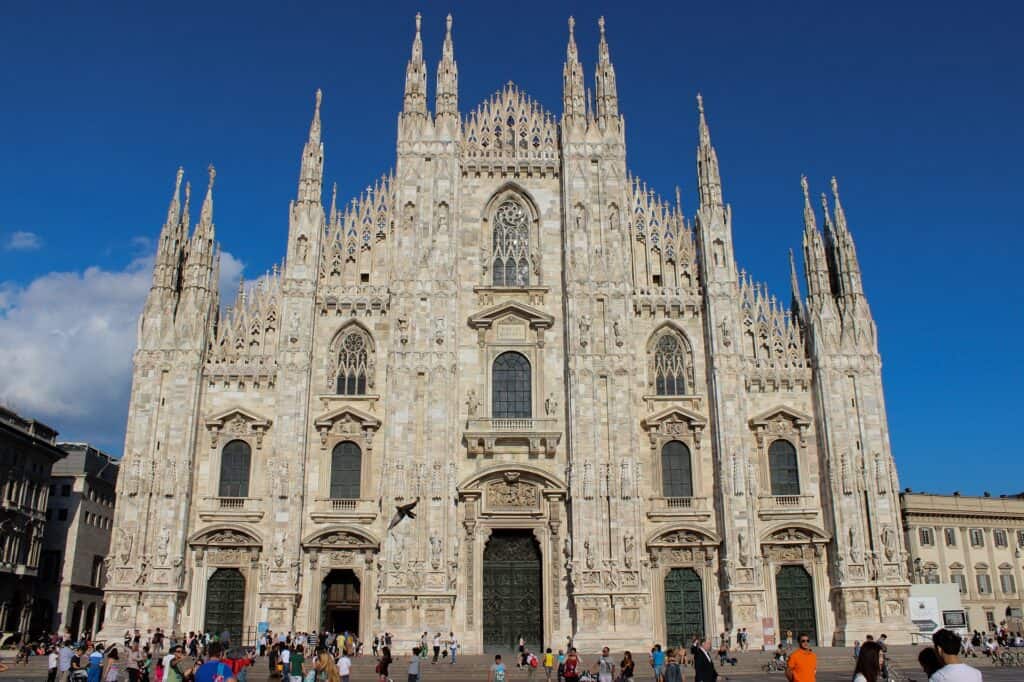 If you are planning to visit Lake Como and looking for the best day trips from Lake Como, Milan is a perfect option, The cheapest and easiest way to travel from Lake Como to Milan is by train. Milan is located just 31 Miles (50 kilometres) from Lake Como. Trains can take anywhere from 30 minutes to over one hour to reach Lake Como to Milan, depending on where you're getting off, so plan accordingly if you have set plans once you get to your destination. If you are driving or travelling by bus, it will take approximately 1 hour.
The good news is that all the transport options for the route from Milan to Lake Como are full of beautiful sights with blue waters, winding roads, and postcard-worthy views.
In order to maximize your time, it is recommended to come with a well-defined Milan itinerary and you will have enough time to visit the main attractions and get a good feel of the city. You will explore some of the most beautiful places, magnificent tours, and ancient architecture. Including Duomo di Milano, experience the stunning Galleria Vittorio Emanuelle II, and see the Last Supper at the Santa Maria Delle Grazie.
Be sure to also budget some time to explore the Navigli district and have a relaxing pre-dinner cocktail in the Milanese tradition of aperitive. Plus have dinner at one of the amazing restaurants while catching stunning views of the canal.
---
Alba, Italy
Explored by Denise from Chef Denise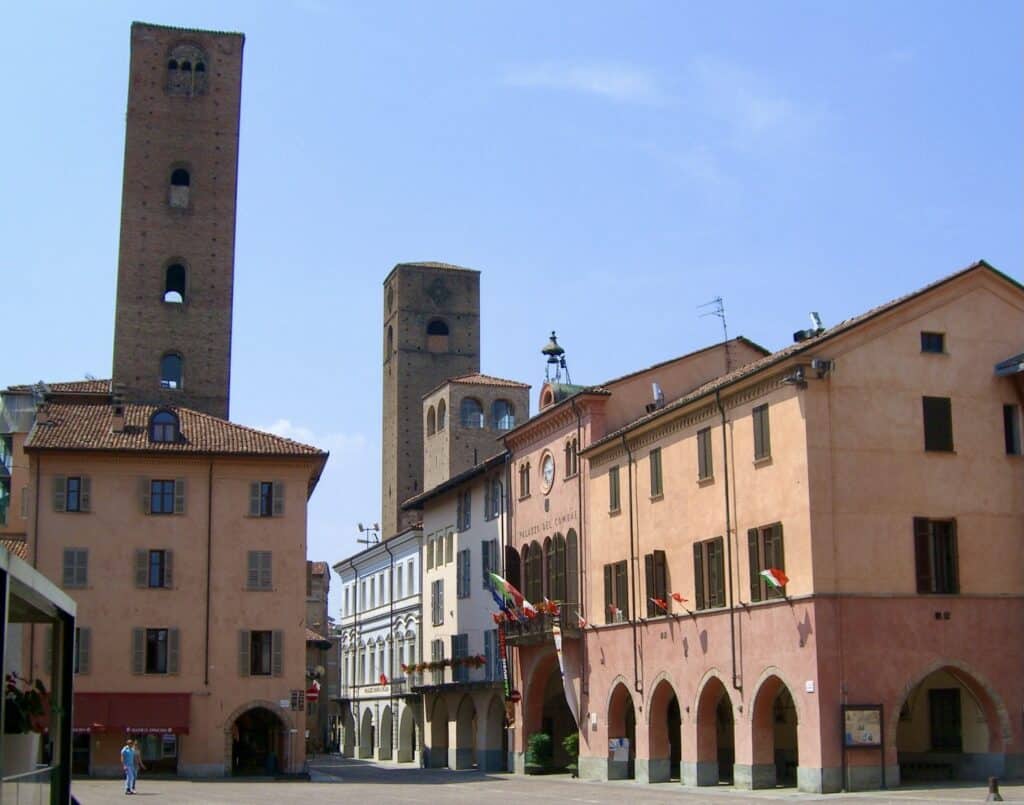 Alba can be reached from Lake Como by car in just over 2 hours. Driving is the fastest way to reach this gem in the rolling hills of Piemonte. Although not on everyone's radar, Alba has long been prized by gourmands and foodies for producing some of Italy's best food and wine. It is also one of the best day trips from Lake Como.
Alba is the world's white truffle capital. Truffles grow wild in the forest and are harvested between September and December. During this time, local restaurant menus offer truffle pasta and other delicious truffle concoctions of all sorts. Some restaurants even feature full truffle-tasting menus, incorporating the tasty fungi into each course. Regardless of when you might visit, take the opportunity to taste this treasure of Italian cuisine.
Wine enthusiasts will enjoy visiting the nearby town of Barolo, where Barolo, one of the region's dominant wines, comes from. Barbaresco is another nearby town worthy of the short drive for some tasting of its namesake wine.
The historic city of Alba itself is best seen on foot, walking the cobblestone streets and lingering in the piazzas. The city is known for its brick towers, Sineo, Bonino, and Artesian.
Churches number among Alba's other impressive architectural highlights. The original Cattedrale di San Lorenzo in the Piazza del Duomo dates to the 5th century, although its ruins lie buried beneath the current 12th-century structure. The 14th-century baroque Church of Saint John the Baptist and Church of San Giovanni both boast numerous pieces of notable artwork, as does the city hall.
---
Bergamo, Italy
Explored by Cassie from Cassie the Hag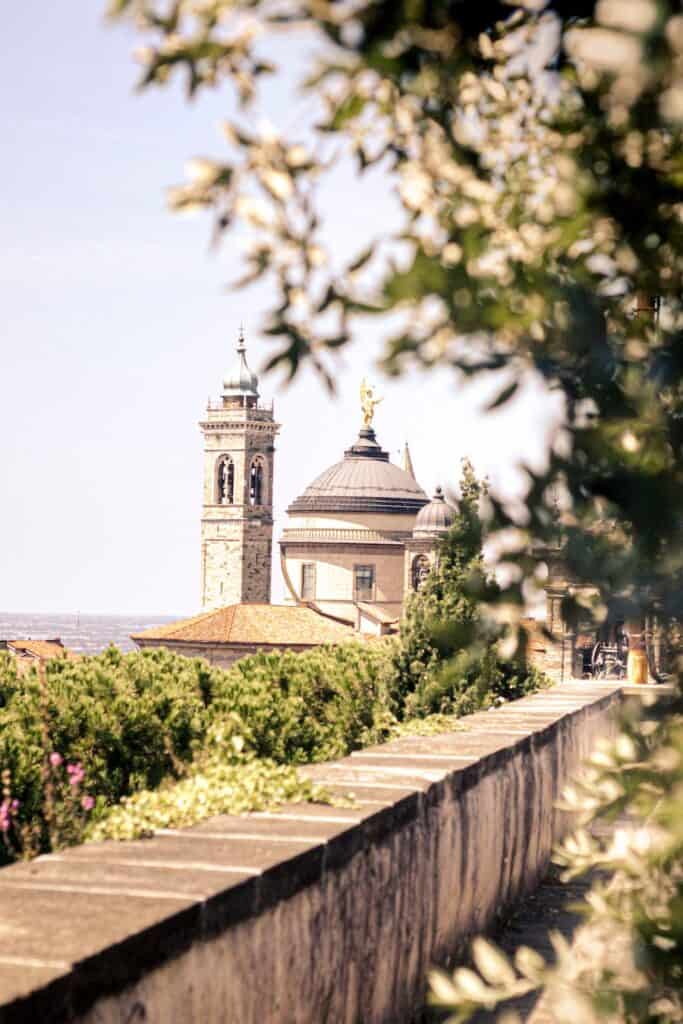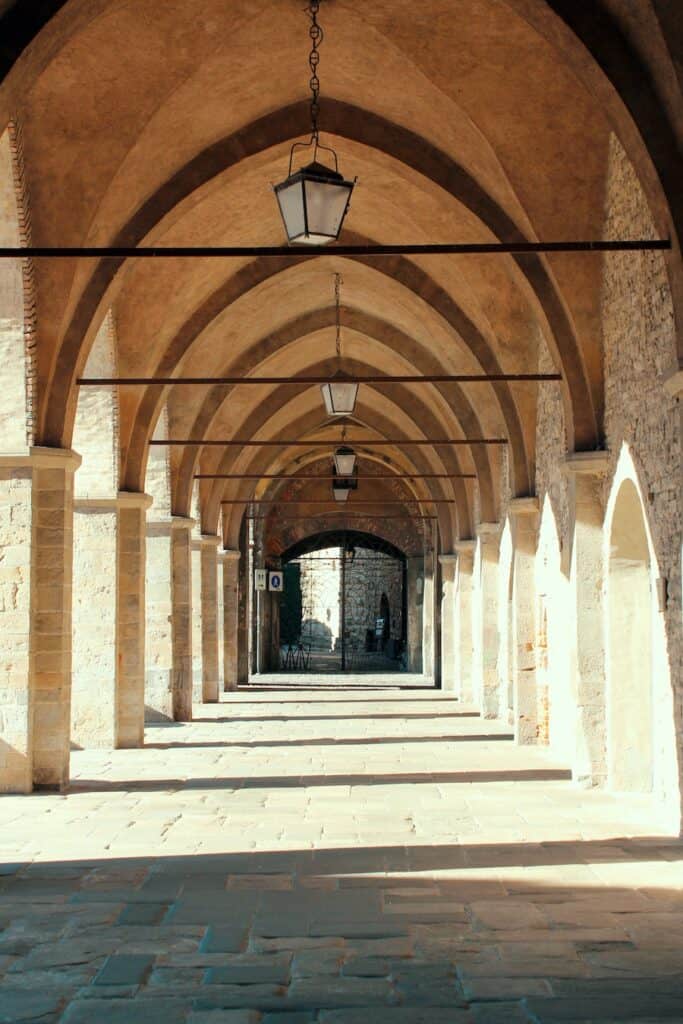 Bergamo is one of the most unique day trips from Lake Como. It's approximately 30 miles from the lake, depending on which area you're coming from. Getting to Bergamo from Como is easy. Take the train via Monzo, which is approximately a 1hr 45min journey, or use the Lecco Trasporti bus service, which is a great budget option taking around 2 hours.
You can easily explore the best things to do in Bergamo in one day, so it's perfect for exploring on a day trip. This underrated destination has been granted UNESCO World Heritage status and is ideal for history lovers or those who prefer a more laid-back holiday experience. Begin your day in Bergamo by taking the funicular railway up into the old town (Citta Alta), where you'll spend most of your time.
Next, stroll around the 14th-century Venetian walls, which have fantastic views over the town, countryside, and the distant Alps. The entire loop is 6km – though you can just choose a short distance – and was once constructed for defensive purposes. However, since the city was never attacked, they remain perfectly intact.
Choose a local cafe or restaurant in central Piazza Vecchia for lunch or dinner. Don't miss visiting the ornate and impressive Santa Maria Maggiore, a 12th-century church decorated with a vast marble exterior, and the neighbouring Colleoni Chapel.
---
Travel Insurance
Getting travel insurance before you travel is a MUST. It's the number one thing you should always pack before travelling that can save you a lot of money, time, and stress. With how crazy travel has gotten recently you need that peace of mind that no matter what happens there is something protecting you from losing out. I always travel with travel insurance and think everyone should.
I always travel with travel insurance and think everyone should. Below is my favorite travel insurer Safety Wings, enter your details to get a free quote!
---
Get planning your next adventure and go on one of the amazing day trips from Lake Como.
Like this post? Pin "10 Best Day Trips from Lake Como" for later!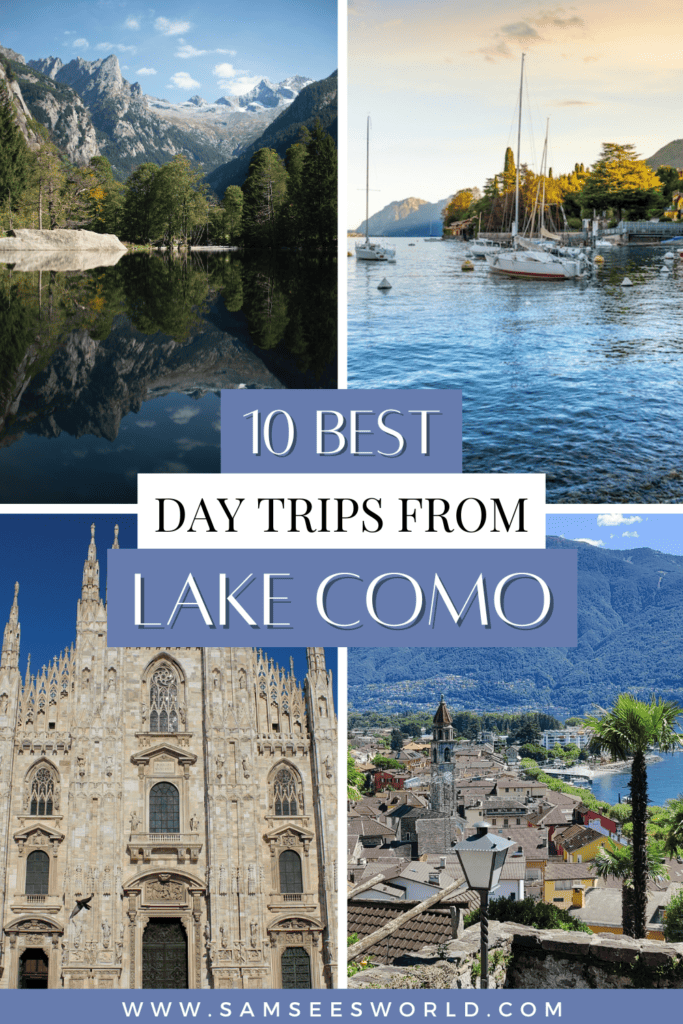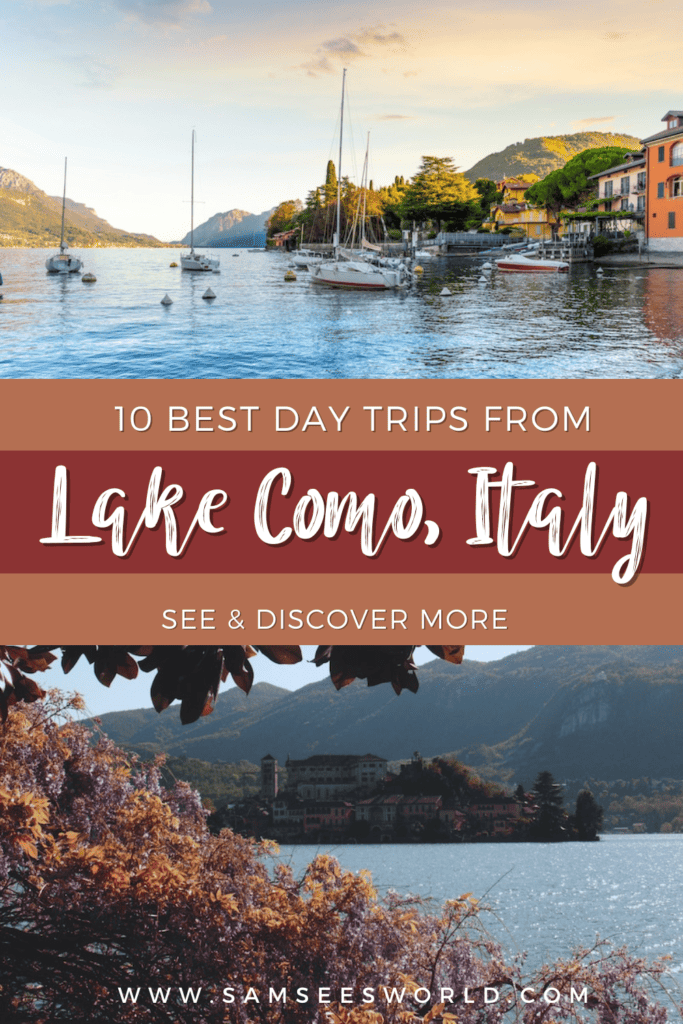 Love,
SSW