If you are looking for a 7 day Bali itinerary that covers all the top places and attractions in Bali, then you have come to the right place. With just 7 days in Bali, you have the perfect amount of time to see the main sights of the island plus a little extra! One week gives you time to relax and set up base in a few places and explore Bali a little deeper.
This 7 day Bali itinerary is ideal for those looking for the perfect way to budget their limited time, but maximize what they see. From the classic monkey forests and beach clubs to the less popular blue lagoon and Munduk waterfall. This Bali itinerary has it all, and in addition to this packed itinerary, I have also included some travel tips and information about visiting Bali at the end of the post.
Feel free to modify this itinerary and use it as a baseline itinerary for Bali. You can always spend more or less time at each place depending on your travel preferences.
(Disclaimer: Some links in this post may be affiliate links, meaning if you click on the link and make a purchase, I receive a small commission. This is at no extra cost to you and you may even receive a small discount. See disclosure for more information.)
7 day Bali Itinerary
Day 1-2: Nusa Lembongan & Nusa Penida
Day 1: Nusa Lembongan
After arriving at the airport in Bali you will head straight to Nusa Lembongan, one of the three Nusa islands off the coast of Bali. Most people just visit these islands as a day trip but there is so much to see and having two days to fully explore the islands is a welcome luxury when you have a full week to spare during your 7 day Bali itinerary. The island is reachable by boat which takes around 35 minutes and costs around 300,000 IDR each way (18€).
For the two days exploring this beautiful part of Bali, it is best to stay on Nusa Lembongan. Although Nusa Lembongan is significantly smaller than Nusa Penida there are more accommodation options to choose from and the island is more developed for tourism. This means diverse accommodation offerings and a wide variety of delicious Bali style restaurants.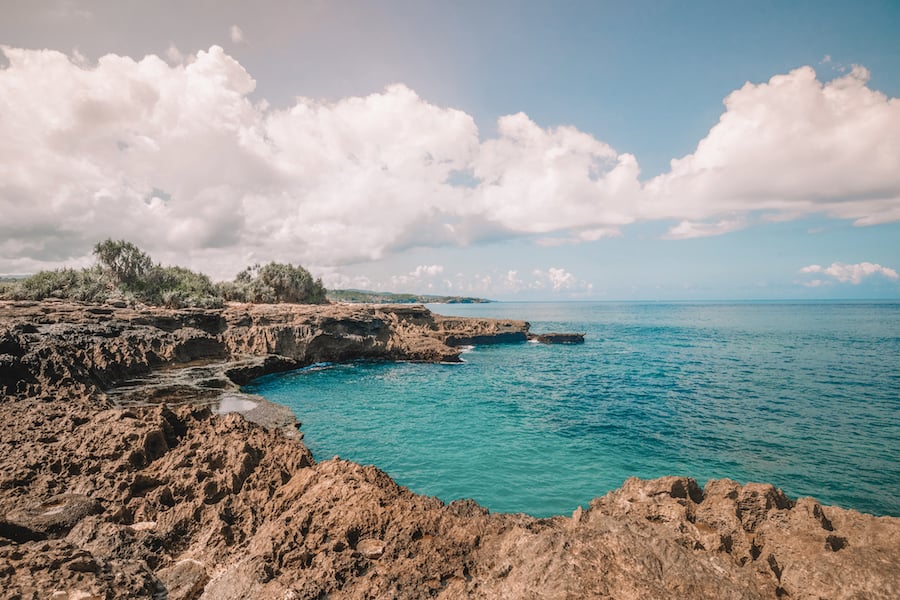 Since Nusa Lembongan is so small you can easily spend the first day exploring it and its neighbor Nusa Ceningan. There is an iconic yellow bridge that connects these two islands and since they are so small the distance between the top sites is not that far. This is the perfect first stop on your 7 day Bali itinerary to show you some of the best of Bali right away!
The top attractions on Nusa Lembongan and Nusa Ceningan that you should visit on day one are:
Blue Lagoon
Devils Tear
Mangrove Forest
Dream Beach
Where to stay in Nusa Lembongan
---
Day 2: Nusa Penida
Day two is all about the huge and magical Nusa Pendia. To get here, you will take a 10-minute boat ride from Nusa Lembongan to Nusa Penida, which costs 120,000 IDR for a round trip ticket (12€). The boat leaves from Yellow Bridge Lembongan and arrives at Toya Pakeha Harbor.
Nusa Penida is a larger island and getting from one end to the other can take around an hour. There are a few ways you can get around the island. The cheapest and easiest way is to rent a scooter for around 70,000 IDR per day and cruise your way around the island yourself. Just know that the roads are in very bad condition so be sure you are comfortable on a scooter before taking off.
Another way is by getting on a taxi scooter, where locals will take you where you need to go via scooter. Or, you can opt for the most expensive, but a reliable way of getting around by renting a private driver for around 600,000IDR for the day (38€).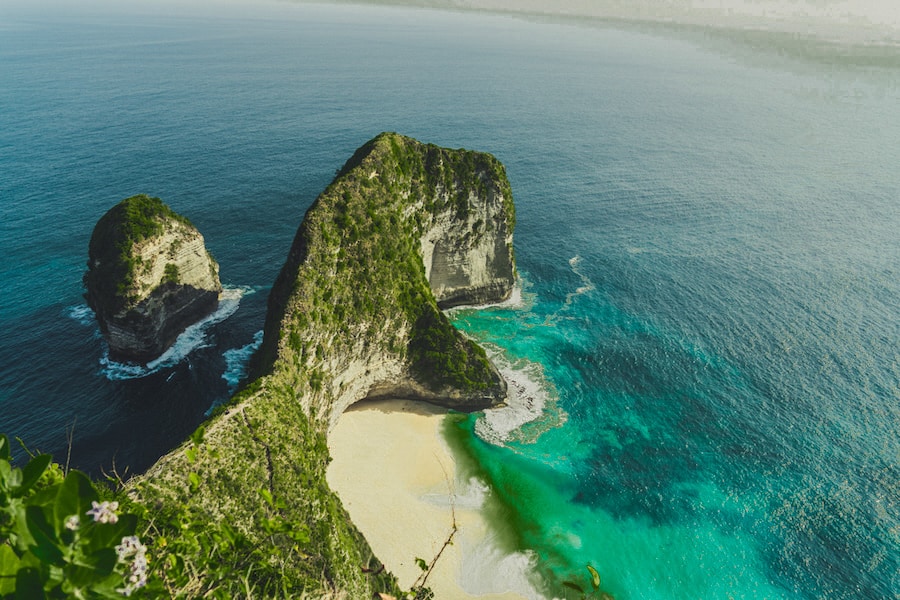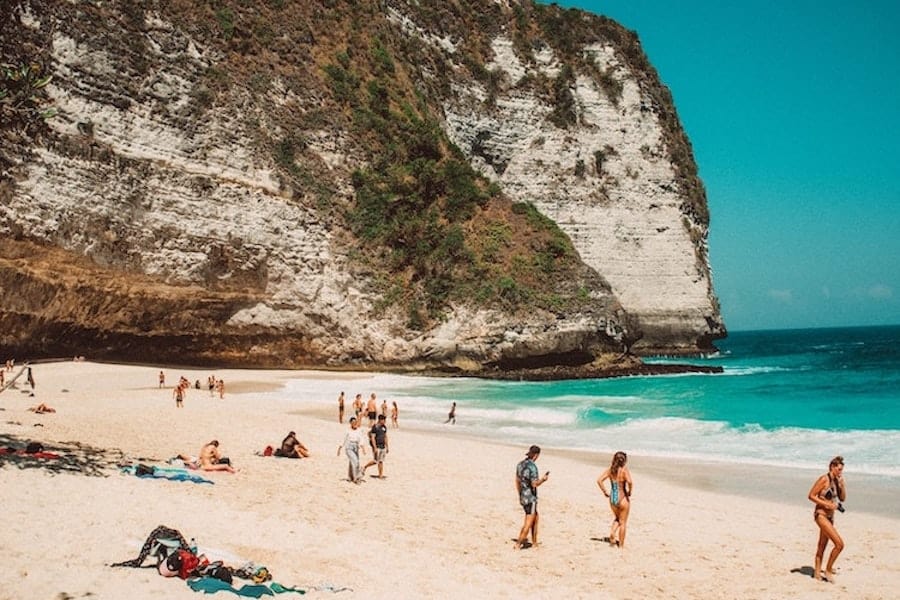 A day trip here will show you some of Bali's most unique and breathtaking landscapes and natural attractions. A visit to Nusa Penida during your 7 day Bali itinerary is a day full of hiking and sightseeing. The top attractions to see and explore are:
Kelingking 'T-Rex'
Kelingking Beach
Angel's Billabong
Thousand Island (Pulau Seribu) Viewpoint
Broken Beach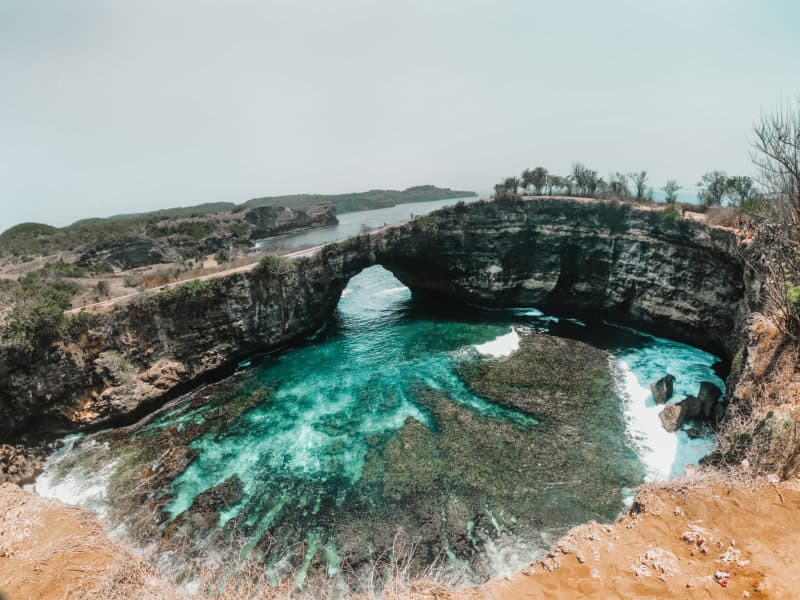 ---
Day 3: Seminyak
After two amazing days on Nusa Penida and Nusa Lembongan, you will make your way back to Bali's mainland to Seminyak. The journey from Nusa Lembongan to Seminyak only takes about an hour and a half and consists of a 35-minute speed boat ride and a 30-minute car ride. Seminyak is a resort area and the perfect place to explore during day three and set up a base for the next two days. It is a great central place in Bali that has easy access to other great cities and places.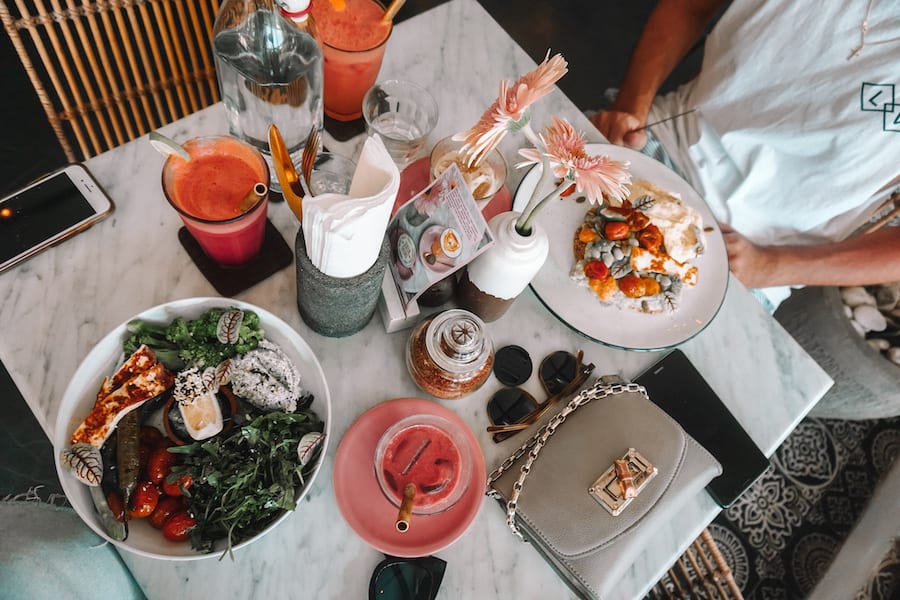 Seminyak is relaxing and is full of exciting things to do. Some of the top things to do with your time in Seminyak are listed.
Try new Restaurants
Seminyak has some of the best restaurants in Bali that offer tons of healthy options and with dishes that are packed with color and flavor. All around the area you will find beyond instagrammable restaurants with smoothie bowls, salad bowls, and unique drinks. Some of the top restaurants to go to are; Coffee Cartel, KYND Community, Seasalt Seminyak, and more!
Beach Clubs
More so, Seminyak's long beach is full of beach clubs with infinity pools, sun loungers, and beautiful ocean views. Spending a day at one of these to enjoy the vibrant and electric Bali beach club experience is worth it. Alternatively, they are the best place to watch the sunset while enjoying a nice drink and an even better atmopshere.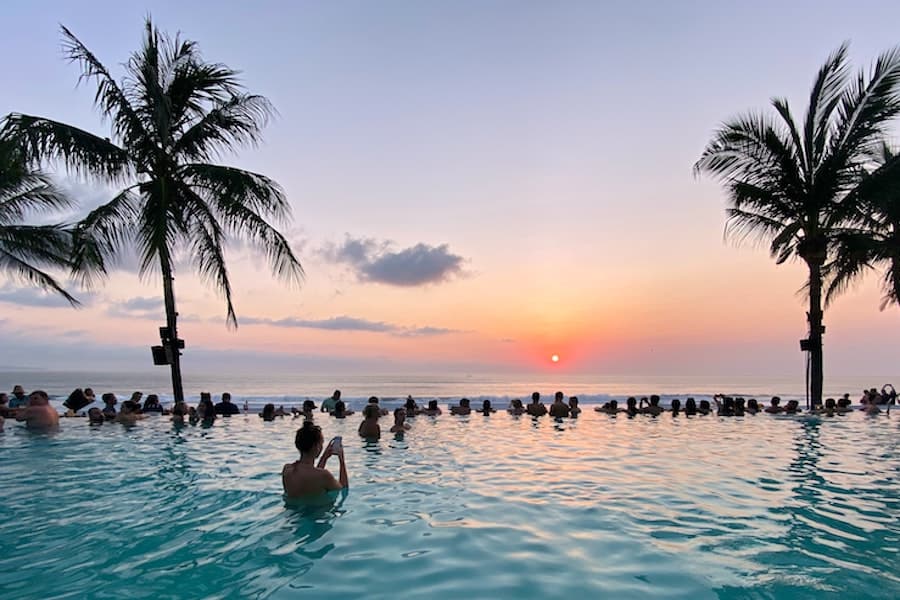 Beyond this, there is much more to do in Seminyak, check out this guide for a more in-depth guide.
Where to stay in Seminyak
---
Day 4: Uluwatu
During the fourth day of this 7 day Bali itinerary, you will make the short 35-minute drive to Uluwatu. Uluwatu is located on Bali's Southern tip and is an up and coming area of the island. Here you will find luxurious beach clubs, high-end hotels, and some of the best secret beaches in Bali. From beaches to cliffs to temples to resorts this is the perfect place to explore!
Spending the day here is just enough time to see the highlights of Uluwatu, which include the following.
Karang Boma Cliff (Uluwatu Cliff)
Firstly, the famous Karang Boma Cliff (Uluwatu Cliff) which is a magical cliff viewpoint that is long lusted after. You can reach it by car or by scooter and parking costs 50,000 IDR (~3€). Once you park you have to walk for around 5 minutes to find the huge white cliff perched dangerously over the sea.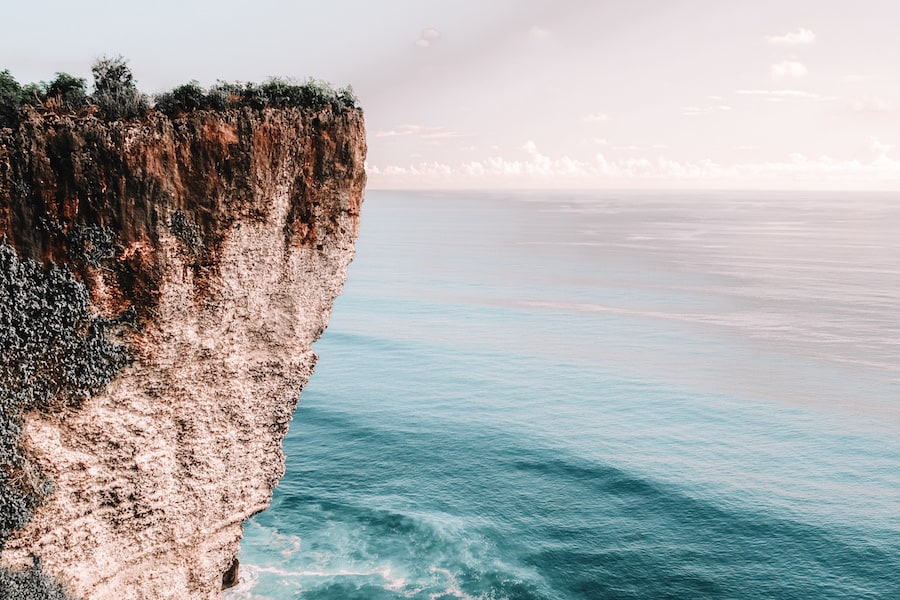 Uluwatu Temple
One of the more famous aspects of Uluwatu is the Uluwatu temple. This temple is located atop the huge cliffs that make up the area and is a great place to visit to see a more cultural side of Bali. It costs 300,000 IDR ( ~18€) to enter and this gives you access to the stunning views and a traditional Balinese fire dance.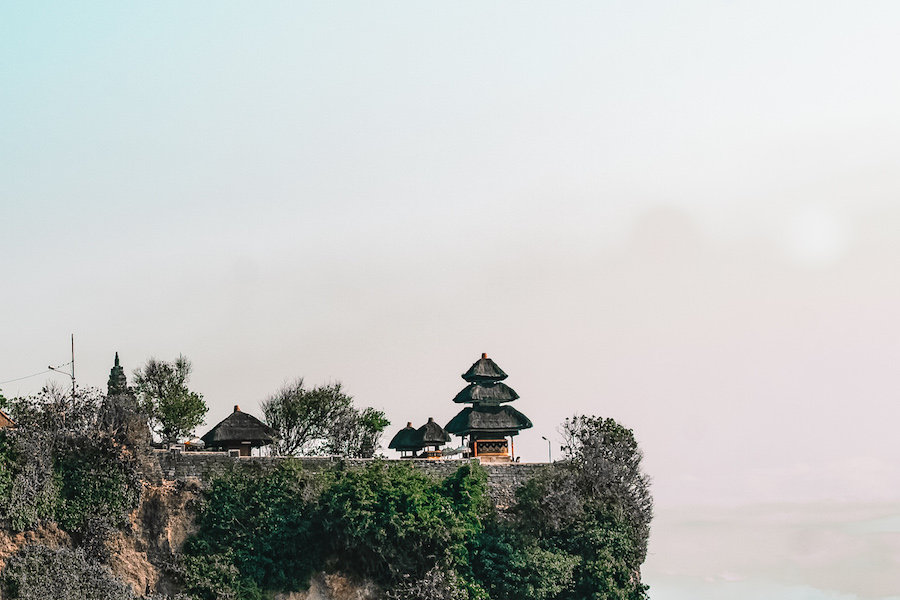 Secret beaches
Uluwatu is also home to some secret beaches that are both beautiful and private. One great beach option is Nyang Nyang beach. This one takes a little hiking to get to but once you arrive you have an almost private beach day experience!
---
Day 5: Munduk
Within this 7 day Bali Itinerary, you will have some extra time to travel further and explore more of the island. This means you can experience some lesser-known places and enjoy some diverse and unique Bali adventures. The best place to go for this is Munduk which is reachable by taking a two-hour car ride from Seminyak. Since it is a further distance you will stay in Munduk for the night.
Munduk is a magical place in Bali full of exciting things to do.
Sunrise Point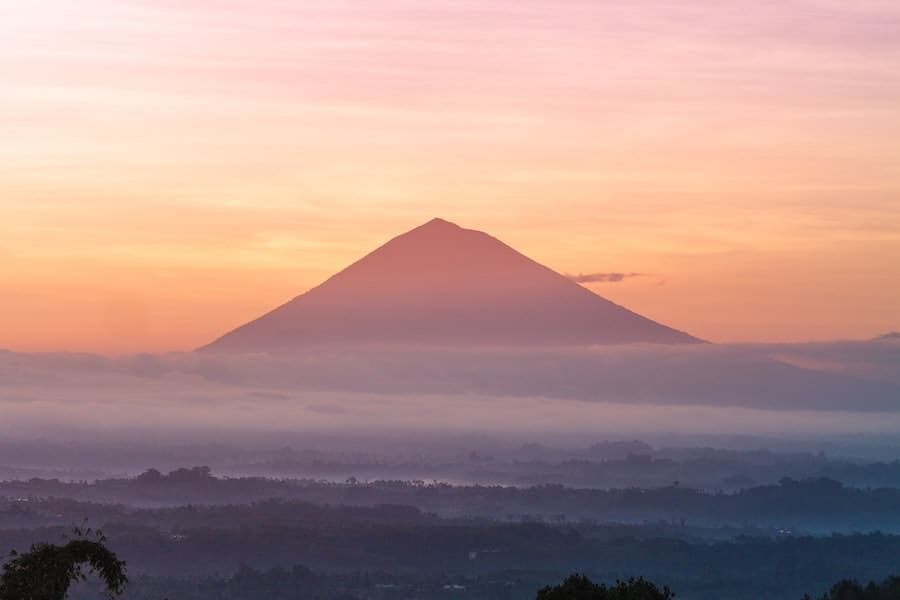 Munduk is also full of stunning viewpoints. You can watch the sunrise from the top of Mount Batur for an experience like no other. The hike to the top takes around 2 hours and the views are incredible. There are also the Munduk Swing Viewpoints which offer stunning views over Bali's Northern region.
Temples and Gates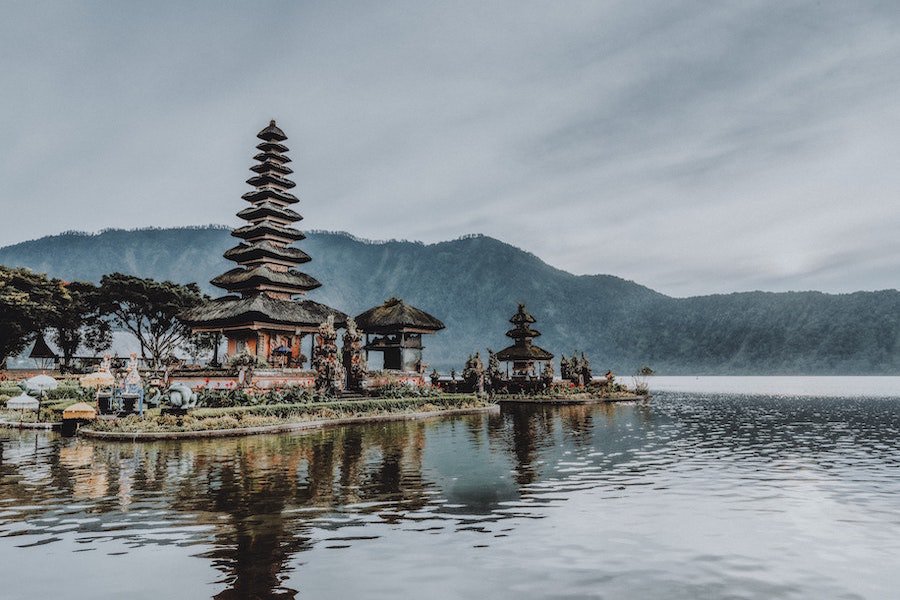 Munduk is also home to one of Bali's most beautiful temples and structures. Here you will find the Munduk water temple which is beyond picturesque temple that is built on a lake. It costs 50,000 IDR (~ 3 euros) to enter but is very worth it. There is also the Handara Gate Bali which has become extremely popular in recent years due to its stunning design and incredible background. Because of its growing popularity, it costs 30,000 IDR (~ 2 USD) to enter and I suggest you arrive early in the morning to avoid the crowds.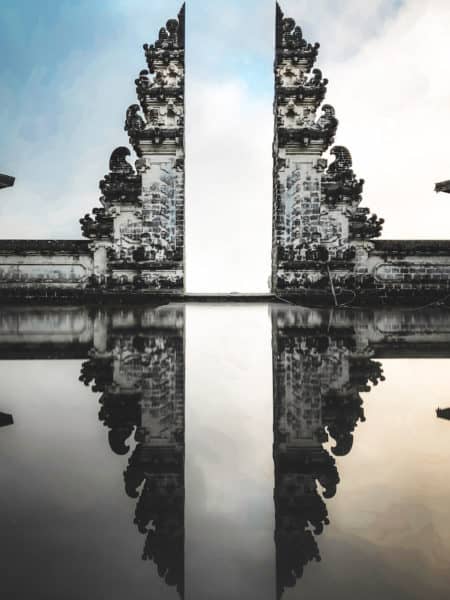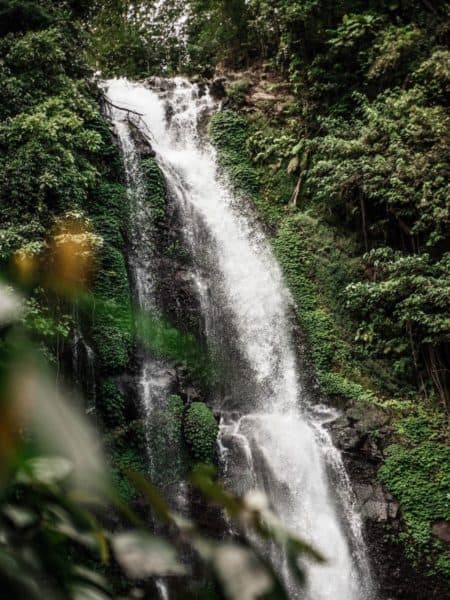 Munduk Waterfall & The Banyumala Twin Waterfall
One of the top attractions is the waterfalls! The northern region of Bali is packed with huge and powerful waters like The Banyumala Twin Waterfall and Munduk Waterfall. Many people venture up here just for these stunning falls. There are many other hidden gems in Bali like these waterfalls and more that are a must to discover!
Where to stay in Munduk
There are many beautiful places to stay in Munduk but Munduk Moding Platation (pictured here) is by far the best and most popular.
The stretching views and panoramic views are something out of a movie!
---
Day 6-7: Ubud
From Munduk you will drive another two hours to Ubud which will be where you stay for the next two days. Ubud is Bali's jungle and the perfect place to end this 7 day Bali itinerary. Here you will find a more local Bali experience with no beaches, but waterfalls, rice fields, and monkies!
Some of the top things to do in Ubud are listed.
Ubud Monkey Forest
One of Bali's most famous attractions is the Ubud monkey forest. Right in the middle of Ubud is a jungle that is full of monkeys. The entrance fee is 80,000 Indonesian Rupiahs (~5€) and with this, you can roam around the amazing jungle forest and watch the monkeys. Just know that these monkeys are aggressive and will jump on you. Be sure to follow the rules suggested at the front entrance.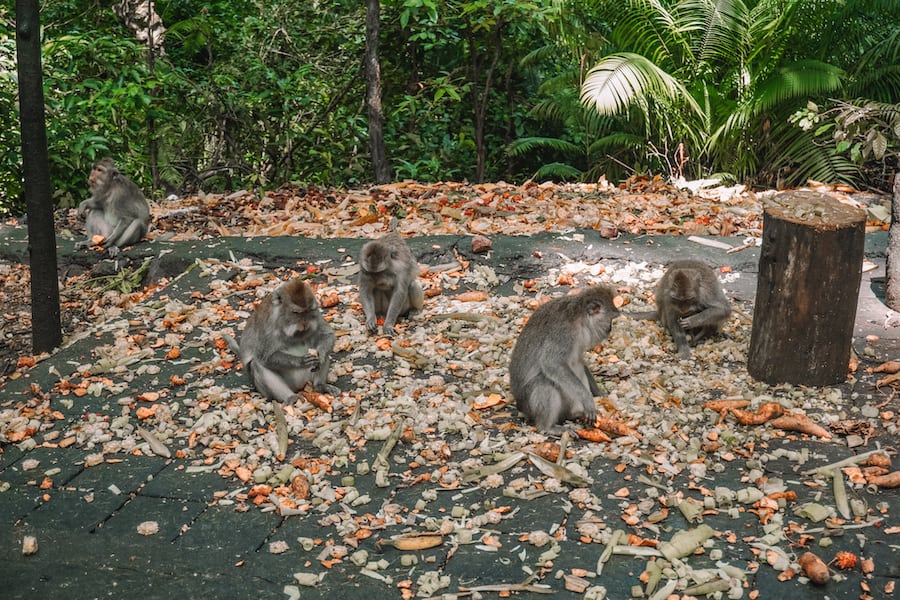 Ubud Market
The perfect time to get a souvenir from Bali is at the Ubud Market. This market is open every day and has stands with locals selling jewelry, art, dishes, clothing, and more! There are so many amazing local items and finding the perfect thing to bring home is more than achievable.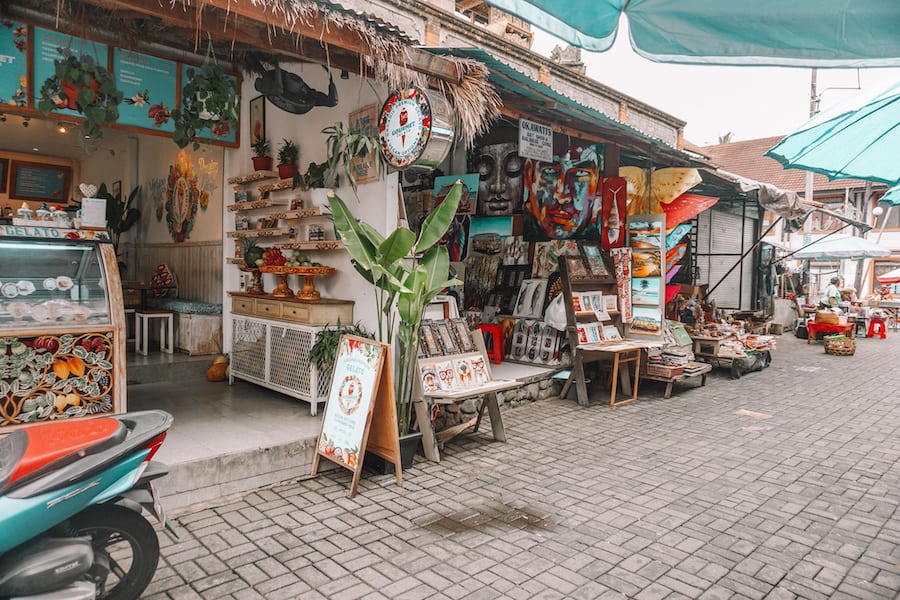 Rice Fields
The Tegalalang Rice Terraces are one of Bali's most famous sights. These rice fields are unique and something you must fit into your two days in Ubud. Entrance is 15,000 IDR (~1€) and with this, you are able to hike around the fields and explore. It is best to go to these fields early in the morning before it gets too hot and before the crowds come.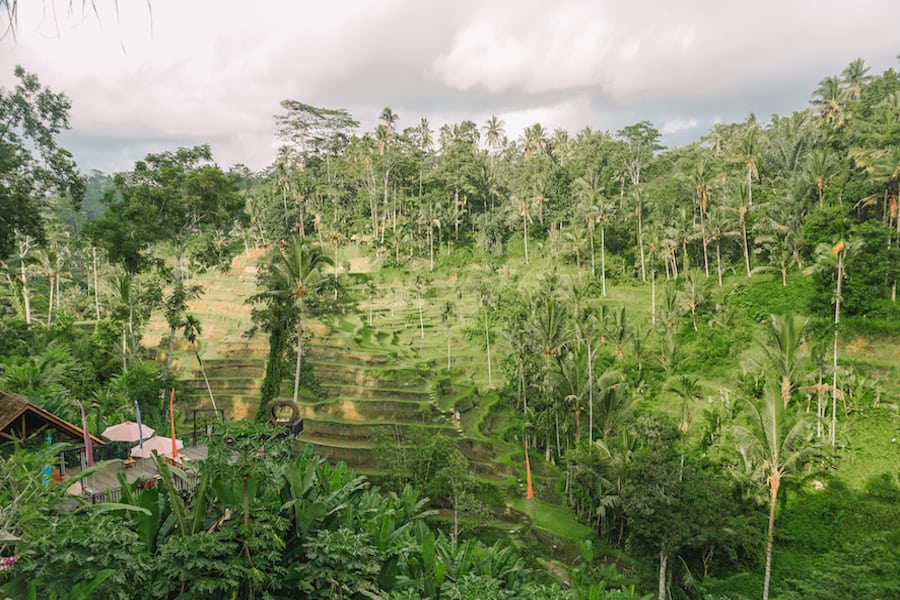 Waterfalls
Ubud, much like Munduk, has some very impressive waterfalls around it. If you are seeking those stunning falls you have a few to choose from. The top options are Tibumana Waterfall, Tukad Cepung Falls, and Nungnung. If you are running low on time I'd suggest going to Tibumana Waterfall as this one is the least busy and quite impressive.
Where to stay in Ubud
---
Tips for Visiting Bali
Be prepared to bargain for your prices. Locals will try to overcharge you so be ready with the prices you know they should be and get a fair deal.
The currency used here is the Indonesian Rupiah (IDR).
Prepare a Bali packing list to ensure you have all the proper clothing and accessories for visiting Bali.
Always have some cash on you especially if you rent a scooter. Gas is usually paid for with cash and if you run out you can get stuck.
Do not eat ice cubes or drink the water, it is not safe.
---
How to get around Bali
Here are the ways you get get around Bali for this 7 day Bali itinerary.
By scooter: This is the cheapest and easiest way to get around Bali. A scooter costs 4€ / day.
Hire a Private Driver: Private drivers are an expensive option but great if you are traveling all day. They are best used to travel between far destinations and with a private driver they can pull over along the way and you can stop at various places.
GoJek or Grab: Similar to Uber but can pick you up in a car or with a scooter. They are contacted via an app and cost much less than local taxis. However, some places don't allow them because the local taxis are against it.
Local taxi: They will always try to overcharge you. Have the price that Gojek presents you and use that to bargain.
---
When to visit Bali
Bali is a year-round travel destination. There is a wet season from November – April where you can expect more rain, but this is nothing more than an hour of rain a day. Visiting in the wet season means lower costs for travel and accommodation so if you don't mind occasional rain, then this is perfect.
---
This 7 day Bali itinerary includes all the best of what Bali has to offer. With this, you see the top attractions and places and some hidden gems of the island. After 7 days in Bali, you will surely be planning your next visit back!
Like this post? Pin "7 day Bali Itinerary" for later!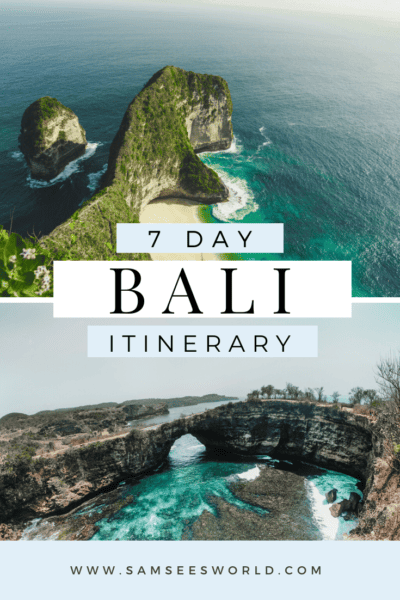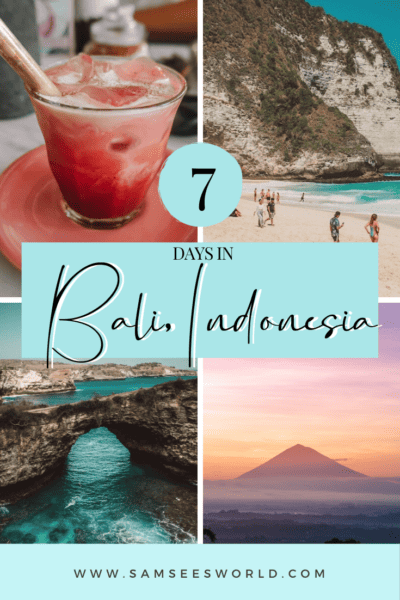 Love,
SSW