Discover the complete guide to Sveti Stefan Beach in the beautiful country of Montenegro!
Montenegro is one of Europes most up-and-coming travel destinations. It is full of stunning nature, historic towns, and most importantly, beautiful beaches. One of the most beautiful beaches is Sveti Stefan Beach located along the coast of Montenegro just a short distance from Budva. Heading here is a must from most cities in Montenegro are the country as small and driving between stop cities and attractions is very easy.
Here is a complete guide to the beach Sveti Stefan Beach in Montenegro.
Read More: Best Beach Captions for Instagram
Disclaimer: Some links in this post may be affiliate links, meaning if you click on the link and make a purchase, I receive a small commission. This is at no extra cost to you and you may even receive a small discount. See disclosure for more information.
What is Sveti Stefan
Sveti Stefan is a small islet located off the coast of Montenegro. This island is connected to the land by a small stretch of sand with a bridge and is one of the most prestigious places in the country. The entire island is a hotel resort that is frequented by the rich and famous. You can only access it if you have a reservation on Sveti Stefan, otherwise, you can only look and admire it.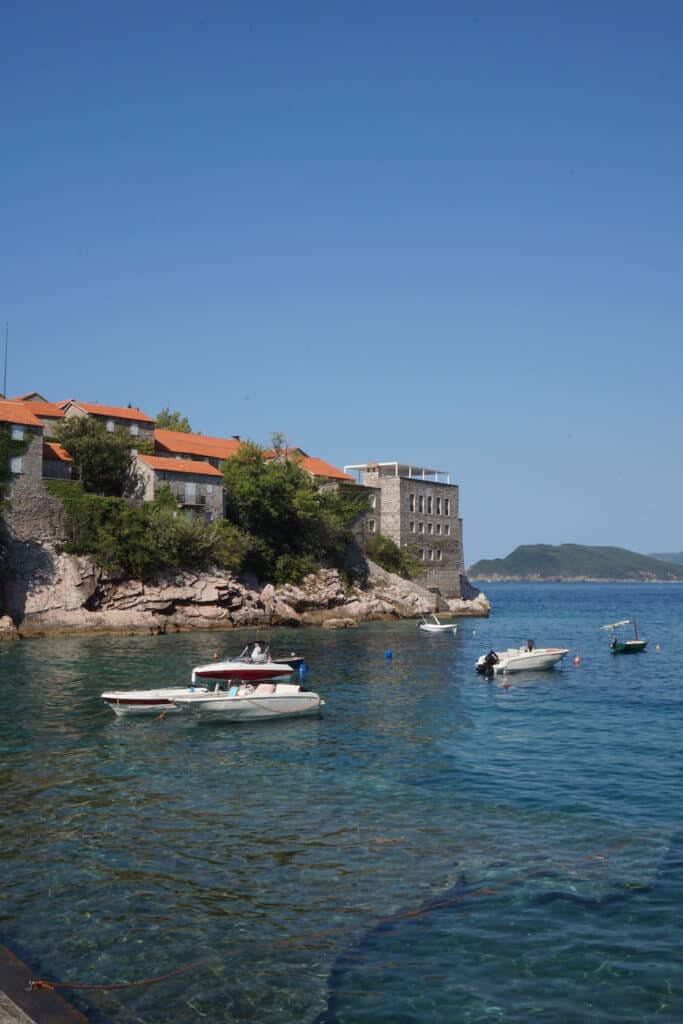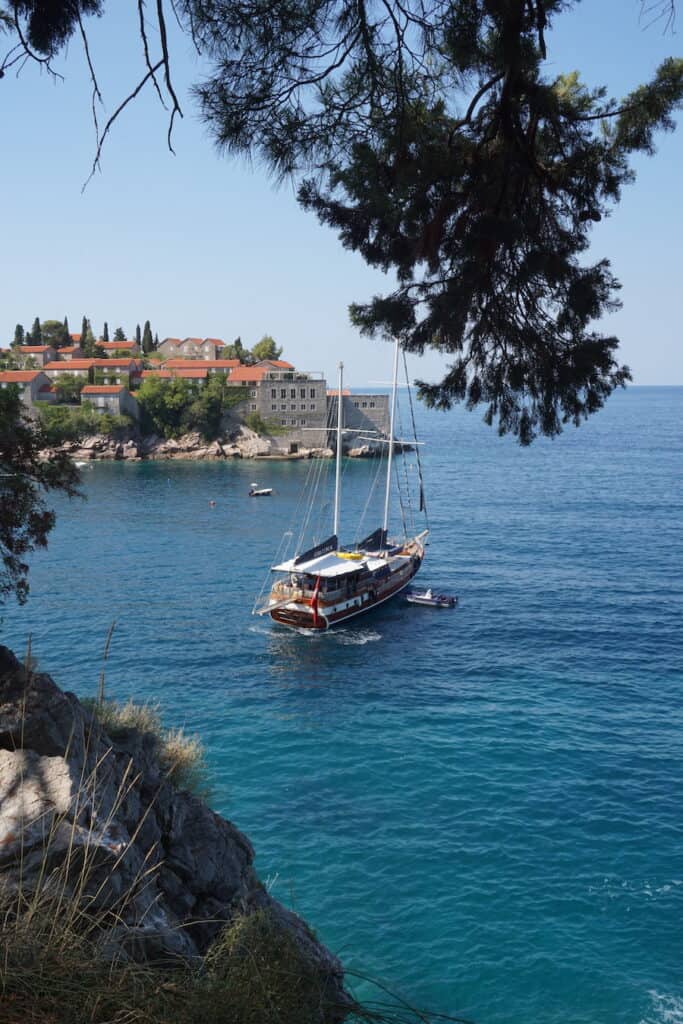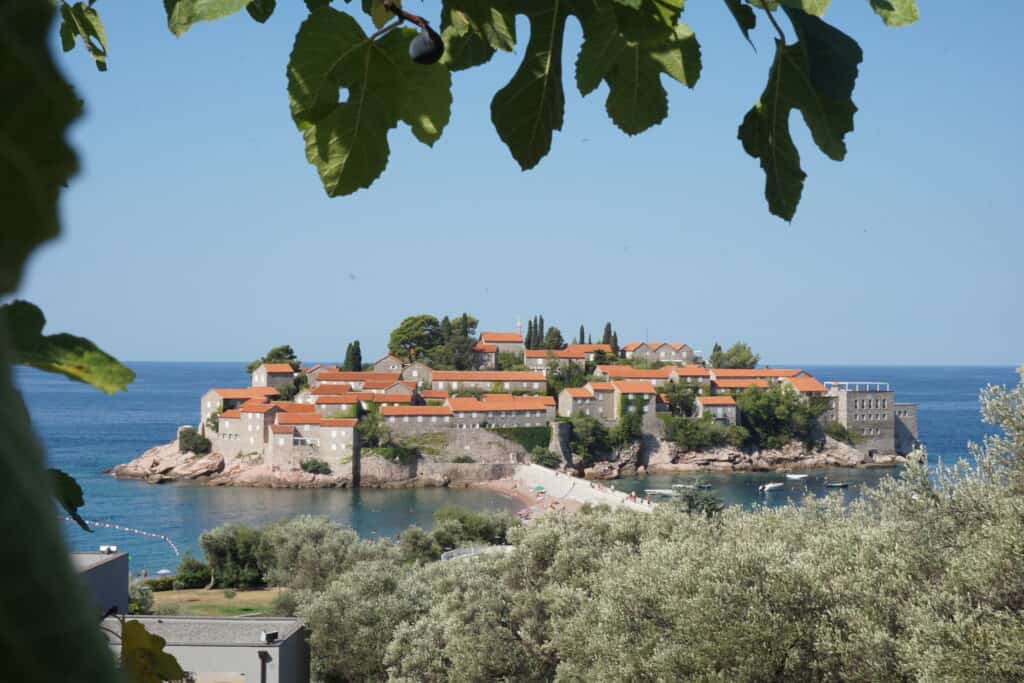 Sveti Stefan is also made up of the coast along the shore which is where the beach is located. Along the beach, you will find paths, parking, and restaurants to entertain guests eager to visit this major Montenegro attraction. All of this can be found very near to Budva, Montenegro, making it the ideal day trip.
---
Sveti Stefan Beach
Sveti Stefan Beach is the vast sandy beach that sits on either side of the bridge leading to the Sveti Stefan islet. The beach has one side open to the public and one side reserved for hotel guests – however, sometimes both sides are open to the public. On the beach, you will find plenty of space to lay down and enjoy the hot sun with easy accessibility to the water.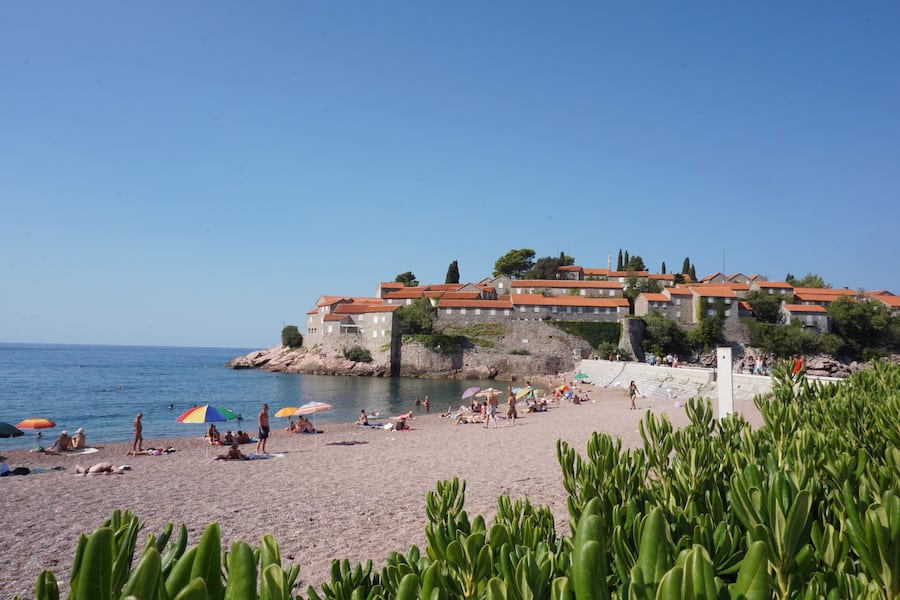 Most beaches in Montenegro are located on cement platforms in the water, so finding a beach with sand where you can walk into the water is quite rare. Be sure to bring your own umbrella and towel or bring money and arrive early to get space on one of the few sunbeds for rent. Along the beach, there are a few restaurants so you can also enjoy food and drinks without having to leave the beach.
---
Beyond Sveti Stefan Beach
There is more to Sveti Stefan than just the main beach and islet. Beyond this, you can find a wildlife park, more beaches and hidden gems. There is a path through the wildlife parks that will have you feeling like you left Sveti Stefan and ventured into a forest. Here you can enjoy the shade of the trees and stunning viewpoints. One of the most famous viewpoints that are essential for a photo is the point rock over the water (pictured below), which you will see as you walk along the path.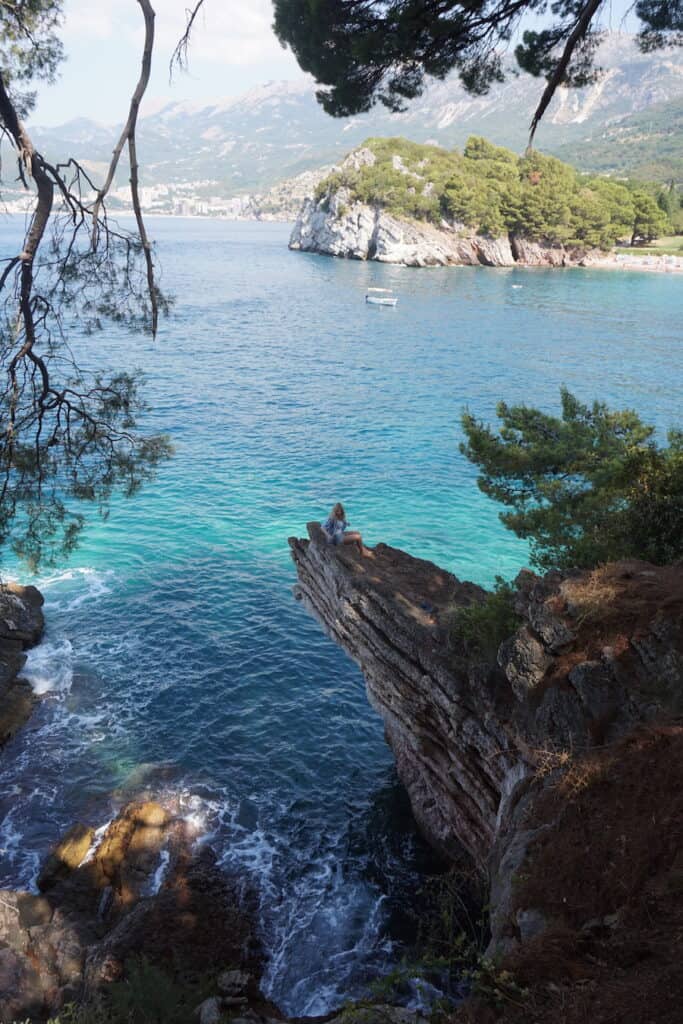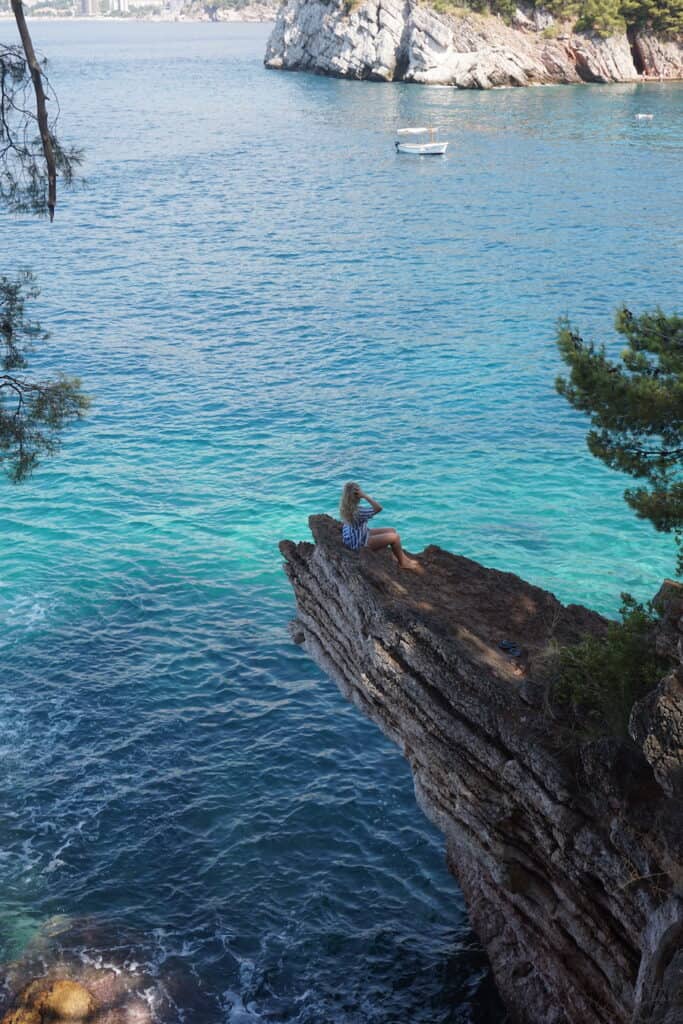 More so, there is another beautiful beach called Milocer Beach or Kings Beach. This is the perfect place to swim if you want to enjoy a more off-the-beaten-track beach day where you can jump off rocks and swim in clear blue water. Here is also where you can find the palace or castle that remains in excellent condition. Heading here will show you one of the most picturesque places in Montenegro.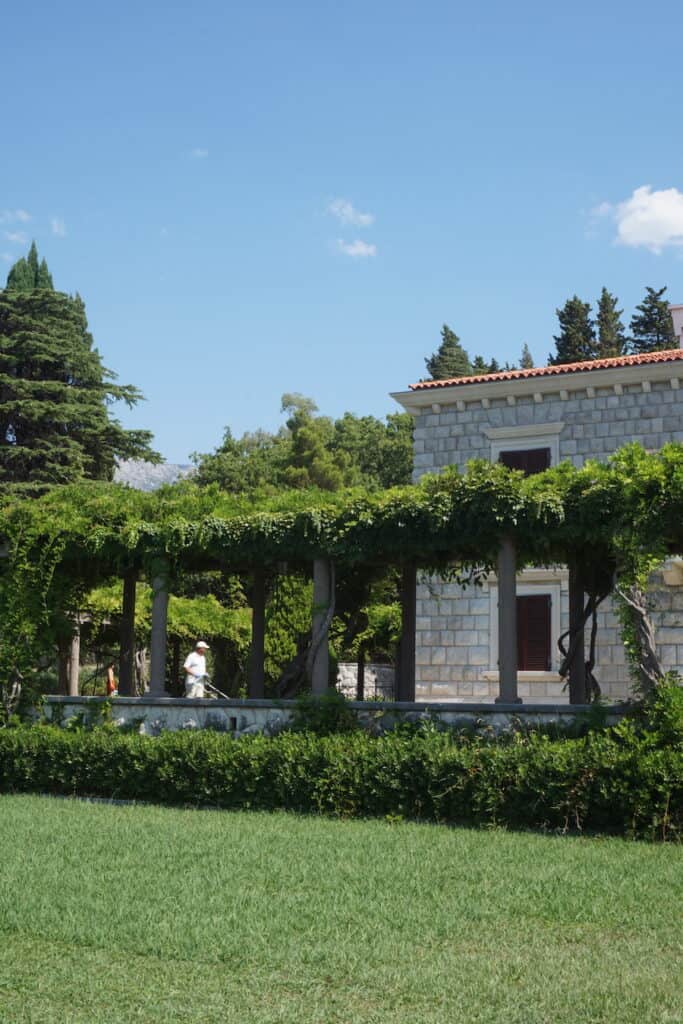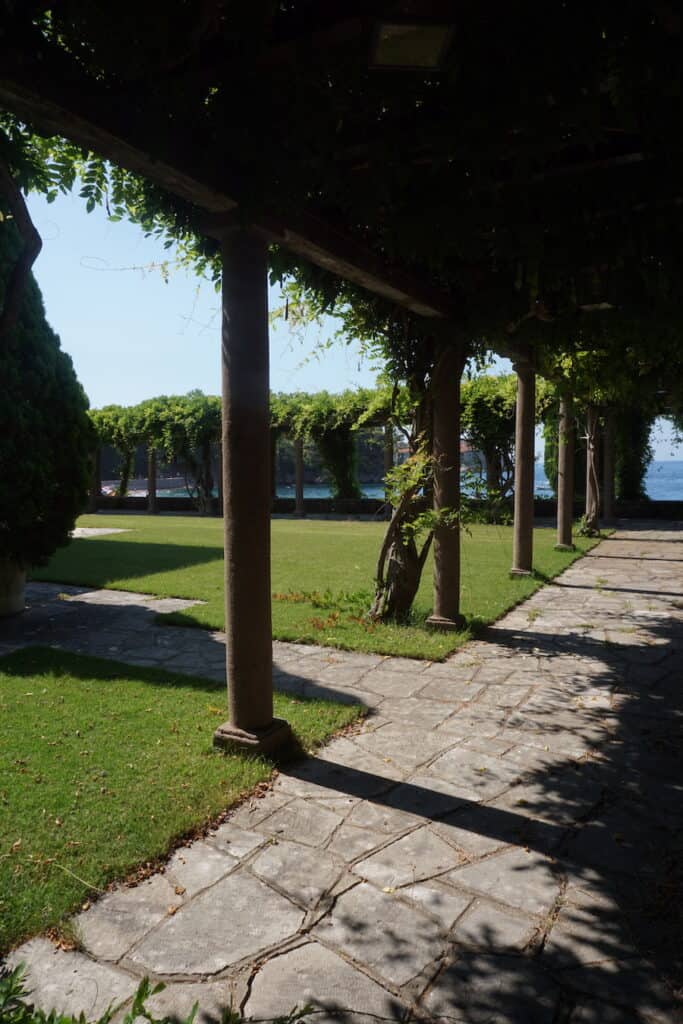 ---
Where to Stay in Sveti Stefan
---
Are you ready for an adventure in Sveti Stefan?
Love,
SSW