Keep reading to uncover the 5 best Greek island hopping routes for the adventure of a lifetime.
Island hopping in Greece is an experience everyone must do at least once in their life. There are countless islands in Greece all with their own charm and beauty just waiting to be explored. The best way, and sometimes the only way, to reach these islands is by boat. Spending a week or two jumping between islands is the best way to experience Greece and its unfathomable beauty.
Below are 5 of the best Greek island hopping routes to help guide you on your journey.
(Disclaimer: Some links in this post may be affiliate links, meaning if you click on the link and make a purchase, I receive a small commission. This is at no extra cost to you and you may even receive a small discount. See disclosure for more information. As an Amazon Associate, I earn a small commission from qualifying purchases.)
The Best Greek Island Hopping Routes
Iconic Greek Islands Route: Santorini – Milos – Paros – Mykonos
One of the best island hopping routes in Greece, if you want to see and explore some of Greece's most famous and beautiful islands, is this! Starting in Santorini and hopping to Milos, Paros, and ending in Mykonos. This route is beyond picturesque and has two major hotspots in Greece: Santorini and Mykonos, both a must-see while in Greece.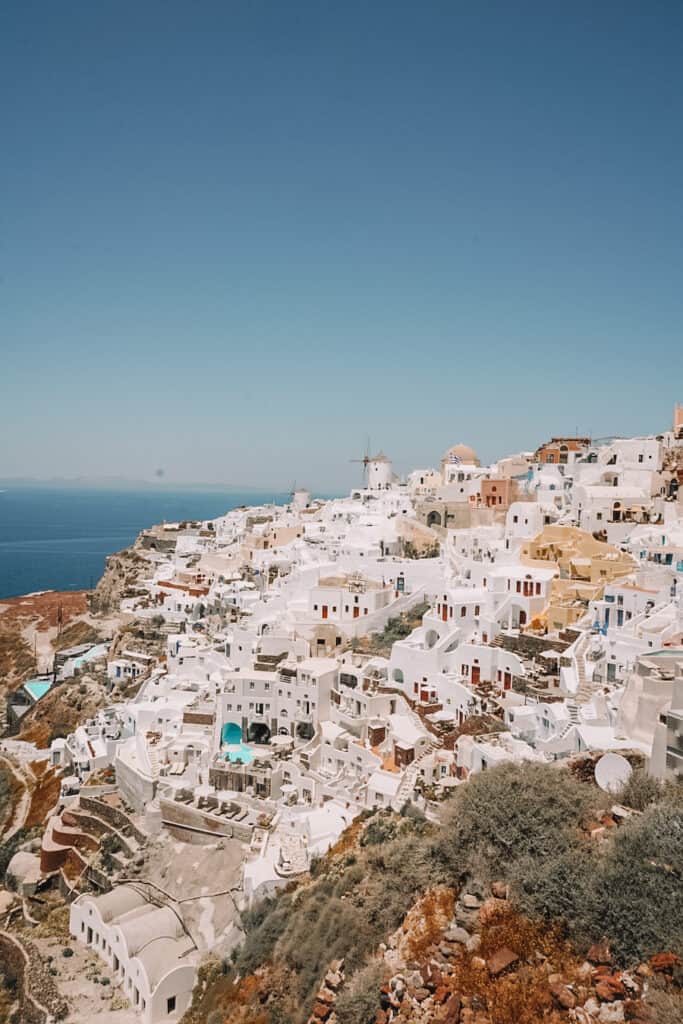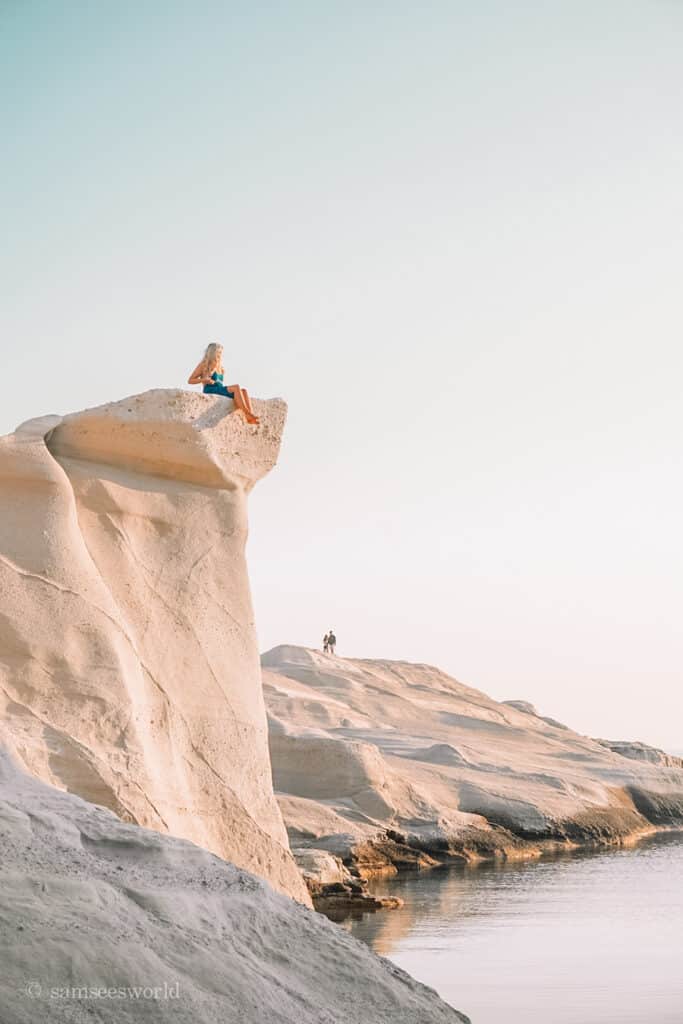 One of the more touristy routes but a great option if you only plan on visiting Greece once and want to see some of the most beautiful and popular places. It also includes two less touristy but equally as beautiful islands: Milos and Paros.
Each of these islands offers unique experiences, stunning landscapes, and a rich cultural heritage. Here's a brief overview of the route:
Santorini: Known for its iconic blue-domed churches, dramatic cliffs, and breathtaking sunsets, Santorini is a must-visit destination. Explore the charming towns of Fira and Oia, soak in the volcanic beaches, and indulge in the local cuisine and wine.
Milos: Famous for its incredible coastline and diverse geological formations, Milos offers a more laid-back and authentic Greek island experience. Don't miss the picturesque fishing village of Klima, the unique Sarakiniko Beach, and the catacombs of Tripiti.
Paros: With its charming villages, sandy beaches, and vibrant nightlife, Paros appeals to a wide range of travelers. Visit the capital town of Parikia, the traditional village of Naoussa, and the stunning beaches of Kolymbithres and Golden Beach.
Mykonos: Known as the party capital of Greece, Mykonos offers a lively atmosphere, beautiful beaches, and a vibrant nightlife scene. Explore the iconic windmills, stroll through the narrow streets of Mykonos Town (Chora), and enjoy the beach clubs and bars at Paradise and Super Paradise beaches.
To travel between these islands, you can take advantage of the frequent ferry connections available during the tourist season. It's essential to check the ferry schedules in advance, as they may vary depending on the time of year. Additionally, it's advisable to allocate a few days on each island to fully explore and appreciate its unique attractions.
If you want to avoid the crowds do this route in May or September before the high season (this runs true for all Greek island hopping routes) .
---
Straightforward and Historic Route: Athens – Paros – Naxos – Mykonos
This is one of the best Greek island hopping itineraries for those trying to minimize fly times and maximize accessibility. Starting in Athens means no connecting flights and starting your adventures without too much flying. Plus, there are a ton of ferries running from Athens daily so you will rarely run into problems with only finding ferries on certain days. As a result, this is the easiest and most accessible route.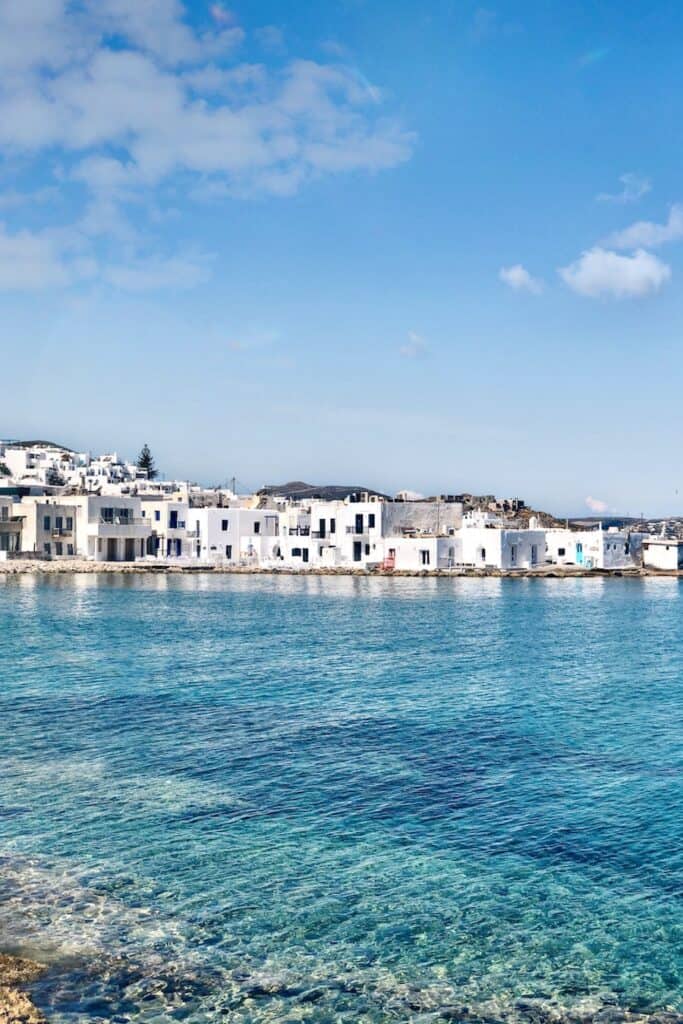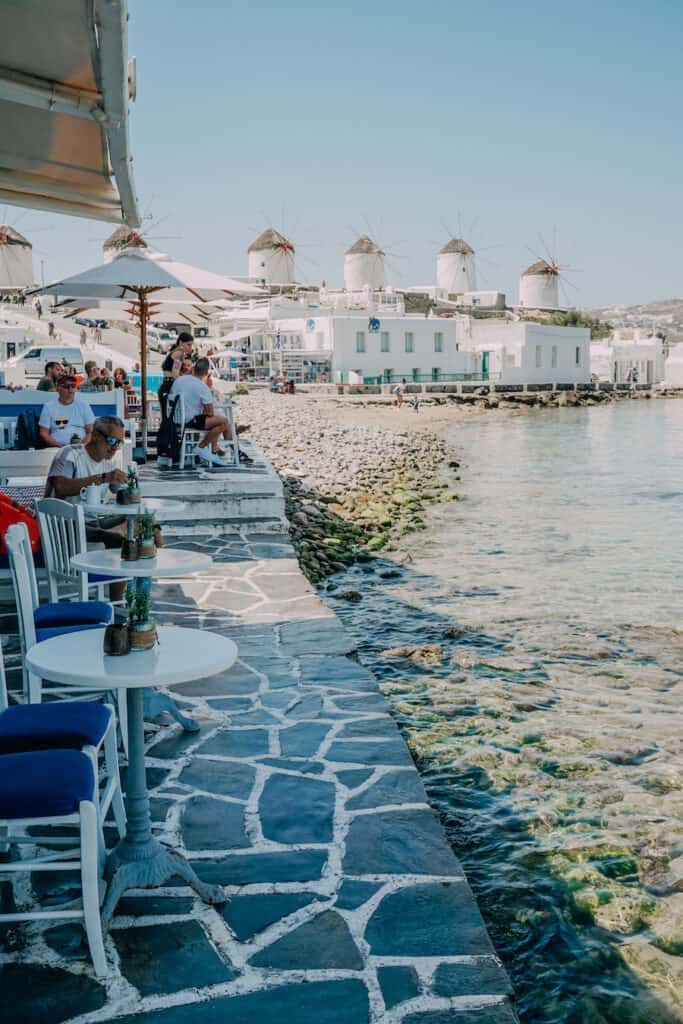 Departing from Athens you will find Naxos, Paros, and Mykonos are all very closely located making travel time between islands painless! You will only need around 1 hour to move between each which is ideal if you are short on time. This way. you can budget 2 days for each place and complete the entire Greek island hopping route in 8 days.
Athens – Paros – Naxos – Mykonos is ideal for those seeking a more historic adventure with both Athens and Naxos as hotspots for Greek history. It is also a fun, beautiful, and timeless, the perfect Greek island hopping route! Here's a brief overview of this route:
Athens: Start your journey in the vibrant capital city of Greece, Athens. Explore iconic historical sites such as the Acropolis, Parthenon, and Ancient Agora. Immerse yourself in Greek culture, visit museums, enjoy delicious Greek cuisine, and experience the bustling atmosphere of this ancient city.
Paros: From Athens, take a ferry to Paros, a charming island known for its beautiful beaches and traditional Cycladic architecture. Discover the picturesque villages of Naoussa and Parikia, visit the Panagia Ekatontapiliani church, and enjoy the crystal-clear waters of Kolymbithres Beach and Santa Maria Beach.
Naxos: Next, hop on a ferry to Naxos, the largest island in the Cyclades. Naxos offers a mix of beautiful beaches, ancient ruins, and scenic landscapes. Explore the old town (Chora) with its Venetian castle, visit the impressive Temple of Apollo, and relax on the golden sands of Agios Prokopios and Plaka beaches.
Mykonos: From Naxos, take a ferry to the world-famous island of Mykonos. Known for its vibrant nightlife, luxurious resorts, and cosmopolitan atmosphere, Mykonos attracts visitors from around the world. Explore the charming narrow streets of Mykonos Town, visit the iconic windmills, party at beach clubs, and relax on beautiful beaches like Psarou and Paradise.
---
Relaxing and Beautiful: Corfu – Paxos – Anti-Paxos
If you want to enjoy a Greek island hopping route that many discounts then Corfu – Paxos – Anti-Paxos is for you! A much less touristy route than the others on this list ideal for a more intimate Greece travel experience. Starting in Corfu and moving to Paxos and Anti-Paxos you will get to see and enjoy some of Greece's most beautiful and underrated beaches and attractions.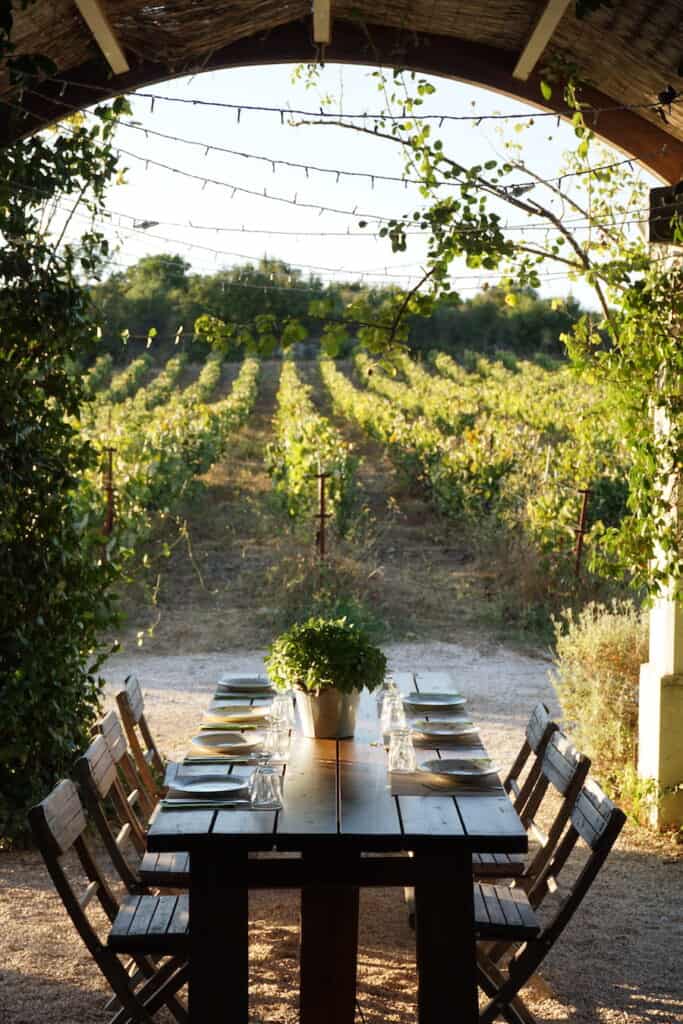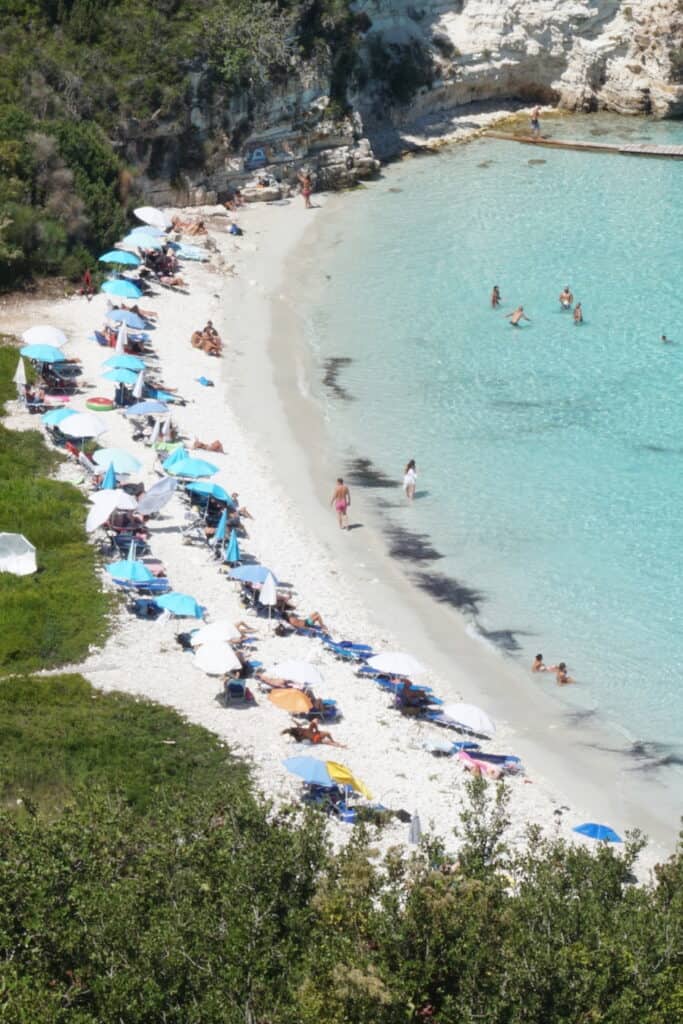 Paxos and Anti Paxos are small islands with a more relaxed coastal vibe. You won't find busy crazy crowds like in Mykonos and Santorini which is perfect for fully experiencing the beauty of this route. If you want to experience a side of Greece that is different from the rest, hopping from Corfu to Paxos then Anti-Paxos is 100% the Greek island hopping route for you!
Here's a brief overview of this route:
Corfu: Begin your journey in Corfu, one of the most popular and picturesque islands in Greece. Explore the UNESCO-listed Old Town of Corfu, with its Venetian architecture, narrow streets, and charming squares. Visit the historic landmarks such as the Old Fortress and the Palace of St. Michael and St. George. Enjoy the stunning beaches of Paleokastritsa, Glyfada, and Sidari. Don't miss trying the local cuisine and experiencing Corfu's vibrant nightlife.
Paxos: From Corfu, take a ferry or a boat to the nearby island of Paxos. Paxos is known for its tranquil atmosphere, crystal-clear turquoise waters, and lush green landscapes. Explore the charming villages of Gaios, Loggos, and Lakka, where you can wander through narrow streets, enjoy waterfront tavernas, and admire traditional architecture. Relax on the secluded beaches, take boat trips to sea caves and the iconic Tripitos Arch, and savor the local olive oil and wine.
Anti-Paxos: Adjacent to Paxos, you'll find the tiny island of Anti-Paxos, known for its pristine beaches and vineyards. Take a short boat ride from Paxos to Anti-Paxos and spend the day on the mesmerizing beaches of Vrika and Voutoumi, famous for their turquoise waters and white sandy shores. Enjoy swimming, snorkeling, and sunbathing in this idyllic paradise.
---
Beaches and Viewpoints Route: Lefkada – Kefalonia – Zakynthos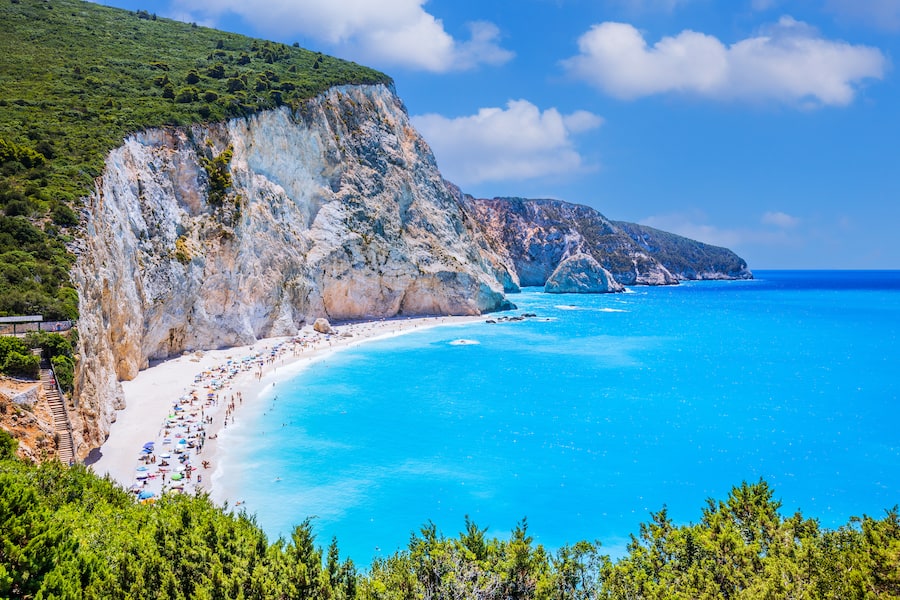 Greece is home to some of the most beautiful beaches in the world. Known for their blue waters, dramatic landscapes, and white sand – they truly are out of this world. This island hopping route will show you some of the most beautiful and jaw dropping beaches in Greece like Navagio Beach, Zakynthos, Myrtos Beach, Kefalonia and Porto Katsiki Beach, Lefkada. These three beaches are not only some of the most beautiful in Greece, but also in the world.
Here's a brief overview of this route:
Lefkada: Start your journey in Lefkada, an island connected to mainland Greece by a small bridge. Lefkada is known for its stunning beaches, including Porto Katsiki and Egremni. Explore the charming town of Lefkada, visit the picturesque village of Agios Nikitas, and enjoy the beautiful views from the cliffs of Cape Lefkatas. Lefkada is also popular for water sports like windsurfing and kitesurfing.
Kefalonia: From Lefkada, take a ferry or a boat to Kefalonia, the largest of the Ionian Islands. Kefalonia offers diverse landscapes, from rugged mountains to gorgeous beaches. Explore the capital city, Argostoli, with its waterfront promenade and vibrant market. Discover the impressive Melissani Cave and Drogarati Cave. Relax on the breathtaking beaches of Myrtos, Antisamos, and Skala. Don't miss a visit to the picturesque fishing village of Assos.
Zakynthos: Finally, take a ferry from Kefalonia to Zakynthos, also known as Zante. Zakynthos is famous for its stunning beaches, crystal-clear waters, and the iconic Navagio Beach with its shipwreck. Explore the capital city, Zakynthos Town, and its Venetian architecture. Visit the Blue Caves, where you can take a boat tour and admire the mesmerizing blue hues of the sea. Enjoy the scenic views from the cliffs of Cape Skinari and relax on beautiful beaches like Gerakas and Laganas.
---
Off the Beaten Track: Skiathos – Skopelos – Alonnisos
Head to the Northwest of Greece and prepare to fall in love with the Sporades archipelago. Hopping from Skiathos – Skopelos – Alonnisos promises beautiful beaches, thriving nightlife, and young vibrant charm. It is the perfect place to visit to get away from the busy touristy islands and enjoy a holiday very few embark on.
Each island has its own charm with rocky beaches boarded by bright blue water, resaurtants spilling onto the streets, and beautiful seaviews. Going Greek island hopping here is very different but a great choice if you are traveling in the high season (June – August) and want to avoid huge crowds in other islands.
Here's a brief overview of this route:
Skiathos: Start your island hopping adventure in Skiathos, a popular tourist destination known for its beautiful sandy beaches and vibrant nightlife. Visit the charming town of Skiathos, explore the narrow streets lined with shops and tavernas, and enjoy the lively atmosphere of the waterfront. Relax on the stunning beaches, such as Koukounaries, Lalaria, and Banana Beach. Don't miss a visit to the historic Evangelistria Monastery.
Skopelos: From Skiathos, take a ferry or a boat to Skopelos, a tranquil and picturesque island famous for its lush green landscapes and traditional architecture. Explore the main town, Skopelos Town, with its whitewashed houses and charming alleys. Visit the impressive churches, including the iconic Agios Ioannis Chapel, featured in the movie "Mamma Mia!" Discover hidden coves and beaches, such as Panormos and Stafylos, and enjoy the tranquility of the island's natural beauty.
Alonnisos: Next, continue your island hopping journey to Alonnisos, the quietest and least developed of the Sporades Islands. Alonnisos is renowned for its pristine nature and the Marine Park, a protected area that is home to various marine species. Explore the charming village of Patitiri, the island's main port, and stroll through the narrow streets. Discover beautiful beaches, including Kokkinokastro and Leftos Gialos, and consider taking a boat tour to explore the marine park and its islands.
---
How to hop between islands in Greece?
Going by public ferry is the best and most popular way to jump between islands.
Book your tickets on Ferry Hopper for the best deals.
There are multiple ferries running throughout the day in the high season but it is always best to buy your ticket in advance to ensure you have a place on the ferry you want during your stay.
---
How much does it cost to go island hopping in Greece?
The ferries in Greece cost anywhere between €20 – €100+ depending on the season and how far in advance you book it.
As a rule of thumb:
The fast ferries are typically more expensive
The high season (June – August) are more expensive
Booking in advance will make prices lower
Is island hopping in Greece expensive?
Greek island hopping can get expensive if you don't plan correctly. Booking in advance and finding deals is key to keeping costs down. You can also use the island hopping ferries to your advantage and actually save money. For example taking ferries overnight so you save on paying for accomodation.
---
Travel Insurance
Getting travel insurance before you travel is a MUST. It's the number one thing you should always pack before travelling that can save you a lot of money, time, and stress. With how crazy travel has gotten recently you need that peace of mind that no matter what happens there is something protecting you from losing out. I always travel with travel insurance and think everyone should.
I always travel with travel insurance and think everyone should. Below is my favorite travel insurer Safety Wings, enter your details to get a free quote!
---
Like this post? Pin "5 Best Greek Island Hopping Routes" for later!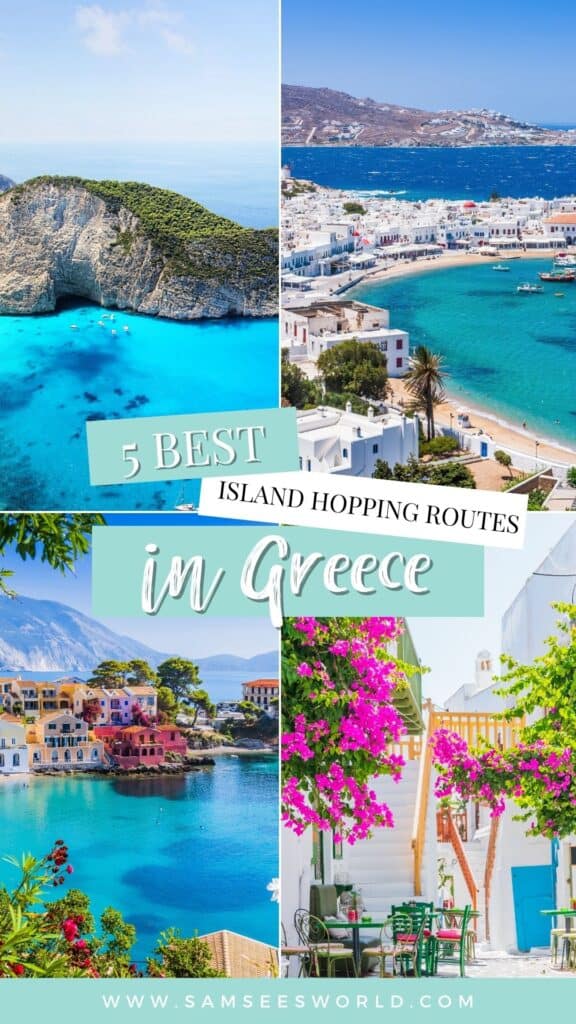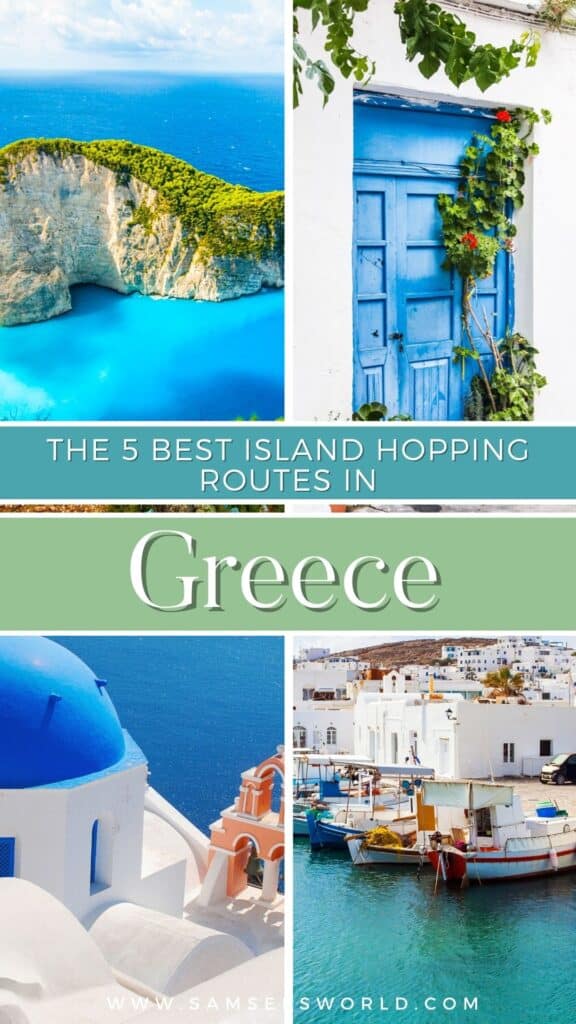 Love,
SSW