Discover the 12 most amazing landmarks in Iceland below!
Iceland is one of the most magical travel destinations in the world and a must-visit for both nature and history lovers. Iceland is home to some of the world's most beautiful beaches, natural spas, dramatic landscapes, and more. It also is a great spot to try out one of the world's healthiest cuisines and meet locals who are always willing to show you around their island and welcome you as a real islander.
Read about the 12 most beautiful landmarks in Iceland and prepare to fall in love with Iceland!
(Disclaimer: Some links in this post may be affiliate links, meaning if you click on the link and make a purchase, I receive a small commission. This is at no extra cost to you and you may even receive a small discount. See disclosure for more information.)
12 Most Beautiful Landmarks in Iceland
Diamond Beach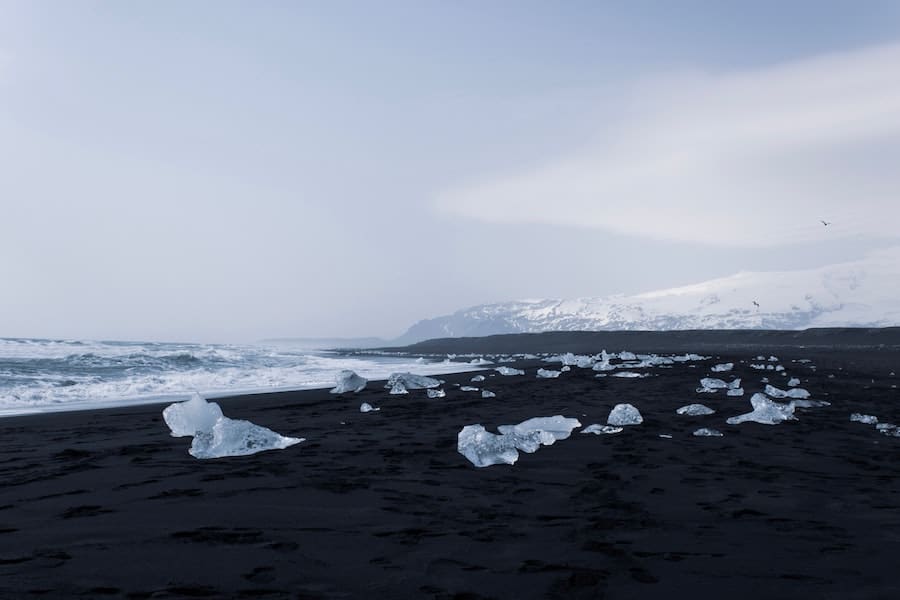 One of the most magical landmarks in Iceland is Diamond Beach. Named Diamond Beach for its various ice chunks along the shore it is one of the best black sand beaches in Iceland that is almost too beautiful to be real. Here you won't just marvel at the striking sea view but also see one of the most amazing hidden gems of the North Atlantic, its brilliant ice treasure trove.
---
Gullfoss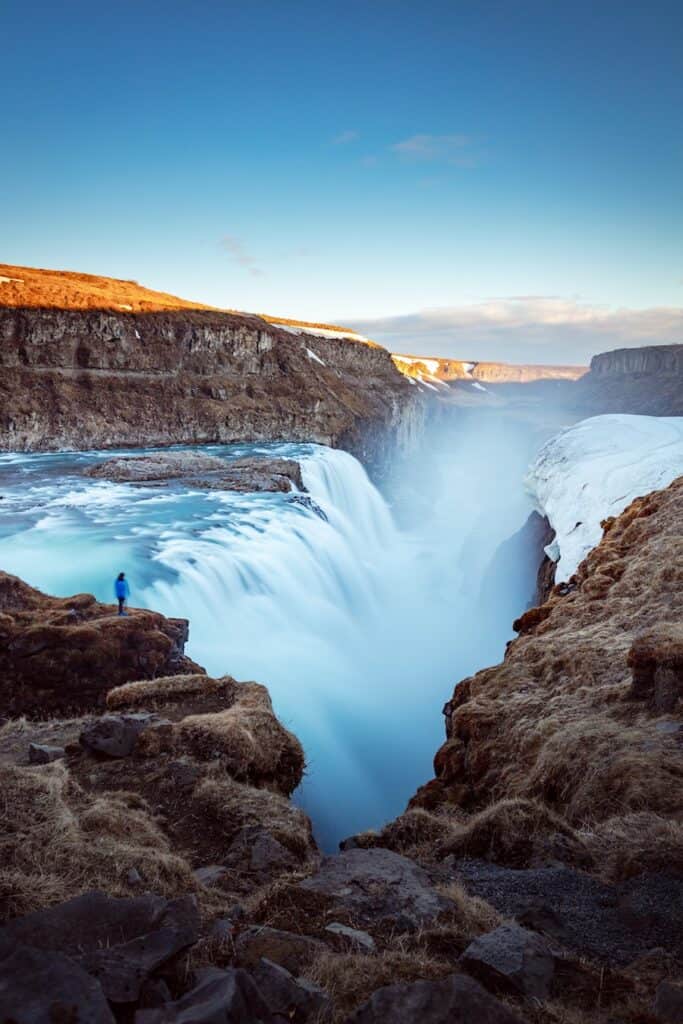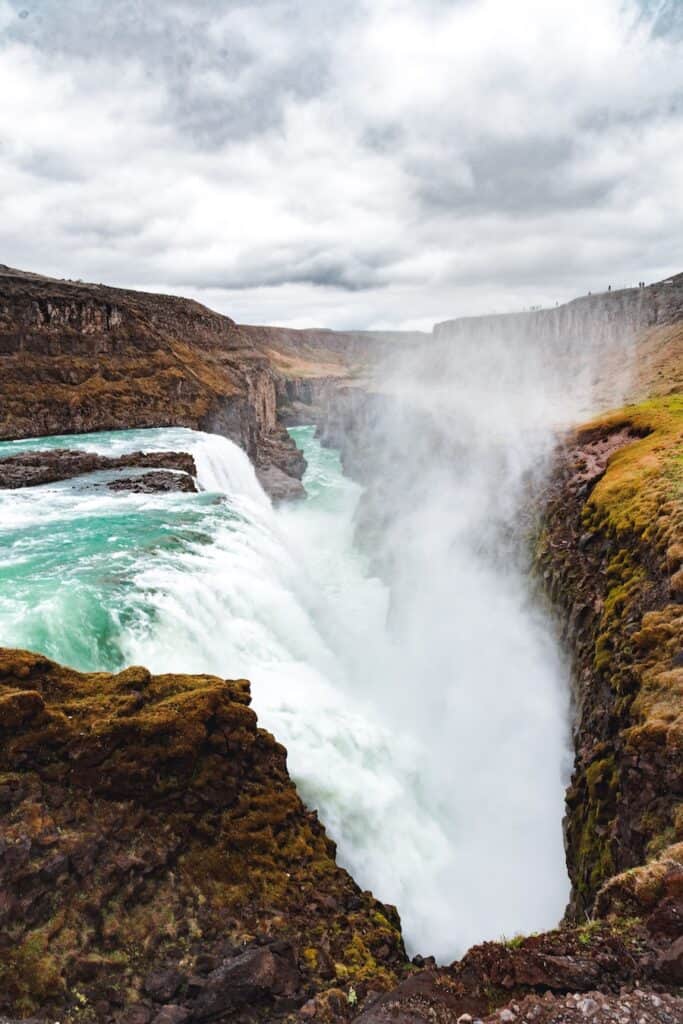 Gullfoss is a huge waterfall located in Iceland's Hvítá river and is one of the most visited landmarks in Iceland. This waterfall is incredibly powerful and also shockingly beautiful. What's also great about Gullfoss is the majestic rainbow that often arches above the waterfall, giving it a more magical and breathtaking feel.
---
Kerið Crater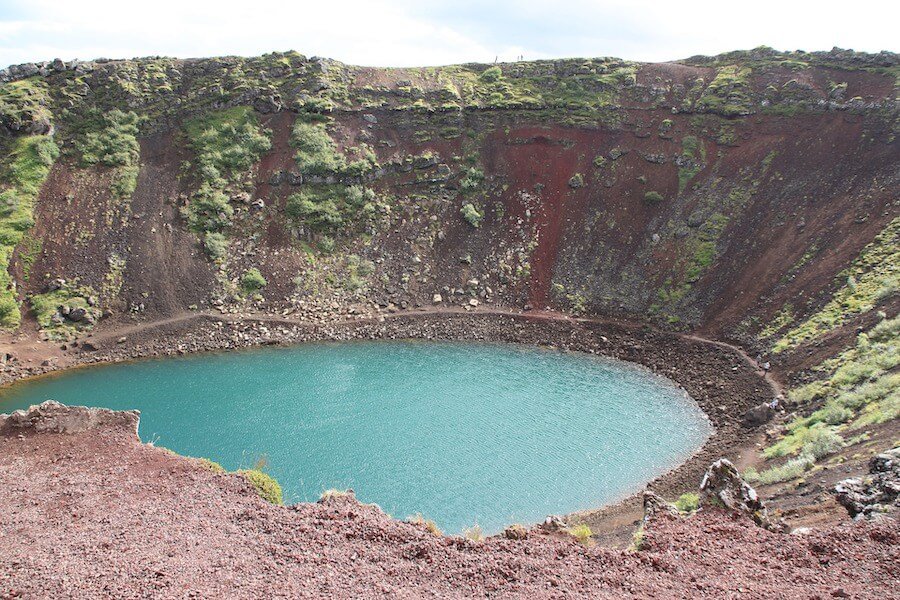 Kerið Crater is a 300-year-old volcanic crater filled with a small amount of water in a very unique shade of blue. Visitors are able to walk around the top edges of the crater to get a stunning ariel view of it. Or you can pay a small amount and go down to the base of the crater to see one of the best landmarks in Iceland up close!
---
Strokkur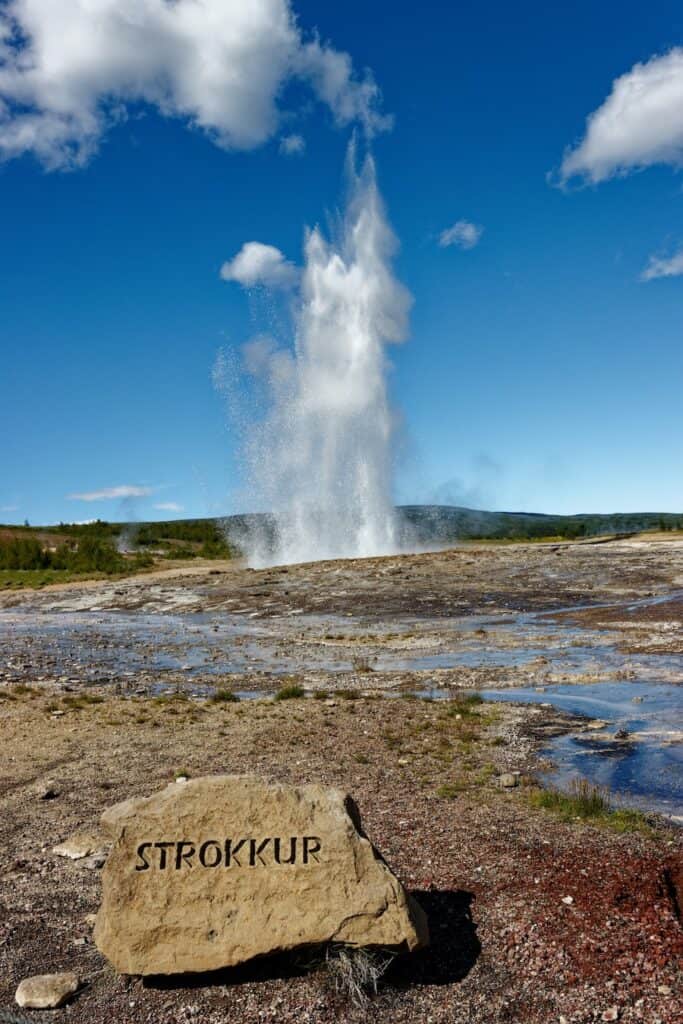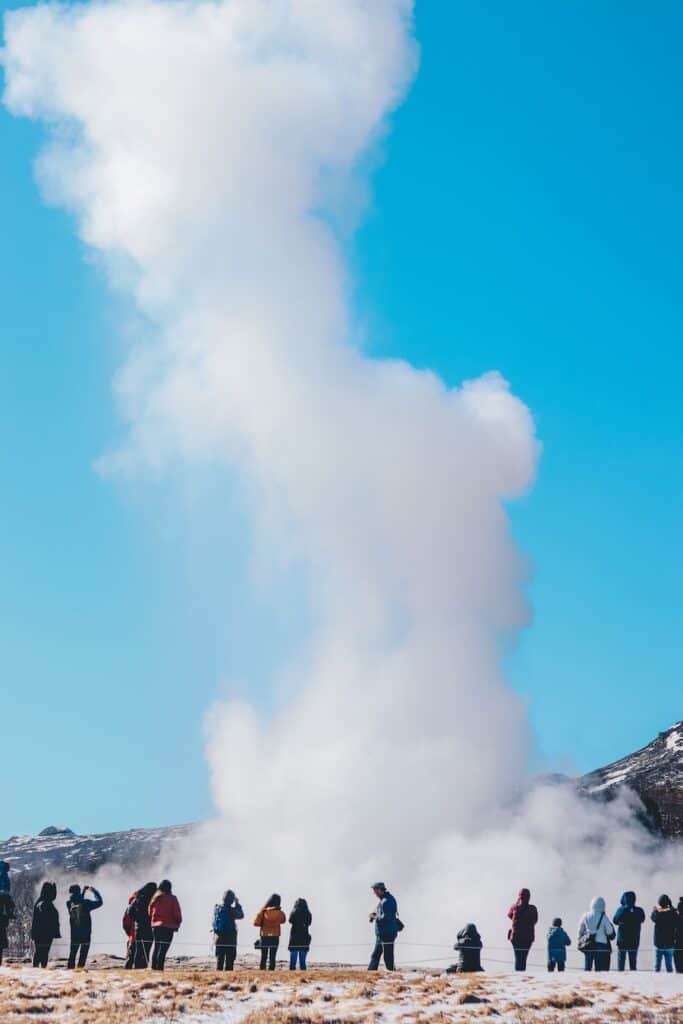 Geysir hot spring is home to the highly activeStokkur Geysir – one of the most amazing landmarks in Iceland. The whole area is amazing to see and admire, however, Strokkur is the real star of the show. This Geysir spouts boiling water 30 meters into the air every couple of minutes!
---
Svartifoss Waterfall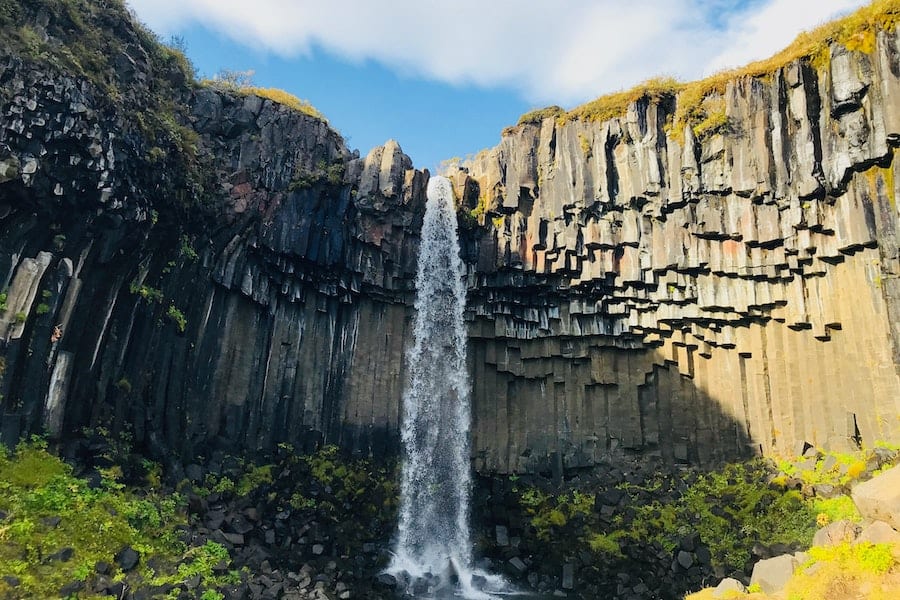 Svartifoss Waterfall is one of the most unique and mesmerizing waters in Iceland. As one of the most enchanting landmarks in Iceland, it is a must-visit. The combination of the dark lava columns and rushing water is something to be admired.
---
Thingvellir National Park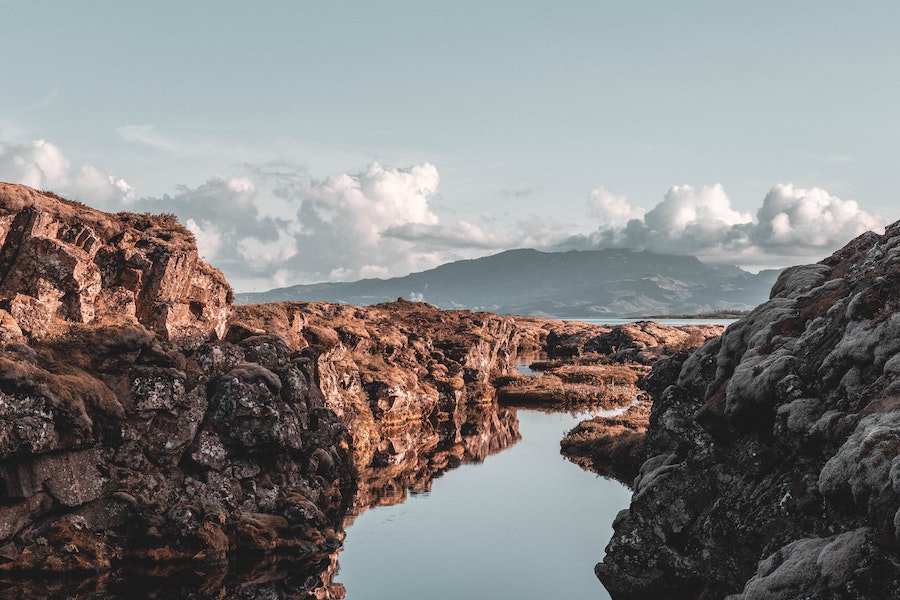 Thingvellir National Park is one of the most sought after tourist stops in Iceland and is the only UNESCO World Heritage Site on the mainland of Iceland. It is one of the top landmarks in Iceland that holds both historical and geographic significance that is very interesting. Starting in 930 AD Thingvellir National Park was a meeting place where Icelandic disputes were settled, it is now the longest-running, and still operating parliament in the world.
Moreso, Thingvellir National Park is split by the Mid-Atlantic Rift, meaning you can walk on two different continents within meters of one another.
---
Jökulsárlón Glacier Lagoon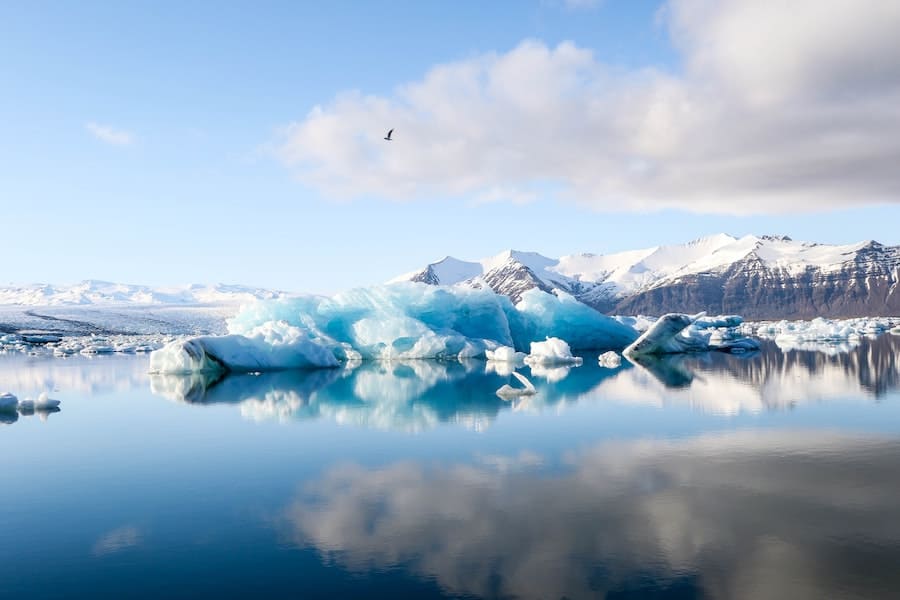 Jökulsárlón is a Glacier Lagoon with bright blue waters full of white glaciers. The lagoon looks like something from a movie! This is a must-visit destination and one of the top natural landmarks in Iceland.
---
Hallgrímskirkja Church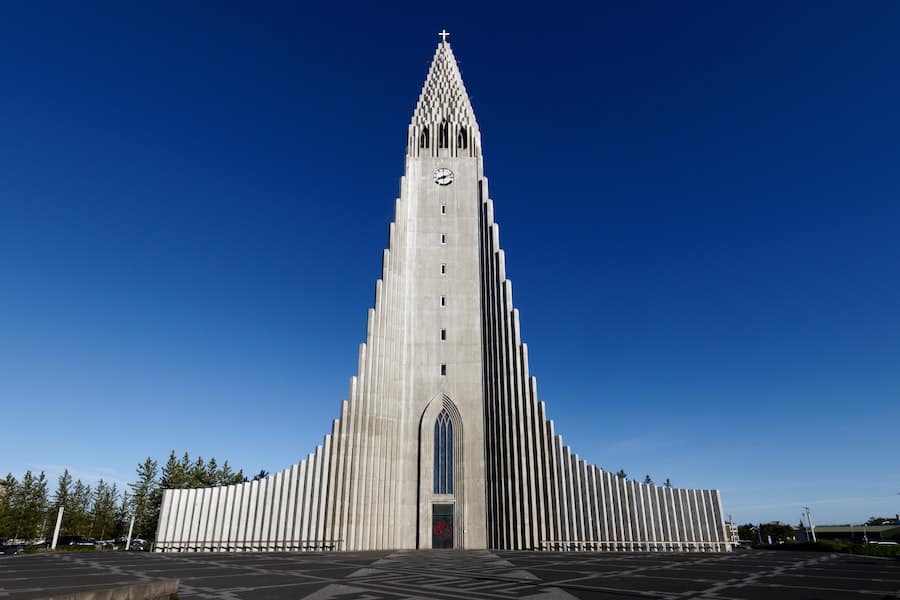 Hallgrimskirkja Church is a beautiful church in Reykjavik and one of the most famous landmarks in Iceland. It stands 75 meters high and you can see it from anywhere in Reykjavik. The building has a very unique exterior design and visitors are allowed to enter it and go to the top for a small fee. From the top, you are able to see the whole city of Reykjavik and the view is amazing.
---
Black Beach, Reynsfjara
Ranked as the world's 6th most beautiful beach, Reynsfjara is a strip of marvelous ebony-black sand, bookended by basalt rocks. If you go here, you can also see Reynisfjall Mountain, one of South Iceland's most beautiful, and pay a visit to a real Icelandic village, Vík.
---
Fagradalsfjall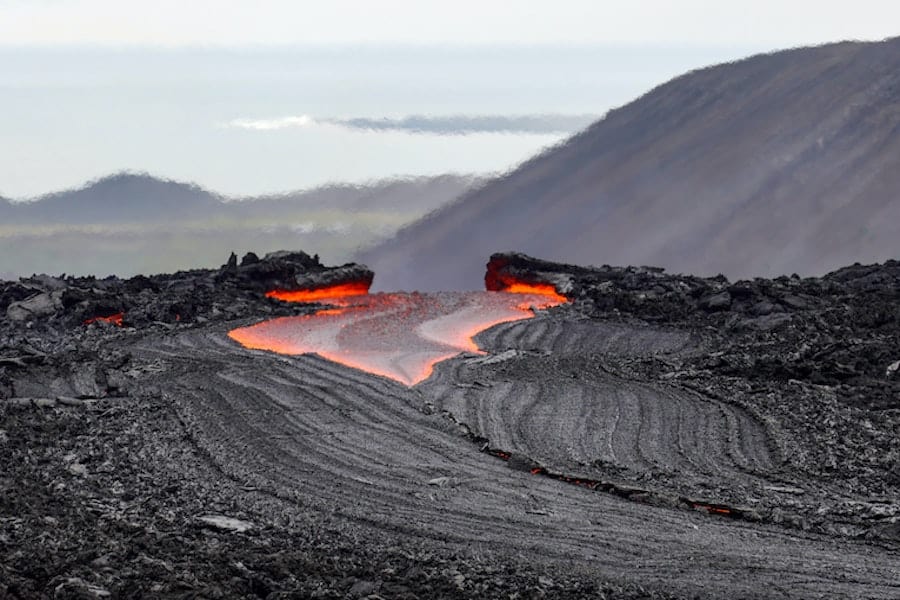 Fagradalsfjall is Island's most famous volcano and one of the most amazing landmarks in Iceland. The fire-roaring monster is a must-see. Here you can see a fresh volcanic crater, Fagradalsfjall, and a recent lava accumulation and take some of the most mezmerizing photos.
Keep in mind that to get here it is best to hike on a half-a-day trip from Reykjavik, the capital.
---
The Blue Lagoon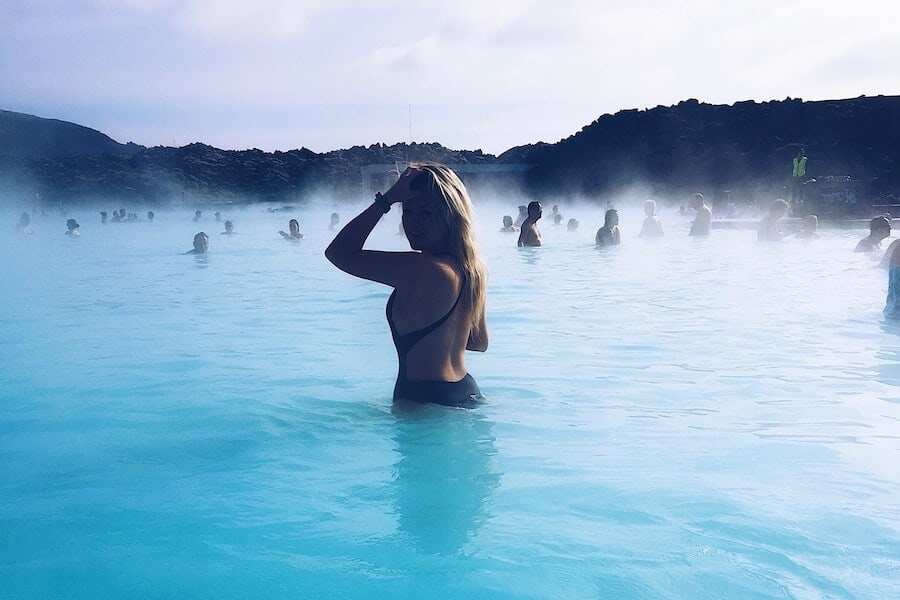 One of the world's most fascinating thermal natural spas is also a great spot to have a day tour from Reykjavik.
Here you can splash in a hot water ride in the middle of a preternatural moonscape, and feel what travelling in one of the world's topmost natural marvels feels like.
---
Namaskard Hot Springs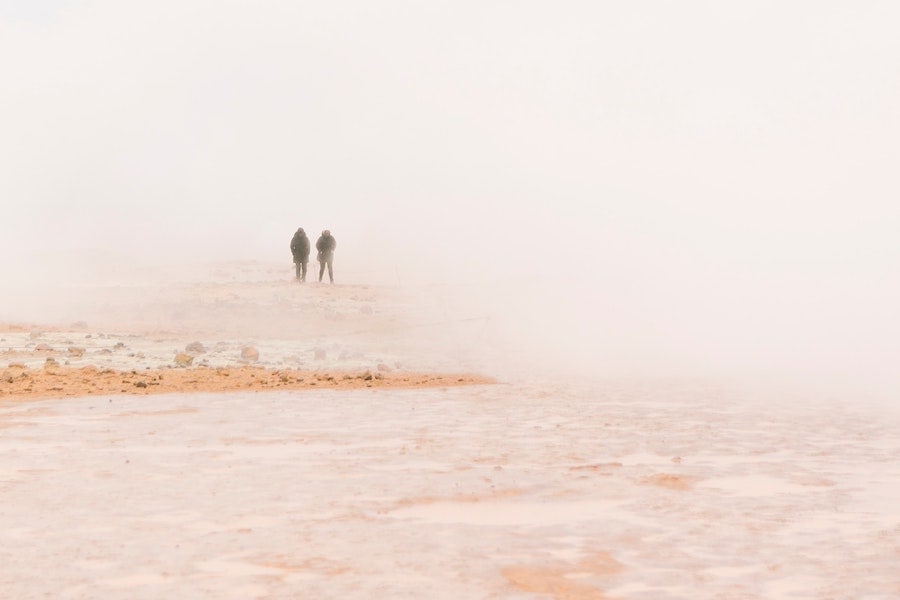 Setting for the Games of Thrones, the geological marvel is a pull on all nature and Instagram lovers. Head here with your family to get the other-worldly feel of this eerily beautiful locale. Here you can find multicolored sulfuric bubbles and a lot of steam used in the movie as a fog effect and make your loved ones believe they are on a set of the Hollywood blockbuster.
---
Travel Insurance
Getting travel insurance before you travel is a MUST. It's the number one thing you should always pack before travelling that can save you a lot of money, time, and stress. With how crazy travel has gotten recently you need that peace of mind that no matter what happens there is something protecting you from losing out. I always travel with travel insurance and think everyone should.
I always travel with travel insurance and think everyone should. Below is my favorite travel insurer Safety Wings, enter your details to get a free quote!
---
Best Iceland Tours
---
Love,
SSW