Get inspired by this list of the best things to do in Oman and prepare to fall in love with one of the world's most underrated countries.
The 3 best words to describe Oman are surprising, diverse, and peaceful. It is a country like no other that is relatively undiscovered only adding to its charm. Oman is a very unique place where you can find huge mountain ranges, endless desert sands, bright blue waters, and historic old towns. It is also one of the safest countries in the world with very peaceful and reserved locals.
My visit to Oman was an endless string of surprises and amazement. Thinking how come this is not one of the most popular places to visit in the world?! But for now, it is a well-kept hidden gem that is best visited before the surge of others finds out about it.
If you are heading to Oman use this post of the best things to do in Oman to guide your adventures. You will also find out how to get around Oman, Oman travel tips, how to get to Oman, and where to stay!
(Disclaimer: Some links in this post may be affiliate links, meaning if you click on the link and make a purchase, I receive a small commission. This is at no extra cost to you and you may even receive a small discount. See disclosure for more information.)
14 Best Things to do in Oman
Explore Wahiba Sands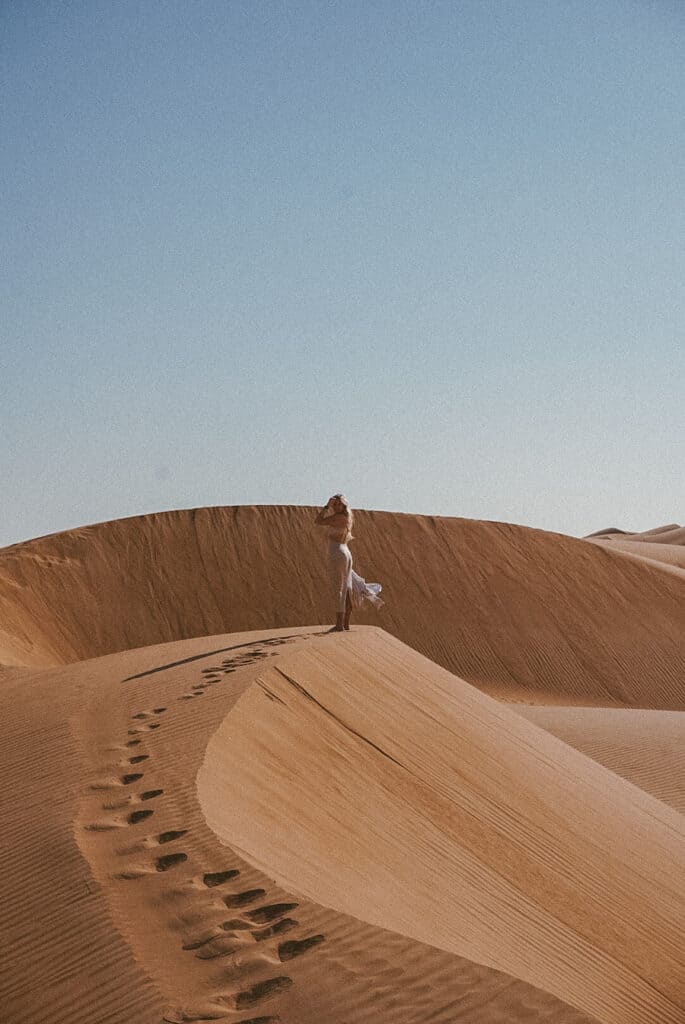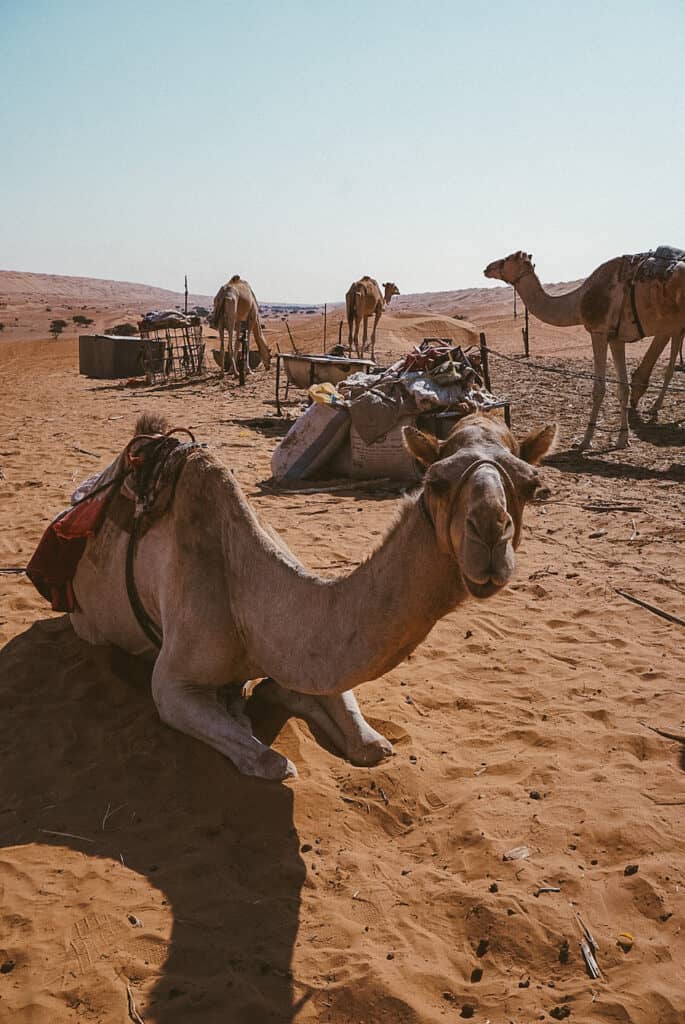 Wahiba Sands is a vast desert region in Oman with rolling sand dunes stretching endlessly in all directions. The golden-hued sand is pale during the day and slowly turns more golden as the sun sets. The endless sea of sand has been shaped by the wind to form unique and mesmerizing sand dunes that are amazing to see for yourself.
Wahiba Sands is reachable in 3 hours by car from Muscat and is a great day trip or you can stay overnight in one of the many luxury desert camps. The best way to fully experience Wahiba Sands is by staying in a desert camp. These luxurious overnight stays offer tours, meals, and more to fully immerse its visitors in Arabian-style living. Some of the best-rated desert camps are: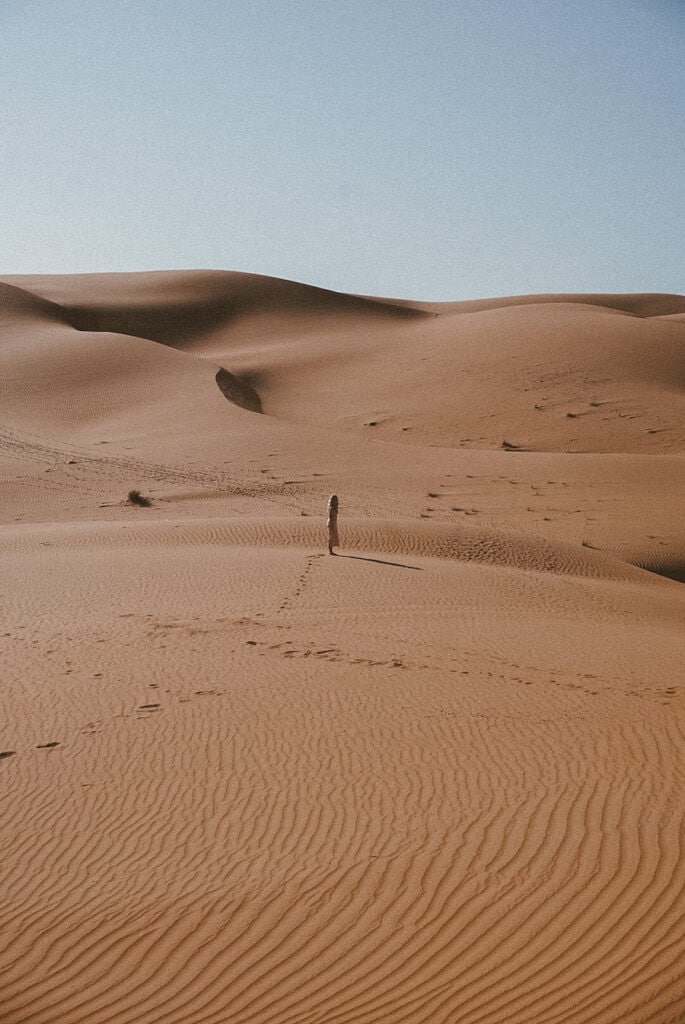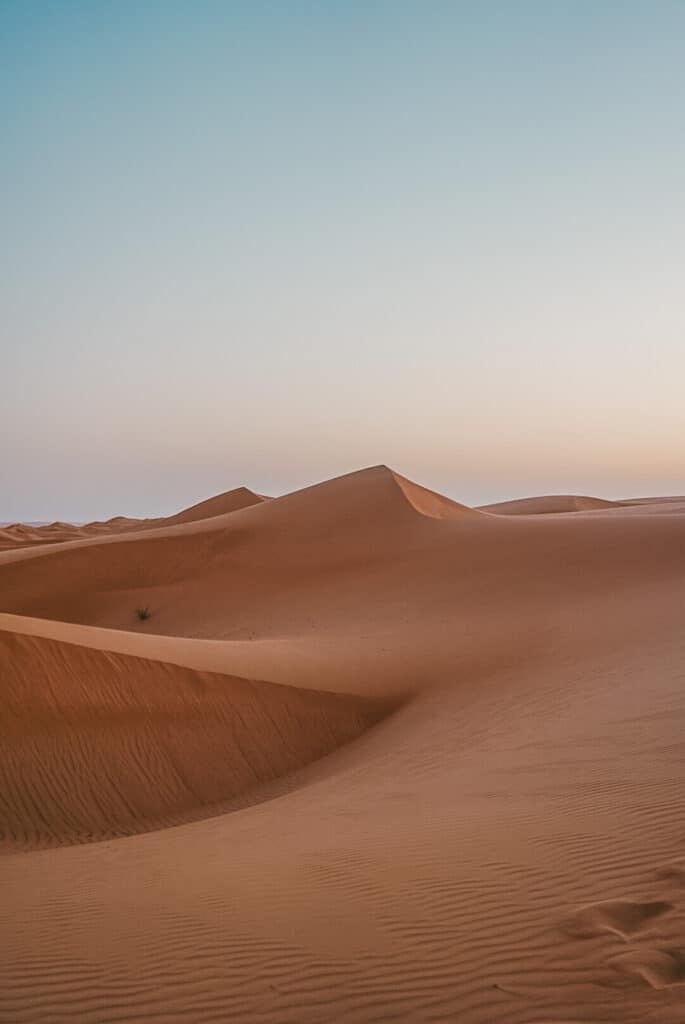 Heading to Wahiba Sands is one of the top things to do in Oman and something you should not miss! It is easily one of the top places to visit in Oman to see and experience the power and raw beauty of nature. Just note, you will need a 4-wheel car to drive into the desert and it is best visited with a guide! I would not recommend navigating and driving into the desert on your own.
---
Visit Nizwa Fort
Nizwa Fort is a large fort located in the city of Nizwa, Oman. It looks like a giant sand castle and is incredibly unique compared to most castles around the world. This castle was built in the 17 century and is one of Oman's most popular tourist attractions. Head here to learn about the history of the castle and its unique defenses, and immerse yourself in one of Oman's oldest towns.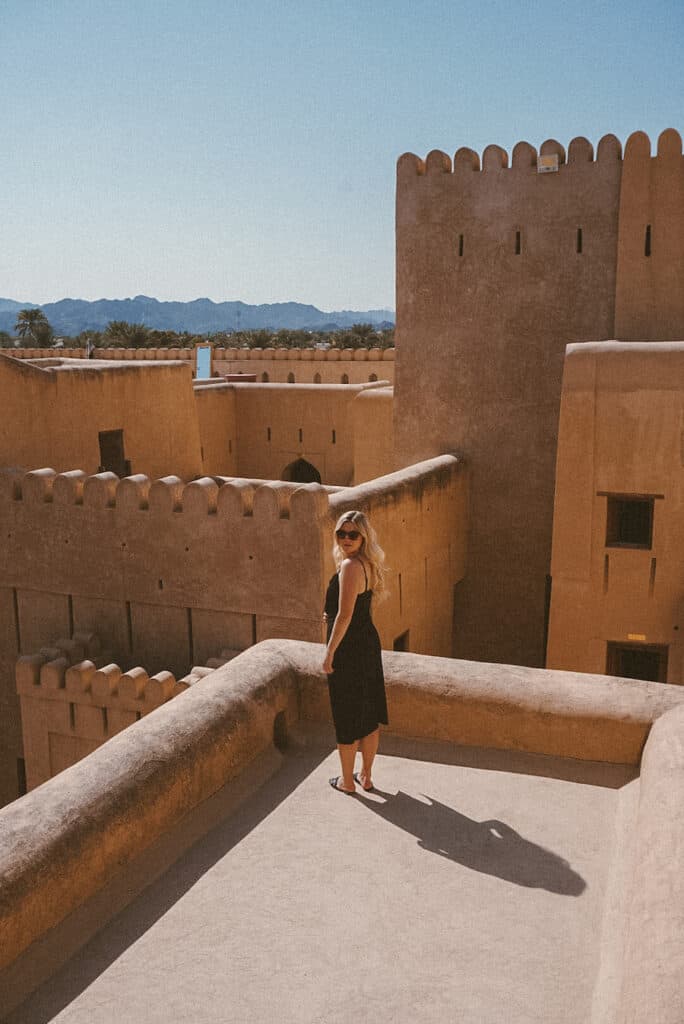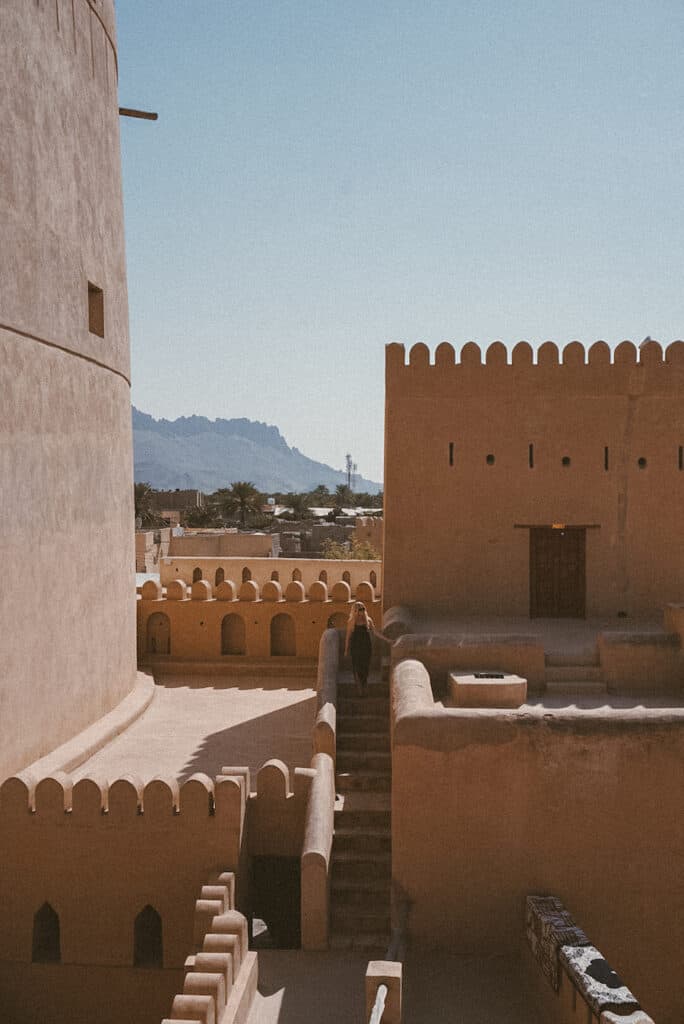 Entrance to Nizwa Fort costs 5 Omani Rials for Adults (12.59€). And most people spend around 1 hour here exploring the castle, its different rooms, and reading the different signs scattered around. IMPORTANT: Nizwa fort is open 8 am – 8 pm so be sure to go early in the morning at 8 AM or when the sun is setting and less powerful. It is incredibly hot if you go in the afternoon.
---
Shop in Nizwa Souq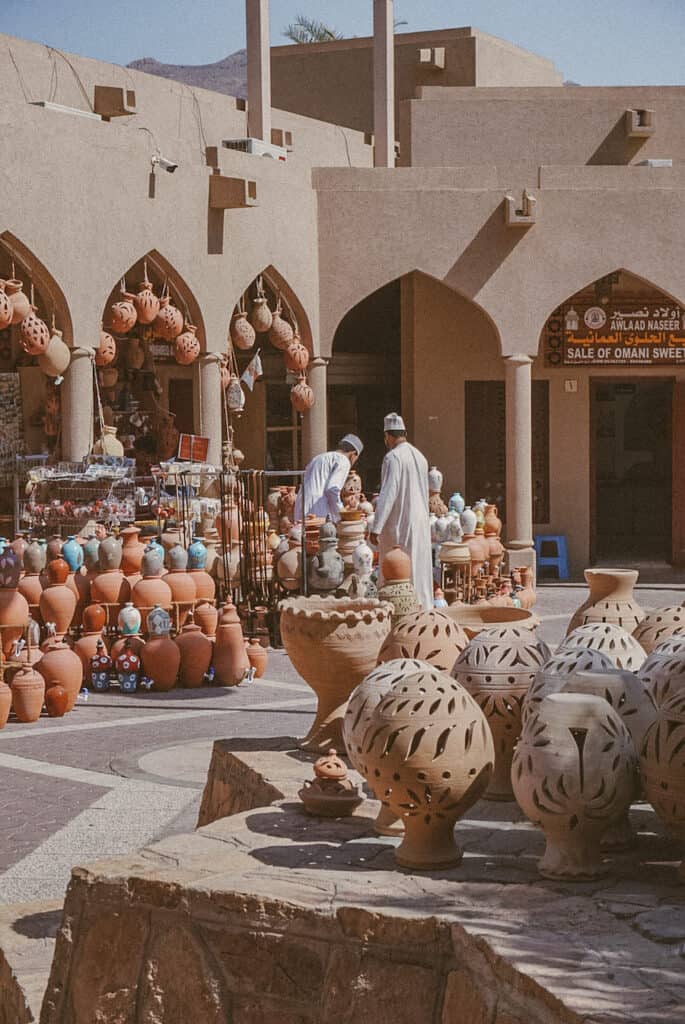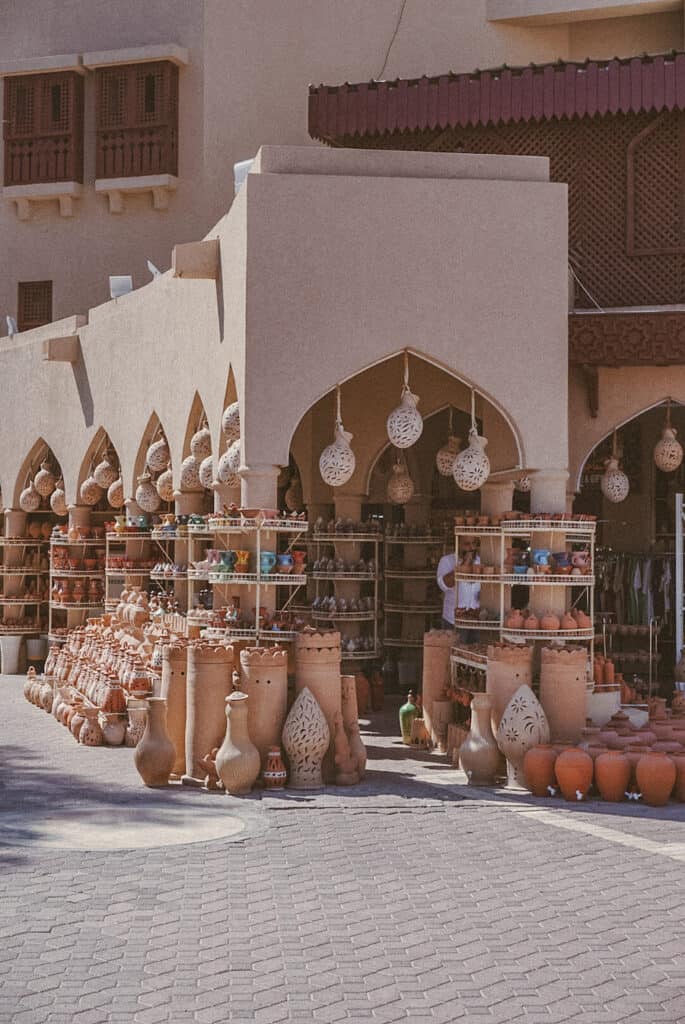 Nizwa Souq is a market in Nizwa that is worth a visit if you are going to Nizwa Fort. This small market is one of the calmest and least hectic you will find, which is ideal for calm window shopping. You can find a wide range of products here like handmade goods, pottery, jewelry, coffee, and more! Heading here is one of the best things to do in Oman to pick up unique local souvenirs.
---
Hike and Swim in Wadi Ash Shab
Wadi Ash Shab is one of Oman's most unique and breathtaking attractions. Heading here for the hike and swim is one of the top things to do in Oman and the number one thing I suggest you add to your itinerary if you are visiting Oman. To know what your getting into it is essentially a huge canyon with a river with bright blue, crystal clear water. You hike through a narrow canyon to arrive at a deep swimming pool – almost like an Oasis.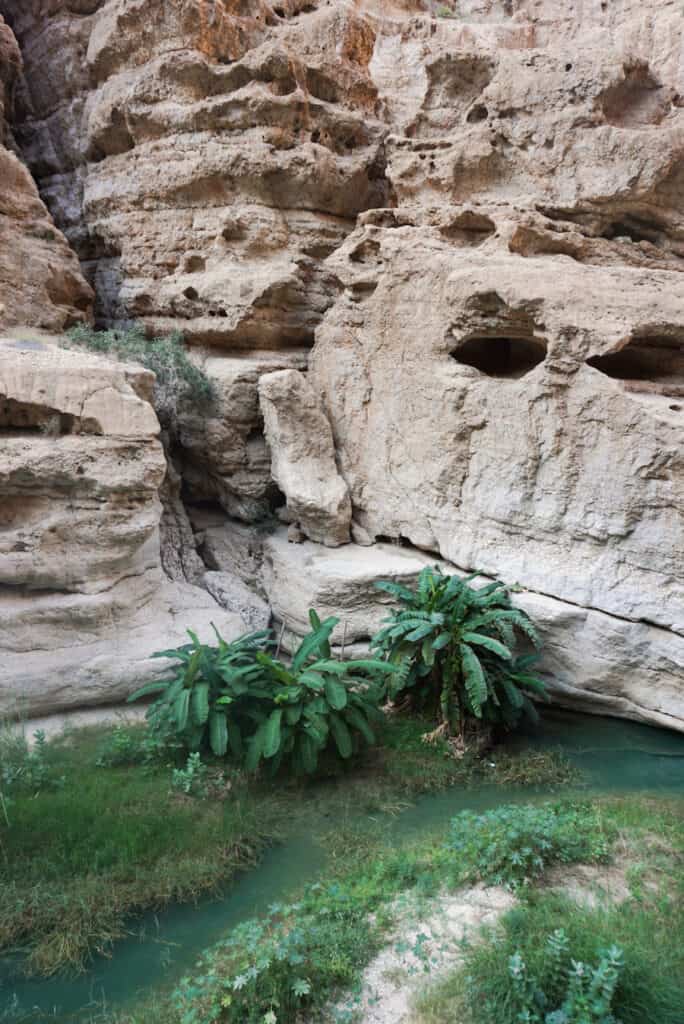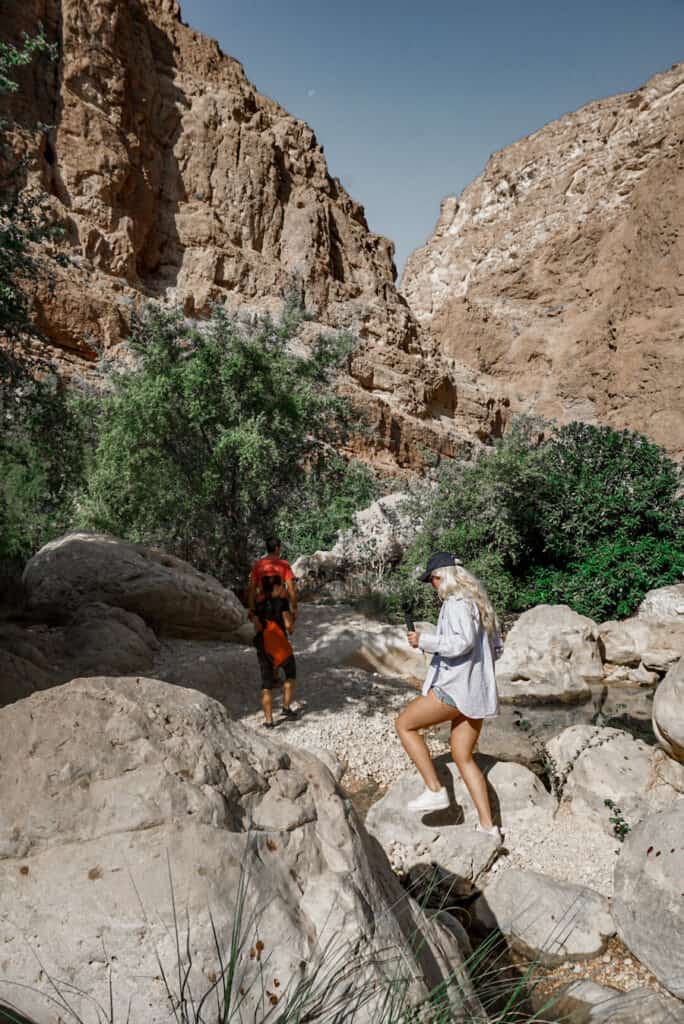 However, the journey here is not an easy one and requires some planning to prepare. First, you must drive to the parking lot and take a 30-second boat across the river. This costs 1 Omani Rial. You will then hike 45 minutes through the canyon, this is not an easy hike as you will be walking on steep edges, and slippery rocks, and must climb over big rocks. After the hike, you will arrive at the first pool.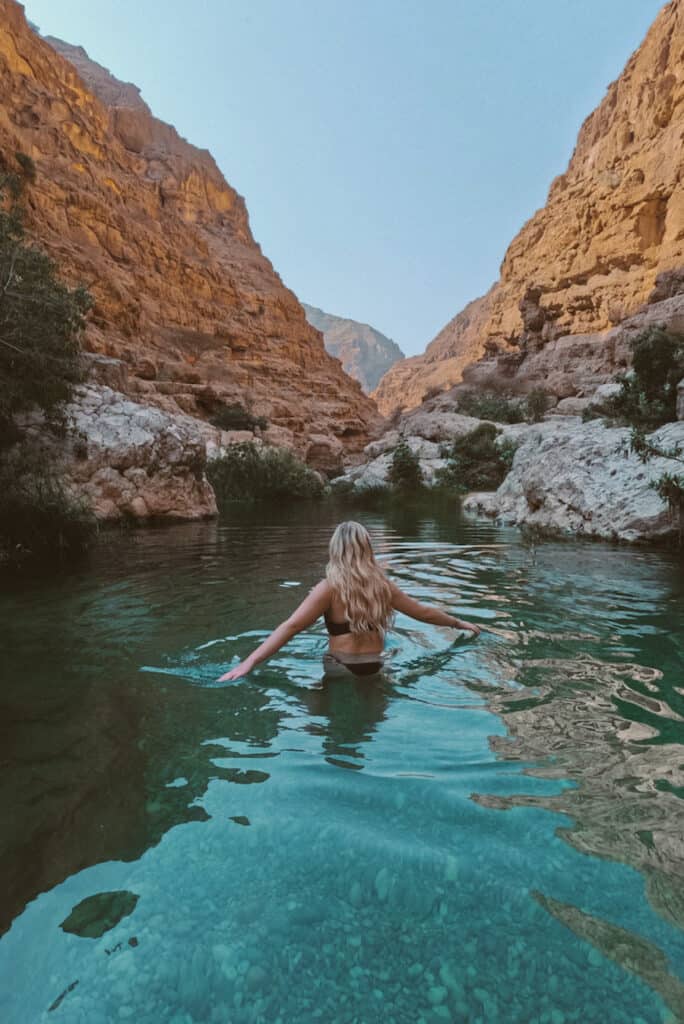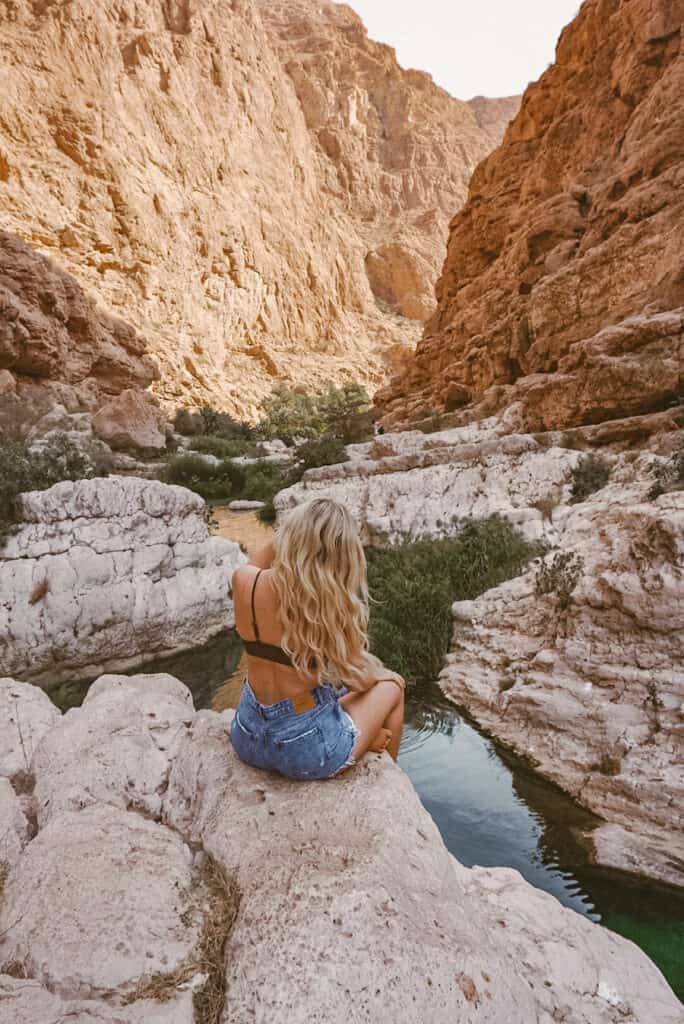 Here you can swim and if you want to visit the other two pools at Wadi Shab the only way there is to swim through the river. I will be writing a complete guide on how to get here soon! Some important things to note: wear sturdy sneakers or hiking shoes, bring water, and pack a waterproof bag if you want to swim to the other pools so you don't have to leave your stuff unattended.
Arrive as early as possible! 7 AM is the first boat ride and the earlier the better to beat the crowds and the heat. You can take a tour like one of the ones listed below but it's more than doable on your own.
---
Swim in the Bimmah Sinkhole
Bimmah Sinkhole is a hidden gem located just 20 minutes from Wadi Ash Shab along the coast of Oman. It is 100% FREE and visiting here is one of the best things to do in Oman. The sinkhole is a huge hole in the ground full of bright blue water that is open to the public for swimming. This unique natural wonder offers one of the most unique places to enjoy a quick cool-off.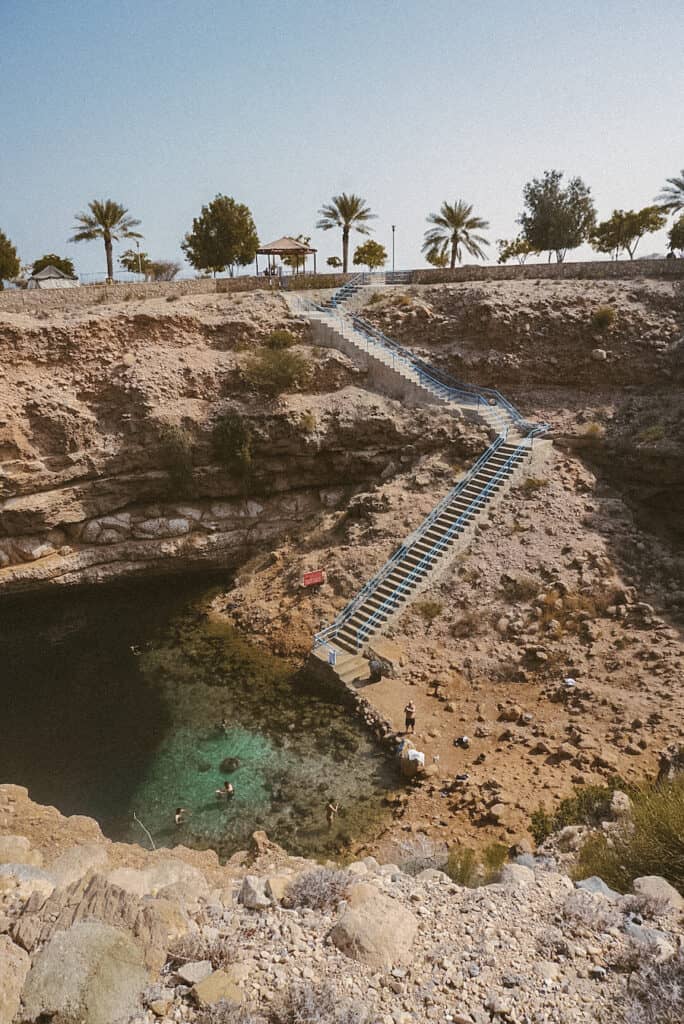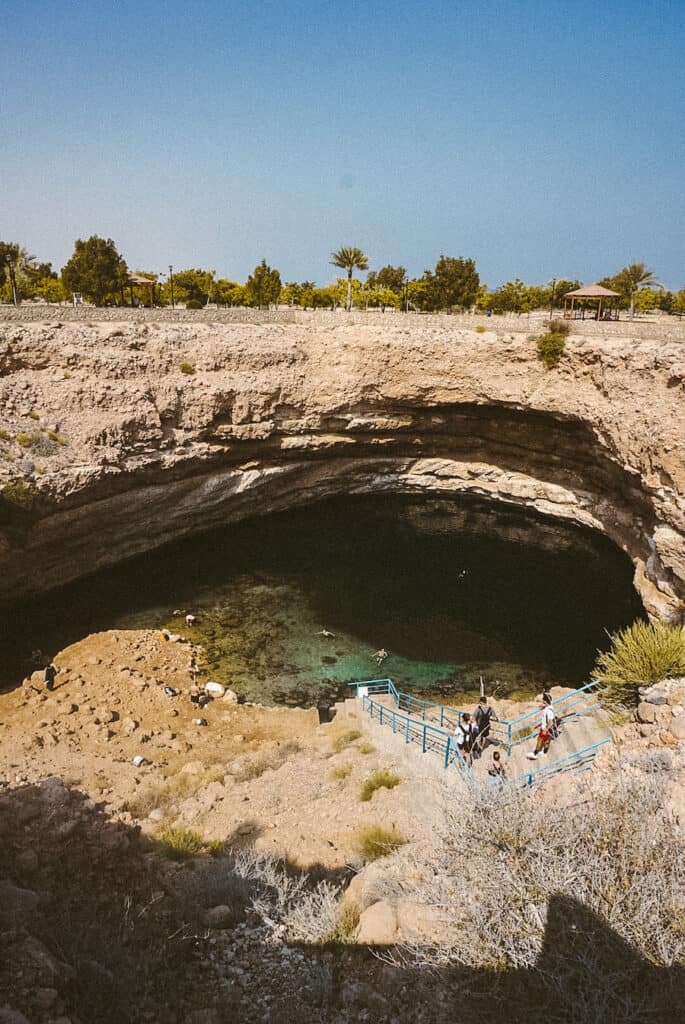 It is important for women to dress modestly here. To be respectful of the rules it is best to wear a t-shirt and shorts in the water instead of a bikini – some people just swim in their clothes. The best time to visit is in the morning at 8 AM when it opens as this is when there is the least amount of people. There are also facilities like toilets here for getting changed.
---
Go Snorkeling
Snorkeling is definitely not the first thing you think of when you think of Oman but it is actually one of the top things to do in Oman. The best snorkeling spots are in the Gulf of Oman and around Muscat and there are plenty of tours that will bring you out to enjoy one of Oman's most unique attractions. Below are some tours you can join to see and experience the unique and beautiful underwater life of Oman.
---
Have a Drink at The Chedi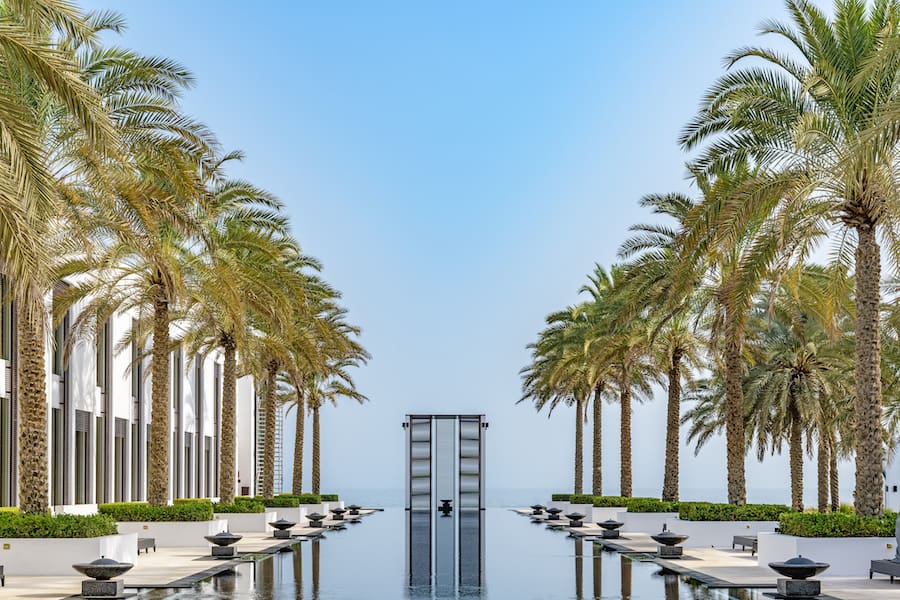 The Chedi is one of Oman's most beautiful and luxurious hotels located in Muscat. This 5-star hotel has many pools, multiple restaurants, and a beautiful beach. If it's not in your budget to stay in The Chedi then you can always stop here for a drink or a meal while soaking in the stunning surroundings.
---
Admire the Blue Water Beaches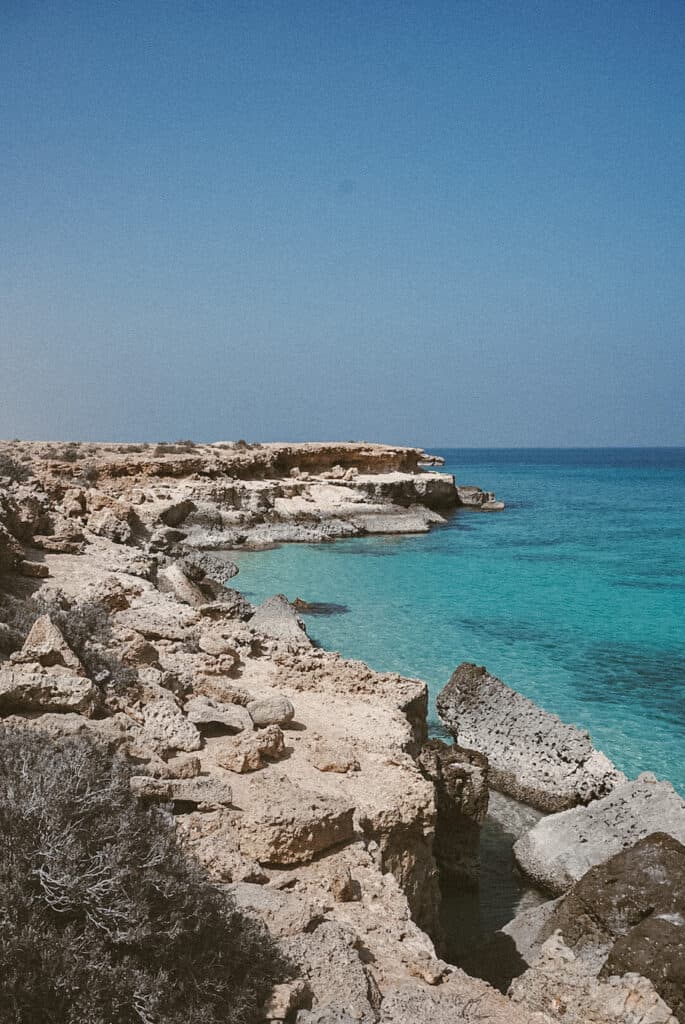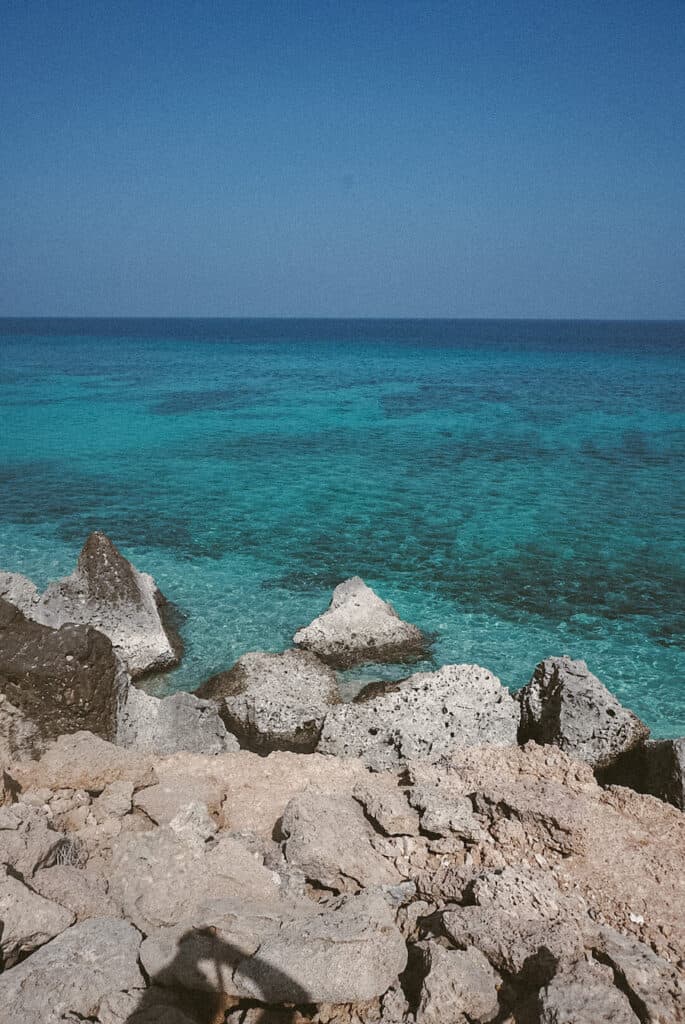 Oman's coast is lined with beautiful beaches that are shockingly beautiful. The beaches look a lot like Ibiza or Greece but without the huge crowds of people. In fact, the beaches in Oman have almost no one on them which is ideal if you want to enjoy a day in the water alone.
The best way to find beaches in Oman is the drive along the coast and stop along the way when a beach interests you. Driving the coast is also one of the best things to do in Oman, and finding beautiful beaches is a bonus!
---
Visit Sultan Qaboos Grand Mosque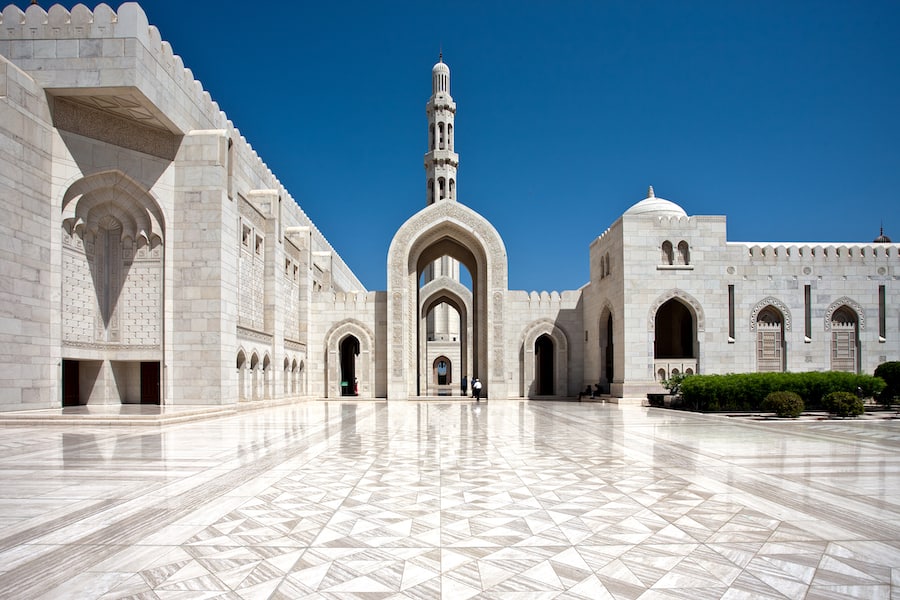 Sultan Qaboos Grand Mosque is the largest mosque in Oman that is stunning on both the interior and exterior. The architecture and surrounding gardens are incredibly impressive – so much so that photos just don't do it justice. While visiting this mosque be sure to dress respectively: men cannot wear shorts, and women must cover their arms, legs, and hair. Visitors can rent coverings at the mosque.
Visiting Sultan Qaboos Grand Mosque is one of the top things to do in Oman to experience the peaceful and beautiful Muslim religion in Oman.
---
Hike in Jebel Akhdar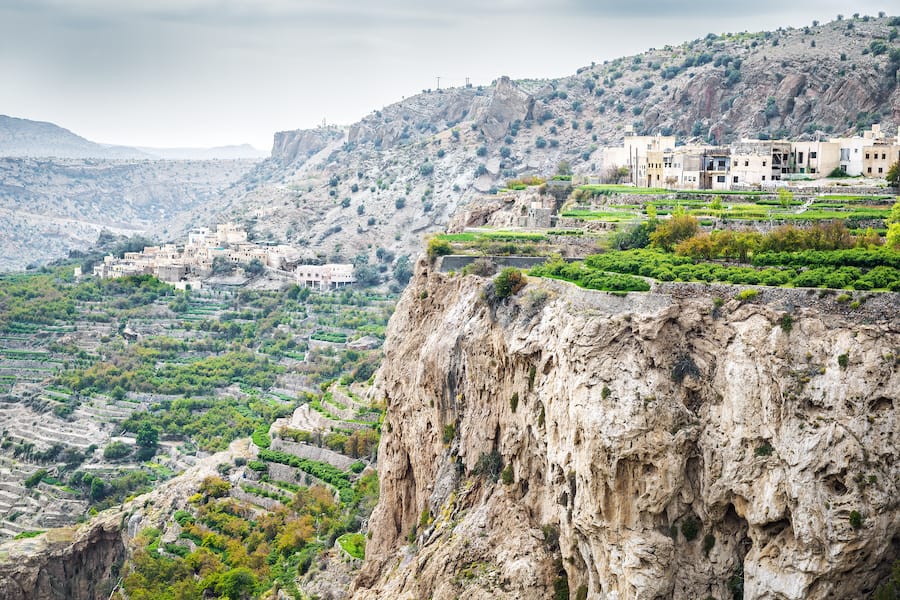 Jebel Akhdar is a huge mountain range in Oman ideal for adventure travelers who want to enjoy hiking and outdoor activities. There are two popular mountain ranges in Oman: Jebel Shams and Jebel Akhdar. Jebel Shams is more rustic while Jebel Akhdar has better infrastructure. Therefore, Jebel Akhdar is a better option for travelers who just want to see and explore the mountains in a more fun and calm way.
Below is a tour option to guide your way through the mountains.
---
Explore Mutrah Souq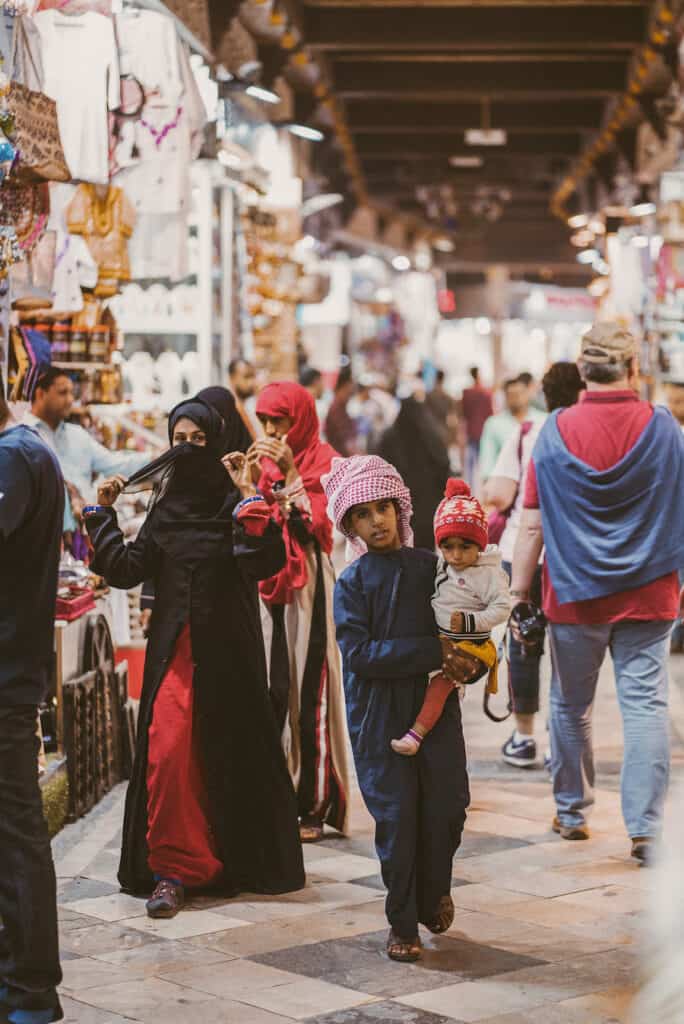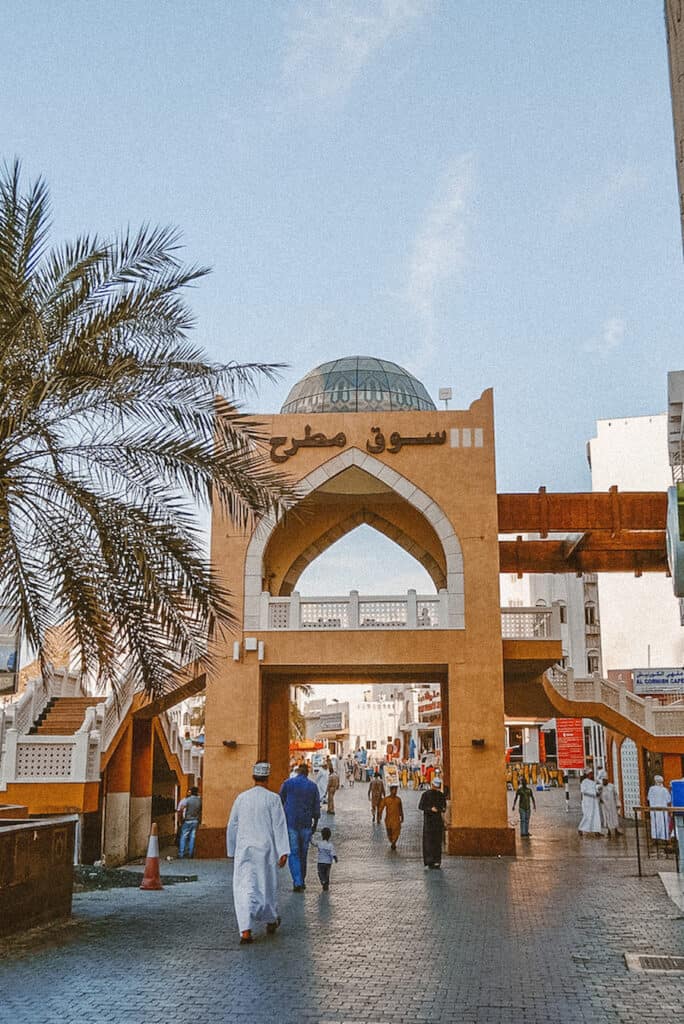 Mutrah Souq is an old-fashioned bazaar/market located in Muscat. Here you will find local spices, clothing, household items, food, and more! Going to this market is one of the best things to do in Oman to fully experience local life in Oman. It is much more vibrant than the Nizwa Souq so prepare to feel the energy.
---
Admire Royal Opera House Muscat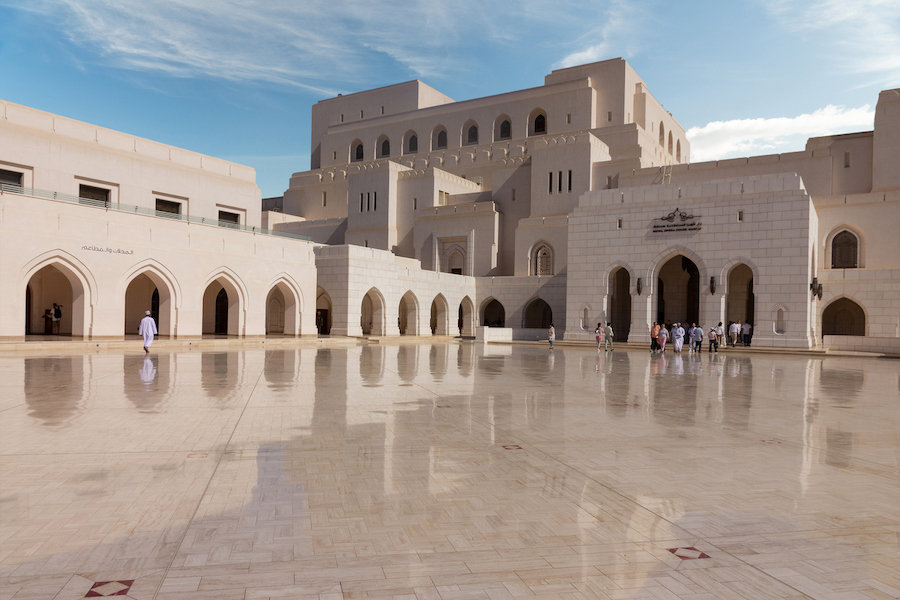 Royal Opera House Muscat is a beautiful venue in Muscat that hosts musical arts and culture events and performances. The building is very unique both on the inside and on the outside. You can venture here for a performance or just enjoy the beautiful building.
---
Visit Wadi Dayqah Dam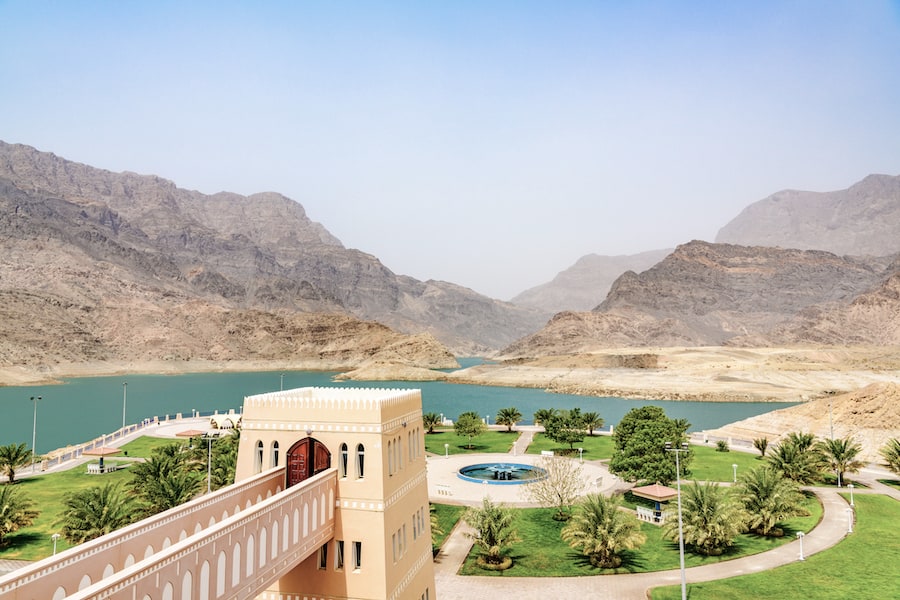 Wadi Dayqah Dam is a huge dam and a popular tourist attraction in Oman. It is located just 1.5 hours from Muscat and visiting is one of the top things to do in Oman. The dam and surroundings are incredibly picturesque with mountains, palm trees, and bright blue water. Admiring the beauty of Oman never gets old.
---
Explore Muscat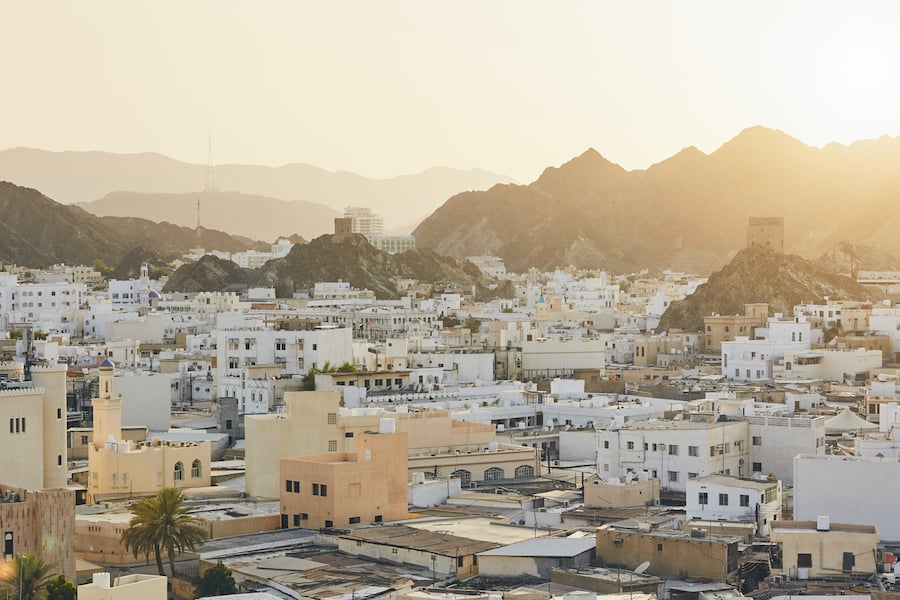 Exploring the capital city of Muscat is easily one of the top things to do in Oman. From the welcoming streets to the stunning views and beyond. Muscat is a beautiful and historic city that has much to be admired. Below are some tours you can join to get the full Muscat experience.
---
How to Get Around Oman
The best way to get around Oman is by car. Renting a car in Oman is very easy and there are many car rental companies. We rented a car for 2 days to visit Nizwa Fort and Wadi Shab. These two places don't require a vehicle with 4-wheel drive.
The price for the company we went with was 16 Omani Rials a day (40€).
---
Oman Travel Tips
Below are some of the top Oman travel tips to keep in mind while visiting the country.
Dress modestly: wear long dresses and long sleeves to remain respectful. Even while swimming in some places you will have to wear modest swimwear.
Attractions are pretty spread out: so you will want to rent a car to see it all.
Expensive: Oman is much more expensive than you would think so prepare for high prices.
Great People: The people in Oman are super friendly and welcoming.
---
How to Get to Oman
There are three ways to get to Oman:
By Plane: Fly into Muscat International Airport
By Car: Rent a car and drive from Dubai to Oman. With this option, you must rent a car that has papers to allow you to bring the car across the border.
By Bus: Take a bus from Dubai to Oman. We took a bus from Dubai to Oman with Al Khanjry Transport.
---
Travel Insurance
Getting travel insurance before you travel is a MUST. It's the number one thing you should always pack before travelling that can save you a lot of money, time, and stress. With how crazy travel has gotten recently you need that peace of mind that no matter what happens there is something protecting you from losing out. I always travel with travel insurance and think everyone should.
Below is my favorite travel insurer Safety Wings. Enter your details below to get a free quote! 
---
Where to Stay in Oman
The best place to stay in Oman is Muscat. This is the most central location with the most amenities close by.
---
With so many amazing things to do in Oman the time to visit is now!
Like this post? Pin "14 Best Things to do in Oman" for later!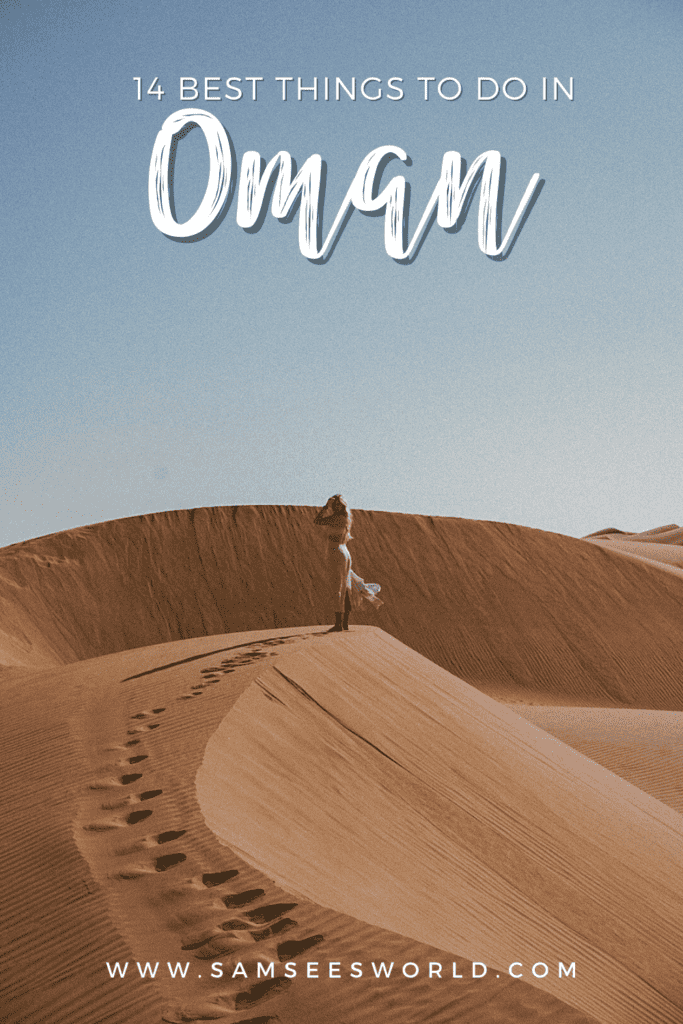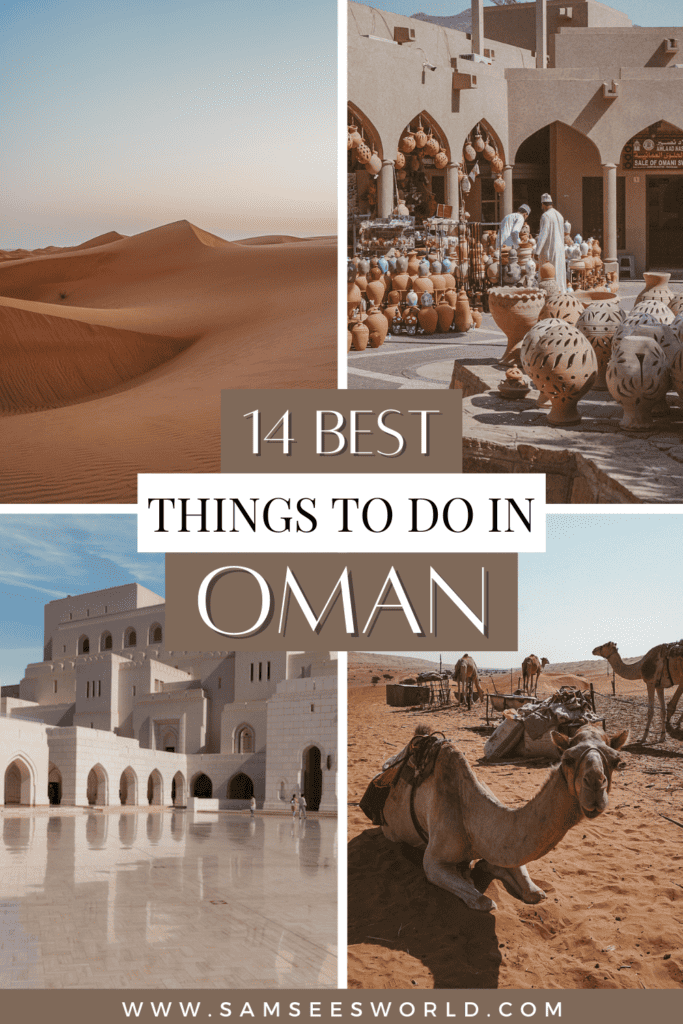 Love,
SSW