Discover the best things to do in Byron Bay to enjoy one of Australia's most lust-worthy beach destinations.
Bryon Bay is a charming coastal town known for its stunning beaches, wonderful surfing, vibrant town, and more. It is one of Australia's most popular holiday destinations for those seeking the ultimate "Australia" experience. With its endless beaches, coastal walks, healthy tropical cafes, and young energetic vibe it really is a place like no other. In fact, Byron Bay was my favorite place in Australia. It offers the ideal combination of iconic Australian surfing, beaches, and positive vibes.
Keep reading for the best things to do in Byron Bay below!
(Disclaimer: Some links in this post may be affiliate links, meaning if you click on the link and make a purchase, I receive a small commission. This is at no extra cost to you and you may even receive a small discount. See disclosure for more information. As an Amazon Associate, I earn a small commission from qualifying purchases.)
14 Best Things to do in Byron Bay, Australia
Spend a Day on the Beach
Byron Bay is a place where you will find some of the most beautiful beaches in not only Australia but in the world. There are actually quite a few different beaches in Byron Bay just waiting to be explored and enjoyed. Spending a day on the beach is easily one of the best things to do in Byron Bay to immerse yourself in what the town is about.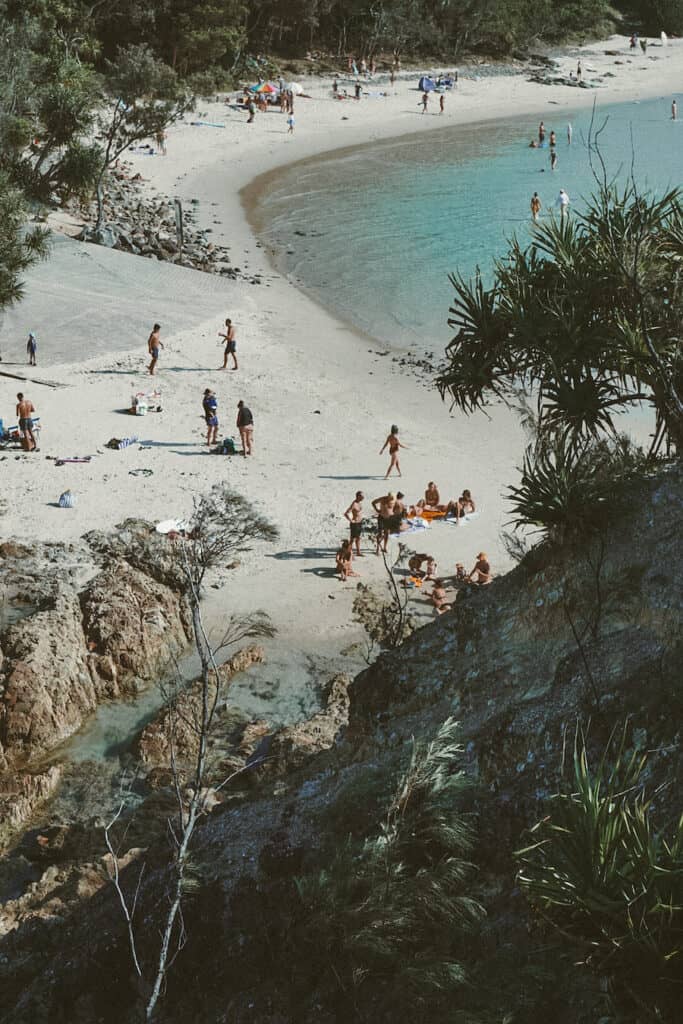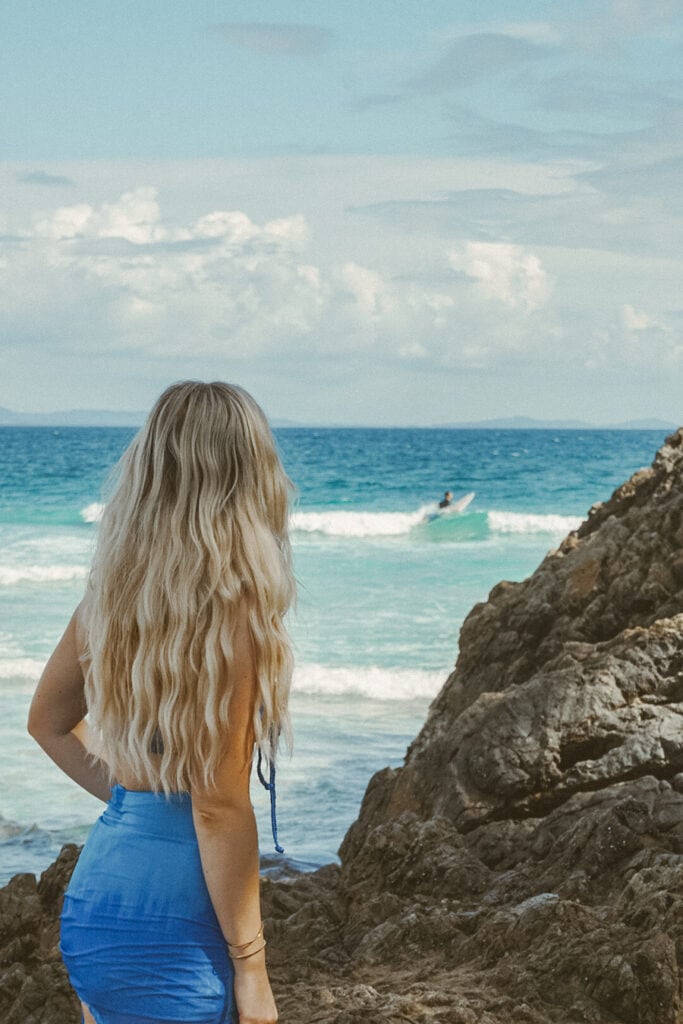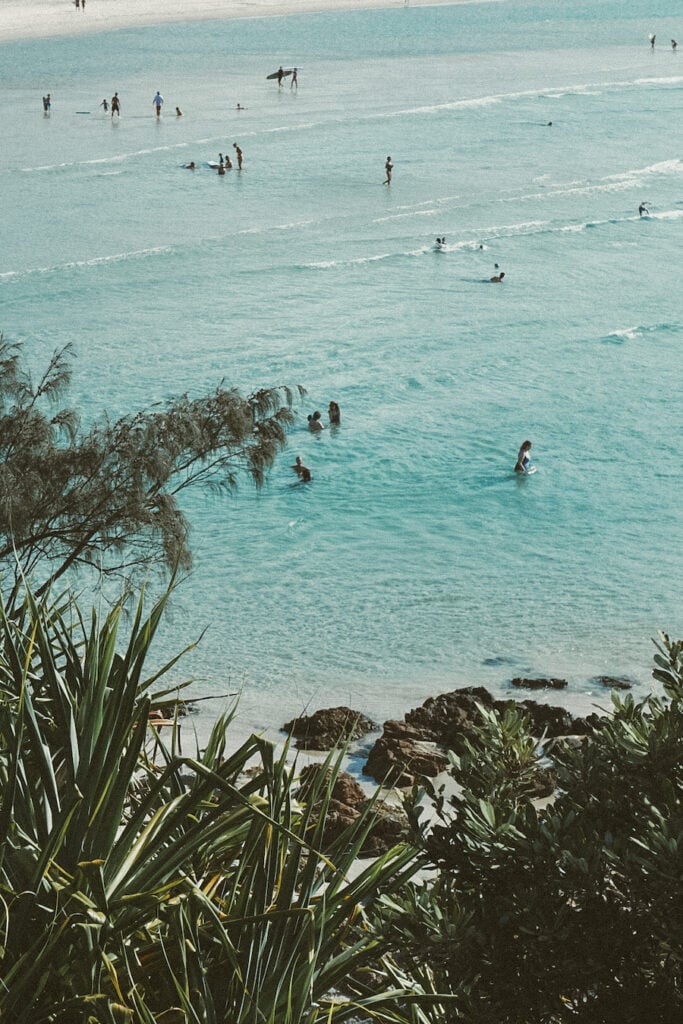 Some of the best beaches in Byron to spend a day on are:
Main Beach: This is the main stretch of beach located in the center of Byron. It is the most popular and busy beach in Byron great for swimming and sunbathing.
Clarkes Beach: A beautiful sandy stretch of beach located at the southern end of the main beach.
The Pass: The most iconic beach in Byron is popular amongst surfers and beach views.
Wategos Beach: Located along the coast around the cape this sandy stretch of beach is popular amongst locals. Also one of the best places to spot dolphins.
Little Wategos: Smaller, less popular beach just further down from Wategos.
Belongil Beach: Quiet beach with occasional patrolling and good surfing.
Whites Beach: A beautiful beach and local secret for now.
---
Eat Amazing Vegan Food
Byron Bay has some of the best vegetarian/vegan restaurants in the world! The scene for this type of food is thriving here with multiple options in a variety of different settings. Even if you are not vegan heading out to enjoy the unique and delicious vegan options is one of the best things to do in Byron Bay. Trust me, the food is delicious!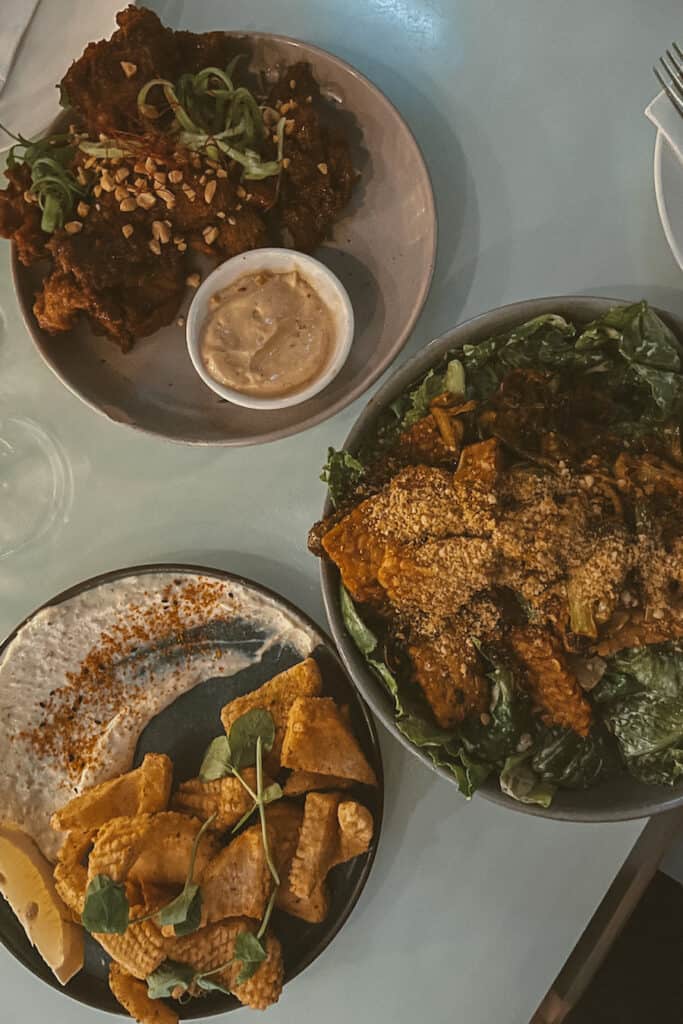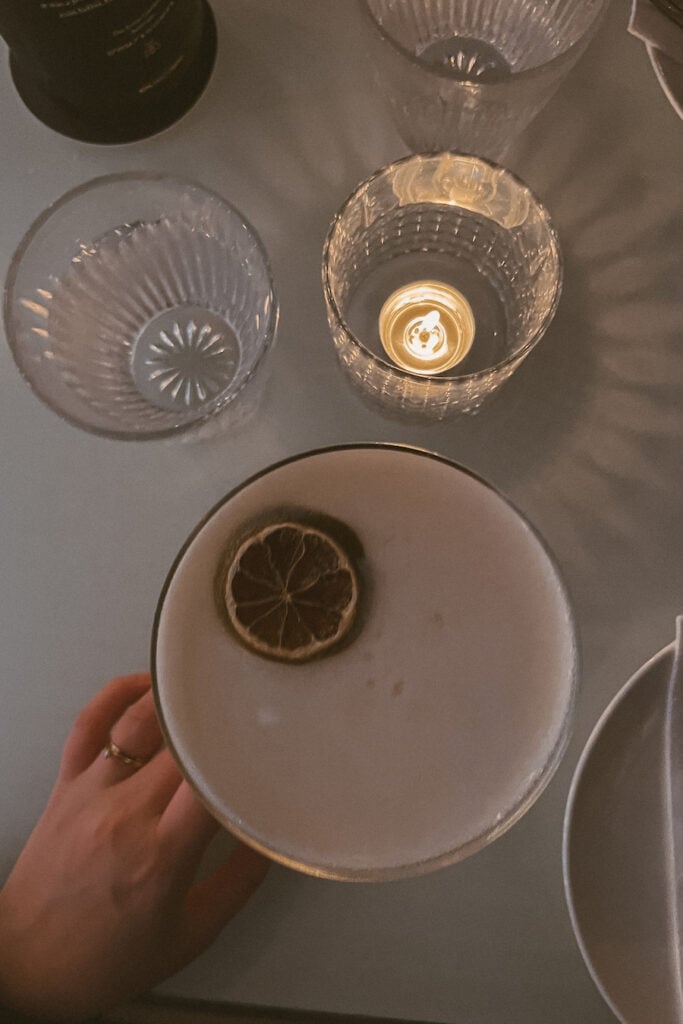 Some of the best vegan restaurants in Byron are:
---
Take Surfing Lessons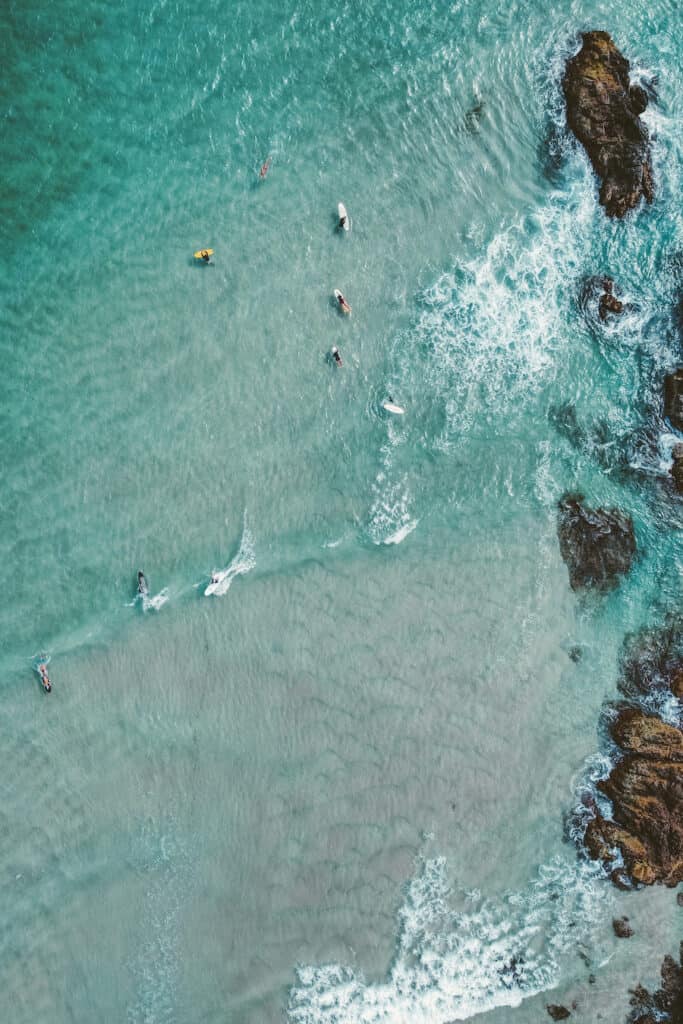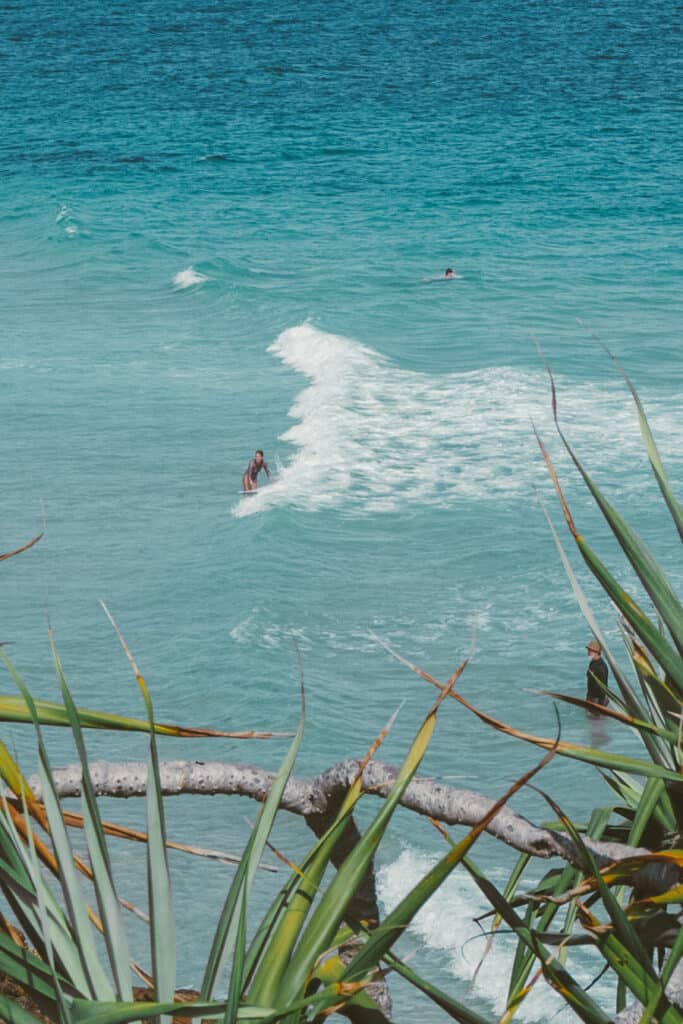 There is no better place to learn how to surf than Byron Bay! Taking lessons is humbling yet exciting and a great way to immerse yourself in the lifestyle of Byron. There are plenty of surf schools around that will help you from any level and get you out on the water. Below are some options if you want to book in advance.
---
Go Shopping in the Cute Boutiques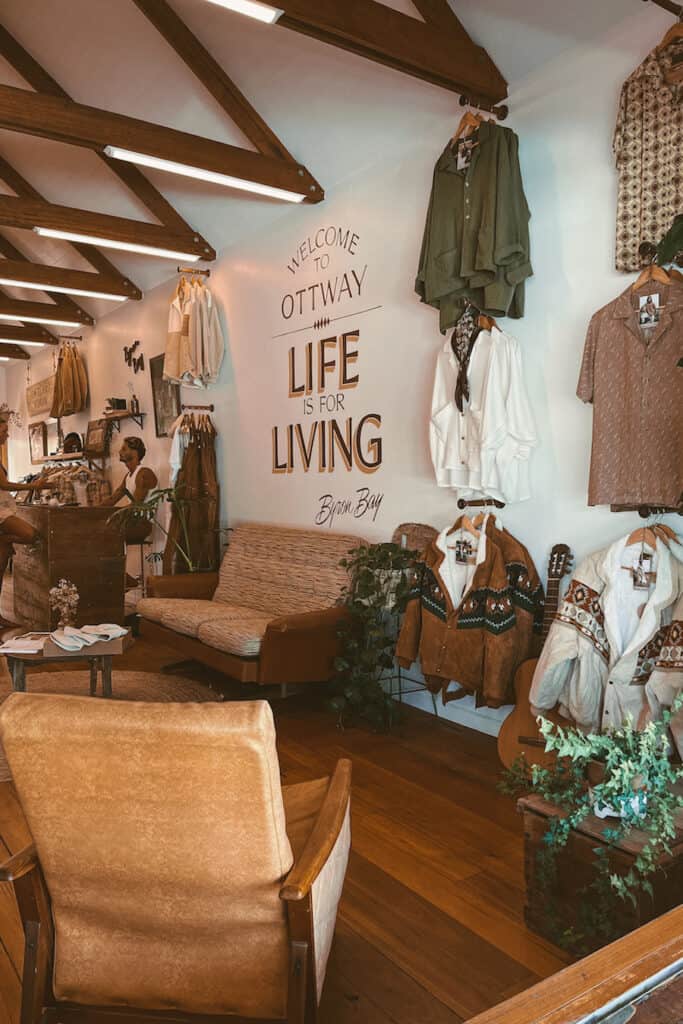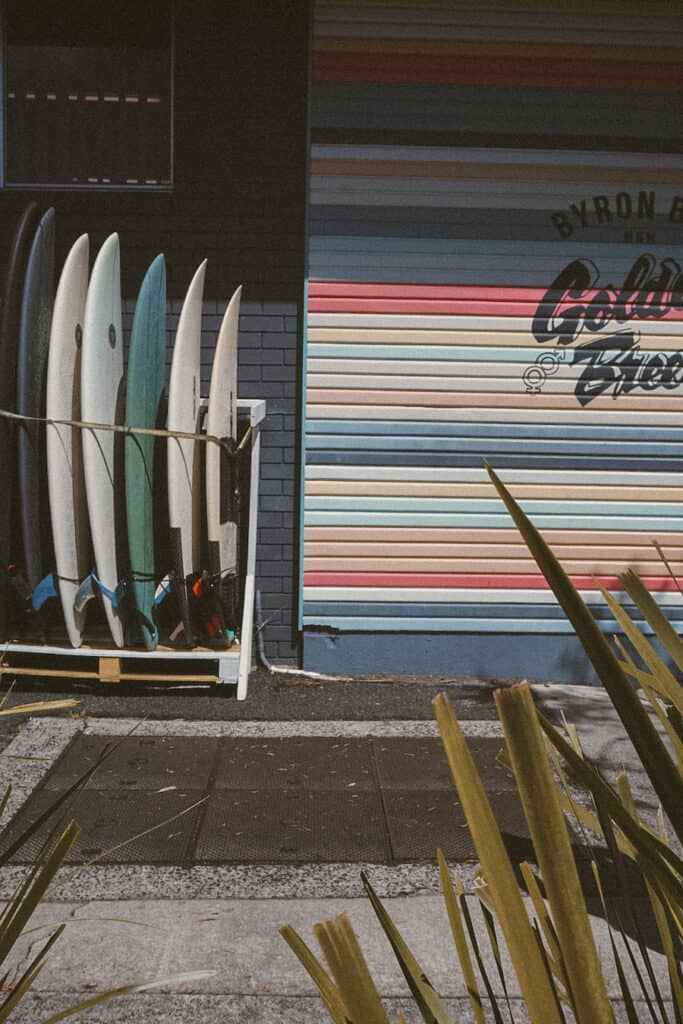 One of the best things to do in Byron Bay is go shopping! The town is full of local boutiques where you can find clothes, accessories, and more. The main thing to buy is clothes and there is a lot to search through. With brands and styles of all kinds, spending an afternoon in and out of the shops is the perfect way to enjoy the day.
---
Do The Cape Byron Walking Track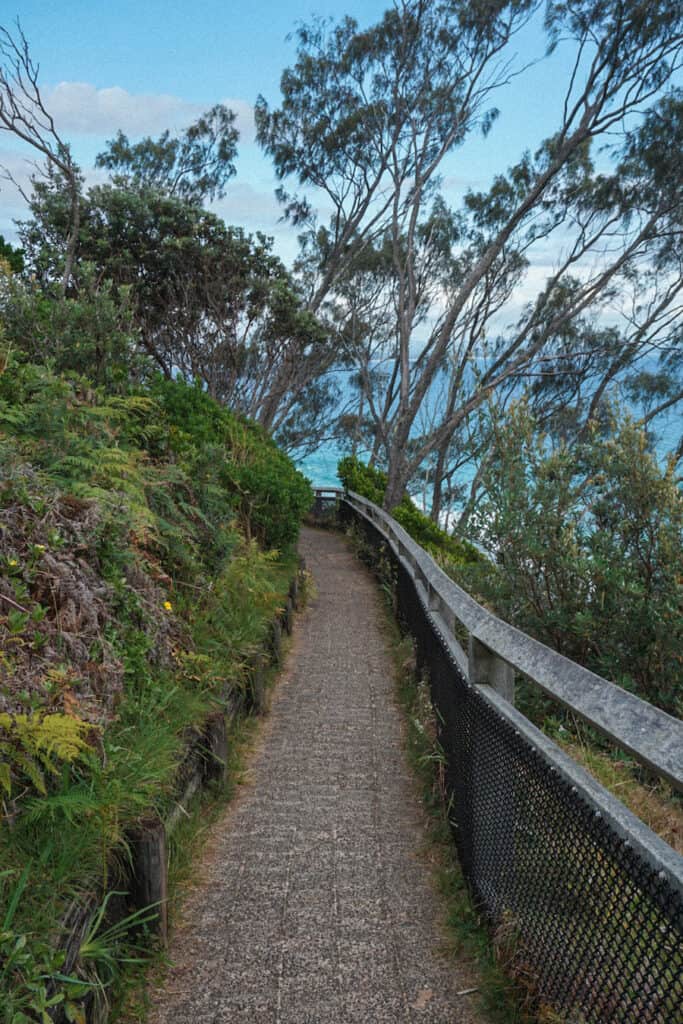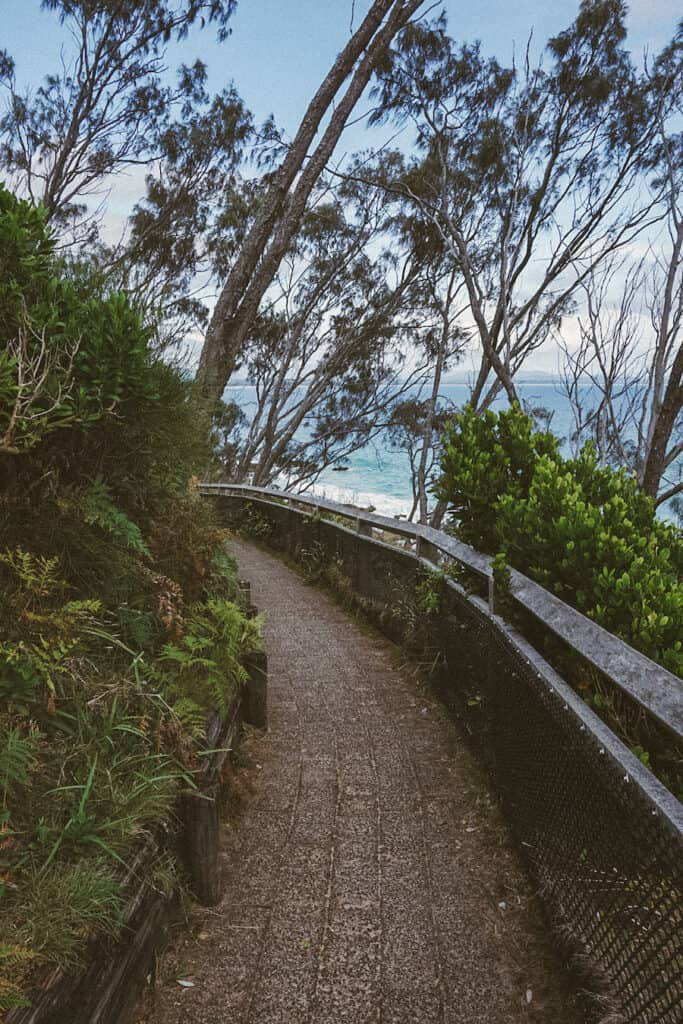 The Cape Byron Walking Track is Bryon's most popular walking route that brings you all around the top sites, beaches, and hot spots. The walking track starts at The Pass and brings you through the rainforest across cliffs and along the ocean to Wategos Beach, Little Wategos, Cape Byron Light House, and back.
The entire loop is 3.7km and is a difficult journey with stairs and hills. You don't have to do the entire loop if this is too much and can turn around when you feel fit. This is one of the most popular things to do in Byron Bay in the morning for a quick workout. You will see many people in their fitness clothes doing the loop before it gets too hot to get their fitness in for the day.
---
Visit the Cape Byron Lighthouse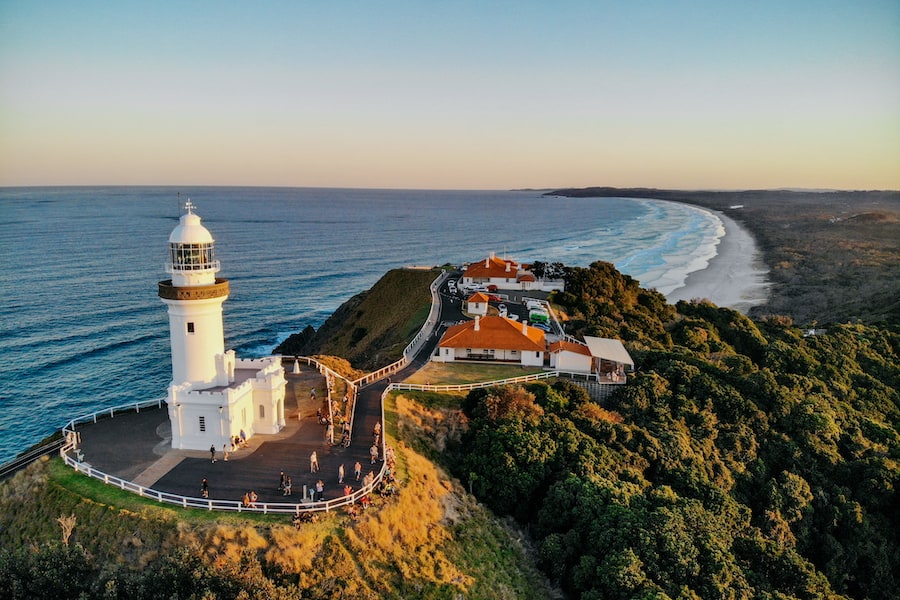 The hotspot to reach during The Cape Byron Walking Track is the Cape Byron Lighthouse. This huge white house is one of Byron's most famous landmarks that offers beautiful views over the area and its stretching beaches. The hike isn't easy but worth it.
---
Eat Gelato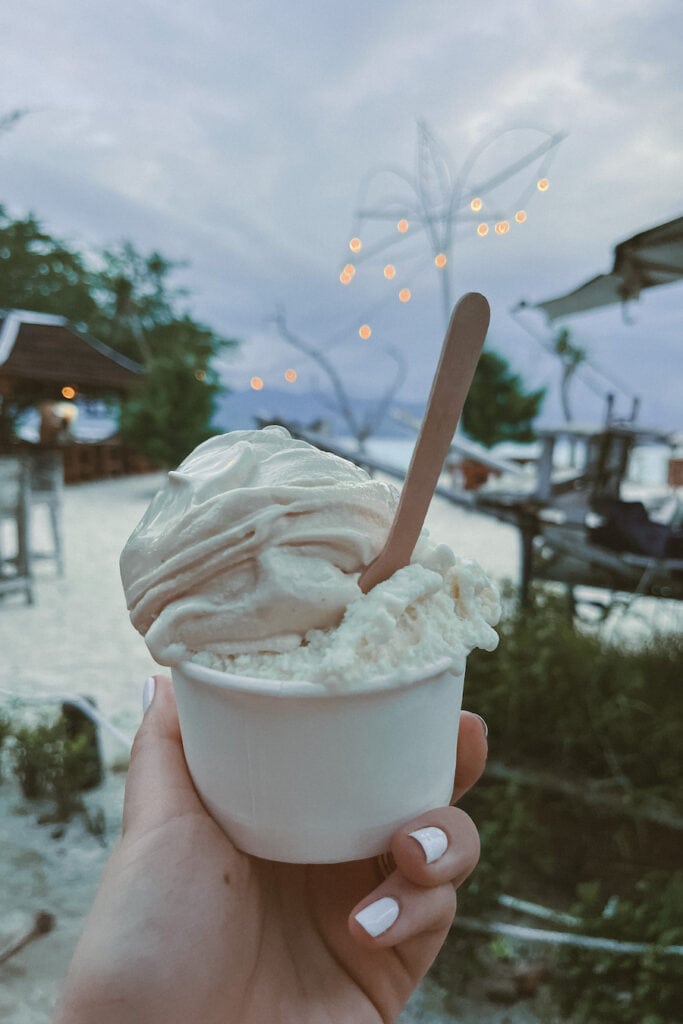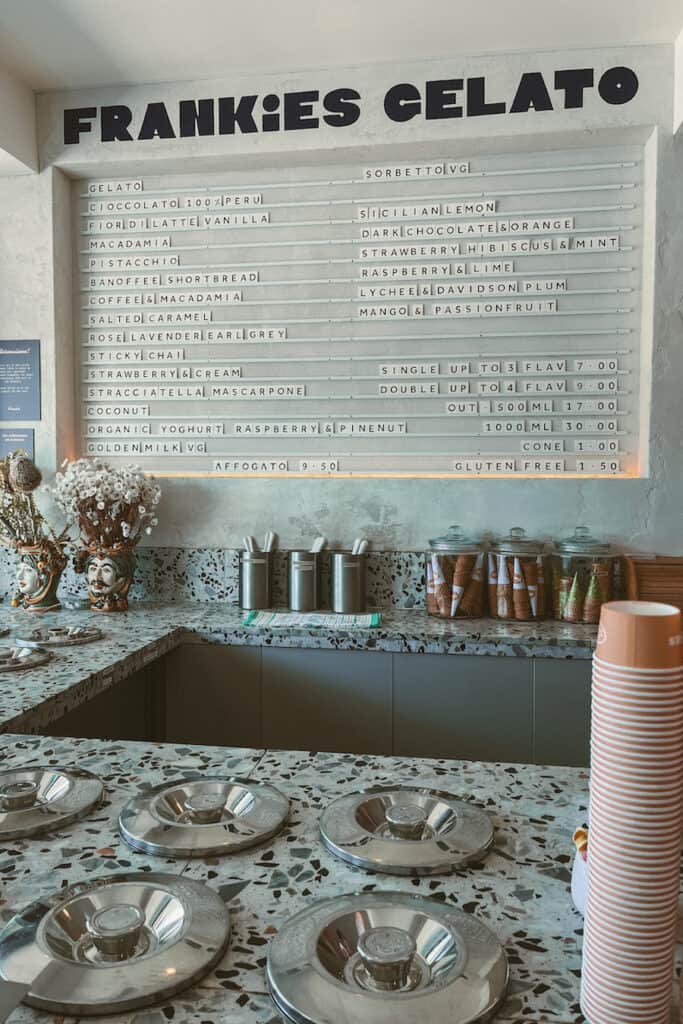 Byron Bay is hot! This sub-tropical destination experiences many hot, humid, and sunny days which can get to be a little too much at times. The best way to beat the heat is with some gelato! There are plenty of gelato places around the town that offer a wide range of unique flavors. Heading up here is one of the best things to do in Bryon Bay!
---
Go Whale Watching or Dolphin Watching
Byron Bay has a thriving aquatic ecosystem complete with humpback whales and dolphins! One of the best things to do in Byron Bay is head out on a tour to spot and admire the wildlife.
---
Watch the Sunrise and Sunset on the Beach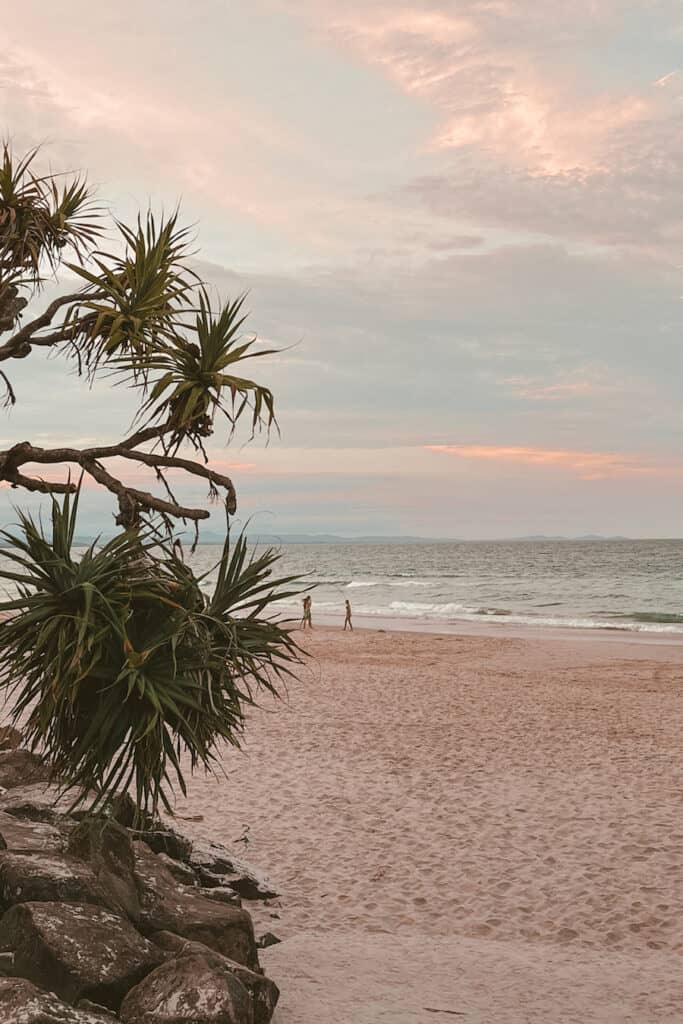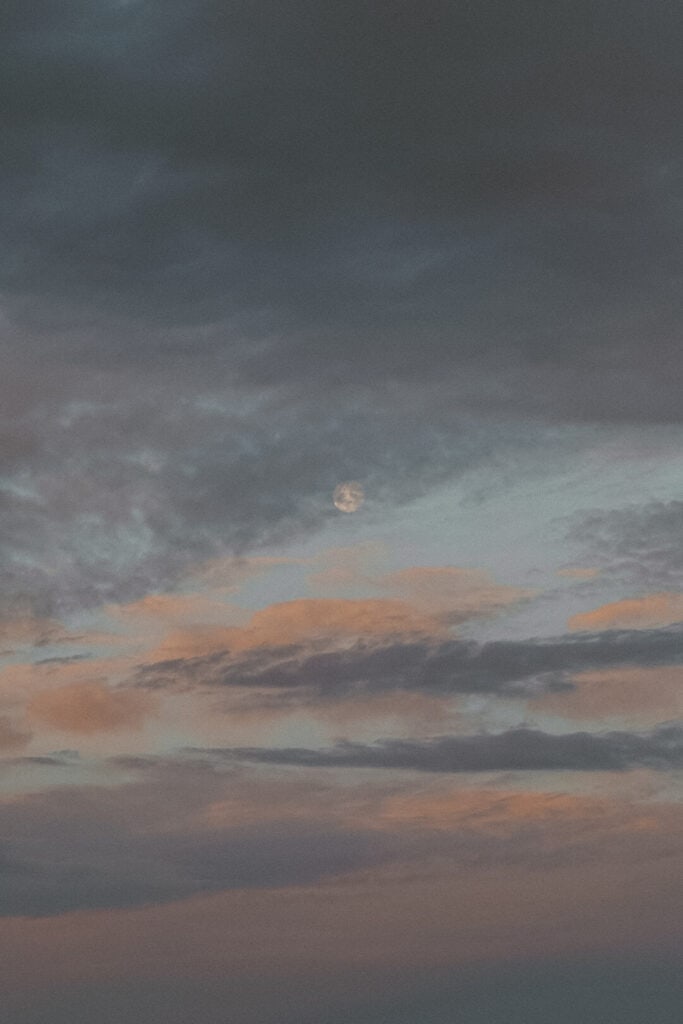 If you are lucky and the weather permits you may be privileged enough to see one of Byron's famous sunrises or sunsets. When this occurs the sky is an explosion of pinks, reds, and oranges reflecting off the ocean. It truly is beautiful. Heading out to try and see the sunrise or sunset is a must!
---
Take a Kayak Tour
Kayak tours are one of the most popular things to do in Byron Bay. On these tours, you get to see the shore and town from a distance. Plus enjoy and admire the wildlife along the way that lives in the ocean surrounding.
---
Go to Arakwal National Park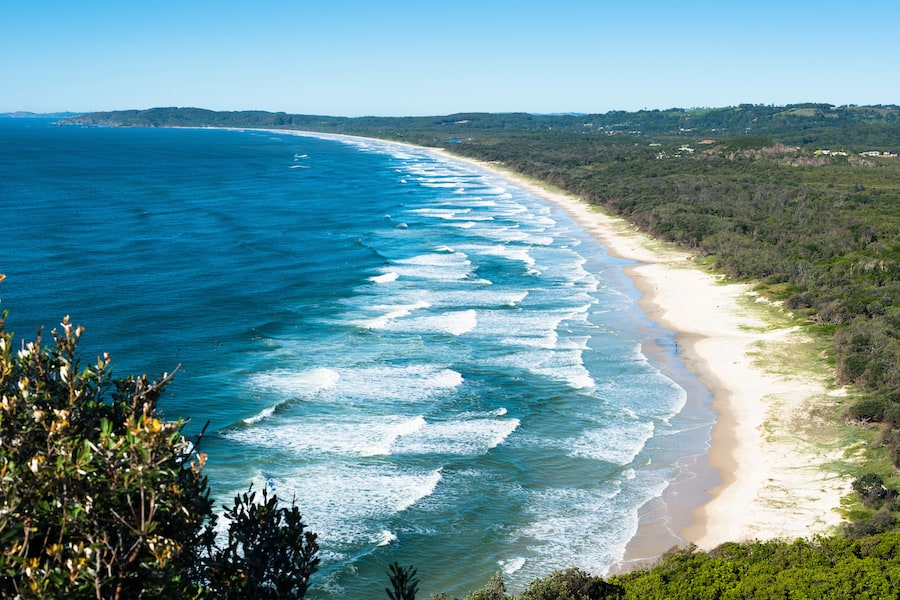 Arakwal National Park is a national park located just south of Byron. It is a park that protects wildlife between regions in Australia. This is the perfect place to visit for a secluded beach day, swimming, picnicking, and more. You can also enjoy whale watching and bird watching.
---
Enjoy Killen Falls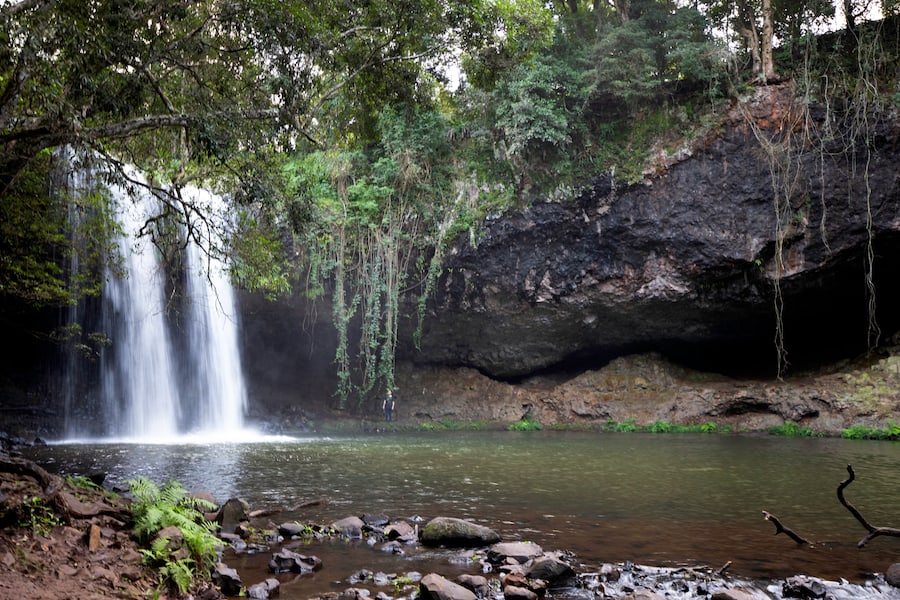 Killen Falls is a Nature preserve located near Byron. With its lush foliage and crashing waterfalls, it feels like a hidden jungle paradise in the middle of Australia. This is the perfect place to head to if you want to see and experience a different side to Bryon that's not all beaches and surfing.
---
Cafe Hopping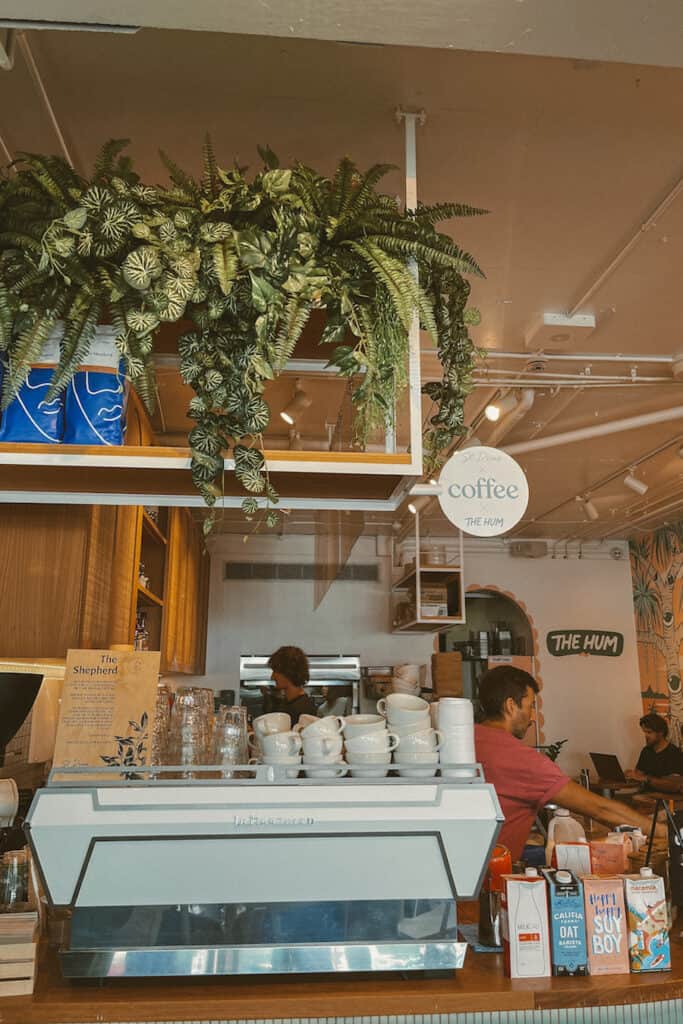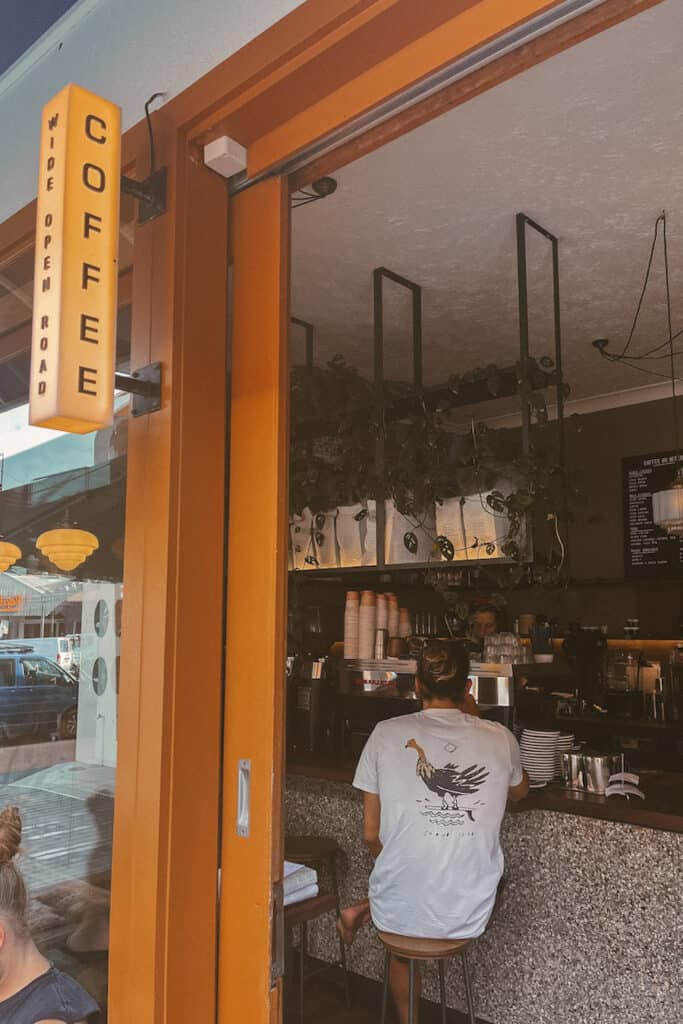 Bryon Bay is a hot spot for cute cafes and delicious coffee. There are plenty to choose from which makes cafe hopping super fun! Head to a new cafe every morning to try their specialties and indulge in their food too for the perfect start to your day.
---
Day Trip to The Farm
Heading to The Farm is one of the top things to do in Byron Bay. This farm is home to various fields of crops, a plant nursery, and more. Here you can enjoy sustainable market tours and eat at the onsite restaurant and bakery. It is the perfect place to visit to enjoy local and homegrown goods.
---
When to Visit Byron Bay
Byron is considered a year-round travel destination and is pleasant at all times of the year. The best time to visit to avoid crowds while still enjoying warm weather is March and April.
---
Where to Stay in Byron Bay
---
Like this post? Pin "14 Best Things to do in Byron Bay" for later!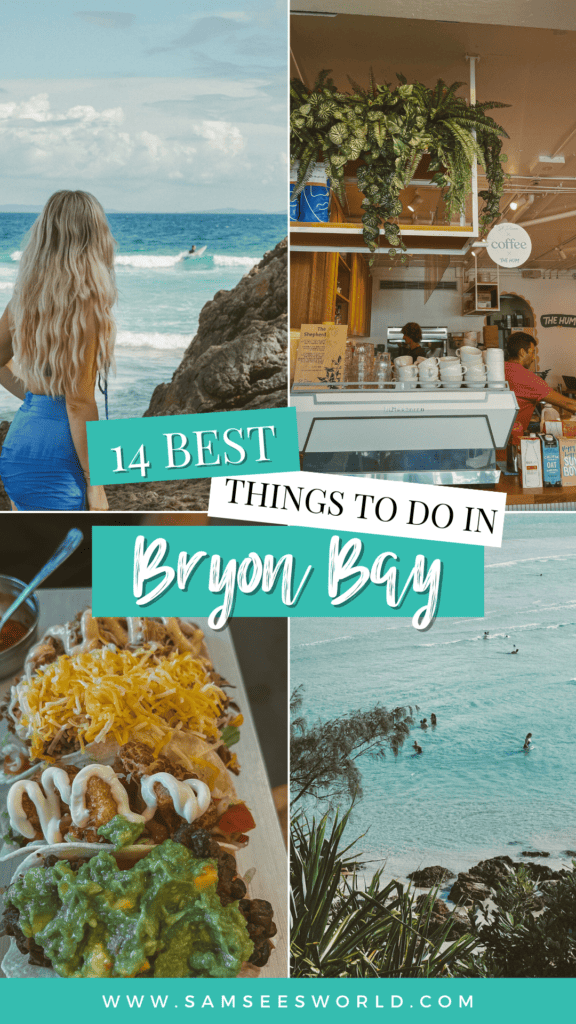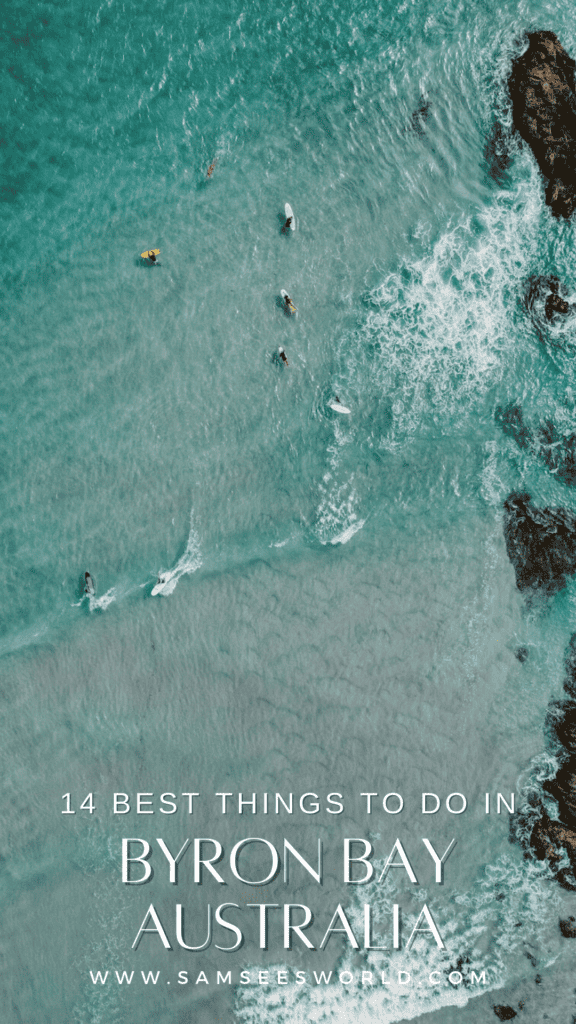 Love,
SSW