Looking for the perfect 3 week Australia itinerary to guide your adventures down under? Keep reading!
Traveling to Australia is a once-in-a-lifetime holiday for most people. It is incredibly far from most places in the world and the time and effort needed to get here are pretty intense! With so much effort involved in a trip to Australia, you want to do it RIGHT. With so many different cities, attractions, and hot spots to see and a limited amount of time finding what to do and what to skip is essential to having the best possible getaway.
Below is a complete 3 week itinerary that will show you the best of Australia in 3 quick weeks.
(Disclaimer: Some links in this post may be affiliate links, meaning if you click on the link and make a purchase, I receive a small commission. This is at no extra cost to you and you may even receive a small discount. See disclosure for more information. As an Amazon Associate, I earn a small commission from qualifying purchases.)
3 Week Australia Itinerary
Days 1-2: Melbourne
Landing in Melbourne is the best way to start your 3 week Australia itinerary. The city itself is a pretty hit-or-miss place where some people love and some people hate it. Most people, including myself, haven't loved Melbourne. But this isn't the overall feeling of the city so I think you should see it and experience it for yourself before making a decision.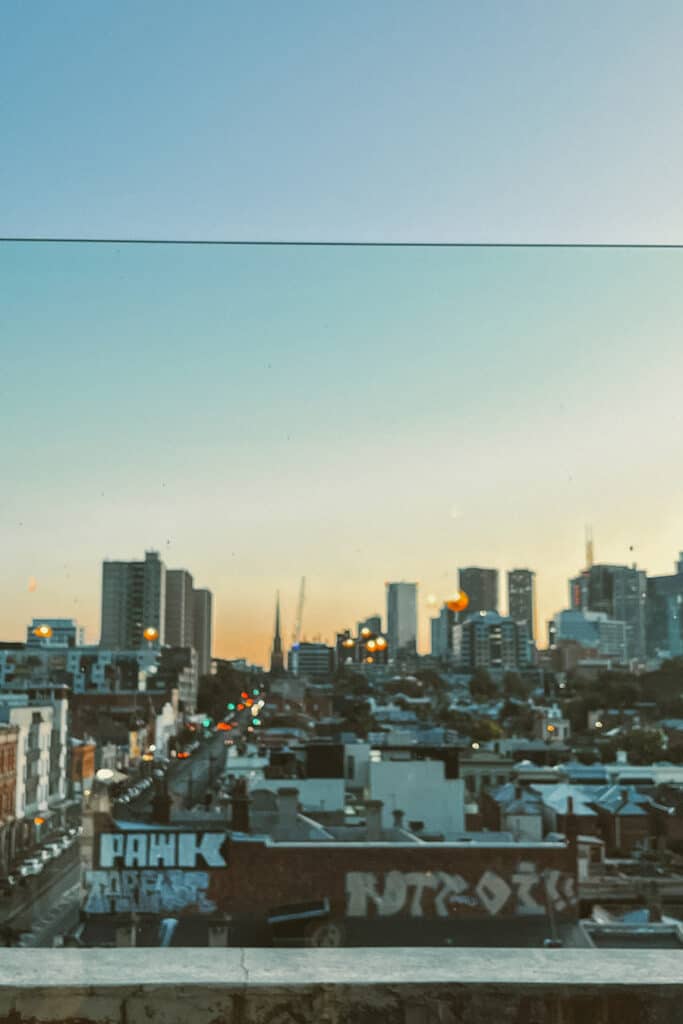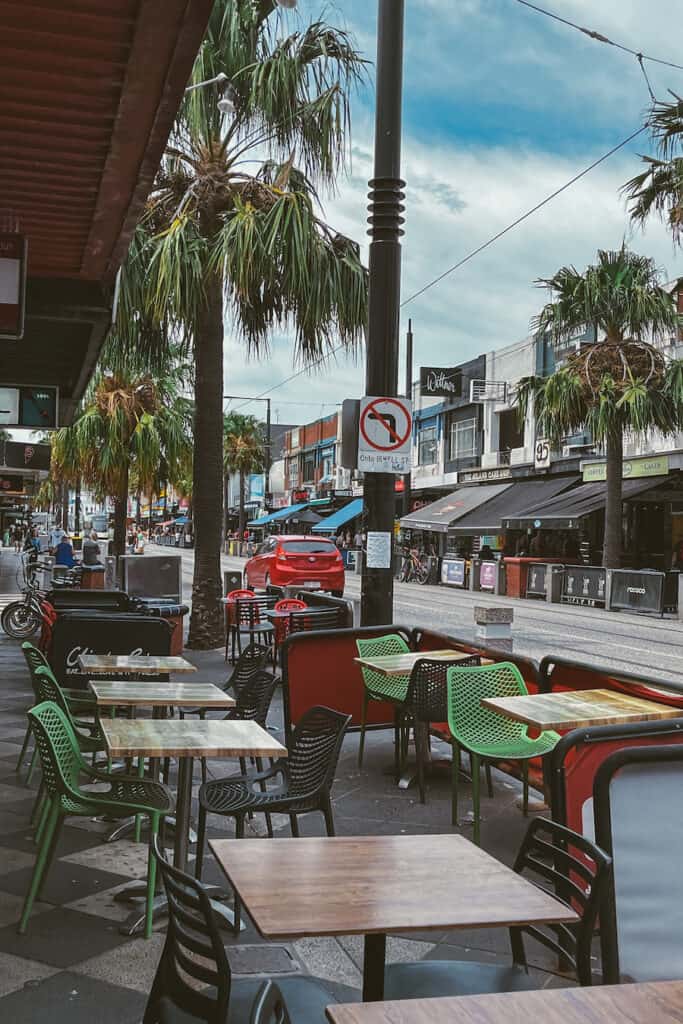 There are a lot of different things to do in Melbourne and it is the perfect place to land for the next few days of this itinerary. Melbourne is the perfect starting point for the most famous and beautiful drive in Australia: The Great Ocean Road. It is also the further place south on this itinerary making it the ideal place to start.
With only two days in Melbourne, your time is limited. The top things to do with this little amount of time are:
Explore Fitzroy
Go to St. Kilda
Go for a Cruise on the Yarra River
Below are some tour options for the top things to do in Melbourne.
---
Day 3-5: Great Ocean Road
Driving along the Great Ocean Road is a must do while traveling in Australia. It is often referred to as one of the world's most beautiful driving routes that starts just one hour from Melbourne making it the only logical next stop. The 243km route showcases some of the country's most beautiful beaches, waterfalls, parks, and natural wonders all within 5 hours of one another.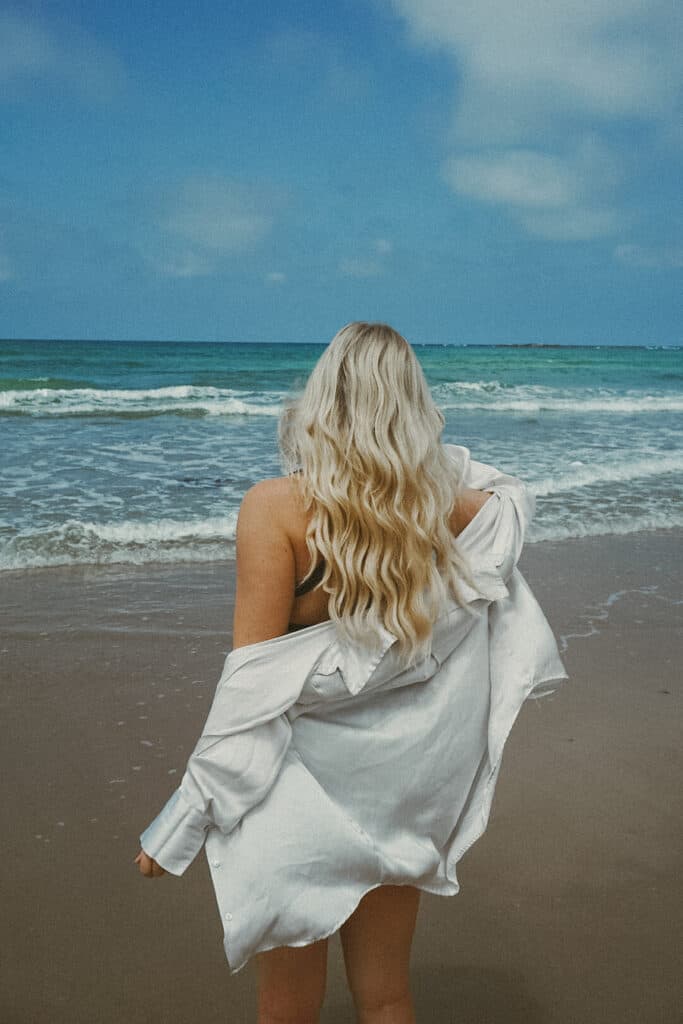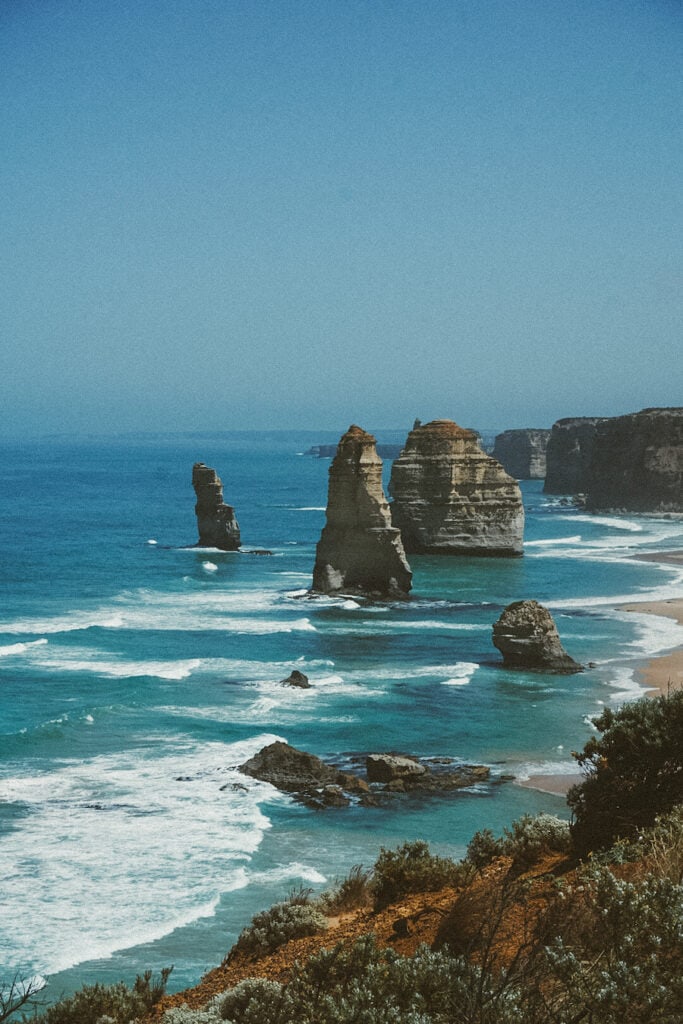 It is most popular to spend 2 days driving the Great Ocean Road, but you can do it in 1 or stretch it to as many as you need. The best thing to do is rent a car and drive yourself so you can stop and go as you, please. It is best to end your Great Ocean Road tour in Melbourne as you will find the best and cheapest flights to your next place from here.
There are also tours for those who can't rent a car.
---
Day 6-9: Whitsundays
Fly from Melbourne to Proserpine and then head to the breathtaking Whitsundays. The 74 Whitsunday Islands is one of the most beautiful places in Australia where you will find the bluest water, whitest sand, and endless stretches of untouched beauty. The islands lie between the Great Barrier Reef and the Coast of Australia and are a place unlike any other. Enjoy the dense rainforest, stunning beaches, and hiking trails.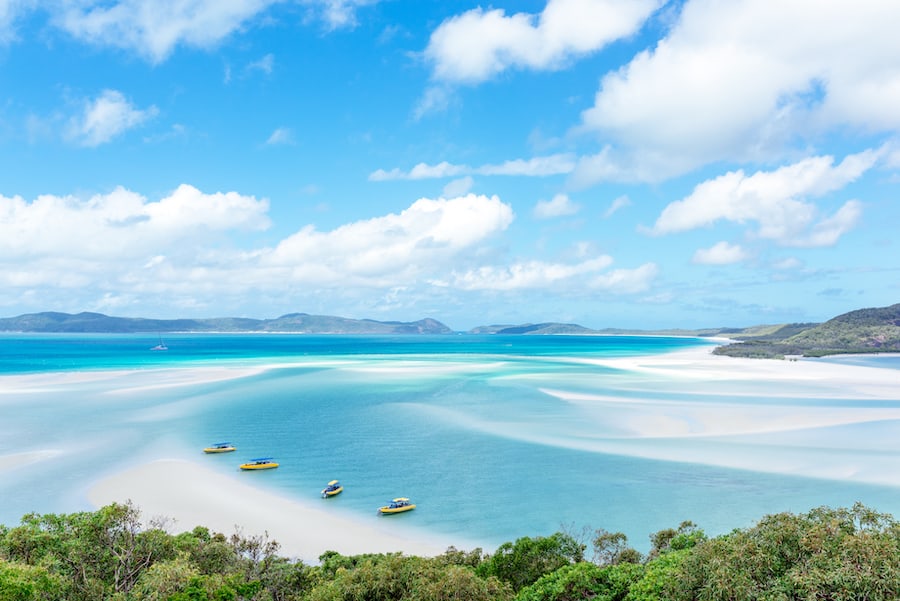 This is one of the most difficult, and expensive, places to get to in Australia but 100% worth it. Especially if you don't think you will be heading back anytime soon. Budgeting 3-4 days for The Whitsundays is needed to ensure you have enough time to get there, explore, and leave will still not feeling rushed. i
---
Day 10-13: Brisbane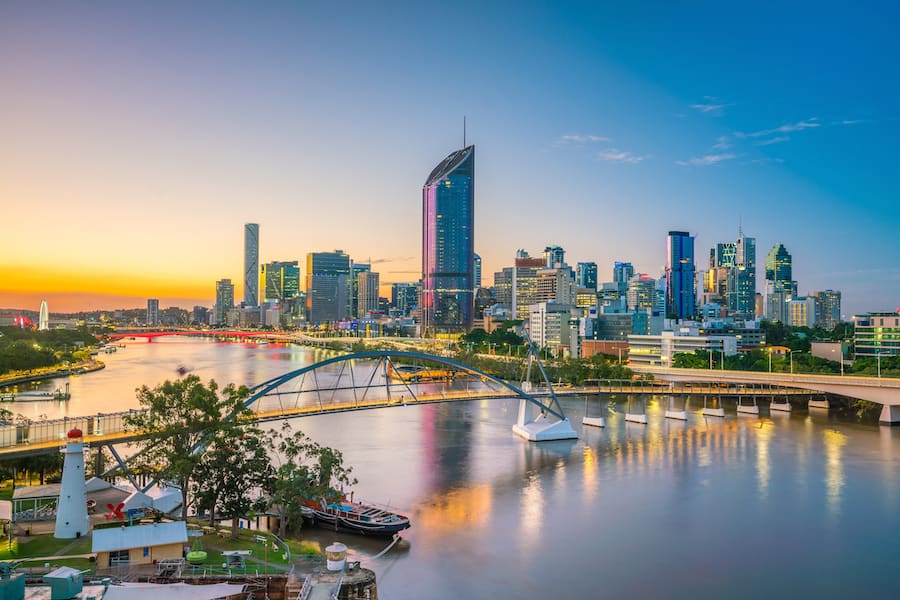 Fly to Brisbane from Proserpine after The Whitsundays to enjoy the city and beach life mixed together. Brisbane is a young, hip, coastal city with an unbeatable vibe. The perfect mix of plenty of sunshine, beautiful beaches, and the city all combine to make Brisbane a place you do not want to miss in this 3 week Australia itinerary.
---
Day 14-17: Bryon Bay
From Brisbane, you can either fly, by bus, or drive to one of the country's most famous coastal towns: Byron Bay.
Byron Bay was my personal favorite place in Australia, with its long stretches of beach, bright blue water, surfers galore, dolphins swimming everywhere, and overall relaxed friendly vibe.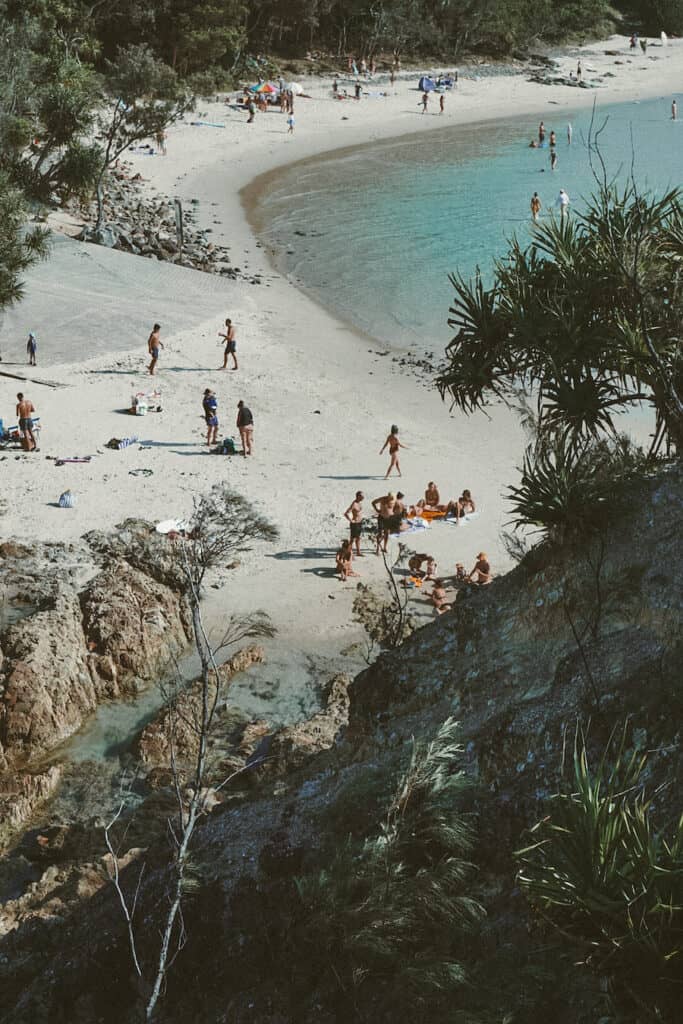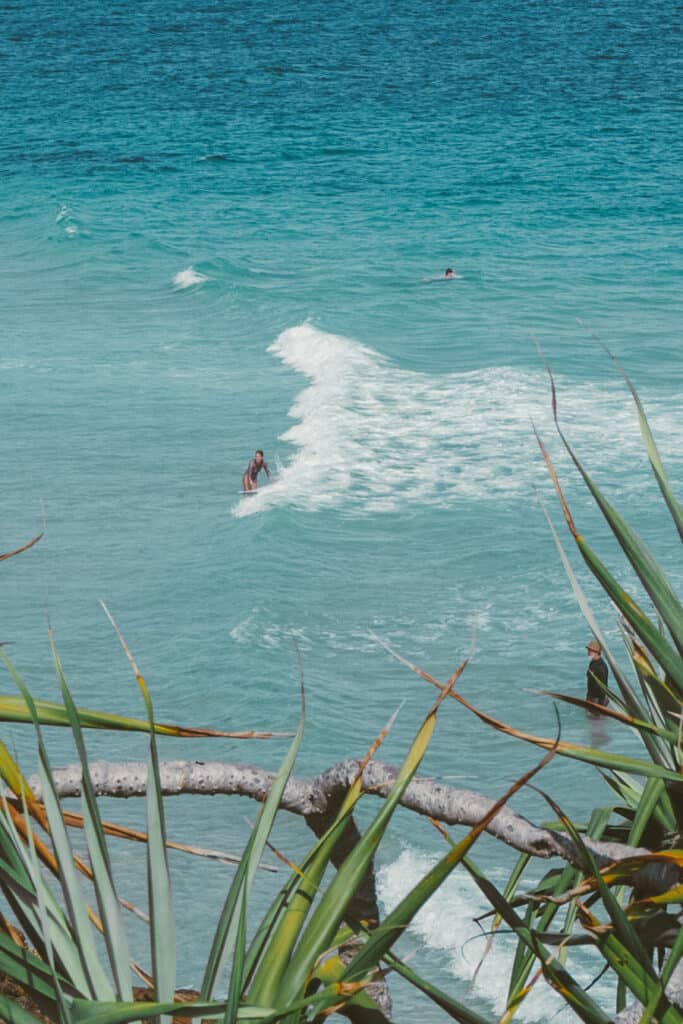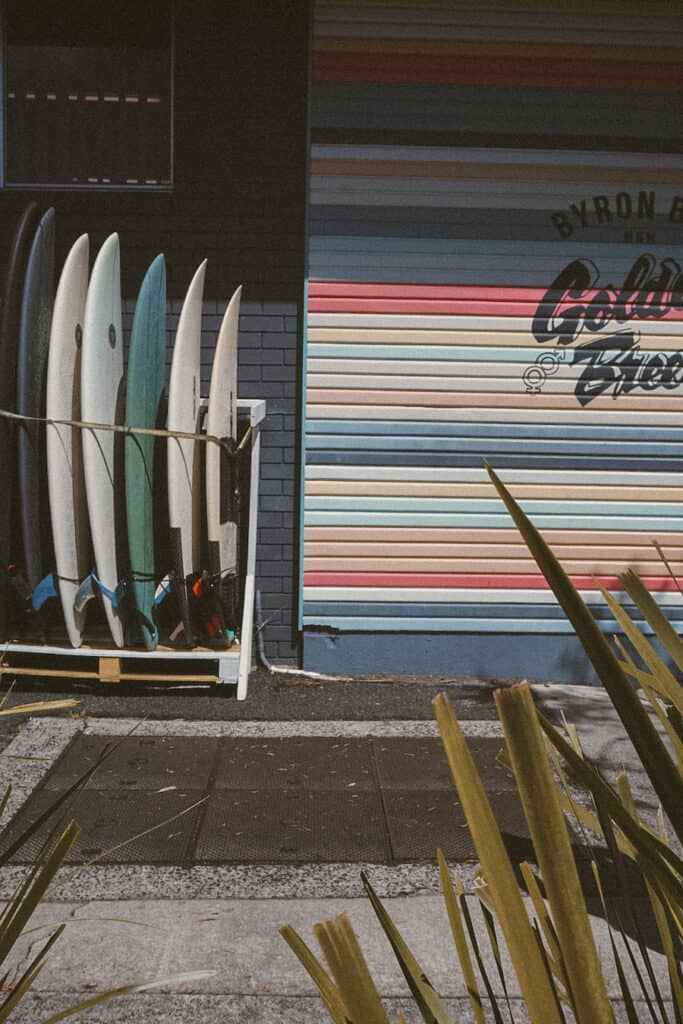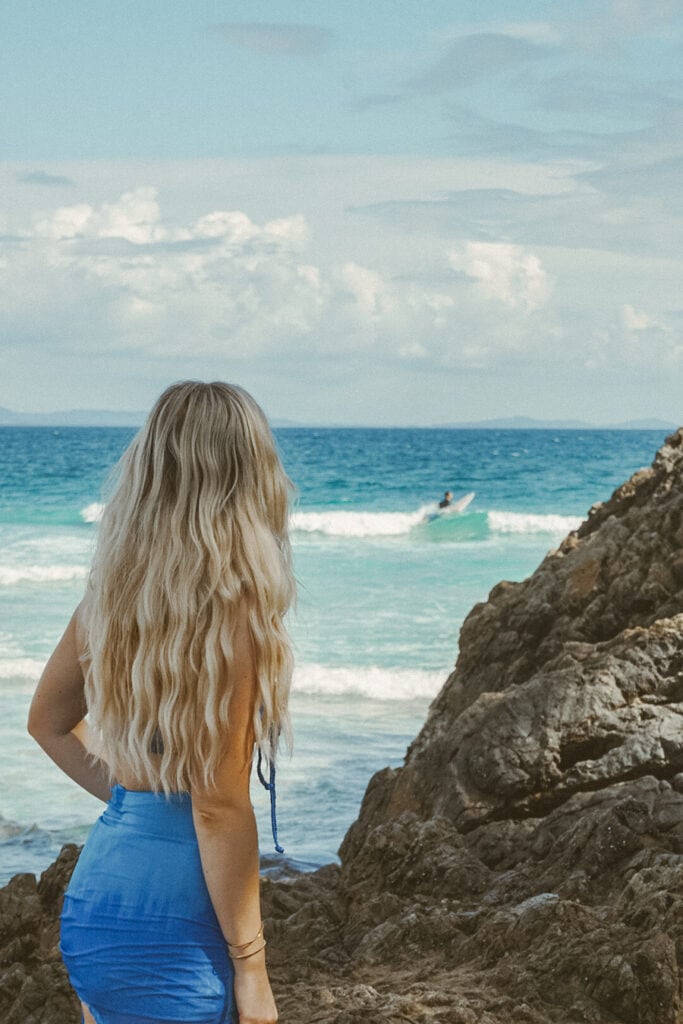 Byron Bay is how most people picture all of Australia and if you are visiting and seeking the surfing/beaches/healthy lifestyle atmosphere and lifestyle then this is the place for you! Because of this, spending 3-4 days here is a good amount to do all the top things to do in Byron Bay and have some time to relax on the beach and have a moment to yourself after some busy days.
There is no airport in Byron so you will have to go to the Gold Coast Airport and fly out from there. You can drive to this airport, take an uber, or a bus. The bus is the cheapest option and it is also very fast and direct. I took the Byron Bay Express which cost A$38.00.
---
Day 18 – 21: Sydney
Spending the last 5 days of your 3 week Australia itinerary in Sydney is the perfect way to end your stay. Sydney is one of the most beautiful, lively, and exciting cities in Australia that you could easily spend 6 months in and not have enough time to fully enjoy the city. From the world-famous Bondi Beach to the iconic Sydney Opera House and beyond, Sydney is a place with a soul like no other.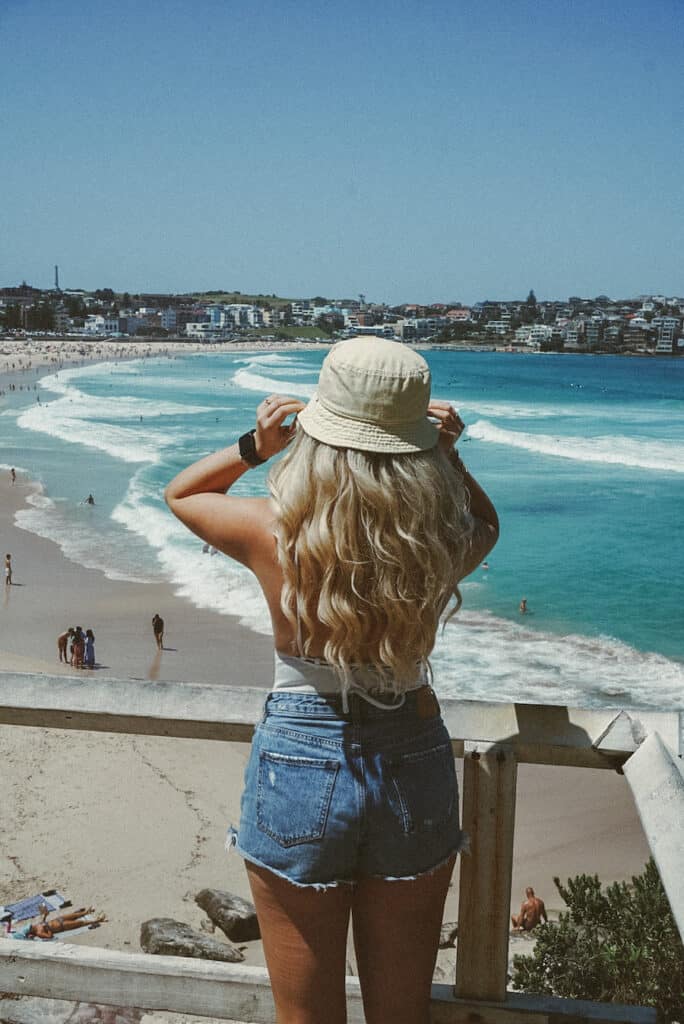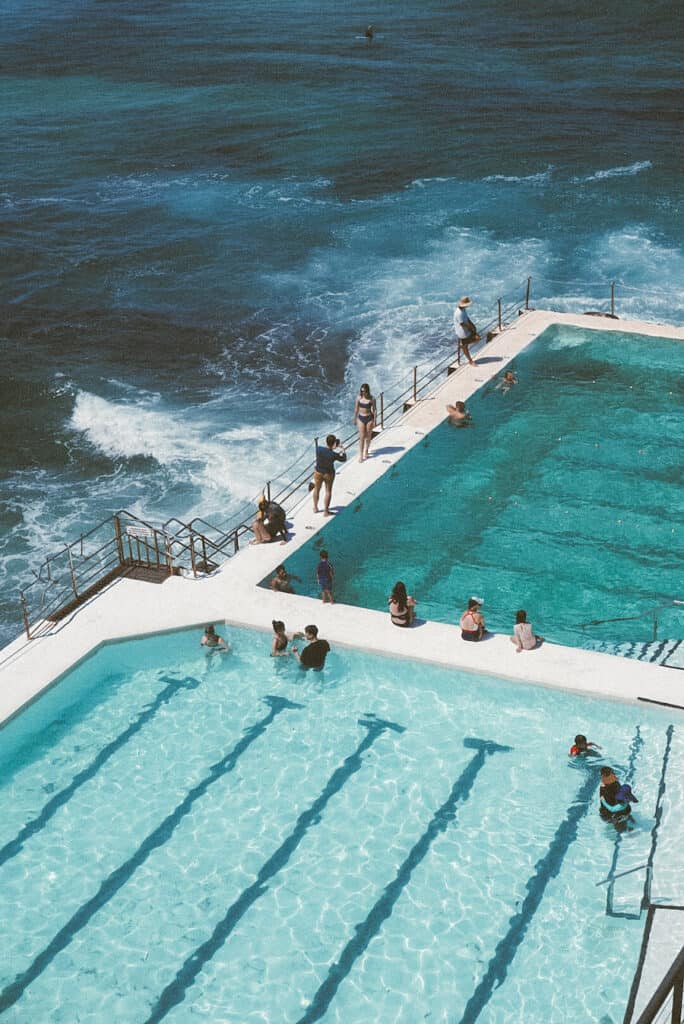 It is hard to combine beaches and cities but Sydney does it perfectly. There are a ton of things to do in Sydney so luckily you will never get bored. This is also the best city in Australia to fly out of since you will find the most affordable flights from here.
---
Travel Insurance
Getting travel insurance before you travel is a MUST. It's the number one thing you should always pack before traveling that can save you a lot of money, time, and stress. With how crazy travel has gotten recently you need that peace of mind that no matter what happens there is something protecting you from losing out. I always travel with travel insurance and think everyone should.
I always travel with travel insurance and think everyone should. Below is my favorite travel insurer Safety Wings, enter your details to get a free quote!
Like this post? Pin "3 Week Australia Itinerary" for later!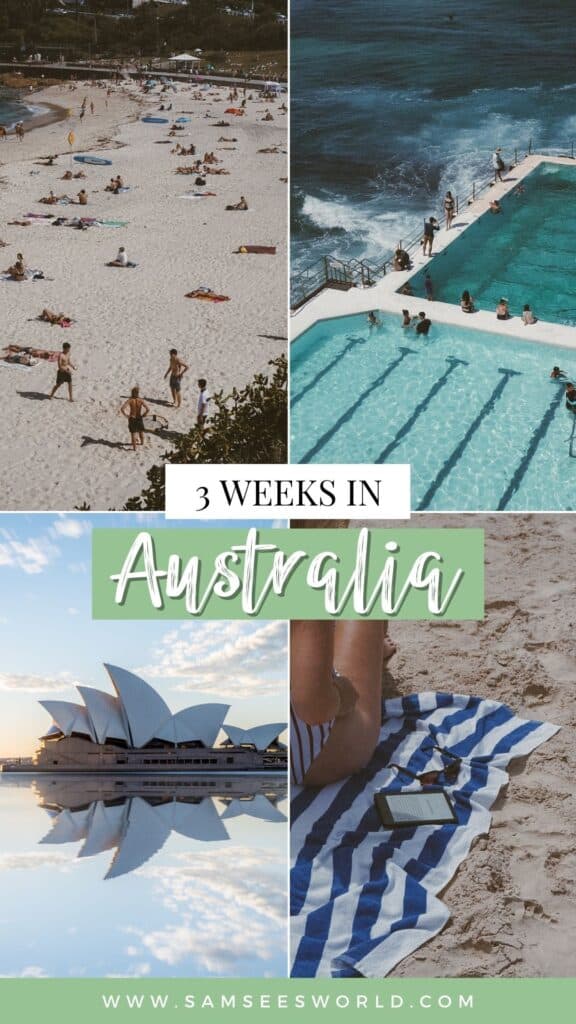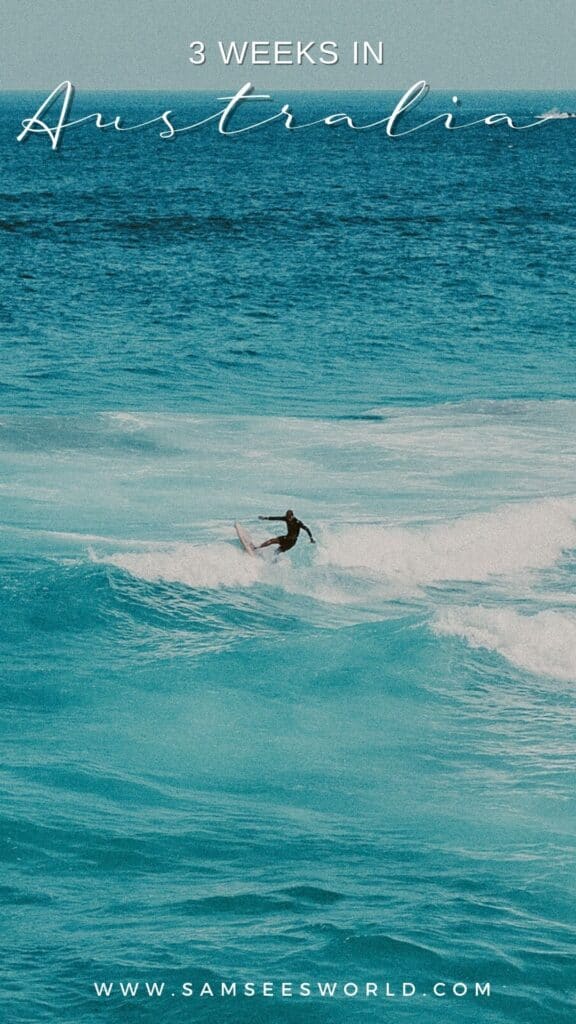 Love,
SSW