Looking for the best things to do in Banff in winter? Keep reading for a list of the best Banff winter activities and the ultimate guide to one of Canada's most beautiful towns.
It's the destination on everyone's bucket list – Banff, the awe-inspiring mountain village located in the heart of the Canadian Rockies. Compiled with unrivaled mountain views, easy access to pristine wilderness, and wildlife, as well as endless outdoor activities, Banff is a destination all travelers must-see at least once in their lifetime.
Visiting Banff during the winter months will open you up to an entirely new experience, dazzling you in a sparkling, icy, snow-dusted world of winter– all with fewer crowds and cheaper prices than at other times of the year!
Here's my local's guide to the best things to do in Banff in winter.
This is a guest post by Abbie Gatherum From One World Wanderer
(Disclaimer: Some links in this post may be affiliate links, meaning if you click on the link and make a purchase, I receive a small commission. This is at no extra cost to you and you may even receive a small discount. See disclosure for more information.)
Things to do in Banff in Winter
---
Things to do in Banff in Winter
Snowshoe & Cross-Country Skiing
If you consider yourself to be an adventurous traveler, often opting for an adrenaline rush over the delicate buzz that comes with sitting by a spa, then partaking in some of the world-class snowshoeing and cross-country skiing that Banff has to offer might be up your ally. Joining in snowsports is one of the top things to do in Banff in winter and a great way to enjoy the stunning Canadian scenery.
Who wouldn't want to see untouched landscapes, peaceful evergreen forests, and breathtaking views of the snow-capped Canadian Rockies? This is one of the best Banff winter activities for leisurely explorations.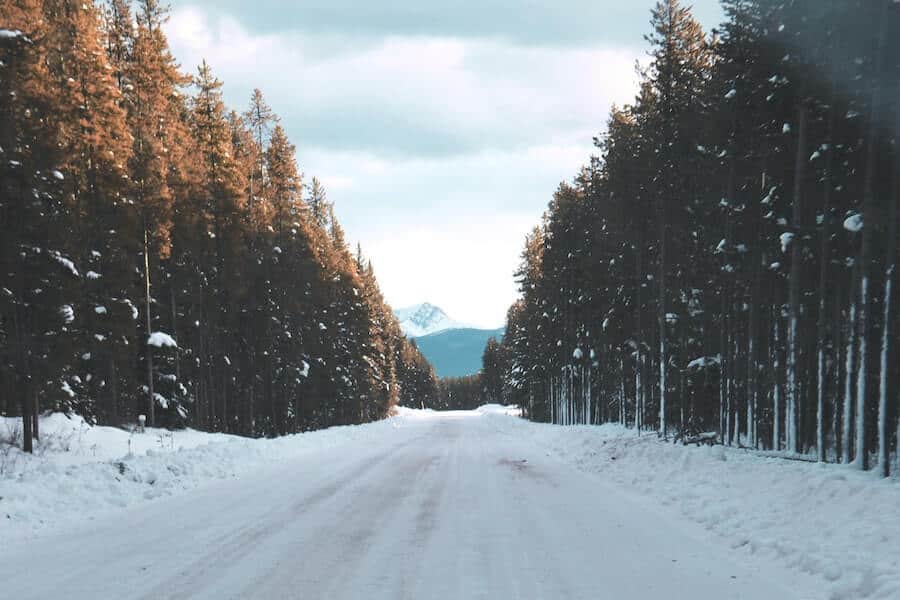 Snowshoeing is exactly like hiking, except decked out with crampons, snowshoes, and hiking poles. Cross-country skiing, on the other hand, explores regions a little more off the beaten track through using your skis to move across flatter terrain. Both activities, while a little arduous in terms of physical activity offer a unique way to explore the Rockies. And with tracks near and far to Banff Village, there are endless amounts of exploring to be done.
If you're a little anxious about breaking into your snowshoes or cross-country skis for the first time, dozens of tours run out of Banff that can teach you the proper techniques, help with navigating icy trails, and avoid any of those anxiety-induced things that can happen on a winter hike in the freezing Canadian wilderness. If you don't have your own snowshoes or skis, it is easy to rent them from one of the many stores along Banff Avenue, and most only require a small daily fee for rental. Just be sure to pack and prepare for your skiing trip accordingly!
---
Go Lake Hopping
One of the most incredible things to do in Banff in winter is taking the time to go in search of some of the world's most stunning frozen lakes. Canada has approximately over 2 million lakes and an abundance of glaciers, many of which sit right in the heart of the Rockies!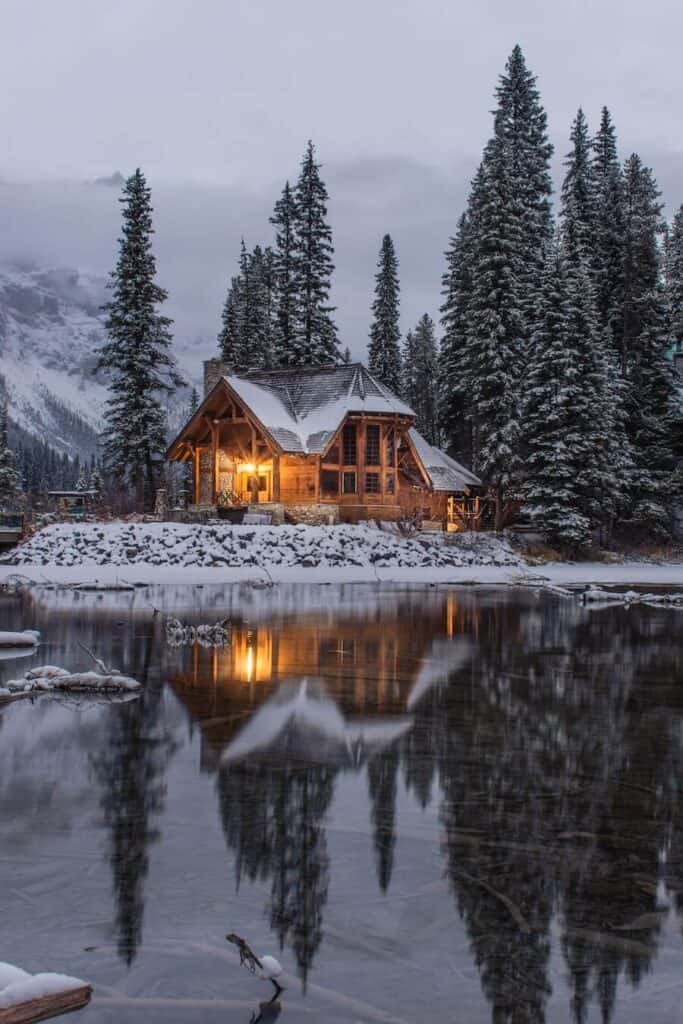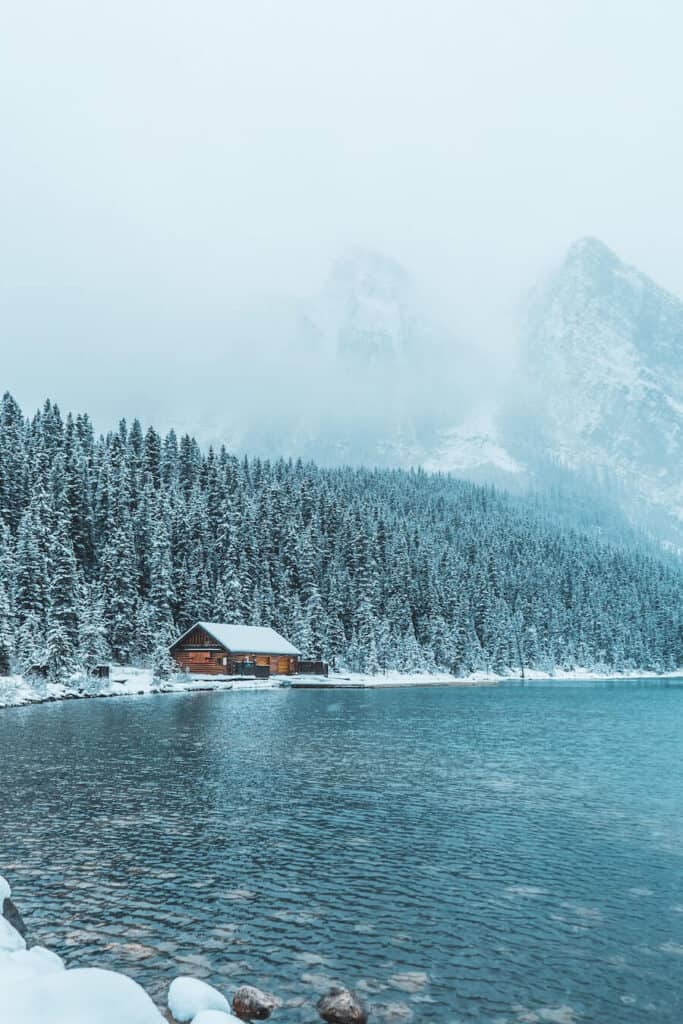 From Banff, day trips can be taken to the stunning and secluded Bow Lake; Emerald Lake, where an overnight stay at the luxurious cabins are a delicious treat; Sherbrooke Lake, which boasts an epic hike through the great Dividing Ranges. Abraham Lake, home to the visible frozen methane bubbles that sit in the ice; Vermillion Lakes, Lake Minnewanka, and of course, the famous Lake Louise.
Although you may need a car to access most of the lakes, the latter three are all accessible from Banff Village by walking or a quick bus trip. Lake hopping is one of the most popular Banff winter activities that surely will wow you at every new discovery.
---
Take a Day Trip to Lake Louise
A vacation to Banff is not complete without making a trip to visit the well-known Lake Louise. Everyone's seen Lake Louise on social media, or when browsing photos and magazines for travel inspiration. It's the place of your alpine dreams.
Picturesque turquoise-colored lake surrounded by snow-capped mountains and frost-covered trees. In winter, Lake Louise transforms itself from the popular canoeing destination to a winter wonderland- and chases away the hordes of tourists that usually come with it.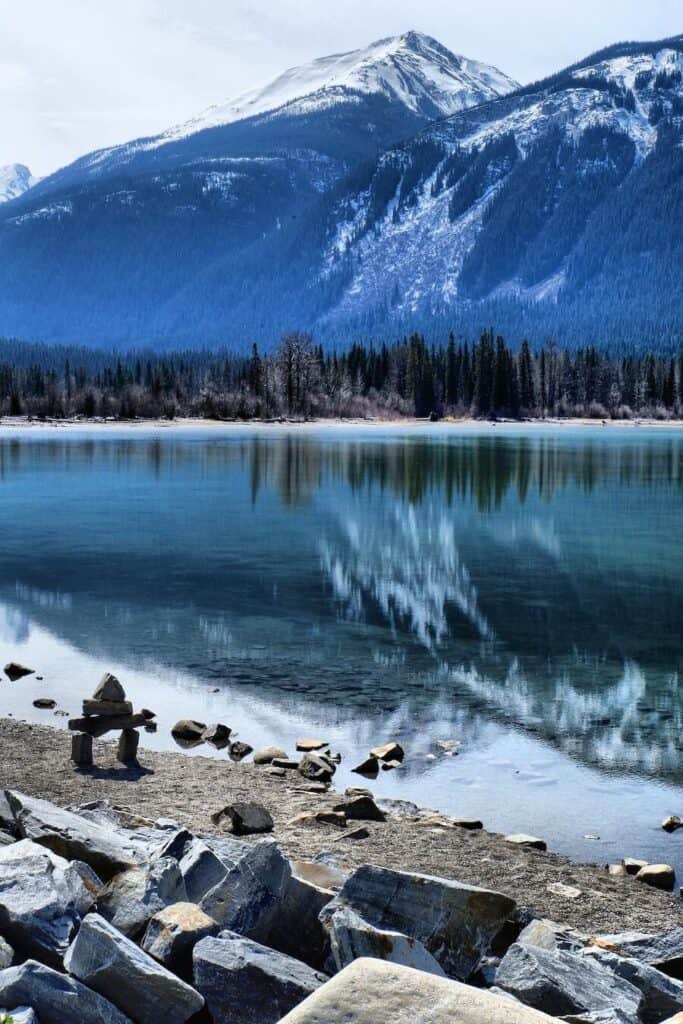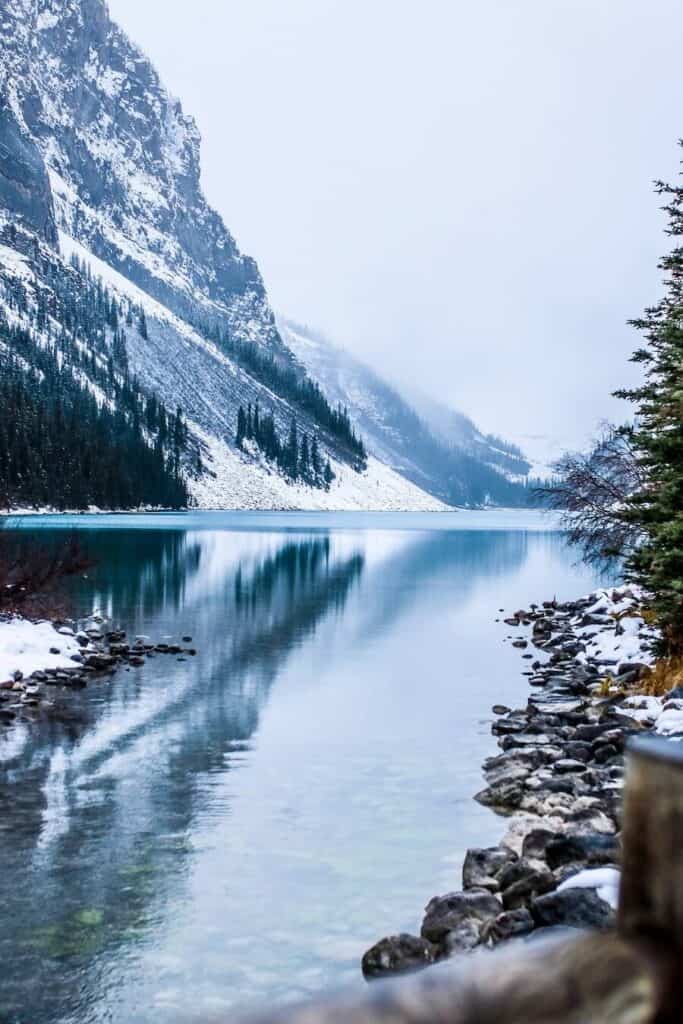 When visiting Lake Louise, several days or one jam-packed day of activities should be considered, as there is just so much to do there. Lake Louise is one of the best places to visit in Canada and one of the best things to do in Banff in winter.
---
Ice Skating
Ice skating on the lake is the perfect way to start your day in Lake Louise, ticking off a quintessential winter activity that was most definitely on your winter in Banff bucket list. The skating rink, located right on top of the frozen lake, sits at the base of the castle inspired Chateau Lake Louise (aka the Fairmont hotel). Rental for your skates is available from the Chateau's sports shop, which is adjacent to the lobby.
No matter if you're falling on the ice, dancing in circles, or just curled up in admiration of your surroundings, ice skating at Lake Louise is one of the most iconic things to do in Banff in winter.
---
Have a Drink in an Outdoor Igloo
Another highlight of a day trip to Lake Louise from Banff is the outdoor igloo-inspired ice bar. At the Chateau, you can watch your drinks being made at a bar completely made of ice. This structure is recreated each year in the ice sculpture contest which is held in January and is the coziest way to warm up after a skate on the lake.
Here, you can indulge in your cocktail of choice, or opt for a delicious cup of Mulled Wine. Alternatively, hot chocolate, tea, and coffee are available. This is one of the more relaxing and low key things to do in Banff in winter that is perfect for letting go and taking a break.
---
Dash Through the Snow… on a Sleigh
The final thing to add to your Lake Louise day trip (and of course, there are still dozens more activities you could choose to do if you wanted), is taking a sleigh ride through the surrounding forest. What could be more magical than that? Taking the horse-drawn sleigh around the Lake is an activity offered both day and night, and is something unable to be found in other locations in Alberta.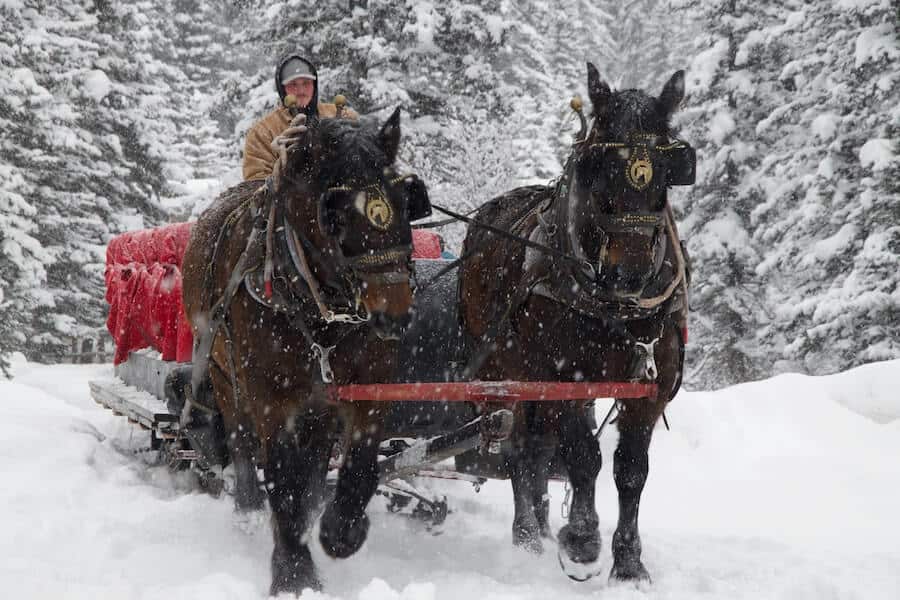 Although the small ski village of Lake Louise is located 45 minutes from Banff, it is easily accessible with regular running Roam buses. The buses pick you up and drop you off along Banff Avenue and cost approximately $8 per trip.
---
Ice Magic & Winter Festival
The Ice Magic and Winter Festivals are two events specific to the villages of Lake Louise and Banff and are incredibly special to witness. Both festivals commence in the month of January and embrace the spirit of winter through a tonne of winter activities. Referred to by the locals as 'SnowDays,' you can watch ice carving competitions, roast marshmallows on an open fire, ice skate, and listen to live music, plus much, much more.
---
Watch Waterfall Climbers Scale the Ice at Johnston's Canyon
A location full of glacial rivers and waterfalls at every turn, Banff transforms itself in winter to a frozen winter wonderland. With magnificent ice formations looking like they're pulled straight from the sets of Frozen and The Chronicles of Narnia, exploring some of the frozen canyons and hikes is one of the absolute must-dos when traveling to Banff in winter.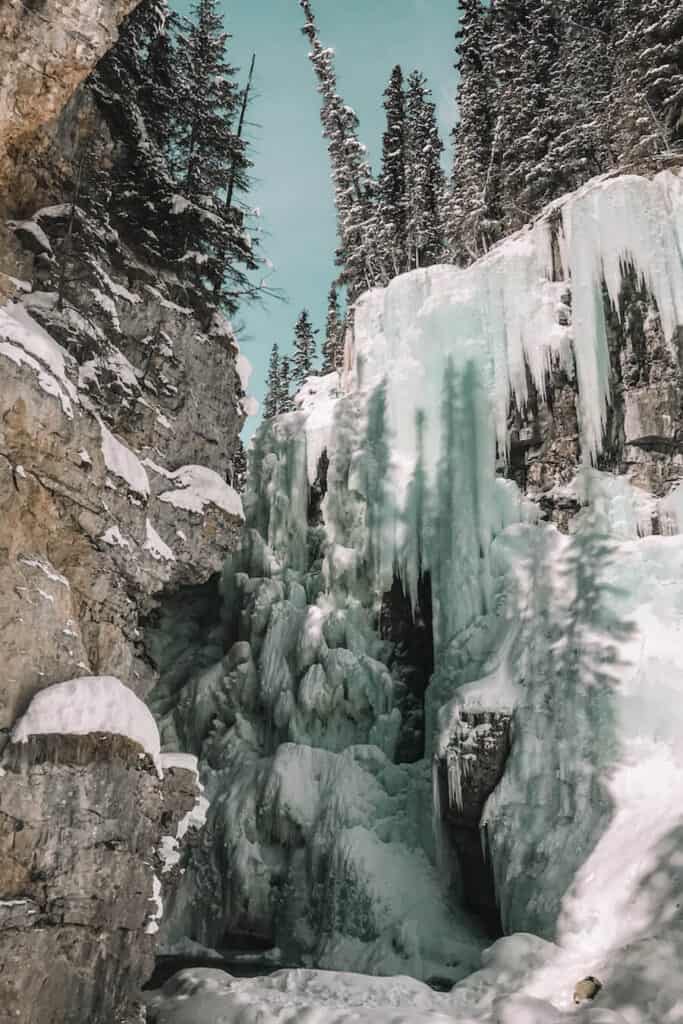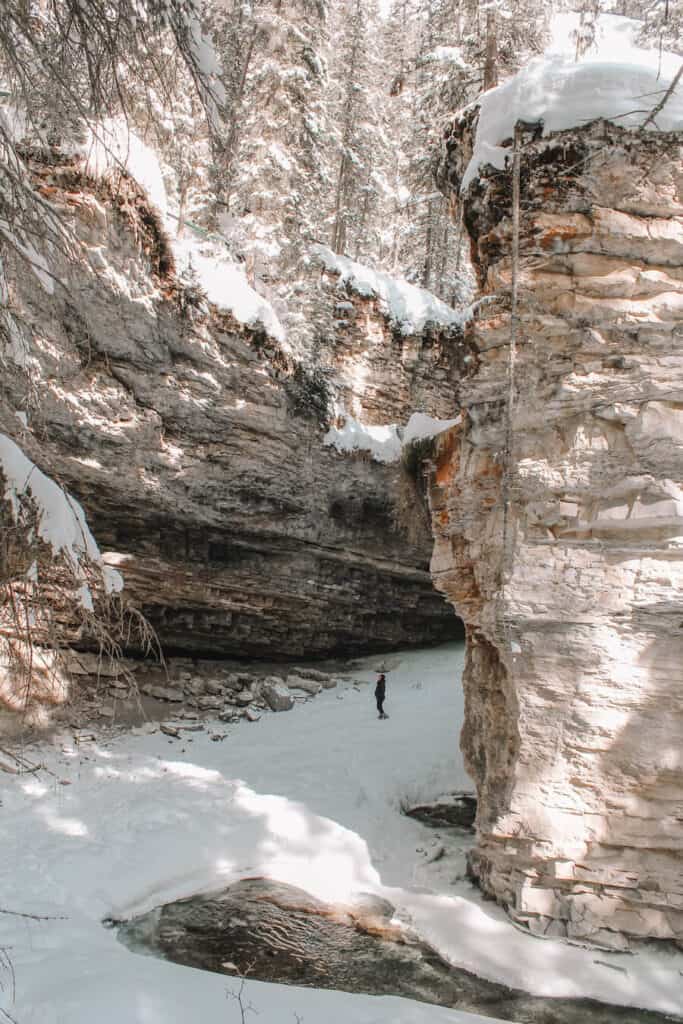 If frozen waterfalls, hiking, and ice-climbers are new to you, the Johnston's Canyon hike will absolutely blow your mind. The ice walk can be as little or as long as you wish for it to be, and takes you through jaw-dropping frozen waterfalls that cascade into an icy blue river.
Getting to Johnston's Canyon is easy: from Banff, simply get on the Trans-Canada Highway going west. Take the Bow Valley Parkway-Highway 1A exit and merge onto the Bow Valley Parkway. From there, enjoy the popular scenic drive, stopping at some of the other incredible viewpoints like Castle Mountain and Morant's Curve, until you reach the turn off to the Canyon.
---
Hit the Slopes
What's a trip to the Canadian Rockies without hitting the slopes at some of the world's most popular ski resorts?
Skiing in the world-class terrain of the Big3 – Mt. Norquay, Sunshine Village, and Lake Louise – is one of the best things to do in Banff in winter.
---
Mt. Norquay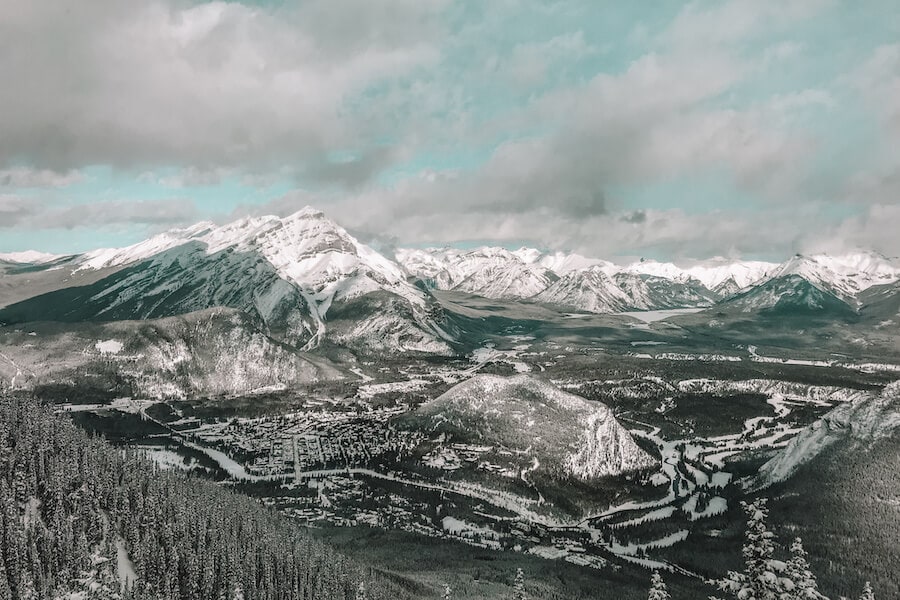 The closest resort to Banff is Mt. Norquay, a mere five to ten minutes away from Banff Avenue. For beginners and intermediate skiers and snowboarders still learning the ropes of ski life, Mt. Norquay has the best beginner runs and terrain. Another fantastic feature the resort has to offer is the night skiing- unique only to the resort in the entire National Park.
---
Sunshine Village
Banff Sunshine Village is the second closest resort to Banff Village and is a journey in itself. After parking, you are greeted with a flashy looking gondola… but no runs insight. Why you may ask? The gondola ride to get to the main area of Sunshine Village (a stunning location at the top of a mountainous intersection) is a meandering 20 minute long ascend above the mountains. No matter if you're planning on skiing or boarding at the top, the ride to Sunshine Village is an absolutely stunning way to explore the Rockies, and one of the most amazing things to do in Banff in winter, without having to do the hard work!
Another feature of Sunshine Village that will blow your mind is the large Ski-Out run. This giant run – giant only in terms of length, offers an alternative way out to the gondola you arrived in. Winding through the terrain you once soared above, you'll eventually end right back at the parking lot. And the best part? The run is super easy and is a great way to end a day at Sunshine Village.
---
Lake Louise Ski Resort
The Lake Louise Ski Resort is located 5 minutes from the Lake Louise village and about 45 minutes from Banff (with free shuttles running regularly) and is one of the most scenic resorts in the world. With terrain a little steeper than the others, it's a good place to end your trip after warming up at the first two resorts or the perfect place for those intermediate and expert skiers and boarders to show off their skills.
The resort has one of the coziest and comfortable lodges in the Rockies. There are multiple fine-dining options and fireside coziness, along with mid-mountain and backside dining options as well.
---
Dog Sledding
It's the quintessential winter activity that's every bit as epic as you've always imagined. That's right, you can actually jump on a dog sled and dash through the snow in one of the most epic explorations of snowy mountains around.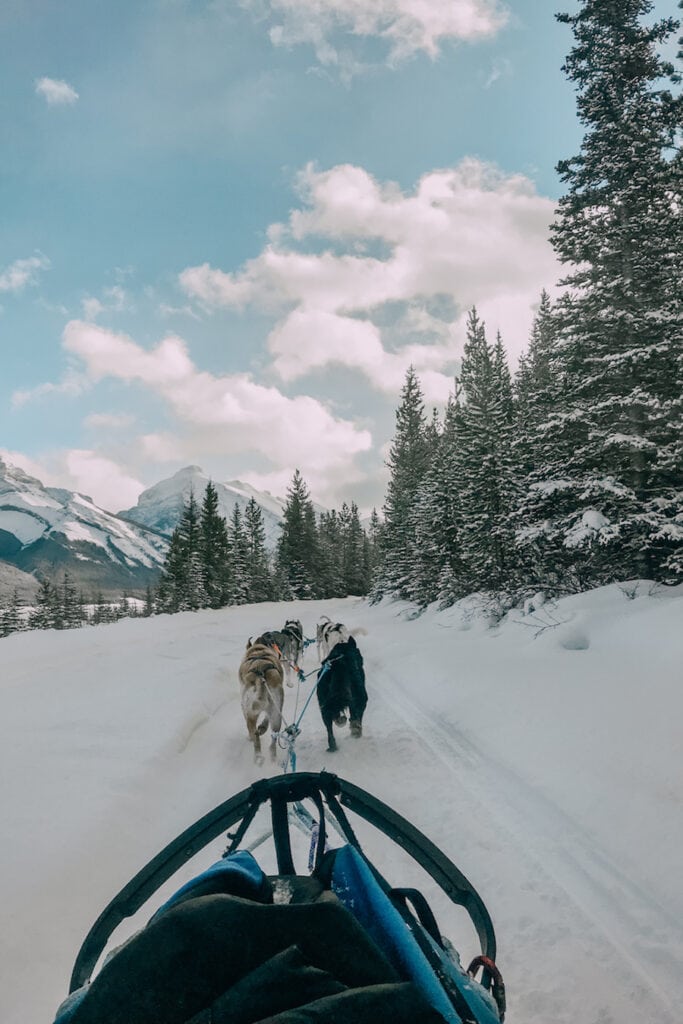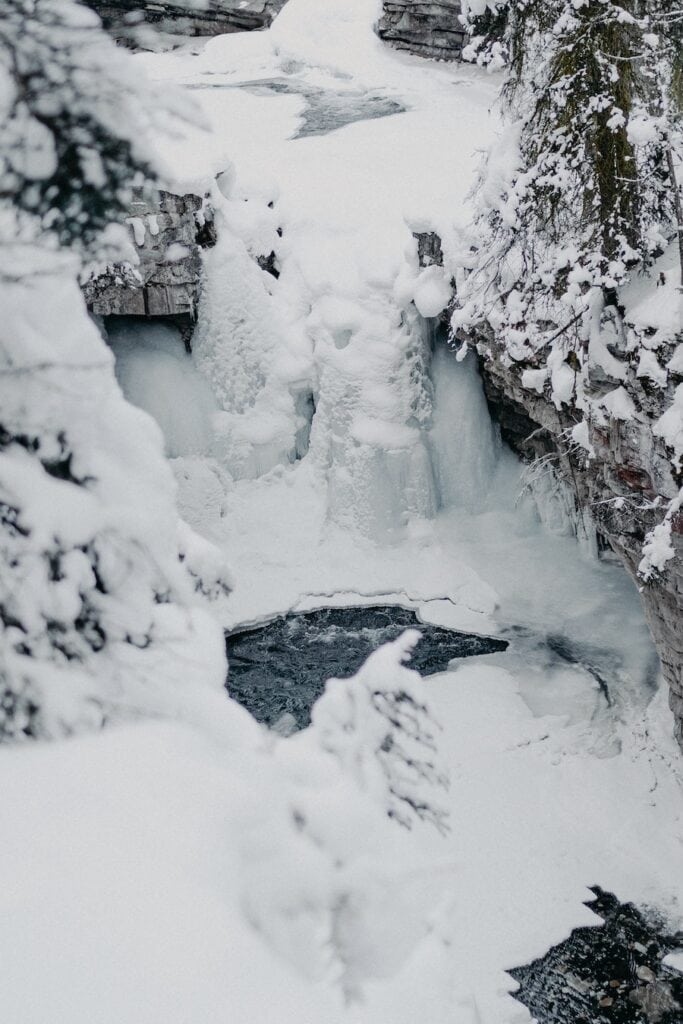 Dog sledding is an activity pioneered in the Canadian Rockies by the Indigenous Inuit's, and to this day, has continued to serve as a way of transportation in some of the world's most remote winter locations. If dog sledding is on your bucket list, doing it in Banff is an absolute must. There are three popular companies that run a pickup and drop off hotel service from Banff: Kingmik tours, Howling Dog Tours, and Snowy Owl Tours, with each one offering unique services and experiences depending on the dogs.
One of the main queries that comes up with dog sledding is whether or not the practice is humane, and the answer is, it really is. Dog sledders in the Rockies treat their dogs fairly and ethically, and you don't need to do much more than look at the dogs to see how healthy and happy they are. They are animals born and bred to run in the snow, and because of that, they thrive.
---
Visit the Banff Hot Springs
After a long day of adventures, ice-sports, and snow wandering, you will most likely be ready to relax. And what better way to do this than somewhere warm, steamy, and unique to Banff?
The Banff Upper Hot Springs has exactly what you need. The giant thermal pools are located approximately 10 minutes from Banff Avenue and are an easy walk or bus ride to visit. The large pool sits at a comfortable 38 degrees Celsius (100 degrees Fahrenheit) throughout winter, and is all naturally heated. The pool begins indoors, allowing you to slowly submerge yourself before entering the cold winter air.
Towels and bathing suits are available for rent from the front desk, and there are expansive change rooms, showers, and water bubblers inside to help you adjust to the temperature change, ease back into your winter gear, and rehydrate after your soak.
---
Ride the Sulphur Mountain Gondola for the Best Views in Banff
If your feet are feeling the heat from all the hiking, skiing, ice-skating, and snowshoeing (phew, who thought a winter vacation would be relaxing?), one of the best ways to take a break while still exploring the beauty of the Rockies is by venturing for a ride on the Banff Gondola to the top of Sulphur Mountain. This is hands down one of the best things to do in Banff in Winter and is a must-do on your vacation!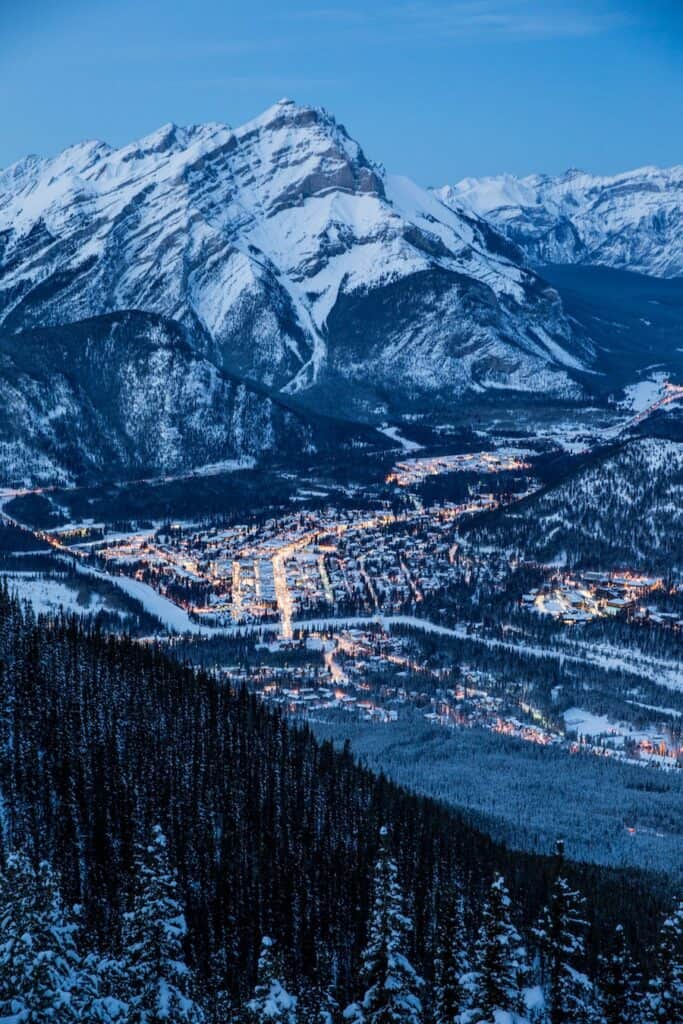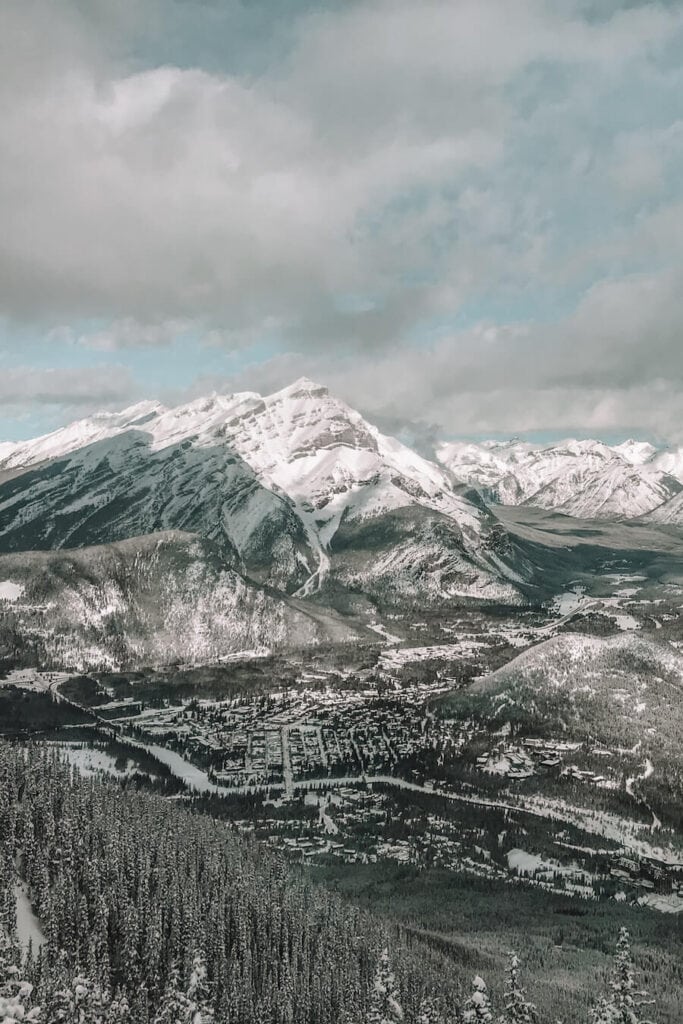 After a leisurely 10-minute gondola ride with 360-degree views of the snow-capped mountains, you'll arrive at the top to find several restaurants and viewing platforms, along with a large observation area decked out with fire pits and comfortable igloos. If you're feeling brave enough to brave the cold (and it's really really cold on top of the mountain), the Banff Skywalk is an easy boardwalk built on the summit ridge leading up to the Peak.
The views are even more stunning than those you saw on the ride up, and chances are, you'll have the spot all to yourselves (because, you know, it's really cold)! Up here, you are witness to even more 360-degree panoramic views of the National park, Banff village, and beyond.
Just ensure you visit on a clear day, otherwise, you might be looking out on nothing but fog and clouds!
---
How to get to Banff
Located within Canada's oldest National Park, the Banff National Park, the small village of Banff is Alberta's hub for skiers, luxury holiday-goers, and wilderness explorers alike. The destination is located approximately 130km (80miles) west of Calgary, where a major national airport has multiple flights in and out of daily.
From here, visitors can rent a car, or catch a bus along the Trans-Canada Highway straight to the park. The drive is a spectacular introduction to Canada's Rocky Mountains, so be sure to have your cameras at the ready.
---
Where to stay in Banff
There are tons of beautiful resorts and places to stay near Banff. Some of the top resorts are mentioned above, but there are also some smaller and less expensive resorts, like the ones below.
---
This is a guest post by Abbie Gatherum From One World Wanderer
Abbie Gatherum has been writing her entire life, most actively since 2017 as a freelance writer and the travel blogger for oneworldwanderer.net. She grew up in North Queensland, Australia, but prefers to chase stories in different countries around the world. She was lucky enough to live the life of a ski-bum in Lake Louise for a little while, but now she travels Australia in her van, Atlas.
Like this post? PIN "Things to do in Banff in winter" for later!