On the hunt for the best castles in Europe to venture to for the ultimate fairytale adventure? Then keep reading for a complete list of the most beautiful fairytale castles in Europe and prepare to fall in love.
Europe is a historic hotspot. There is so much history and culture to delve into that is most evident in the amazing architecture around the continent. All the amazing castles scattered around Europe tell a story through their architecture, interiors and placement. Not only are they beautiful to admire, but you will learn so much upon visiting!
If you want to transport yourself back in time, going inside one of the castles is the best way to fully immerse yourself in its wonder. Discover now the 12 best castles in Europe that you must visit.
(Disclaimer: Some links in this post may be affiliate links, meaning if you click on the link and make a purchase, I receive a small commission. This is at no extra cost to you and you may even receive a small discount. See disclosure for more information.)
12 Best Castles in Europe
The Palace of Pena
Location: Sinta, Portugal
Pena Palace is located in the beautiful municipality of Sintra, Portugal. It can be reached from Lisbon in just 20 minutes by train and is one of the most beautiful places in not only Portugal but in the world. If you are looking for fairytale castles in Europe then The Palace of Pena is the number one option for you to visit.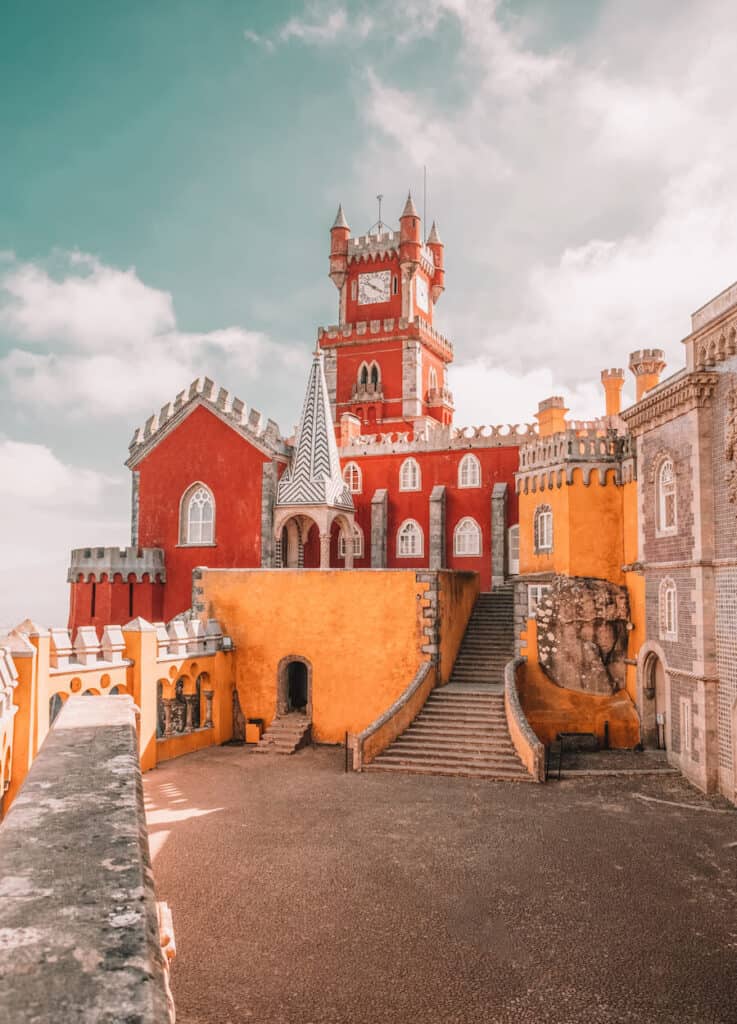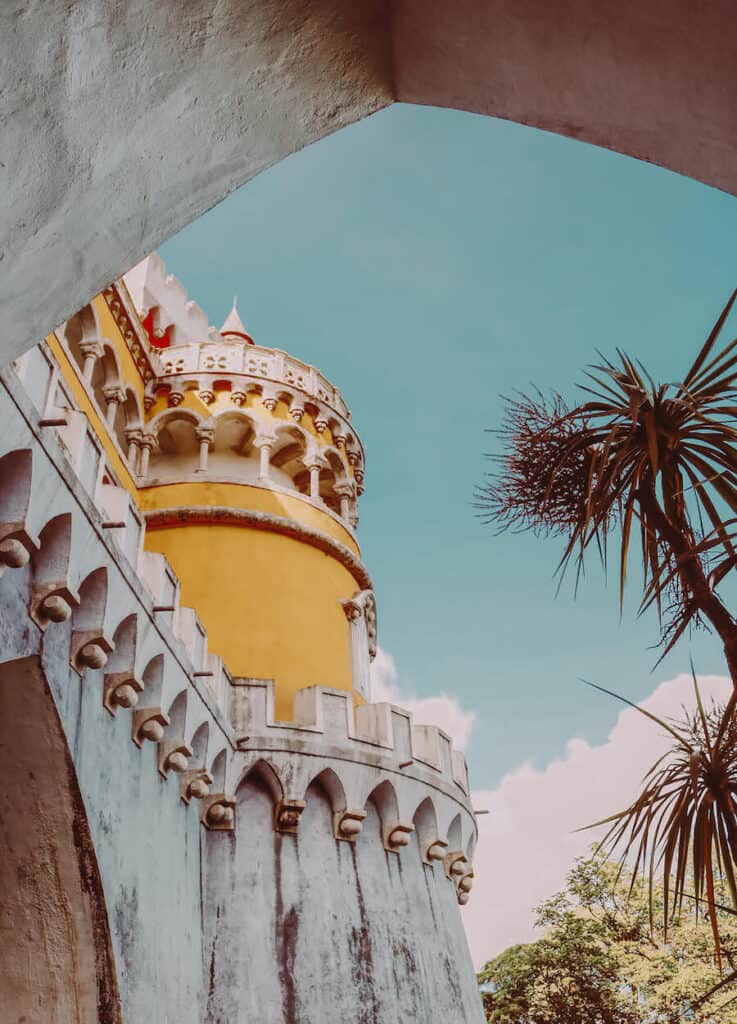 This multi-coloured castle sits at the top of the Sintra mountains and truly is unlike anything else in the world. The vibrant reds, purples, and oranges stand out brilliantly against the blue sky and look like something from a movie set rather than a historic castle. Just admiring it from the outside is enough to have you mesmerized. However, you can also go inside and see how the Portuguese royals lived in the 1900s with their lush gardens and ornate rooms! A visit to Sintra with show you one of the best castles in Europe.
---
Hohenzollern Castle
Location: Baden-Württemberg – Germany
Hohenzollern Castle is a stunning hilltop castle surrounded by forest in Germany. It is one of the most beautiful and magnificent castles in Germany and easily one of the best castles in Europe. This castle looks like a real-life Hogwarts and if you are a Harry Potter fan this will surely give you a child-like excitement.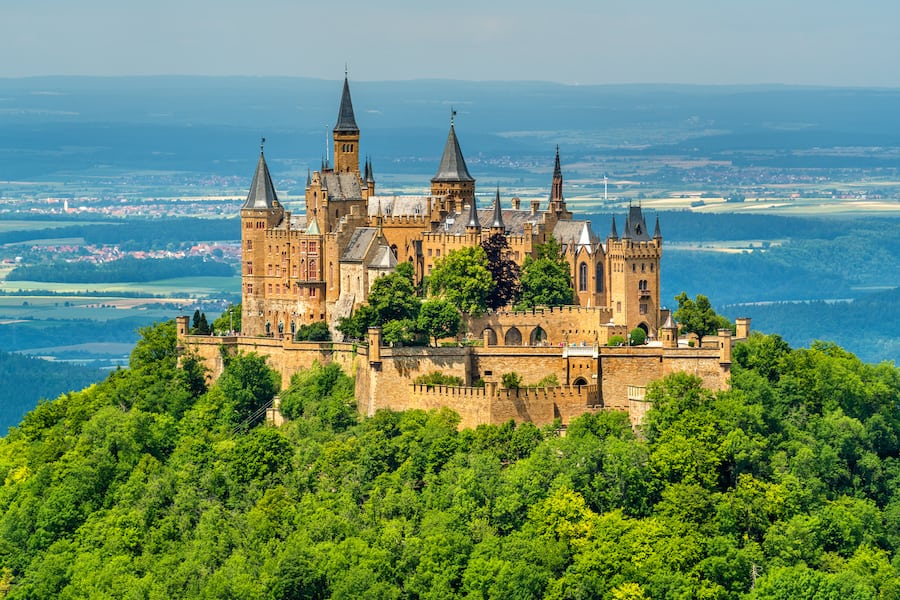 Buying a ticket to tour this castle in advance is best because it is one of the more popular castles in the area. Once you enter the castle gates and make it to the portcullis it is best to tour the castle walls as you will get some magnificent views of the castle's marvellous architecture this way. When you make it back to the portcullis you can enter the castle grounds and tour the interior of the castle! A visit here will have you feeling like you are in a fantasy world high in the clouds.
---
Neuschwanstein Castle
Location: Bavaria – Germany
Neuschwanstein Castle is one of the most famous castles in the world. It is the ultimate fairytale princess castle located in Bavaria, Germany. Germany is packed with stunning castles and with so many options, if you have to pick one to visit make it Neuschwanstein Castle. This is a 19th-century palace that sits at the top of a rugged hill. It used to be a retreat commissioned by King Ludwig II. More so, this castle is what inspired Walt Disney in the design for his Cinderella Castle at Disney World!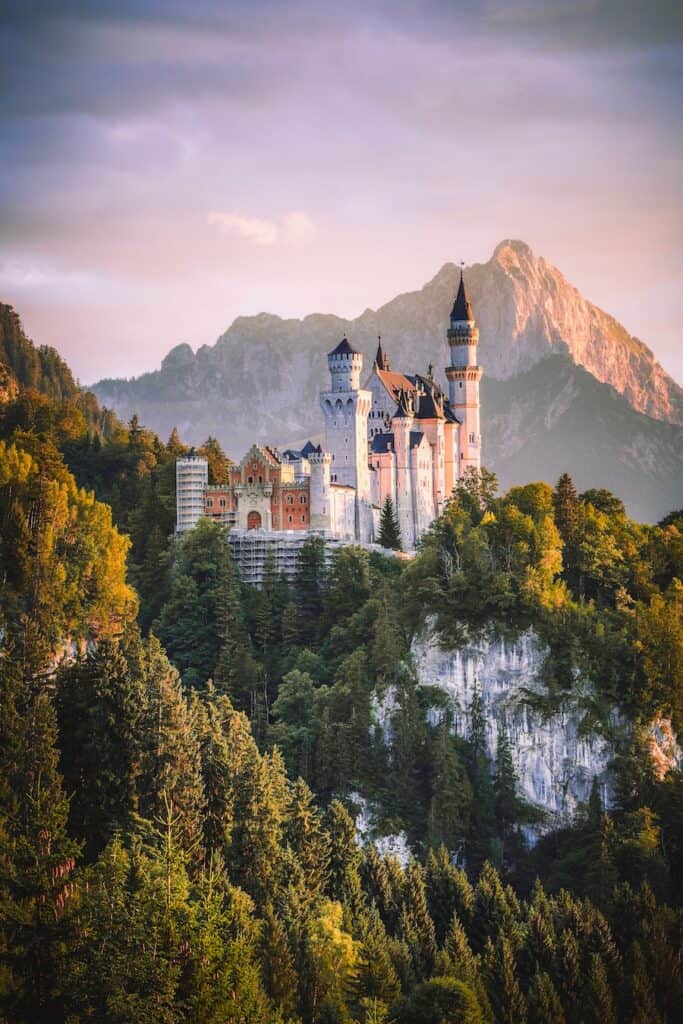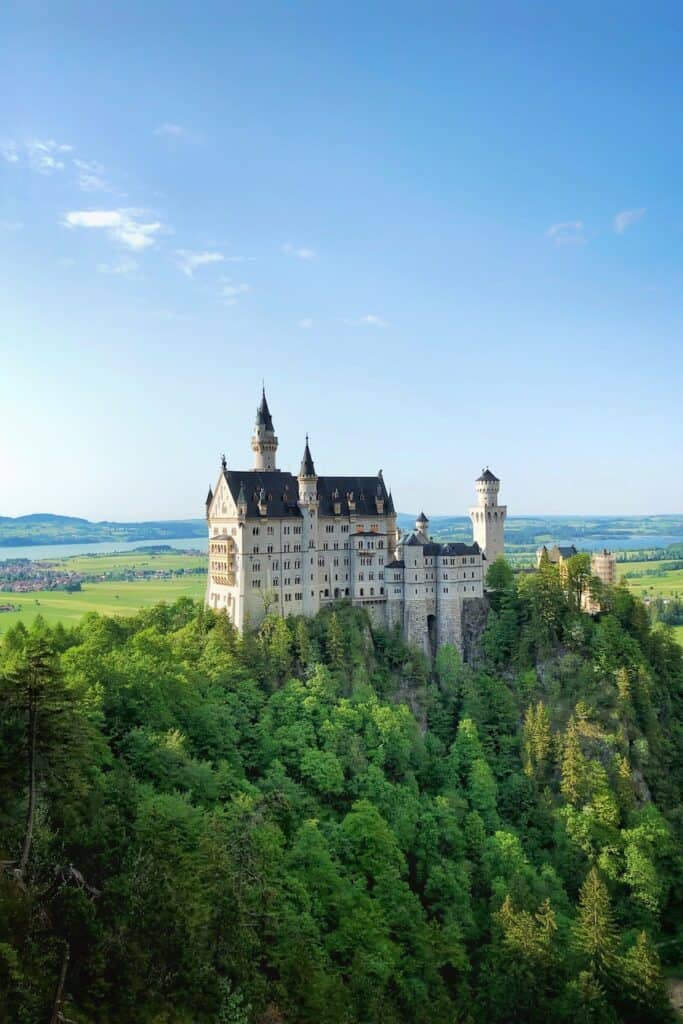 King Ludwig II had almost unlimited funds to spend on this castle which is evident upon seeing this magnificent castle. Most importantly, Neuschwanstein is a one-of-a-kind castle on the inside and outside. From the outside, the castle is grand, white and stands stark against the background. From the inside, every wall in the castle is handpainted instead of wallpaper, there are intricate details everywhere, and there are 1 million tiny tiles on the floor of the throne room. This is one of the best castles in Europe and a bucket list must-see!
---
Hohenwerfen Fortress
Location: Salzburg, Austria
Hohenwerfen Fortress is a large medieval stone castle that sits at the very top of a precipice overlooking the Salzach valley. This castle is located very near to Salzburg, Austria and is a must-see while touring the country. This is one of the best castles in Europe because of its unique build into the mountainous terrain.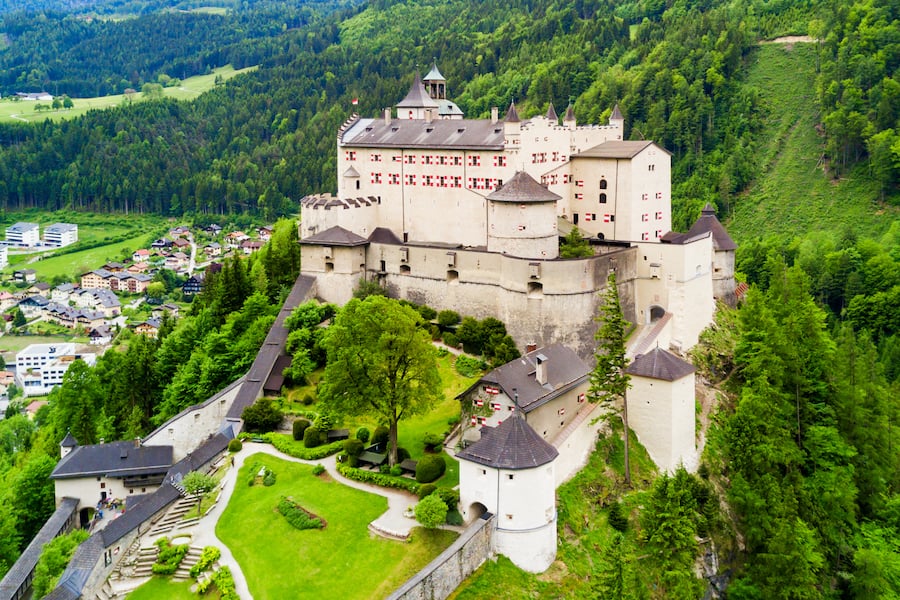 Hohenwerfen Fortress is over 900 years old and is one of the best ways to transport yourself back into the middle ages. This castle is stunning to see from the outside with the white stone standing stark against the lush background. But it is also great to tour and view up close!
---
Corvin Castle
Location: Hunedoara, Romania
Corvins' Castle is one of the most stunning castles in Transylvania. This castle also goes by the name Hunyadi Castle or Hunedoara Castle and is one of the 7 wonders of Romania! Corvins' Castle is one of the biggest and best castles in Europe that isn't as popular and touristy as many others on this list. As a result, you can tour and enjoy this huge medieval gem in a more intimate way. If you are looking for a castle with many rooms and halls to discover, this is it.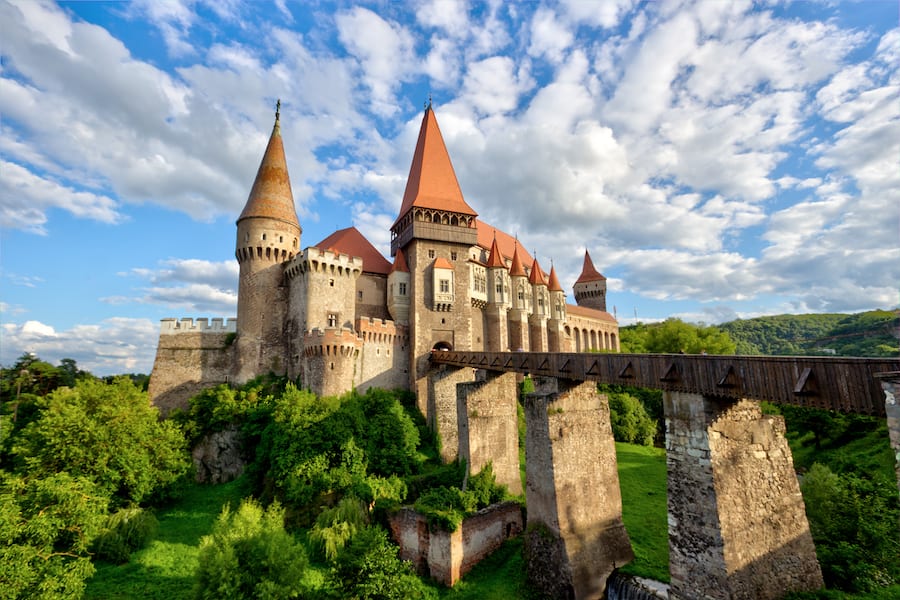 ---
Bran Castle
Location: Transylvania, Romania
Bran Castle is a national monument and landmark in Romania and one of the best castles in Europe. It sits atop a high piece of land overlooking the city below. Many people are enthralled with Bran Castle when they first see it due to its mysterious and historic look. This castle is commonly referred to as Dracula's Castle which has increased its fame!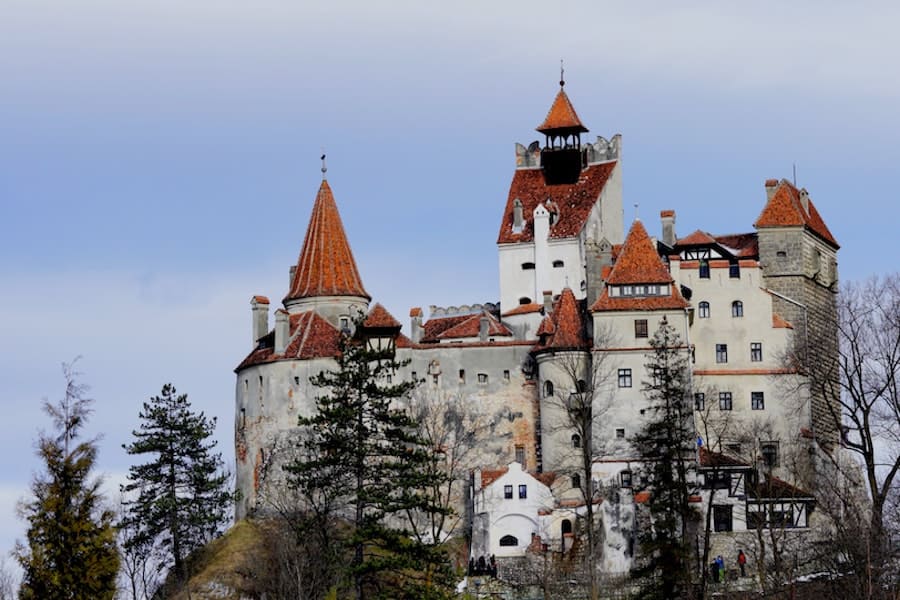 ---
Schwerin Castle
Location: Schwerin, Germany
Schwerin Castle is a stunning castle located in Germany. This is the picture-perfect fairytale castle that you dream about when you read of princesses and princes in books as a child. It is located on an island in the cities lake giving it an even more amazing appeal. The outside of the castle is beyond mesmerizing and is great for photography! And the inside is stunning with its various ornate rooms and decor. This is easily one of the best castles in Europe that is sure to make all your fairytale dreams come true.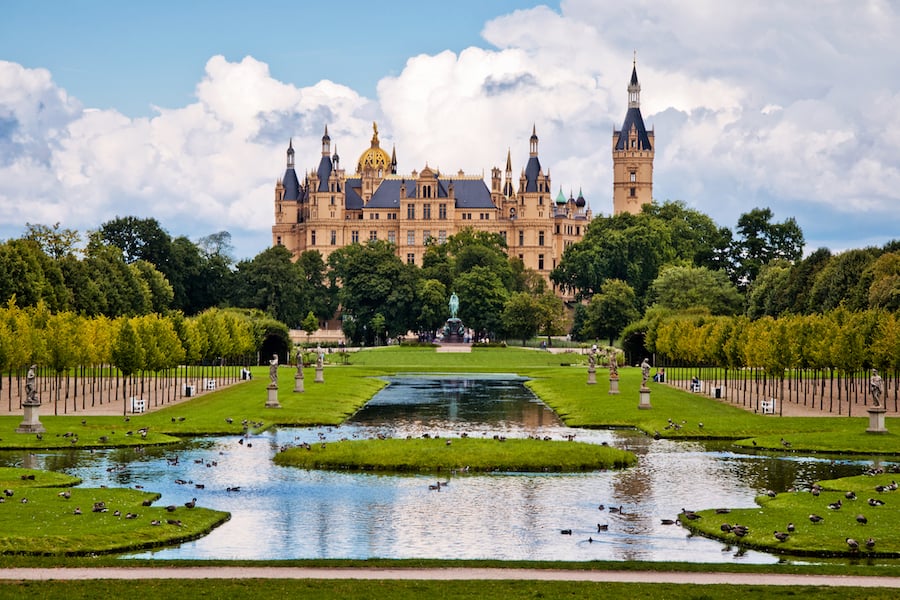 ---
Bojnice Castle
Location: Bojnice, Slovakia
Bojnice Castle is a Romanesque castle built in Bojnice, Slovakia. This medieval castle was built in the 12 century and is complete with both Gothic and Renaissance architectural elements. Bojnice Castle is one of the most visited castles in central Europe with many drawn to its white stone walls and brightly coloured roofs. In the interior of the castle, you will find artistic collections and a historical museum.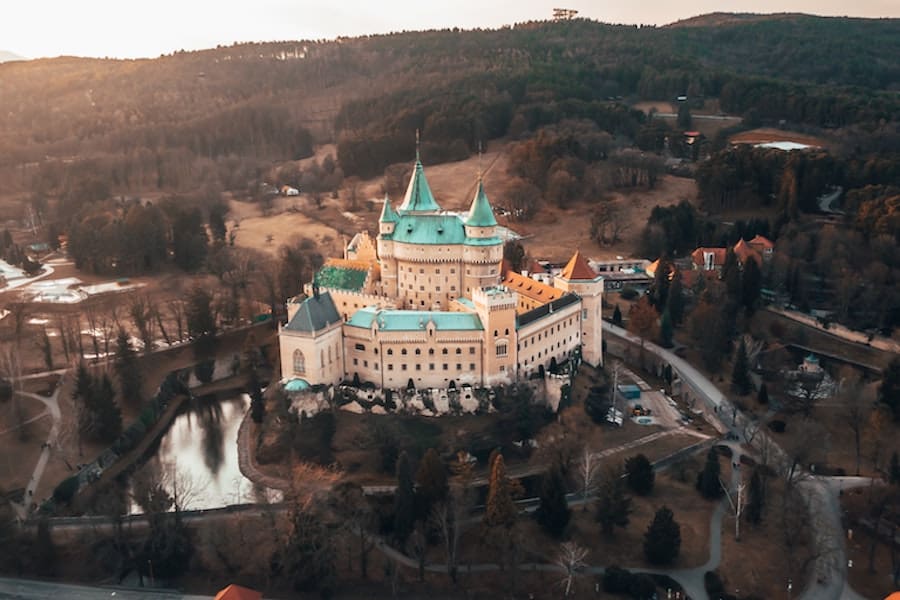 ---
The Alcázar of Segovia
Location: Segovia – Spain
The Alcázar of Segovia is a stunning castle in Segovia, Spain that is also a UNESCO World Heritage Site. This is a truly unique palace that combines the architectural tastes of different monarchs all in one grand design. Sitting at the top of a rocky cliff, this is one of the most notable castles in Spain and all of Europe.
As far as fairytales go, this castle is the one to fit them all. Visiting this castle and exploring its grounds and the stunning interior is a must while in Spain.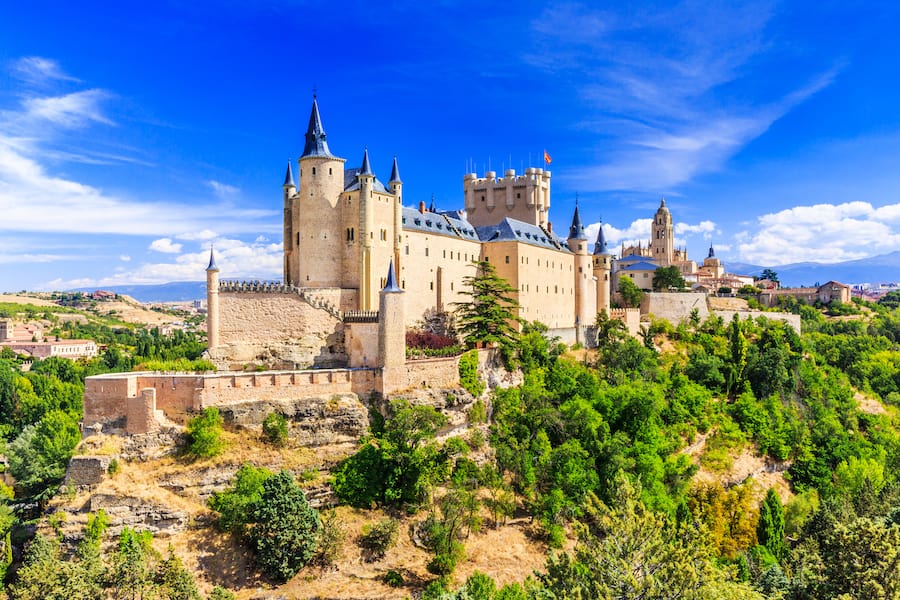 ---
Windsor Castle
Location: Windsor, England
Windsor Castle is a huge royal residence at Windsor in Berkshire. It showcases almost 1000 years of architectural history and is one of the grandest castles to visit in England. This is one of the homes of the Queen and holds over 900 years of British Royal family history. Walking the well-manicured grounds and viewing the interior is the best way to admire this stunning castle.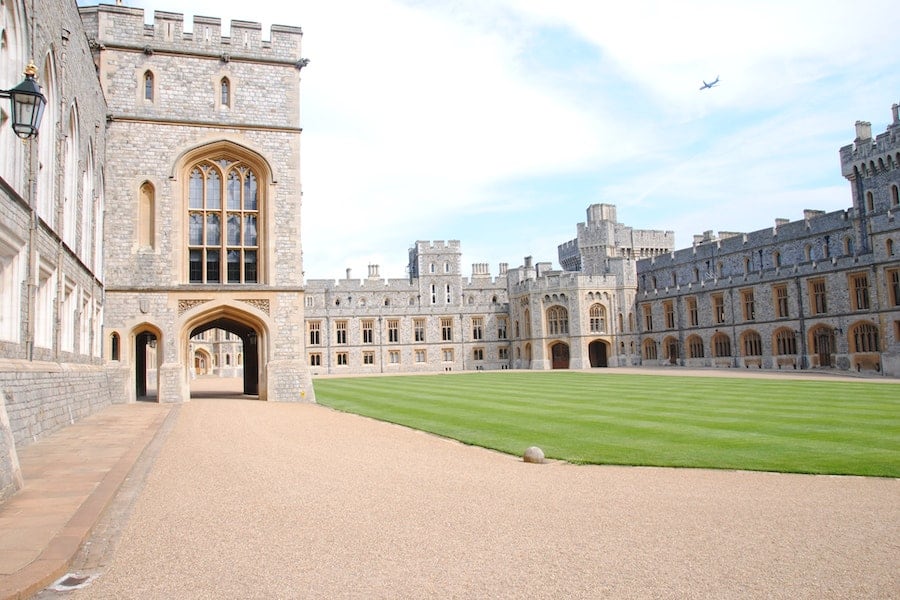 ---
Castello di Miramare
Italy is not home to many castles so finding ones like Castello di Miramare is a rare discovery. Castello di Miramare is an iconic seaside castle located in Trieste, Italy. It sits right along the Adriatic Sea and looks like something out of a movie! The bright white stone exterior against the blue sea is magical. This is one of the best castles in Europe that is both elegant and historic. While here it is best to admire the beautiful architecture, explore the large garden and soak in the historical artifacts indoors.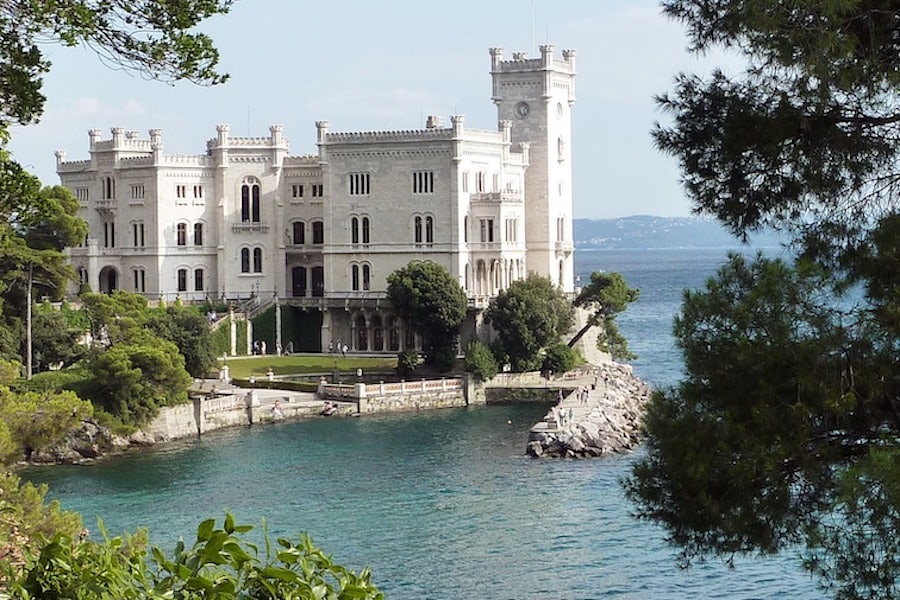 ---
Catherine Palace
Location: St. Petersburg, Russia
The Catherine Palace is a bright and beautiful castle located near St. Petersburg, Russia. This castle is every bit as elegant and pristine on the inside as it is on the outside. The exterior is made with brightly white, blues and gold and is surrounded by a 1400 acre park with bridges, fountains and more! On the inside, you will find ornate decor and 18th-century paintings filling the rooms. This is easily one of the best castles in Europe that displays opulence beyond compare!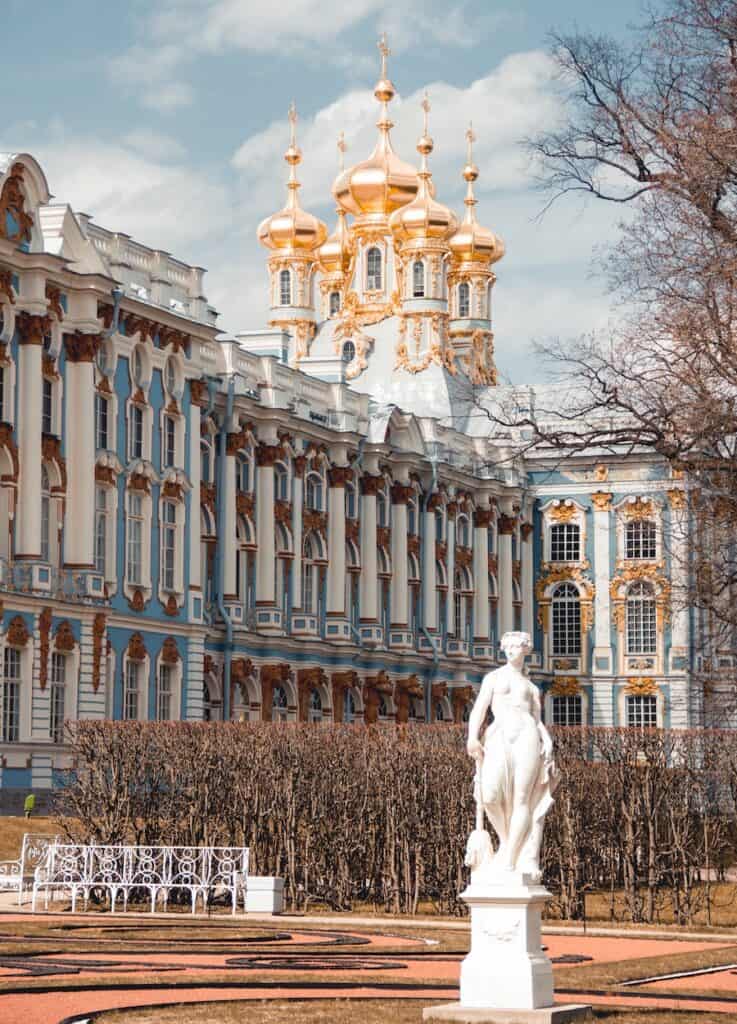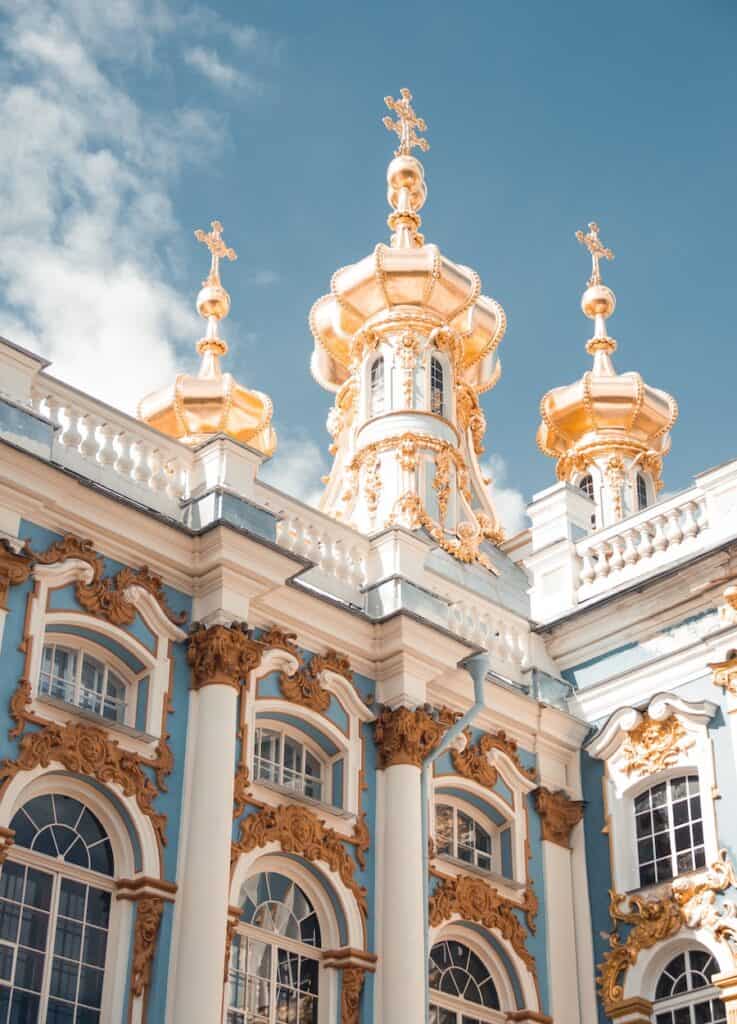 ---
This list is only the beginning of the best castles in Europe. Europe is scattered with stunning castles all around that are yours to discover!
Like this post? Pin "Best castles in Europe" for later!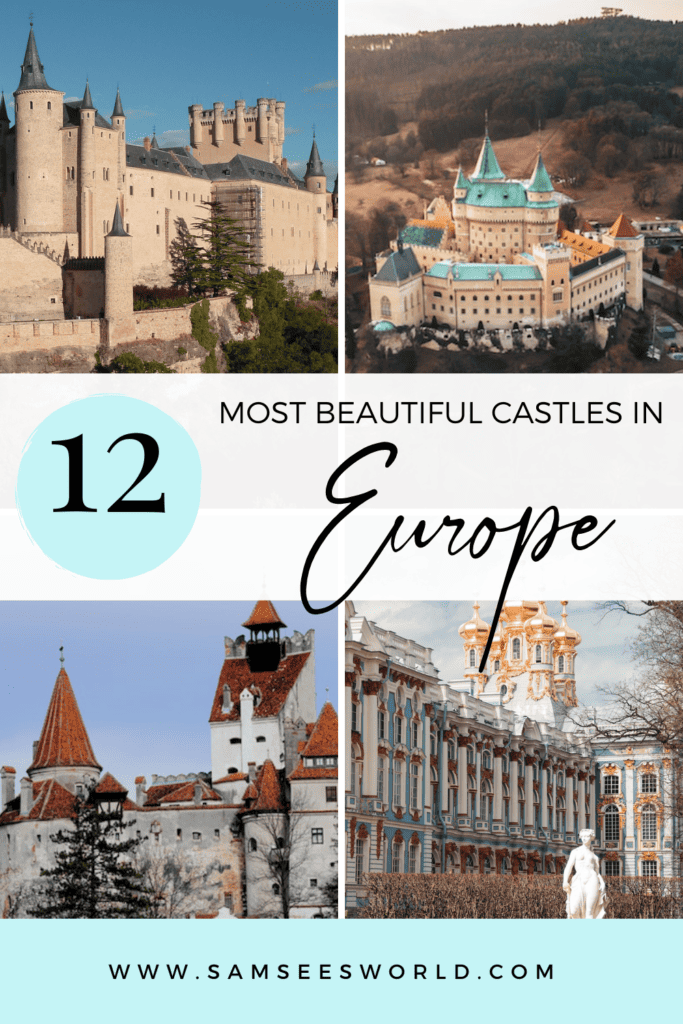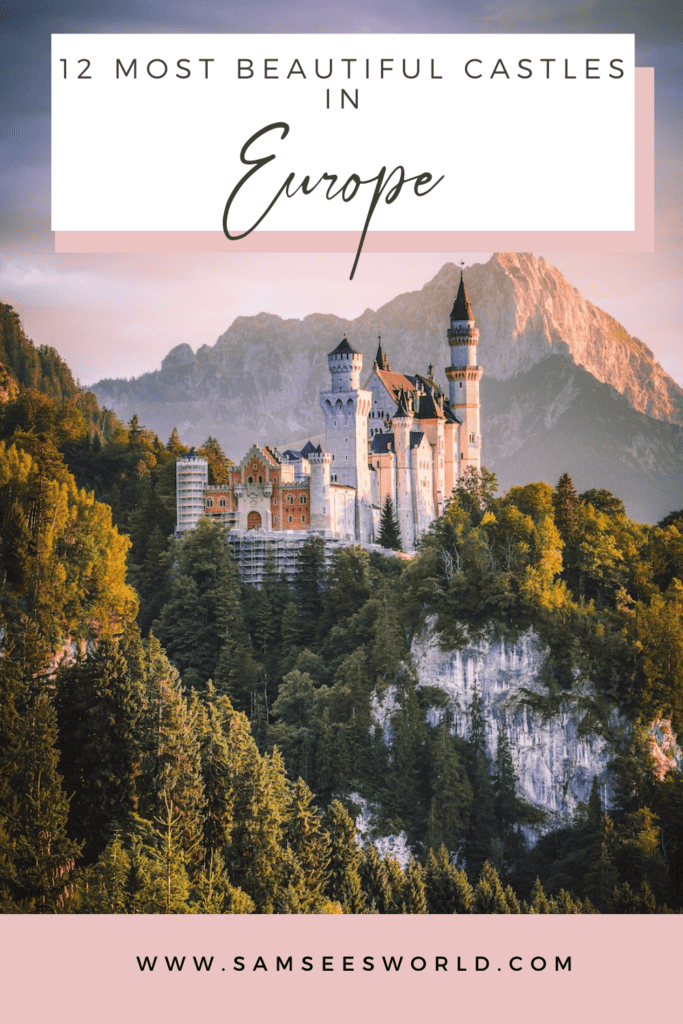 Love,
SSW