Corfu is packed with dreamy beaches all along the coast. Discover the 10 best beaches in Corfu, Greece and prepare to fall in love with the magic of Greek beach life.
Corfu is a stunning Greek island located at the top of Greece near Albania. It is known for its dramatic landscapes, picturesque villages, and magical beaches. If you are looking for the perfect beach-filled getaway then Corfu is the island for you! Here you will find blue water beaches, tiny beaches below huge cliffs and more. You can swim here, do water sports, snorkel or anything else!
Discover the 10 best beaches in Corfu and try to visit them all during your stay!
Read More: Best Beach Captions for Instagram
(Disclaimer: Some links in this post may be affiliate links, meaning if you click on the link and make a purchase, I receive a small commission. This is at no extra cost to you and you may even receive a small discount. See disclosure for more information.)
Best Beaches in Corfu Map
10 Best Beaches in Corfu, Greece
Paradise Beach
Paradise Beach Corfu is one of Greece's most magical beaches. It is known for its tiny, thin beach surrounded by towering white cliffs. The water is a clear aqua blue that is to be expected of this region and all things combined it is stunning! Paradise beach is easily one of the best beaches of Corfu and visiting it is one of the top things to do in Corfu.
This beach is only accessible by boat which only adds to its exclusivity. You can rent a boat or hire a boat with a skipper from the nearby village of Paleokastritsa and drive here to see it yourself. The boat company I rented from was called Triton Marine Tours. Prices for renting a boat vary depending on the season and if you hire a skipper or not. Expect to pay around 120 euros + for 6 hours.
There is typically a ton of other boats sitting in the water admiring the stunning rocks and beach. Just be sure to be careful on the beach as rocks have fallen and injured people.
---
Porto Timoni Beach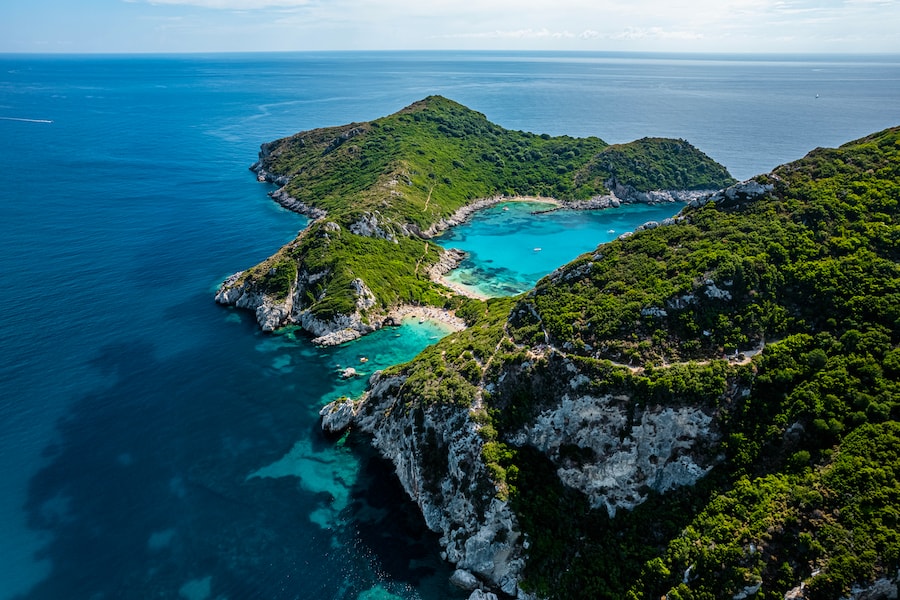 Porto Timoni Beach is a little taste of Asia in Greece. It looks shockingly similar to the very famous Komodo Island in Indonesia, except all the way on the other side of the world. This beach is absolutely stunning and a must-visit while in Corfu. However, getting to Korto Timoni requires some extra work and effort.
To get to the rocky beach you must embark on a 20 minute hike that is on a pretty steep and rocky slope. The second option is to get a water taxi. But if you take a water taxi you miss the opportunity to view the beach from above, which is a magical view.
---
Agios Gordios Beach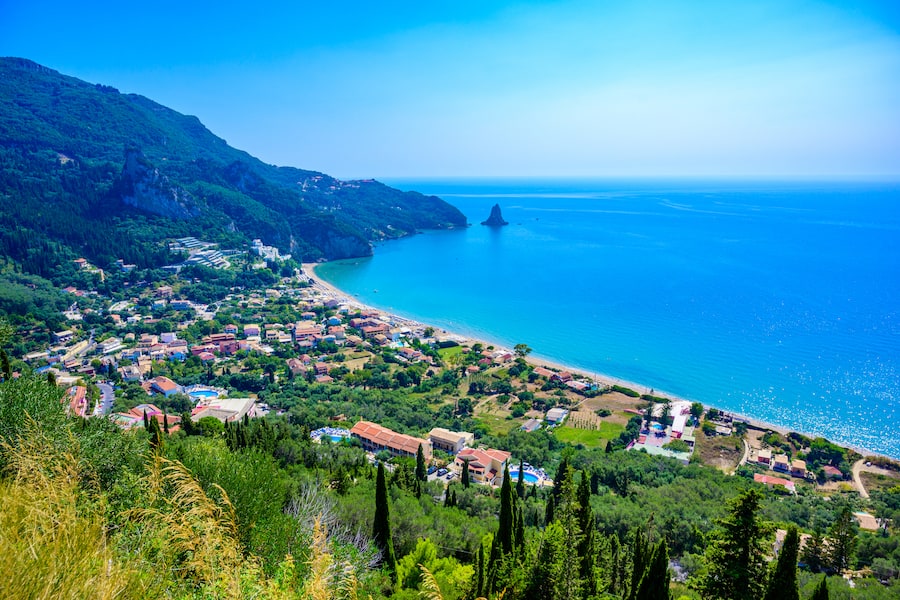 Agios Gordios Beach is one of Corfu's most famous and popular sandy beaches. If you prefer sandy shores rather than rocky then this is one of the best beaches in Corfu for you. It is situated inside a bay and is the perfect Corfu gem for those looking to enjoy a relaxing and beautiful beach day in some of the world's clearest, bluest waters. This beach also has sunbeds to rent and plenty of restaurants nearby for the perfect convenient beach day.
---
Nissaki Beach Corfu
Nissaki Beach Corfu is one of the smaller beaches in Corfu that is ideal for a more authentic and local feeling beach day experience. This beach is sheltered so there is little water disturbance and is situated on a rocky shore. There are also some restaurants nearby so you can grab a bit to eat midday and return to spend some more time in the warm Greek sun.
---
Paleokastritsa Beach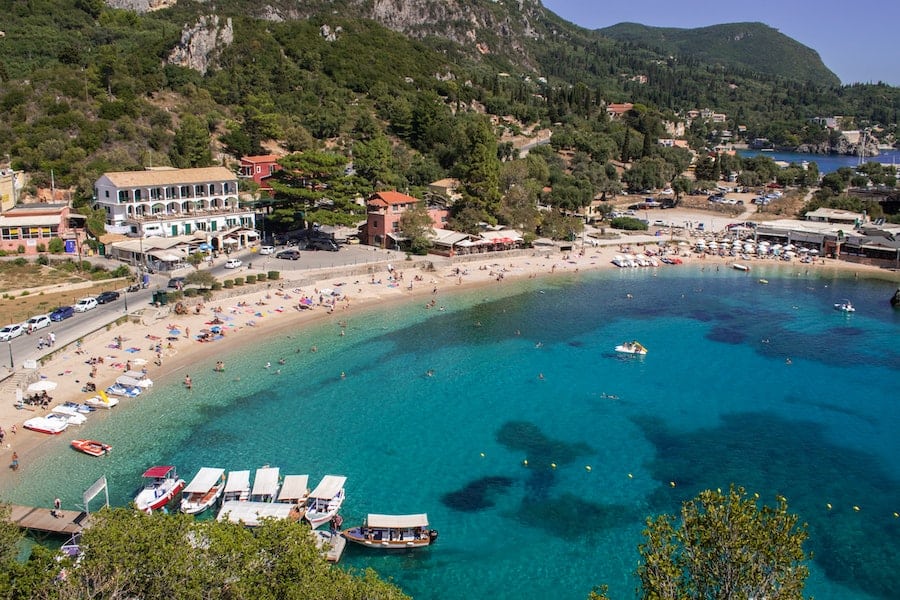 Paleokastritsa is a beautiful village in Corfu made up of various lovely beaches. The most beautiful is Paleokastritsa Beach (Παραλία Παλαιοκαστρίτσα) which is a clean and calm beach located at the far end of the village. It is characterized by its vivid blue waters which are ideal for swimming and snorkelling. Paleokastritsa Beach is the perfect place for snorkelling as there are fish everywhere and the water is so clear you can see for miles!
---
Myrtiotissa Beach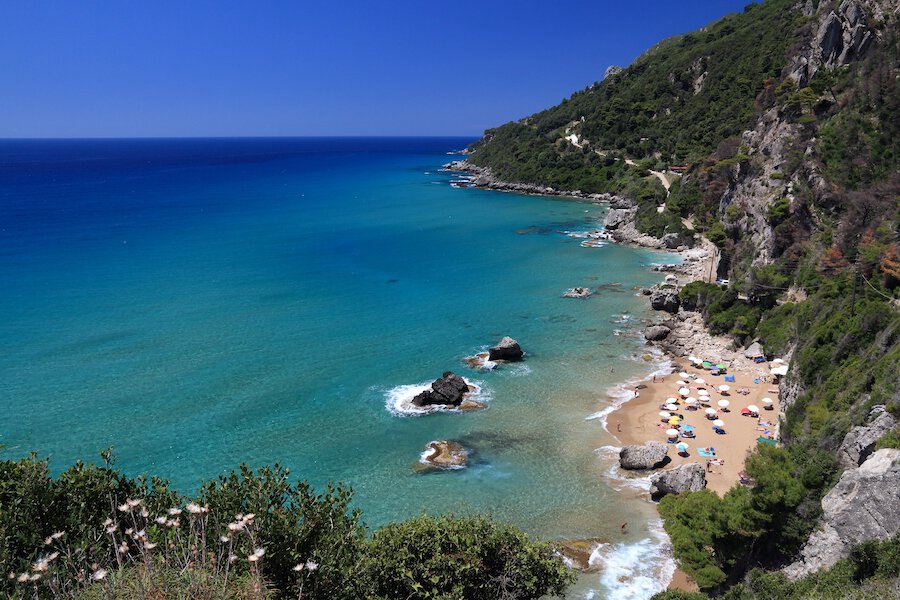 Myrtiotissa Beach is one of the more rugged and authentic beaches in Corfu that is perfect for adventure travellers looking to see and experience a beach day that is not so touristy and a little of the beaten track. The beach is made up of fine soft sand and the water is a clear aqua blue. The most interesting thing about this beach is its location. It is built on the small outcropping of sand that has appeared alongside the huge lush cliffs. This is one of the best beaches in Corfu that offers an experience in addition to a beach day.
---
Kavos Beach
Kavos Beach is one of the smaller beaches in Corfu that offers a peaceful and relaxing beach day getaway experience. It is the perfect place to head to if you are looking for a relaxing beach in a private and exclusive environment. Here you will find a small number of sunbeds for €5 (make sure you arrive early if you want a sunbed as there is only a limited amount), beautiful blue water to swim in, and a ton of restaurants and cafes very nearby.
---
Loggas Beach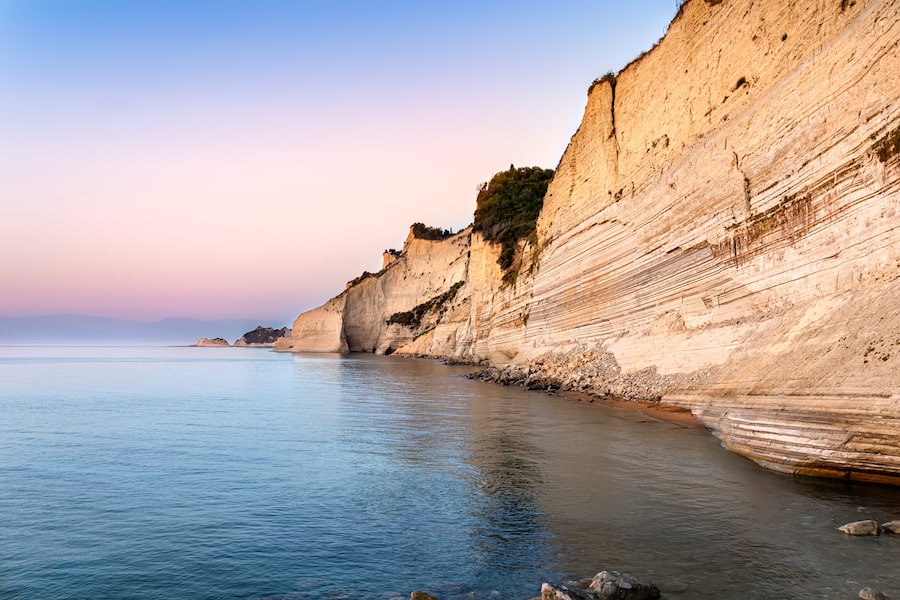 Loggas Beach is easily one of the most mesmerizing beaches in Corfu. This beach is located on the northwestern side of Corfu and the beach itself is very small and located directly below the sheer white cliffs. The scenery here is unmatched with the tiny beach and huge white cliffs. Most people don't head here during the day for a beach day, rather they head here during the evening to watch the sunset. Loggas Beach is known as one of the best places in Corfu to watch the sunset.
---
Canal d'Amour Beach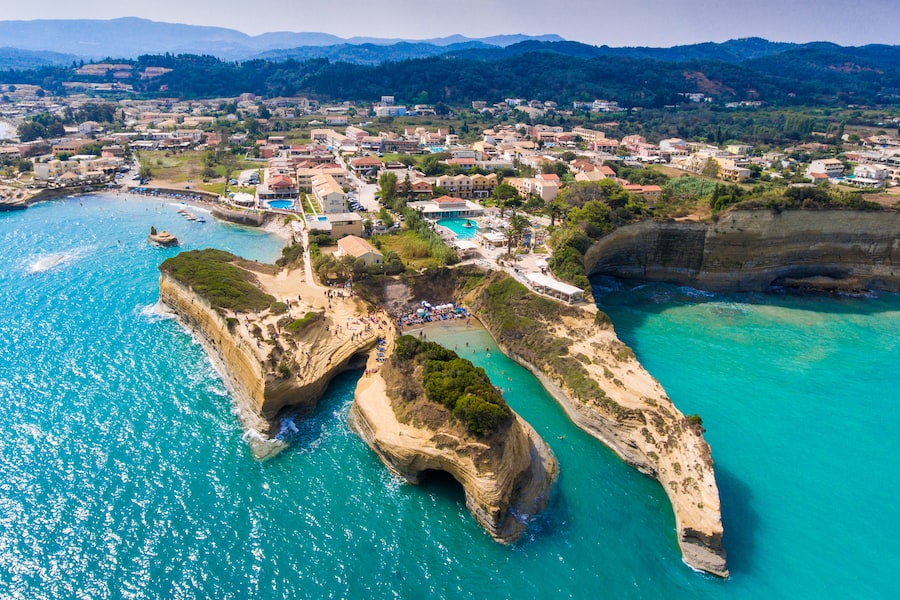 Canal d'Amour is one of the more unique beaches in Corfu made up of a blue water canal and a small beach located within it. You can find it on the North coast of Corfu in Sidari, one of the more touristy areas in Corfu. Canal d'Amour is one of the best beaches in the area because its stunning natural landscape formation is something you won't find anywhere else. Legend says when two people swim here they will fall in love OR get engaged soon.
Tip: there are actually two lovers' canals in this area right beside each other. The Lovers Canal with the beach can be reached by following the path and signs along the water.
---
Ipsos Beach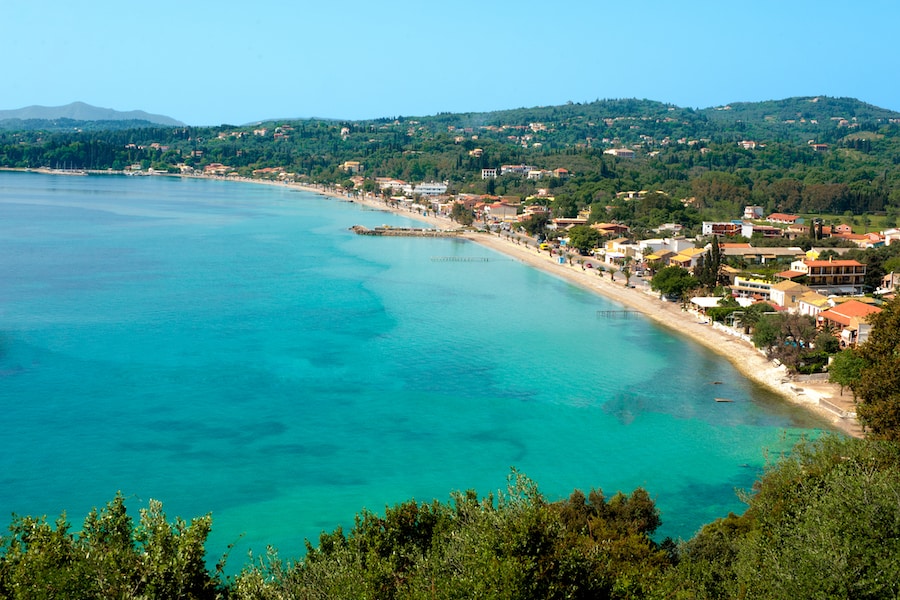 Ipsos Beach is a long and beautiful beach in Corfu perfect for a full beach day adventure. The clear blue water is ideal for swimming and snorkelling and the nearby restaurants and cafes make stopping for a snack or drink super easy. This is a pebble beach so be sure to bring water shoes if you need them.
---
So much beauty so little time! Corfu really is a beach lover's dream destination with its many stunning beaches all with their own special charm.
Like this post? Pin "10 Best Beaches in Corfu" for later!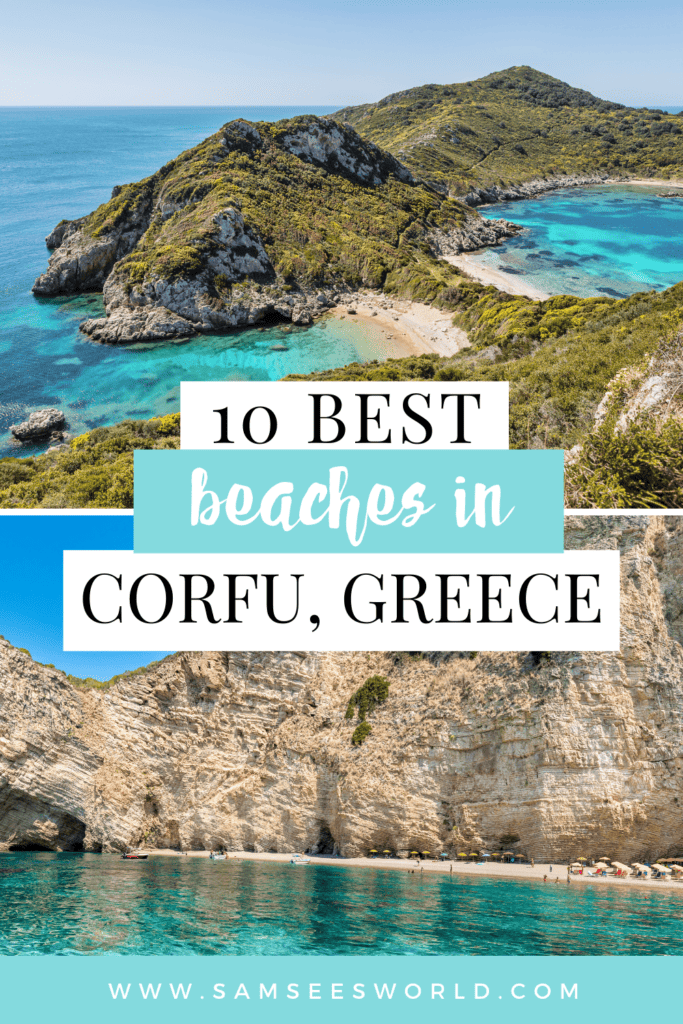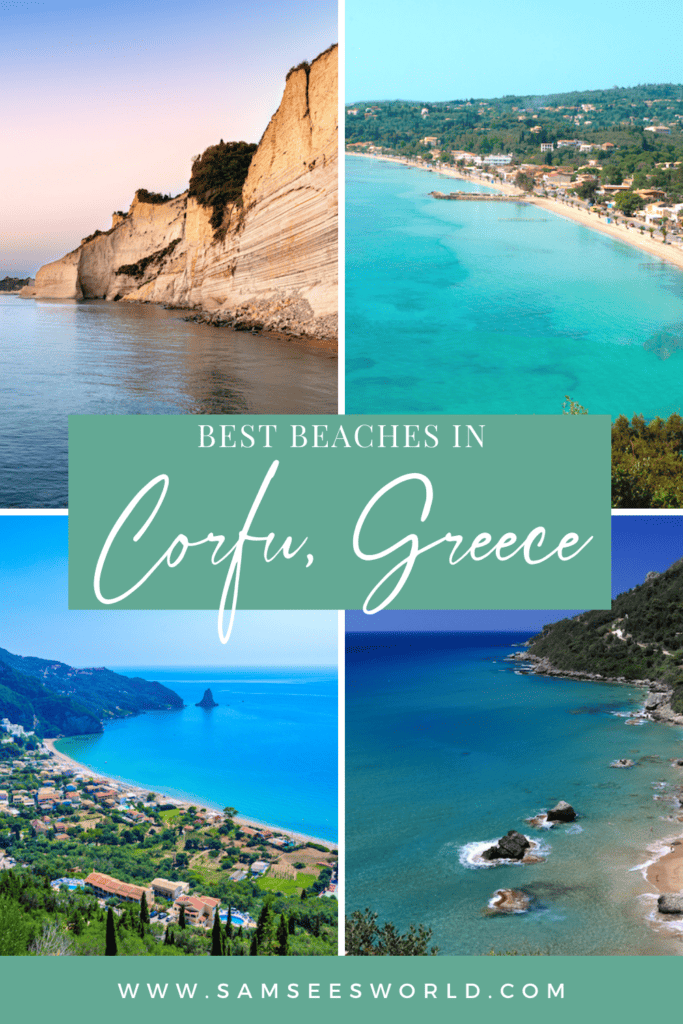 Love,
SSW