Sorrento is a stunning coastal city located high in the cliffs along the Amalfi Coast. It is not the most popular city along the coast, but there are plenty of things to do in Sorrento that will blow you away. The city of Sorrento has a long history dating back to 600 BC when it was a trading city during medieval times. Today, it is a charming travel destination that looms high in the mountains and offers stunning views of the endless Ocean ahead.
Sorrento is the perfect location for choosing accommodation and setting up a base for your Amalfi Coast vacation. Firstly, it is located only 45 minutes from Naples, making it very easy to travel to via ferry. Secondly, it offers the most day travel tours to other cities along the coast such as Positano, Capri, Ravello, Naples, Pompeii and more! Finally, staying in Sorrento is significantly cheaper than some of the other more popular cities along the coast. We stayed in an Airbnb and the price was very reasonable compared to the high accommodation prices in Positano.
I didn't think I would like Sorrento as much as I did, but I fell in love. It is such an underrated coastal city that offers so much. The beautiful beaches, stunning views, old streets, and delicious food stole my heart and offered me everything I needed in an Italian getaway. Sorrento is also far less busy than Positano so if you prefer fewer people this is a great option!
As you can see there are a plethora of things to do in Sorrento, and I am more than happy to share them all with you!
(Disclaimer: Some links in this post may be affiliate links, meaning if you click on the link and make a purchase, I receive a small commission. This is at no extra cost to you and you may even receive a small discount. See disclosure for more information.)
Best Things to do in Sorrento
Relax at The Beach
Summers in Italy are hot! Thankfully, Sorrento is lined with a ton of unique beaches for you to layout on and cool off. What makes Sorrento beaches so unique is that the lidos and beach clubs are built on decks above the water. The private beach clubs on the beach decks offer sun-beds and umbrellas for a cost of 15-20 euros per day and I highly suggest purchasing one if you plan on spending the whole day at the beach.
You can have your sun-bed face Sorrento and the towering cliffs above, or the vivid blue waters of the Sea. My favorite private beach club was Peter's Beach, which offered great service, comfortable sun-beds and lots of stairs so you can easily climb into the water when you start getting too hot.
There are also free areas on the beaches but these get packed. There is very limited space in the free sections and you are basically laying out directly beside someone on all sides. If this is one of the top things to do in Sorrento for you, be sure to plan an early start to get a good place to sit.
Read More: 20 Things to do in Positano
The beach experience in Sorrento is very different from other coastal towns along the Amalfi Coast due to its location in the cliffs. This results in a very unique beach experience that is both dreamy and exciting. I highly suggest you spend some time on the beach in Sorrento.
---
Be Entertained at Opera e Lirica
Opera E Lirica is the Grand Opera in Sorrento that hosts various musicians throughout the year. An evening at the Opera is a Sorrento excursion you will never forget. It is the perfect combination of beautiful music, beautiful surroundings, and a beautiful atmosphere. This is one of the top things to do in Sorrento for visitors of all ages, genders, and nationalities, who can sit and enjoy the music without any judgments.
I have never been to a show at the Opera but I have heard many great things about it. One thing I have heard is that even if opera isn't your thing you will be enthralled and hooked on it afterward.
---
Soak in the Craziness of Piazza Tasso
Piazza Tasso is the main square in Sorrento and it is full of energy and people milling about. There are constant streams of cars, scooters, and people all getting around this main junction. It is quite a hectic piazza but that is part of its charm! The atmosphere is always bursting with excitement and soaking it in is one of the top things to do in Sorrento.
Walking around here is really interesting and makes you feel apart of the Italian culture. On one side of the Piazza is a view of the cliff Sorrento is built upon and a dizzying view to the ground. And on the other are a plethora of restaurants. Sitting in a cafe here for a cup of coffee and watching people mill around is a great way to enjoy and appreciate this unique area.
One of the best restaurants in Piazza Tasso is Fauno Bar, which offers a perfect view of the main square and delicious food. If you love to people-watch I highly suggest you head here!
---
Explore a Lemon Grove
Sorrento is the land of lemons! Everywhere you go you will see lemon trees and shops selling lemon-infused items. They even have their own specific type of lemon called the Sorrento lemon, and it is huge! Therefore, exploring this Sorrento staple is a must.
Consequently, right in the middle of Sorrento, there is a free lemon grove called I Giardini di Cataldo just waiting to be explored. At this lemon grove, you can wander around the various lemon trees and see how some lemon infused specialty items like limoncello are made. The fresh citrus scent and the spacious area offers a welcome escape from the busy Piazza.
I Giardini di Cataldo is free to enter and at this grove, you get free limoncello samples! There is no better thing to do in Sorrento than to enjoy one of the town's most famous exports. Plus, you can really taste the freshness and authenticity here!
---
Get Tipsy Limoncello Tasting
The samples at the lemon grove were just the beginning of the limoncello samples. Limoncello is super trendy in Sorrento and can be found around every corner. Mainly because Sorrento is the main production center and provider of limoncello for all the neighboring cities! Therefore, limoncello in Sorrento is the gold standard and it would be a waste not to take advantage of this and add tasting limoncello to your things to do in Sorrento list.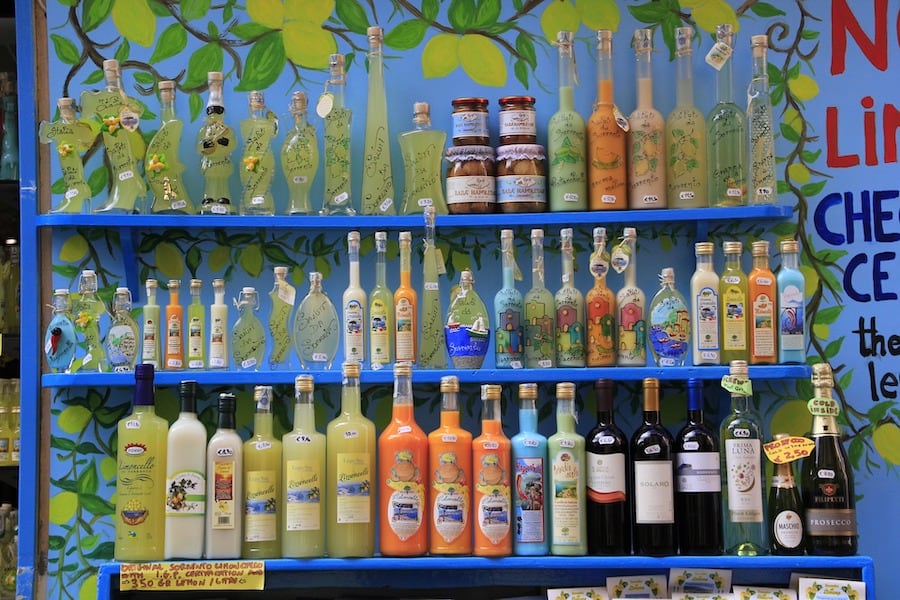 It is a good idea to spend a few hours exploring some of the limoncello shops to taste all the different flavors and types of limoncello available. This is a great way to immerse yourself in the Sorrento traditions while having a good time. The best way to really become a part of the new places you visit is by trying and engaging in their local customs, traditions, and offerings. This is why sampling limoncello straight from the source is often one of the most memorable things to do in Sorrento, that shouldn't be missed.
If you don't want to store hop you can also get a chilled glass of limoncello at a restaurant as an aperitif or pick up a bottle at a store. Limoncello is a great souvenir of Sorrento and can be used in many different ways, such as on top of ice cream, as a beverage, in baking, etc.
---
Go For An Adventure At Regina Giovanna
Regina Giovanna is the perfect swim spot for adventurous travelers or those who want to get away from the crowds. Bagni della Regina Giovanna (in English it is called the Baths of Queen Joan) is Sorrento's best-kept secret. It is a gorgeous swimming hole that has been naturally formed by the crashing waves. The blue waters, secluded atmosphere and high cliffs make for a thrilling adventure!
It is also a great place for bloggers and influencers. This spot is very photogenic and makes for some really amazing photos. This is why it is one of the top things to do in Sorrento for those visiting with the intention of capturing some of the town's best gems.
To get to Regina Giovanna you can either walk or take the bus. The walk takes about 50 minutes and there is no defined trail, therefore, this option can be a little sketchy. Or you can take the bus from the train station and request a drop off at Regina Giovanna.
---
Appreciate Sorrento from a Marina
Sorrento has two main ports, the first one is Marina Grande which is the old and historic port of Sorrento. It used to be home to pirates back in the day! This marina is lined with shops, restaurants, and cafes along a small area of land below the Sorrento cliffs. This is the best place in the city to eat some fresh seafood while overlooking the sea. While eating, you can even watch the local fishermen out on their boats cleaning up after a long day.
The second port is Marina Piccalo which is the main transportation port. This is where you will arrive at if you take the ferry from any of the nearby cities. This marina also has a few restaurants, but it is not nearly as grand as Marina Grande.
However, both ports offer great views to both the sea and Sorrento! From below you are able to look up at the huge, rocky cliffs, Sorrento is built upon in awe. This is one of the things to do in Sorrento that you can't miss!
---
Embark on a Boat Tour
Taking a boat tour around Sorrento to see the city from afar is a great way to experience Sorrento. In addition, many boat tours will bring you all around the Amalfi Coast providing you with some stunning coastal views.
Relaxing in the Italian sun and looking out at the beautiful views of Positano, Capri, Ravello and more is an amazing thing to do in Sorrento.
---
Enjoy the View
The views of Sorrento are not as popular and well known as those of other cities on the Amalfi Coast but they are just as beautiful. Due to its location on a cliff, there are tons of spots that offer stunning views of the sea, marinas, city and distant mountains.
One of the most popular views is from Villa Comunale Park right above the main beach. From here you can see the whole Bay of Naples and the lidos down below. Spend some time on your visit to just take in your surroundings and appreciate the beauty of Sorrento.
---
Take a Day Trip
As I had previously mentioned, one of the best aspects of Sorrento is its accessibility and convenience to go to other cities. Therefore, taking a day trip is highly suggested. Some options are listed below.
Positano
Positano is definitely the most famous city along the Amalfi Coast due to its picturesque buildings and the explosion of photos of it on Instagram. I loved Positano and it was just as beautiful as I had expected. A day trip from Sorrento to Positano was enough time to see the main things within the city. I took a tour bus that ran from Sorrento to Positano and I found it worked out very smoothly. The bus takes around 45 minutes to arrive at Positano. But you can also take a ferry.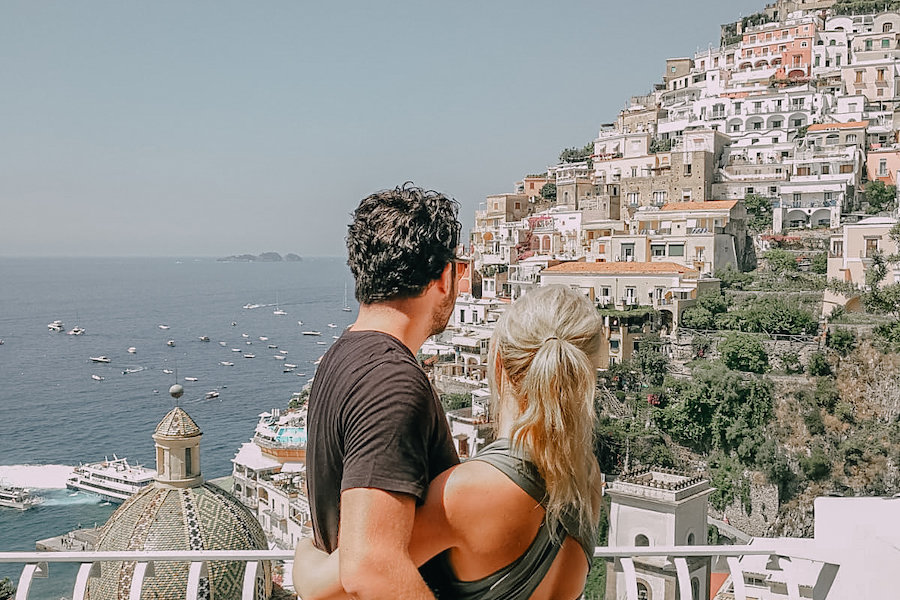 Upon arriving in Positano you will be blown away by the sheer beauty of this village. The whole town looks like something from a fairy tale and not only is it beautiful but there are a ton of great things to do in Positano. From exploring the picturesque streets to relaxing on the beautiful Positano beaches and more. Embarking on this day trip is one of the best things to do in Sorrento.
Read More: Top 10 Positano Beaches
Amalfi
Amalfi is a little bit of a distance from Sorrento but it is a really beautiful coastal city. You can take a bus ride here or the ferry and spend some time exploring the stunning streets and cafes. While here you can also check out Ravello which is just up the mountain.
Pompeii
Pompeii is an ancient Roman town that is full of history. If you are a history buff I highly suggest you take a day trip here!
Moreso, if you are also visiting the historic city of Rome, Italy on your travels, Pompeii is an even better day trip from Rome due to their coinciding historic pasts.
Naples
Naples is a short 45-minute ferry ride from Sorrento and a great place to visit within Italy. Naples has an old Italian feel to it, with the unique architecture, locals who speak little English, and pizza restaurants on every street. What's also great about Naples is that it is the birthplace of pizza! This means that some of the best-tasting pizza in the world comes from here, and I can honestly say this is the truth!
Read More: Best Beaches in Positano
---
Get Lost in the Streets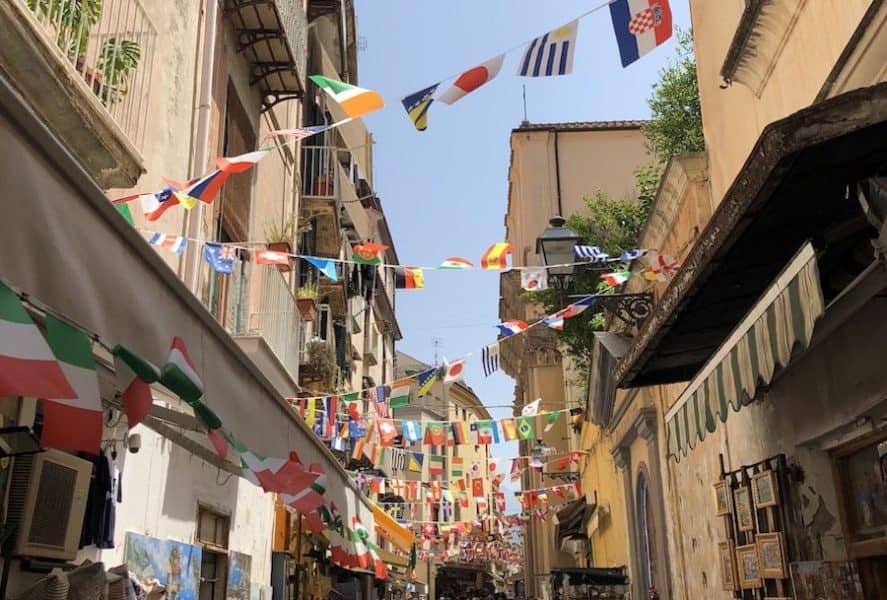 Sorrento is full of pedestrian-only alleys and walkways with something new around every corner. The cobblestone streets and colorful buildings are as pretty as a postcard and you can easily get lost in them. The main streets are full of art galleries, boutiques, souvenir shops, restaurants and more.
The mindless walking and getting lost in the warm Italian streets is one of the most underrated things to do in Sorrento. You don't always have to be on the go and seeing new things. Just enjoying where you are and soaking it in full is perfect!
These streets can get pretty crowded during the day hours throughout the summer months, so if you prefer to explore in peace try heading here earlier in the day!
---
Eat Mouth Watering Gelato
Gelato in Italy is the best in the world, and of all the Italian cities I have been to I can honestly say Sorrento has the best gelato! There is a gelato shop every 50 meters all packed with 20+ flavors for you to choose from. The flavors are really unique like lemon sorbet, limoncello infused gelato, tiramisu, Nutella, and more! Eating fresh gelato on the warm Italian streets is unquestionably one of the loveliest things to do in Sorrento.
Some of the top gelato places are Gelateria Primavera, Gelateria Davide, Raki, and Puro.
---
View Vallone dei Mulini di Sorrento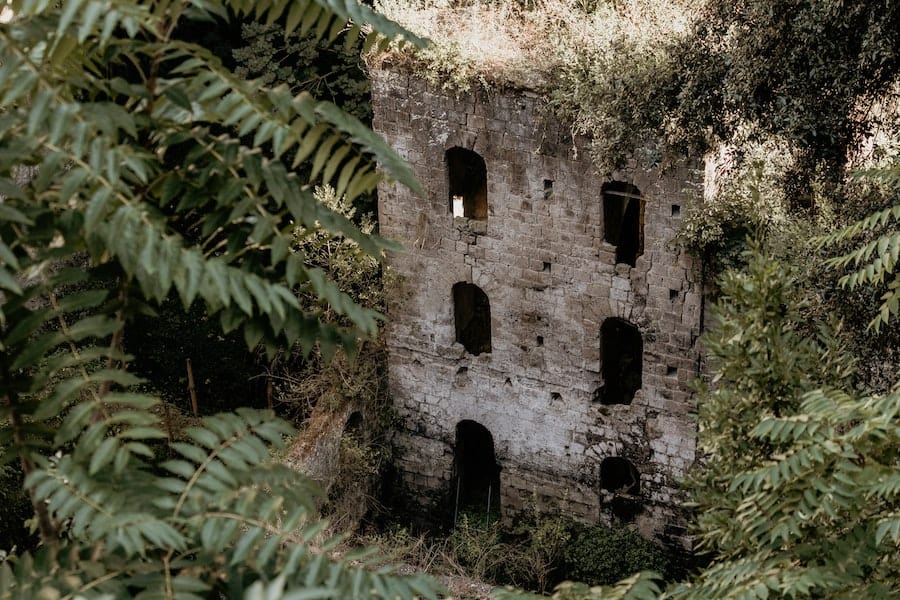 Sorrento's Vallone Dei Mulini – in English Valley of the Mills – is one of the more historic and interesting sights to see on your visit. It essentially is an abandoned building that nature has taken over.
Interestingly, the valley was formed 35,000 years ago after a giant earthquake! However, the mill was constructed 700 years ago and it was only abandoned in 1940. As a result, nature hasn't completely hidden it from view. It has an almost eerie look to it but results in some very cool photographs and it is interesting to see.
It is located only about a 1-minute walk from the main Piazza and the journey is well worth it. There is a trail to follow and there is a small wall ensure you don't fall from the edge. Vallone Dei Mulini is a very intriguing site and definitely worth the visit.
---
Go Shopping
Sorrento is a great place to go shopping! There are a ton of unique stores to check out all with different offerings. One of the most enjoyable shops to find are the local art shops that sell stunning paintings of the city. If you are an art lover this is a great souvenir idea.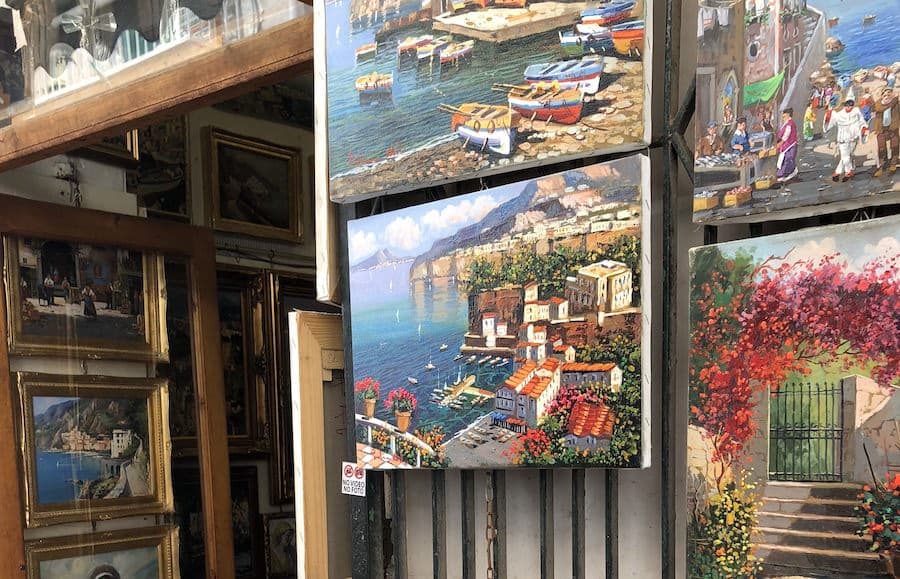 As I had mentioned, Sorrento is packed with all kinds of shops that are just waiting to be explored. When you start looking in shops you will be surprised at how many different lemon-scented, flavored and themed items are for sale. In the shops you can find lemon anything: candles, candies, beverages, limoncello, table clothes, ceramic lemons, and the list goes on and on. I think a lemon themed item is the best kind of souvenir you can take home from Sorrento!
In the shops, you can also find real leather items, shoes, clothing, and various other souvenir items. Exploring and picking up a souvenir is one of the more popular things to do in Sorrento. Also since Sorrento has lower prices than other Amalfi Coast towns, the allure grows!
---
Enjoy Authentic Italian Food
The food in Sorrento is absolutely amazing! It consists of real, authentic Italian dishes made with local ingredients. It might feel like you've died and gone to heaven after dining here. Every meal offers something unique and impressive to sample and enjoy. It is obvious why eating is one of the most popular things to do in Sorrento.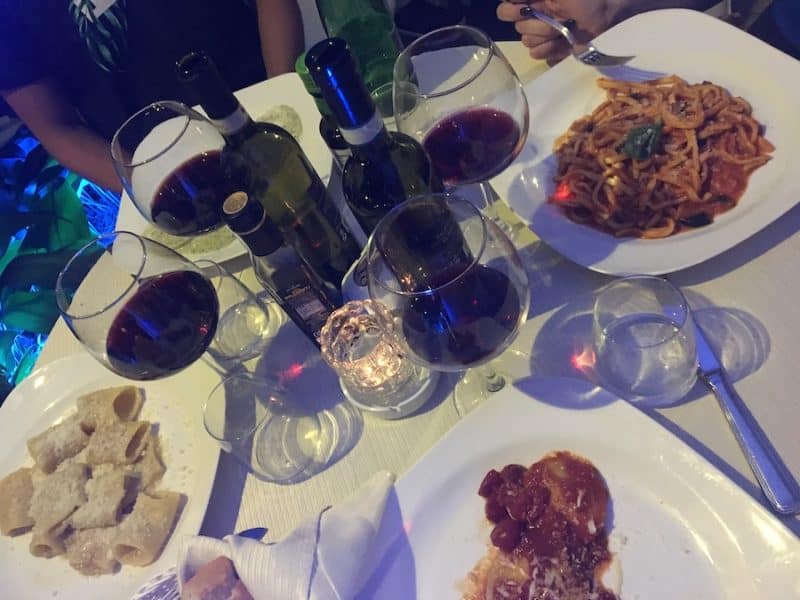 My favorite food is pizza, therefore, for every main course I got a pizza and I became even more obsessed. Sorrento has some of the most amazing pizzas and restaurants in the world! Therefore, I would love to share some of these with you.
Pizzeria Franco – For the pizza cooked expertly in a wood oven! This is a local favorite, and that's when you know it is good.
Bistro Sorrento – For some delicious food that is presented beautifully! This spot is totally Instagram worthy.
AZZ! Bar – This is a budget-friendly option that matches the more expensive options perfectly. You can get all the authentic Italian goodness while saving some money!
One of my favourite things to do in Sorrento is try new restaurants and enjoy the amazing food in addition to the incredible ambiance. There really is nothing better than eating good in a setting unmatched by anywhere else in the world.
---
Where to Stay in Sorrento
The best place to stay in Sorrento is anywhere within the city limits. This gives you the most authentic Italian experience and most accommodation options are very affordable.
---
How to Get to Sorrento
If you are staying in Sorrento you are in luck, because It is the easiest coastal town to reach. You can either get there by train or ferry.
Ferry – There are direct ferries that fun from Naples to Sorrento and take 45 minutes. The main ferry companies are Alilauro, Caremar, and NLG. You should look online beforehand to check ticket prices and times. You can either book your ticket at the port or beforehand – I do mine before just in case.
Circumvesuviana Train – This is the most popular way to get to Sorrento but also the most uncomfortable. The train takes off from the Garibaldi train station in Naples and arrives in Sorrento after 26 stops. The train is much cheaper than the ferry so as a result, it is hot, crowded, covered in graffiti and is frequented by pickpocketers.
I think the ferry is the safest and best option.
---
Sorento is an absolutely stunning coastal city that doesn't get half the recognition it deserves. I hope on your travels you implement some of these amazing things to do in Sorrento during your stay!
Let me know if you did anything amazing in Sorrento that I should have included on this list.
If you are in Italy be sure to also check out some of the other major cities like Rome, Venice, Milan, and others!
Like this post? PIN " Top Things to do in Sorrento" for later!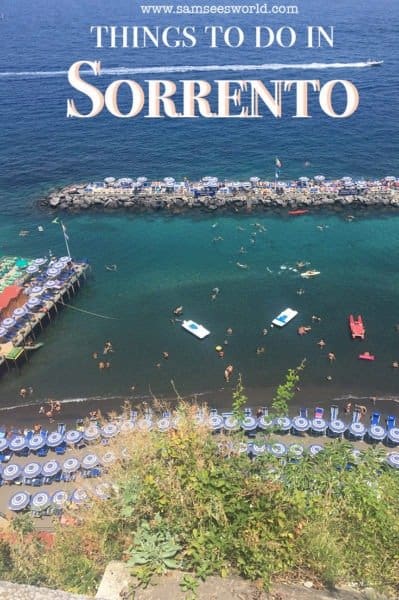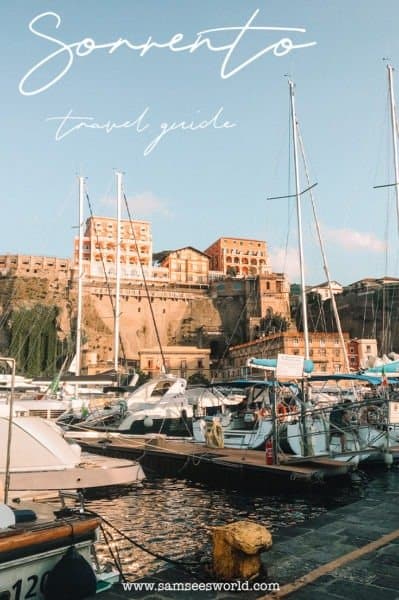 Love,
SSW