Looking for the top things to do in May in New York? This post has everything you need to know about visiting the big apple in the month of May. From where to stay, what to do, and more! NYC in May is the place to be.
New York is one of America's most magical cities. Visiting it should be on everyone's bucket list to see and experience everything NYC has to offer. There is so much to see and do in New York that you could easily spend your entire life living here and do something different every day! Every month in NYC comes with its own exciting events and activities and May in New York City is no different.
It doesn't matter if you are visiting New York for 3 days or 3 weeks, this May travel guide will help plan and guide your adventures in the city. By the end of your visit, you will surely be charmed by the city and all that it holds.
(Disclaimer: Some links in this post may be affiliate links, meaning if you click on the link and make a purchase, I receive a small commission. This is at no extra cost to you and you may even receive a small discount. See disclosure for more information.)
May in New York: Complete Travel Guide
Weather in May in New York
A visit to New York City in May is perfect for those looking for mild and sunny days. May is well into the spring season, and almost summer in NYC. At the beginning of May will find days with highs between 17°C and 19°C and lows in the night of around 10°C. While towards the end of the month temperatures can reach up to 25°C or more! More so, May is a pretty sunny month for NYC. However, there can be a few days of rain scattered about so be sure to check the forecast for your visiting days.
---
Why Visit New York in May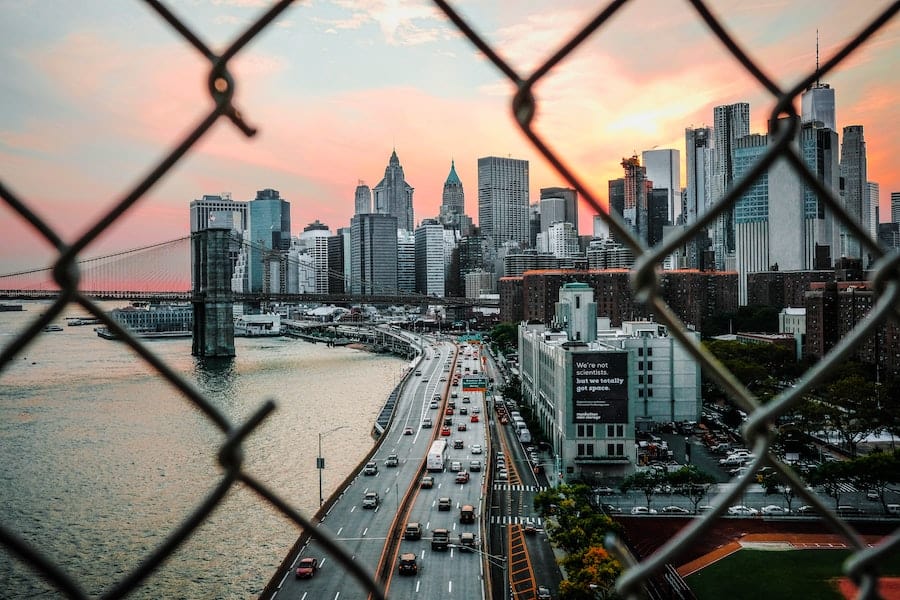 May is a great time to visit New York. During this month the weather is warm and pleasant, but not too hot, plus there are fewer tourists than in the summer months. New York City is one of the most touristy places in the world and visiting when there are slightly fewer people is great for getting into shows and attractions please having lower-priced accommodations.
May in New York is the perfect time to explore the magical city and see everything in comfort. If you visit New York in the summer months you may get overwhelmed by the heat radiating off the concrete which makes exploring less enjoyable.
---
Events in May in New York
Baseball Games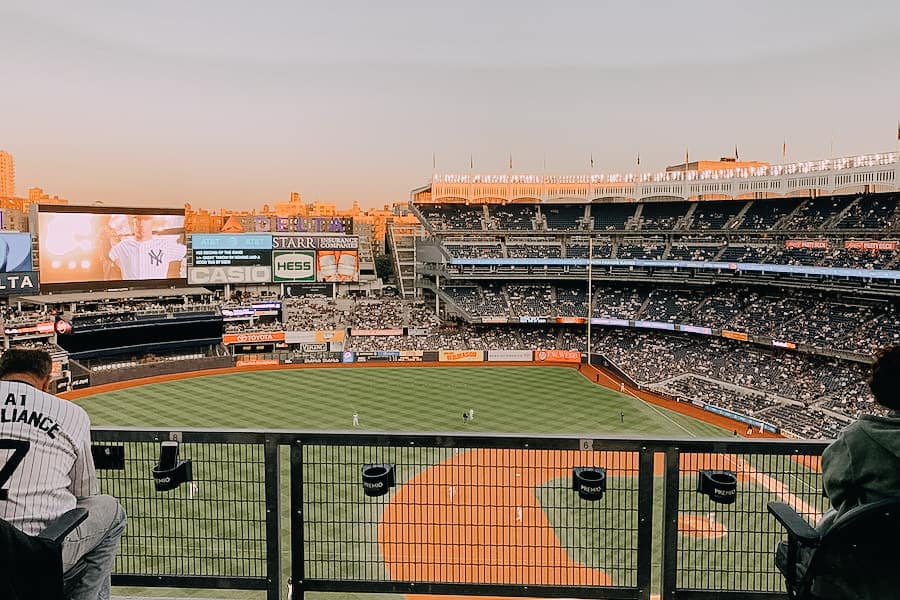 May is the perfect month to catch a Major League Baseball (MLB) game! Here you can watch the famous New York Yankees play in their home stadium. You can find a New York Yankees games schedule here to help you see if they are playing in New York while you visit.
---
Memorial Day
New Yorkers are proud to honor those who serve their country and war and use memorial day as a day to celebrate them. Memorial Day is on the last Monday of May and during this day there are parades all around the city along with outdoor activities and street fairs. Just know that this is a national holiday so you may find some things close on Monday!
---
Broadway Shows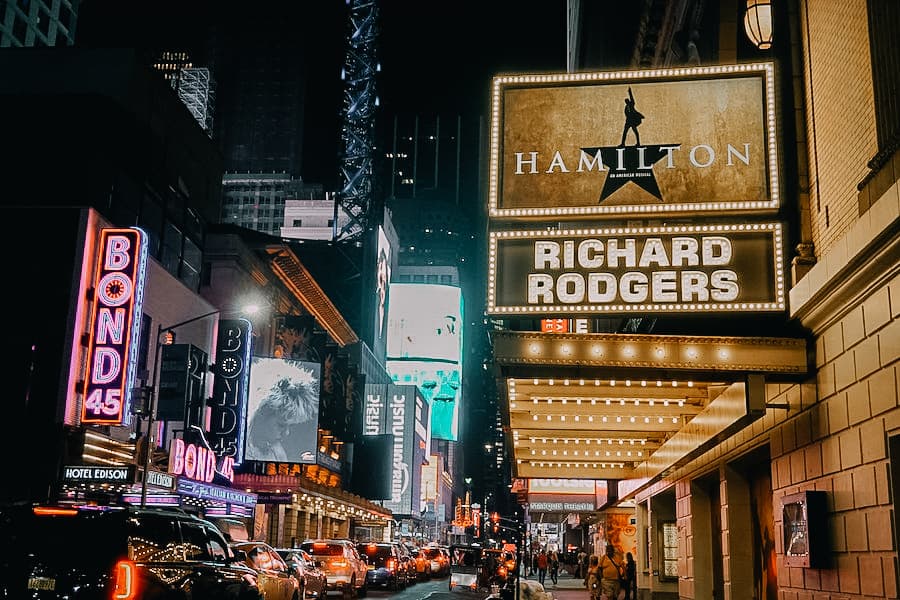 New York is a hot spot for live shows, plays, and musicals. Checking out one of the many famous shows on Broadway is a New York City must! There are so many to choose from and you are sure to find one that suits your needs. Just know that some tickets sell out very fast so if you have your eye on a show on a certain date get your tickets right away.
---
Cinco De Mayo
Cinco de Mayo is a holiday celebrating the Mexican army's victory over the French. The best way to celebrate it is with delicious Mexican food and drinks! There are some restaurants with Cinco de Mayo specialties where you can enjoy margaritas and traditional Mexican dishes in a vibrant setting.
---
Things to do in New York in May
Visit the Statue of Liberty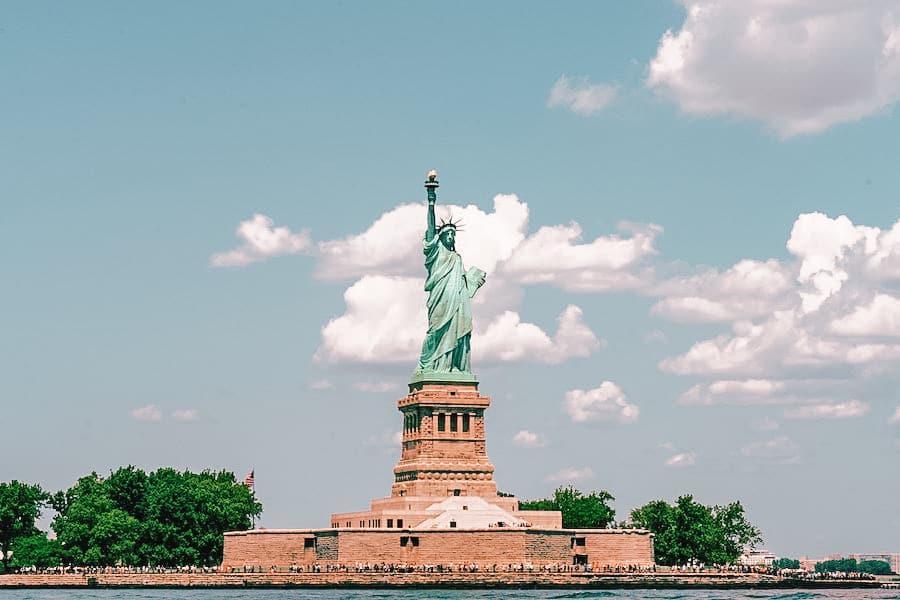 Visiting the Statue of Liberty is something everyone must do when visiting New York City. You can see it for free or pay for a more in-depth experience. To see the Statue of Liberty for free you will take the free Staten Island ferry and pass it during the ride. Or you can pay for a tour boat to bring you up close and let you walk around it. May in New York welcomes slightly fewer tourists so you can even enjoy getting up close without being crowded by others.
---
See New York City from Above
There is nothing more amazing than viewing the New York City skyline from above. The sheer amount of concrete and skyscrapers is unmatched by anywhere else in the world and from above you can see some of the most iconic New York buildings.
The two best ways to view the New York skyline are by going to the top of some of the tallest buildings in the city, namely; the Empire State Building or the Rockefeller Centre. Both of these buildings offer tickets that allow visitors to soar to the tops of the buildings and admire the stunning views from hundreds of meters in the air.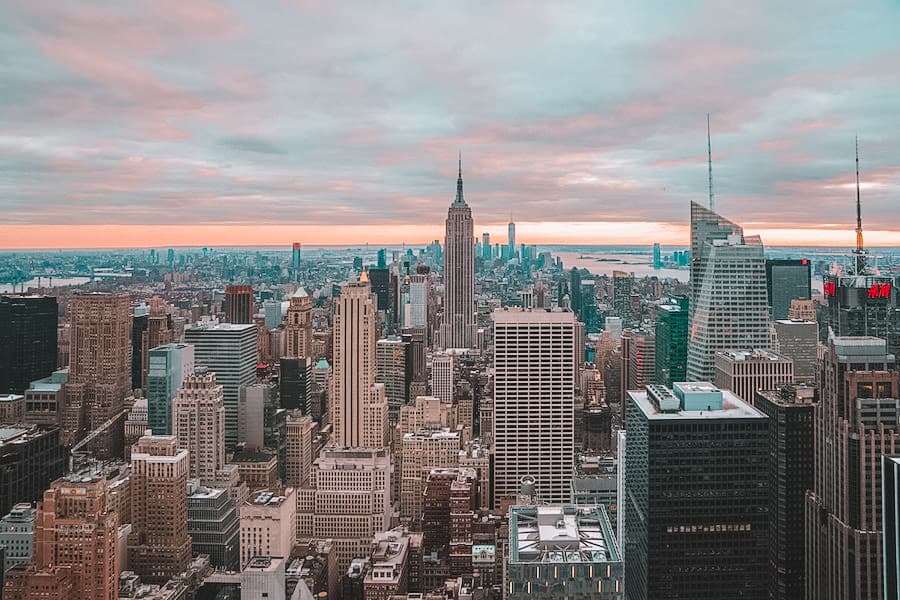 The best building to go to for views of the city? In my opinion, the Rockefeller Centre has the best views. Regardless of where you choose to see the views from, be sure to get your tickets in advance! The best times – around 4-5 pm fill up quickly. This is because if you visit during these hours you can view the skyline in all of its beautiful states – during the day, during sunset, and when it's dark!
---
Go to the 9/11 Memorial
No visit to New York City is complete without visiting the 9/11 memorial which pays tribe to those who were lost on the September 11th, 2001 attacks on the World Trade Centres. The memorial is free to visit for the public and is a very powerful sight. Here you will find the names of all those lost on 9/11 all around the dugouts of where the towers used to stand.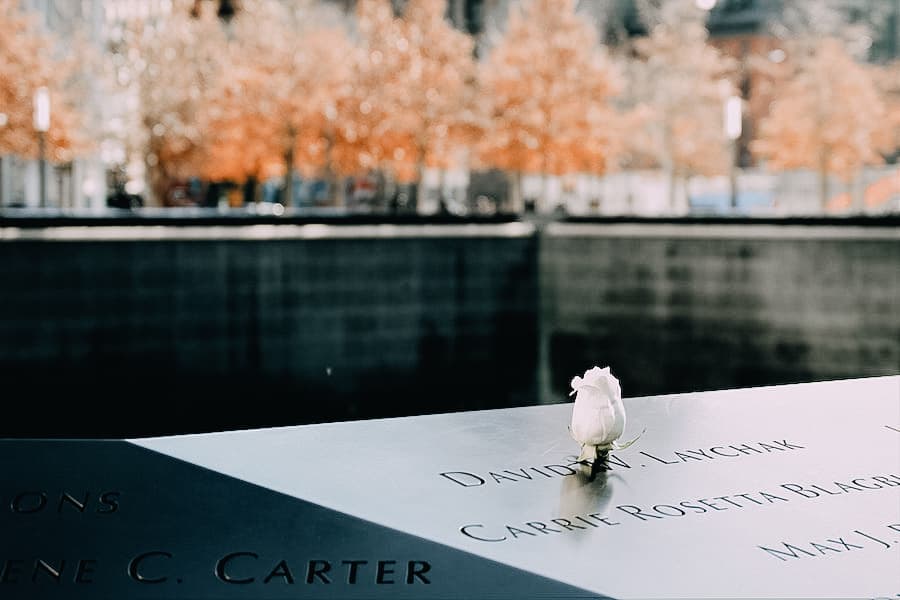 While here you can also visit the Memorial Museum and take a tour to further learn and delve into this tragic day that shapes New York to this day.
---
Go on a walking Tour
Walking tours are available in abundance in New York City, and in May in New York, they are the perfect thing to join in on! The walking tours vary in their offerings and can show you some of the best and most interesting parts of New York. Plus, you get a ton of valuable information from the guides! Below are some great walking tours.
---
Eat at the Amazing Restaurants in the City
New York is foodie heaven! There are so many different restaurants all with unique and tasty dishes. You can truly find anything you could ever want in New York; from different cuisines to different dietary restaurants, to specialty meals, and more!
Some locals say that you could go to a new restaurant every day of your life for breakfast, lunch, and dinner and you'd never go to the same restaurant twice! With all the endless food opportunities it can be hard to find the best ones to visit. Some of my favourites are: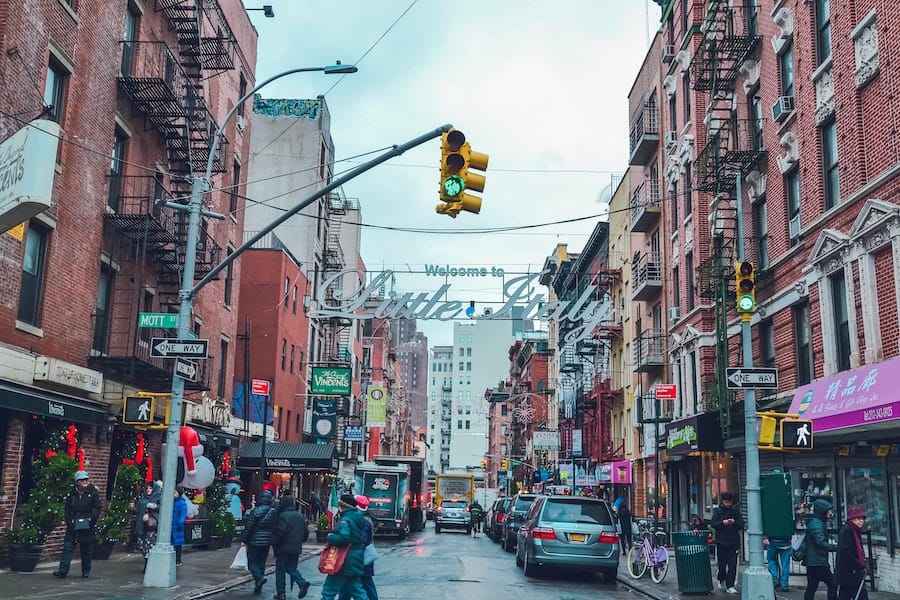 ---
Walk the Brooklyn Bridge
Brooklyn Bridge is one of the world's most famous and iconic bridges. It is often packed with locals and tourists alike walking across its mega beauty to enjoy the stunning views of New York. Luckily, May in New York City welcomes fewer people so you may get a slightly less busy walk.
A walk from Manhattan to Brooklyn via this bridge is an NYC bucket list item that is not only good for you but offers beautiful views. If you want to enjoy it with fewer people try heading here at sunrise when only a few joggers and early risers are enjoying it.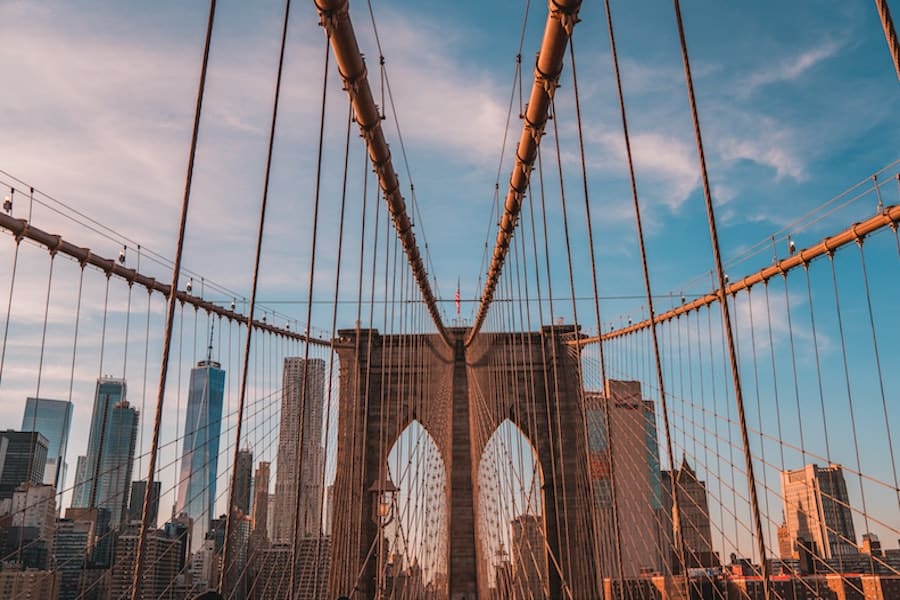 ---
Explore Brooklyn
Brooklyn is a more urban part of New York that is known for its amazing street art and local charm. It offers a welcome escape from the skyscrapers of Manhattan and is a wonderful area to explore.
If you are looking for the famous street art head to the Bushwick neighborhoods. The graffiti stretches on various streets. There are also a ton of trendy and unique bars and restaurants in Brooklyn that are perfect for taking a break for a meal.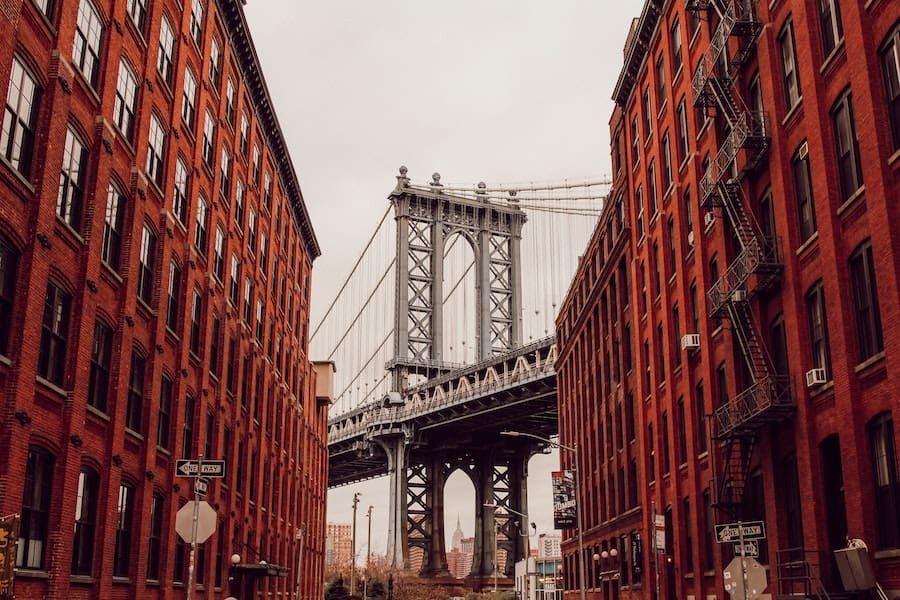 ---
See the Flatiron Building
The Flatiron Building is a very unique building located in Manhattan that is worth viewing. This building is one of New York Cities most iconic buildings and is one of the pieces of architecture that makes the city recognizable. Walking to this building and capturing some photos of its unique triangular shape is a top thing to do in NYC.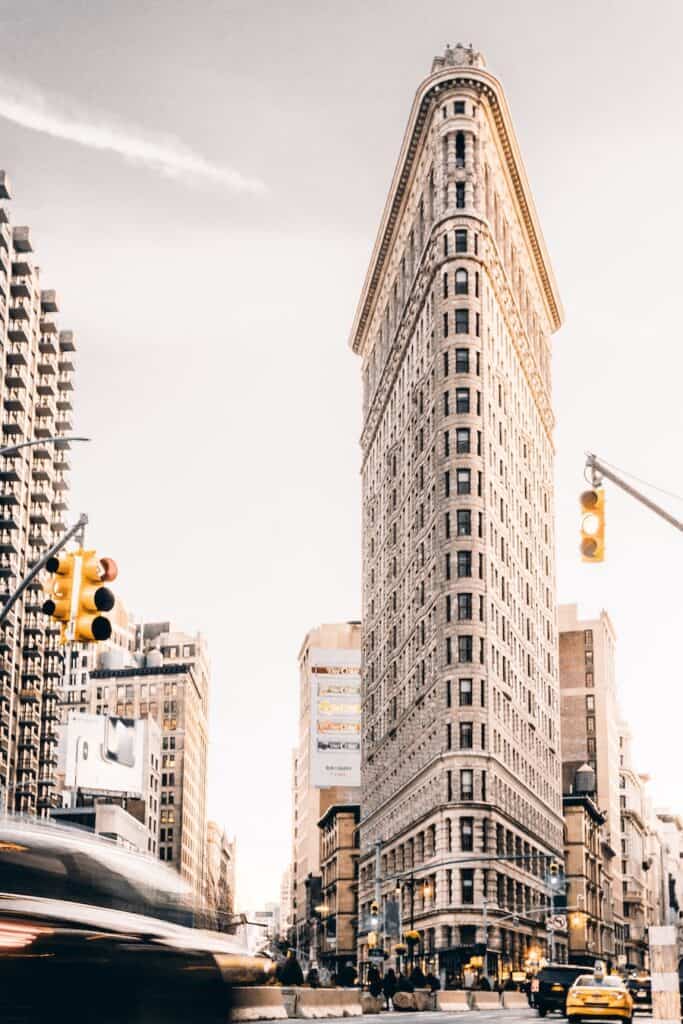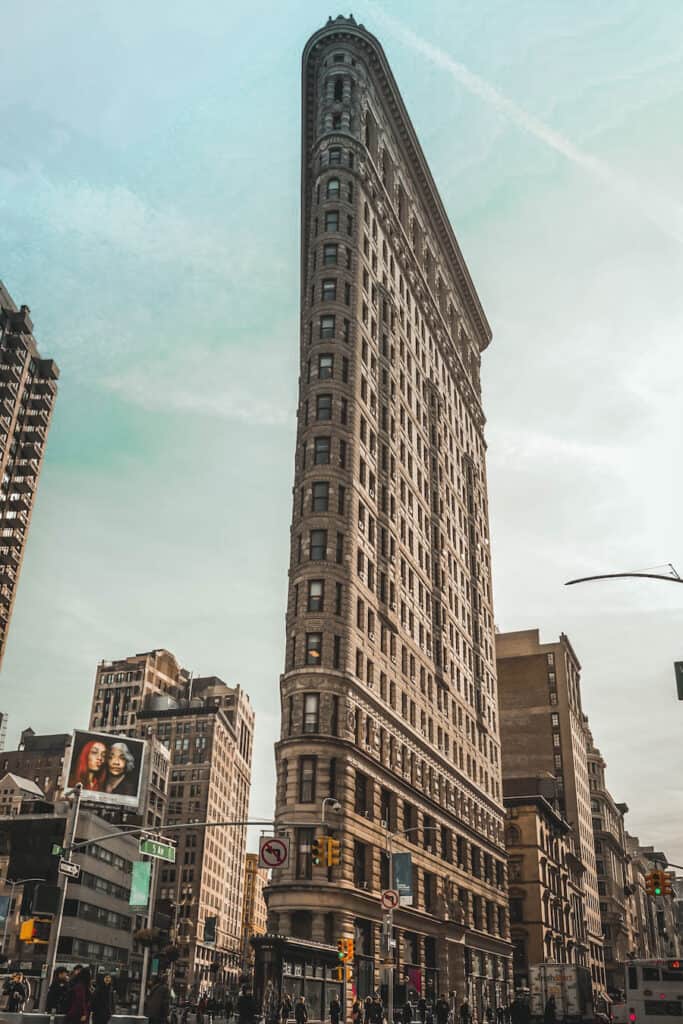 ---
Walk Around Time Square
Times Square is something you must see at least once while visiting New York. The hundreds of billboards, bustling streets, and the plethora of things to see is a feast for the eyes. However it is a bit of a tourist trap and a place where pickpocketing is commonplace, so be vigilant.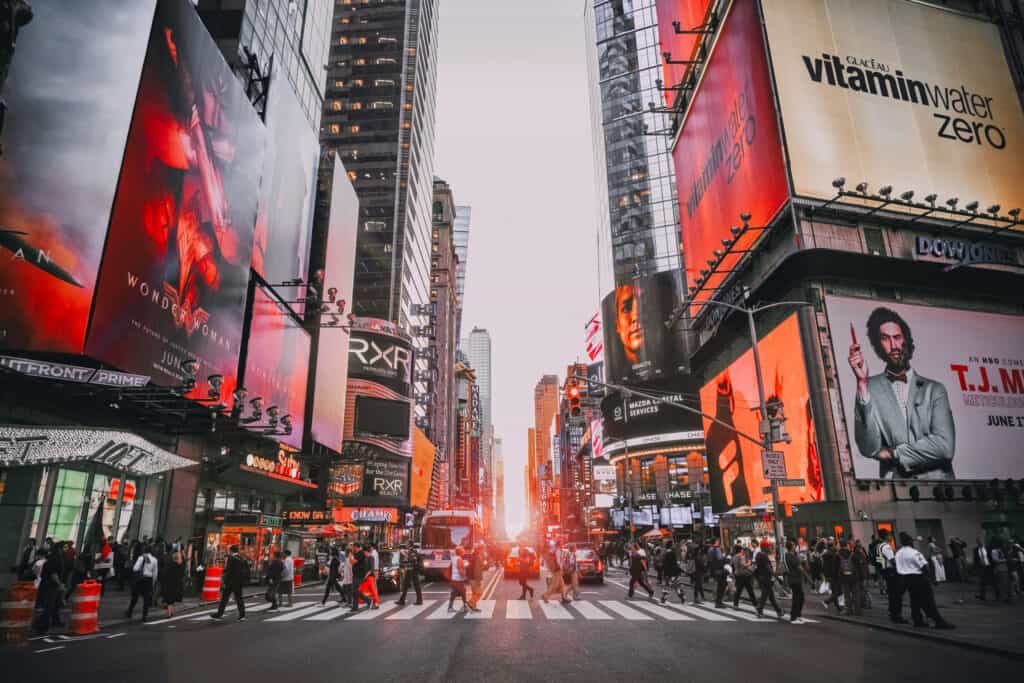 ---
Enjoy Central Park
New York City's Central Park is a stunning, expansive green space that offers the perfect getaway from all the concrete. There is so much to do in the park from renting bikes to renting a boat to sail along the water, relaxing on the grass, and more! It is the perfect place to head to in May in New York.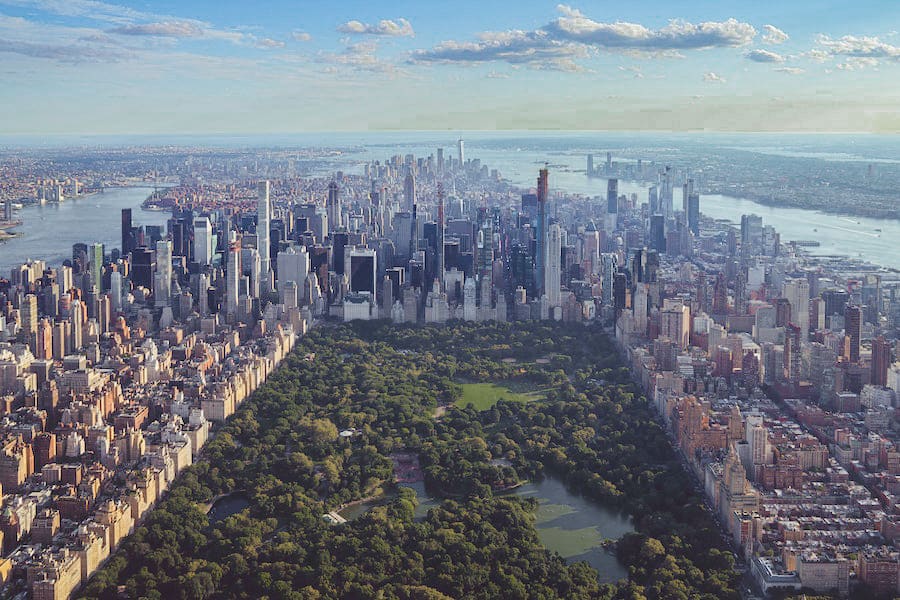 ---
Walk through Wall Street
As one of the most famous streets in the world, Wall Street is something you have to do in NYC. Here you will find men and women in their finest business attire ready to work and make money on the street of finance and business. You can also find the Charging Bull and the Fearless Girl Statue to enjoy.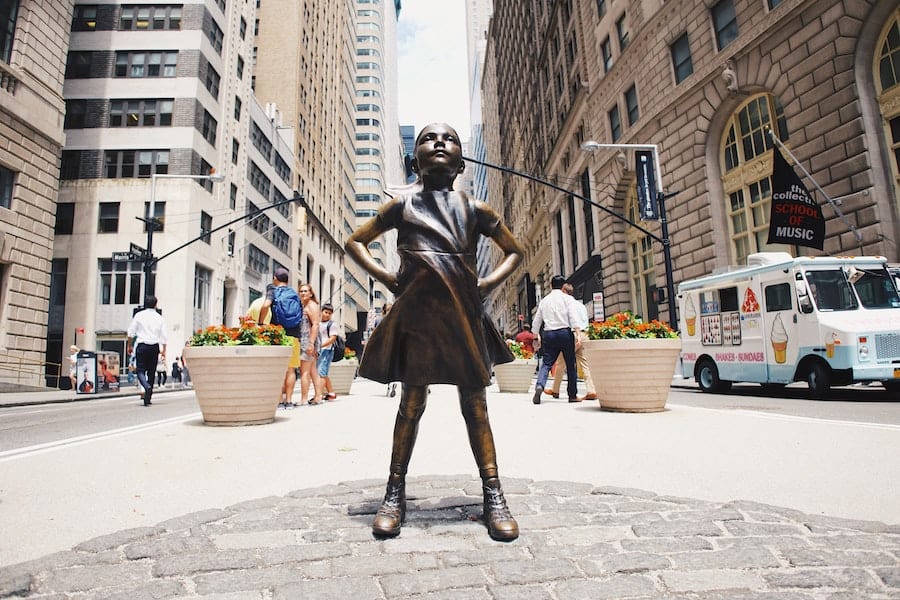 ---
Visit Grand Central Terminal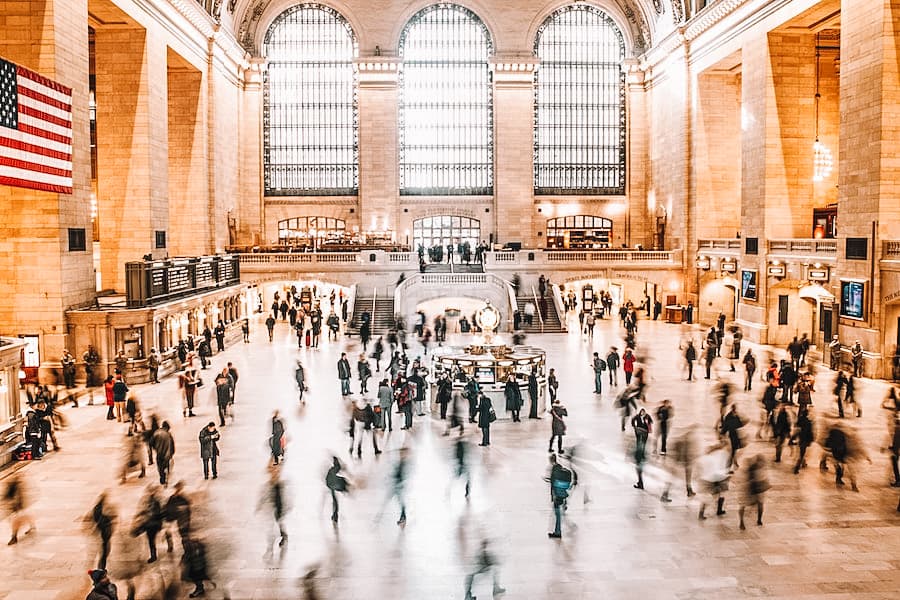 Grand Central Terminal is the famous train station in New York that is featured in a ton of Hollywood films. It is a place full of locals commuting about and is wonderful to visit. It is the perfect place to visit to feel like you've stepped on the set of your favorite RomCom.
---
Go for Rooftop Drinks
The views of the magical NYC skyline are something that never gets old. At night when the lights of the skyscrapers are illuminated by the dark contrasting sky is when the skyline looks its best. Heading to one of the cities many rooftop bars is the best way to enjoy the views in a relaxing and cool environment. For the best views try going to 230 Fifth Rooftop Bar.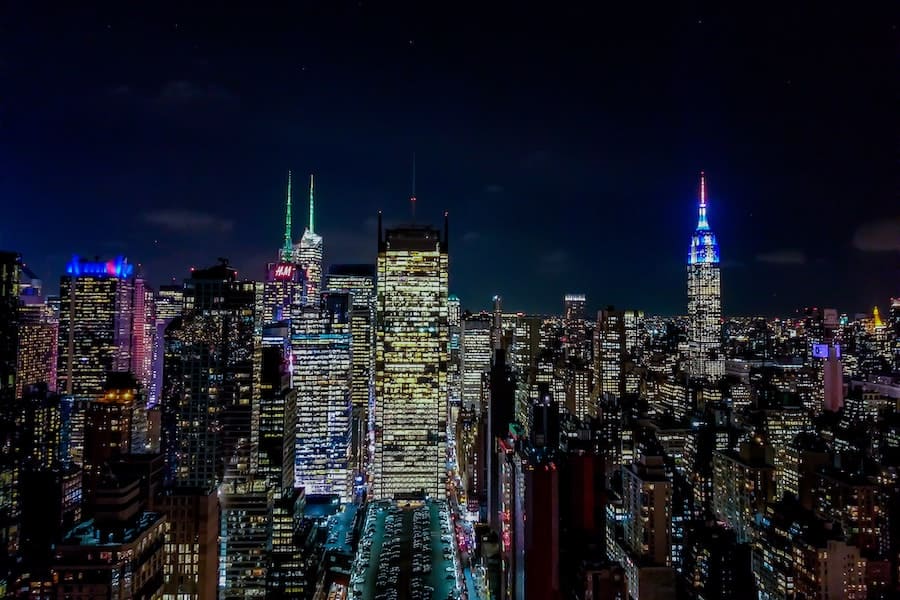 ---
Where to Stay in New York City
New York City is huge and finding the best place to stay varies. You can stay in Manhattan for closer proximity to attractions or save some money and stay in Brooklyn or another part of NYC. Regardless of where you stay getting around with public transportation is easy and you can go anywhere quickly.
---
May in New York is a great time to visit. There is so much to do and see during this month and the mild temperatures and fewer tourists make it all the more attractive.
Like this post? Pin "May in New York" for later!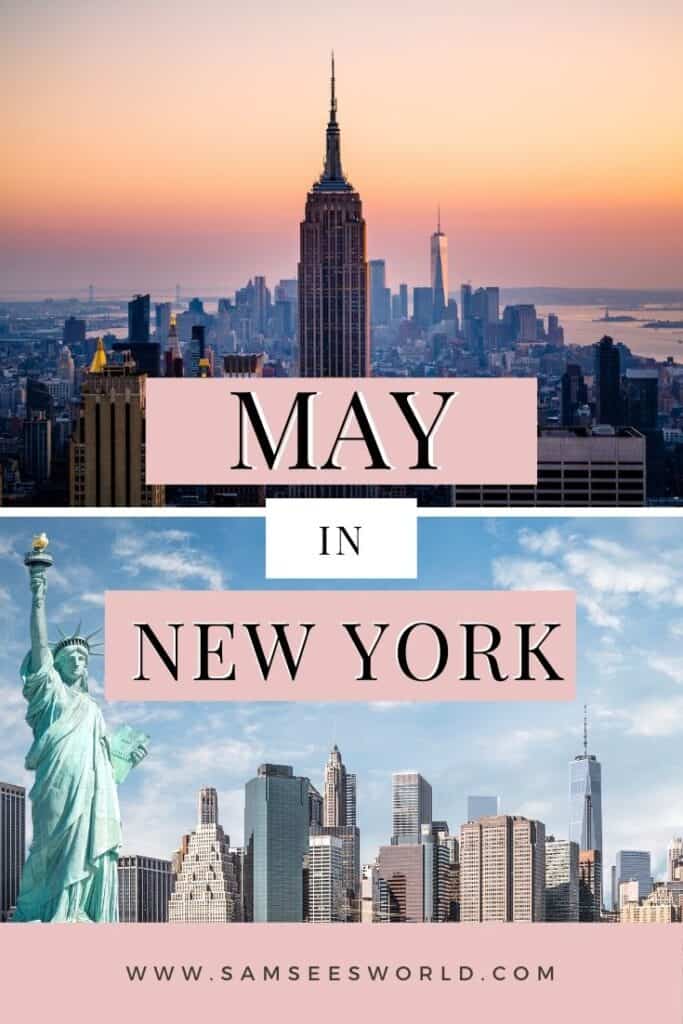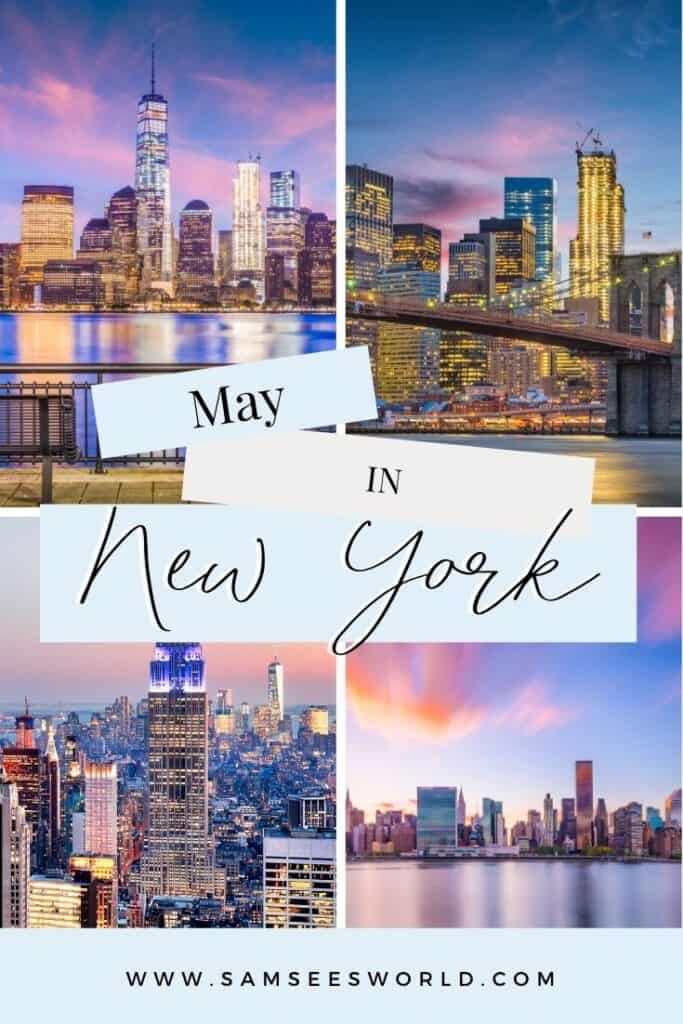 Love,
SSW