Discover the best things to do in Èze, France, and fall in love with France's most beautiful village.
Èze is a beautiful medieval village perched along the French Riveria hills. With its breathtaking views of the Mediterranean Sea and picturesque cobblestone streets, Èze is one of the most beautiful places to visit in France complete with a rich history and culture. Èze Village is a must-visit for those seeking a unique blend of history, culture, and natural beauty in one unforgettable setting.
Keep reading for a complete list of the best things to do in Èze where history, beauty, and relaxation converge in perfect harmony.
(Disclaimer: Some links in this post may be affiliate links, meaning if you click on the link and make a purchase, I receive a small commission. This is at no extra cost; you may even receive a small discount. See disclosure for more information.
10 Best Things to Do in Èze, France
Explore the Old Village
Exploring the old village is one of the best things to do in Èze to delve into its medieval charm. Wander the cobblestone streets, discover artisan shops, and endless beautiful corners. The streets in Èze's old village are a maze of some of the most beautiful walkways in the world.
I fell in love with this city and quickly realized visiting was worth the hype! It feels like stepping into a medieval time. If time permits, experience a candlelit night in Èze's old village during summer for a magical ambiance. Eze Village encapsulates history, culture, and natural beauty, creating an unforgettable visit.
---
Visit Le Jardin Exotique
Visiting Le Jardin Exotique is one of the top things to do in Èze. This stunning botanical garden boasts an impressive collection of cacti and succulents from around the world, showcased against the backdrop of the stunning French Riviera coastline.
As you wander through the garden's lush paths, you'll be treated to an array of colorful plants and flowers that create a truly unique experience. The garden's location atop the mountain provides breathtaking panoramic views of the Mediterranean Sea, making it a paradise for both plant enthusiasts and nature lovers alike.
The Exotic Garden is a serene oasis that allows you to connect with nature while immersing yourself in the beauty of this picturesque village. It offers an unforgettable experience for all types of travelers that combines the wonders of nature with the beauty of Èze Village.
---
Hike the Nietzsche Path
Go on an adventure by hiking the Nietzsche Path in Èze Village. Named after philosopher Friedrich Nietzsche, who was inspired by its beauty, this trail offers an exciting journey through nature and a workout too. Hiking from Èze Village to Èze-sur-Mer is a popular way to visit both the village and the seafront town. The hike takes around 50 minutes and is well worth it.
Beginning near Èze village, the well-marked path winds through lush vegetation, leading you to breathtaking viewpoints that overlook the bright blue waters of the Mediterranean Sea. The trail is moderately difficult with some steep areas and uneven terrain. Be sure to wear sturdy shoes and pack some water! Nonetheless, this is one of the best things to do in Èze to see more than just the village.
---
Château de la Chèvre d'Or
Visit the beautiful Château de la Chèvre d'Or for one of the top things to do in Èze. This luxurious boutique hotel and restaurant is nestled on the hilltop, offering unparalleled views of the French Riviera. Immerse yourself in the ambiance of this historic establishment, where elegance and charm converge in a setting that seems plucked from a fairy tale.
Savor a culinary journey at the Michelin-starred restaurant, where gourmet creations are served against a backdrop of panoramic coastal vistas. The meticulously crafted dishes mirror the beauty of the surroundings, making dining here a truly extraordinary experience.
---
Fragonard Perfume Factory
Experience the artistry of scent at the Fragonard Perfume Factory in Èze. Immerse yourself in the world of perfumery as you explore this renowned establishment. Take a guided tour to learn about the process of crafting fragrances, from selecting the finest raw materials to blending and bottling. Gain insights into the history and techniques behind this ancient art that has been perfected over generations.
Stroll through the factory's charming boutique, where a plethora of perfumes, soaps, and cosmetics are on display, each a testament to the mastery of fragrance creation. Delight in the opportunity to create your own custom scent, a unique and personal souvenir of your visit. This is one of the top things to do in Èze you don't want to miss.
---
Wine with a View
Enjoy one of the top things to do in Èze: sipping wine with a view. Discover charming local wine bars or cafés where you can enjoy the region's finest vintages while gazing out over the stunning expanse of the Mediterranean Sea. Let the tranquil ambiance of the village and the soothing sea breeze enhance your wine-tasting journey.
Here are a few notable options that are known for their wine offerings:
---
Go to Èze-sur-Mer
Extend your Èze Village adventure by venturing to the nearby coastal gem, Èze-sur-Mer. Just a short journey away, this charming seaside town offers a delightful contrast to the hilltop village. Enjoy the blue waters of the Mediterranean as you relax on pristine beaches or take a walk along the promenade.
Indulge in Mediterranean cuisine at local seaside restaurants, where you can savor fresh seafood while taking in breathtaking ocean views. Engage in water sports, such as snorkeling or paddleboarding, to immerse yourself in the coastal beauty.
Don't miss the opportunity to explore the historical charm of Èze-sur-Mer, with its quaint streets, colorful houses, and picturesque harbor. Visit local markets to discover artisan crafts and local delicacies.
---
Go to Saint-Jean-Cap-Ferrat
Taking a trip to Saint-Jean-Cap-Ferrat is one of the top things to do in Èze. A short journey away, this destination offers a captivating blend of luxury and natural beauty.
Explore Villa Ephrussi de Rothschild, renowned for its stunning gardens and panoramic views of the Mediterranean. Walk along the picturesque coastline and discover secluded coves and pristine beaches where you can lay in the sun or swim in the sea.
---
Enjoy Mediterranean Food
Delight in the culinary treasures of Èze Village by enjoying authentic Mediterranean cuisine. Explore charming local restaurants and cafés where you can indulge in an array of delectable dishes infused with fresh ingredients and rich flavors.
Sample traditional Provençal specialties, such as ratatouille, bouillabaisse, and pissaladière, showcasing the vibrant local produce and culinary heritage. Enjoy succulent seafood platters, grilled to perfection and accompanied by fragrant herbs.
---
Soak in the Art and Culture
Immerse yourself in the rich tapestry of art and culture that Eze Village has to offer, creating a captivating and enriching experience. Wander through the charming streets lined with galleries showcasing local and contemporary art, allowing you to engage with the creative expressions of the region.
Discover the village's historical and architectural gems, such as the medieval Chapelle de la Sainte Croix and the Baroque Eglise Notre-Dame-de-l'Assomption. Engage in cultural events, festivals, or markets that bring the local traditions to life, offering a glimpse into the vibrant heritage of Eze.
---
Where to Stay in Èze
When considering where to stay in Eze, you have a few options that offer different experiences, each with its own charm and advantages:
Eze Village: Staying within the village itself immerses you in its medieval ambiance. Charming boutique hotels, guesthouses, and bed and breakfasts are nestled amid the narrow streets, offering easy access to historical sites, local shops, and breathtaking viewpoints. This option is ideal for those seeking an intimate and authentic Eze experience.
Eze-sur-Mer: If you prefer a coastal experience, Eze-sur-Mer, located downhill from Eze Village, offers access to beautiful beaches and the Mediterranean Sea. You'll find hotels, resorts, and vacation rentals along the coastline, providing relaxation and waterfront activities.
Nearby Towns: Consider staying in nearby towns like Beaulieu-sur-Mer or Cap d'Ail. These options provide a quieter environment while still offering proximity to Eze Village and other attractions along the French Riviera. They're also convenient for day trips to Monaco, Nice, or other nearby destinations.
Luxury Hotels: For a lavish stay, you might opt for luxury accommodations like Château de la Chèvre d'Or or the nearby Grand-Hôtel du Cap-Ferrat, both of which offer exceptional amenities, stunning views, and world-class service.
Vacation Rentals: Renting a villa or apartment gives you the opportunity to live like a local, with more space and the ability to cook your meals. This option is great for families or those looking for a more homey atmosphere.
---
Travel Insurance
Getting travel insurance before you travel is a MUST. It's the number one thing you should always pack before travelling that can save you a lot of money, time, and stress. With how crazy travel has gotten recently you need that peace of mind that no matter what happens there is something protecting you from losing out. I always travel with travel insurance and think everyone should.
I always travel with travel insurance and think everyone should. Below is my favorite travel insurer Safety Wings, enter your details to get a free quote!
---
Like this post? Pin "10 Best Things to Do in Èze" for later!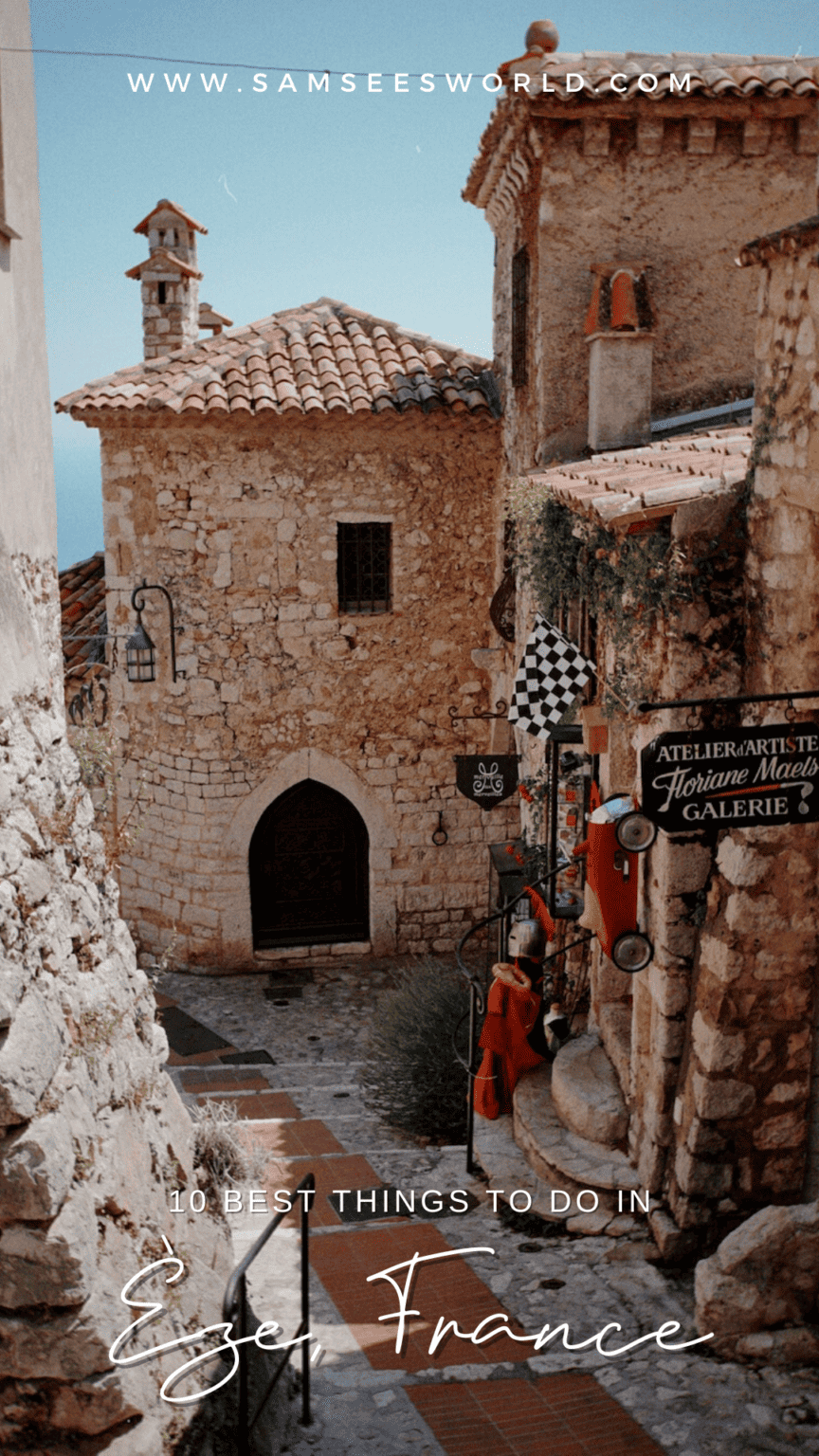 Love,
SSW