Discover the 16 most amazing things to do in Milos, Greece for an amazing and unforgettable greek holiday.
There are very few places on earth as magical as Milos, Greece. It is one of the most unique and picturesque islands in the Cyclades and must-visit while touring these world-renowned islands. The volcanic landscapes, plethora of beaches, quaint fishing villages, and greek history make it the type of place you fall in love with instantly. The best part is that it's relatively undiscovered compared to other Greek islands so crowds are much less.
Find the 16 best things to do in Milos below and prepare to fall in love with this other-worldly island.
(Disclaimer: Some links in this post may be affiliate links, meaning if you click on the link and make a purchase, I receive a small commission. This is at no extra cost to you and you may even receive a small discount. See disclosure for more information.)
16 Amazing Things to do in Milos, Greece
Marvel at Sarakiniko Beach
Sarakiniko Beach is easily one of the most breathtaking beaches in the world. Arriving here feels like you've left earth and landed on the moon. The volcanic landscape is a bright white and over the years the wind has shaped it into under rolling waves and pillars. It truly is something magnificent and spending a day here is a bucket list adventure to be had.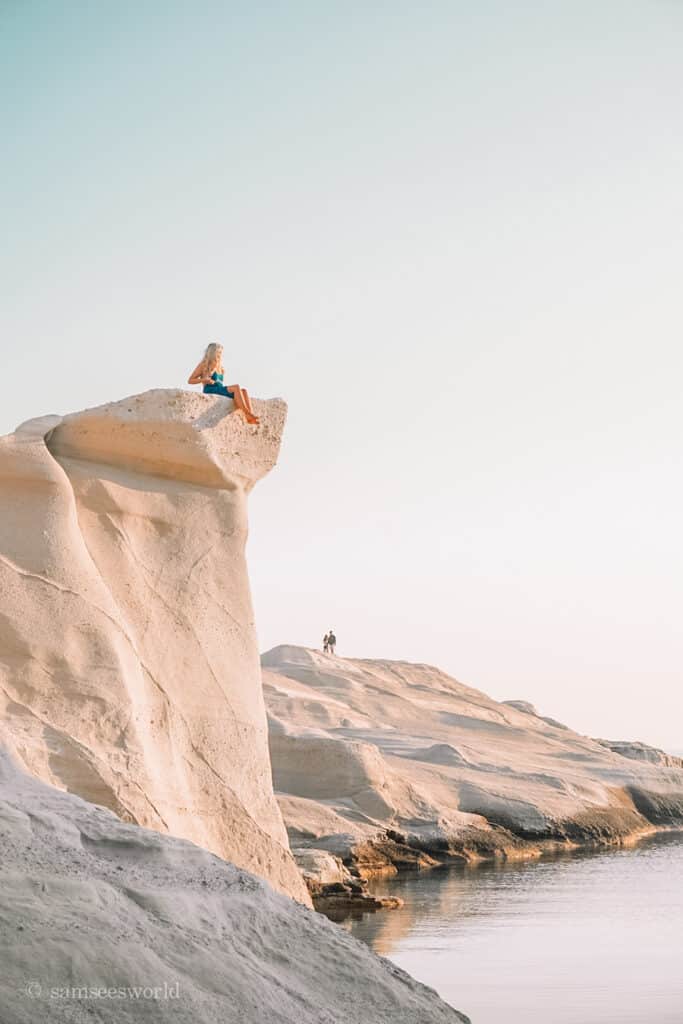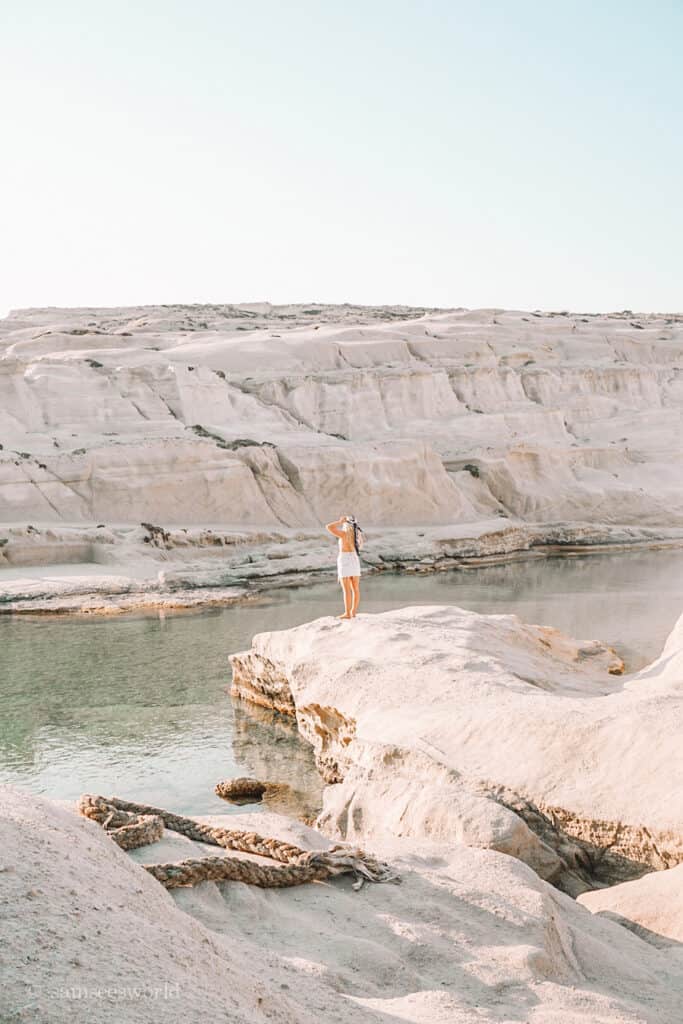 Renting a car or ATV, parking in the parking lot then walking down to the beach is the best way to reach it. From here you can roam and explore as much as you'd like. Some people come here to swim and have a beach day, while others spend the day exploring the rocks and different formations.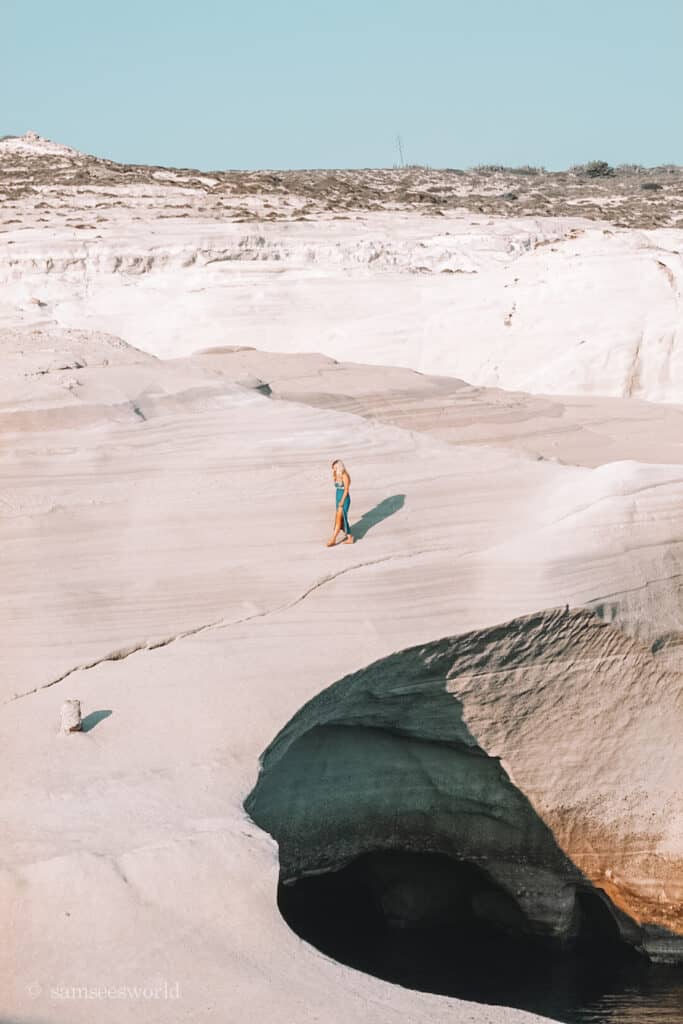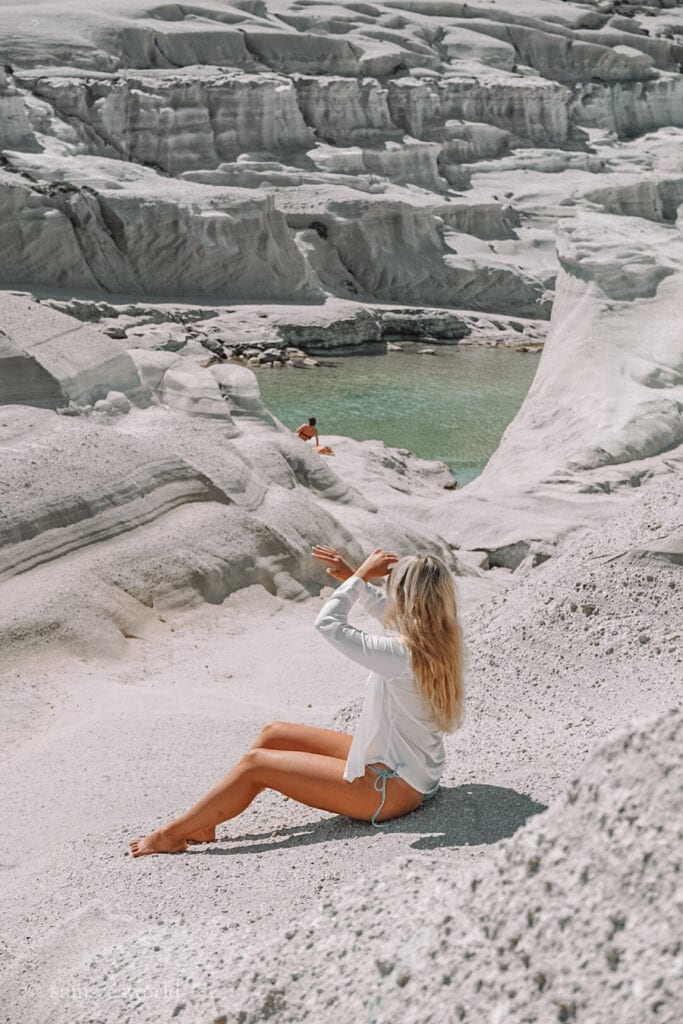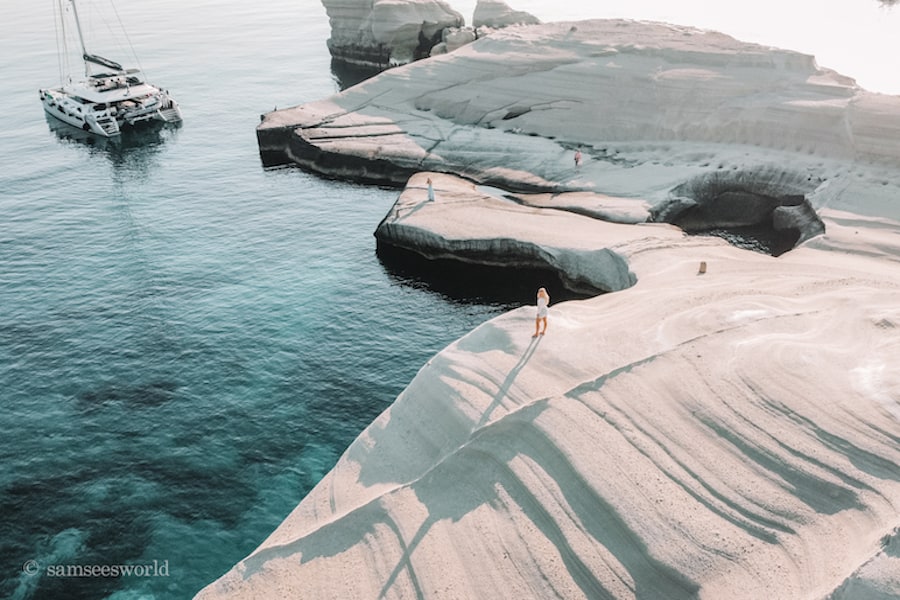 The beach is huge so you can walk all around the volcanic rock and find all kinds of different areas. However, the beach part of Sarakiniko is quite small so arriving early to find space is a must. Just note that during the middle of the day there is very little shade on this beach so escaping the beating sun is hard. If you want to avoid a burn be sure to arrive early and leave before all forms of shade have disappeared.
Do not miss a day on Sarakiniko Beach it really is as magical as it looks and a place that will stay in your memories forever.
---
Admire Kleftiko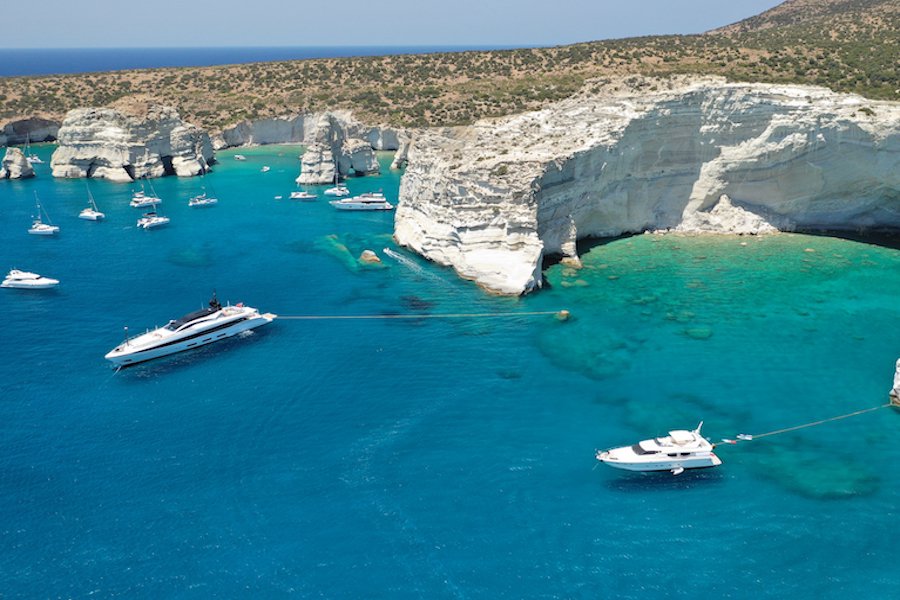 Kleftiko is one of the more picturesque and magical places in Milos. The white-washed cliffs and bright blue water are out of this world and are a must-see while touring the island.
Kleftiko can be reached by boat or by hiking. By boat, you can enjoy a leisurely ride through the unnaturally blue waters and then swim and snorkel around the white cliffs and sea caves. Or you can hike for 45 minutes to an hour to reach this iconic spot. Nonetheless, visiting Kleftiko is one of the best things to do in Milos.
---
Spend a day on Firiplaka Beach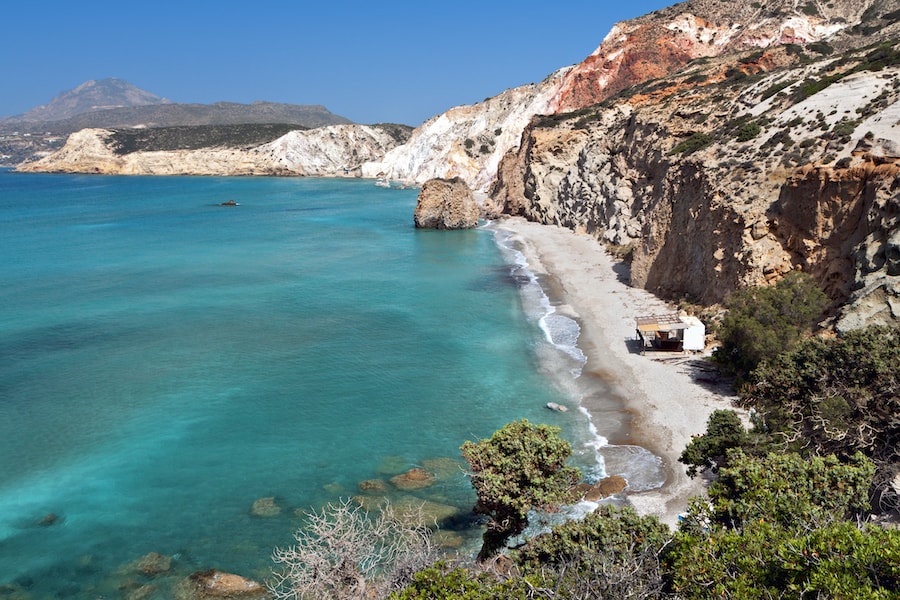 Firiplaka Beach is a beautiful beach located on the south side of Milos. It is the ideal place to head to for a beach day with its beach bar, sunbeds and clear blue water. The surrounding red and white cliffs are also wonderful to explore and admire.
One of the best things about this beach is that it is located just minutes from another famous and popular beach in Milos called Tsigrado Beach so you can go to both on the same day!
---
Walk Around Mandrakia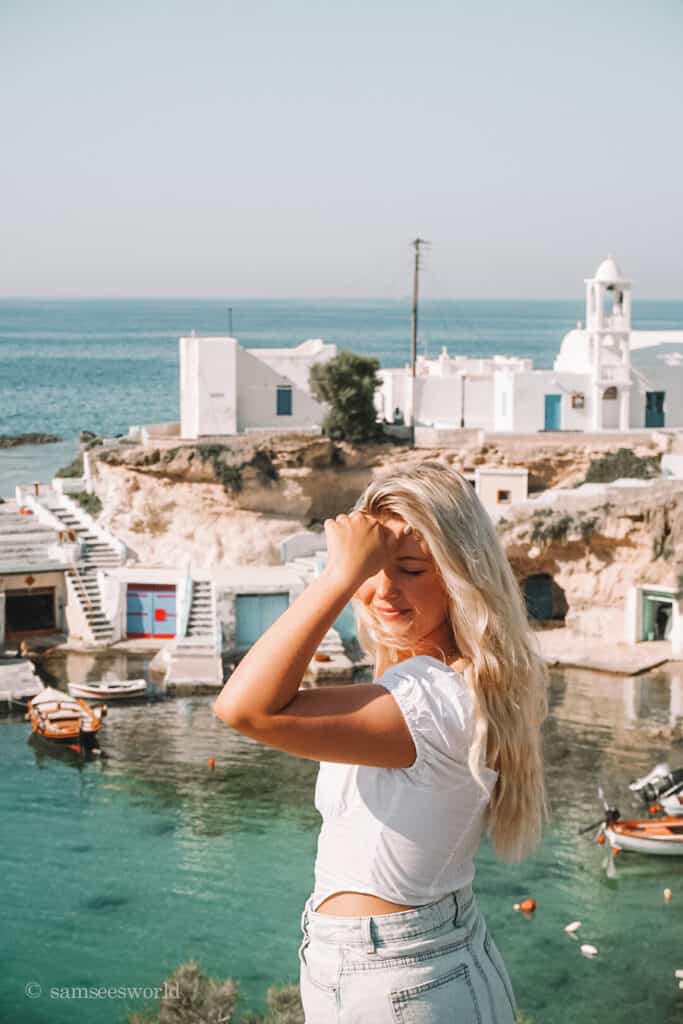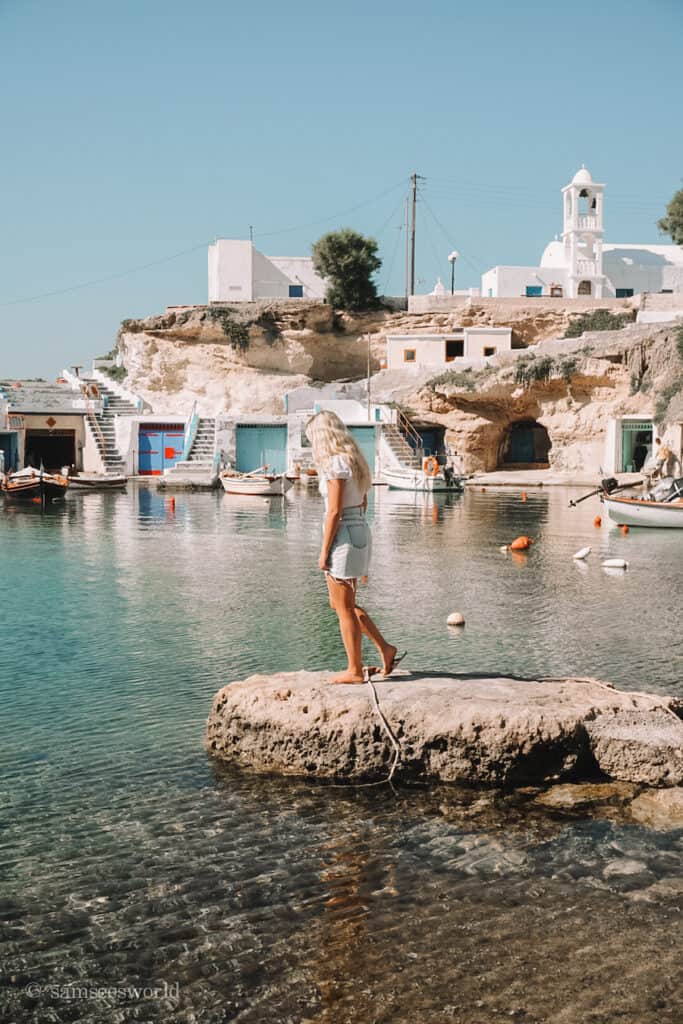 Mandrakia is a stunning fishing village and visiting it is one of the best things to do in Milos. The village itself is tiny and can be explored in under an hour, the real draw is the fishing boat huts down by the water. These are super unique and walking around the blue doored huts built into the cliffs is wonderful. You also get wonderful views of blue water and white cliffs from this village.
---
Venture Down to Tsigrado Beach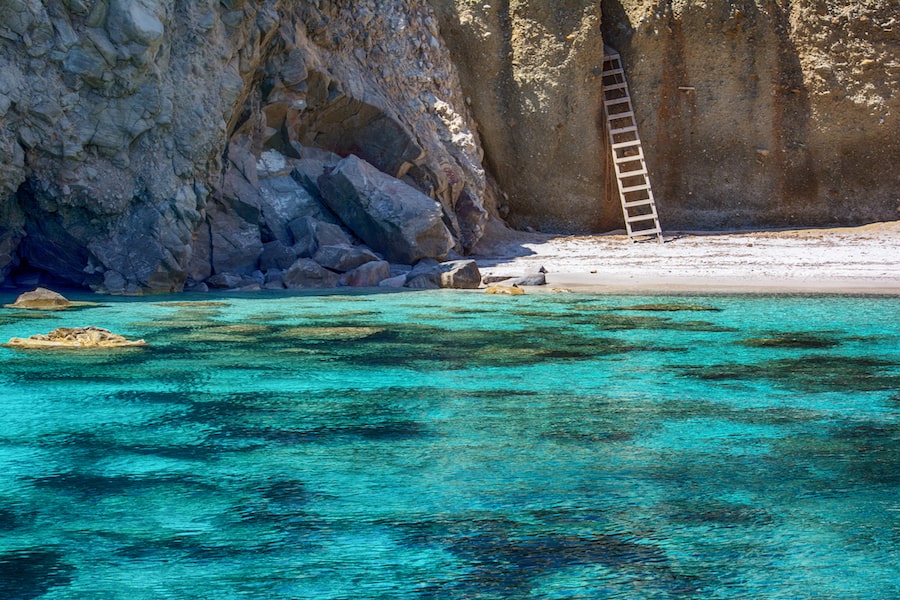 Tsigrado Beach is a famous and beautiful beach located in the Southern part of Milos. This is the beach located just minutes from Firiplaka Beach making it the perfect second stop on a beach day. This beach has a very small sand area and is built below the large cliffs. The only way to get down is by a long ladder that is slightly intimidating.
---
Sunset at Plaka Castle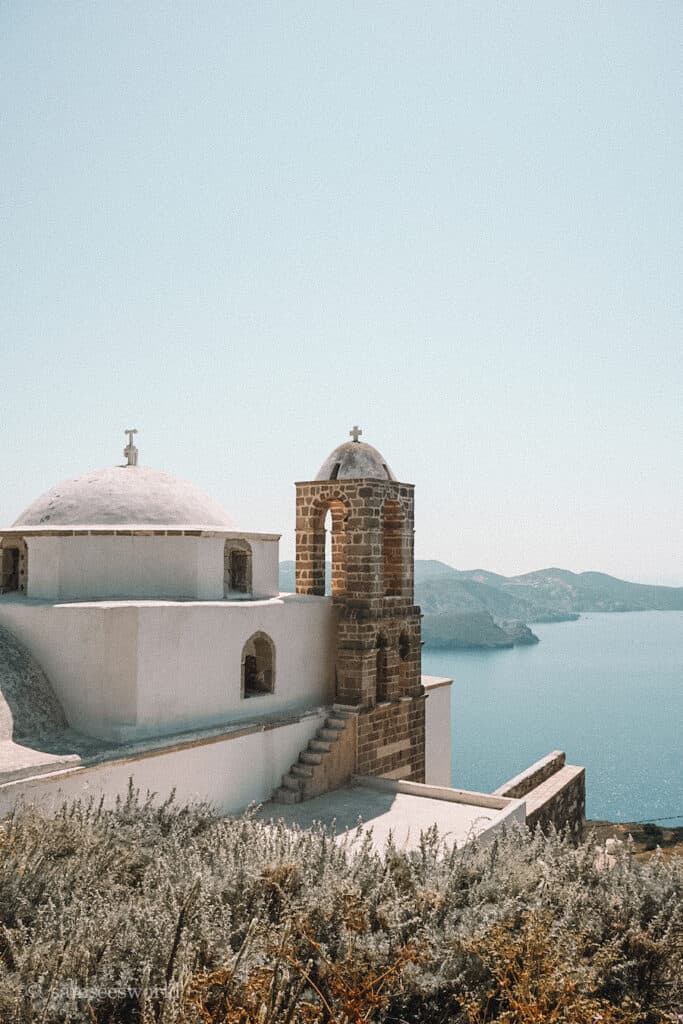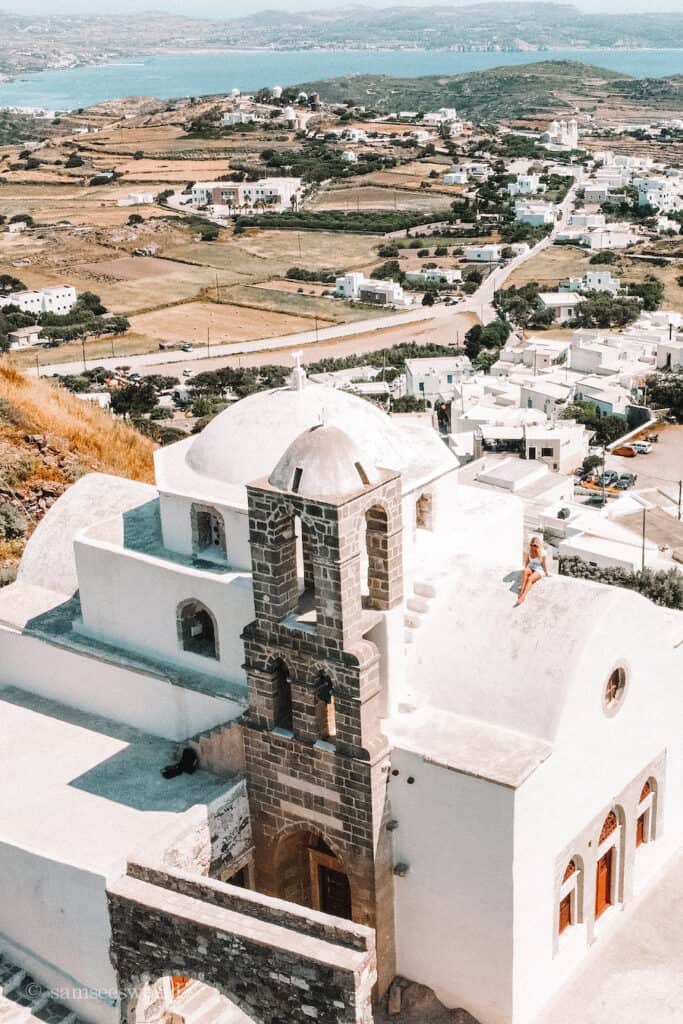 There are many beautiful places to watch the sunset in Milos, but one of the best is Plaka Castle. Sitting high in the mountains with wonderful views of the horizon and the sunsets, it is the ideal place for a peaceful show from mother nature. Not only is the sunset beautiful, but the views of the entire island from up on the castle are magical.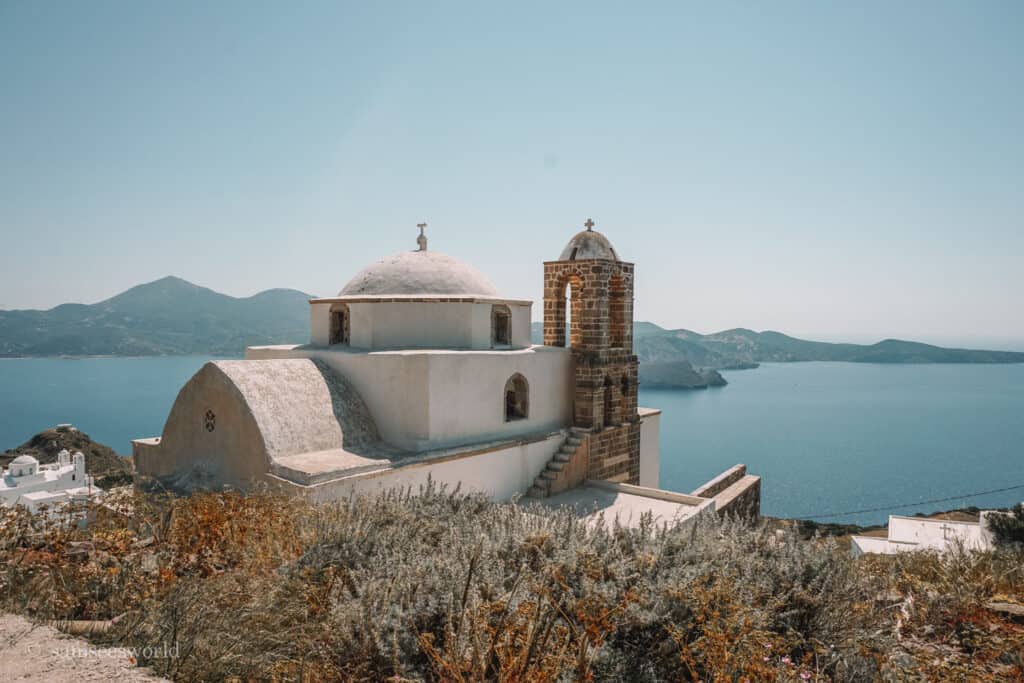 Getting up here requires a little bit of a hike from the village of Plaka takes around 15 minutes uphill. The castle can be found here, and there are subtle signs along the streets that say "KASTRO" which you should follow to get up. Once up you can enjoy a magical Greek sunset with the best view in the house.
---
Explore the Catacombs of Milos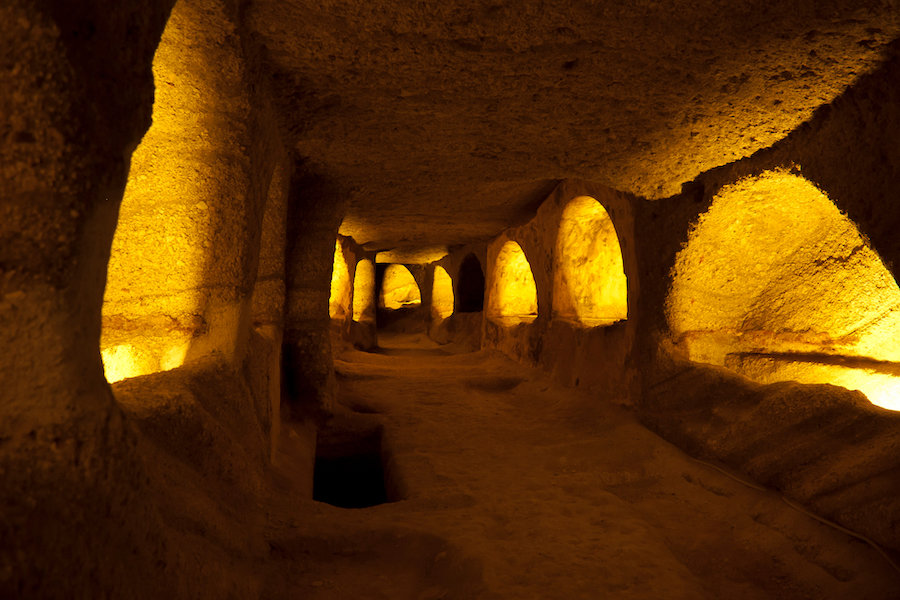 The ideal place to head to for history and culture seekers is the Catacombs of Milos. These catacombs date back between the 1st and 5th centuries and are some of the most important ones ever discovered. It is possible that these catacombs in Milos are older than the ones in Rome. Heading here to uncover the vast underground world is one of the best things to do in Milos and you don't want to miss it.
---
Day Trip to Kimolos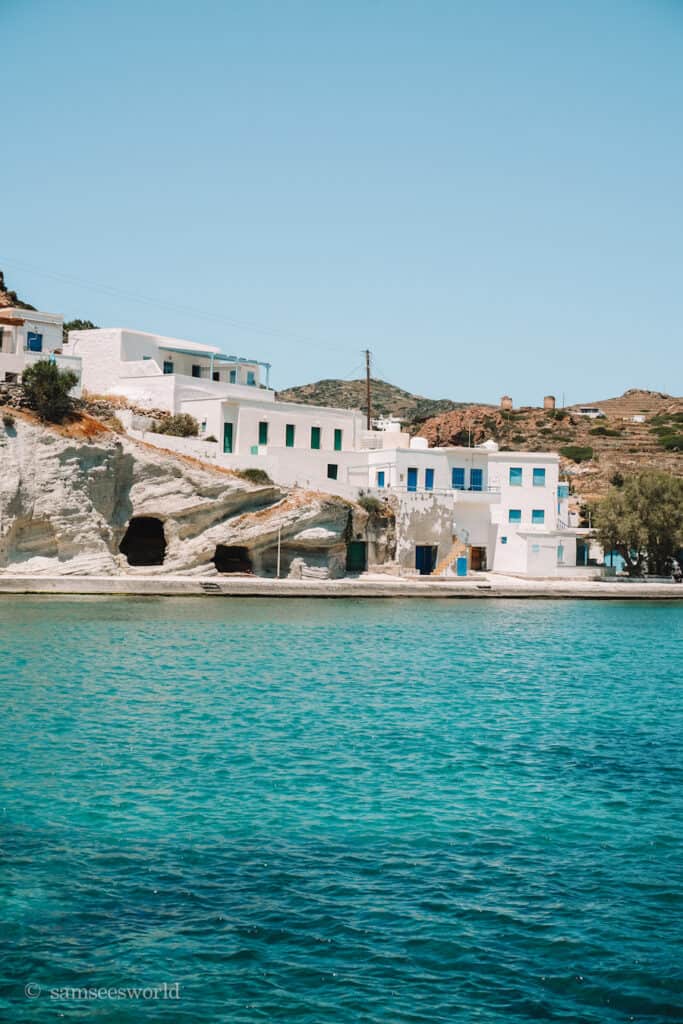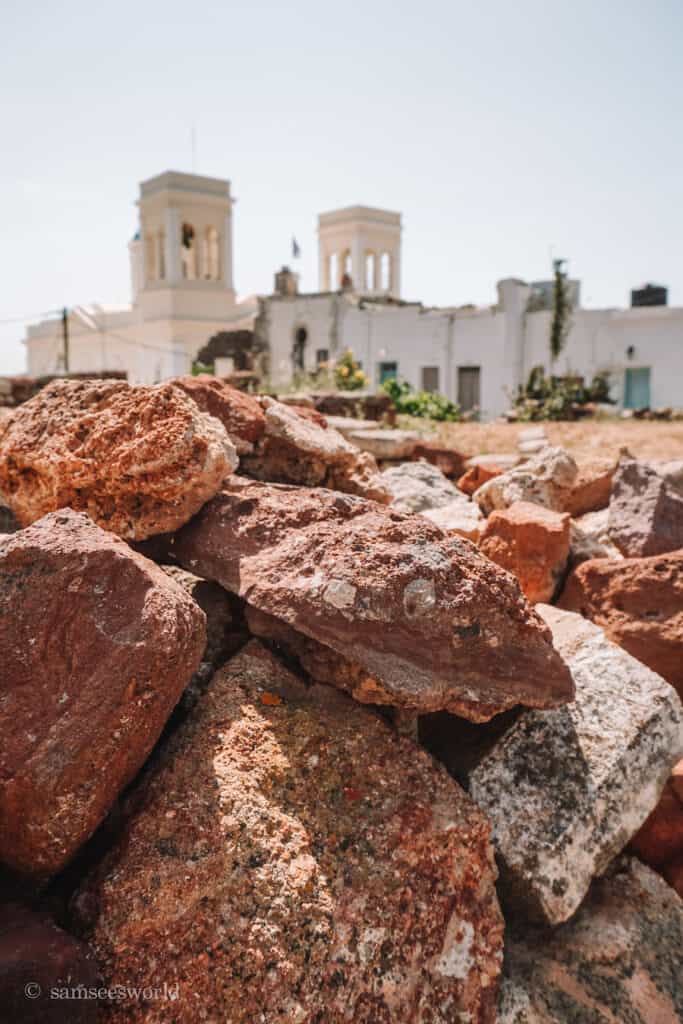 Kimolos is a small picturesque island located North of Milos. It can be reached by a ferry that runs daily for €2.40 for passengers by foot and €9.60 by car from the small village of Pollonia. A day trip here is ideal to see and experience one of the most beautiful and undiscovered islands in the Cyclades. Here you will find untouched beaches, peaceful old towns, and historic palaces.
If you are looking for something different to do, or want to experience how Milos was 30 years ago then Kimolos is for you!
---
Go for Dinner at Medusa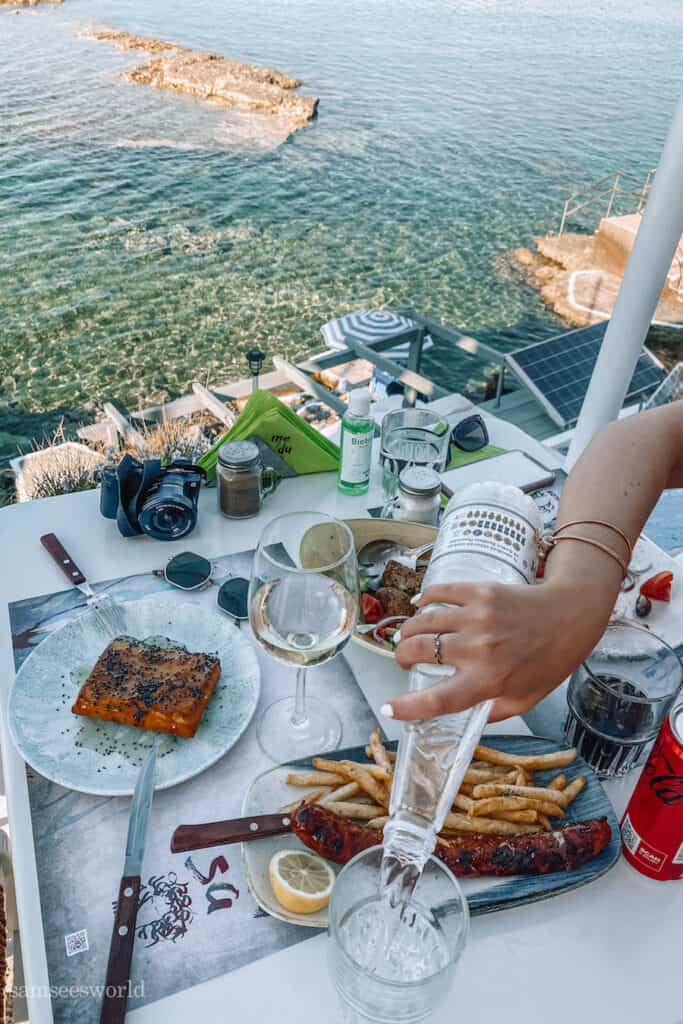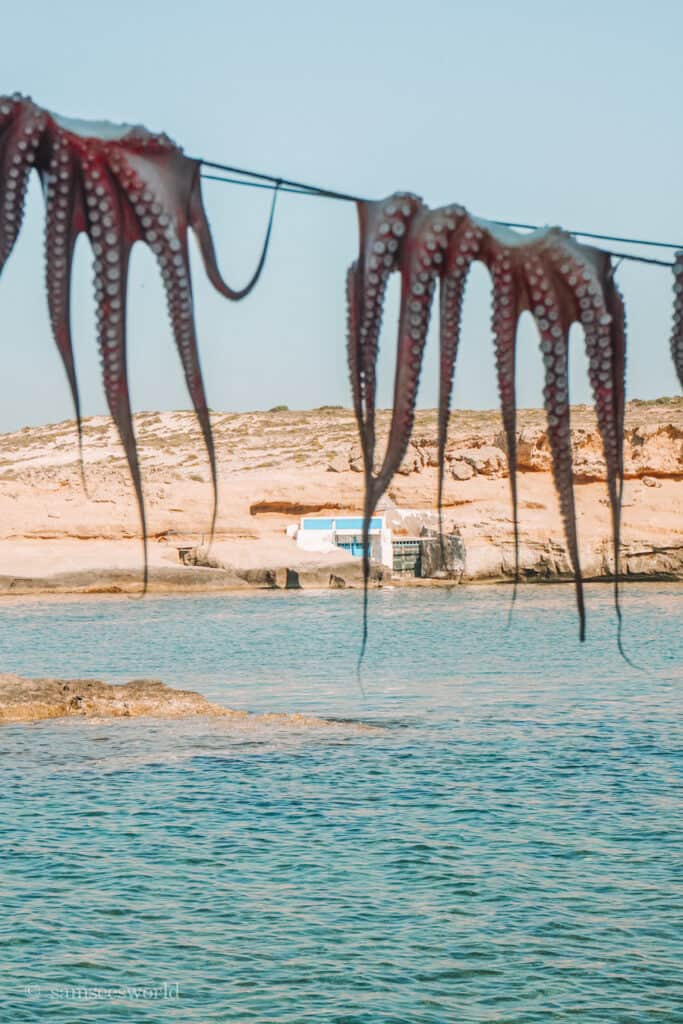 Medusa is a famous seaside restaurant located in the village of Mandrakia. It is known for its amazing seafood and Greek foods, plus the iconic hanging octopus on display. People head here for dinner to enjoy the delicious food, stunning views, and to catch a glimpse of the magical sunset.
---
Dinner in Pollonia Town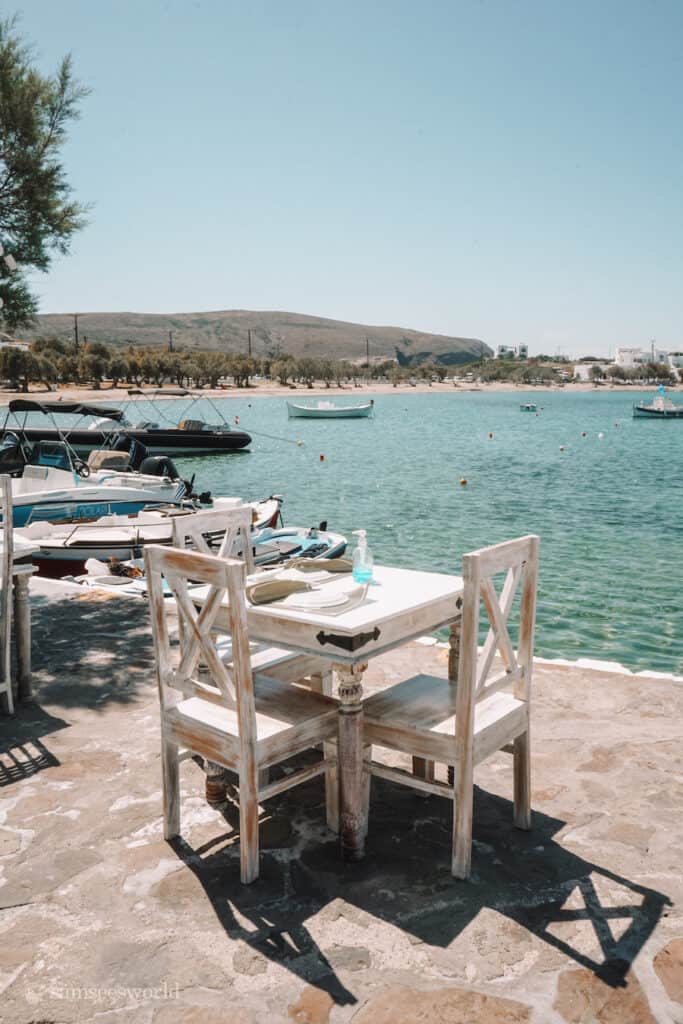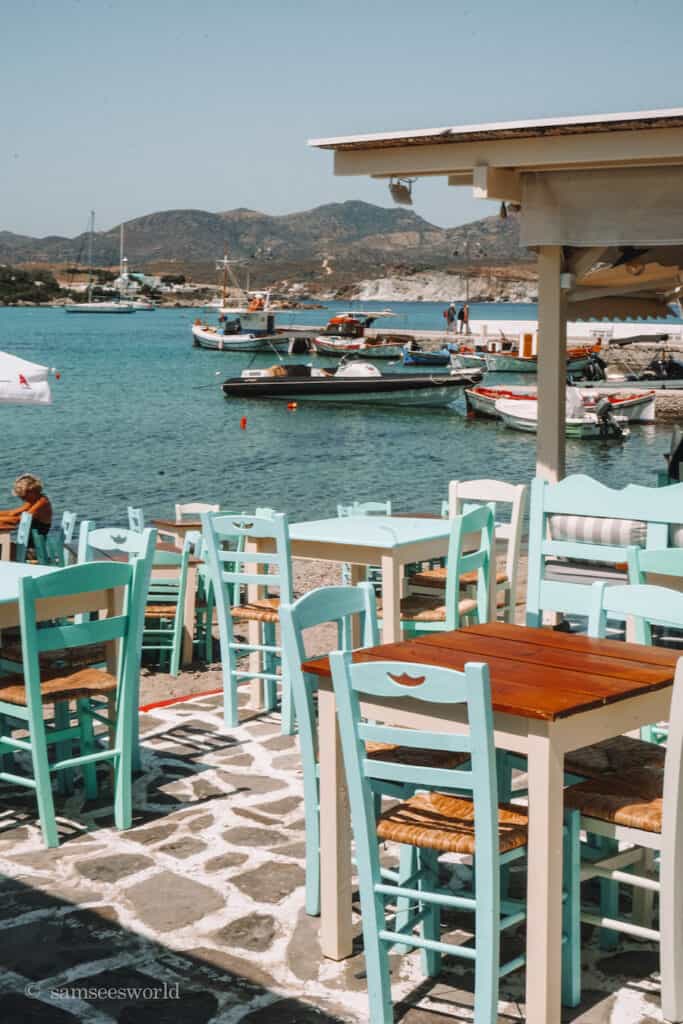 Pollonia is a charming village located in the north of Milos. It's relaxing, fisherman charm is lovely to see and explore and heading here is one of the top things to do in Milos. The best thing about Pollonia is the seafront restaurants. There are various amazing restaurants with options from Sushi, to crepes to Greek food and more with tables right along the water. This makes it the ideal place for a romantic dinner with an unmatched view.
---
Adventure in Papafragas Beach and Caves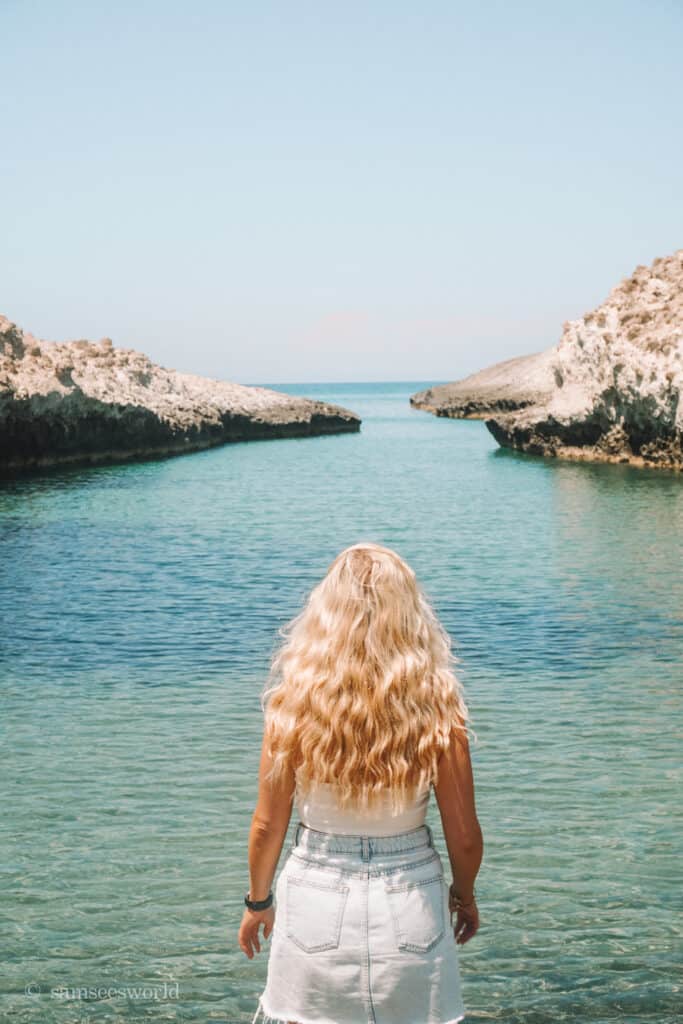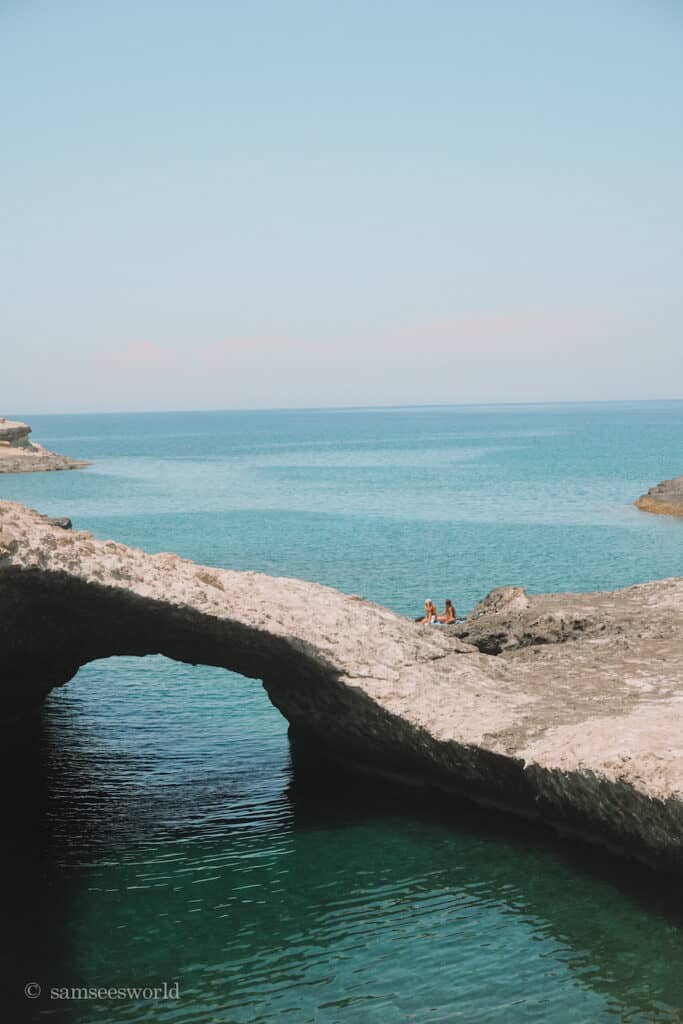 With so many stunning beaches in Milos, it can be hard to choose which ones are worth visiting and which should be skipped. One to add to the visit list is Papafragas Beach. This beach has a small sandy area and is surrounded by uniquely shaped cliffs. The water is clear and blue and the surrounding scenery is amazing. The best thing? This beach is often not super busy so you can walk around and enjoy it with few crowds.
---
Afternoon in Firopotamos Village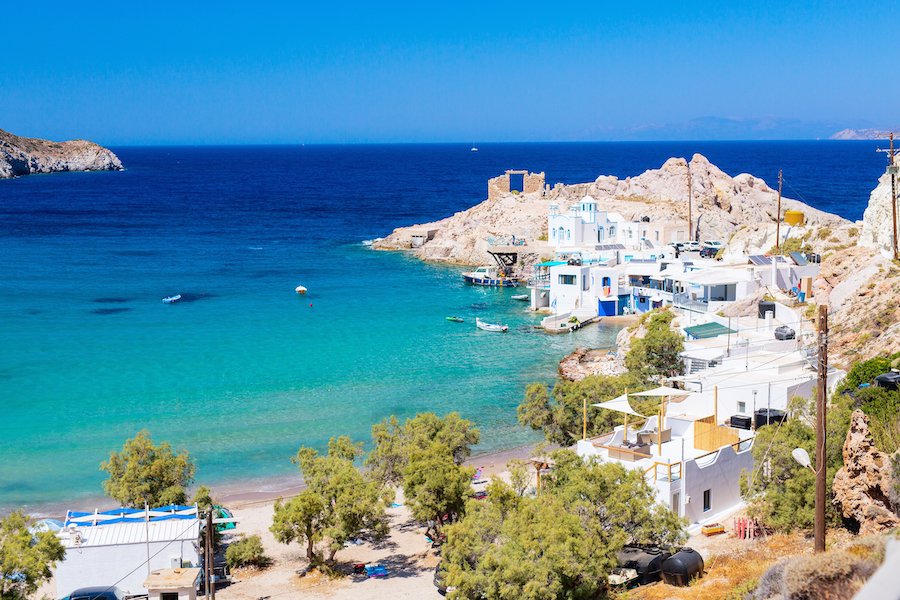 Firopotamos Village is a charming, post-card perfect village in Milos that you need to visit. Heading here is one of the best things to do in Milos to walk around the town, swim in the bright blue waters, and admire the fishing port. This idyllic village is a stunning place to see in Milos that you will likely fall in love with.
---
Sunrise on the Moon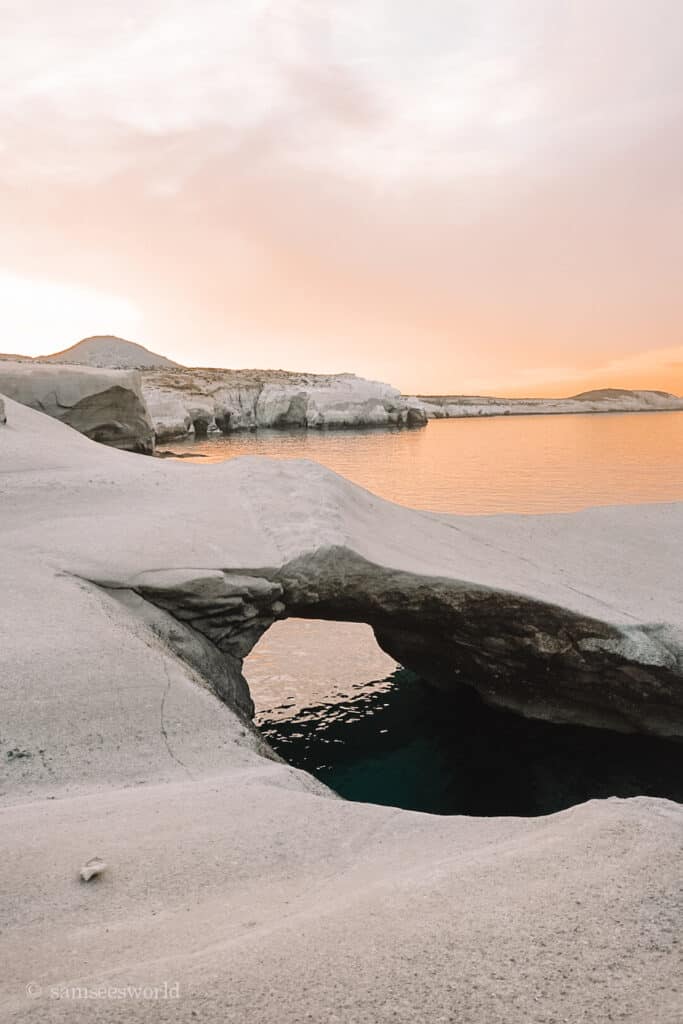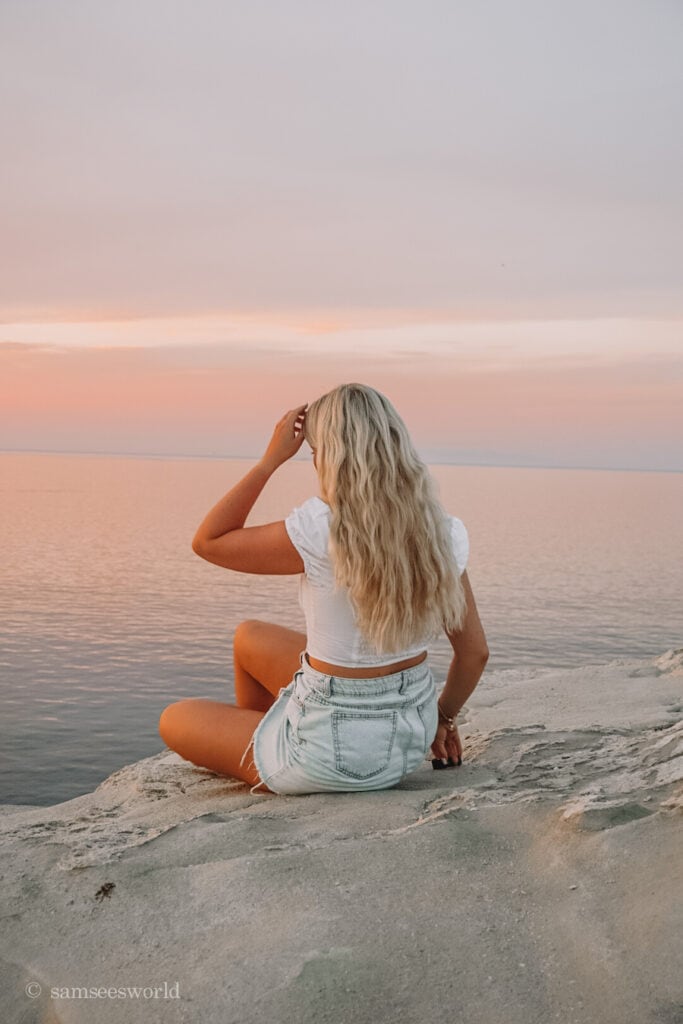 Watching the sunrise on the moon sounds pretty exciting, and although that's not possible, watching it on Sarakiniko Beach is as close as it gets. As the sunrises in the distance and the white rocks glow with the warm morning light it is as close to escaping the world as it gets. Be sure to arrive early, bring a warm sweater, some snacks, and sit back and enjoy the show of a lifetime.
---
Explore Plaka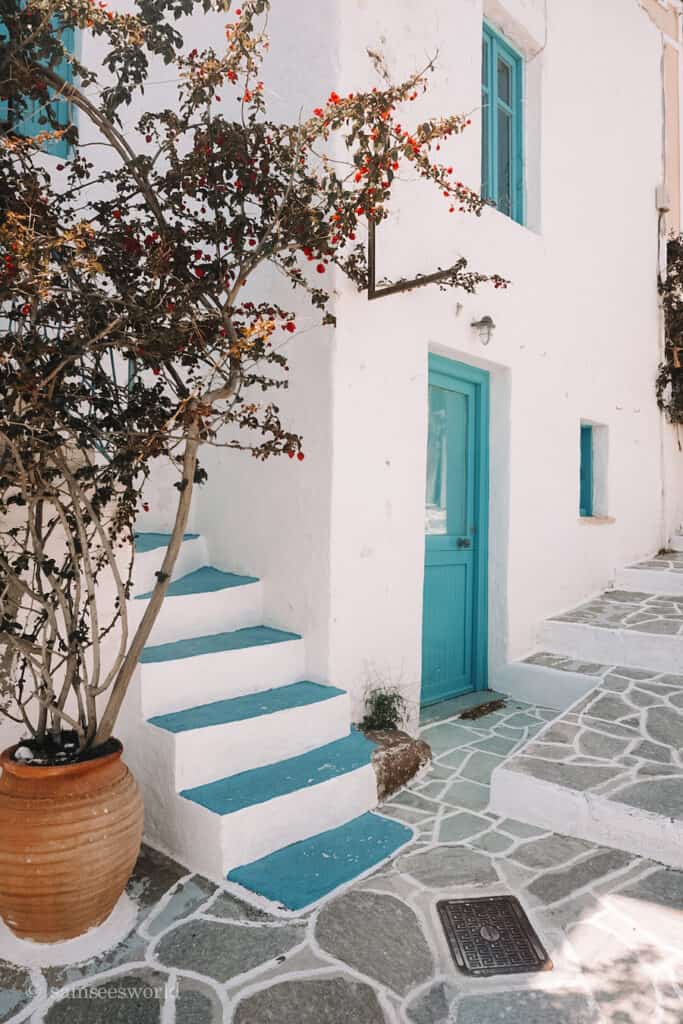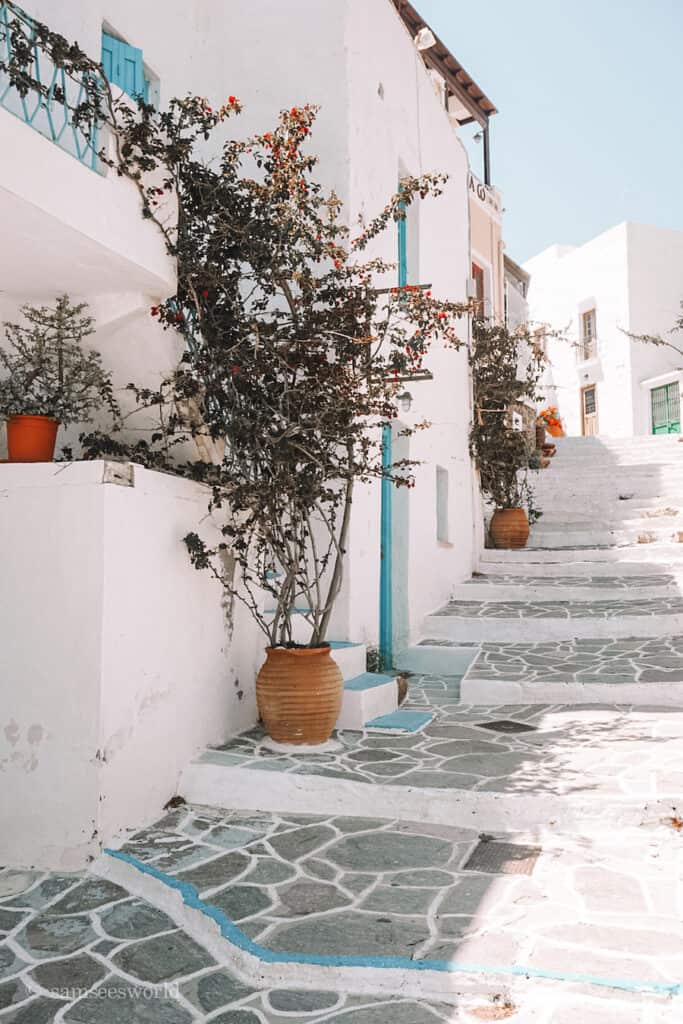 Plaka is a small car-less village in Milos with stunning streets, delicious restaurants and plenty to see. Visiting this famous hilltop village is one of the top things to do in Milos to see the iconic white greek buildings with blue doors and the painted on stones. With the plethora of restaurants and bars, you can spend a day here indulging in great food and admiring the stretching views over the rest of the island.
---
Explore Adamas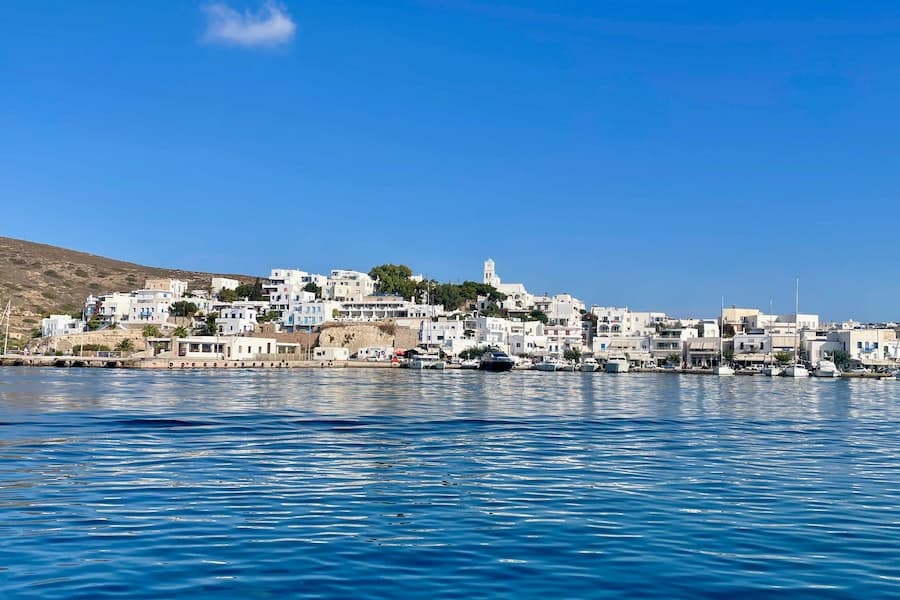 Adamas is the largest village in Milos and the ideal place to spend half a day walking around and enjoying. It is much more than Milo's main port town with plenty of restaurants to eat at and beautiful streets to explore. The nearby beaches and traditional Cycladic character are worth a see.
---
Go to Klima Fishing Village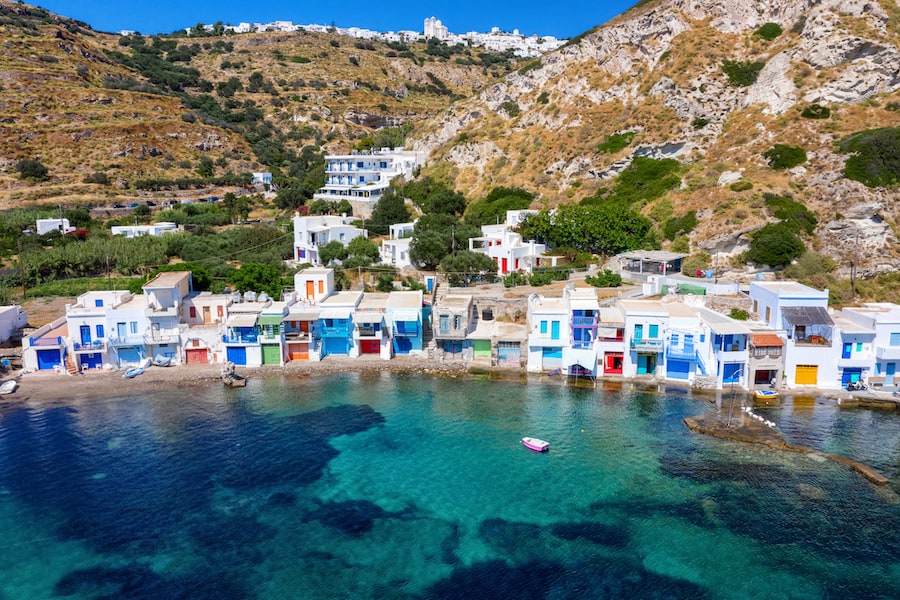 Klima Fishing Village is a remote fishing village characterized by its row of fishing huts with colourful doors and windows. Its unique look makes visiting it one of the top things to do in Milos and its close location makes visiting it easy and accessible. Although it is surrounded by bright emerald waters swimming is not super popular here, it is best to explore on foot and admire from land.
How to Get to Milos
The best way to get to Milos is to take a flight to a nearby island such as Santorini or Mykonos and take a ferry from here.
Prices vary depending on the season and where you are travelling from. Book from Seajets or Ferry Scanner.
---
When to Visit Milos
The best time to visit Milos is Mid May to Mid June or End of August to Mid September. These months offer lower prices and much fewer people. Plus the weather is still amazing and not to hot so you can enjoy all the beaches and attractions without getting heat stroke.
Where to Stay in Milos
The best place to stay in Milos is Pollonia. This charming village is quaint and safe and offers some of the best accommodation. Plus there are plenty of restaurants so you can easily walk to get your food.
---
How to Get Around Milos
Renting a car or ATV is the best way to get around Milos. There are plenty of car rental places all around the island but booking one in advance is strongly suggested, especially in the high season.
You can also get around by bus but this is much less reliable and hinders your freedom.
---
Travel Insurance
Getting travel insurance before you travel is a MUST. It's the number one thing you should always pack before travelling that can save you a lot of money, time, and stress. With how crazy travel has gotten recently you need that peace of mind that no matter what happens there is something protecting you from losing out. I always travel with travel insurance and think everyone should.
I always travel with travel insurance and think everyone should. Below is my favorite travel insurer Safety Wings, enter your details to get a free quote!
---
Milos is absolutely magical. With so many amazing things to do in Milos the hard part is picking what to do with the time you have!
Like this post? Pin "Best Things to do in Milos" for later!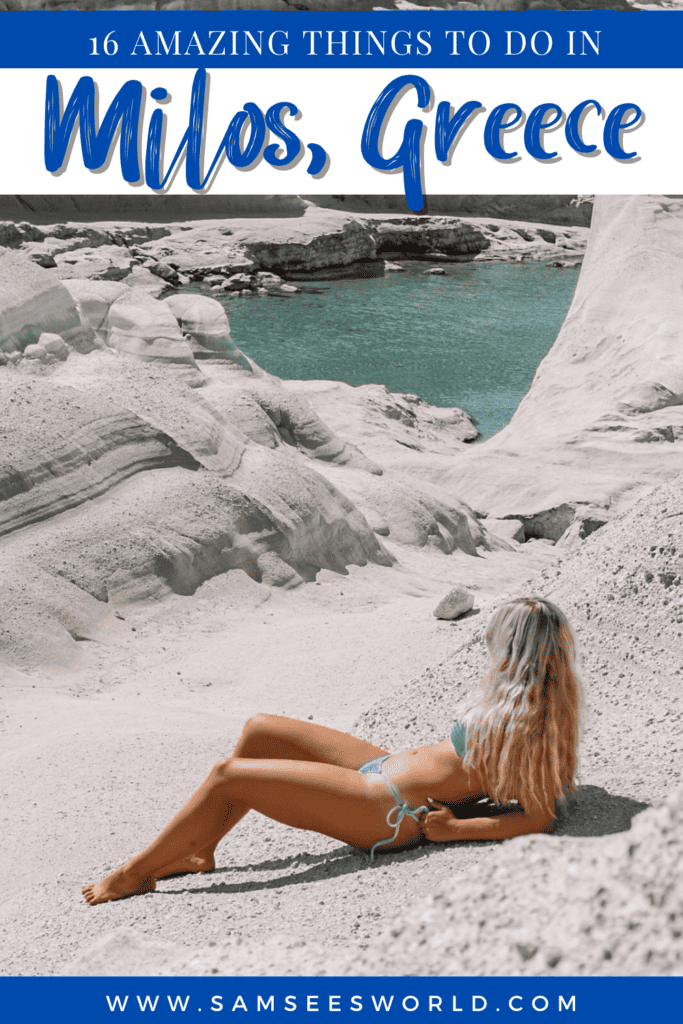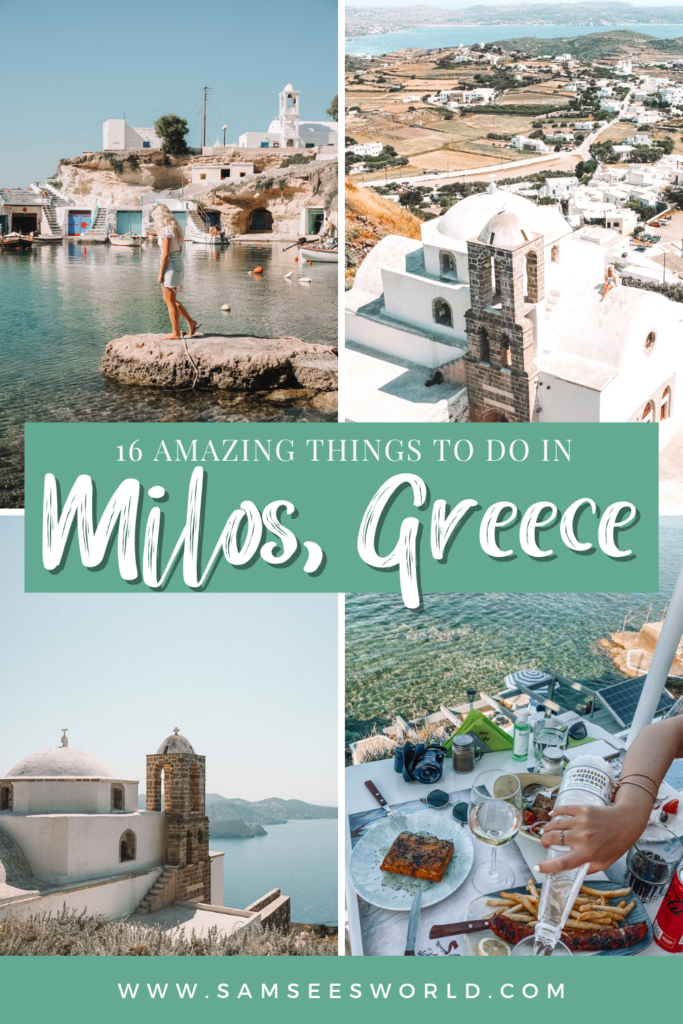 Love,
SSW