Discover the perfect itinerary for 6 days in France.
France is the most visited country in the world, welcoming more than 89 million tourists per year! People all around the world are eager to visit this stunning country and enjoy all the magic it has to offer. France is a unique destination for those who would like to benefit from its cosmopolitan gastronomical culture, unique architectural treasures, and one-of-its-kind cultural heritage.
Have you been dreaming of uncovering the most beautiful spots in France on just one trip? To see Paris and the storied Cote D'Azur? Check out these amazing 6 days in France and prepare for the ultimate adventure.
(Disclaimer: Some links in this post may be affiliate links, meaning if you click on the link and make a purchase, I receive a small commission. This is at no extra cost to you and you may even receive a small discount. See disclosure for more information.)
6 Days in France
Day 1 in France: Paris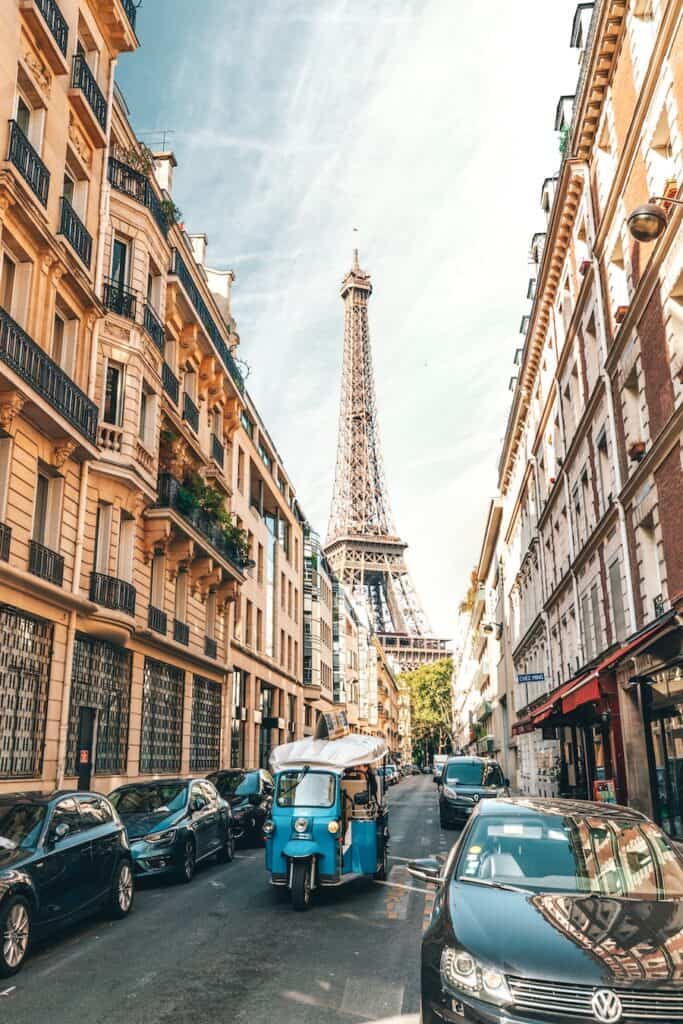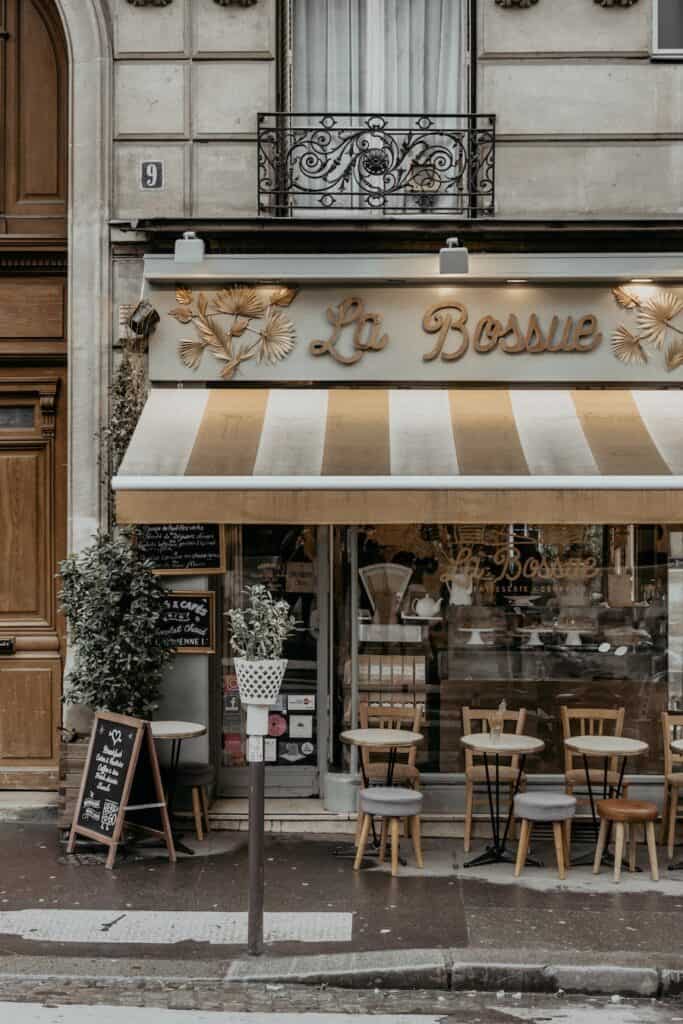 Fly, first, to one of Paris' three airports, Orly, Charles de Gaulle, or Beauvais and go to your Paris city-centre hotel to delight in the scenic Paris downtown. Spend 48 hours in Paris to sense the raw, kinetic spirit of a city that is always on the move.
On your day 1 in Paris, take a bus, taxi or metro from the airport to Paris downtown.
After dropping your backpack at your hotel, go on a walking tour of Ile-de-la-Cite with beautiful Notre-Dames-de-Paris, which inspired Victor Hugo to write his main chef d'oeuvre Notre-Dames-de-Paris. Order a cup of coffee at the Cafe Esmeralda, and delight in the scenic view over the River Seine, while sipping on a cafe au lait.
Quartier Latin (afternoon)
Then, proceed to the always merry Quartier Latin, emanating youth and hope, centred around the Pantheon, a postcard-view edifice towering over Paris. Spend some time in this youthful district.
Have lunch at the typically Parisian brasseries like Le Petit Cluny, go to the great rare bookstores such as Pelican Noire or the great writers' haunts like Shakespeare & Co Bookstore, then dine at the really unmatched eateries serving food from all over the world like Pho 5.
Afterwards, ride on a metro to Anvers Station, to visit the Bohemian Montmartre. Walk up to the beautiful Sacre-Coeur Basilique and its hilltop-perched observation deck, known as la Butte, offering one of the most scenic views over Paris at night.
Then, take a funicular and descend to the Boulevard de Clichy where the famed Belle Epoque Moulin Rouge Cabaret is situated, known for its exhilarating soirees. Also don't miss out on the Cafe des Deux Moulins, where the film "Amelie" was shot.
---
Day 2 in France: Paris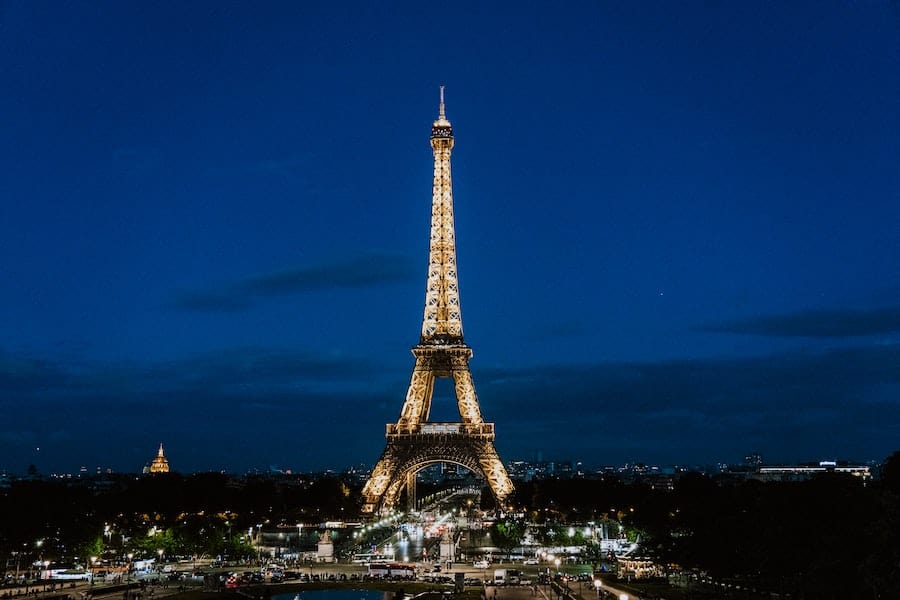 Start your day 2 in France with a visit to Le Marais, a great district to go on a shopping spree at venues like BVH Marais and eat brunch at its great eateries, like 5 Baht, serving mouth-watering Thai fare.
Grands Boulevards & Père LaChaise (afternoon)
Then take a stroll to the Grands Boulevards, and amble nonchalantly on the Boulevard Haussman extolled by the likes of Grace Jones, a famous American singer.
From there go to the cemetery Pere LaChaise (closing at 17.00), where lies buried Oscar Wilde, a famous English author who died in Paris. Have dinner at a brasserie close by, and head for an evening walking tour in Paris downtown and along the Seine.
Main Paris landmarks (evening)
Pay a visit to Champs-Elysees, Paris' main thoroughfare, immortalized by Joe Dassin in his "aux Champs-Elysees" and gaze at other prime Paris landmarks like the Louvre, Place de la Concorde, Palais Royal and Eiffel Tower. Don't forget to pop by a souvenir stall to buy Parisian memorabilia for your loved ones back home.
---
Day 3 in France: Nice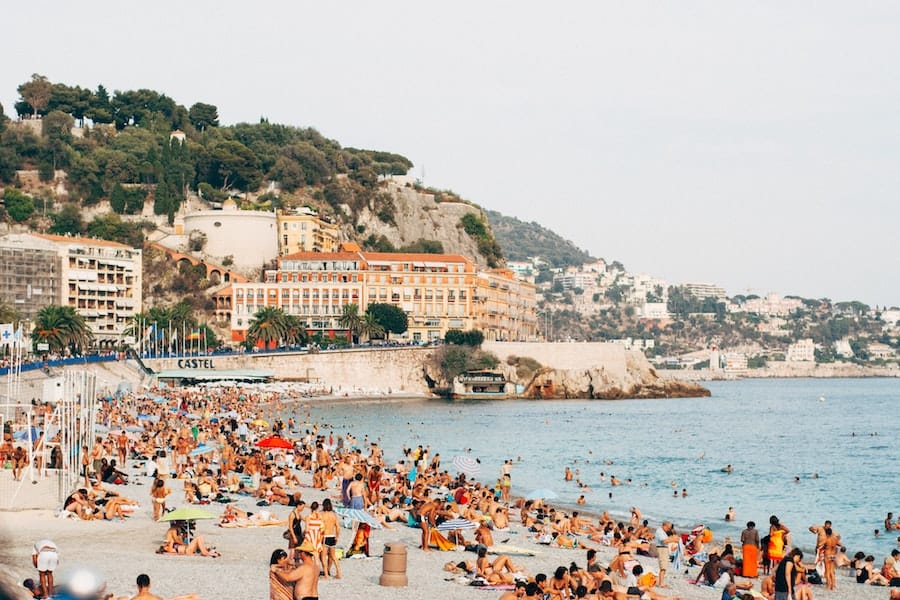 Go to Nice to spend day 3 of your 6 days in France itinerary. If you take a night train at Gare de Lyons Railway Station in Paris, you can not only arrive in Nice in the morning but also save up money by spending one night in Paris less.
Nice Downtown & Seaside (morning & afternoon)
Take your time walking in the Nice downtown in general and its beautiful Massena Square and its scenic streets like the sea-facing Promenade des Anglais in particular, where you can feel the tenderly tangy Mediterranean breeze. It is lined by a long swathe of sand, where you can not only dip your feet in the water or splash around but also meet a lot of celebrities.
Castle Hill & Hotel Negresco (evening)
Take a walk to Castle Hill, offering a mind-blowing view over the Bay of Nice. It is here that the city's main citadel was once situated, before being razed to the ground. Afterwards, make your way to Hotel Negresco, the fanciest place to drink coffee in Nice, and go bar hopping.
---
Day 4 in France: Cannes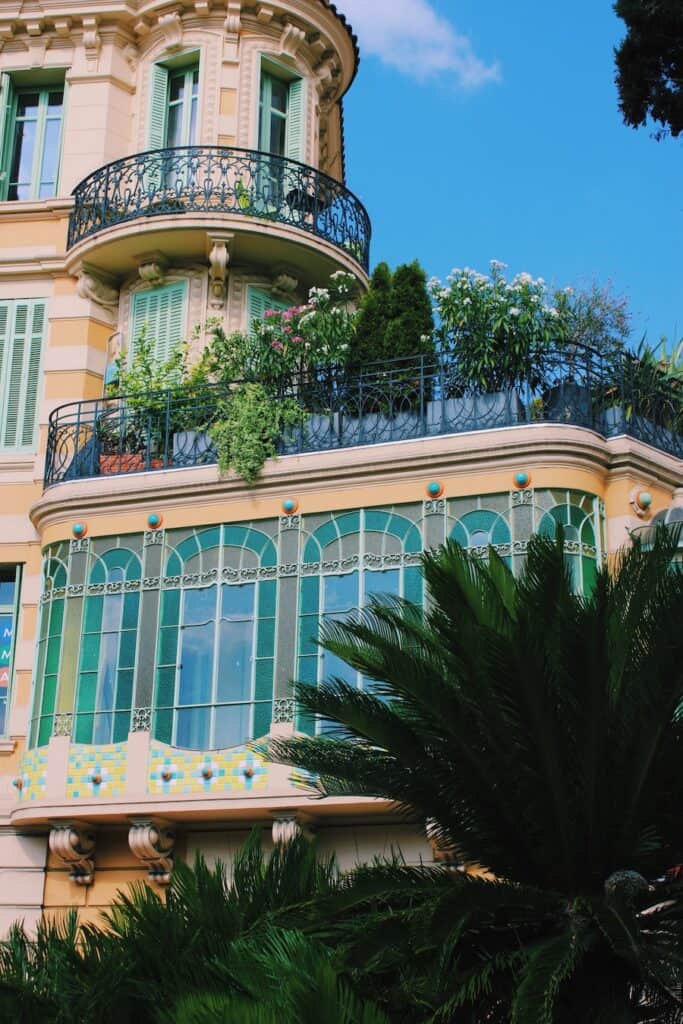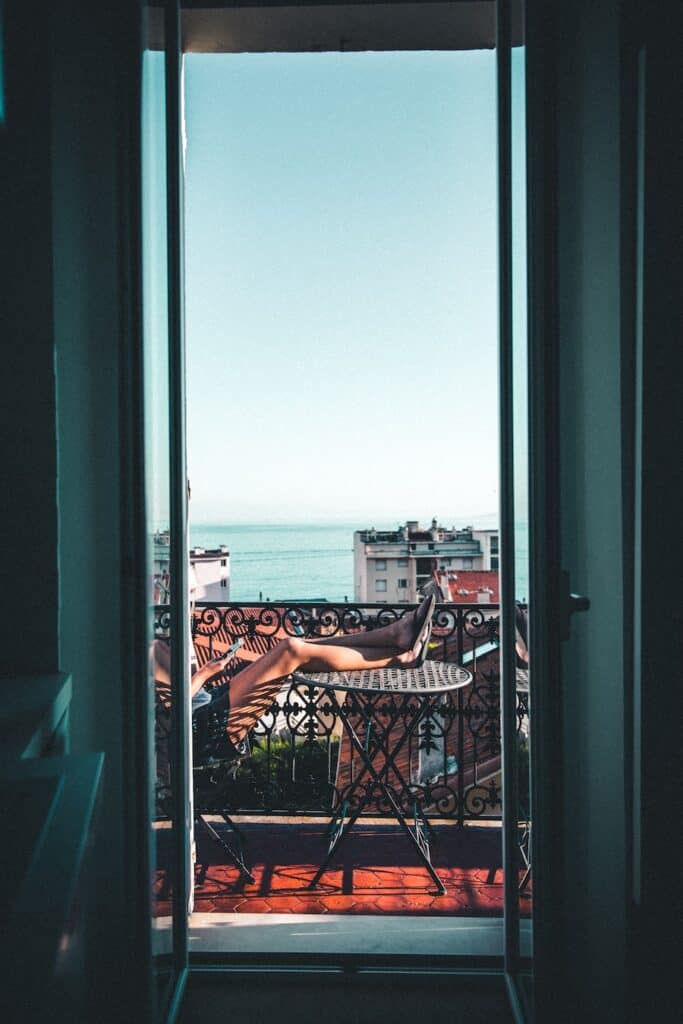 Going from Nice to Cannes
Take a bus from Nice to Cannes, taking just under an hour.
Cannes Promenade & Cannes main landmarks (morning and early afternoon)
Walk on the beautiful Cannes promenade, and visit its main sites like Boulevard de la Croisette, Lerins Islands, and idyllic Île de Sainte-Marguerite.
Prices for accommodation in Cannes can be exorbitant. Thus, it is best to go by bus from Cannes to Marseille; go for a vespertine walk around its kinetic downtown, and take late dinner at one of its bistros and head to your hotel for the long-deserved rest.
---
Day 5 in France: Marseille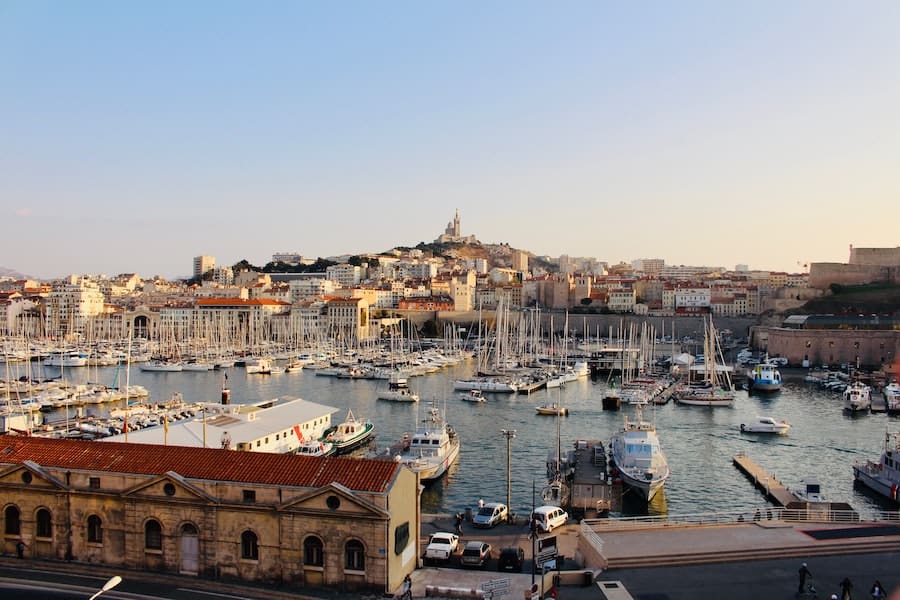 Go to the Marseille promenade, Old Port and Fort St. Jean (morning)
One of the best places to start your day in Marseille is the Old Port. Here you can go for a walk along its scenic seaboard and pay a visit to the imposing Fort St. Jean, a fortified structure known for a gob-smacking Seaview opening up from its battlements. Then plop down at one of the city's sea-facing eateries and have a slap-up lunch there with a glass of rose.
Head to the Notre Dame de la Garde and Abbaye Saint-Victor (afternoon)
Marseille is home to two beautiful pieces of architecture. The most imposing of them is the Basilique Notre Dame de La Garde, a hilltop prayer house towering over the city. Go to this site to see the city's most famous symbol, especially revered by the Marseille sea-farers and fishermen.
Then make your way to Abbaye Saint-Victor. A visit to the basilica will plunge you into the tumultuous religious history of Marseille and will allow you to take delight in the gob-smacking view of the old port. Inside, you will no doubt be impressed by the mysterious crypts, chapels and sarcophagi.
Visit Hipe District around Rue d'Endoume and Rue Sainte(evening)
Once the twilights set in, head to an en vogue nightlife area, clustered around the Rue Sainte and Rue d'Endoume, situated above the Old Port and little frequented in the past. Here you can hang out with jovial Marseillians and pamper your taste buds with the city's delectable wine and food.
---
Day 6 in France: Parc National des Calanques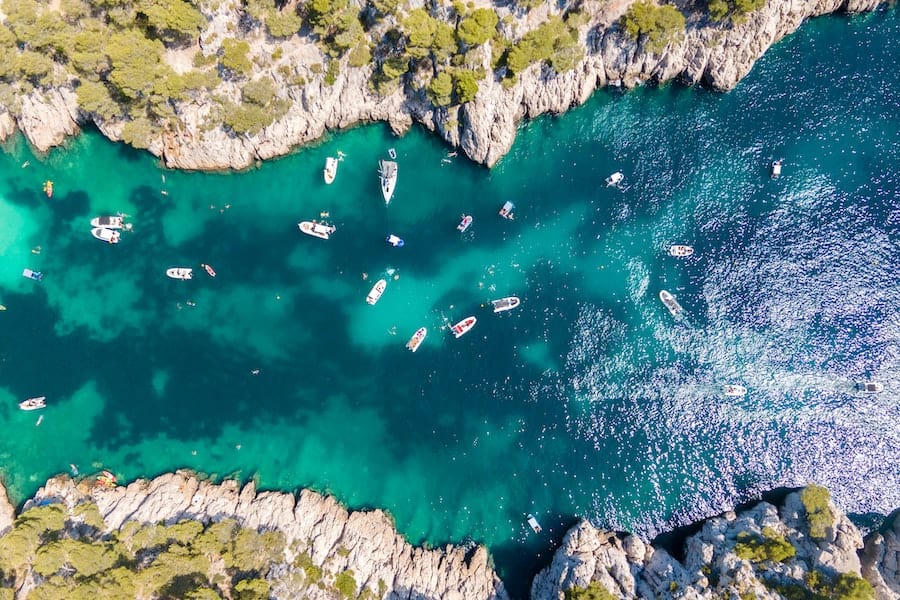 Visit Parc National des Calanques (morning-afternoon)
Pack up, check out of your hotel, leave your luggage at the reception and go for a day trip to Parc National des Calanques. The nature reserve is a great spot to hike and delight in the mesmeric sea-views, but also to swim, if travelling in summer, at its beaches renowned for its pellucid waters.
Head back to Marseille (evening)
Go back to Marseille, collect your luggage from your hotel and travel to the airport of Marseille for your flight back home.
---
Where to stay in France
Even though staying in France is totally worth it, it is an expensive place, and some of its cities and towns like St. Tropez or Courchevel can be a real squeeze on your budget.
On the 6 day itinerary in France you won't have to cough up on needless luxuries but only profit from best value locales and an inspiring atmosphere. Search for the best value accommodation on Airbnb and visit Booking.com to find the best places to stay.
---
When to go in France
France is best visited in April-May and September-October. The summer can be sweltering hot, and since it is a holiday season prices for accommodation and services can be biting.
In April-May and September-October you will have sparser crowds and temperatures that are milder, without the winds and chill of the French winters.
---
Where to eat in France
Paris is known as the world's gastronomical capital, a treat to every foodie. Here you can find not only delectable French food but also cuisines from all over the world. Keep in mind that Paris is a great destination to munch on the ambrosial fare of the former French colonies, be it Senegalese or Vietnamese.
---
Tours to take in France
There are a number of tours to take on your 6 day in France itinerary. Discover some of the best tours below where you can find skip-the-line tours of the French museums, like the Louvre, or unique private or group guided walking tours like those on Guruwalk, a tip-based platform offering free walking tours in groups.
---
Travel Insurance
Getting travel insurance before you travel is a MUST. It's the number one thing you should always pack before travelling that can save you a lot of money, time, and stress. With how crazy travel has gotten recently you need that peace of mind that no matter what happens there is something protecting you from losing out. I always travel with travel insurance and think everyone should.
I always travel with travel insurance and think everyone should. Below is my favorite travel insurer Safety Wings, enter your details to get a free quote!
---
6 days in France offers more beauty and magic than you could imagine.
And because France and Amsterdam are not too far apart, consider visiting Amsterdam and checking out the best cafes they have to offer.
Like this post? Pin "6 Days in France" for later!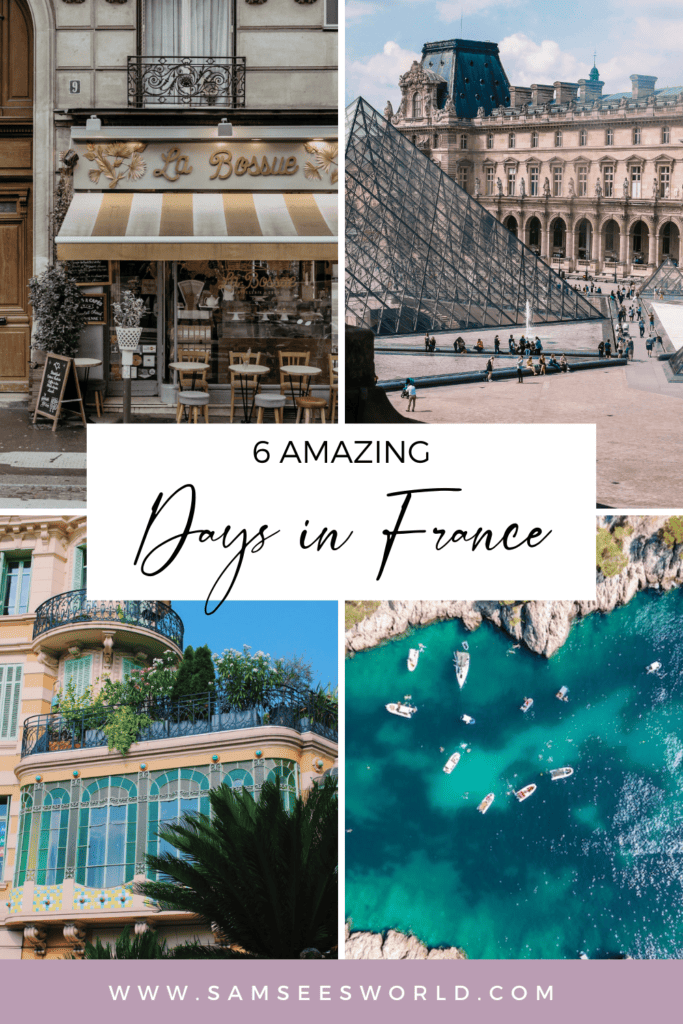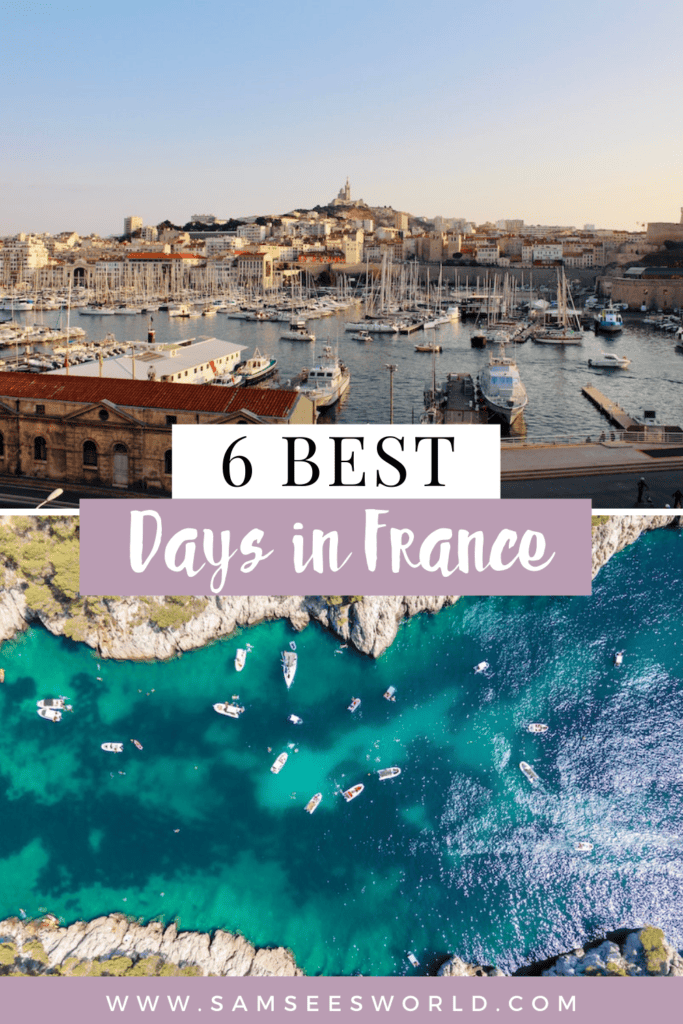 Love,
SSW