Road trips are one of the best ways to travel. Whether you are already on the road or about to being your journey, these road trip quotes will inspire your adventure.
Taking a road trip makes the transportation part of travelling fun and memorable. After every road trip, you will have made a ton of new memories to last a lifetime. There's nothing more freeing than hitting the road at a moment's notice to explore on your own terms. Use these long drive quotes to fuel your road trip wanderlust and inspire your next adventure.
Discover 30 of the best road trip quotes that are great for you, and sharing on Instagram! From long drive quotes to funny road trip quotes to road trip captions and beyond.
45 Best Road Trip Quotes
1."Roads were made for journeys, not destinations." – Confucius
2. "I see my path, but I don't know where it leads. Not knowing where I'm going is what inspires me to travel it." – Rosalía de Castro
3. "I can speak to my soul only when the two of us are off exploring deserts or cities or mountains or roads." – Paulo Coelho, Aleph
4. "You may not find a path, but you will find a way." – Tom Wolfe
5. "Nothing behind me, everything ahead of me, as is ever so on the road." — Jack Kerouac
6. "Some beautiful paths can't be discovered without getting lost." – Erol Ozan
7. "Two roads diverged in a wood, and I – I took the one less traveled by." – Robert Frost
8. "I climb behind the steering wheel… I drive off immediately without once looking back; it's a long journey but it leads to freedom." – Corinne Hofmann
9. "Still, round the corner, there may wait, a new road or a secret gate." – J. R. R. Tolkien
10. "Adventure is out there." – Up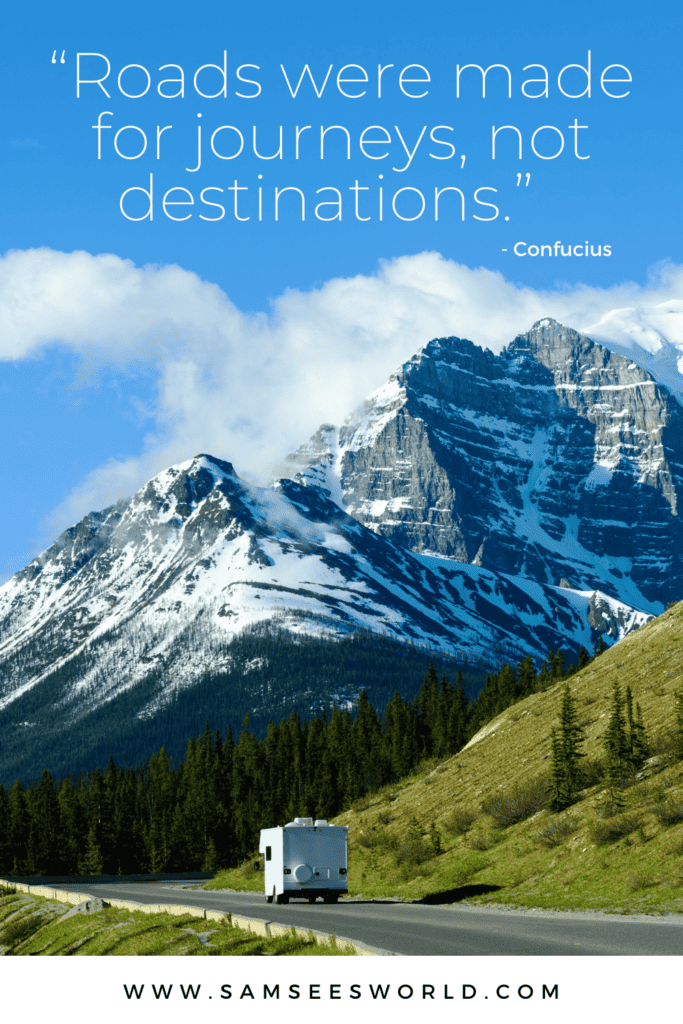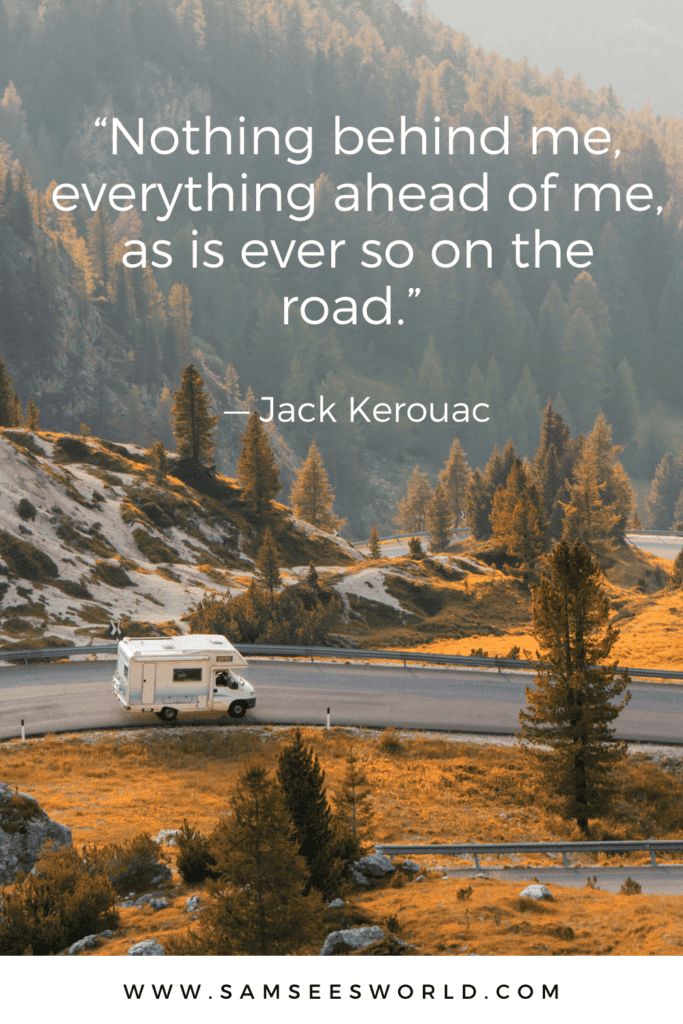 11. "Take care of your car in the garage, and the car will take care of you on the road." – Amit Kalantri
12. "Good company in a journey makes the way seem shorter." – Izaak Walton
13. "I may not have ended up where I intended to go, but I think I have ended up where I intended to be." – Douglas Adams
14. "Because the greatest part of a road trip isn't arriving at your destination. It's all the wild stuff that happens along the way." – Emma Chase
15. "The open road is a beckoning, a strangeness, a place where a man can lose himself." – William Least Heat Moon
16. "I just go with the flow, I follow the yellow brick road. I don't know where it's going to lead me, but I follow it." – Grace Jones
17. God made the world round so we would never be able to see too far down the road." – Isak Dinesen
18. "I travel not to go anywhere but to go. I travel for travel's sake. The great affair is to move." – Robert Louis Stevenson
19. "What it takes to realize everything is fine around you? A road trip to the mountains where your soul dwells in the echoes of the winds that carry fragments of clouds with them. What it takes to realize world is going back to chaos and infinite hurry? End of the aforementioned road trip." – Crestless Wave
20. "If you're on a road trip, you need driving music." – Edgar Wright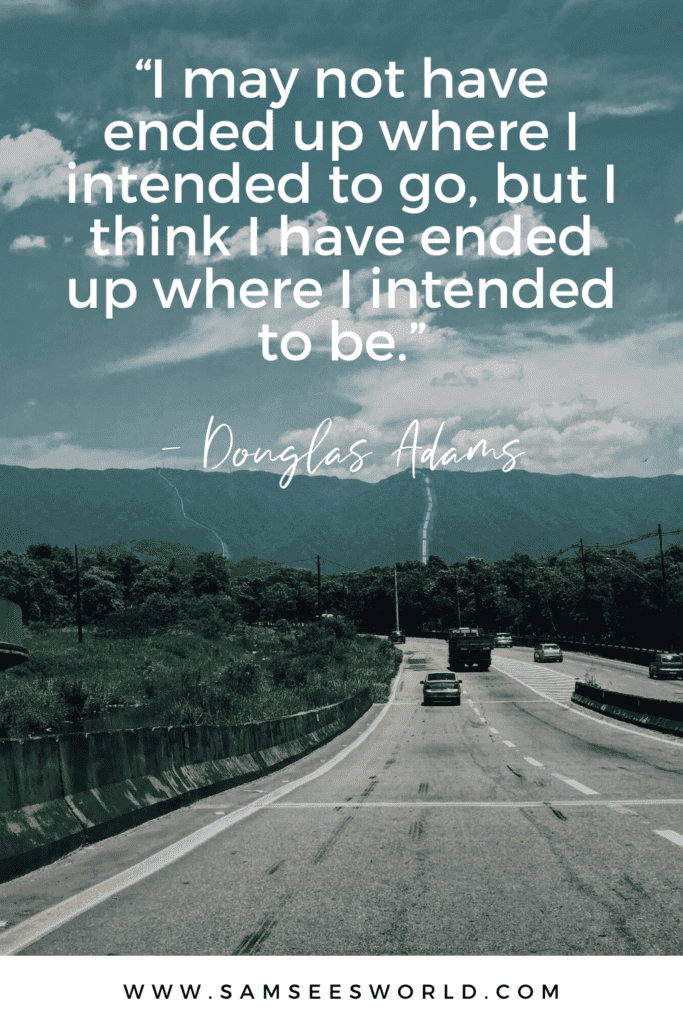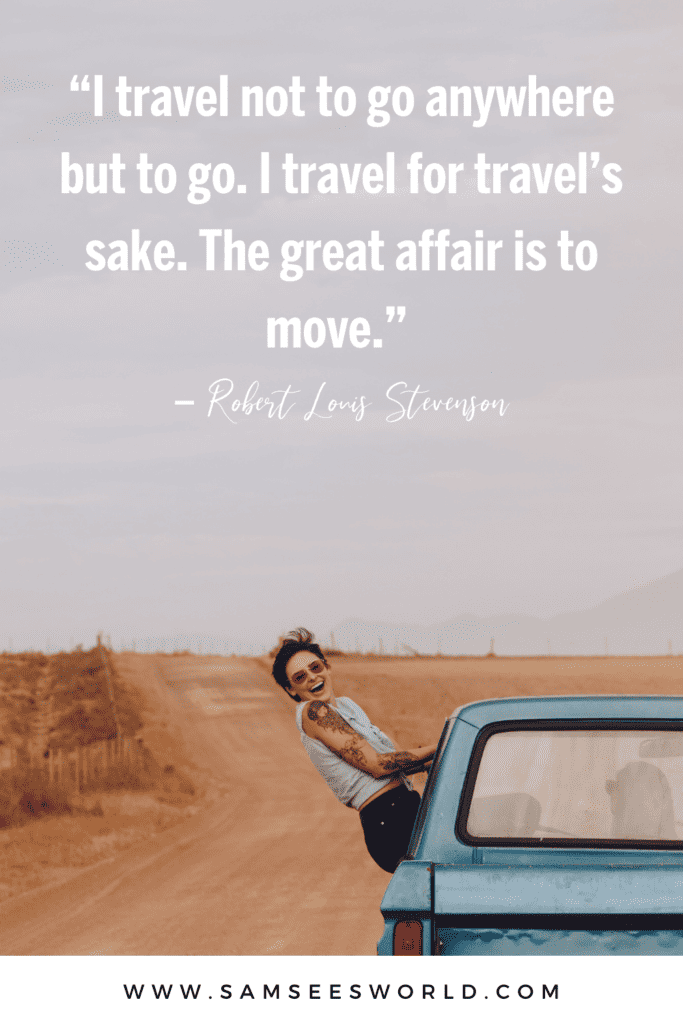 21. "We're almost there, but nowhere near it. All that matters is that we're going." – Gilmore Girls
22. "Sometimes you find yourself in the middle of nowhere, and sometimes in the middle of nowhere, you find yourself." – Unknown
23. "Look at life through the windshield, not the rearview mirror." – Byrd Baggett
24. "Look on every exit as being an entrance somewhere else." – Tom Stoppard
25. "Road trips required a couple of things: a well-balanced diet of caffeine, salt and sugar and an excellent selection of tunes—oh, and directions." – Jenn McKinlay
26. "Sometimes the road less traveled is less traveled for a reason." – Jerry Seinfeld
27. "Map out your future – but do it in pencil. The road ahead is as long as you make it. Make it worth the trip." – Jon Bon Jovi
28. "If we wait until we are ready, we will be waiting for the rest of our life!" – Lemony Snicket
29. "I love road trips. You get into this Zen rhythm; throw the sense of time out the window." – Miriam Toews
30. "Live life with no excuses, travel with no regret." – Oscar Wilde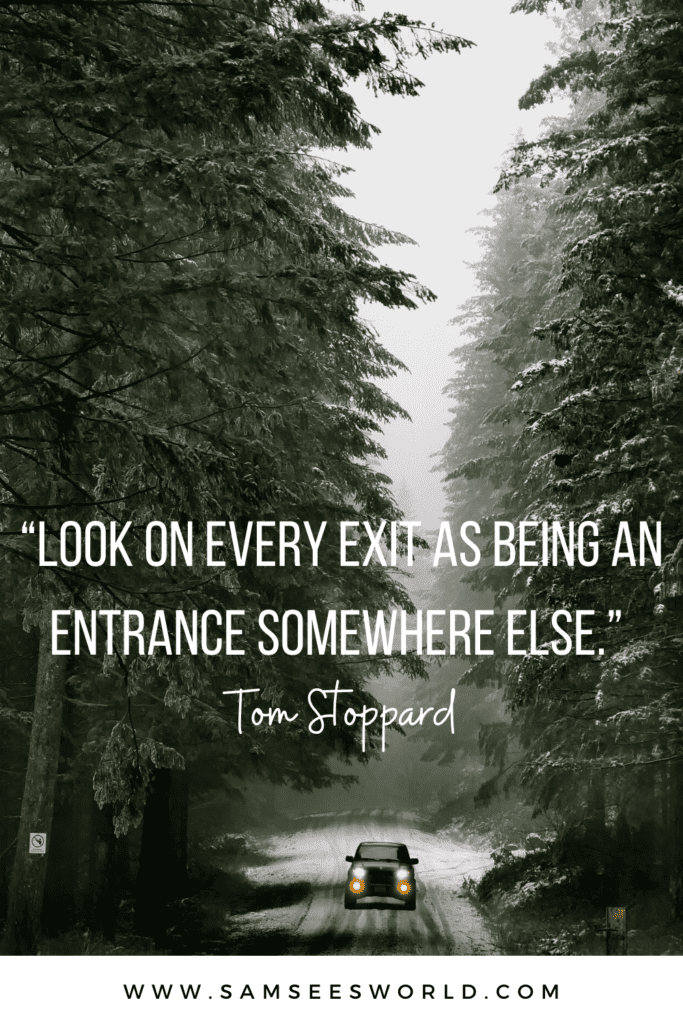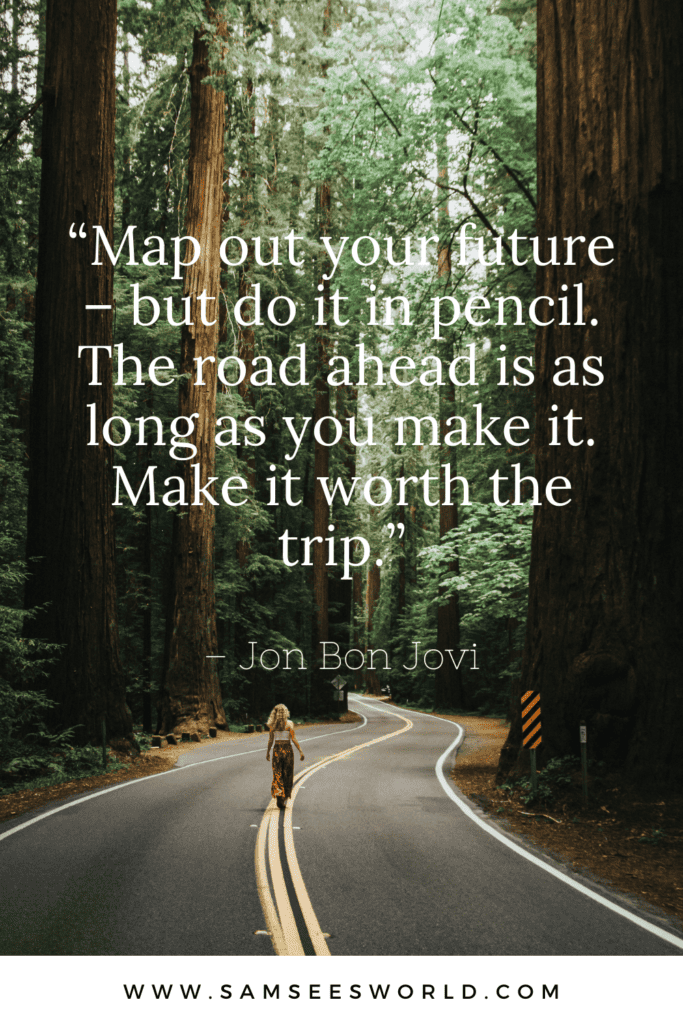 31. "If you don't know where you are going, any road will get you there." – Lewis Carroll
32. "The road goes on forever and the party never ends." – Robert Earl Keen
33. "I love being on the road. I love that lifestyle, traveling city to city, rocking out and moving on to the next place." – Caleb Johnson
34. "The road must eventually lead to the whole world." – Jack Kerouac
35. "Once you have traveled, the voyage never ends but is played out over and over again in the quietest chambers. The mind can never break off from the journey." – Pat Conroy
36. "To move, to breathe, to fly, to float, To gain all while you give, To roam the roads of lands remote, To travel is to live." – Hans Christian Andersen
37. "The most beautiful thing in the world is, of course, the world itself." – Wallace Stevens
38. "Sometimes the most scenic roads in life are the detours you didn't mean to take." – Angela N. Blount
39. "There are no mistakes. Only new paths to explore." – Gregory David Roberts
40. "The world is too big to stay in one place, and life is too short to do just one thing."– Unknown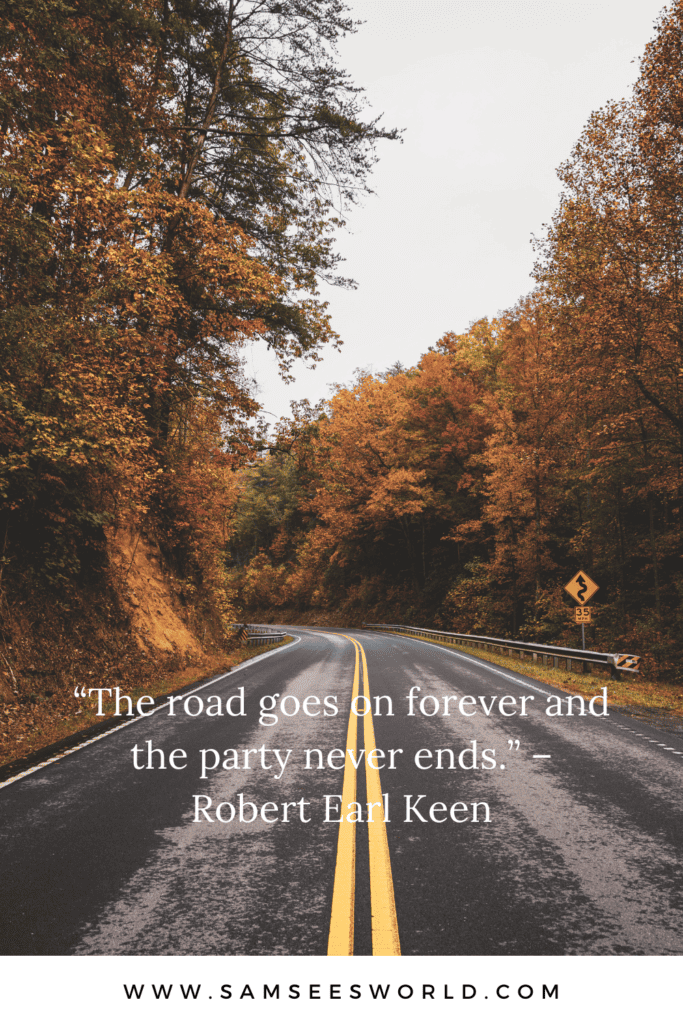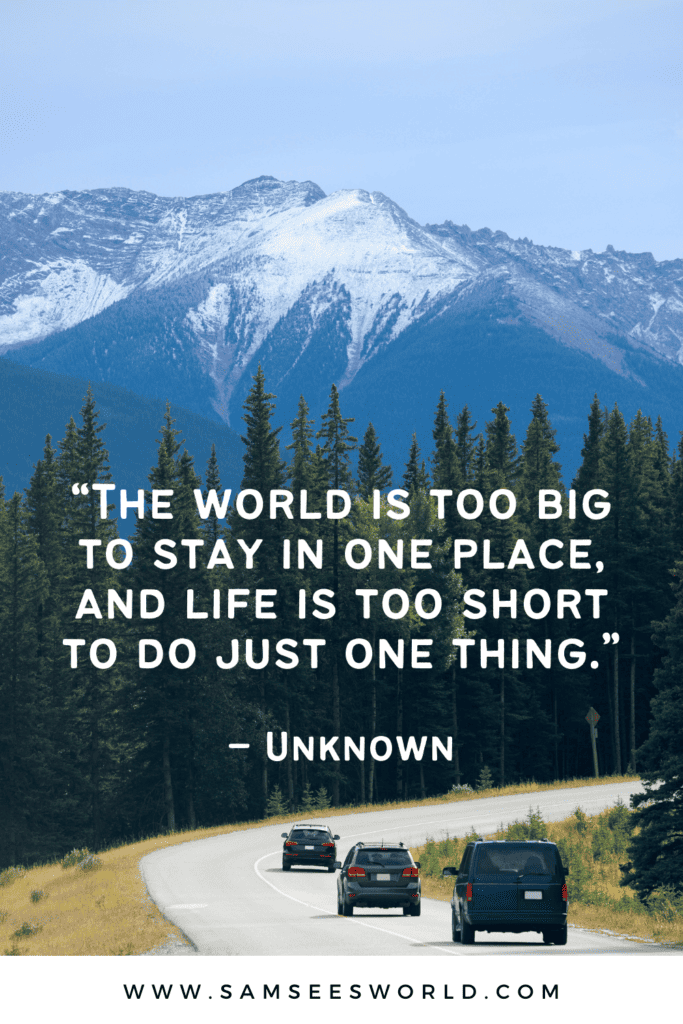 41. "All he needed was a wheel in his hand and four on the road." – Jack Kerouac
42. "You can be writing every day. When you go on a road trip, the trip itself becomes part of the story." ― Steve Rushin
43. "If you come to a fork in the road, take it." – Yogi Berra
44. "Some roads aren't meant to be travelled alone." ― Chinese Proverb
45. "The open road is a beckoning, a strangeness, a place where a man can lose himself." – William Least Heat Moon
---
These 45 road trip quotes are just what you need to fuel your road trip wanderlust. What are your favourite road trip quotes? Comment below!
Find more quotes here:
Love,
SSW