Searching for the best things to do in Hanoi for the ultimate visit to Vietnam's capital city? Keep reading!
With its rich history, cultural heritage, and bustling streets, Hanoi offers a plethora of exciting things to see and do. From exploring the charming Old Quarter to indulging in delicious street food, and from visiting iconic landmarks to immersing yourself in local traditions, Hanoi promises a captivating and unforgettable experience. Get ready to wander through narrow alleys, sample authentic Vietnamese cuisine, marvel at centuries-old temples, and immerse yourself in the city's unique blend of old-world charm and modern dynamism.
Whether you're a history enthusiast, a food lover, or an adventurer seeking new experiences, Hanoi has something to offer everyone. Discover the top things to do in Hanoi below!
Full disclosure: I didn't love Hanoi when I visited. I felt it was smoggy and a little bit hectic. However, it is much more manageable around Hoàn Kiếm Lake than in the center of the old quarter.
(Disclaimer: Some links in this post may be affiliate links, meaning if you click on the link and make a purchase, I receive a small commission. This is at no extra cost to you and you may even receive a small discount. See disclosure for more information.)
11 Best Things to Do in Hanoi, Vietnam
Explore the Old Quarter
One of the best things to do in Hanoi is to immerse yourself in the vibrant atmosphere of Hanoi's Old Quarter. This historic neighborhood is known for its narrow, winding streets, vibrant markets, and preserved colonial architecture.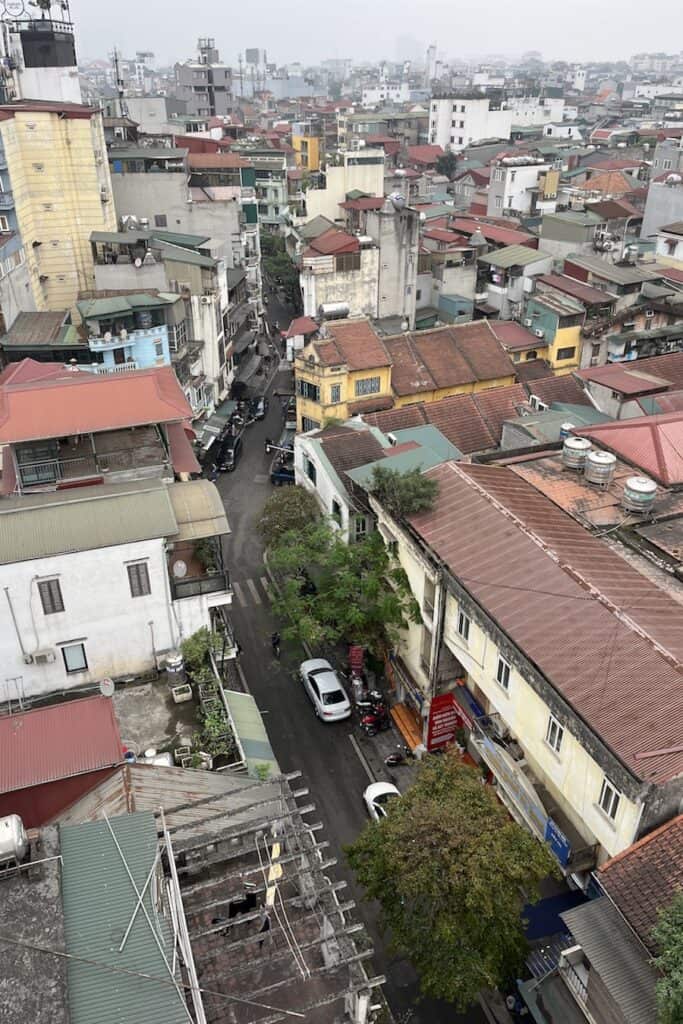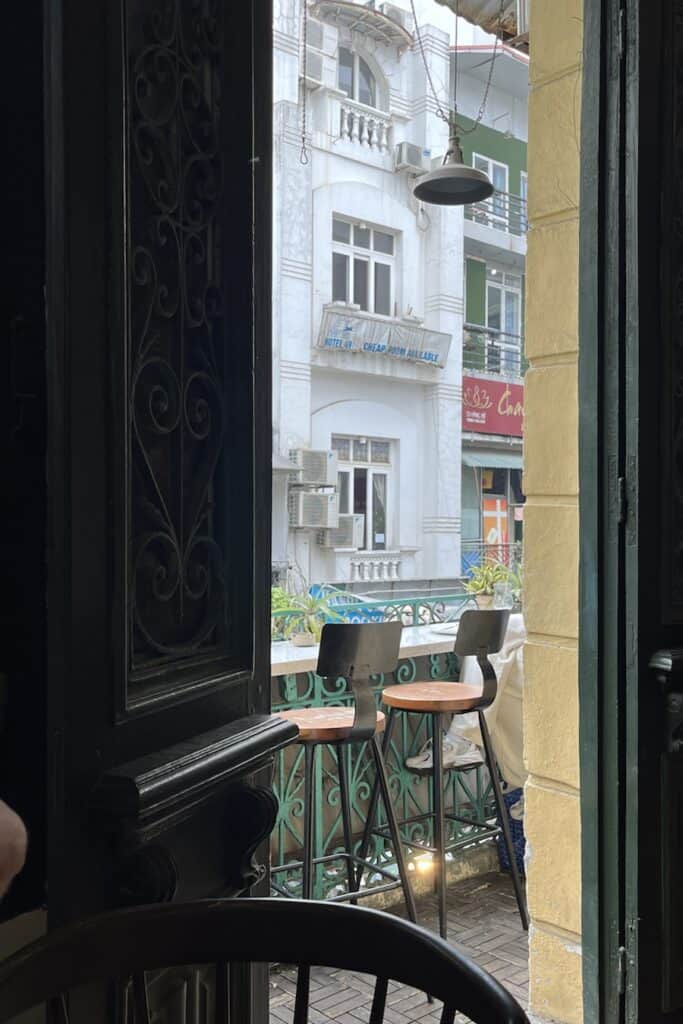 Wander through the bustling streets lined with colorful shops and traditional houses, some of which have been standing for centuries. The architecture reflects a blend of Vietnamese, Chinese, and French influences, creating a unique and captivating atmosphere. Admire the intricate facades, wooden shutters, and balconies adorned with vibrant flowers, all adding to the charm of the neighborhood.
Exploring the Old Quarter of Hanoi is like stepping back in time while simultaneously being immersed in the dynamic pulse of the city. Whether you're captivated by its history, tempted by its culinary delights, or drawn to its vibrant street life, the Old Quarter is sure to leave a lasting impression on your visit to Hanoi.
---
Visit Train Street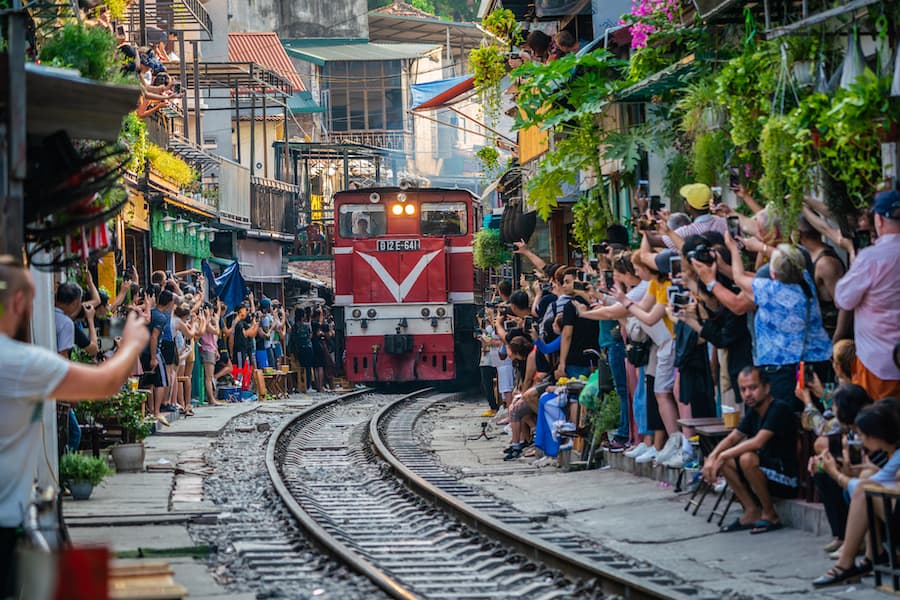 Train Street is a unique and popular attraction that offers a fascinating glimpse into the daily life of the city. The narrow street is lined with houses and shops, and what makes it truly special is that a railway track runs right through the middle of it. Visitors can witness the incredible sight of trains passing through the narrow alley, just a few feet away from the buildings.
It's an exhilarating experience to see the train approaching, and locals and tourists alike often gather to watch and take photos. However, it's important to exercise caution and respect the safety guidelines, as the trains pass very close to houses and pedestrians. Train Street offers a one-of-a-kind glimpse into the harmonious coexistence of urban life and railway transportation in Hanoi.
---
Visit Hoan Kiem Lake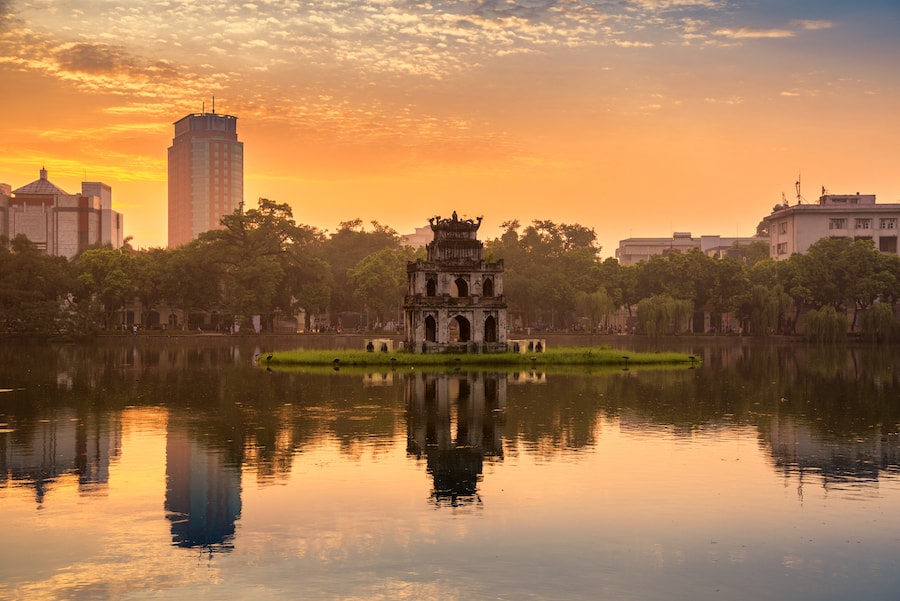 Visiting Hoan Kiem Lake is one of the best things to do in Hanoi to experience a relaxing and scenic part of the city. Immerse yourself in the beauty of Hoan Kiem Lake by taking a leisurely stroll along its serene path. Visit Ngoc Son Temple, located on a small island within the lake, and marvel at its intricate architecture. Don't miss the iconic Turtle Tower standing tall in the middle of the lake, symbolizing the charm of Hanoi.
---
Explore the Temple of Literature
The Temple of Literature is a historic and culturally significant site that dates back to the 11th century. Originally built as a Confucian temple, it later evolved into Vietnam's first national university, dedicated to the pursuit of knowledge and scholarship. Today, it stands as a symbol of education and intellectualism in Vietnamese history.
The architecture of the Temple of Literature is a blend of traditional Vietnamese design and Chinese influences. The complex is characterized by beautiful courtyards, pavilions, and gardens that create a serene and peaceful ambiance. The highlight of the temple is the Khue Van Cac, or the Pavilion of the Constellation of Literature, which is an iconic symbol of Hanoi.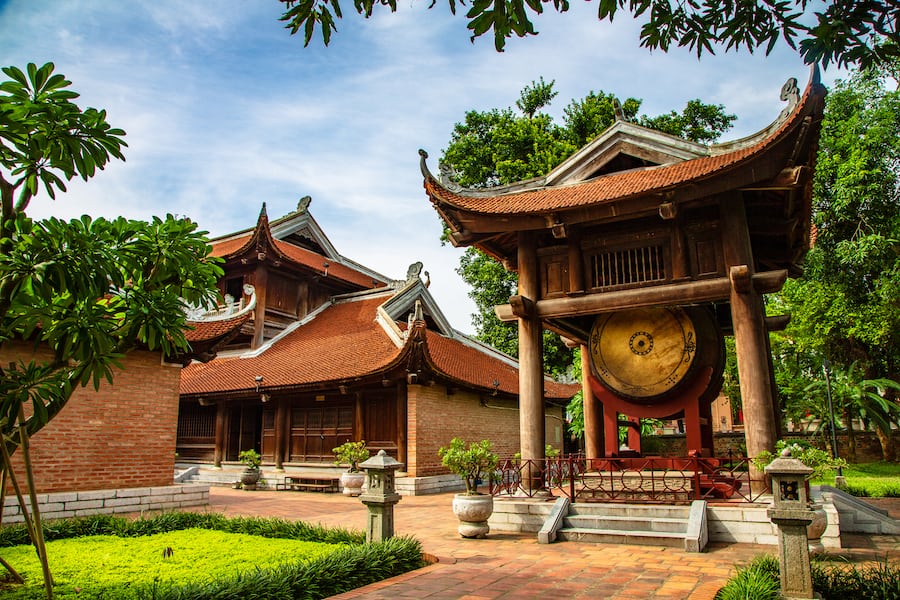 As you explore the Temple of Literature, you'll come across various statues, steles, and altars dedicated to Confucius and prominent scholars. These artifacts reflect the deep reverence for knowledge and wisdom in Vietnamese culture. The site is also home to the stelae of the "Doctors' Stone," which honors exceptional scholars who passed the royal exams.
One of the most enchanting features of the Temple of Literature is its picturesque gardens. The gardens are meticulously maintained, with paths lined by ancient trees and tranquil ponds filled with lotus flowers. It's a perfect place to escape the hustle and bustle of the city and find a moment of peace. Visiting the Temple of Literature is one of the best things to do in Hanoi.
---
Enjoy a Coffee in the Note Cafe
The Note Cafe is not just a place to grab a cup of coffee; it's an interactive cafe where visitors can contribute to the creative atmosphere. You are encouraged to write your own messages, quotes, or doodles on sticky notes and leave them behind for others to discover. It's a charming way to express your thoughts, leave a positive message, or simply be inspired by the collective creativity of others.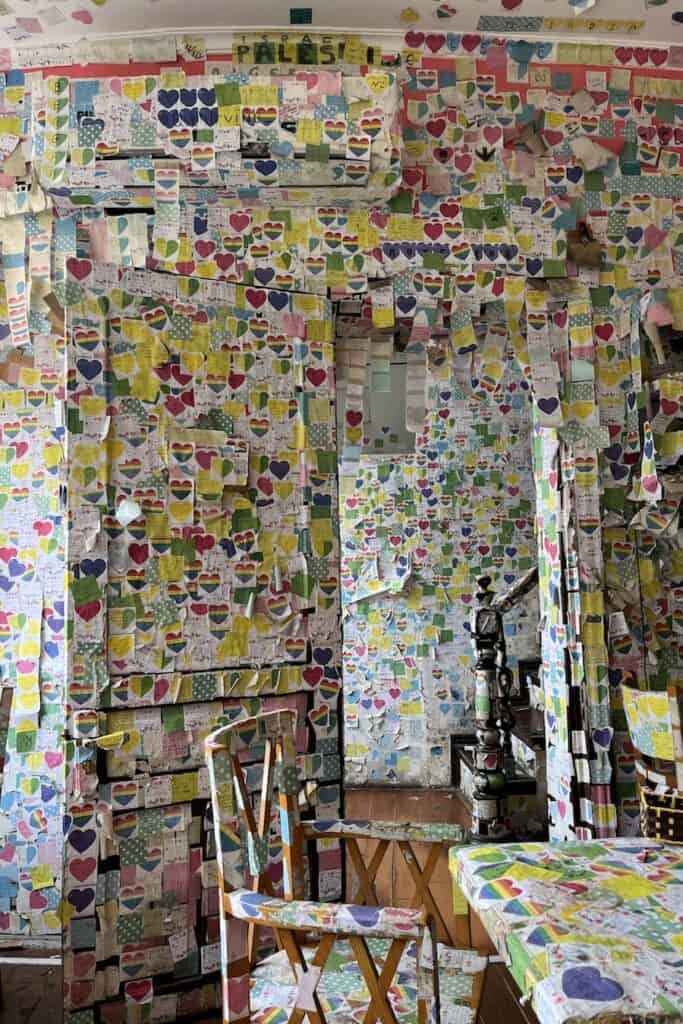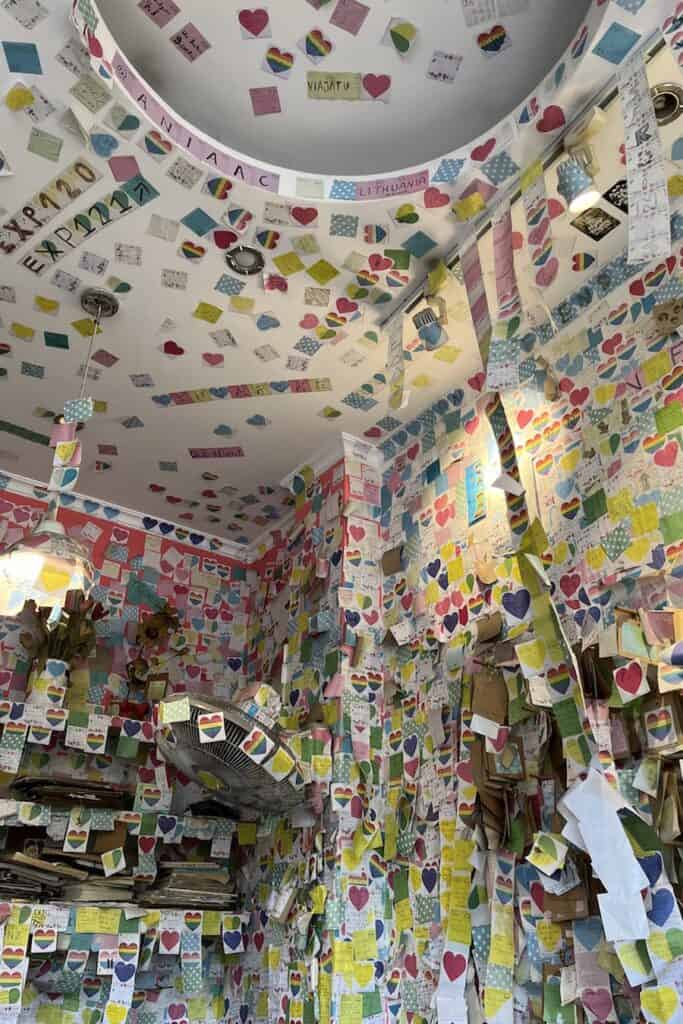 In addition to its unique decor, the Note Cafe also offers a wonderful selection of beverages and snacks. Savor the rich and aromatic Vietnamese coffee, known for its bold flavors and smooth texture. Whether you prefer it hot or iced, black or with condensed milk, the cafe's skilled baristas will prepare it to perfection. Pair your coffee with a tasty pastry or a light snack from their menu for a complete and satisfying experience.
Visiting the famous Note Cafe is one of the top things to do in Hanoi for a memorable coffee break. Leave your mark by adding your own note to the colorful tapestry of messages, and take a moment to soak in the creativity and positive energy that fills the air. It's an extraordinary cafe that celebrates self-expression, community, and the joy of sharing a cup of coffee in a truly unique setting.
---
Sample Vietnamese Cuisine
Sampling delicious Vietnamese dishes is easily one of the best things to do in Hanoi. Vietnamese cuisine is renowned worldwide for its bold flavors, fresh ingredients, and vibrant dishes. From fragrant herbs to savory broths and a delicate balance of flavors, Vietnamese cuisine offers a delightful culinary journey. Be sure to try dishes like pho, banh mi, spring rolls, and more.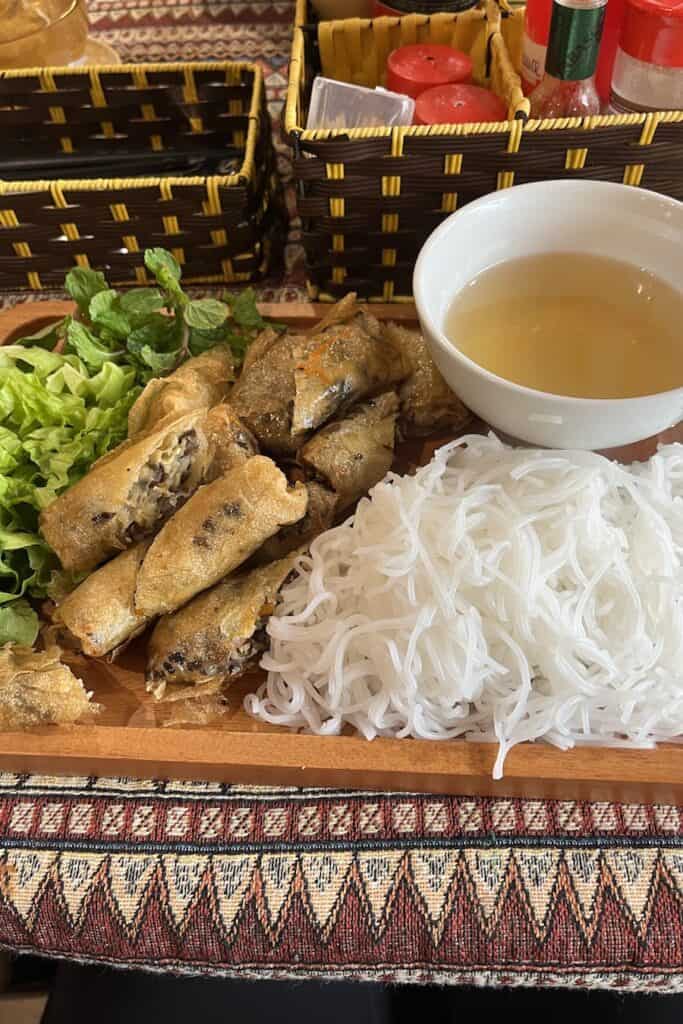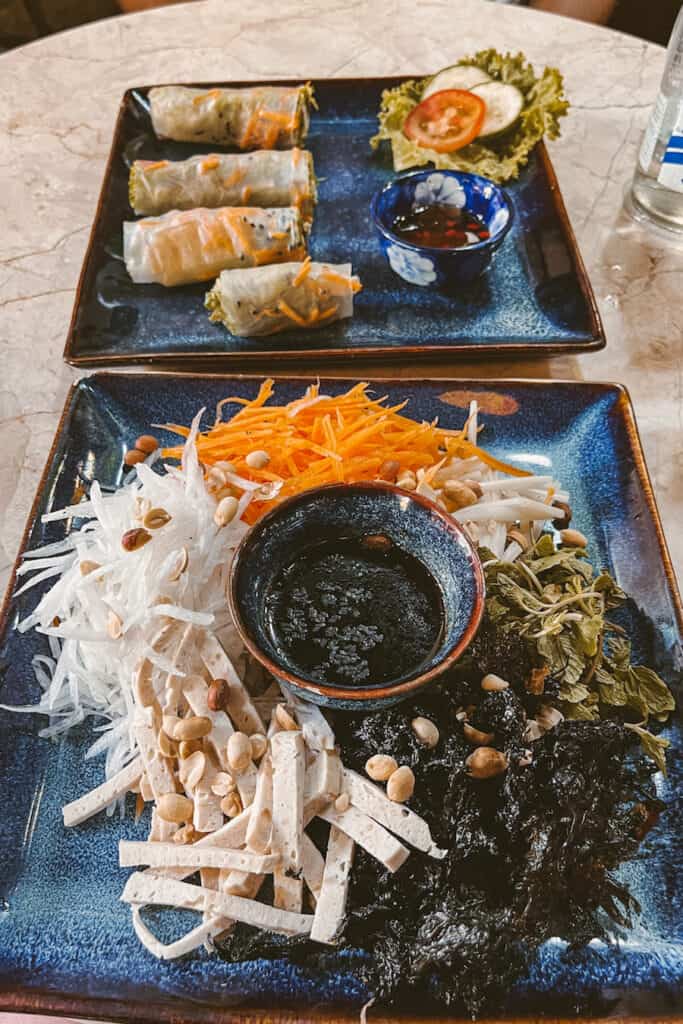 Exploring Vietnamese cuisine is a feast for the senses. From the aromatic herbs to the tantalizing flavors and the artful presentation of dishes, Vietnamese food reflects the country's rich culinary heritage. So, immerse yourself in the vibrant flavors of Vietnam and savor the deliciousness of its cuisine, whether you're dining at a local eatery, street food stall, or high-end restaurant.
---
Take a Day Trip to Ha Long Bay
One of the top things to do in Hanoi that everyone should do is go on a day trip to Ha Long Bay. Start your day early and embark on a cruise boat that will take you on a memorable journey through the bay. As you sail through the calm waters, be prepared to be awe-struck by the sight of thousands of limestone karsts rising majestically from the sea. These towering formations, covered in lush vegetation, create a surreal and picturesque setting that will leave you mesmerized.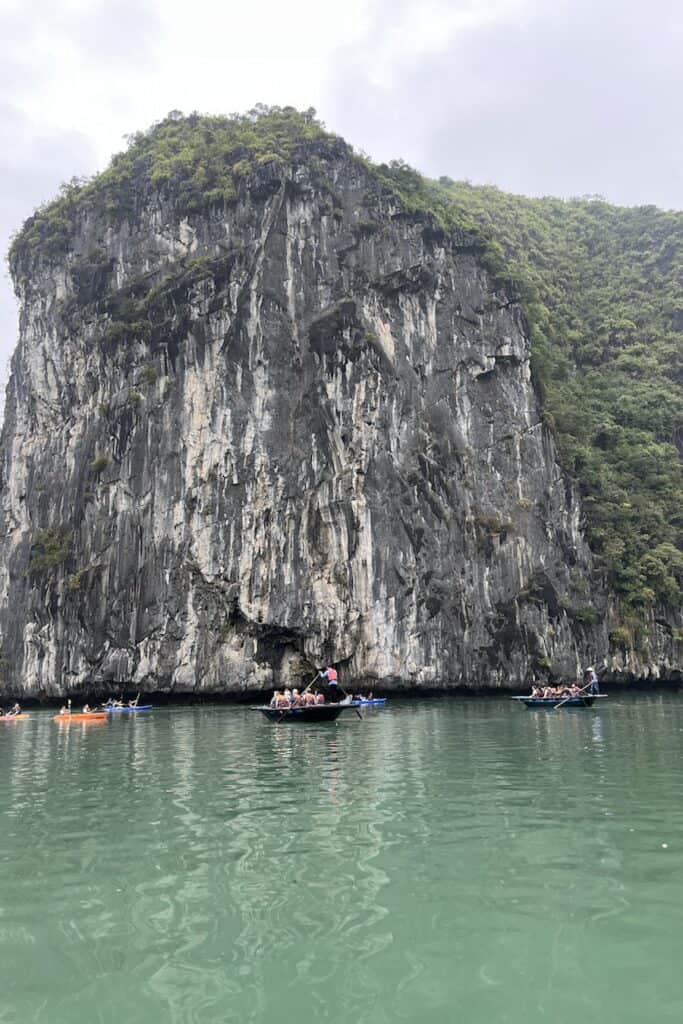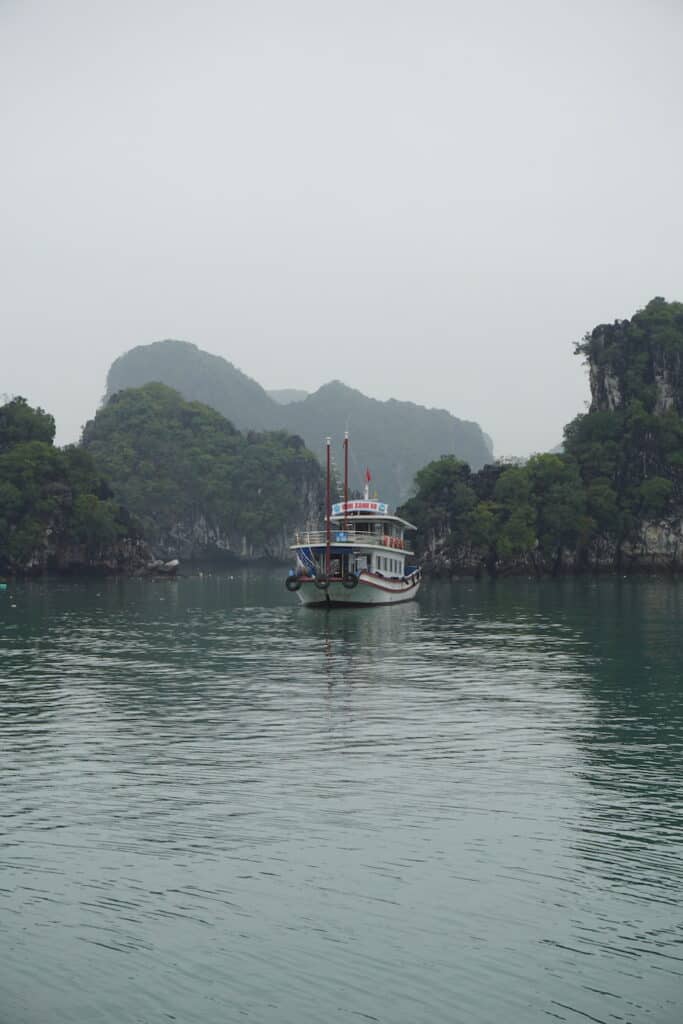 During the cruise, you'll have the opportunity to explore some of the bay's famous caves and grottoes. One of the highlights is the Thien Cung Cave, also known as the Heavenly Palace Cave. Step inside this magnificent cave adorned with intricate stalactites and stalagmites, illuminated by soft lighting, and feel like you've entered a hidden world of natural beauty.
As you continue your cruise, take in the breathtaking panoramas of the bay's iconic landmarks, such as the Fighting Cock Islet and the Dau Go Island. These unique rock formations have interesting legends and stories associated with them, adding to the mystique of Ha Long Bay.
A day trip to Ha Long Bay also offers opportunities for outdoor activities. Take a kayak and paddle through the tranquil waters, exploring hidden lagoons and secluded beaches. Alternatively, you can choose to relax on the sundeck of the boat, basking in the beauty of the surrounding scenery and enjoying the gentle sea breeze.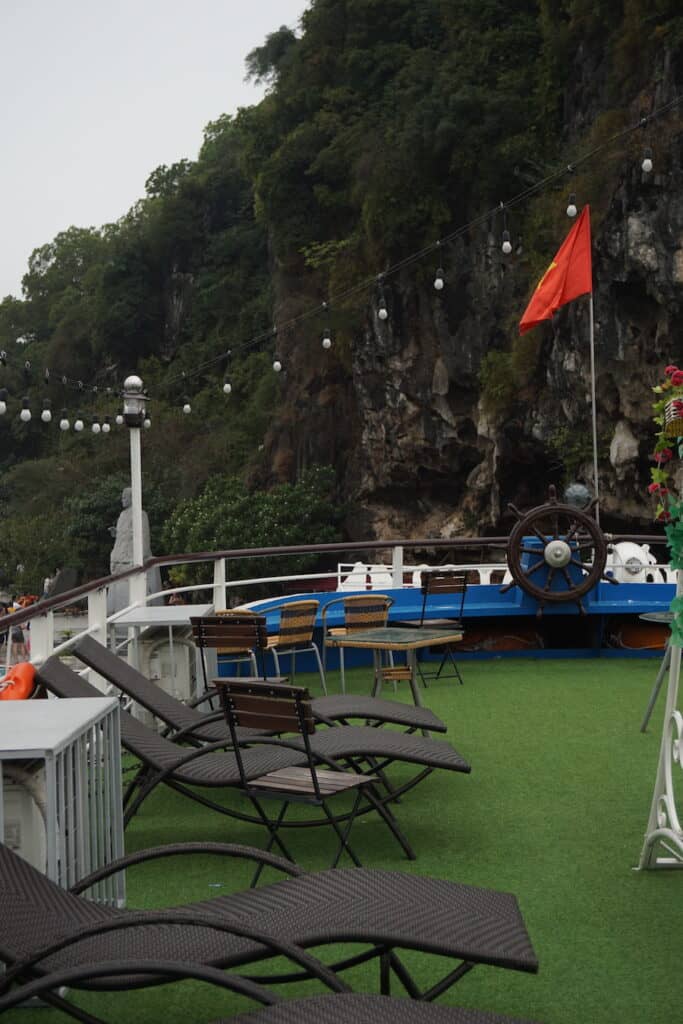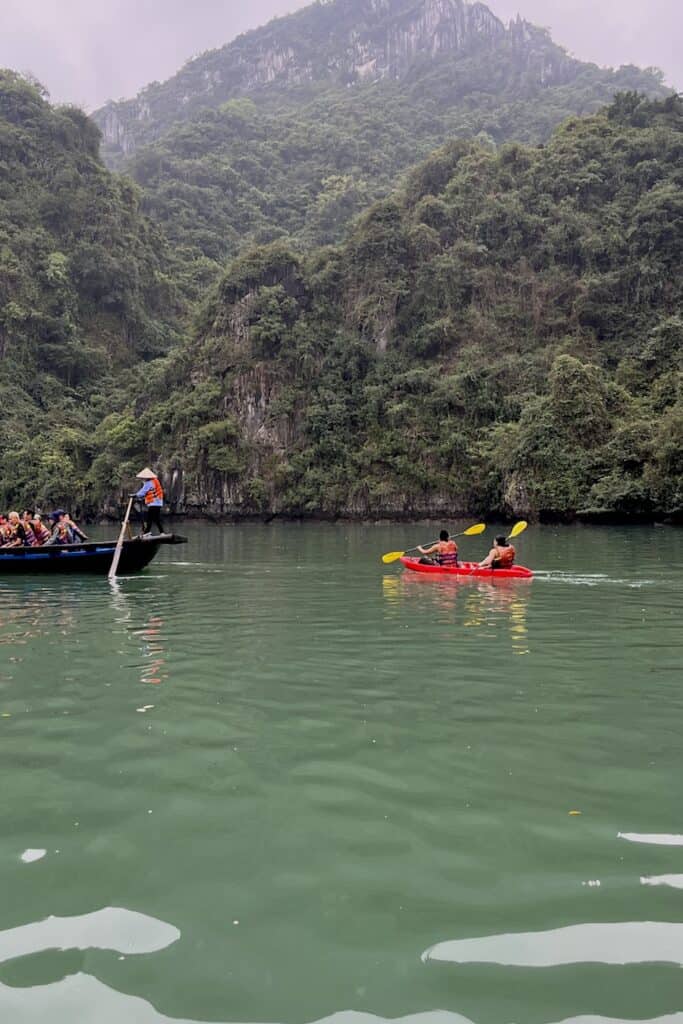 Indulge in a delicious lunch on board the cruise boat, savoring the freshest catch from the bay. The culinary experience adds an extra touch of delight to your day trip, allowing you to savor the flavors of the region while surrounded by the stunning natural backdrop.
As the day comes to an end, watch the sunset over Ha Long Bay, casting a golden glow on the limestone formations and turning the waters into a mesmerizing palette of colors. This magical moment will leave an indelible mark on your memory and make your visit to Ha Long Bay unforgettable.
After the cruise, return to Hanoi with a sense of awe and appreciation for the natural beauty you've witnessed. A day trip to Ha Long Bay is one of the best things to do in Hanoi that offers a glimpse into the sheer magnificence of this natural wonder.
---
Have a Drink at a Speakeasy
Hanoi is known for its vibrant nightlife, and one unique experience you shouldn't miss is spending a night at a speakeasy. Hidden behind unassuming facades, these secret bars offer an immersive and nostalgic journey back to the Prohibition era.
To start your evening adventure, do some research and find a speakeasy that piques your interest (my favorite in Hanoi is Kumquat Tree Speakeasy Bar). These hidden gems are scattered throughout the city, often tucked away in alleyways or disguised as other establishments. Once you've discovered the location, it's time to embark on your clandestine experience.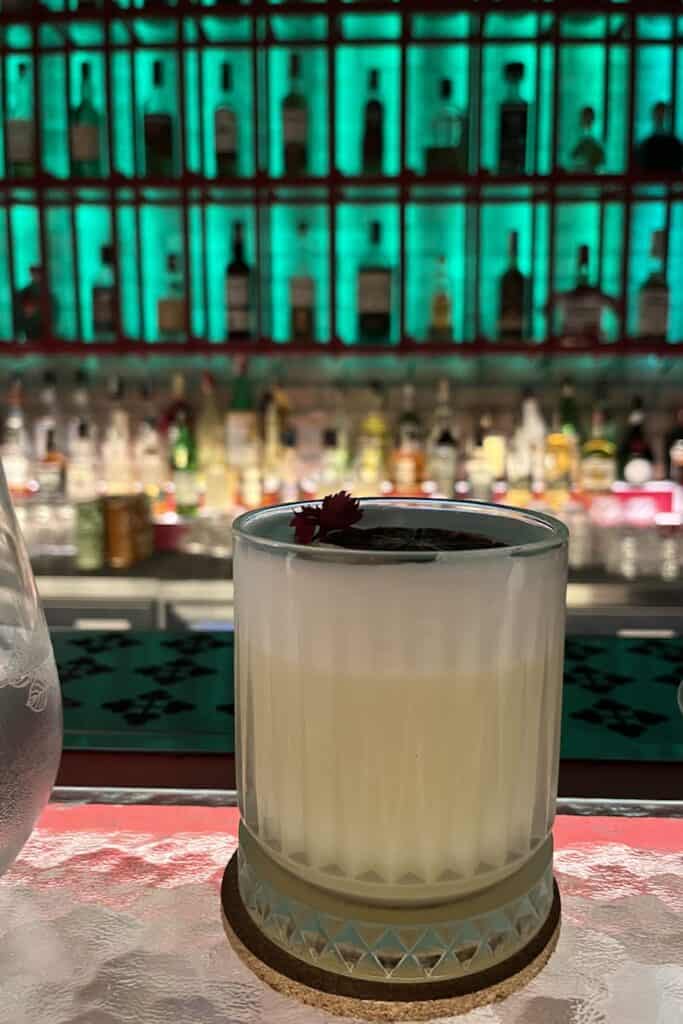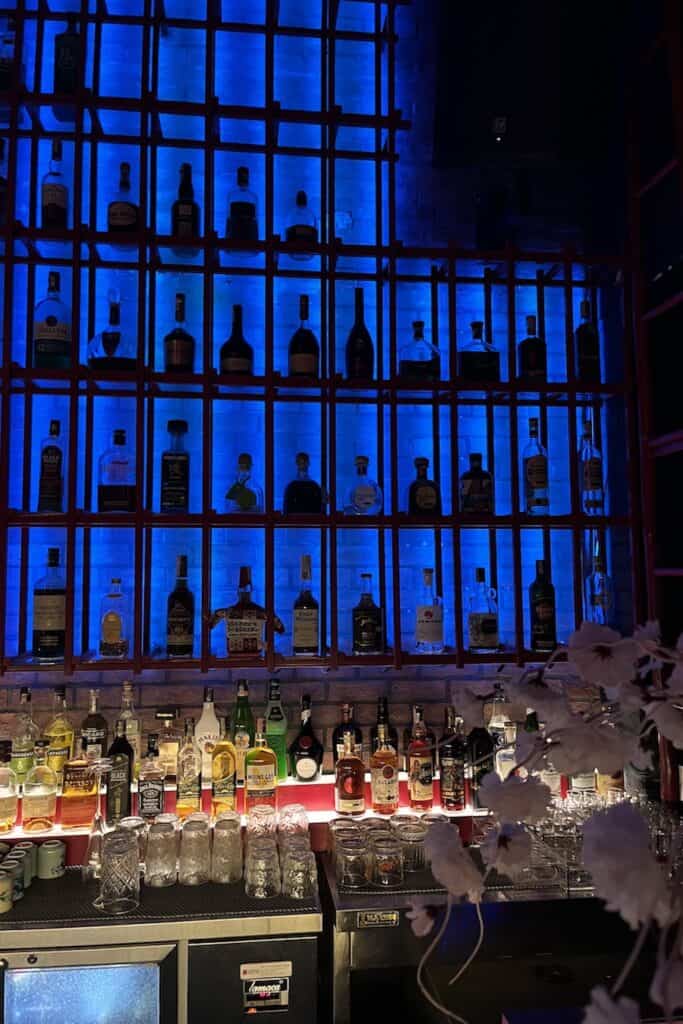 Arriving at the entrance, you may need a password or a discreet signal to gain entry. Knock on the inconspicuous door or ring a hidden doorbell, and wait for the magic to unfold. As you step inside, you'll be transported to a different era, with dim lighting, vintage decor, and an atmosphere that exudes mystery and allure.
The bartenders at speakeasies are true artisans, skilled in crafting creative and expertly mixed cocktails. Take a seat at the bar and let them guide you through their menu, which often features unique concoctions inspired by classic recipes with a modern twist. From old-fashioned favorites to signature creations, each drink is meticulously crafted to tantalize your taste buds. This is easily one of the best things to do in Hanoi.
---
Spend an Evening on Beer Street
When in Hanoi, one of the most lively and vibrant places to spend an evening is on Beer Street. Located in the heart of the Old Quarter, this bustling stretch of road is a popular gathering spot for locals and tourists alike, offering a unique and immersive experience. Heading here for a night is one of the top things to do in Hanoi at night.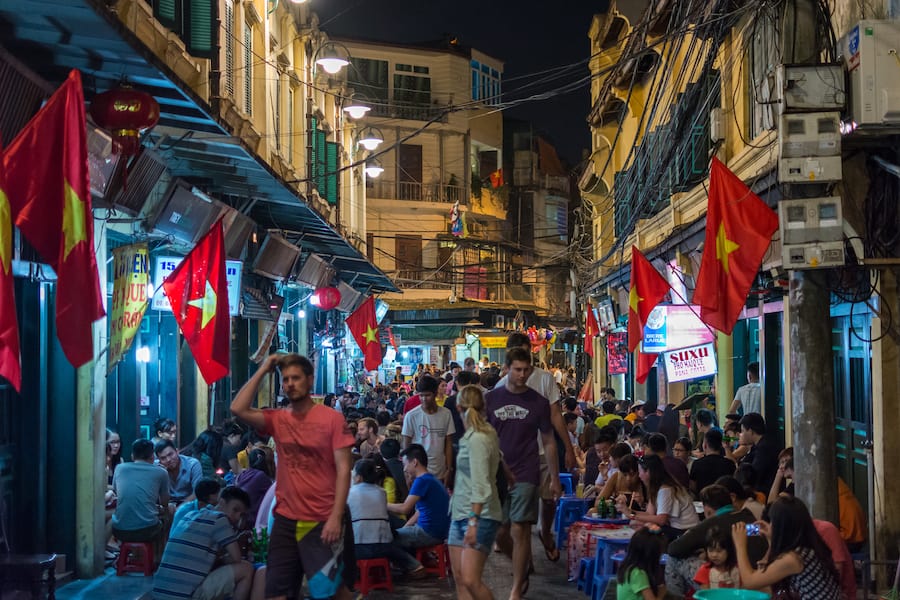 As you stroll along Beer Street, you'll be greeted by a colorful array of street vendors, small bars, and bustling outdoor seating areas. The atmosphere is electric, with the sound of chatter and laughter filling the air. Take in the sights and sounds as you navigate through the lively crowd.
Beer Street is known for its affordable and plentiful beer options. You'll find numerous establishments offering a variety of local and international brews. Pull up a stool at one of the sidewalk bars or claim a spot at a shared table, and get ready to indulge in the vibrant beer culture of Vietnam.
A night spent on Beer Street in Hanoi promises to be an unforgettable experience. Whether you're a beer lover, a food enthusiast, or simply looking for a lively and vibrant atmosphere, this bustling street in the heart of the city offers a unique and authentic taste of Hanoi's nightlife and local culture.
---
Embark on a Day Trip to Ninh Binh
A day trip to Ninh Binh from Hanoi is a fantastic way to escape the bustling city and immerse yourself in the natural beauty of Vietnam's countryside. Located just a few hours south of Hanoi, Ninh Binh offers stunning landscapes, historic sites, and a peaceful ambiance that is sure to leave a lasting impression. Heading here is one of the top things to do in Hanoi for a different and unique experience.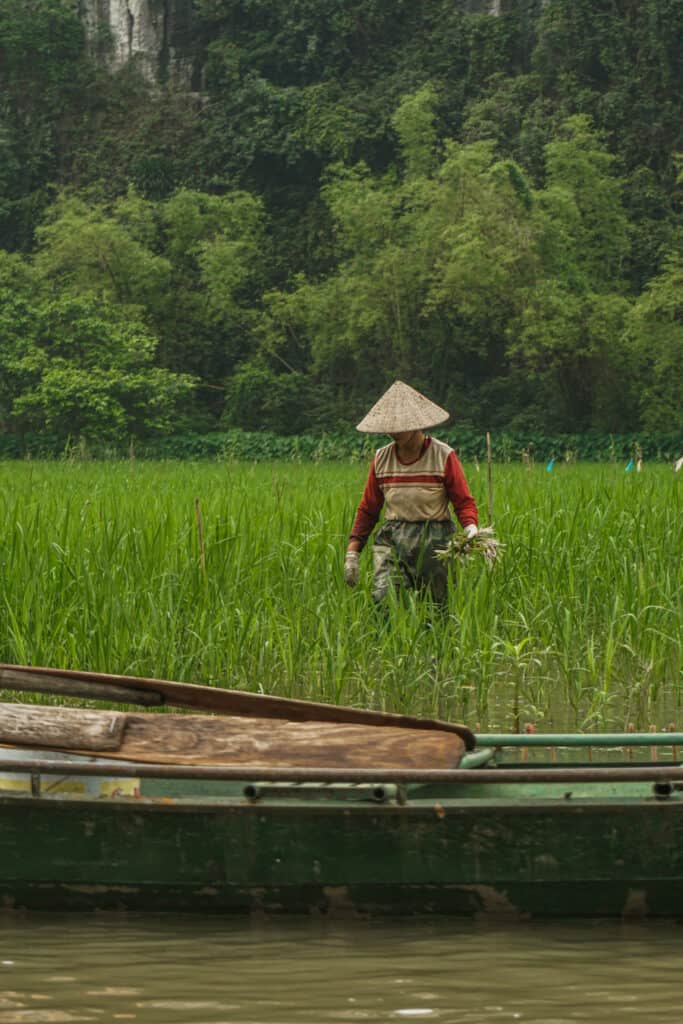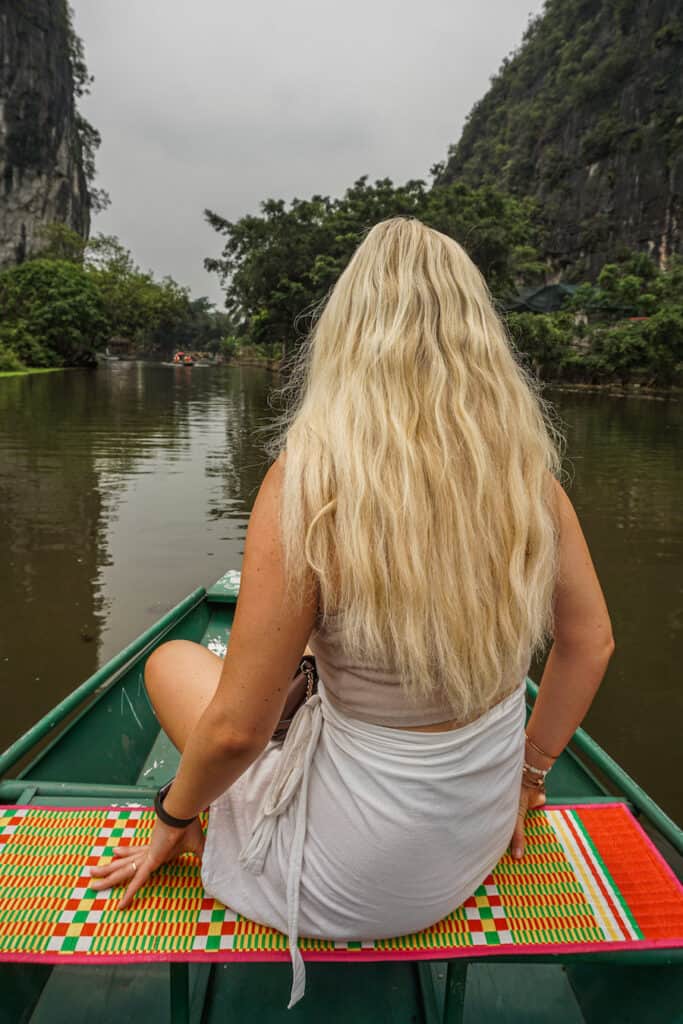 Start your day early and make your way to Ninh Binh, either by hiring a private car, joining a guided tour, or taking a train or bus. Upon arrival, head to the first highlight of the day: Tam Coc, often referred to as the "Halong Bay on land." Embark on a scenic boat ride along the Ngo Dong River, surrounded by towering limestone karsts and lush greenery. Let the local rowers guide your sampan boat through the winding river and marvel at the natural beauty that unfolds before you.
Next, make your way to Trang An Landscape Complex, a UNESCO World Heritage Site. Hop on a traditional rowing boat and navigate through a network of caves, grottoes, and waterways. Marvel at the karst formations, lush forests, and serene atmosphere as you glide along the water. The boat ride at Trang An is a truly magical experience that allows you to immerse yourself in the natural beauty of the region.
As the day comes to an end, take a moment to relax and soak in the peacefulness of Ninh Binh's countryside. Enjoy the serene surroundings, breathe in the fresh air, and appreciate the beauty of the natural landscapes that surround you.
After a fulfilling day of exploration, it's time to make your way back to Hanoi, reflecting on the beauty and tranquility of Ninh Binh. A day trip to this charming destination offers a perfect balance of nature, culture, and history, leaving you with unforgettable memories of the picturesque Vietnamese countryside.
---
Shop at Dong Xuan Market
Dong Xuan Market is a bustling and vibrant market located in the heart of Hanoi's Old Quarter. It is one of the largest covered markets in the city and offers a fascinating shopping experience for locals and tourists alike. Heading here is one of the best things to do in Hanoi for travelers of all kinds.
The market is housed in a four-story building and is divided into various sections, each specializing in different products. As you explore the market, you'll find an impressive array of goods, ranging from clothing and accessories to household items, electronics, and traditional Vietnamese crafts. Whether you're looking for souvenirs, textiles, or fresh produce, Dong Xuan Market has something to offer.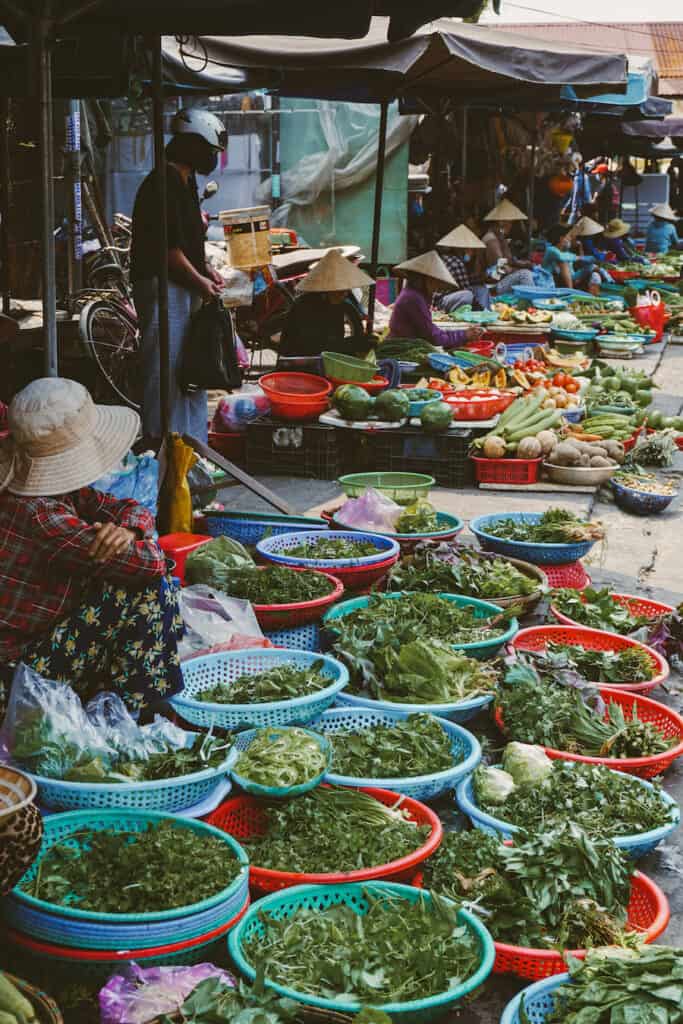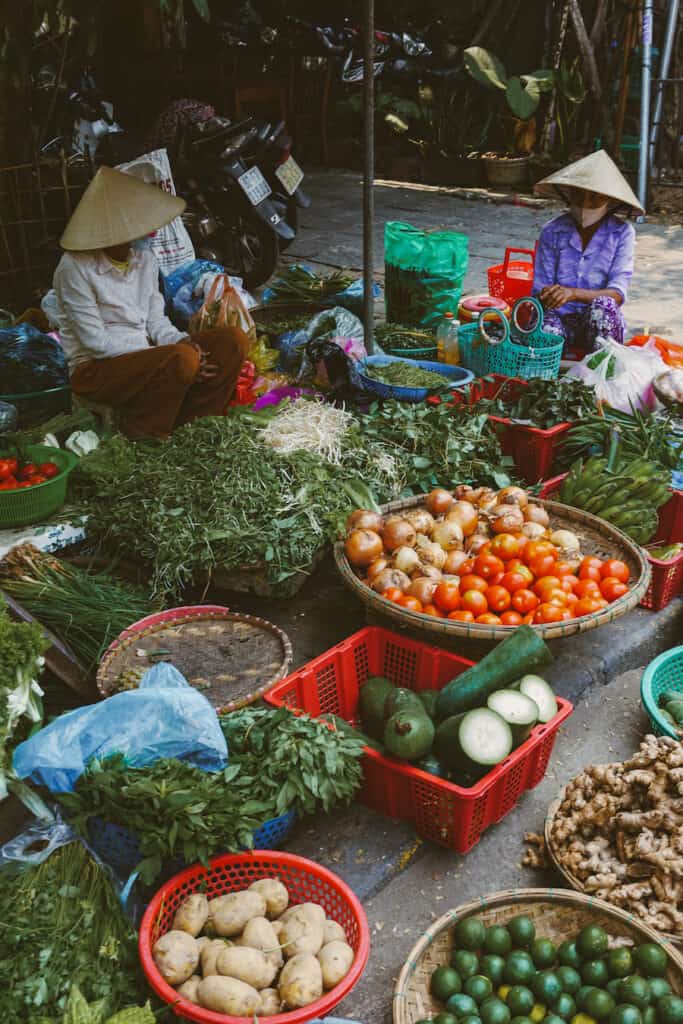 One of the highlights of Dong Xuan Market is the food section, where you can immerse yourself in the tantalizing aromas and flavors of Vietnamese street food. Sample local delicacies like pho, banh mi, spring rolls, and fresh fruits. The bustling food stalls and small eateries provide a unique opportunity to indulge in the diverse culinary delights of Hanoi.
Visiting Dong Xuan Market is not just about shopping; it's about immersing yourself in the vibrant atmosphere, exploring the local culture, and discovering the hidden gems of Hanoi's Old Quarter. Soak in the sights, sounds, and flavors as you navigate the maze-like aisles and discover the treasures that await you at every turn.
---
Where to Stay in Hanoi
When choosing a place to stay in Hanoi, there are several great options to consider.
The Old Quarter is a popular choice, known for its bustling streets, vibrant markets, and historic charm. It offers a wide range of accommodations, from budget-friendly guesthouses to boutique hotels.
Another area to consider is Hoan Kiem (BEST AREA), located near the picturesque Hoan Kiem Lake and home to many cultural attractions. For those seeking a more modern and upscale experience, the French Quarter offers luxury hotels and upscale dining options.
---
Travel Insurance
Getting travel insurance before you travel is a MUST. It's the number one thing you should always pack before travelling that can save you a lot of money, time, and stress. With how crazy travel has gotten recently you need that peace of mind that no matter what happens there is something protecting you from losing out. I always travel with travel insurance and think everyone should.
I always travel with travel insurance and think everyone should. Below is my favorite travel insurer Safety Wings, enter your details to get a free quote!
---
Like this post? Pin "10 Best Things to do in Hanoi" for later!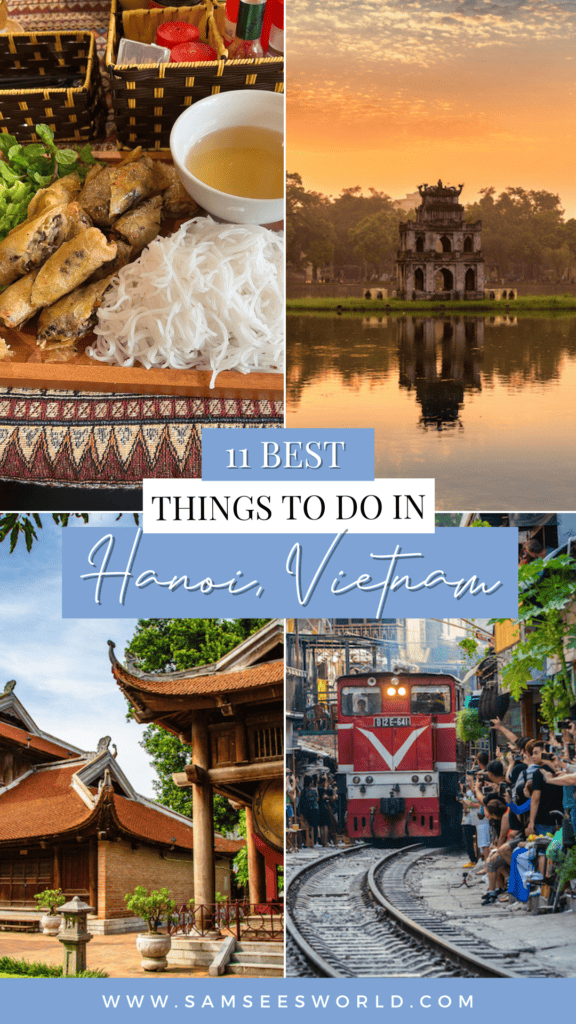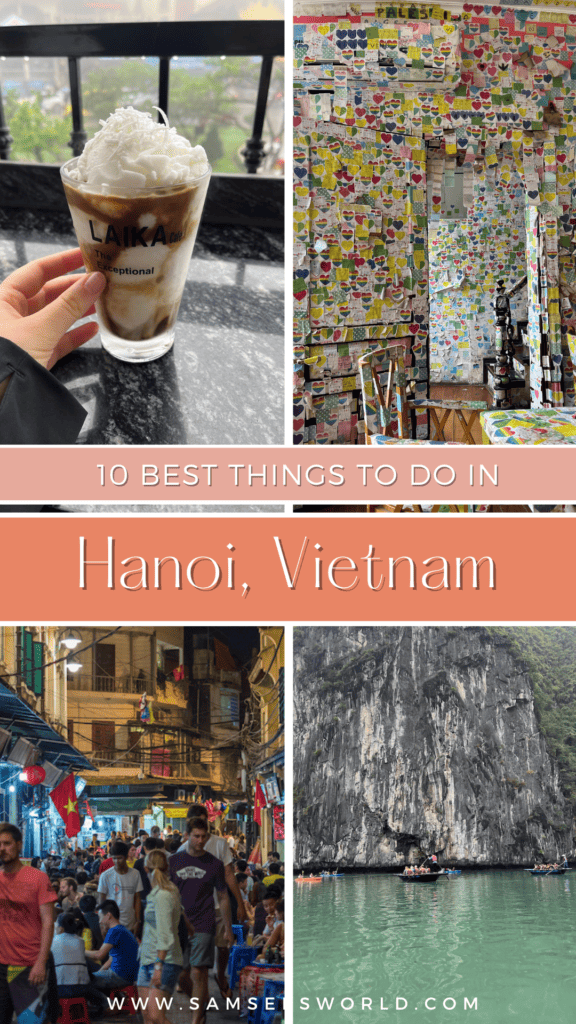 Love,
SSW