I think we can all agree that eating is one of the BEST aspects of travel. I'm obsessed with researching about my next travel destination and creating a list of all the restaurants I want to go to & when traveling to New York this took on a whole new obsession. In my opinion, New York has some of the most creative, Instagrammable, delicious restaurants in the world!
There are so many different options and choices that it can actually become overwhelming. Did you know that New York City has so many restaurants that you could go to a new restaurant for breakfast, lunch, and dinner every day of your life and still not go to every single one? That's amazing to me!
So, when I went to New York I had a list of food places I wanted to go to. I didn't get to go to all of them but I hit a solid amount in the 4 days I was there! Before even writing this post I was looking at all the photos I took of my food and my mouth was watering .. so needless to say I would 100% go back to ALL of them. If you want to make it to all of these places be sure to spend at least 2 days in New York so you have enough time.
I'm so excited to share with you my New York City food guide so here we go!
Jacks Wife Freda
Jacks Wife Freda is a delicious brunch place in SOHO (there are some other locations as well but we went to this one). It was actually on my list but when we stumbled upon it, it was by accident. We did have to wait in a short line but one look at the menu reminded me why it was on my list and we waited for about 20 minutes for a table. Everything here has a homecooked feel and all the items on the menu were super unique! I highly recommend it for breakfast, and if you go to the SOHO location you can explore this area afterward
---
Joe's Pizza
The first place we went to when we arrived was Joe's Pizza. There are so many good things to say about this one, first; its PIZZA & if you know me, you know I'm obsessed with pizza. The whole restaurant is quick "to-go" pizza slices that are huge and cheap! It cost only 3$ for a slice the size of my forearm. This is sort of a NY right of passage and is located right beside Time Square.
---
The Counter
The Counter was actually never on my list and we just kind of stumbled upon it. It is a custom burger joint right in Time Square (don't worry I got the veggie burger). The food was actually very good, I love a good veggie burger a fries, but what was even better was the view. We got the seat right on the window looking out into Time Square! It was constant entertainment and so fun to people-watch in such a crazy city like New York.
---
Shake Shack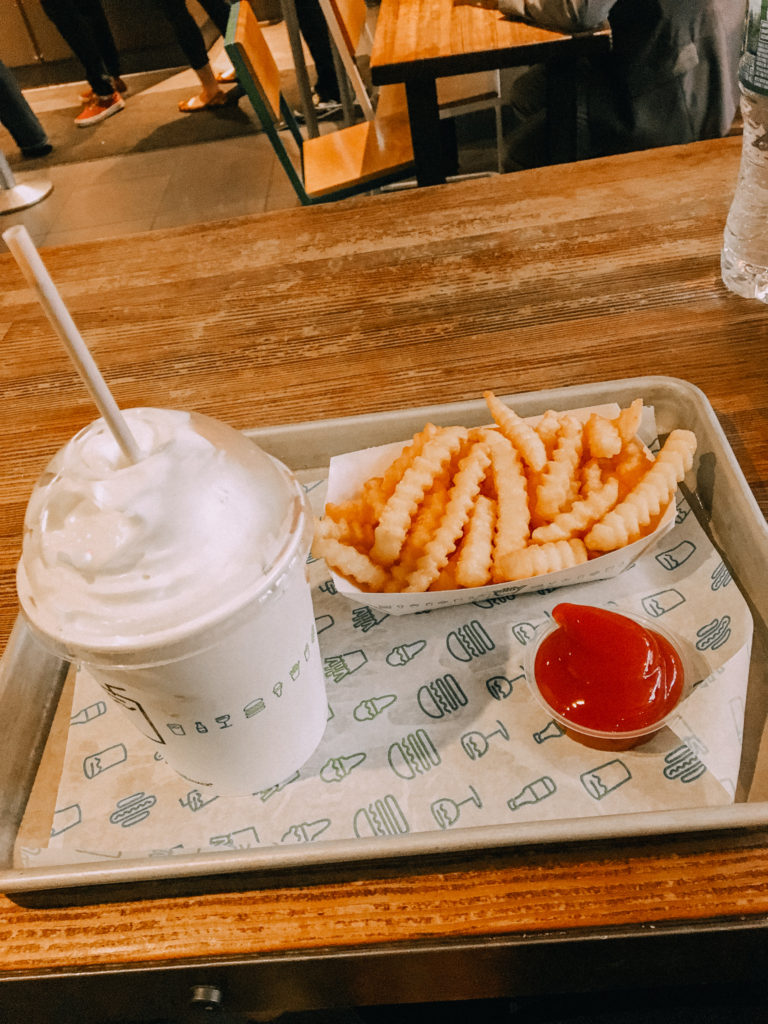 Shake Shack is everywhere in the States but when I visited my boyfriend was dying to go there! We walked for 45 minutes to get to it and it was great. As I said I love fries, and the milkshake here was very thick and sweet, a nice fast food option.
---
By Chloe.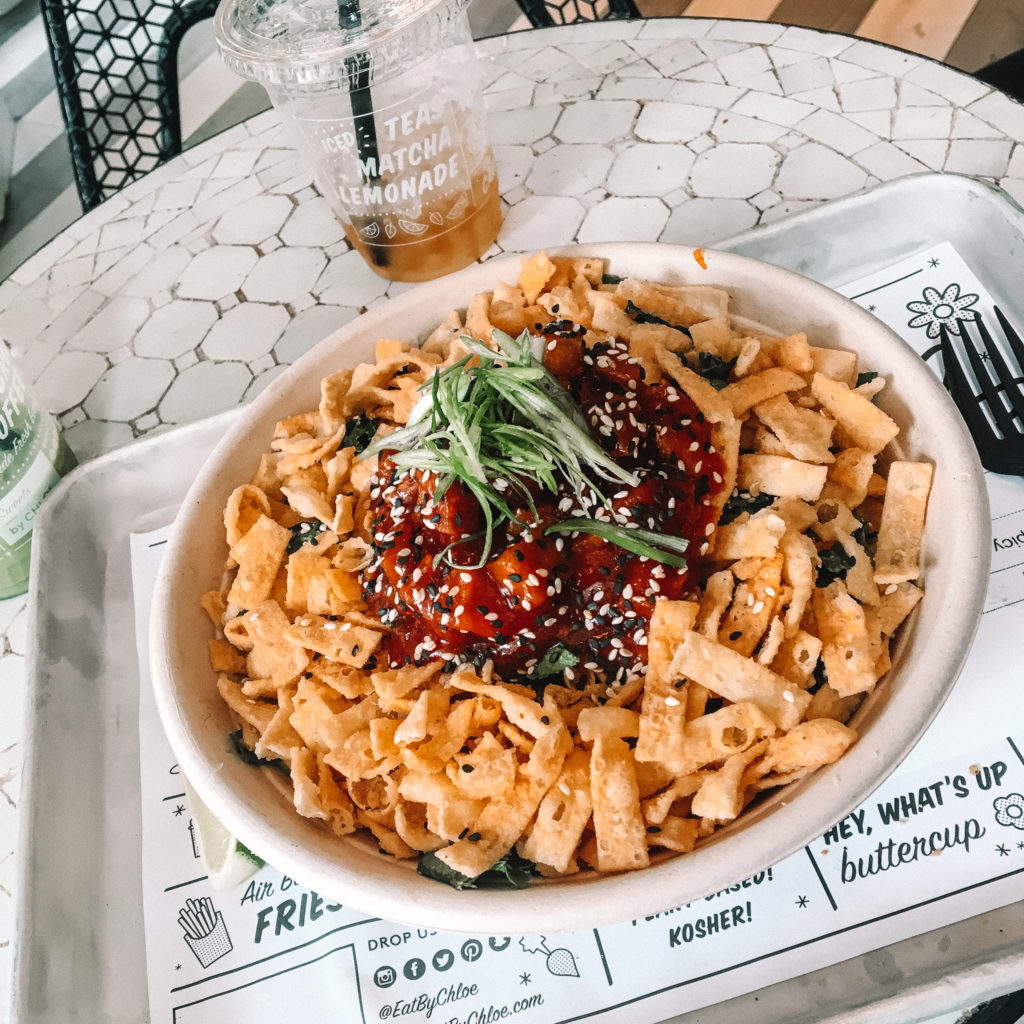 By Chloe. is a world-famous casual vegan restaurant. I'd never been to one before and I was amazed when I arrived. It has one of the best menus I've ever seen and the food was AMAZING! This was actually my favorite food place in all of New York that I went to.
---
Sweets By Chloe.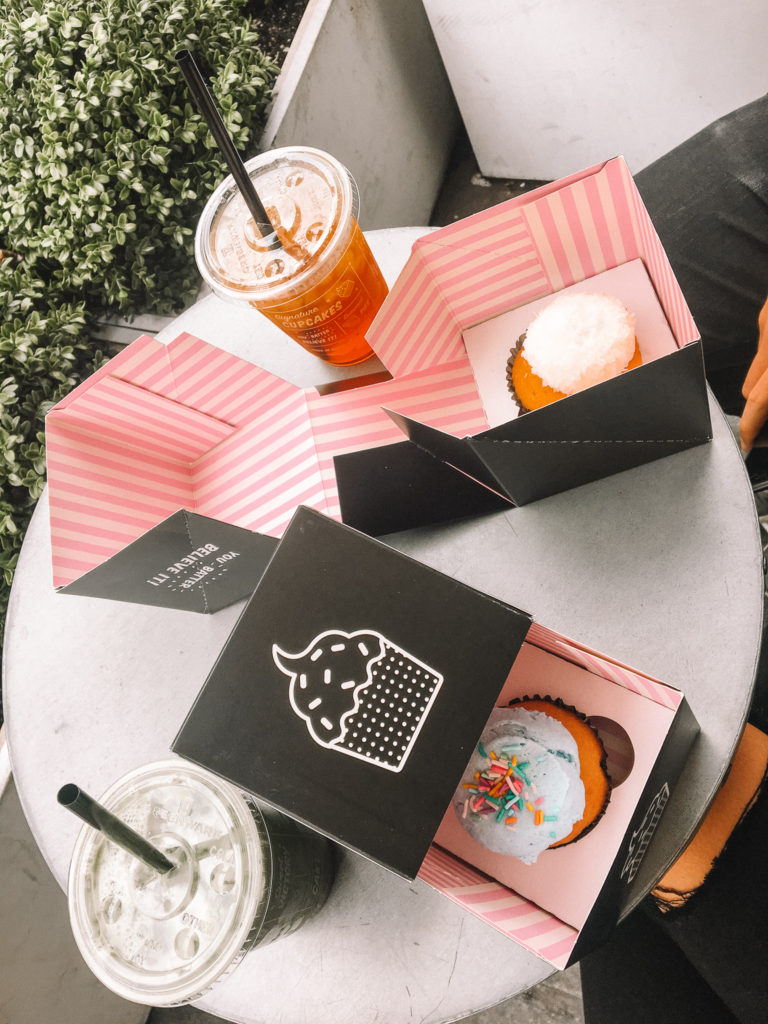 Sweets by Chloe is right beside By Chloe and contains a bunch on Vegan desserts! HEAVEN! My boyfriend even said the vegan cupcake was the BEST cupcake he has ever eaten! And that speaks volumes!
---
DŌ, Cookie Dough Confections
DŌ, Cookie Dough Confections is somewhere everyone should go! It is a cookie dough "ice cream" shop with rows of different cookie dough flavors for you to eat. I have a huge sweet tooth and this was one of the best treats I've ever had. It's such a unique concept and I have always loved raw cookie dough. P.S don't worry there are no eggs in it so you won't get sick from it.
---
Mangolia Bakery
Magnolia Bakery is actually really famous because of Sex and the City, but my boyfriend and I had no idea when we went. We really just wanted something sweet after walking around all day and this is the first we saw. It was super busy and the workers were kinda rude but it was a really good cupcake. But who's ever really had a bad cupcake?
---
I do normally eat very healthy but when on vacation I like to eat whatever I want and really enjoy myself. That's why most of this list is not the most healthy.
If you are planning on traveling to New York check out this travel guide to make sure you don't miss out on anything!
---
I hope you've enjoyed my New York City Food Guide! Let me know if you've been to any of these places.
Like this post? PIN IT
Love,
SSW
---