Looking for some budget travel tips to help save you some money before, during, and after your travels? Keep reading!
As humans, we find it incredibly difficult to stay in one place for too long. Of course, there are those few rare people who love staying home and being where there are comfortable, but those people are far and few. The rest of us are hungry for the unknown and crave adventure and something new. But, you are strapped for cash & everyone believes that no matter what traveling is expensive.
This is only half true. Traveling can be expensive of course, but there are so many ways nowadays to save a lot of money while traveling AND before. Lots of people have asked me "how do you afford it?" and the answer is a sacrifice. If / when I go out with friends (once or twice a month) I will buy a bottle of wine 2.29 euros to pre-drink and nothing at the bar. I never go out to eat and never get take out coffee (even though I really want it).
Exploring the world and experiencing new cultures and seeing beautiful streets is my favorite thing to do. So I will sacrifice everything else in order to be able to afford it.
As I said, saving before is one way to afford travel and the other way is planning your travels on a budget! Use these tips to save money on travel (without it feeling like a cheap vacation)!
Disclaimer: Some links in this post may be affiliate links meaning if you click on the link and make a purchase, I receive a small commission. This is at no extra cost to you and you may receive a small discount. See disclosure for more information.
---
12 Budget Travel Tips
Find The Cheapest Flights
Airfare to a destination is usually one of the more costly elements of traveling. That's why knowing how/where to look for cheap flights is GOLD!
There are many flight comparison websites that are free and do an amazing job at finding you the best deals. I use these religiously, as well as, looking at budget airline companies that I trust.
Some of my favorite budget travel airlines (for European airline companies) are:
My Favourite Flight Comparison websites are:
---
Take the Bus
Taking a bus is definitely the cheapest option for travel, but the most uncomfortable (for some) and takes the longest. This option is not always available, but you should take a look for busses in your area just in case. Although this is the cheapest option, if you are going on a short trip or need to be back a work by a certain date I'd suggest an alternative form of transport so you can spend the most amount of time on vacation.
My favourite bus company in Europe is Flixbus! They have unbelievable prices for locations all around Europe.
---
Find Cheap Trains
Another option for travel are trains. This is my favorite as you get to see beautiful scenery while still getting somewhere relatively quickly. This is hit and miss for prices so you have to always be checking if there are any deals.
---
Stay in a House
Staying in a house while you travel comes with SO many added bonuses (along with helping you save money).
When you book a stay with Airbnb you can get luxurious houses that have more space & amenities than hotels at much lower costs!
With Airbnb you can really rent whatever you want. From a single bedroom to a family-sized house, to an apartment downtown. The options are endless.
I find that when I stay in an Airbnb when travelling I feel more immersed in the culture and have more freedom. Also, with a kitchen available to you, you can throw together meals yourself (a huge money saver I will be getting too!)
Start saving 100 of euros in accommodation expenses by following my link and also saving 40$ on your first stay!
---
Stay in a Hotel
Now if you don't feel comfortable staying in an Airbnb or there aren't any good options where you're headed you can always stay in a hotel. But never book a hotel without comparing prices!
Just like flights, there are free online sites that will do this for you.
My favorite is Booking.com. It's one of the few sites that doesn't increase prices after it knows you've been looking (because of the cookies on the websites) to try to scare you into booking immediately.
---
Make Food at Home
Going out to eat for every meal is NOT cost-effective. This is where people usually spend "small" amounts of money at a time and it really adds up quickly.
If you book a place with a kitchen you can go grocery shopping right when you arrive and plan out some meals you will eat at home.
This is one budget travel tip that will save you hundreds of euros, especially in destinations that have high restaurant fees.
---
Pack Light
One way to really get hit with unexpected payments is with baggage! All airlines have different baggage rules and you can really lose a lot of money here.
You can 1) check the rules of your airlines and ensure you follow them or 2) only pack a carry-on.
I ALWAYS go with option two! If you want to know how I only pack a carry on click here!
---
Fly Midweek
Make your travel plans (or try to make them) align with the cheapest rates possible! This will most likely be in the middle of the week, but you can get some pretty good deals this way. By changing around the dates you can save a lot of money. This is a very important budget travel tip, that can be hard to accommodate, but is worth it.
---
Fly During Unpopular Times
Flying really late at night or super early in the morning can help you a lot of money on tickets. But BEWARE! you have to get to the airport at abnormal times and sometimes this can cause more hassle and money than the saved money on the flights. Make sure you plan everything out to ensure you will be able to get there in time and what actions you have to take to make it happen.
---
Take Public Transit
Whenever I travel to a new place I always take public transit. It is SO much cheaper than a taxi or Uber and saves you a lot over the long run.
Don't be afraid to ask for help, there are usually workers in public transit locations that are there to help you!
---
Exchange currency in your home country
This is a huge one! Try to exchange your money in your home country because if you do it at the airport you will lose A LOT. This is a simple budget travel tip that is easily forgotten by most people. It is very often that people head straight to the ATM when they land to exchange money and pay 5x more in fees than if they had exchanged the money in their home country.
---
I hope you enjoyed these easy ways to save money on travel!
If you'd like to see more follow me on Pinterest!
Do you have any other ways you save on vacation? Let me know!
Like this post? Pin Budget Travel Tips for later!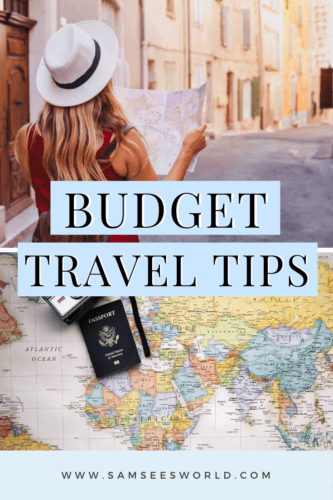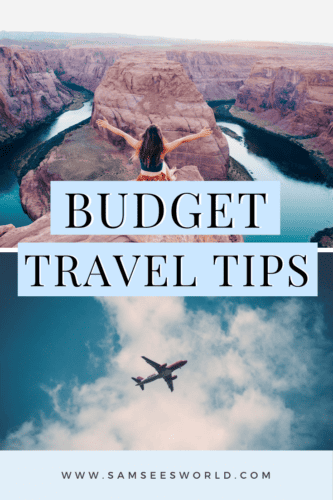 Love,
SSW