One of the most important skills and techniques for travel photography comes after the photo is taken! The editing process of travel photos is beyond important and can completely transform a photo from decent to amazing. That is why understanding how to edit travel photos is an essential skill for all travelers.
The best photo editing software is Adobe Lightroom. There is a free app version you can download on your mobile, which is great if you are on a budget or just want to edit as a hobby. However, it also has a paid version for desktop that is amazing and will take your travel photos to a whole new height.
Now, I know Lightroom can be pretty intimidating for a first-timer, but I have helped a ton of people understand Lightroom and I want to help you as well. Below I will explain what each element on Lightroom does and how to use it. I will also include a video of a complete editing process of mine to show you exactly how it is done.
How to Edit Travel Photos with Lightroom
Light
Lighting is a very important aspect of any travel photo. In fact, knowing how to adjust the lighting settings can bring a dark photo from unusable to beautiful. The following tool adjustments are available in Lightroom.
Exposure: This is a powerful tool in Lightroom and has the ability to lighten or darken your entire photo. However, this tool should be used with care as it can really wash out your photo if you make it too light. But if your photo is too dark and needs a little light to enable you to actually see what is in the photo, then use it sparingly. Slide it to the right to make it brighter, and to the left to make it darker.
Contrast: Contrast makes dark areas of a photo even darker when the contrast is slide to the right – and makes dark areas lighter when the slider is slide to the left. If you are going for a light and airy photo feel, do not slide this to the right. But if you are looking to deepen some shadows slide it to the right.
Highlights: This tool is used as an adjuster for the light spots in a photo. If you slide it to the right the bright spots get even more bright. If you slide to the left the bright spots get more detail and darker.
Shadows: Shadows are the opposite of highlights. This tool either lightens the dark 'shadowed' areas of a photo (Slide to the right). Or it darkens the already shadowed areas (Slide to the left).
White: This tool either lightens the white areas of a photo if you slide to the right, or makes the whites less bright if you slide to the left.
Blacks: Slide to the left makes the black areas of a photo lighter, slide to the right makes the black areas lighter.
With some of these adjustments your photo can go from this: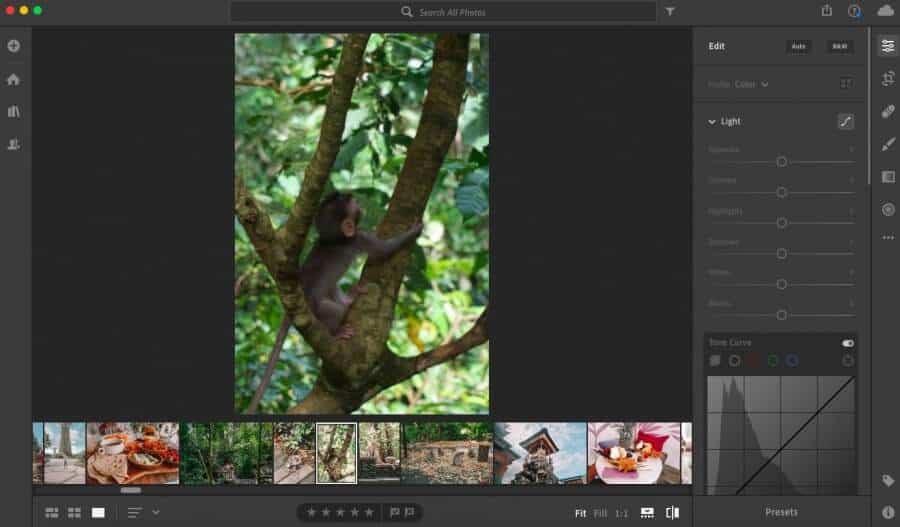 To this: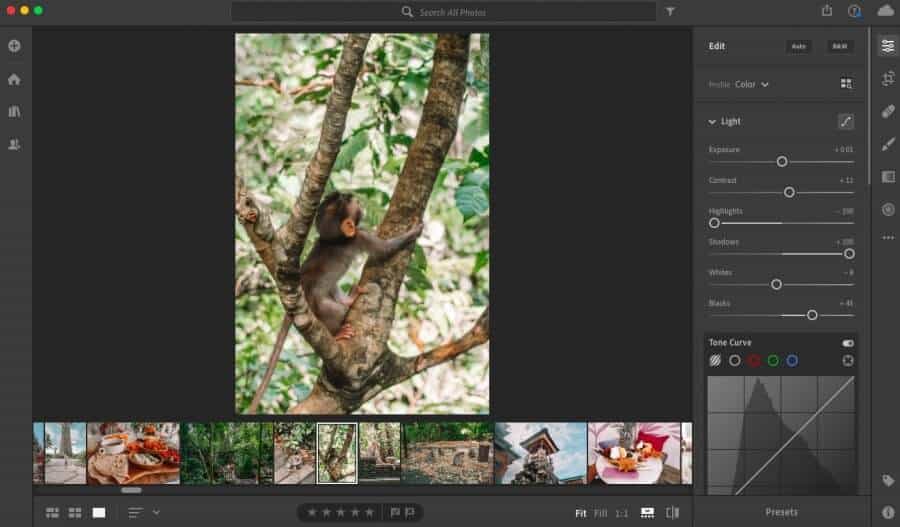 ---
Colour
Understanding how to use the colour tab in Lightroom is a game changer! This tab can transform the colours and luminance levels of your photos which can make all the difference.
Temp: Temperature controls how warm-toned (orange) or cool-toned (blue) your photo is. How you use this really depends on your photo preferences, but I highly suggest only moving it MAX 10 points in either direction or else your photo may end up looking too orange or blue-toned.
Tint: Tint is used to complement the colors used in Temp. However, I try to stay away from this tool as it can get pretty messy.
Vibrance / Saturation: Both these tools affect the brightness and how colorful your photos are. This is another tool you have to be careful with because if you slide it too much the photo can easily look fake.
Mix: Mix is my FAVOURITE tool in Lightroom and makes all the difference in my photos if there is one tip you take away on how to edit travel photos it should be this one! With this tool, you can go through all the colors in your photo one by one and adjust them individually. For example, if you are going for a more orange-toned photo, you will go to the red color and make your reds more orange toned by sliding the HUE tab towards the orange color. Play around with this tool and see all the amazing things you can do! It can completely transform your photos. Mix is accessible by clicking on the color pinwheel beside the section title.
Understanding the colours tab can take a photo from this red-hued one: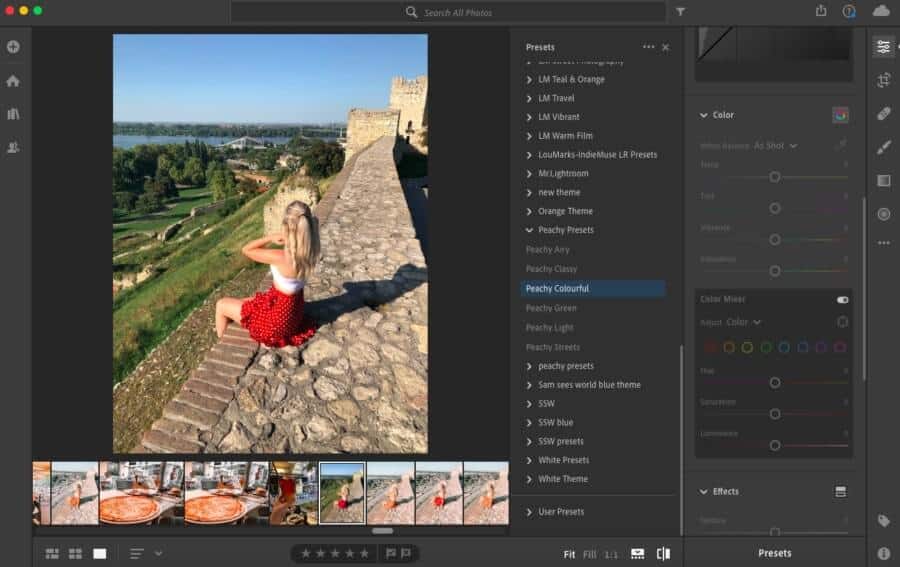 To this orange-hued one: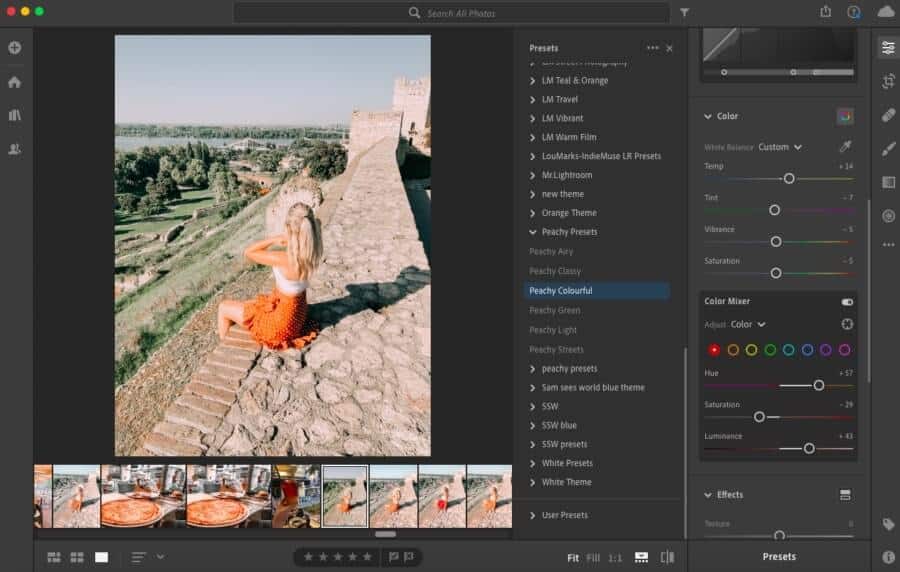 ---
Effects
I don't often use effects except clarity, but understanding them is important because you may get an off photo at one point that requires some extra edits and these will come in handy.
Texture: This controls the amount of texture in a photo. Meaning it adds more vivid details. I find this can look fake very easily and should be used with caution.
Clarity: Clarity is very similar to texture and should be used with caution.
Dehaze: Dehaze adds darkness or a white fog to your photos, and is another tool I leave alone.
Vignette: This puts a border on the outer edges of your photos, making the border either light or dark. I am not a fan of what this does to photos so I don't use it.
Grain: Grain adds a sort of vintage feel to your photos by adding small grainy elements to your photo. If you want to achieve a vintage look this is a good tool to use (only to MAX +20)
Size: This controls the size of the grain used.
---
Detail
Sharpening: This tool is used to bring out details in a photo and make it more sharp. If you are looking for a little bit extra detail use this tool to MAX + 40.
Presets
With Lightroom, you can completely transform your photos with just a few clicks, and you have the ability to save your edit settings a create "presets". These presets can be used over any photo and are a great way to create a cohesive theme amongst your photo edits.
I'm sure you've heard a lot about presets and have been wondering what exactly they are, well, they are your photo edit settings all saved so then you can easily paste them onto your other photos! This is great because if you edit some photos and love the way they look you can save those edits and easily transfer them into your other photos.
With Lightroom, and Lightroom Presets you are able to get that perfect cohesive Instagram feed we all CRAVE!
Here is a once click edit with my Blue Theme Presets using "Bright White & Blue".
Before: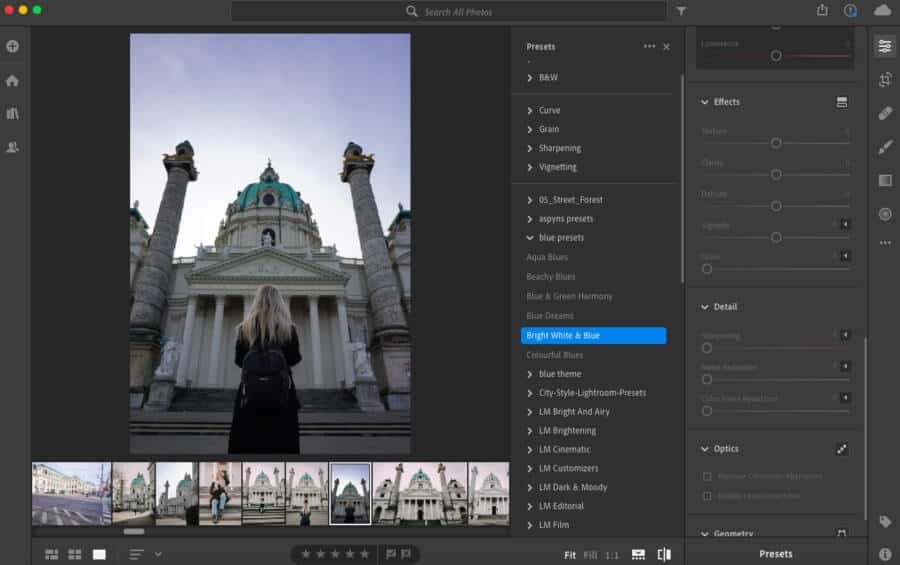 After: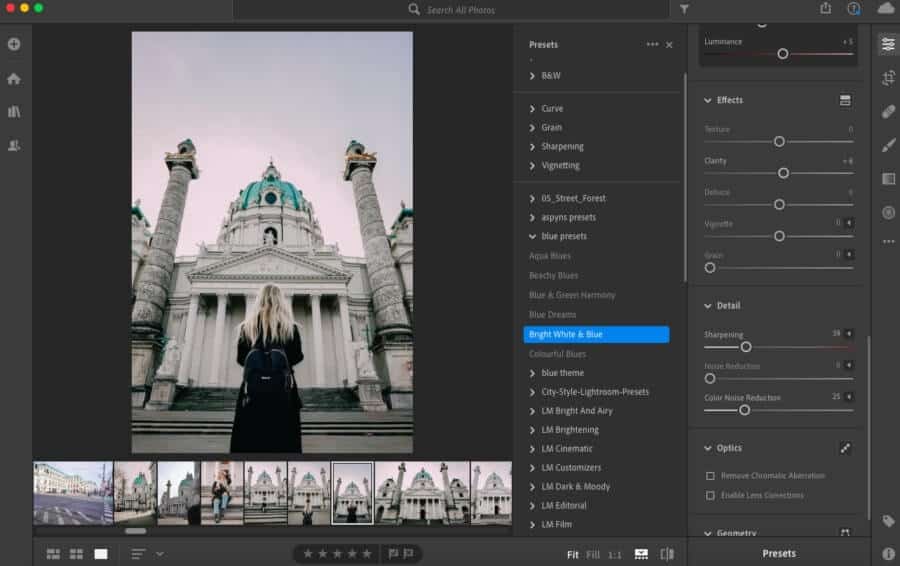 ---
As you can see there is quite a bit that goes into editing, but once you master it your photos will be transformed. All it takes is some practice and messing around on Lightroom and with time you will become a pro.
Like this post? Pin it how to edit travel photos for later!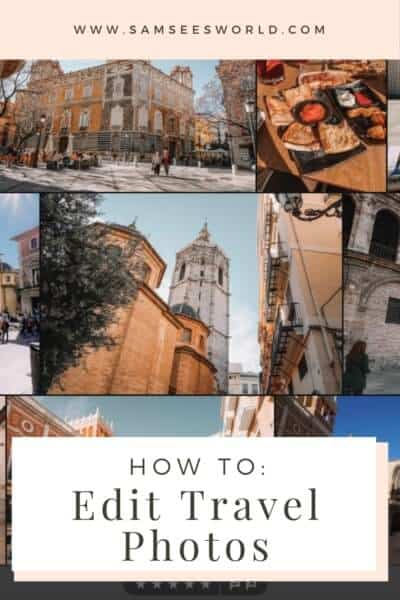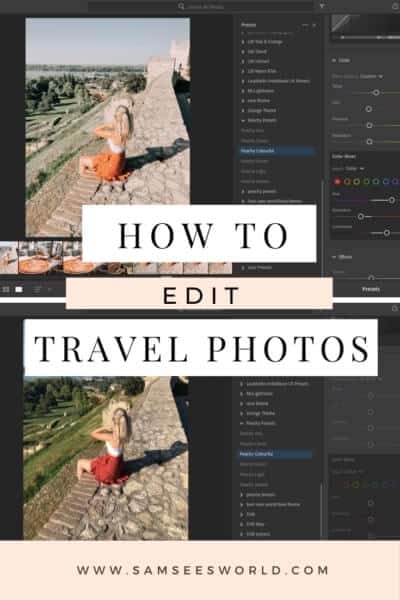 Love,
SSW