Searching for the 10 best things to do in Mostar to make your visit the best it can be? Keep on reading!
Mostar is located in the heart of Bosnia and Herzegovina, a country that is extremely underrated and often ignored by travellers looking to spend time in Europe. Bosnia was a part of ex Yugoslavia and as a result of the tumultuous war in the '90s, the country is packed with an intense and very recent history to learn about. Mostar is no different. The history within the city can be felt immediately especially with the unique mix of Muslim and Orthodox culture, people, and traditions in the city.
Falling in love with Mostar is easy, here are the 10 best things to do in Mostar for the complete visit.
(Disclaimer: Some links in this post may be affiliate links, meaning if you click on the link and make a purchase, I receive a small commission. This is at no extra cost to you and you may even receive a small discount. See disclosure for more information.)
Top 10 Things to do in Mostar
Walk the Iconic Old Bridge (Stari Most)
Walking across and admiring the old bridge is easily one of the best things to do in Mostar. This is the cities most iconic structure and a must-see. It is a rebuilt 16th-century bridge that stood for 427 years until it was destroyed in 1993 during the war. It was later rebuilt and is now a UNESCO World Heritage Site.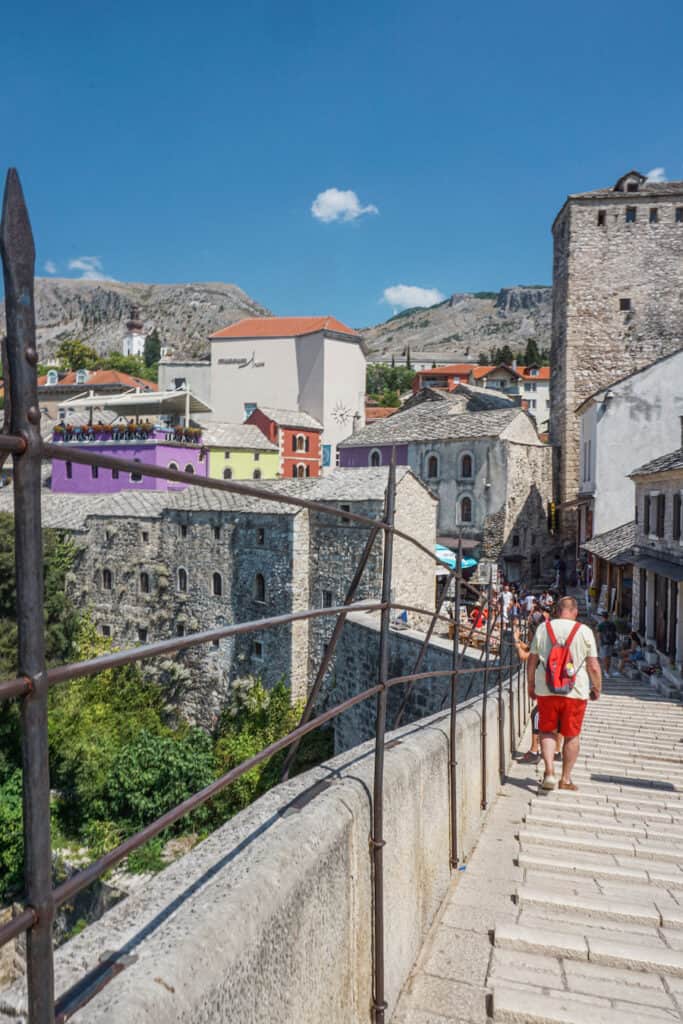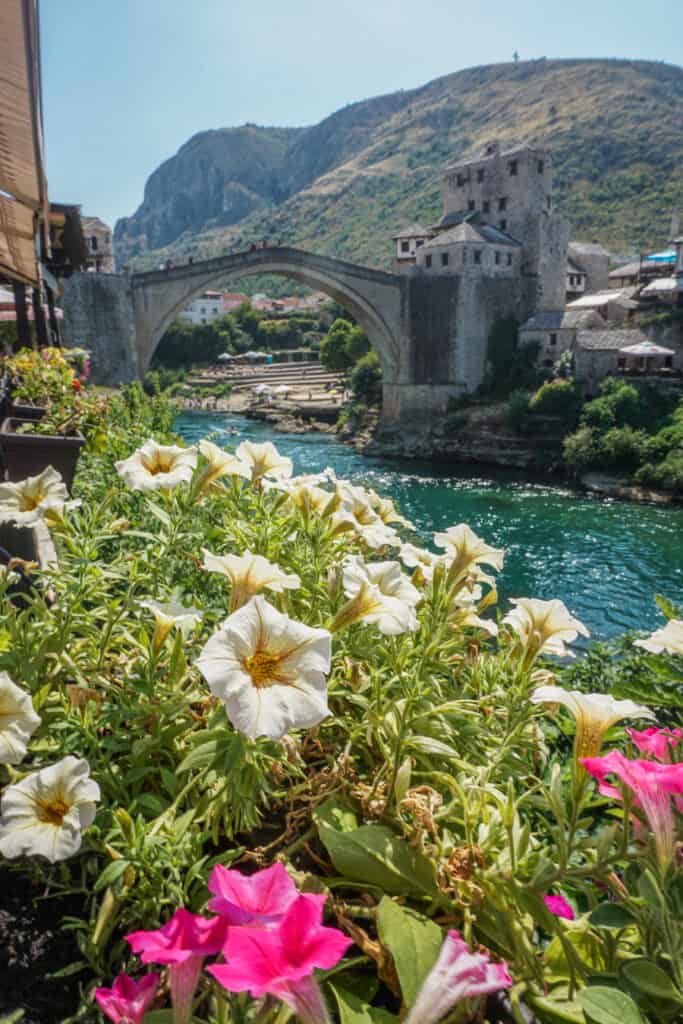 Mostar Bridge is a symbol of reconciliation between different cultural, religious and ethnic communities. You will see the different communities clearly throughout Mostar where one side of the bridge is more Orthodox and the other is more Muslim.
---
Watch the Bridge Diving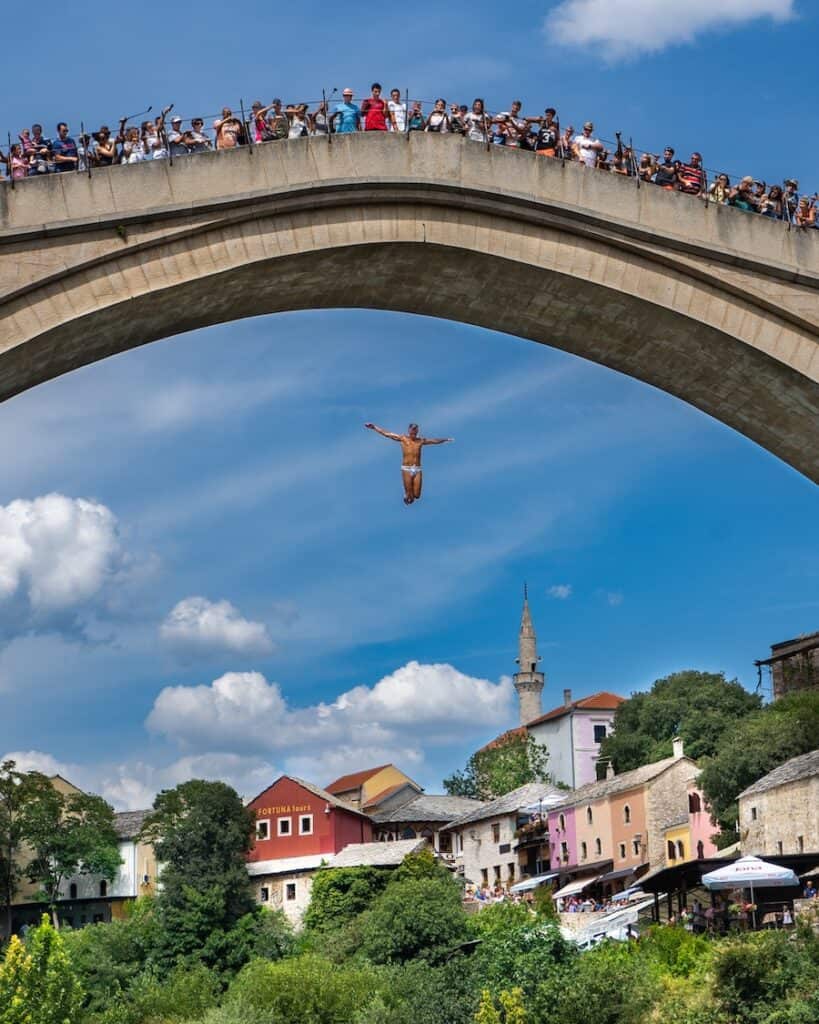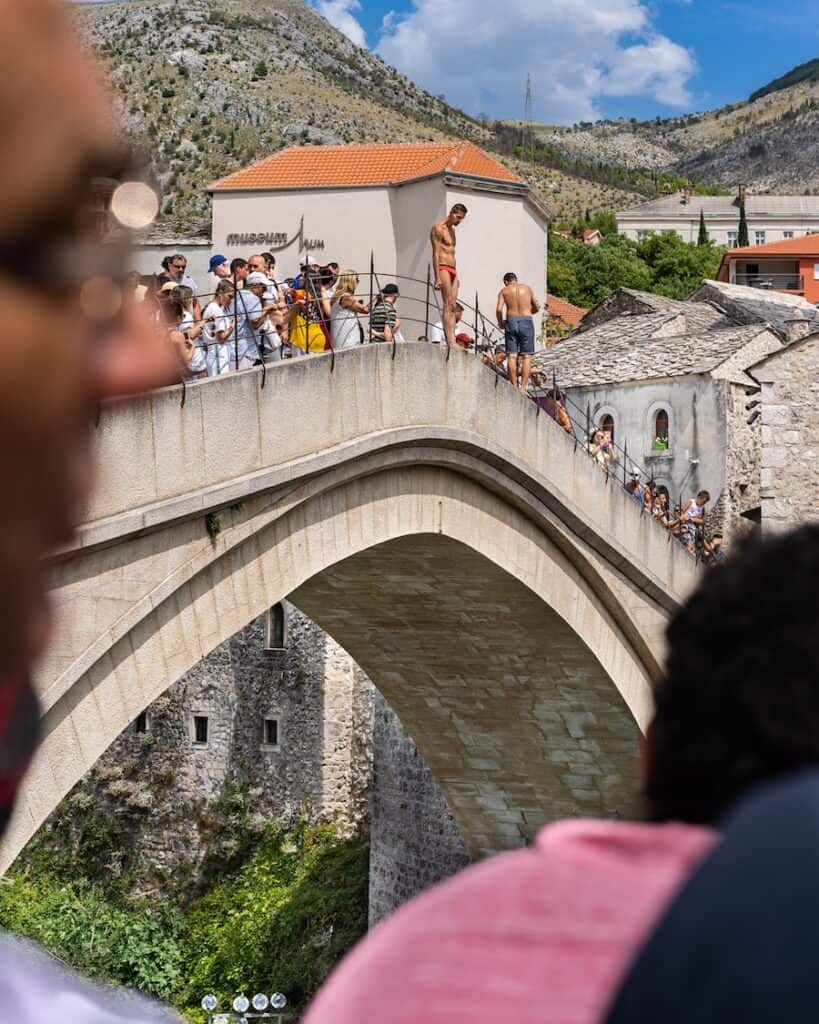 One of the more thrilling things to do in Mostar is watching bridge diving. Some days Mostar welcomes the daredevils of the world to jump and dive off the bridge into the shallow river below. The jump is incredibly high and it is only done by professionals. If you can make it there on a day the bridge diving is happening then you are in luck!
---
Take a Boat Ride in the River
Enjoying the beauty of Mostar Bridge from above and on the river bank is one thing but you can also enjoy it from the river it crosses. There are various small boats that offer short rides along the river so you can view the old town from a different vantage point.
---
Walk the Bazaar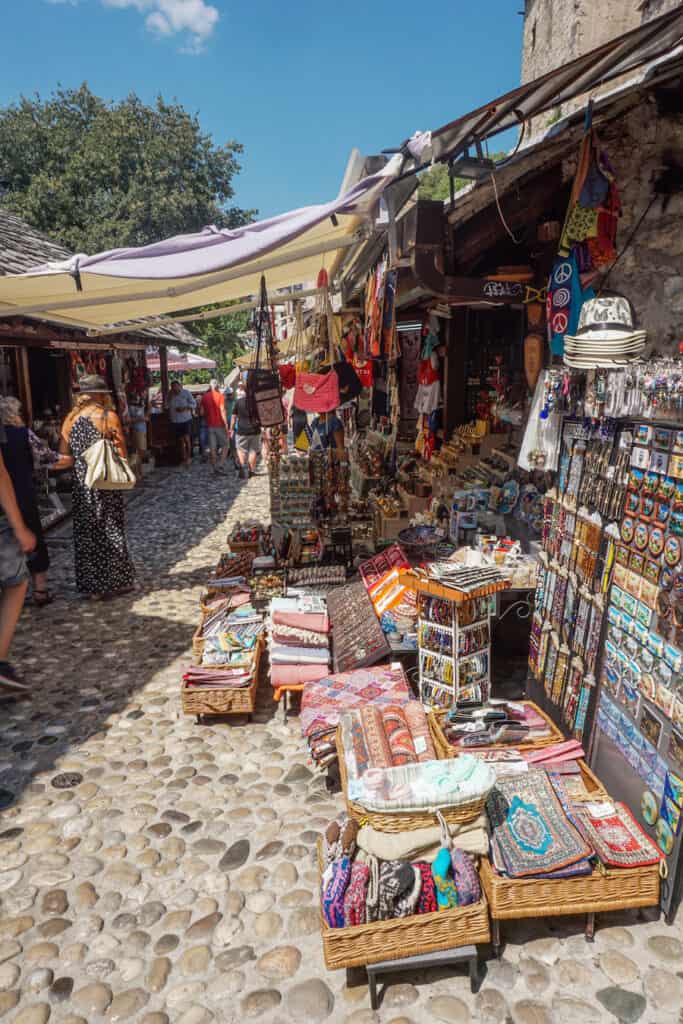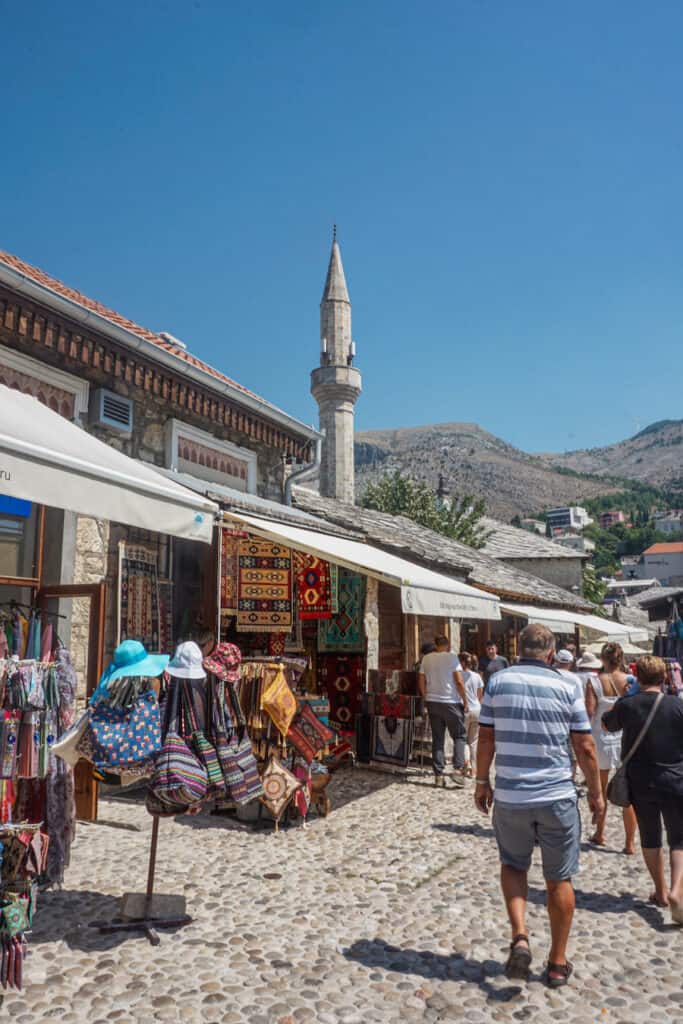 Walking through the Bazaar in Mostar will have you feeling like you've left Europe and landed somewhere in the middle east. The Old Town where the Bazaar is located is unlike any other in Europe which makes the whole experience super unique and exciting. Here you can find a ton of local goods, food stands and restaurants to enjoy some time at.
---
Go to Koski Mehmed-Pasha Mosque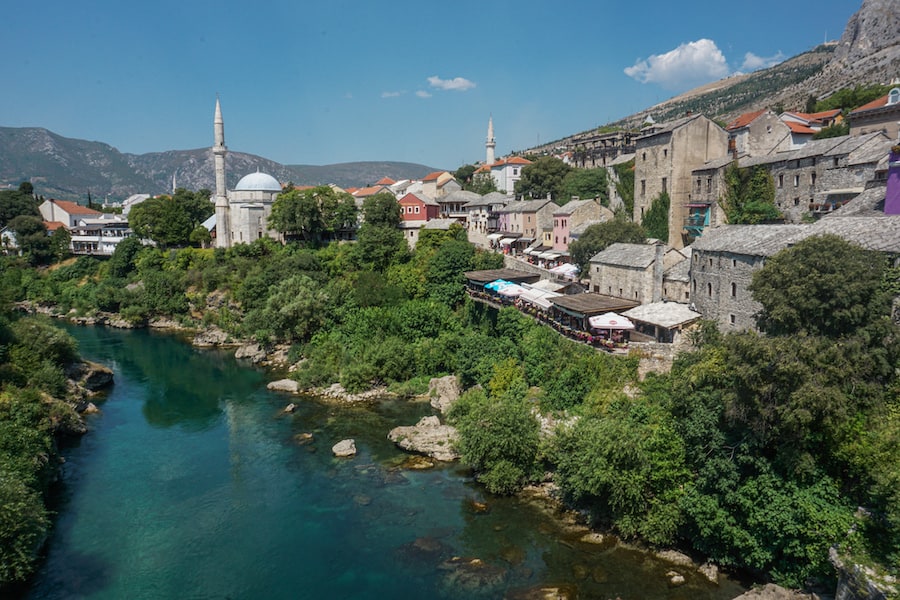 The Koski Mehmed-Pasha Mosque is a stunning Mosque that sits along the banks of the Neretva River. This represents an incredible piece of Ottoman architecture and is a wonderful structure to admire. It was built in the 17th century and is a prominent part of the shoreline views, something you cannot miss! Parts of this mosque were destroyed during the war but have been restored fully. You can view this mosque from the outside and the inside, where the admission price to get inside is upwards of €6.
---
Shop Local Goods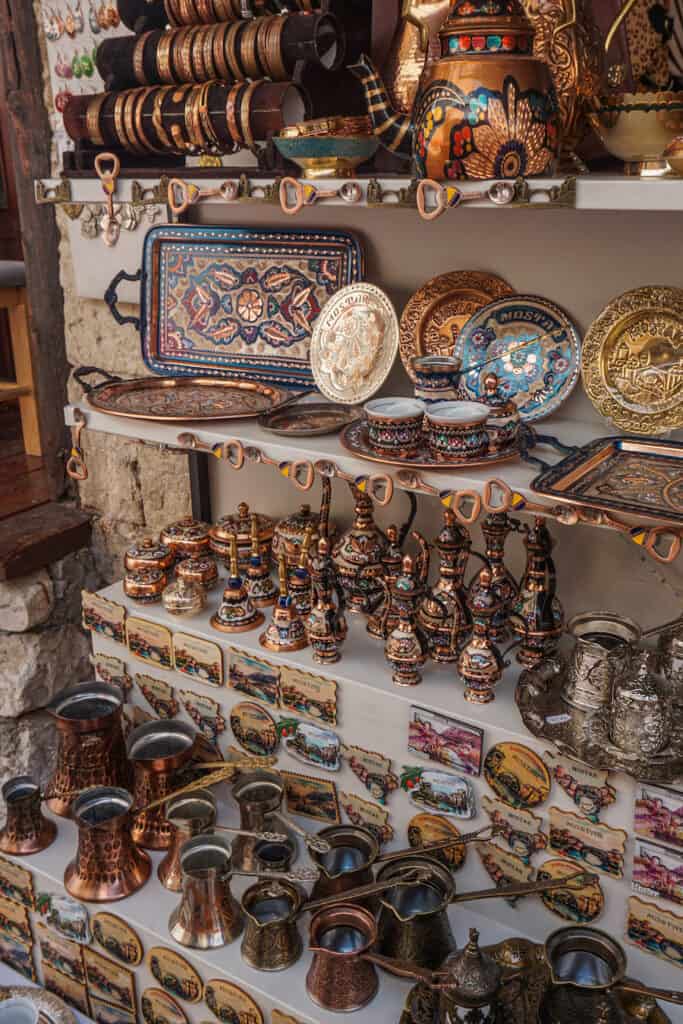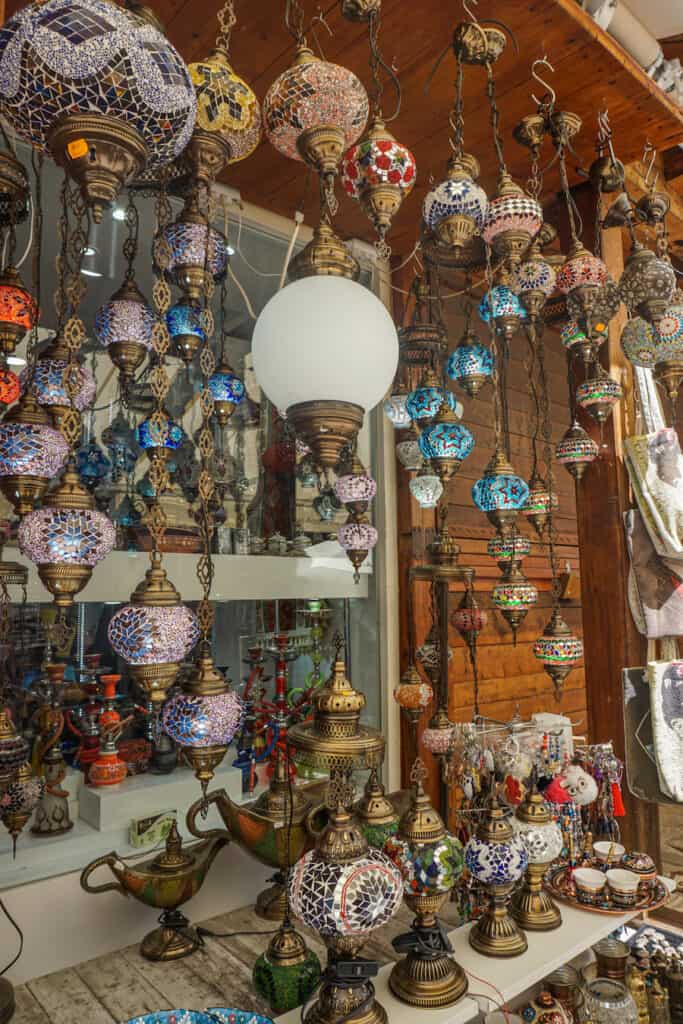 The local goods for sale in Mostar's old town are amazing! Most of Europe has pretty similar offerings and touristy items for sale, but Mostar is in a world of its own. Here you can find specialty items like glass lamps, Turkish coffee sets, dishes, lamps, and much more. This is the perfect place to pick up a local item to bring home as a souvenir to remember your adventures.
---
Visit the War Photo Exhibition
A visit to the war photo exhibition is one of the best things to do in Mostar to see and learn more about the profound history and impact of the war. This exhibition tells the story of many people during the war in a series of monochrome photos. It is a confronting and powerful thing to do that will undoubtedly touch you and give you a better understanding of the ugliness of the war and how it impacted Bosnians.
---
Venture to Blagaj Monastery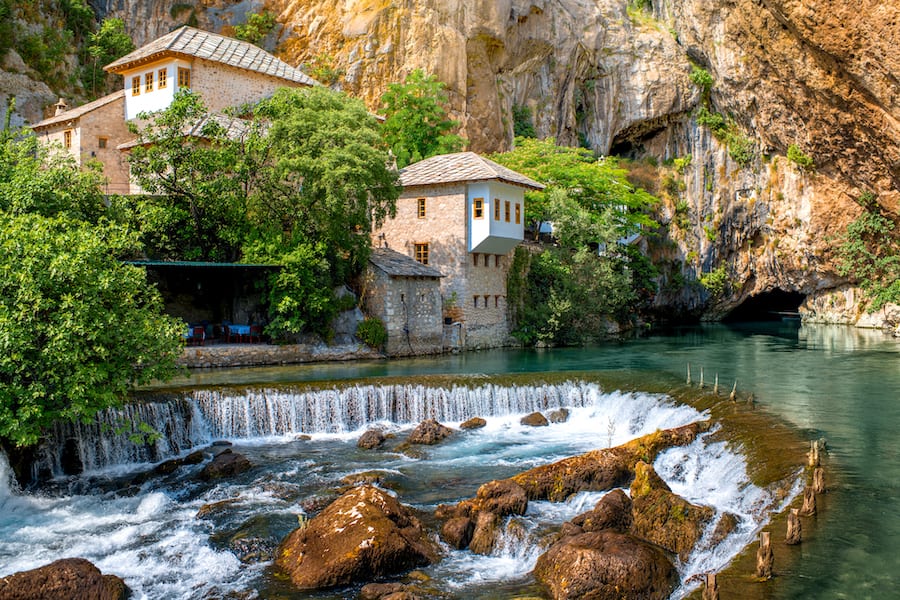 Blagaj Monastery is a 600-year-old Dervish monastery located outside of Mostar. It sits at the base of the cliffs along the bright blue water and is a stunning site to see. Here you will find the monastery, a mausoleum and a Turkish bath. It is one of the most stunning natural beauties in Bosnia that feels as tranquil as it looks.
---
Go to Kravice Falls
Kravice Falls is a stunning set of waterfalls that feed into the Trebižat River. They are located in the heart of Herzegovina just 40 km from Mostar. They look very similar to Krka Waterfalls in Split, Croatia only in Bosnia with their own unique flare. These falls measure 25 meters high with a base below the falls of 120 meters. This is the perfect place to head to for a day trip that involves swimming, enjoying nature, and eating at the local restaurants.
---
Enjoy a Meal in the City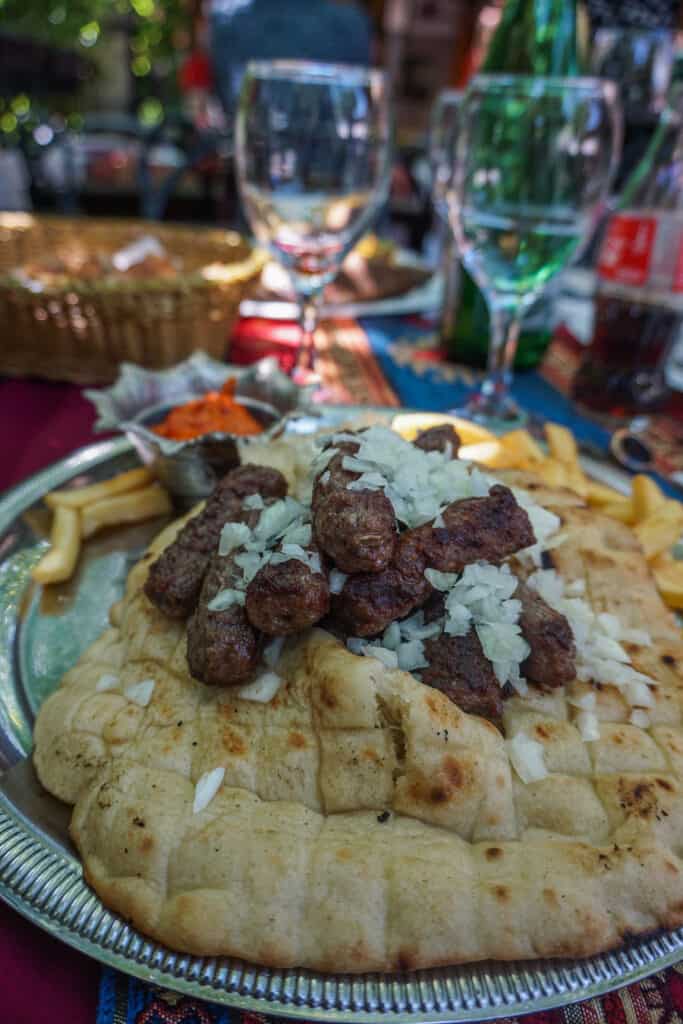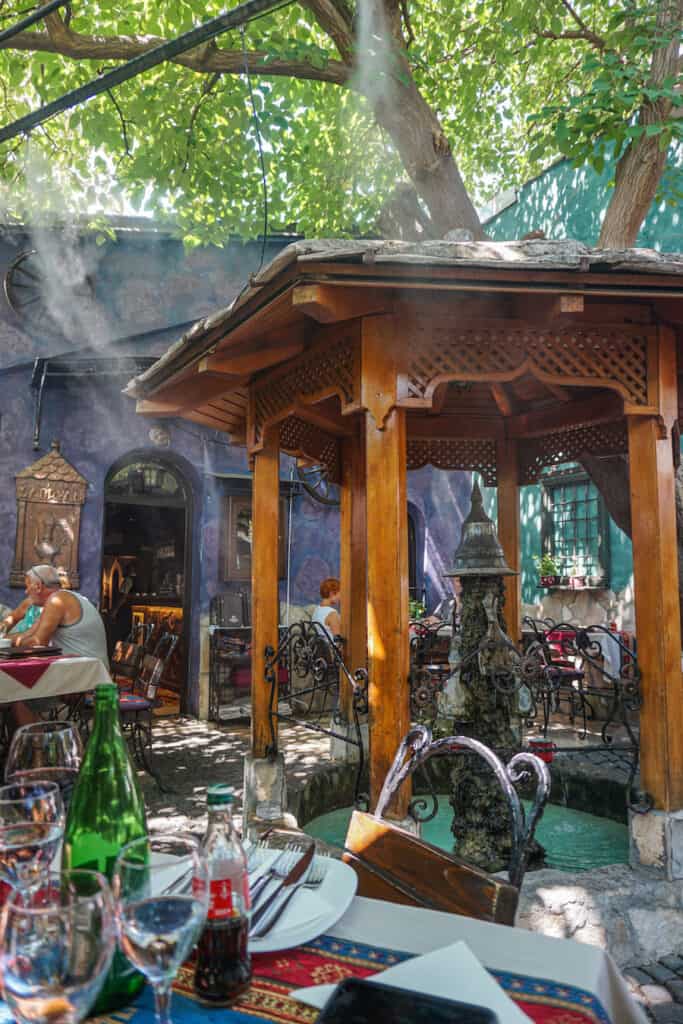 The food in Mostar is a super unique blend of Middle Eastern and Balkan. You will find these two types of cuisine mixed with an exciting flare, which makes sitting in a restaurant and enjoying the food one of the top things to do in Mostar. The best restaurant in Mostar is Restaurant Šadrvan – it has great Balkan foods like Ćevapi alongside middle eastern dishes, fresh fish and more.
---
Walk Across Kriva Cuprija
Kriva Cuprija is a stone arch bridge located in Mostar's old town. It is also known as the crooked bridge and is an ancient bridge with its construction date still unknown. This small stone arch bridge closely resembles Mostar bridge but on a smaller, more hidden scale. Kriva Cuprija was destroyed in 2000 from floods but was rebuilt by UNESCO to its current glory.
---
As you can see there are a ton of amazing things to do in Mostar. This city is full of amazing sights and attractions and its recent history is one that everyone should learn about and educate themselves on.
Like this post? Pin "10 Best Things to do in Mostar" for later!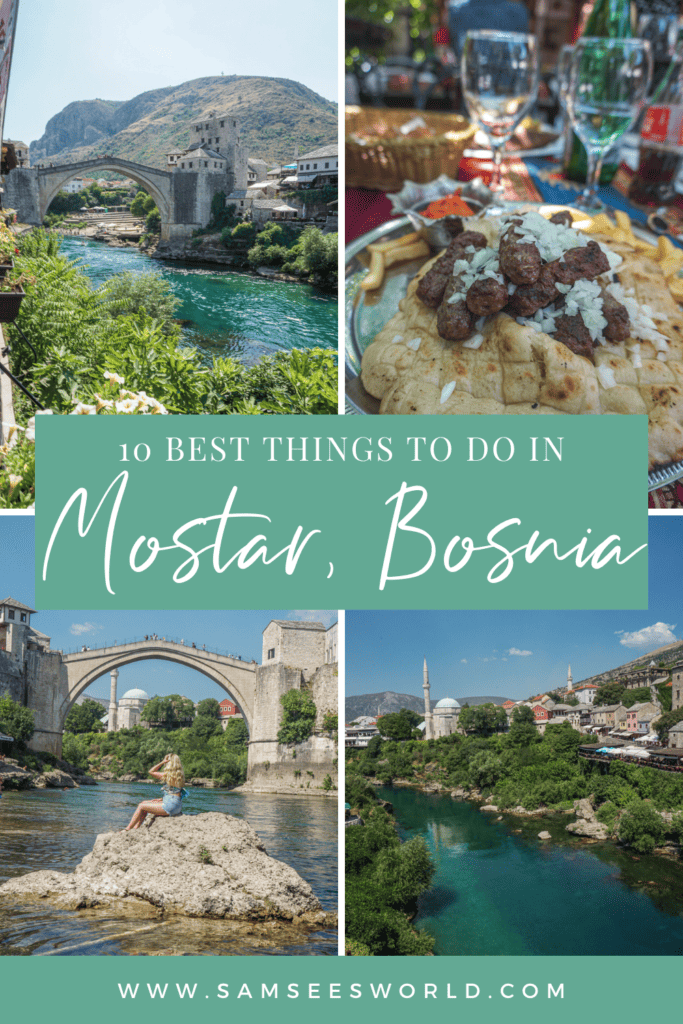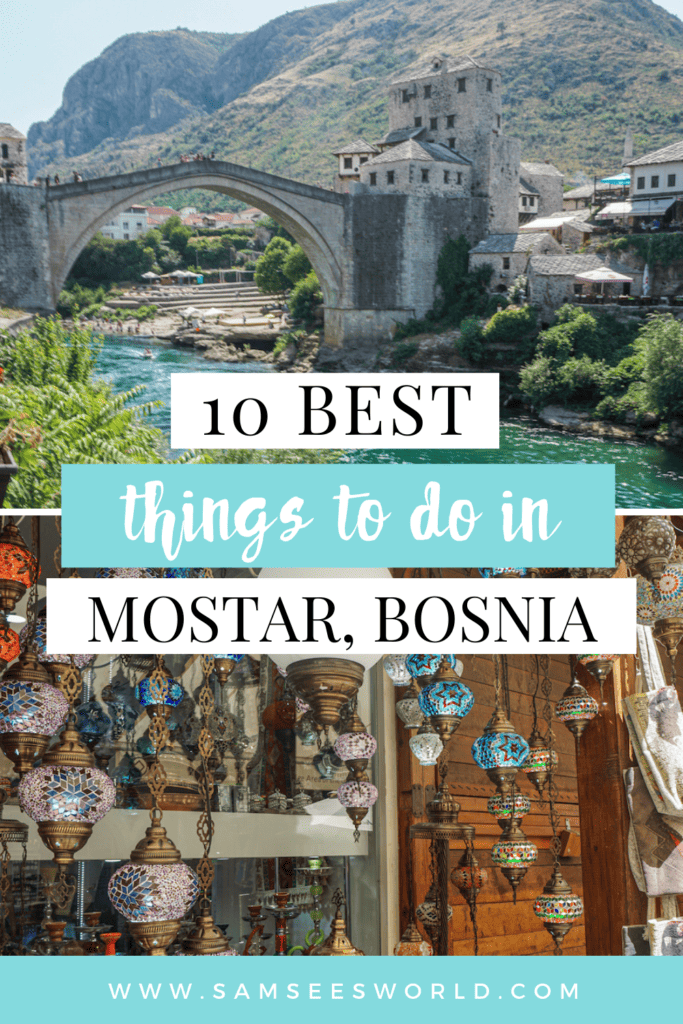 Love,
SSW