Discover the top ten best places to visit in Thailand for a perfect stay!
Land of smiles and happiness, Thailand is a great place to visit throughout the year. Its pristine white beaches are lapped by the stunning waters of the Gulf of Siam and the Andaman Sea with their white sands dazzling like pearls you find underwater. To uncover the magic of Thailand head to the ten best places to visit in Thailand, all different but similar through the unique mix of unbounded happiness, joviality and transcendent calm of this ancient Buddhist land. 
Keep reading to find the 10 best places to visit in Thailand.
(Disclaimer: Some links in this post may be affiliate links, meaning if you click on the link and make a purchase, I receive a small commission. This is at no extra cost to you and you may even receive a small discount. See disclosure for more information.)
10 Best Places to Visit in Thailand
Bangkok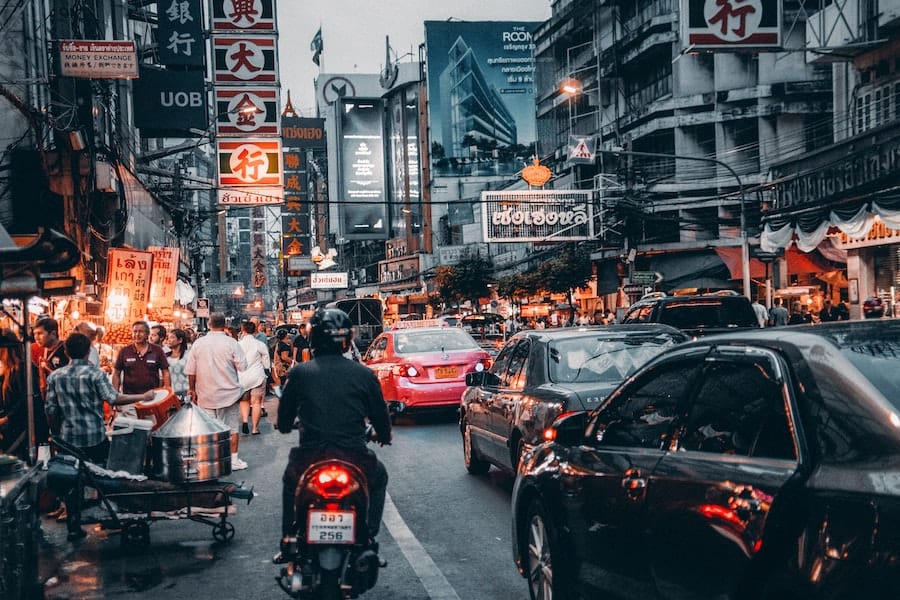 The thrilling capital of Thailand is located on the banks of the vast Chao Phraya River and is one of the best places to visit in Thailand. The people can be divided into two groups: those that love it and those that don't. For those lucky who had their heart snatched by the city, it holds many a treasure. First head to Khao San Road, the youthful area near the Grand Palace, known for its frenetic nightlife where hostels, eateries of all kinds, bars and massage parlours lure throngs of tourists.
Join in the never-ending joyful frenzy and if tired, cross over the Ratchadamnoen Road and take pleasure in the calm of the canals flowing around the area. The area beyond the Ratchadamnoen is known for good street food and hostels, with less noise than on the Khaosan.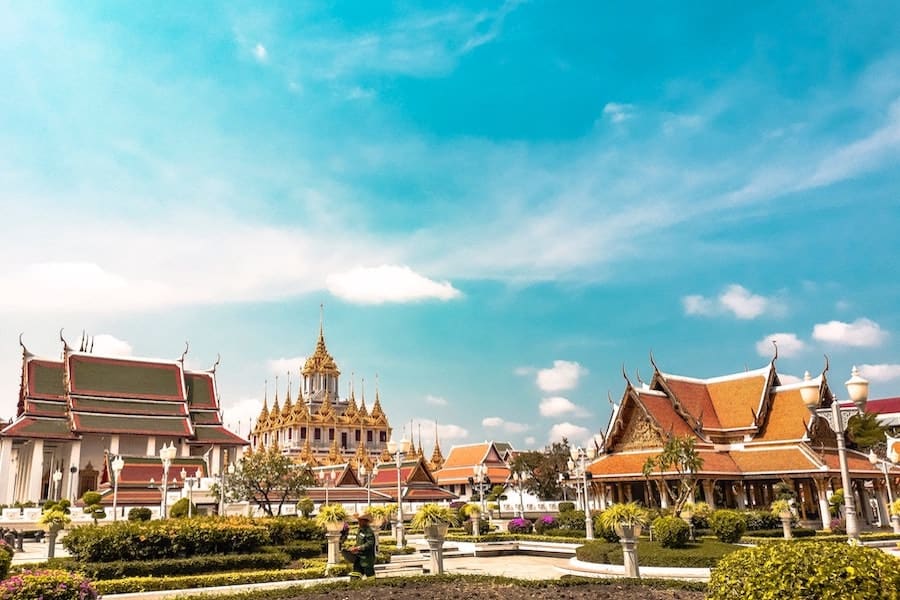 Another must-do in Bangkok is to take a public boat to delight in the beauty of the majestic Chao Phraya. Hop on the vessel at Khao San to jump off at China-Town area, one of the best places to visit in Bangkok and then head to Silom area to either visit the razzle-dazzle commercial center around the likes of Siam Paragon Shopping Mall, a shopping juggernaut consuming as much electricity as a small European country, or Lumpini Park with huge lizards crawling around, a great place to take a selfie. For your next destination wave down a took-took, the most authentic means of transport to move around.
What makes Bangkok one of the best places to visit in Thailand is its revered religious sites such as Hinduist Sri Maha Mariamman, Buddhist Temple of Dawn and Chinese Guan Yin Temple, among many others. Head there next, and when the twilight descends on the city make your way to one of the world's largest flower bazaars, situated close to Khao San. Take note of the many contrasts you meet on the way, stilt-based hovels cuddling to high-risers and grand palatial complexes sharing space with errant monks and jovial hawkers with their food carts.
---
Chiang Mai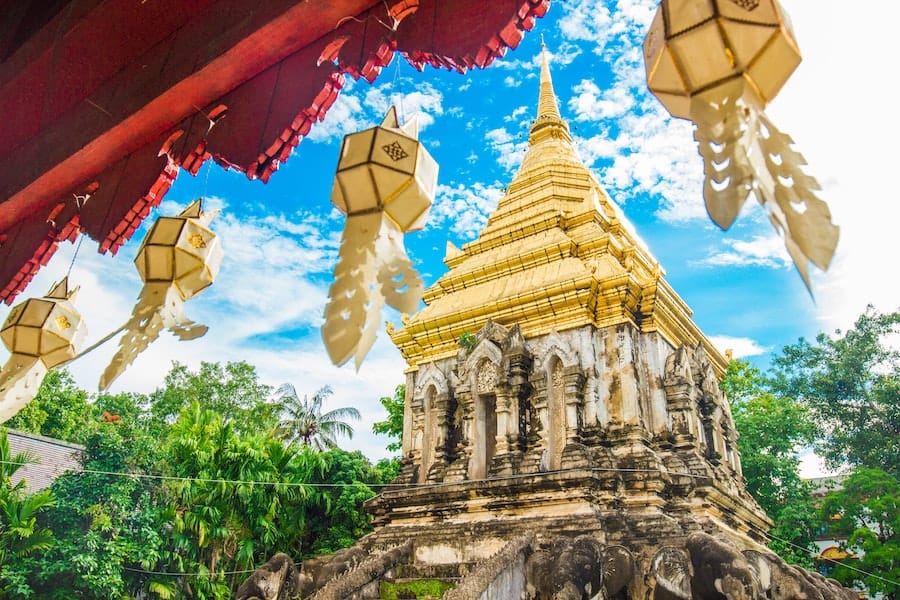 The northern capital of Thailand is just as youthful and full of joy as Bangkok but is deemed by far more calm and less hectic. It is one of the best places to visit in Thailand to go to a monastery, a great way to save up money for some monastic establishments, feeds and shelter you for free; and don't forget to try the great cuisine of the North. What makes Chiang Mai one of the best places to visit in Thailand is its great trekking routes and the nearby nature marvels such as scenic Chiang Dao, the third highest mountain in Thailand.
---
Ko Samui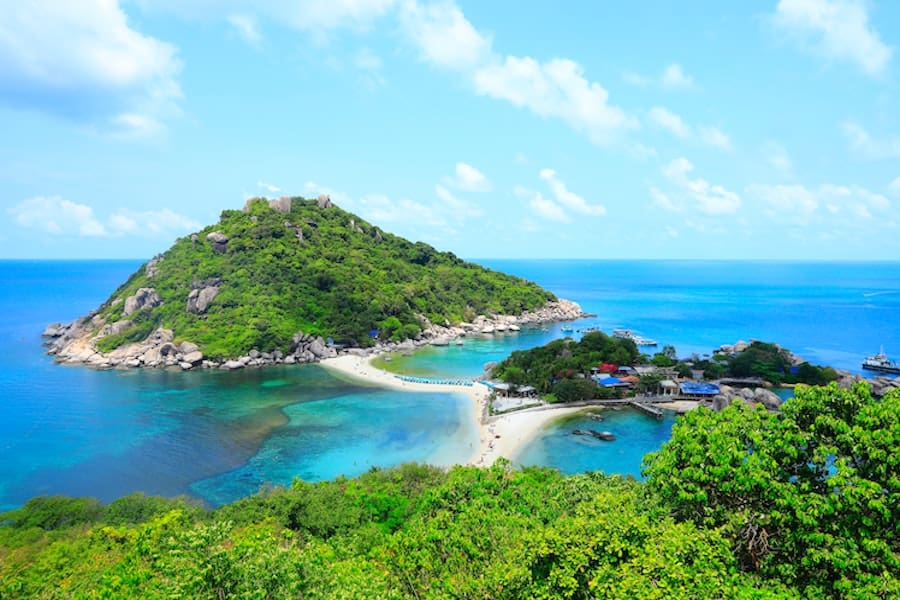 There are few places as different from the area around Chiang Mai as the islands of the Gulf of Siam in Surath Thani Province. The largest of them, Koh Samui is one of the best places to visit in Thailand to enjoy sun-basking, swimming, and truly frantic nightlife and it does not really matter if you are a backpacker on the shoestring or a jaded citizen of the world.
Whereas the crowds of paradise-seeking jet-setters arrive on the island directly by plane, there is a cheap way to visit Koh Samui. True backpackers first fly to Surat Thani, from where they are bussed to Don Sak Pier to sail on a ferry to the island. An AirAsia flight usually includes the fare of all three means of transport and is a great way to visit Samui. When on the island visit Chaweng Settlement, known for its beach, kilometres of white sand with azure waters caressing the indolent sun-lovers, and arguably Thailand's best sunrises.
At nightfall head to ArkBar, a beach bar with a pool and one of the best places in Samui to start a night of partying, or to one of the settlement's many reggae bars, also predominantly located at the seaside. Later in the night head to the cult-like Green Mango, open till 3 am; then to Arena-Stadium, working till 6 am and then Hendrix, often revelling well beyond sunrise. Other things to do in Koh Samui include canoeing, elephant riding, watching pink dolphins, island hopping and a visit to the majestic pagoda towering over Chaweng.
Don't forget to pay a visit to Lamai, a more tranquil area with paradisiac Silver Beach lying close by or the Fisherman Village a great place in Koh Samui to eat mouth-watering food and visit a night market.
---
Phuket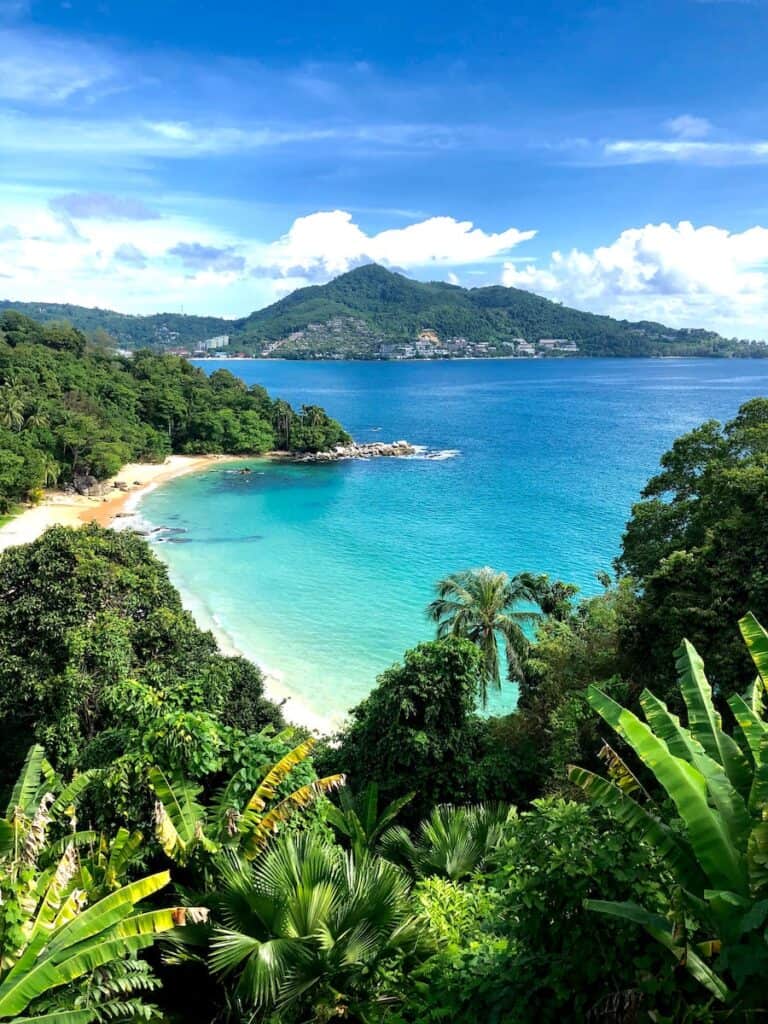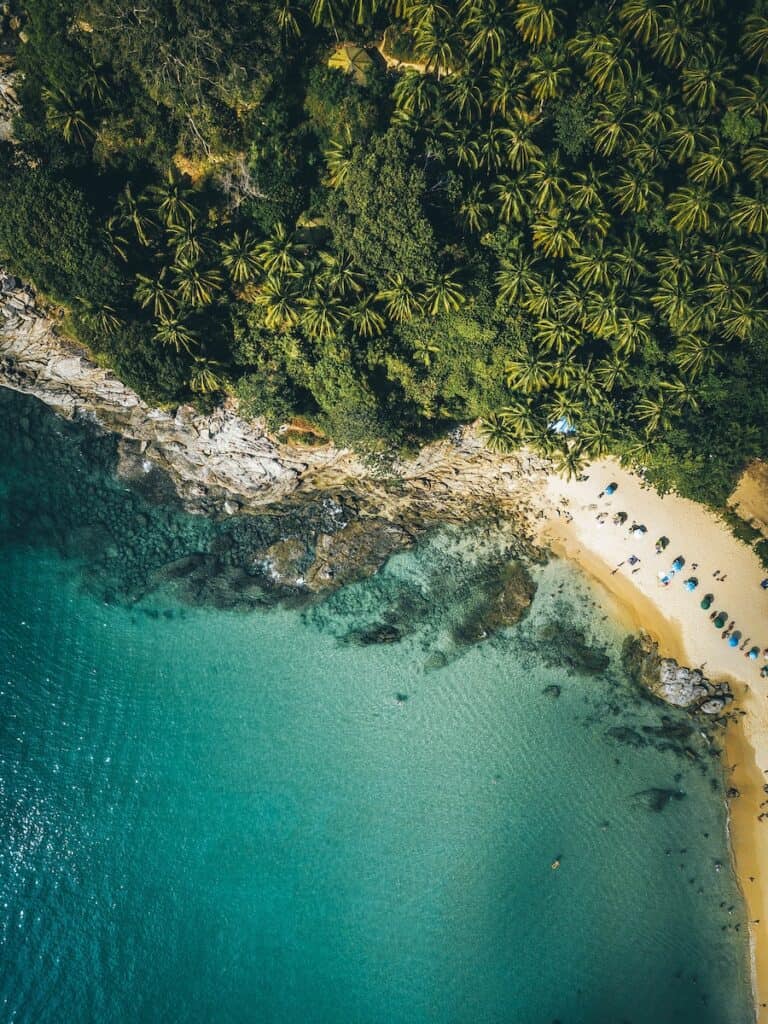 Larger than Koh Samui it has its own place to party each time like the last. Pay a visit to Patong the capital of nightlife where affordable accommodation coexists with great food and modern infrastructure and a multicultural crowd of backpackers and tourists in search of adventure. Phuket is a great place to visit the nearby Krabi and Phi Phi, and is one of the best places to visit in Thailand to dive and surf, with Kalim and Katha beaches' waves especially Marley.
---
Ko Phangan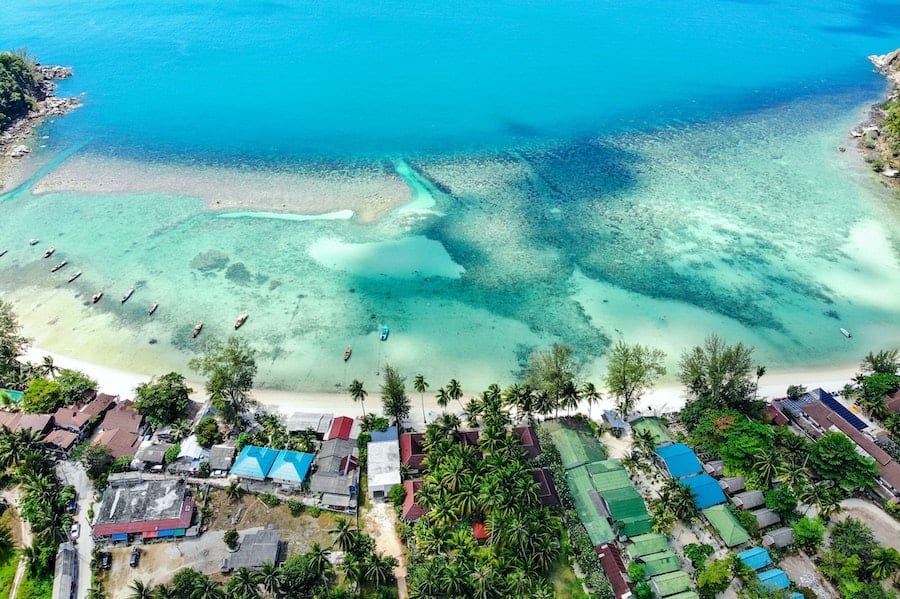 Koh Phangan is one of the best places to visit in Thailand for a party. It is known worldwide for its famous Fool Moon Party where on 24-25th of each month carousers from all over the globe flock to do bar-hopping. The intermingling of bare flesh and often somewhat veiled mind goes on throughout the night with the new day always determined by the choices of the one before.
There are other things apart from sweet surrender to feast-making; visit the island's many pristine beaches on a motorbike, travel to the enigmatic Eden Party, only accessible by boat, or do watersports such as jet-skiing, boat-riding and snorkelling. Note that Ko Phangan is just half an hour's ferry ride away from Koh Samui, so you can visit it on a day trip from the larger island close by. 
---
Ko Tao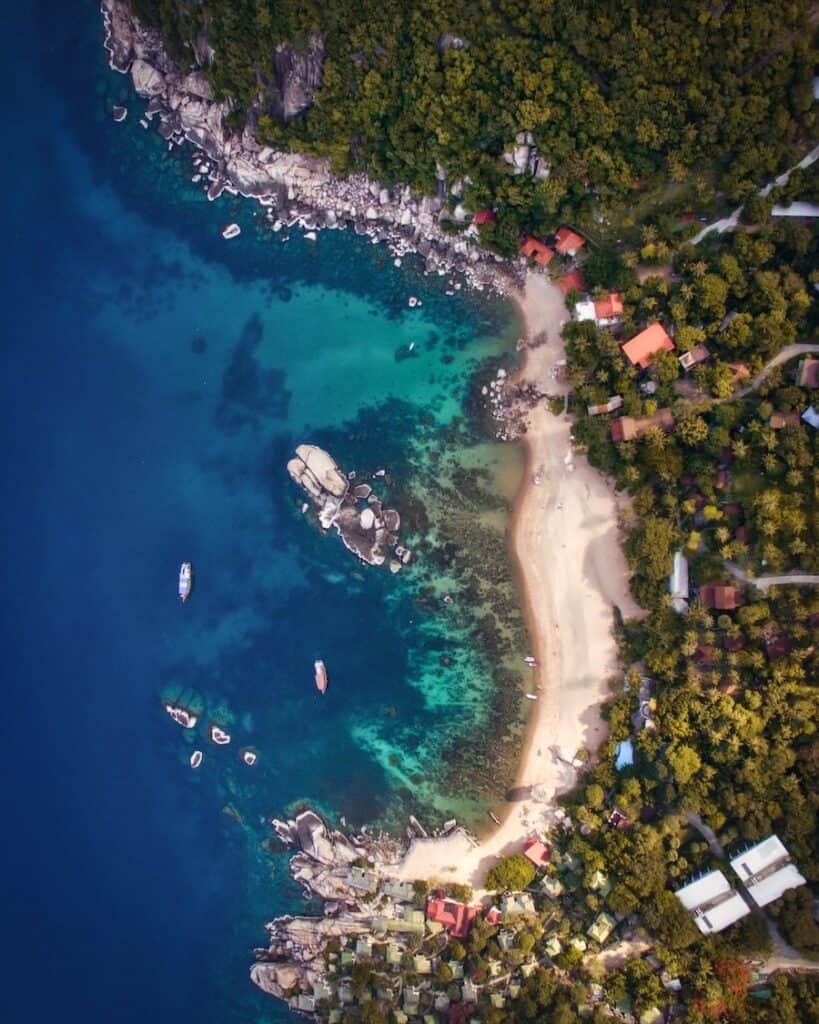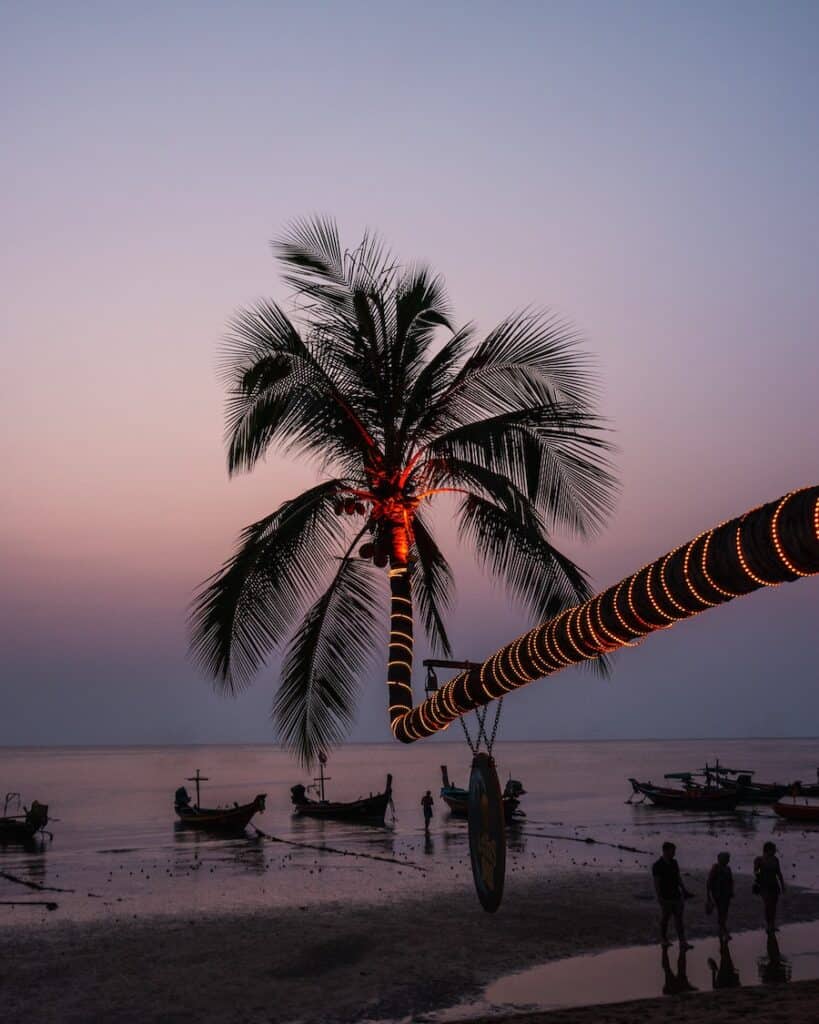 The island of Koh Tao is reputed to be one of the best places to visit in Thailand to go diving. It is also one of the best places to visit in Thailand to enjoy pristine nature and is known for its large ex-pat community. The great food, cheap accommodation and virgin nature, with little traffic and utmost comfort, is a great place to be a digital nomad. When missing the hustle and bustle of the walking street, jump on a ferry and sail to Koh Samui, located a short boat ride away.
Note that the islands of Koh Tao, Koh Phangan and Koh Samui are arguably the best places to live long-term because of the ease you can do visa-runs to neighbouring Malaysia.
---
Hat Yai
Located right at the border with Malaysia, Hat Yai is unique. One of the most under-visited metropolises in Thailand it boasts unique urban architecture such as Yellow-Blue Peranakan buildings, yummy street food and great-bargain lodgings, but without the over-tourism that has ravaged the places like Pattaya, Phuket and parts of Bangkok. Head to Hat Yai to uncover your unique untarnished piece of urban Thailand, and enjoy its multicultural aura, where the Malay and Thai meet. Also, note that it is one of the best places to visit in Thailand to explore the country's South. 
---
Pattaya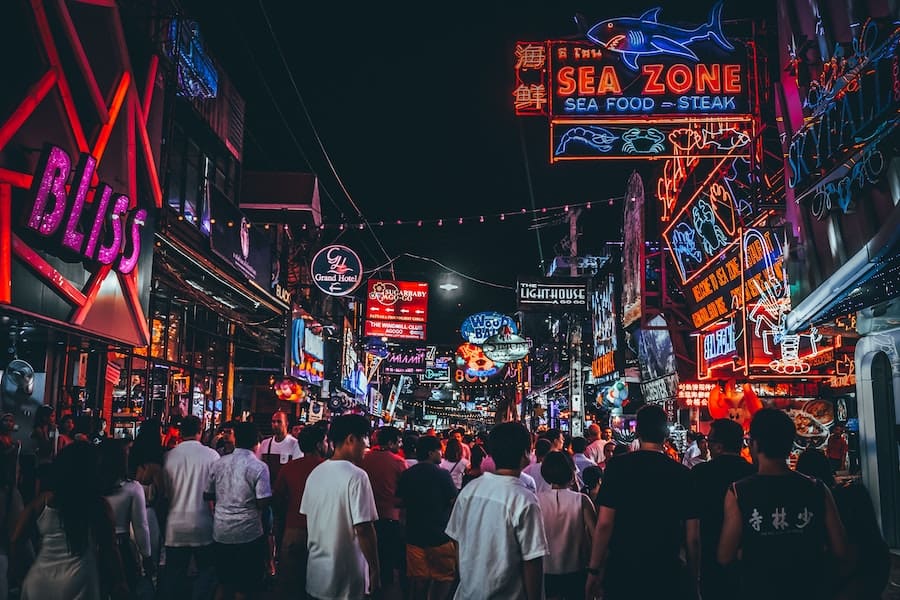 Pattaya is one of the last places where the charm of old Saigon, Singapore and HK still dwells. It is here that the unbridled thirst for life meets the languid beauty of the East. It is known for its walking street, unleashed dancing spots, cheap bars, and hostels where people from all walks of life meet. It is predominantly frequented by the lovers of bonkers nightlife, in the comfort of a big city at the seaside, with backpackers and jet-setters more interested in island hopping and culture heading to more secluded and culture-rich destinations.
A vibrant beach resort, it is ranked among the best places to visit in Thailand to do water sports and offers a great get-away from the traffic-choked Bangkok some two hours away. It is also a great place to visit nearby islands such as Ko Samet. Don't forget that Cambodia is near and a visa run is a great way to get a new Thai visa for another 2 + 1-month extension in paradise.
---
Ranong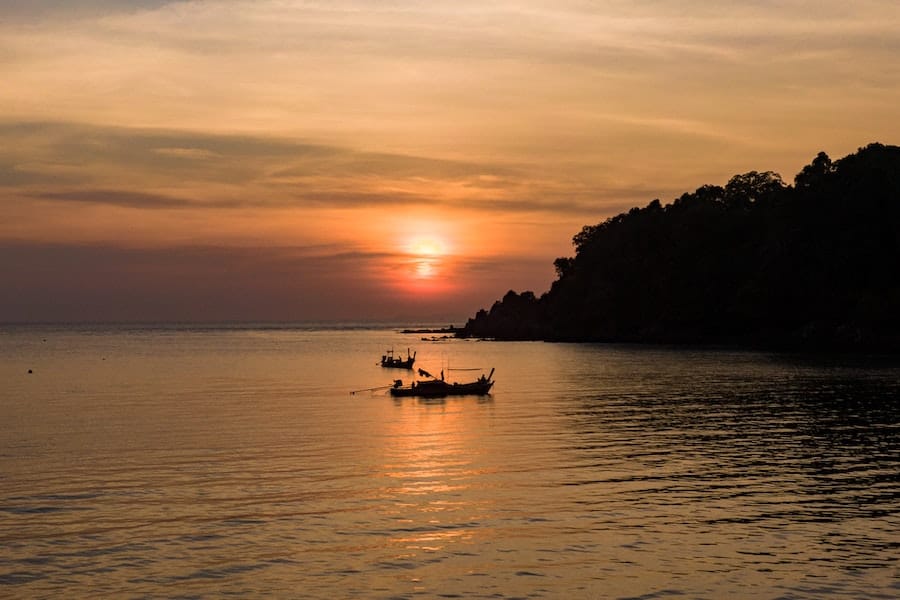 The seaside city is one of the most unknown destinations in Thailand. Whereas most other coastal cities have become tourist hubs with crowds of foreigners with a yen for a tropical escapade, Ranong is a great place to enjoy both the dynamism of a city, splendid sea-views and the original serenity of the Thai way of life. It is known for its pagodas, such as Shwedagon Pagoda; Rattanaragsan Palace, and its unique community of fishermen.
Also note that it is one of the best places to visit in Thailand to make a trip to Myanmar, a country with unique architecture, nature and people and one of the best places to do a visa run from Thailand.
---
Huahin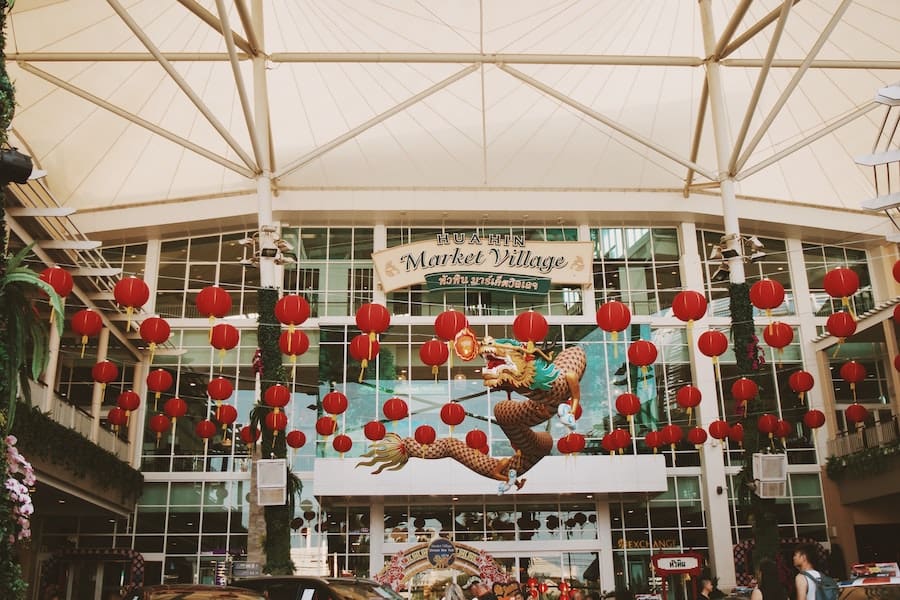 Beloved by the experienced and sea-loving ex-pats in Thailand, tired of the temptations of Pattaya, Huahin is the historical resort where the Thai royalty has found solitude and fresh sea breeze. It features architectural sites such as Klai Kang Won Palace and Mrigadayavan Palace, kings' residences located in one of the best places to visit in Thailand to enjoy great beaches and the sea.
Like its capital, Bangkok, Thailand offers something to everyone. Even if some find the frenetic speed of life in its urban centers somewhat overwhelming there are off-the-beaten-track spots and paradisiac islands where a calm-seeker can find its solace. Even though Thailand is justly known as the land of contrasts one thing unites all of its parts: the one that comes with love and peace will be accepted and feel at home. Head to Thailand to uncover the serene joy of living, whether in a village or in a buzzing downtown and marvel at the invaluable treasures of nature at its many beaches, waterfalls or mountains. Thailand is by right called the land where beauty dwells. 
---
This list of the best places to visit in Thailand is ever-growing! Visit them all and then more and more.
Like this post? Pin "10 Best Places To Visit in Thailand" for later!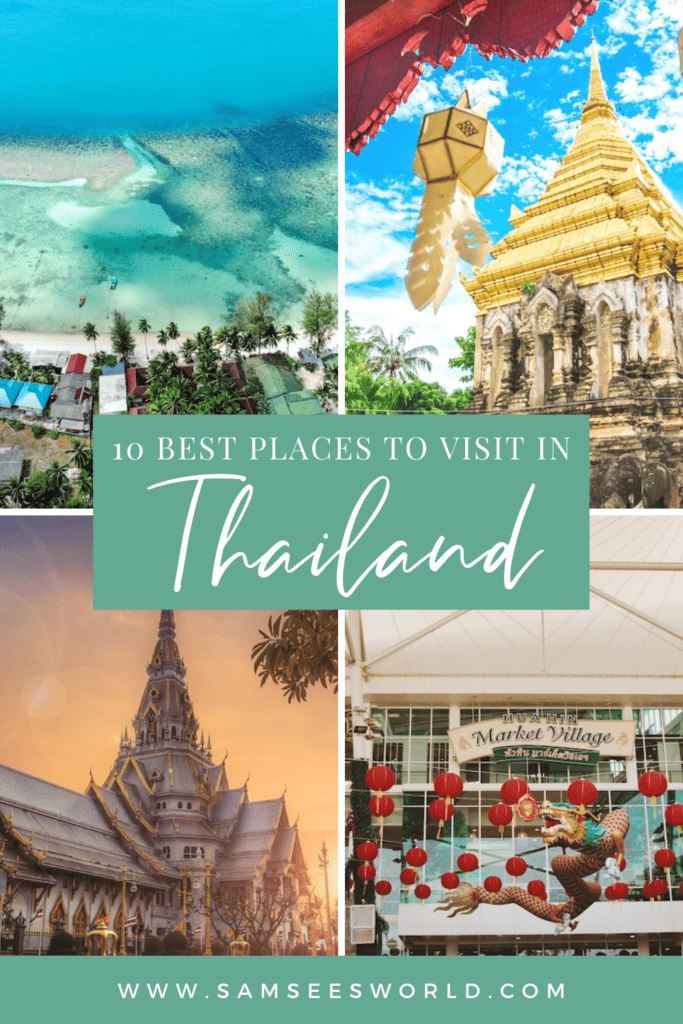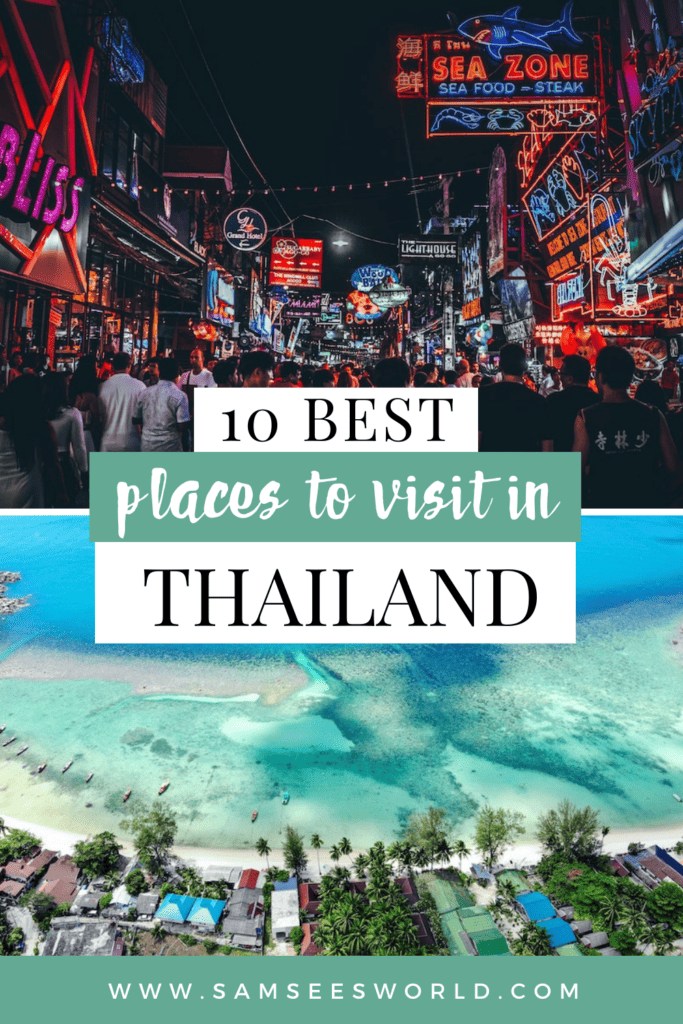 Love,
SSW